Pete Dayotas Jr.'s 1965 El Camino
By Chuck Vranas   –   Photography by the Author
Sometimes it's the simplest moments in life that can shape a person's future, leading them down a path fed by experiences from an early age. Being born into a performance automotive family, it was only a matter of time before Pete Dayotas Jr. of North Grafton, Massachusetts, came face-to-face with fate. When your earliest memories revolve around climbing into a hopped-up T-bucket packing a dual-quad-fed small-block Chevy, it's easy to see the switch being flicked on in a youngster's mind. The combined scent of fuel and oil mixed with chrome and metalflake of his uncle Paul Dayotas' hot rod was all it took to lure him in. At the same time his dad, Pete Sr., set the pace with regular visits to New England Dragway in Epping, New Hampshire, to feel the thunder along with traveling to local events like the World of Wheels and Boston Area Roadster shows.
Following the sounds of a sizzling fuse being lit he wasted no time heading to a grand finale with building the wicked 1965 Chevy El Camino laid out across these pages.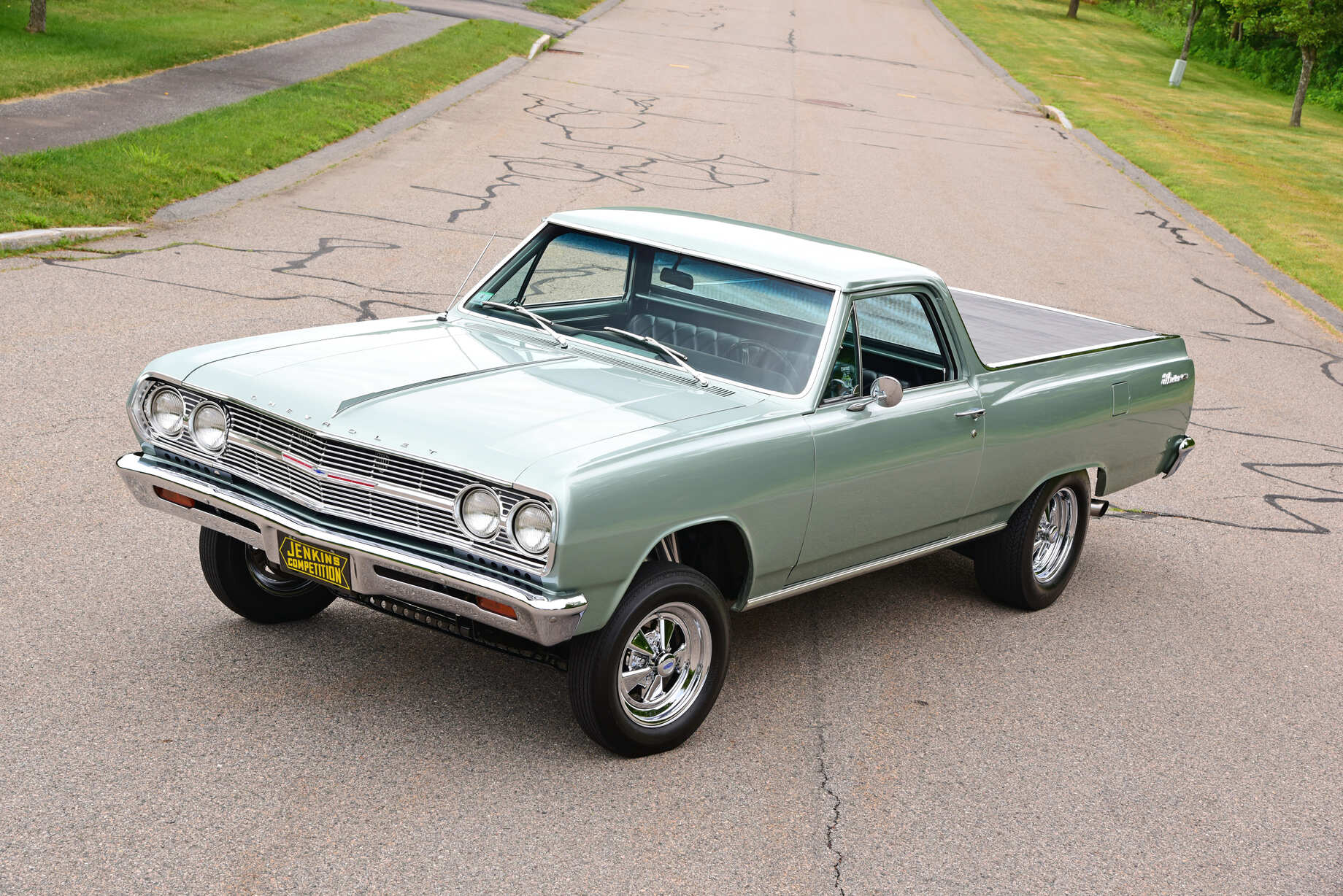 As Pete tells it, there were three occurrences through his youth that led to creating the foundation of the car. First, the sights and sounds of a big-block-powered 1965 El Camino gasser roaring through town, owned by the late David Pierce of Northborough, Massachusetts, with its mile-high stance, chrome tube axle, and Cragar S/S wheels grabbed his attention. The obsession continued when seeing The Hollywood Knights movie on TV with Newbomb's brother's El Camino responsible for turning up the heat yet again. Finally, once earning his license and cruising through a neighboring town, he noticed an alluring Chevy II and stopped to inquire on its color; GM Mosport Green. This would be the perfect icing on his future build.
Through the years, plenty of muscle cars and hot rods have passed though the garage while still retaining his very first, a 1970 Chevelle Malibu, bought with paper route earnings and having been restored not once but twice over the decades.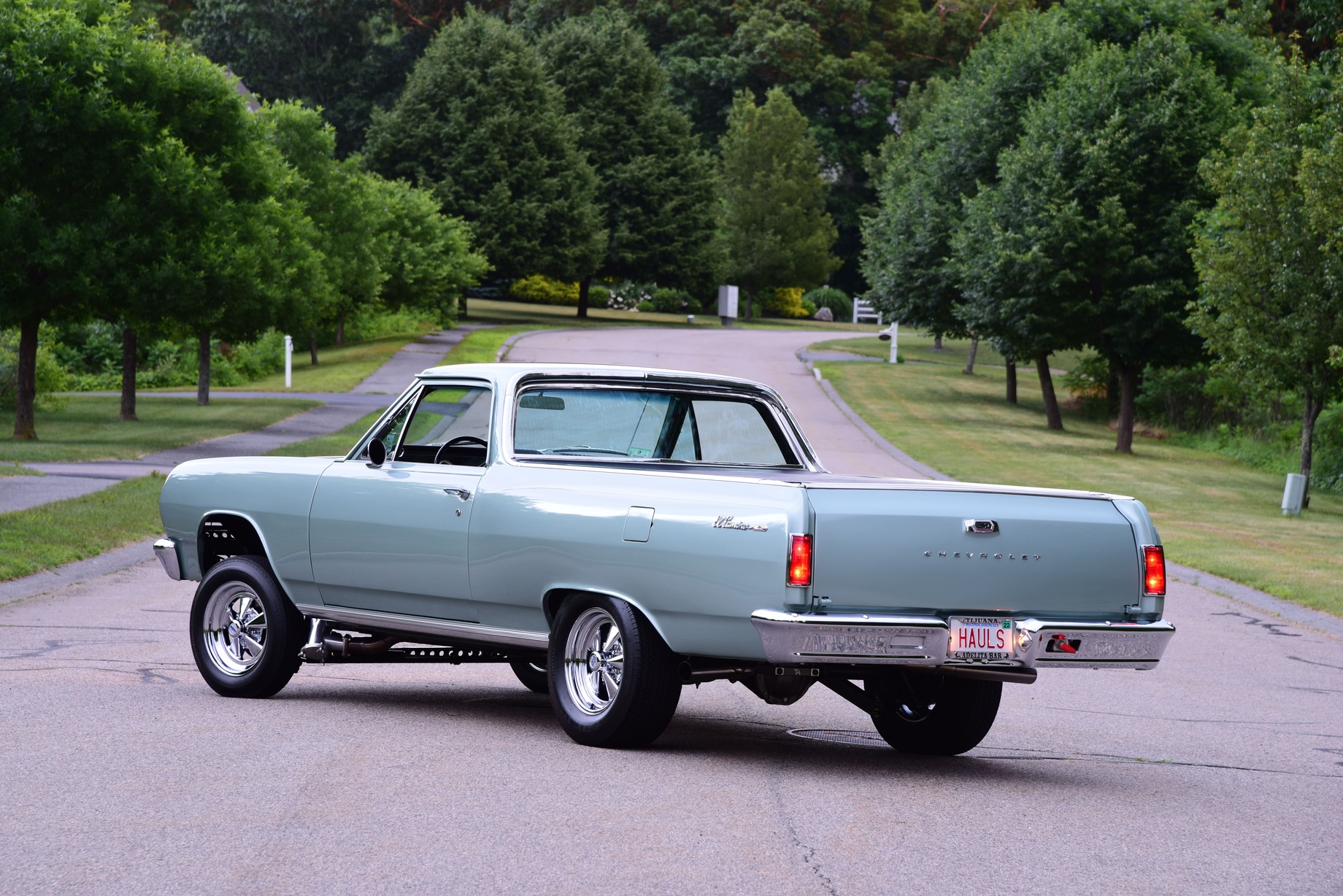 "Hot rods have always been a way of life for me," Pete says. He was finally ready to take on the build of a lifetime. To commence the quest for a suitable base he'd need to focus on steel from the West Coast since harsh New England winters and road salt wreak havoc on sheetmetal. A lead online revealed a 1965 El Camino located in Long Beach, California, that seemed promising in the owner-supplied photos. A deal was made and the Elky was headed to the East Coast. Upon delivery it was obvious it had led a tough life, however, the frame, floors, and body panels were in rock-solid shape, making it a perfect project.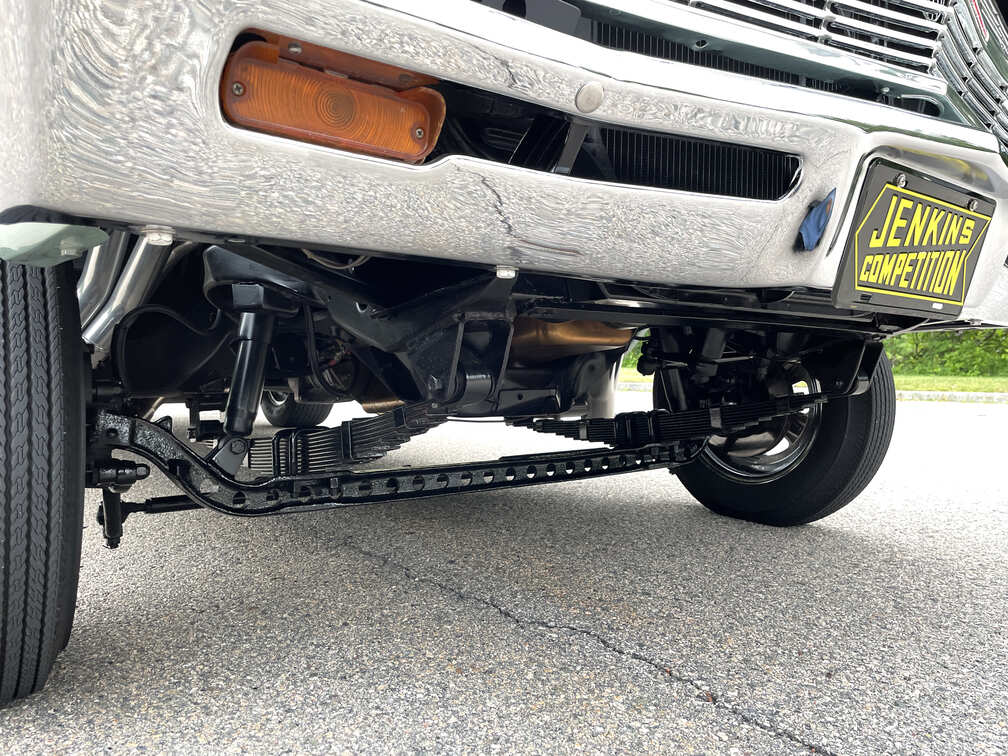 Check it out: Crimson Ghost, His Name is Hoss, and This is His 1956 Chevy Bel Air
Pete contacted Rich Conklin at The Hot Rod Farm in Montville, New Jersey, to inject the needed attitude into the chassis by taking on the front suspension to add a perfect gasser stance. Conklin got busy and prepped the frame to incorporate a straight axle. A Chevrolet 3100 series pickup front axle packed with lightning holes was deftly matched to spindles from Speedway Motors combined with Jeep Grand Cherokee leaf springs and AC/Delco tube shocks. Conklin continued by crafting a custom drag link, tie rods, and stabilizer, while also utilizing the stock pitman arm linked to the factory steering box.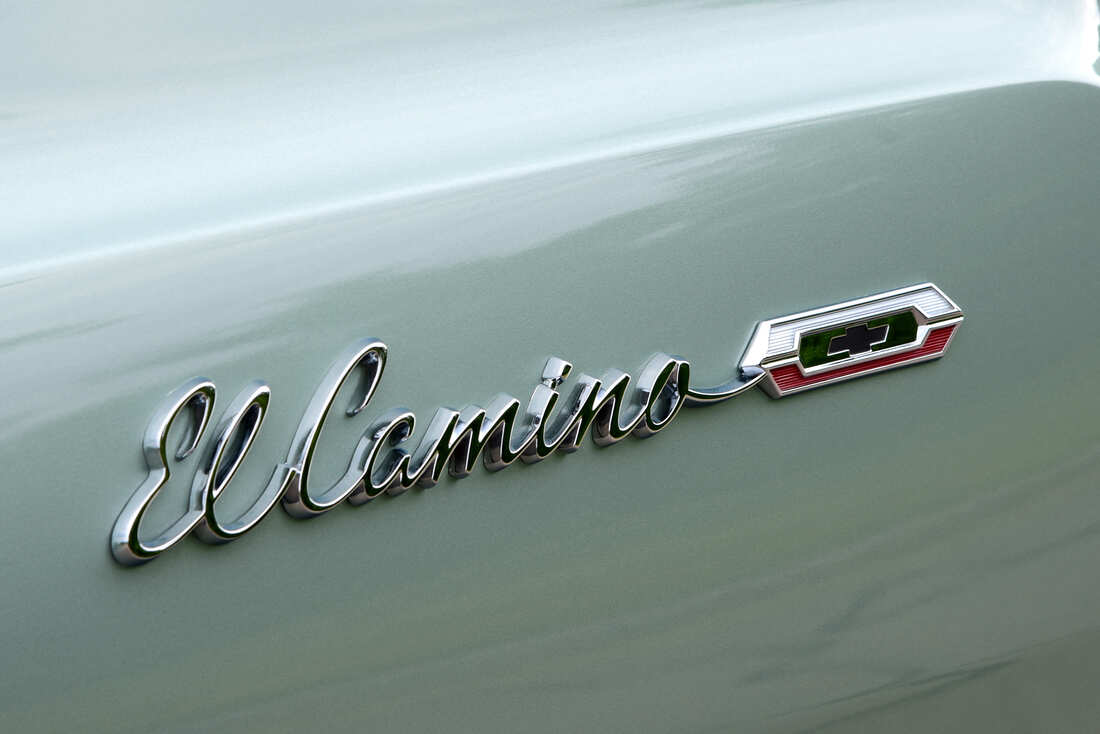 With the car back at his shop, Pete focused on the rear by adding a refreshed 1965 Chevelle 12-bolt packing 3.55 gears with a Detroit Locker linked to Mitchell Differential and 35-spline custom alloy axles. It's suspended in place by a combination of QA1 adjustable upper trailing arms matched to Southside Machine Performance adjustable tubular lower control arms, 1972 big-block springs, and Gabriel HiJackers.
When it's time to stop, a Corvette dual master pushes fluid through stainless lines to 11-inch disc brakes from Speedway Motors up front and fresh drum brakes out back.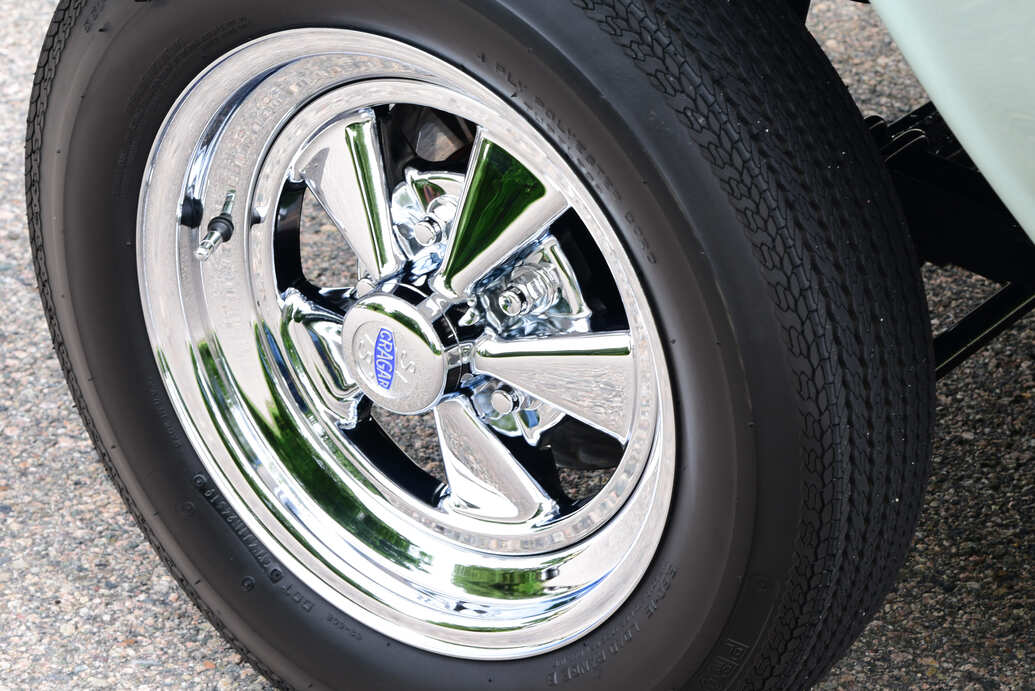 Linking it to the street with a nostalgic vibe you'll find a set of Cragar S/S mag wheels sized 15×4.5 front and 15×7 rears, wearing Pro-Trac/Coker 5.60-15 fronts and Pro-Trac/Coker P235/60-R15 rears.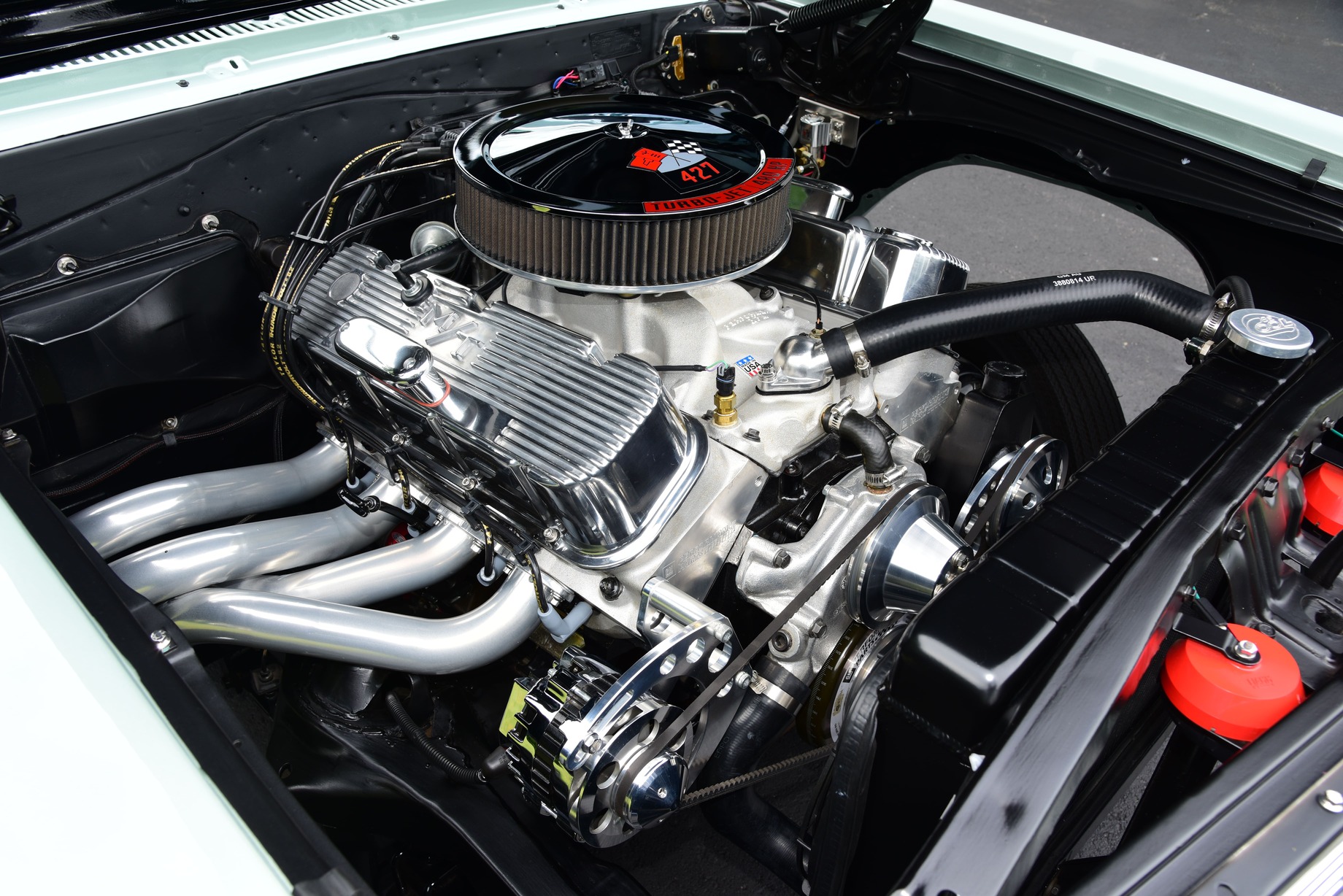 To add plenty of power between the 'rails, Pete went to Chevrolet Performance for one of their fire-breathing ZZ427 crate engines. A cast-iron block with four-bolt mains is filled with a forged steel crank linked to matching rods capped by a set of forged aluminum pistons. For even more bump, Pete had R.A.D. Auto Machine of Ludlow, Massachusetts, install a custom stick from Comp Cams.
Read more: Pete Jacob's Pro Street '63 Nova
Up top, a set of oval-port aluminum heads with 110cc combustion chambers generate plenty of punch, especially when matched to an Edelbrock Performer RPM dual plane intake topped with a Holley Sniper EFI system. It sparks to life through an MSD Pro-Billet ignition while exhaust moves through a set of owner-designed fenderwell headers from Tubular Automotive in Rockland to a 3-inch stainless exhaust with Borla XR-1 mufflers.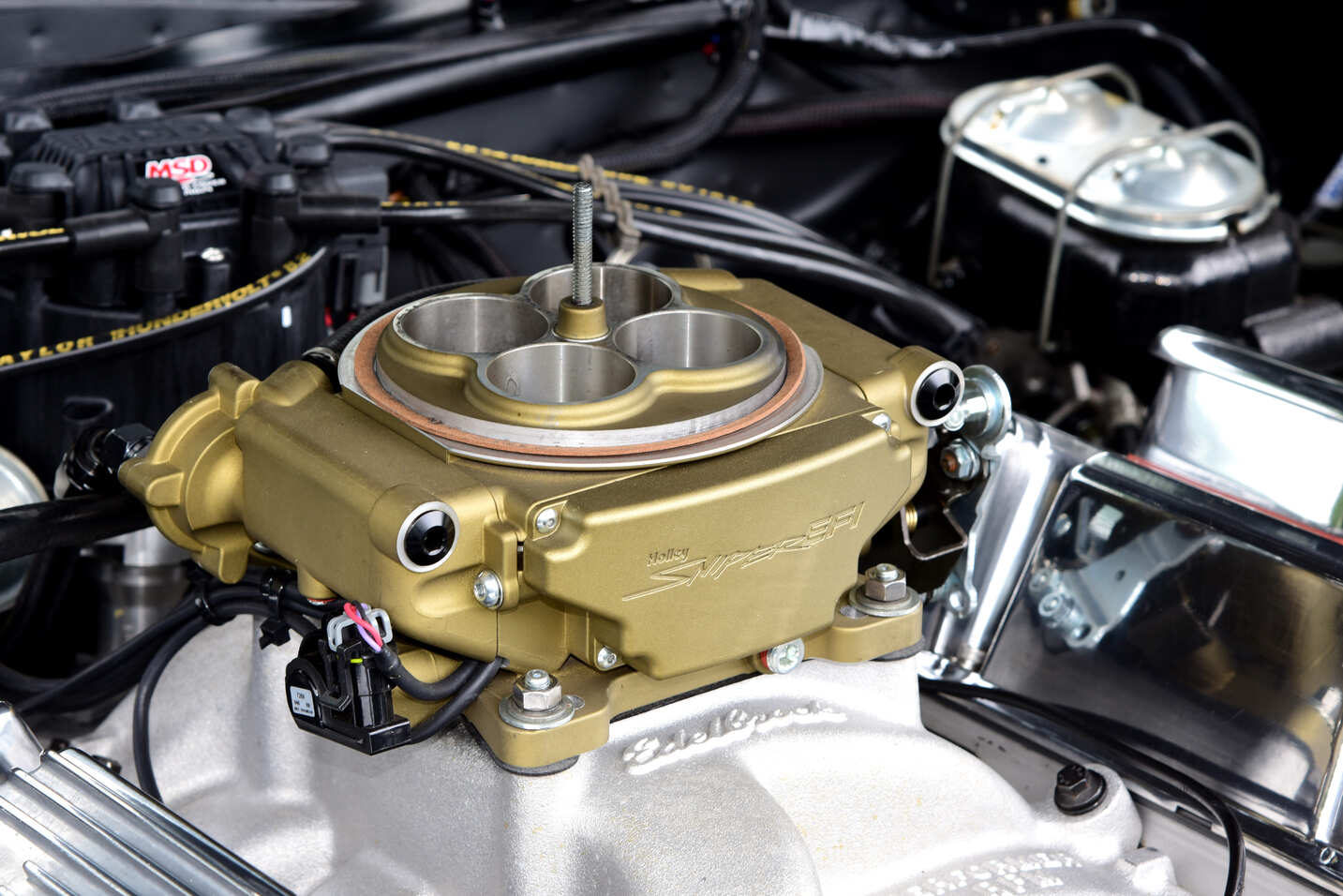 Other cool bits include a Powermaster alternator, Holley 255-LPH in-tank fuel pump, and Mickey Thompson finned-aluminum valve covers. To move the goods, Pete and Wayne Sciotte, installed a TREMEC TKO 600 five-speed trans combined with a Science Friction billet steel flywheel and Street Slayer clutch matched to a Centerforce 11-inch pressure plate linked to a custom driveshaft. It's all good for 477 hp on the R.A.D. Dyno.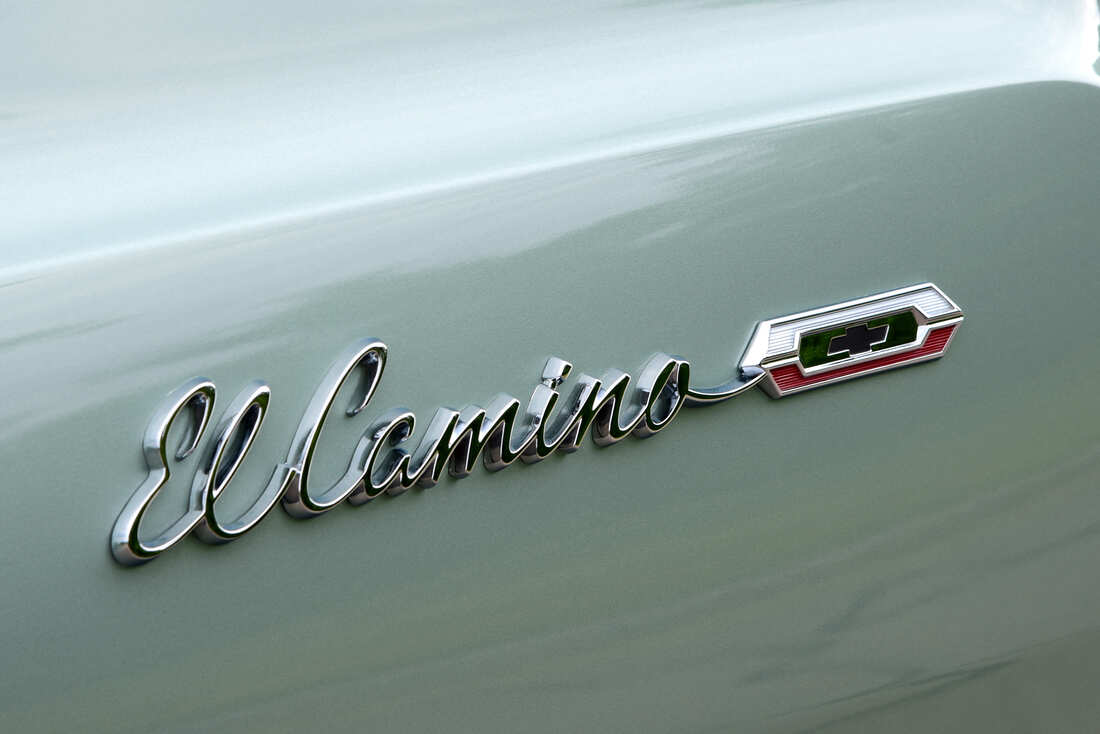 The body required a bit of finessing to bring it back to better-than-factory specs. Pete had Rocky Silvestri of Rocky's Auto Body in Norfolk, Massachusetts, strip and massage the panels to perfection and set the gaps in preparation for paint. Pete then removed the inner fenders and prepped the engine bay before laying down more OEM satin black. It was then onto good friend, Donny Lavin, of Northborough, Massachusetts, who sprayed the decadent coating of RM Diamont Mosport Green with a dusting of pearl to bring everything to life. Reassembly included custom drilled bumper filler panels (by owner), fresh chrome from D&D Plating of Providence, Rhode Island, and installation of N.O.S. factory trim parts.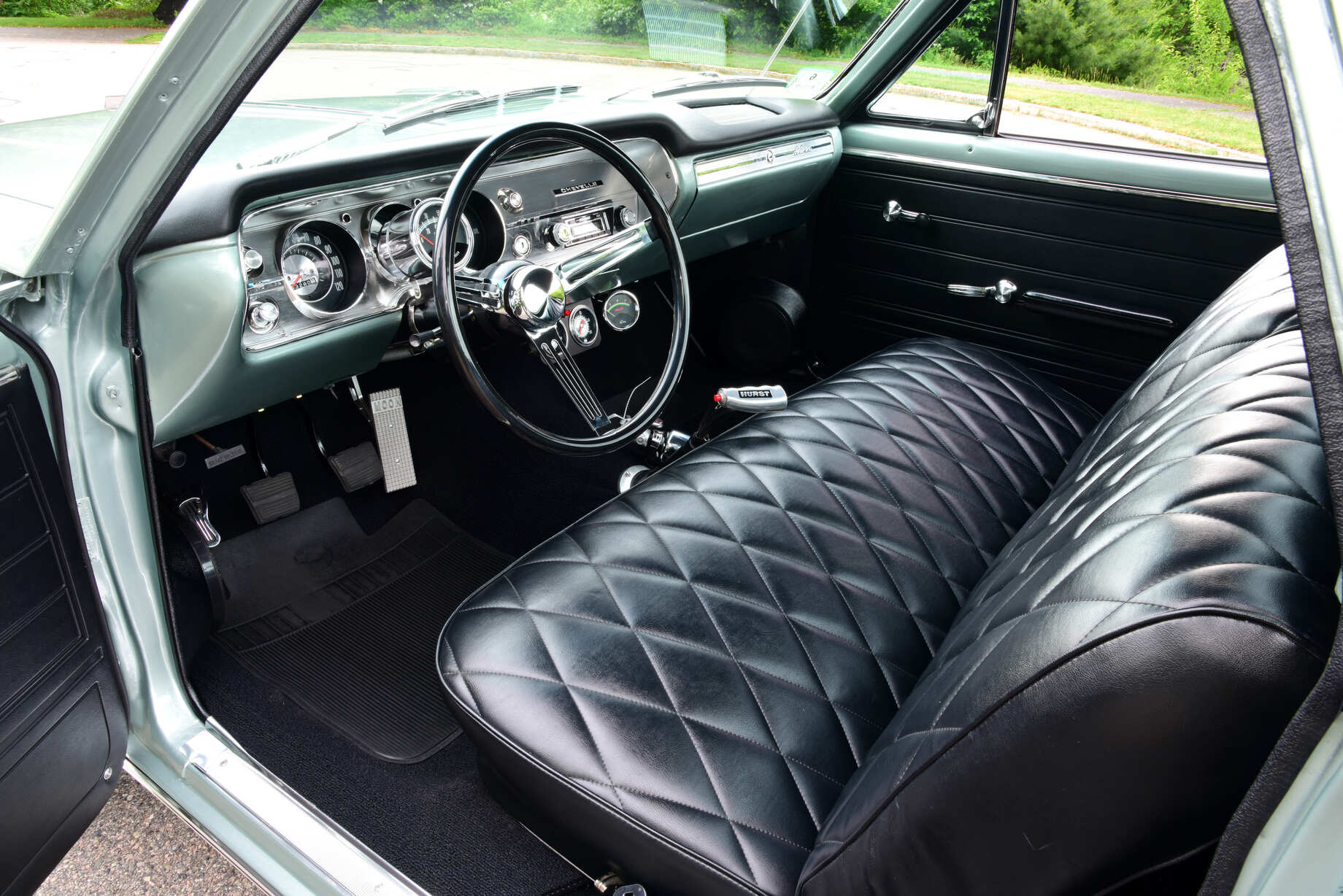 Inside, it's all business, starting with the restored dash filled with the factory gauges complemented by vintage Stewart-Warner (SW) Green-Line temp and oil pressure dials, SW tach, and a Sun green voltmeter. A Mooneyes steering wheel mounted to a shortened factory column carves a course while shifts fly though custom stick topped by a Hurst T-handle with Line-Loc. Matt Smith of New England Trim in Shrewsbury freshened up the tired factory bench with Pete's personal custom-designed diamond pattern in black vinyl while also installing black loop carpet. Completing the build, Pete installed all wiring from M&H Electrical Fabricators as well as the black vinyl tonneau from Craftec Covers.
This is one street/strip terror that's never seen a trailer. It gets hammered on the streets, raced at the track, then driven home regularly. It's the real deal!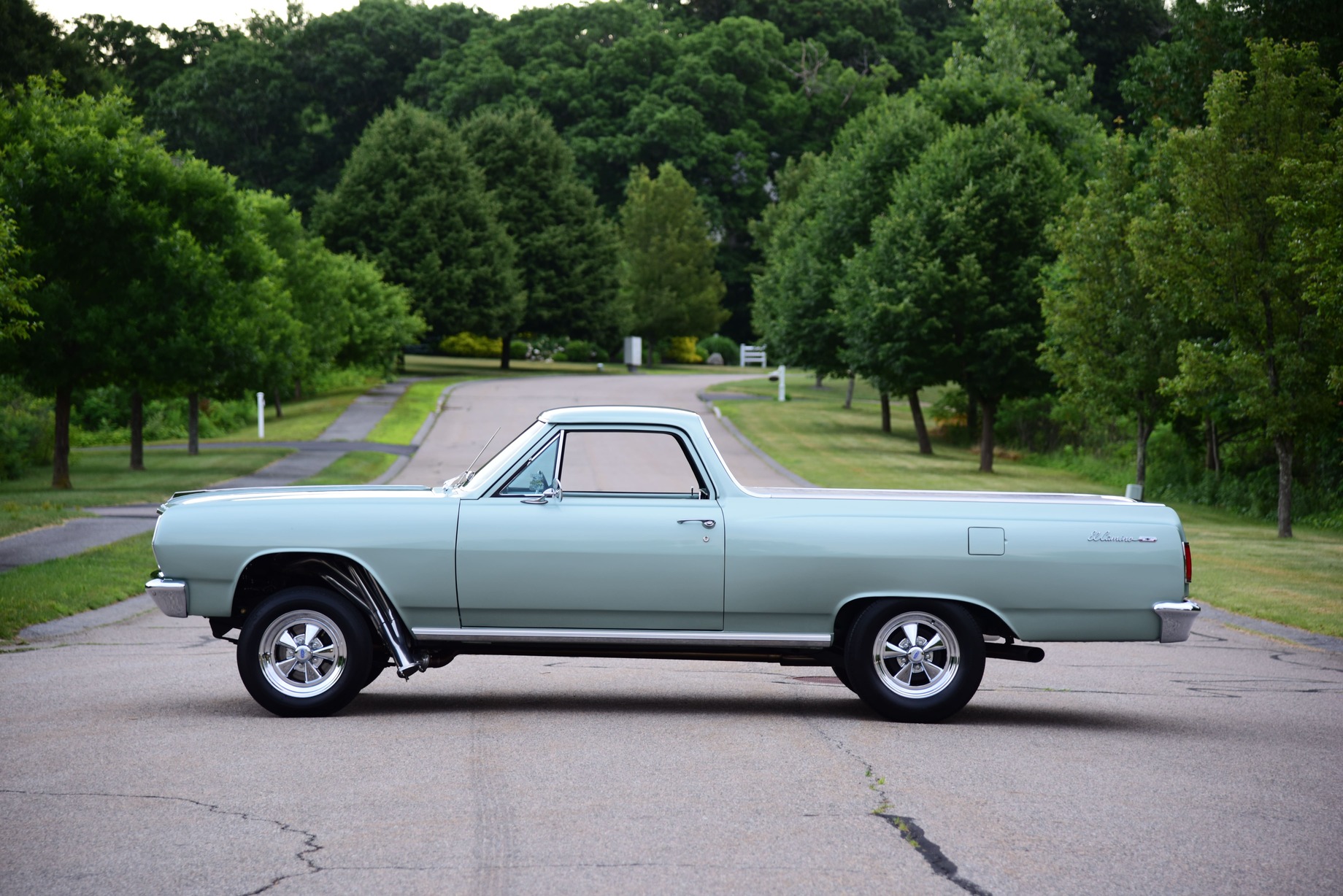 TECH CHECK
Owner: Pete Dayotas Jr., North Grafton, Massachusetts
Vehicle: 1965 Chevy El Camino
Engine
Type: Chevrolet Performance ZZ427 big-block
Displacement: 427 ci
Compression: 10.1:1
Bore: 4.250
Stroke: 3.750
Cylinder Heads: Aluminum Oval Port, 110cc chambers
Rotating Assembly: Forged steel crank, forged steel rods, forged aluminum pistons
Valvetrain: Aluminum roller rockers, 2.190 intake/1.880 exhaust valves
Camshaft: Comp Cams, custom grind
Induction: Edelbrock Performer RPM dual plane intake, Holley Sniper EFI
Ignition: MSD Pro-Billet
Exhaust: Tubular Automotive headers, 3-inch stainless exhaust, Borla XR-1 mufflers
Output: 477 hp
Drivetrain
Transmission: TREMEC TKO 600 five-speed
Rear Axle: '65 Chevelle 12-bolt rear, 3.55:1 gears, Detroit Locker, Mitchell Differential 35-spline alloy axles.
Suspension
Steering: Stock
Front Suspension: 1957 Chevrolet 3100-Series truck axle, Speedway Motors spindles, Jeep Wagoneer leaf springs, AC/Delco tube shocks
Rear Suspension: QA1 adjustable upper trailing arms, Southside Machine Performance adjustable tubular lower control arms, 1972 GM big-block springs, Gabriel HiJackers air shocks
Brakes: Corvette dual master, 11-inch Speedway Motors front discs, stock rear drum
Wheels & Tires
Wheels: Cragar S/S 15×4.5 front, Cragar S/S 15×7 rear
Tires: Pro-Trac/Coker 5.60-15 front, Pro-Trac/Coker P235/60-R15 rear
Interior
Seats: Stock bench
Upholstery: Custom diamond-tuck by Matt Smith of New England Trim
Carpet: Black loop
Gauges: Factory plus vintage Stewart-Warner (SW) Green-Line temp and oil pressure, SW tach, Sun green voltmeter
Steering: Mooneyes steering wheel
Shifter: Custom with Hurst T-handle with Line-Loc
Exterior
Paint: RM Diamont 1966 GM Mosport Green
Hood: Stock
Grille: Stock