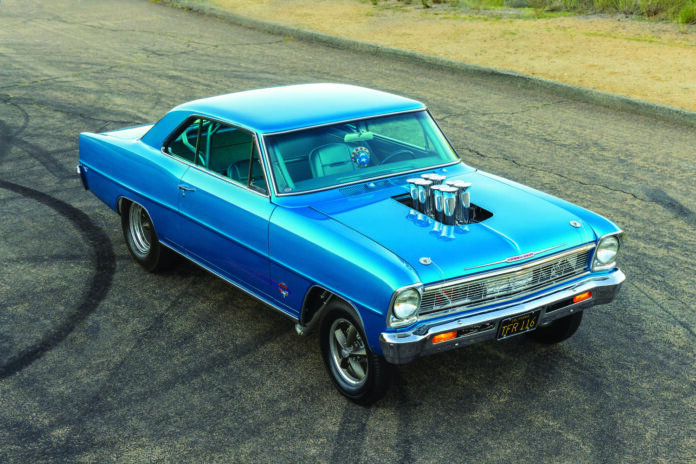 Al Verschave's AF/X-Style '66 Nova
By Nick Licata – Photography by Wes Allison
There seems to be a bit of a resurgence in what is commonly referred to as the "gasser style"—cars built with a straight-axle or dropped-axle frontend, aiming the nose sky high to replicate the look of the AF/X and Gasser drag racing class cars of the '60s, and we absolutely dig it. The look is totally old school and cars built with this personality are rewarded with tons of attention wherever they are spotted.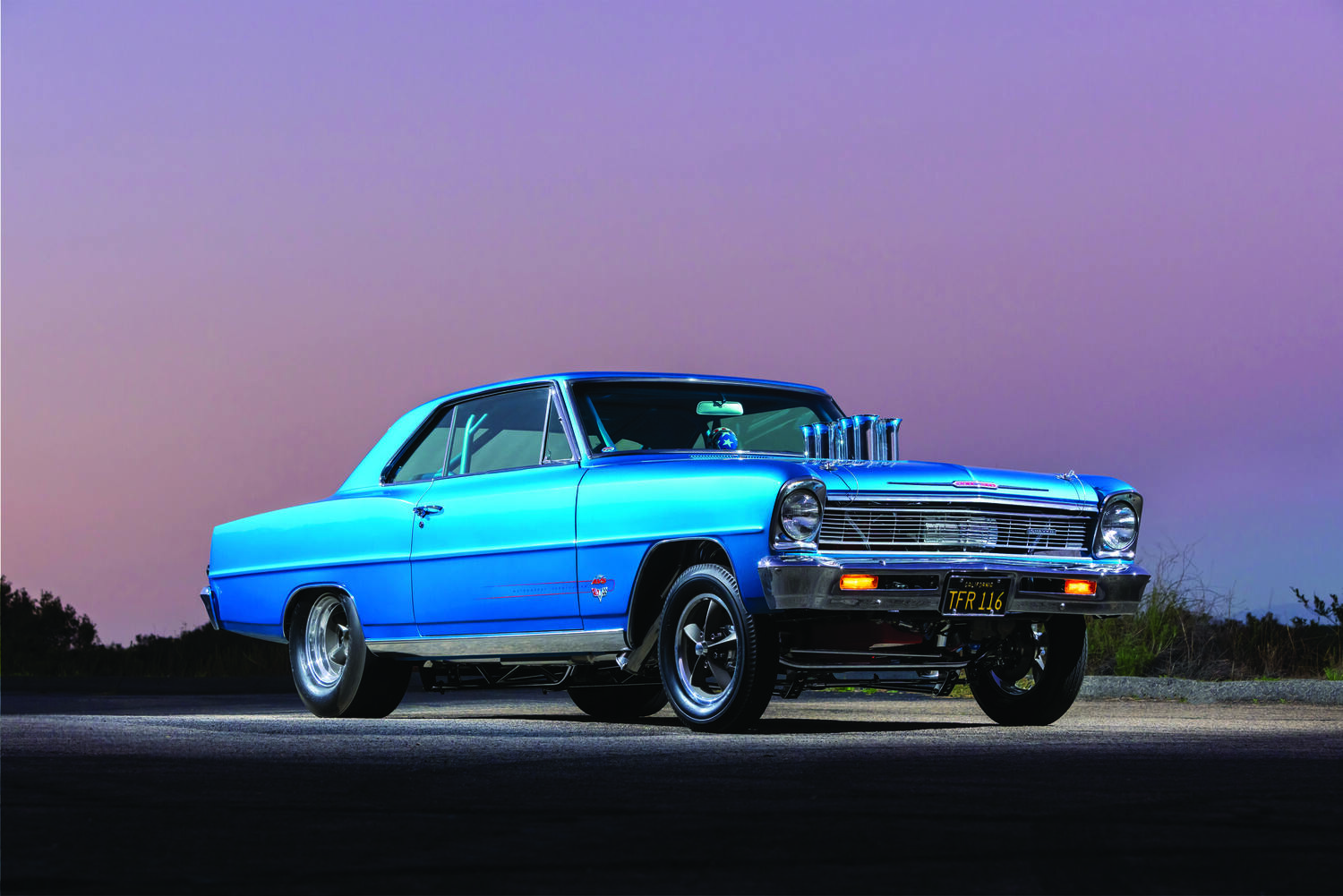 Al Verschave's '66 Nova is all done up in this style, but it didn't start out that way when he scooped it up at the Pomona Swap Meet back in 2003. It was a rust-free California gem—a perfect starting point for he and his dad, Dave. They built a mild 355ci small-block for it and Al drove it that way throughout his high school years.
Check this one out: 900hp N/A SUPER STOCK NOVA
With Al's need for speed and desire for show-car style, the second rendition of the car was completed in time to show at the 2010 Detroit Autorama. The Nova was show quality, but it also had a business side and ran 8.90s on nitrous with a 1.27 60-foot time in 2015 at Great Lakes Dragaway in Wisconsin. Al was draggin' the car in the Midwest for a few years, and in 2016 decided to pack up his business, AVS Fabrication, and head west to Oceanside, California. "After the move, the car was sitting on my lift not being used, so I decided to convert it to a '60s AF/X-style gasser," Al says. "I've always loved the '60s So-Cal AF/X history. To me, it was the best time for drag racing." Al wasn't around back then, heck, he wasn't even born until the late '80s, but his dad lived through it and passed on that passion for drag racing's heyday to his son.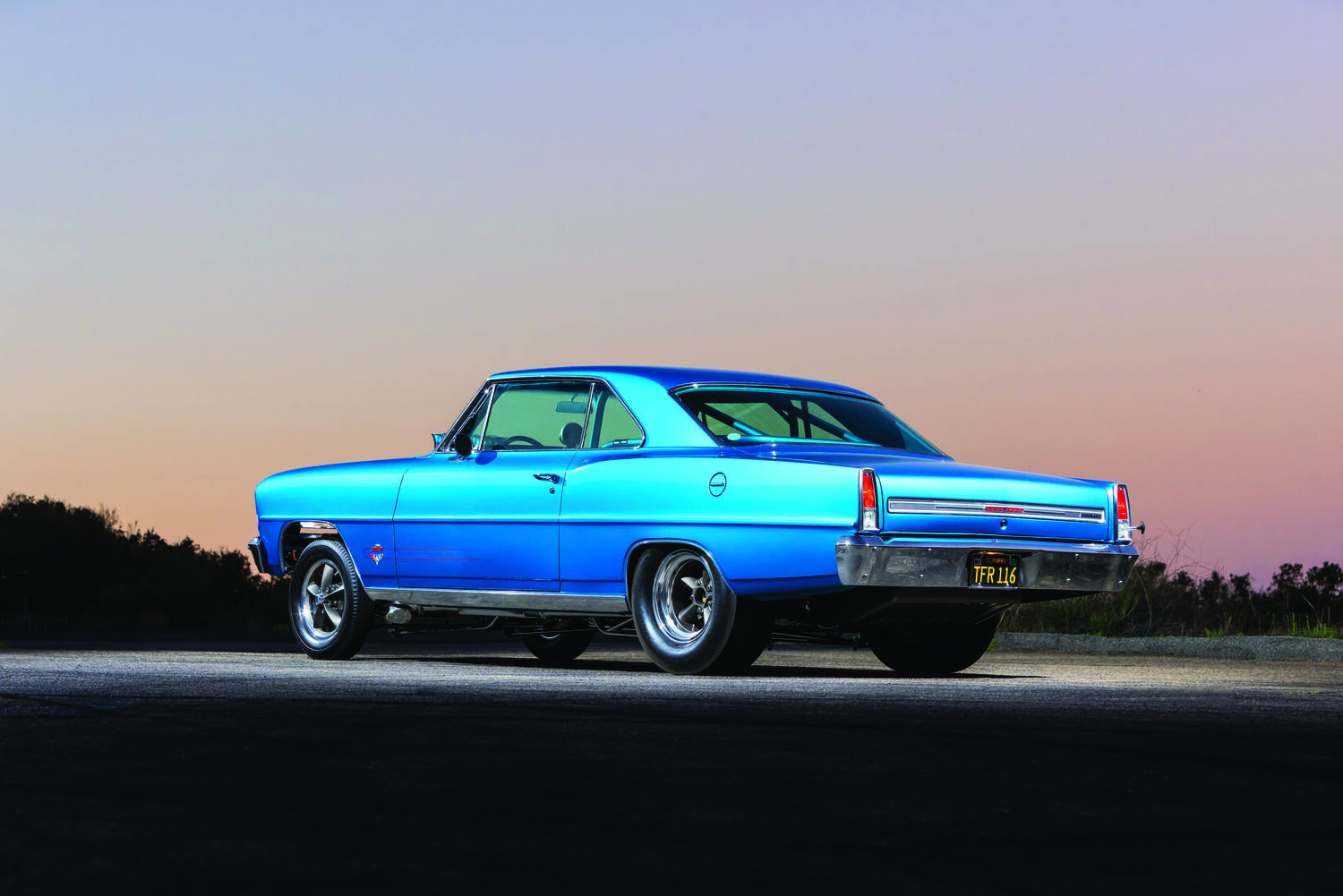 Al dove into the car and completely changed the suspension.  Dave took care of the underside prep and paint to continue the show car perspective. The duo then assembled the car and gave it streetable demeanor with power steering, EFI, and an overdrive transmission because, get this, Al drives it! Yesterday's gassers would typically comply with only straight-line driving, but Al put in the work to ensure the Nova is happy turning in every direction in any street setting.
Al is well-versed when it comes to building hot rods and custom fabrication, as his business, AVS Motorsports, is known for quality work—something Al takes pride in to show off his mad fabrication skills. Case in point is the Nova's AVS frame built from chromoly tubing. The chassis and frame ties are handmade, as is the 14-point rollcage. Al then used polished stainless plumbing for extra glitz.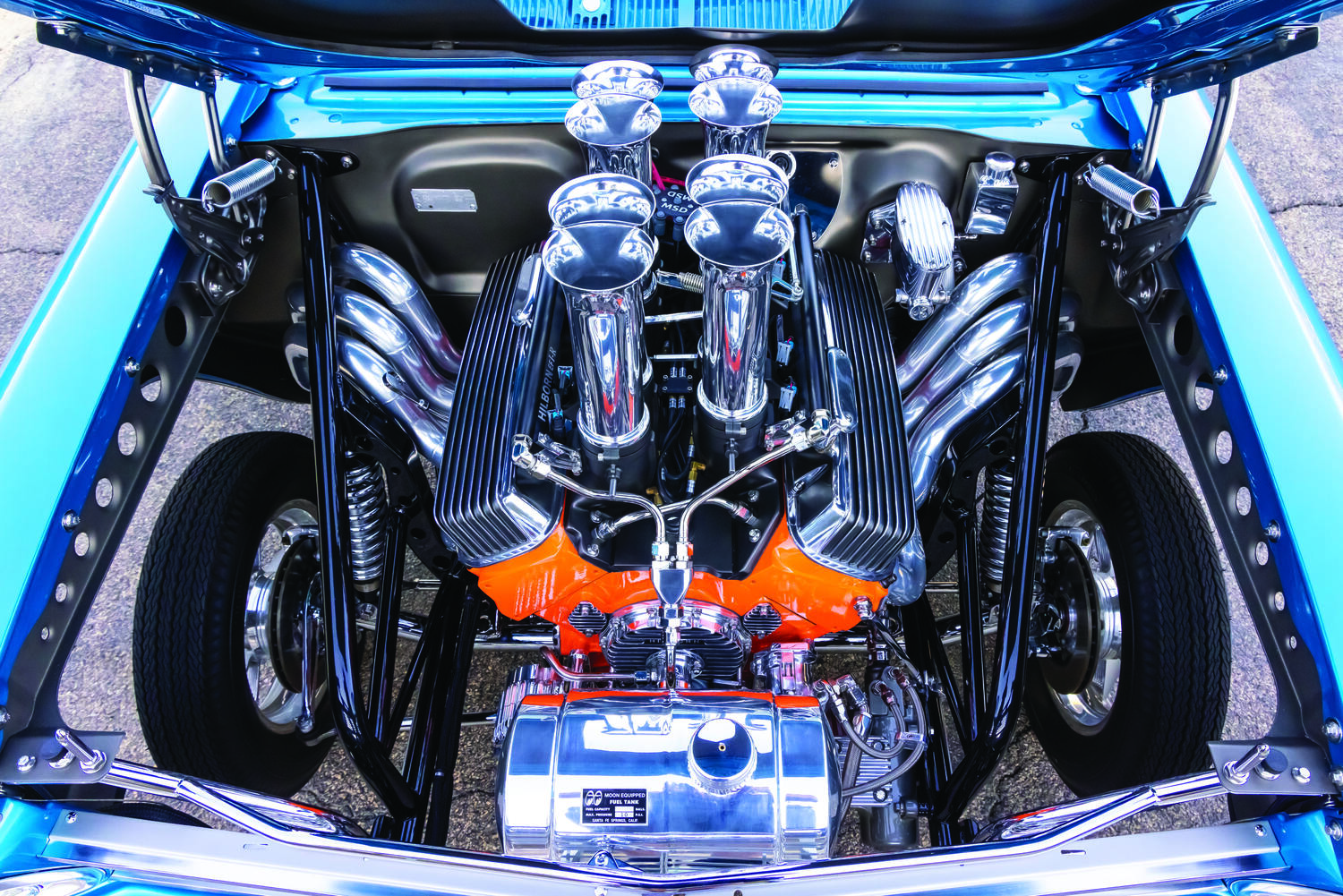 Up front, Al fabbed up a dropped axle with hairpins and used early Chevy spindles and bolted in a Borgeson 12-1 steering box. Those are QA1 double-adjustable shocks peaking from within the 275-pound springs.
Out back is a Mark Williams 12-bolt rearend armed with a spool, 4.11 cogs, and Mark Williams 35-spline axles. Those ladder bars are AVS custom bits as well. Once again QA1 double-adjustable shocks were called to service inside the 250-pound springs.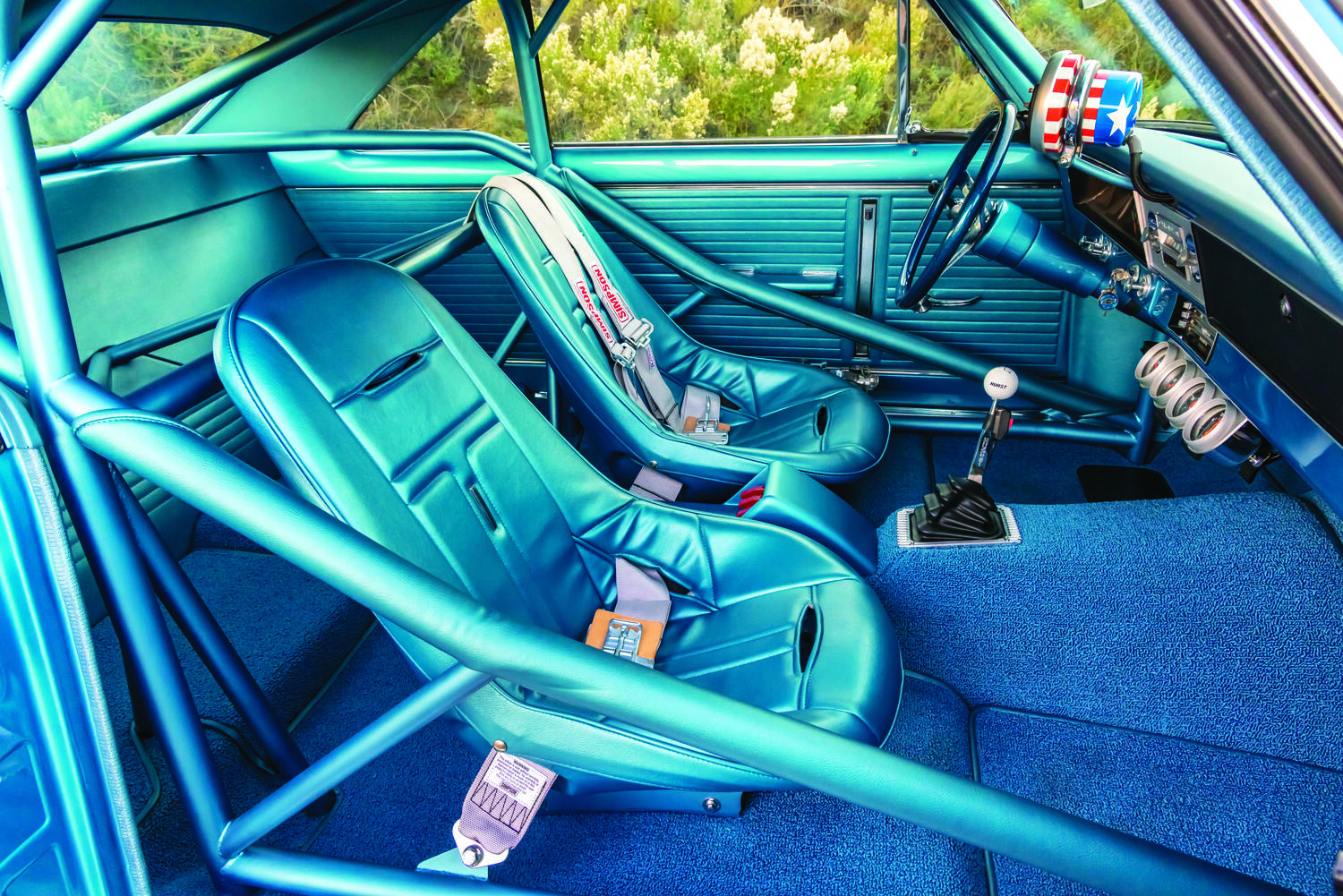 Wilwood Disc brakes look right at home inside the American Racing Torq Thrust wheels on all four corners (15×4 front, 15×8.5 rear). Mickey Thompson 28-inch-tall and 11-inch-wide DOT slicks add to the AF/X motif as do the 25-inch-tall Firestone skinnies up front.
Check this Nova Gasser out: Don Fardie's Chevy Nova Gasser
The car has many focal points, but the 598ci Dart big-block is a big draw—a work of art that's also a workhorse. With the polished Hilborn stack injection jetting through the hood, it's difficult to look away. The finned aluminum valve covers and brake master, along with the Chevy Orange painted block carry the vintage vibe that makes this Nova so damn cool. That's a Jones Racing Products drive system and the radiator is a Griffin piece Al custom-mounted in the rear. Spent fuel exits via a set of AVS 2¼-inch headers with 4-inch collectors mated to AVS custom 3 1/2-inch oval exhaust finished off with Spintech mufflers. Yeah, it carries the appearance of a show car, but with 753 hp and 800 lb-ft of torque, Al's Nova has the temperament of a badass when provoked. This thing brings it.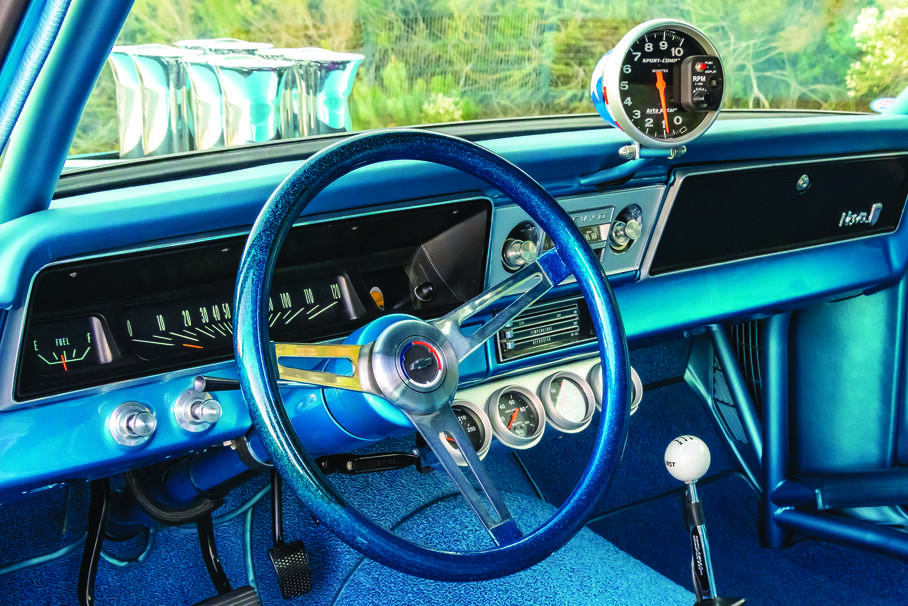 The performance approach continues as Al went with a TREMEC T56 done up by Tick Performance backed by a McLeod twin-disc clutch. Al fabbed up a custom trans tunnel, had the trans case polished to perfection, then employed a 3 1/2-inch chromoly driveshaft built by Oceanside Driveline—the word "impressive" is an understatement.
Visiting the interior is like stepping into a '60s time capsule, featuring a host of factory-fresh goodness. The Bright Blue carpet, Marina Blue door panels, and factory dash all comply with the original theme. Al skipped the billet goods and went with aftermarket bits that adhere to the vintage setting. The blue metalflake steering wheel, Auto Meter Sport Comp tach and accompanying Auto Meter gauges hung under the dash continues the period-correct approach. Yes, those are JAZ race bucket seats wrapped in blue vinyl, and the stock-style stitch pattern puts them right at home. The custom rollcage wrapped in blue vinyl offers a stealthy presence that can go unnoticed, but we noticed. Al handmade the pedals to look OEM, which was the whole idea.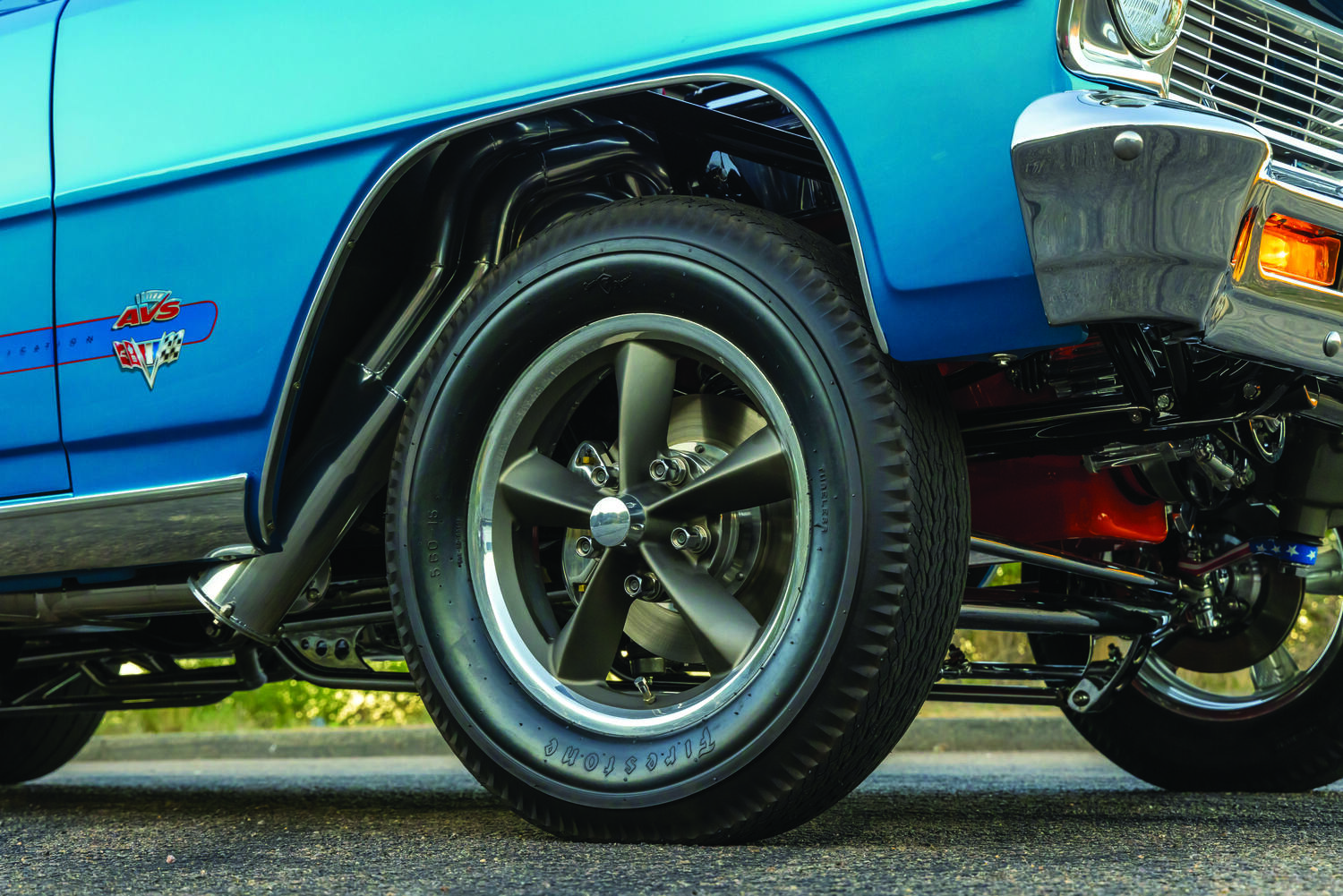 Dave and Al originally did the bodywork and paint way back in 2008. Dave sprayed the shell in Glasurit Marina Blue and airbrushed the AVS Fabrication graphic. He recently gave the car a good sand and buff to bring the clear back to its former glory. San Marcos Polishing took the factory shiny parts to the next level.
Don't forget to take a look at these Nova Parts in the Parts Bin: Vintage Air Control Panel
AF/X and gasser-style cars aren't supposed to be this nice, but Al is a perfectionist … he refuses to settle for "just OK" when it comes to building cars—his, or his customers' rides. That becomes apparent when you give this this 3 1/2-year reincarnation the once-over.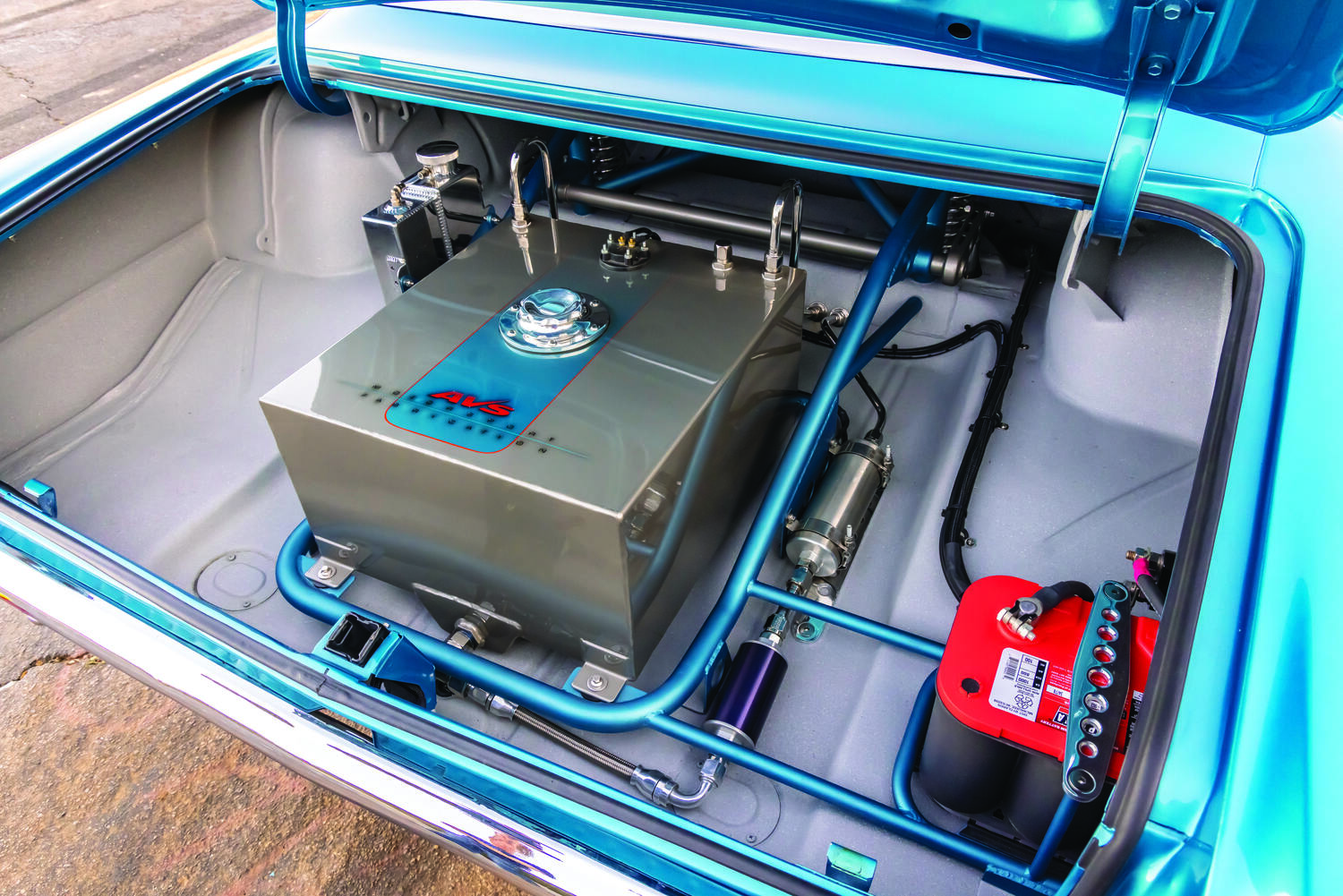 Al admits it was a challenge to build a car while at the same time running a business, but we're thankful he did, as the posture of the car takes us back to the glory days of drag racing. A time when hot rods unapologetically carried exaggerated personalities and excessive attitude. Thanks Al, for taking us for a straight line ride back in time. ACP
TECH CHECK
Owner: Al Verschave Oceanside, CA
Vehicle: '66 Chevy Nova
Engine
Type: Dart big-block
Displacement: 598 ci
Compression Ratio: 9.9:1
Bore: 4.600 inches
Stroke: 4.500 inches
Cylinder Heads: Aluminum Merlin III
Rotating Assembly: Eagle crankshaft, Eagle rods, JE pistons, Total Seal rings
Valvetrain: Manley valves, Jesel rockers
Camshaft: Bullet solid roller (0.731/0.731-inch lift, 259/269 deg. duration at 0.050, 114-deg. LSA)
Induction: Hilborn stack injection, AVS-fabricated air filters
Assembly: Rich Ambler (Pacific Beach, CA)
Exhaust: AVS Fabrication 2¼ primary, 4-inch collectors, AVS Fabrication 3 1/2-inch oval stainless exhaust, custom Spintech mufflers
Ancillaries: Jones Racing Products drive system, Meziere water pump, SPAL fan, Billet Specialties alternator, Griffin radiator, Finned aluminum valve covers, MSD 7AL ignition, MSD wires, AVS polished stainless plumbing, AVS Fabrication smoothed firewall, 15-gallon aluminum fuel cel, Optima RedTop battery
Output: 753 hp at 5,900 rpm, 800 lb-ft at 3,800 rpm
Drivetrain
Transmission: TREMEC T56 six-speed manual prepared by Tick Performance
Clutch: McLeod twin disc
Driveshaft: Oceanside Driveline 3 1/2-inch chromoly
Rear Axle: Mark Williams 12-bolt, Spool, 4.11 gears, 35-spline axles by WAC Customs axle
Chassis
Frame: AVS Fabrication chromoly tube
Front Suspension: Early Chevy spindles, AVS dropped axle with hairpins, QA1 double-adjustable shocks, QA1 275-pound springs, Borgeson steering box
Rear Suspension: AVS ladder bar, QA1 double-adjustable shocks, QA1 250-pound springs, AFS sway bar
Brakes: Wilwood 11.5-inch rotors, four-piston calipers front and rear, Wilwood master cylinder
Wheels & Tires
Wheels: American Racing Torq Thrust; 15×4 front, 15×8.5 rear
Tires: Coker/Firestone 25-inch-tall front, Mickey Thompson ET Street 28X11.50-15 rear
Interior
Upholstery: Factory Bright Blue carpet, factory Marina Blue vinyl
Installed by: Rex Auto Upholstery (Fallbrock, CA)
Seats: JAZ race buckets, stock pattern Marina Blue
Steering: Stock column, Metalflake blue steering wheel
Shifter: Hurst
Pedals: AVS Fabrication
Dash: Factory
Console: AFS Fabrication
Custom Trans Tunnel: AVS Fabrication
Instrumentation: Auto Meter
Wiring: Ron Francis by AVS Fabrication
HVAC: Window down 65
Rollcage: 14-point chromoly by AVS Fabrication
Harness: Simpson
Exterior
Bodywork: Dave and Al Verschave
Paint and Graphics: Dave Verschave
Paint Color: Glasurit Marina Blue
Chrome Plating: San Marcos Polishing (San Marcos, CA)
Body Mods: Underside bodyworked and painted by Dave Verschave
Hood: Factory with custom opening for stacked injection
Grille: Factory
Bumpers: Factory