Tom Panaseny's 1967 Camaro Pays Tribute to its Original Owner
By Nick Licata  –   Photography by John Jackson
Tom Panaseny is a car guy–he's been one basically his whole life. What started out as helping his dad repair cars led to him buying a T-bucket as his first car. His love for Camaros began when a neighbor brought home a new '69 convertible–white with orange stripes and an orange interior. Over the last 35 years Tom has owned, restored, modified, and, most importantly, enjoyed 11 Camaros of all generations. "Each one was unique in some way," Tom states. "I've owned special editions, highly modified, low-mile, and a few one-owner Camaros. Some were show winners and some I drag raced and beat the crap out of; unfortunately, they've all been sold … except for one."
Tom holds this '67 special, not only because he's only the second owner, but because it was originally purchased from Ross Chevrolet in St. Petersburg, Florida, back in 1967 by his good friends Roy and Joann Dunlap. "Roy and Joann were early members of the Sunshine State Camaro Club," Tom adds.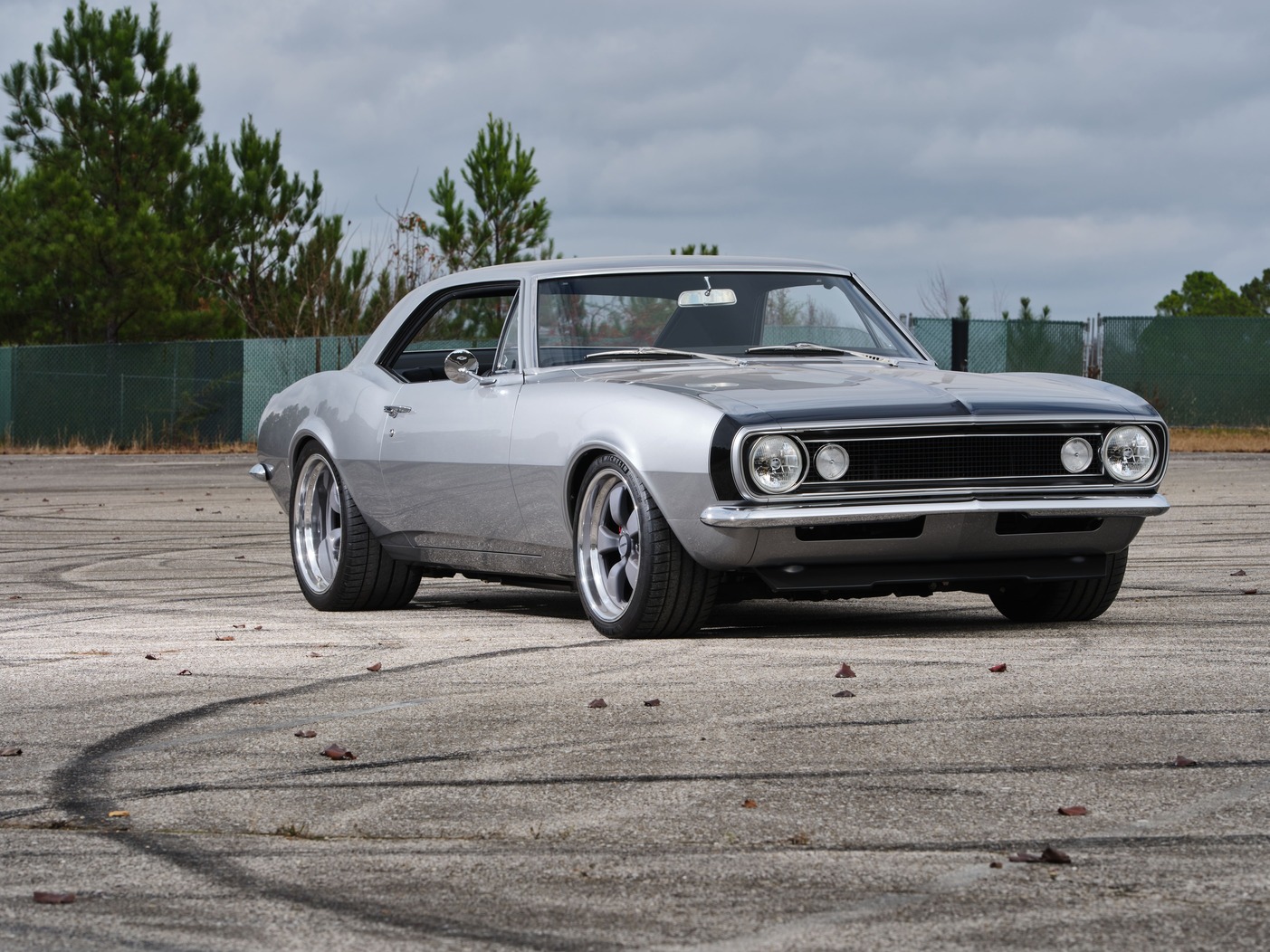 After Roy died, Joann asked if anyone in the club was interested in purchasing the car. Tom was; he couldn't say "no" on bringing home Roy's Camaro. The car came with the original bill of sale, but the 327 and powerglide transmission were long gone, so Tom's plan was to reincarnate Roy's car as a full-on Pro Touring street machine with aftermarket suspension and an all-aluminum 406ci small-block with fuel injection. The inspiration came from Ridetech's 48-hour Camaro built a few years ago.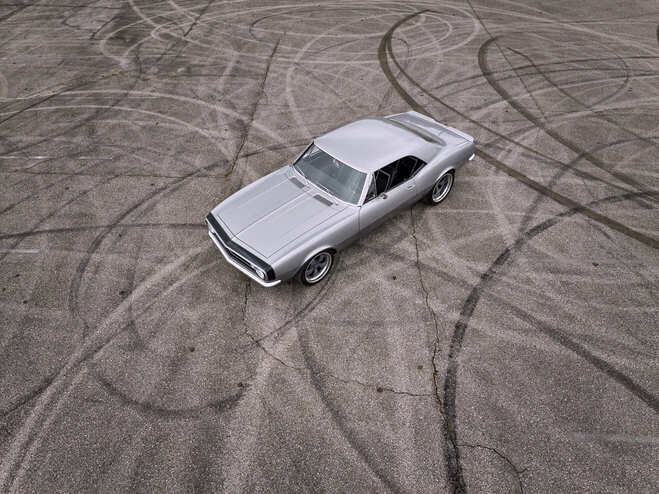 All was moving along on Roy's Camaro, but it was happening rather slowly, as after a paintjob and an engine build Tom eventually lost focus so the car sat on his two-post. A few years in, the car was still nagging at Tom. He wanted the project completed, so he changed course and decided to go with a Roadster Shop SPEC chassis as the new foundation for the car. He also determined the best course of action was to have it professionally built by the crew at Goolsby Customs in Hueytown, Alabama. "The attraction to Jonathan Goolsby and his crew was seeing all the quality builds coming out of that shop, Tom explains. "I'd see their cars at shows and noticed they have the sharpest lines and amazing attention to detail." Once getting the car to Goolsby's things moved quickly. "The communication with [Goolsby] was exceptional," Tom says. "He understood exactly what I was looking to do with the build and he also shared my vision of keeping the car somewhat basic–nothing over the top, although they are absolutely capable–I wanted this car to represent something Roy might have done with the car at some point."
Check Out This Camaro: Anthony Cacioppo's 1971 Camaro is Almost Above the Law
The Goolsby gang dug in and removed badging, cleaned up the body lines, gapped the gaps, and impeccably smoothed the sheetmetal prior to spraying on a crisp layer of BASF Glasurit GT Silver Metallic and black bumble bee nose stripe. With the body looking fresh, the original front bumpers were smoothed and tucked and then sent to Advanced Plating for rejuvenation. An Anvil rear carbon-fiber spoiler and a custom-notched front spoiler were added to offer a more-sporty profile without interrupting the car's original bloodlines.
Tom's experience driving his '17 ZL1 Camaro and his wife's Z06 Corvette started the love affair with the Chevrolet LT4. "That engine has great street manners, and a big fat torque curve that is quite addicting," Tom conveys. "Plus, I wanted to buck the trend of going with an LS that is so common with restomods these days. Goolsby has used the LT powerplant in several of their projects, so it was an easy decision. Their experience shows and the detailed engine compartment looks like it was made specifically for this combination."
Preferring a manual transmission, Tom chose a Bowler Performance–prepared TREMEC T56 six-speed for added strength and smooth gear changes. The confident shifting comes via a Tilton twin-disc clutch; the whole enchilada offers solid high-rpm shifting capabilities and the overdrive makes driving the vintage Camaro feel like a late-model sports car. A GearFX Driveline 9-inch rearend houses 3.90, a limited slip posi, and Strange 31-spline axles.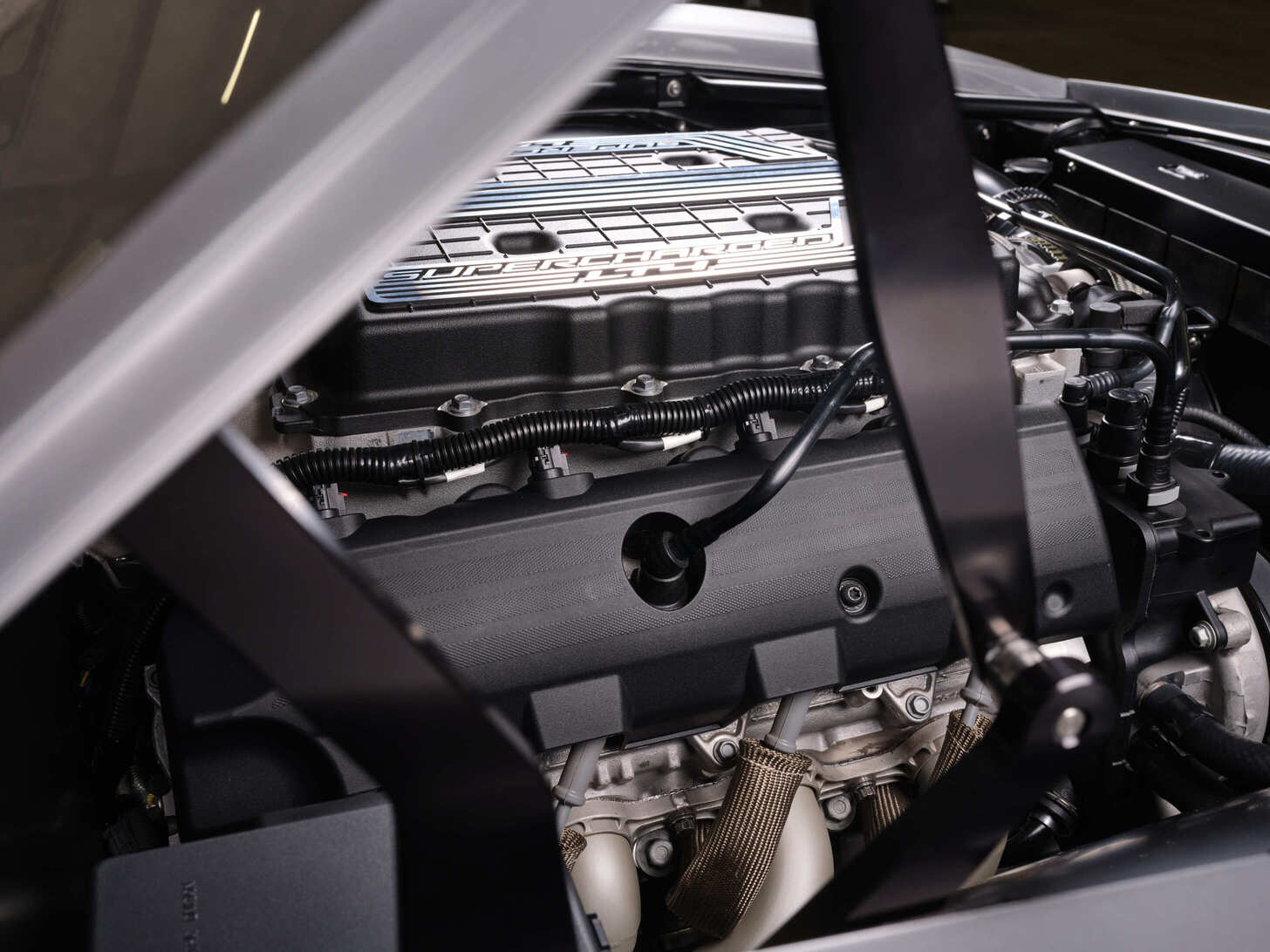 The aforementioned Roadster Shop (RS) chassis features RS Fox single-adjustable coilover shocks front and rear with a Panhard bar out back and splined sway bars on both ends. Up front, Wilwood spindles offer a lower stance, additional strength, and improved steering geometry and work in conjunction with the modern rack-and-pinion steering system. Baer disc brakes reside on all four corners and rely on the Detroit Speed master cylinder and booster and Wilwood proportion valve for a positive pedal feel and accurate braking performance.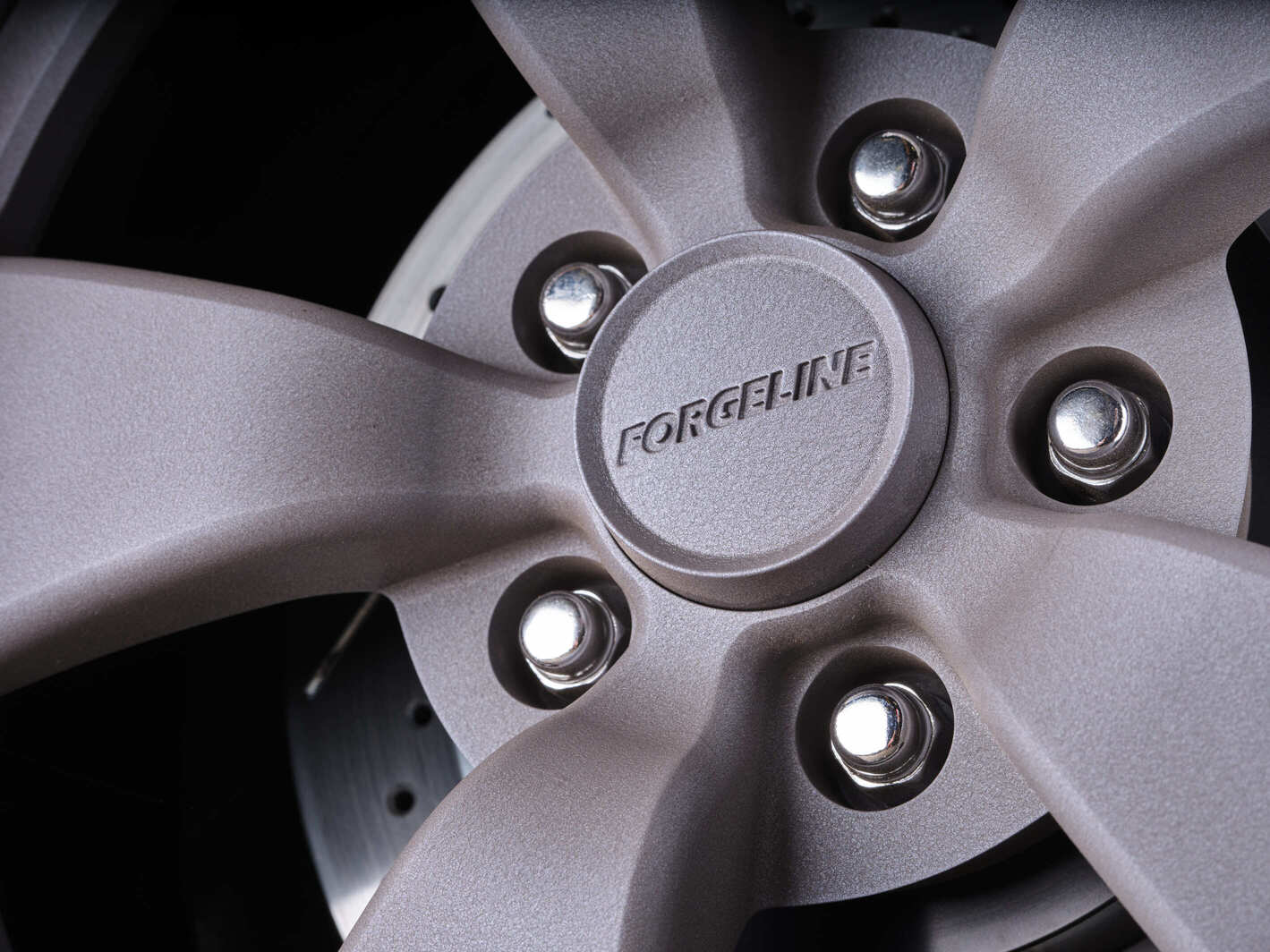 Look at This Beast of a Car: Tony Karamitsos' Street/Strip 1969 Z/28 Camaro
Forgeline CR3 wheels with gray centers complement the car's silver pigment while carrying modern flair to the five-spoke design. Wrapped in Michelin Pilot Sport rubber (265/35R18 front, 325/30R19 rear) their massive size offers a performance grip and reins in every bit of the LT4's 650 hp.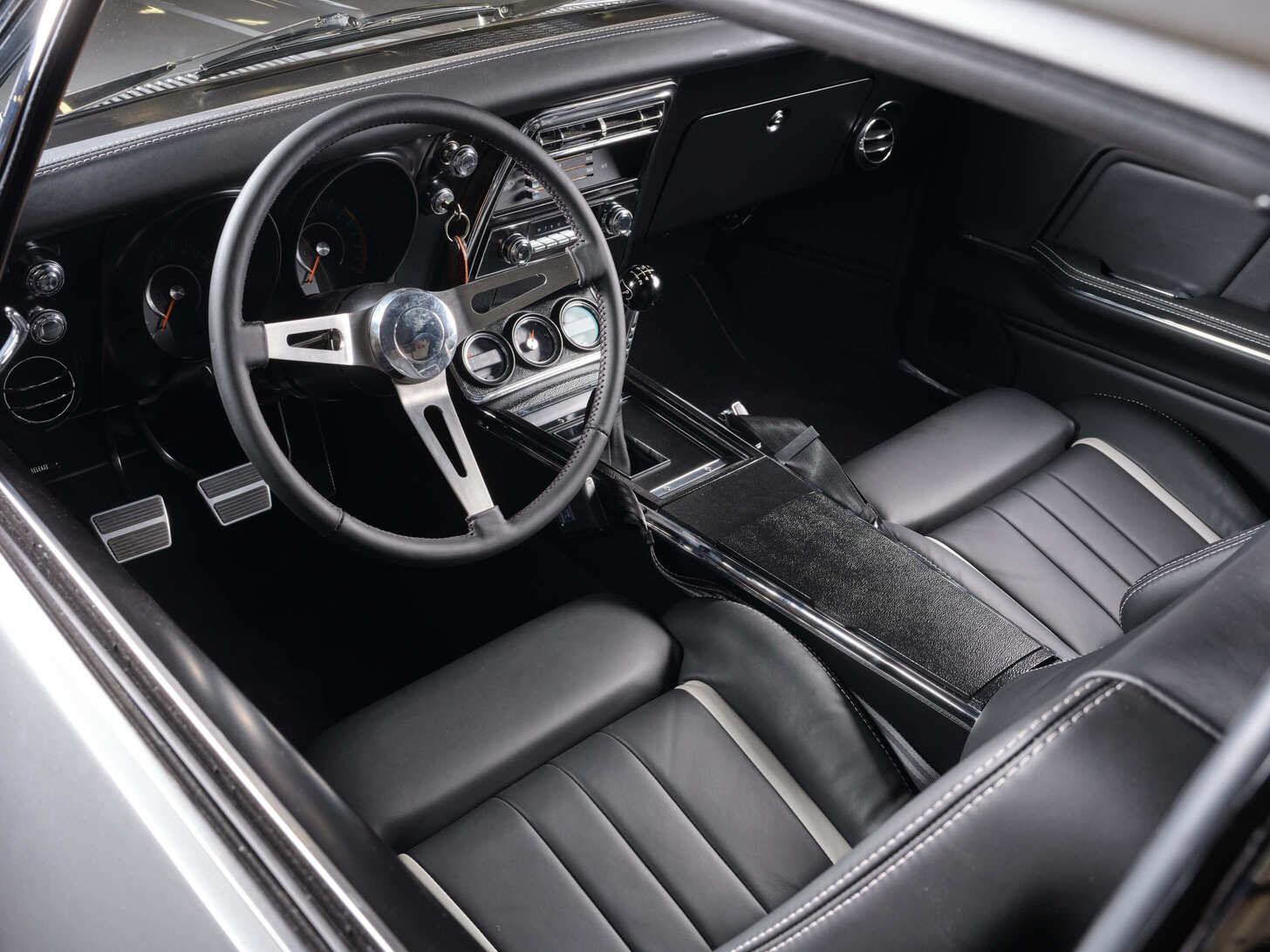 Tom wanted to update the interior while still carrying the Camaro's original '60s ancestry. The Goolsby crew split duty with Hot Rod Interiors by Chuck and covered a pair of Recaro seats in Moore & Giles black leather, which carried onto the Goolsby custom rear seats and door panels. The Douglas Automotive velvet weave black carpet complements the overall theme and looks damn good doing so. In keeping with the factory feel, a set of Dakota Digital RTX Series gauges monitor vitals and a Vintage Air A/C system blows through the Camaro's original vents. A Custom Autosound head unit looks vintage but is wired up to a state-of-the-art JBL amp that powers a plethora of JBL speakers, including a trunk-mounted 10-inch sub creating thumping bass that blends in with the oveall kick-ass sound system.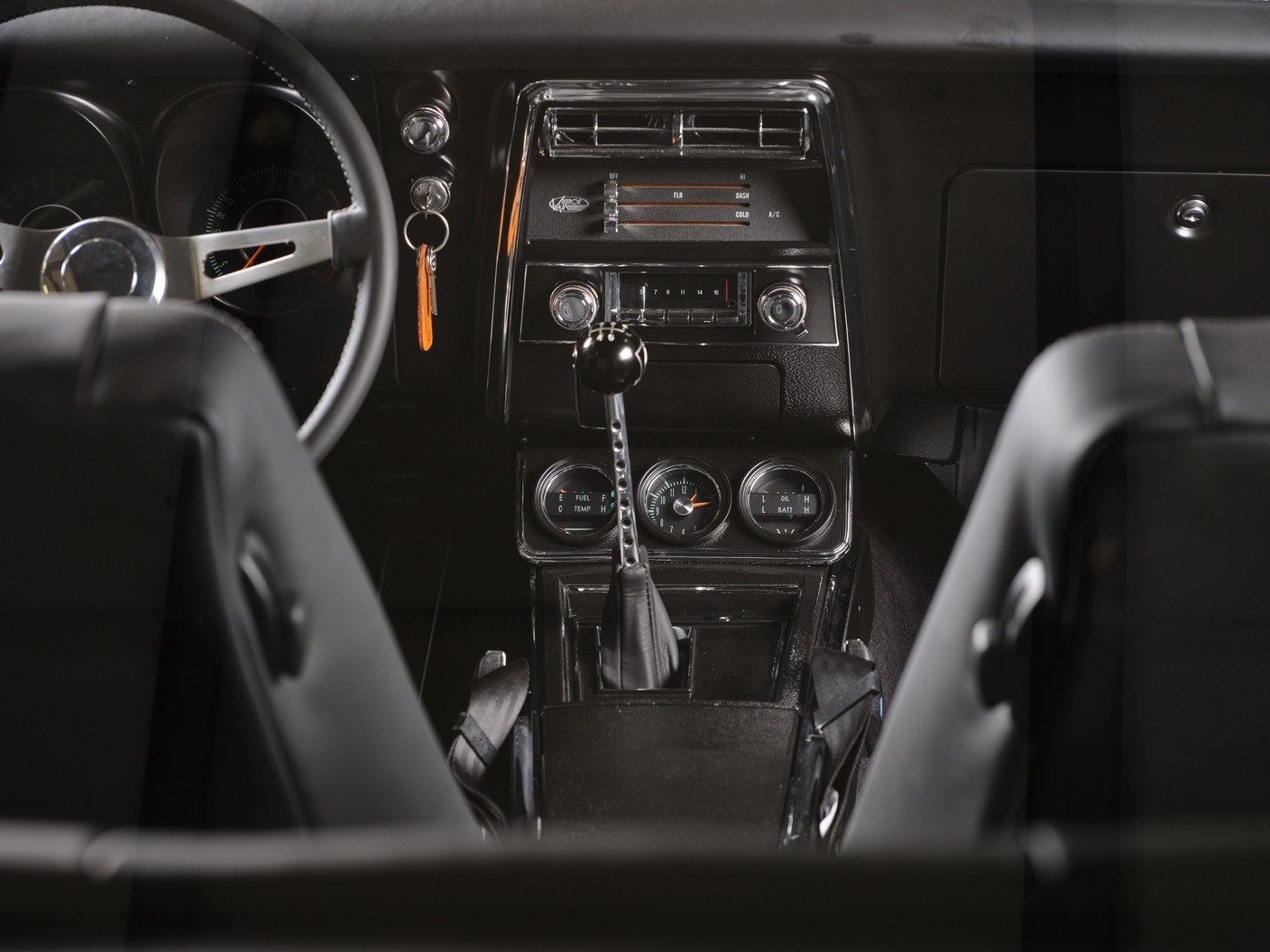 Jeremy Calloway hand-stitched the black leather grip around the Lecarra "Vette" steering wheel perched atop the ididit steering column. It goes well with the theme as do the Lokar Retro Series pedals and factory center console.
"What started as a tribute to a good friend and true Camaro enthusiast over 10 years ago finally came to fruition thanks to all at Goolsby Customs. They picked up where I left off and put the hammer down and built a car that I know Roy would be proud of," Tom says. "The car features a great mix of modern performance and driveability without losing the attraction of what made the Camaro so cool back in 1967."
It was a two-year evolution under Goolsby's watch, and Tom got his first view of the finish product as it debuted in the Griots Garage booth at the 2022 SEMA Show in Las Vegas. "Seeing the car displayed at SEMA was a once-in-a-lifetime experience," Tom reveals. "I couldn't be happier and wouldn't change anything on this build. And Roy … I'm sure he'd wholeheartedly approve, as well."
TECH CHECK
Owner: Tom Panaseny, Tampa, Florida
Vehicle: '67 Camaro
Engine
Type: '19 Chevrolet Performance LT4
Displacement: 376 ci (6.2L)
Compression Ratio: 10.0:1
Bore: 4.065 inches
Stroke: 3.622 inches
Cylinder Heads: A356-T6 rotocast aluminum
Rotating Assembly: Forged steel crankshaft, forged powdered-metal steel connecting rods, forged aluminum pistons
Camshaft: Hydraulic roller
Induction: 1.7L Eaton R1740 TVS supercharger, Goolsby custom air intake, Spectre filter
Assembly: Pace Performance (Boardman, OH)
Exhaust: Ultimate headers, Goolsby Customs 3-inch stainless steel exhaust, MagnaFlow mufflers
Ancillaries: C&R Racing aluminum radiator, Ringbrothers hood hinges, SPAL fans, Powermaster alternator, Billet Specialties drive system
Output: 650 hp at 6,400 rpm, 630 lb-ft at 3,600 rpm
Drivetrain
Transmission: TREMEC T56 Magnum by Bowler Performance
Clutch: Tilton twin disc
Driveshaft: Dynotech 3-inch DOM
Shifter: Bowler Performance
Rear Axle: GearFx 9-inch; 3.9 gears, Detroit Truetrac limited slip posi, Strange 31-spline axles
Chassis
Chassis: RS SPEC Series
Front Suspension: Wilwood spindles, RS SV by Fox single-adjustable coilover shocks, splined sway bar, rack-and-pinion steering
Rear Suspension: Parallel four-link, Panhard bar, RS SV by Fox single-adjustable coilover shocks, splined sway bar
Brakes: Baer 14-inch rotors, six-piston calipers front, Baer 13-inch rotors, four-piston calipers rear, DSE master cylinder, DSE booster, Wilwood proportion valve
Wheels & Tires
Wheels: Forgeline CR3 (18×9.5 front, 19×11.5 rear)
Tires: Micheline Pilot Sport; 265/35R18 front, 325/30R19 rear
Interior
Upholstery: Douglas Automotive black carpet, Moore & Giles leather Tusk and North Black
Installation: Goolsby Customs and Hot Rod Interiors by Chuck
Seats: Recaro buckets front, custom by Goolsby rear
Seatbelts: Juliano's stock replacement
Steering: Ididit steering column, Lecarra "Vette" steering wheel with hand-stitched leather by Jeremy Calloway
Shifter: Bowler
Wiring: American Autowire Highway 22 kit installed by Goolsby Customs
Dash: Stock
Center Console: Stock
Instrumentation: Dakota Digital RTX Series
Pedals: Lokar Retro Series
HVAC: Vintage Air
Control Panel: Vintage Air
Vents: Stock
Entertainment System: Custom Autosound head unit, JBL five-channel amp, JBL Stadium 62F 6.9-inch front, JBL Stadium 962M 6×9 rear, JBL Club WS1000 10-inch sub in trunk, installed by Goolsby Customs
Insulation: DEI
Exterior
Bodywork and Paint: Goolsby Customs (Hueytown, AL)
Paint: BASF Glasurit GT Silver Metallic, black bumble bee nose stripe
Hood: Original
Grille: Stock
Front Bumper: Stock, smoothed and tucked
Rear Bumper: Original
Outside Mirrors: Stock
Headlights: Dapper Lighting OE LED
Taillights: Stock
Chrome and Plating: Advanced Plating (Portland, TN)
Rear Spoiler: Anvil Auto
Front Spoiler: Custom notched