Anthony Cacioppo's 1971 Camaro is Almost Above the Law
By Scotty Lachenauer   –   Photography by the Author
Working in law enforcement can be a rewarding career, though it's not a lifestyle for everyone. Hours can be long, and shifts can start at any time during the day, making it not only hard on families, but also keeping up with friends and enjoying leisure-time hobbies.
For Anthony Cacioppo, finding that balance between family, work, and fun time was a process—a matter of negotiation, sacrifice, and compromise—but luckily for him, the end result was well worth it. See for yourself; check out his stunning '71 Camaro Pro Tourer on the pages in front of you.
"I grew up around drag racing. My dad had a track car and my brothers always had something that was fast. That wore off on me and of course I had to do the same, so I got hooked on circle track racing. Around the same time, I started racing go-karts throughout the northeast," Anthony states. That was pretty much life growing up in the Cacioppo household in Ronkonkoma, New York."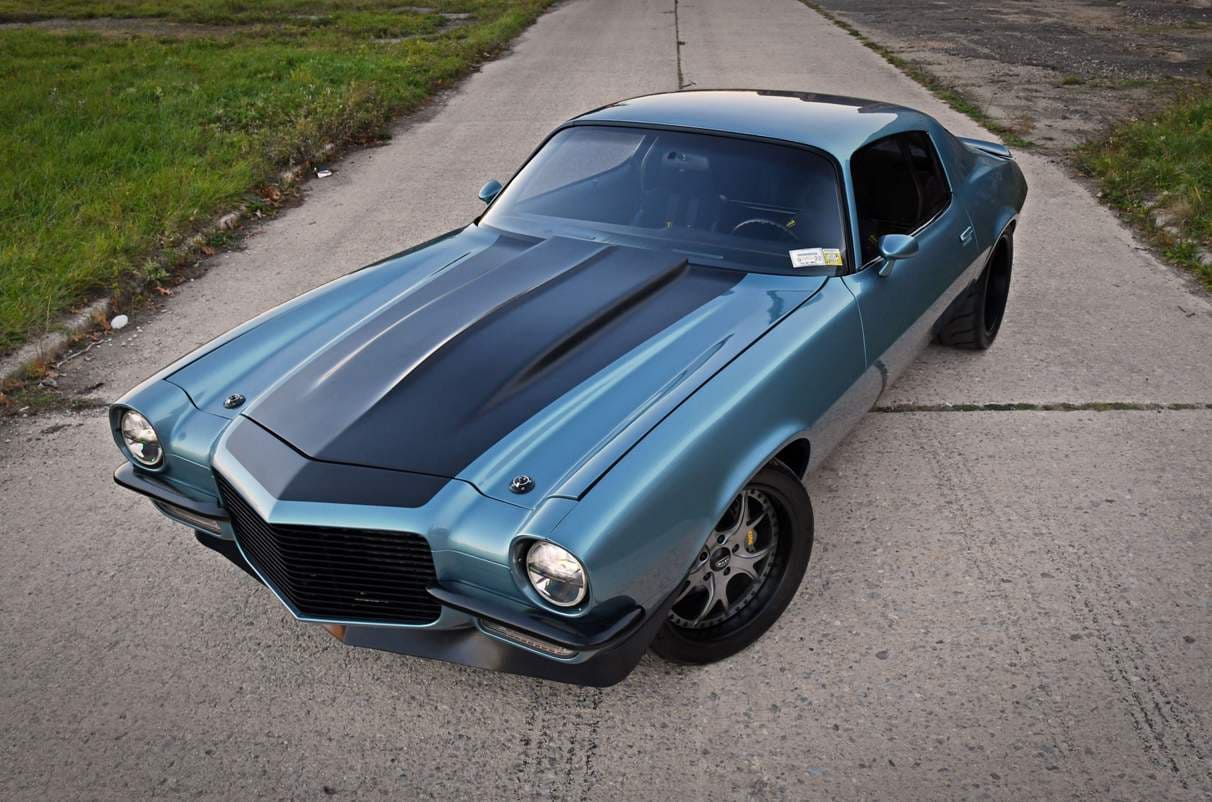 In 2000, Anthony joined the New York City Police Department. Soon after, he got married, bought a house, and started a family. All the racing stuff was soon sold off to concentrate on his new career and homelife. However, the racing bug never went away, and soon Anthony was running a Legend's car at nearby Riverhead Raceway. "Working 12 a.m. to 8 a.m. shifts, it was hard to balance racing and family," Anthony confesses. "So, my wife made a proposal. Sell the race car and she would support me on my next build as long as we could fit the family in it."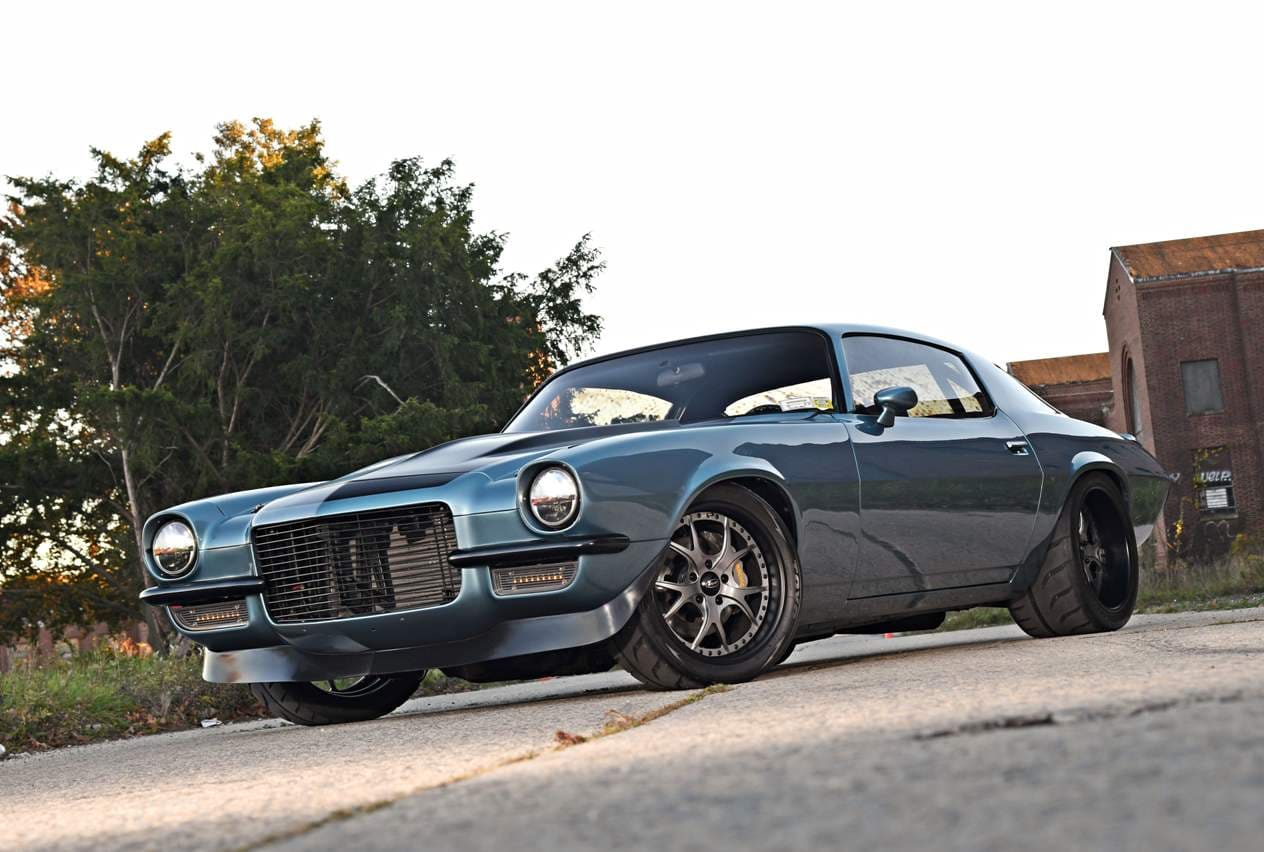 Check it out: One-of-a-Kind Missile, Piranha Green 1968 Camaro
So, the hunt was on for a project car that Anthony could turn into a high-powered family friendly ride. He looked at a bunch of cars and realized everyone's definition of "mint" is different, but somehow he found this car upstate in New York. It was a basket case originally from California. He even found a business card from an L.A. strip club inside the door backing up its origin.
The Camaro turned out to be pretty much everything he had wished for so Anthony dove right into the project and got down to brass tacks. Luckily for him, the Camaro came with a decent red paintjob, which he had all intentions of keeping. "I laid out all the work, figuring the red paint would stay and the current engine would be pulled for something with more power," Anthony reports.
In a matter of eight months, the car was running and driving. The following winter he built a four-wheel disc brake system for the car using AP Racing calipers and rotors. While changing out the master cylinder he found there was nothing holding the pin in from the master to the pedal and had been driving around for months like that. Scary!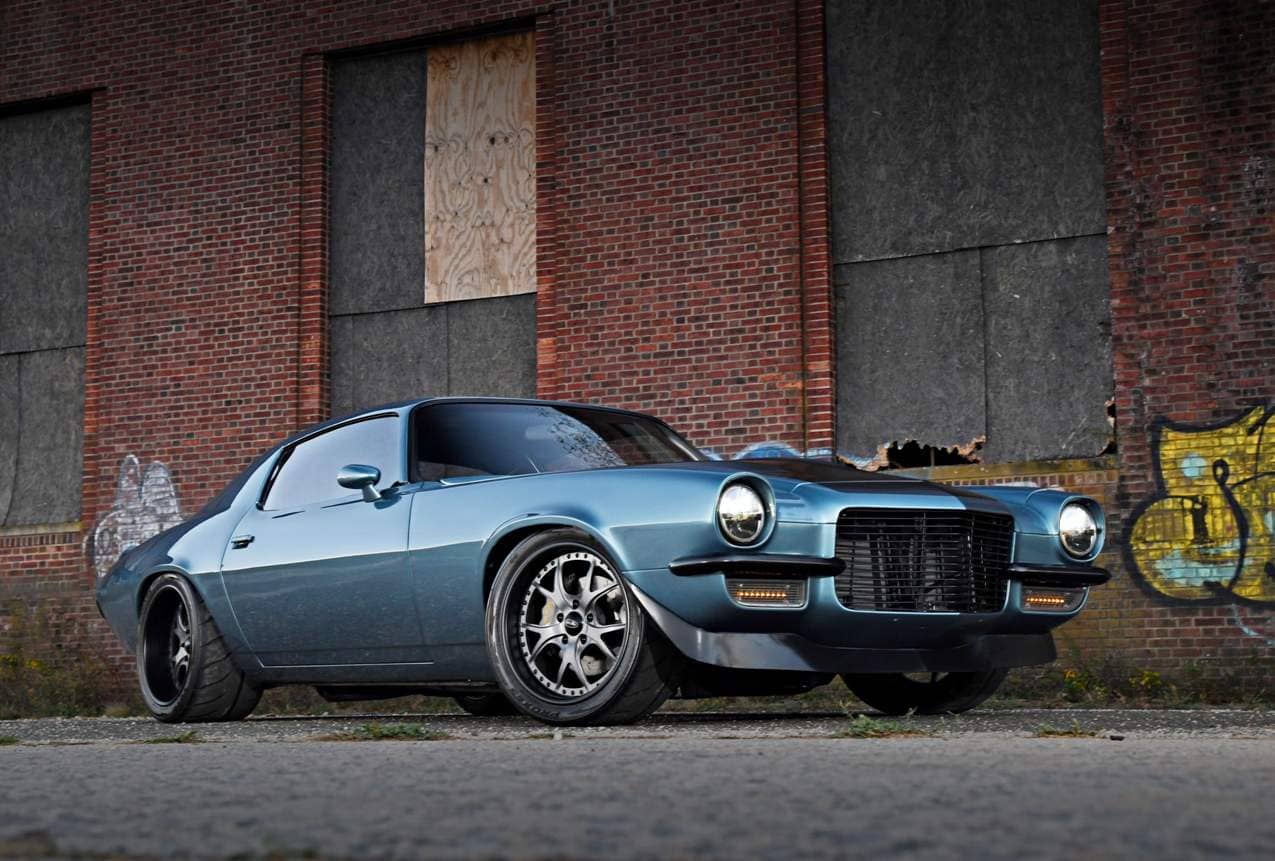 Things moved along for Anthony and his Camaro. He bought a hood for the car and brought in his neighbor, Kevin King, to color-match it to the current red paint. He mentioned he could repaint the whole car for $2,500. So, Anthony shifted gears and decided on another color. It was between Gun Metal Gray and BMW Atlantic Blue. "My daughter and I liked the blue, everyone else liked the gray," Anthony reveals. "But the blue prevailed. Kevin did all the bodywork and sprayed it for me while my friend Nick Martucci wet-sanded and polished it to perfection."
Anthony did most of the work himself with few sources for guidance. "At the time I built the car not many guys were building second-gen Camaros," Anthony mentions. "So, besides watching a few YouTube videos, everything was done without real references."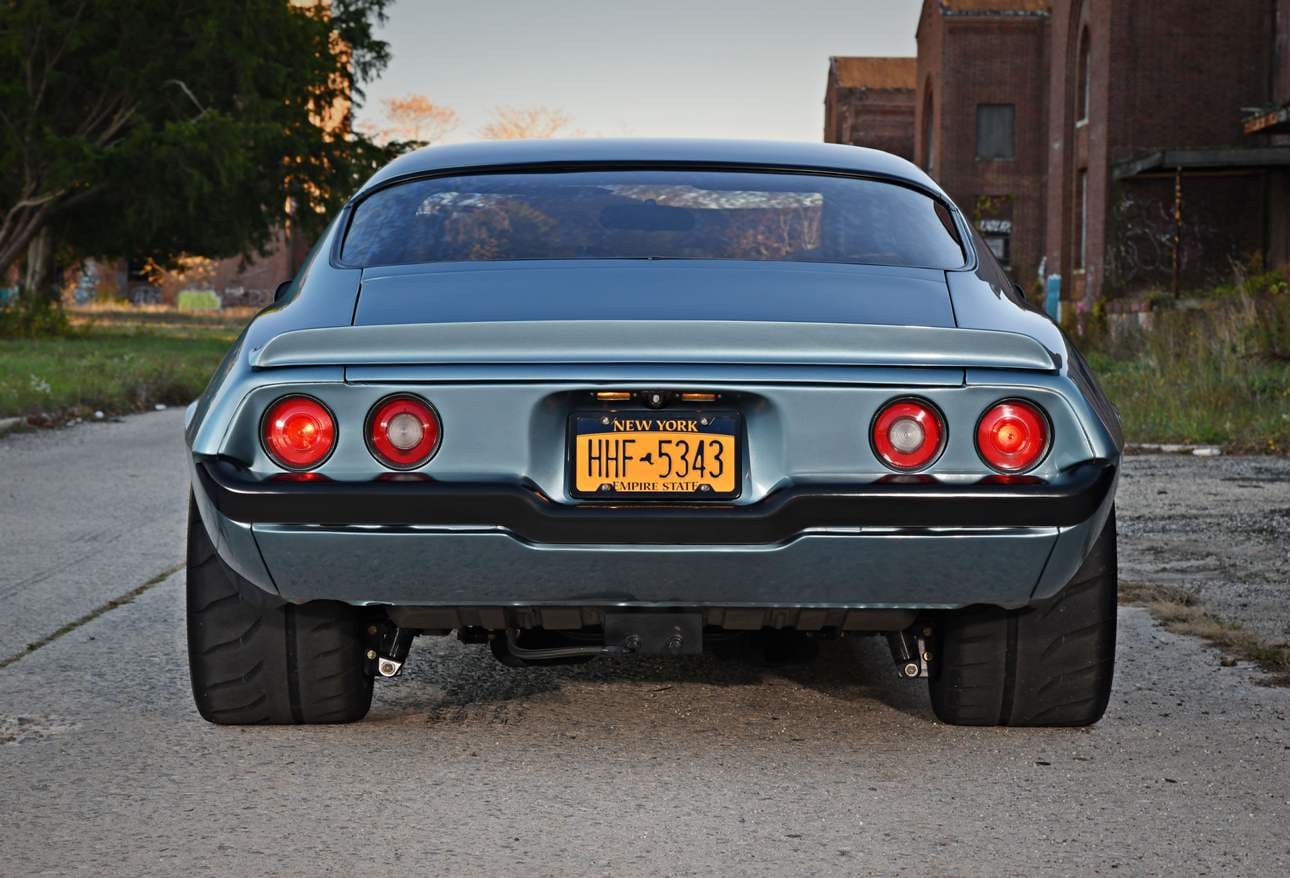 BOWTIE BONEYARD: A Pair of 1969s Rest in Rust
At first his rear suspension did not include provisions for mini-tubs. After seeing a guy's second-gen Camaro with tubs and 335s out back, he had to do that, too, so he had the wheels widened to 12 inches and then welded in a set of DSE mini-tubs.
Anthony also wanted to improve the handling of this here second-gen. The front clip is stock with a Sweet Manufacturing steering box and DSE upper and lower tubular control arms. Aldan coilovers were installed on the corners. There's a fresh GM 10-bolt rear out back stuffed with 3.90 gears and a modified Ridetech four-link suspension system holding it all together.
The interior follows Anthony's chosen color scheme and commitment to simplicity. There's an Anvil Auto carbon-fiber dash stuffed with AutoMeter gauges. Up front resides a set of Procar racing seats while a reupholstered rear seat matches the front. Other highlights include a JOES Racing Products shifter and an Eddie Motorsports steering wheel. To keep it all in harmony, carbon-fiber accents were added throughout the cockpit.
So, what about the powerplant for the Camaro? It all starts with an LQ4 6.0 LS, built with 853 heads, Thunder Racing cam, and a Super Victor intake topped with an Accufab throttle body. Spent gases exit through a set of Dynatech headers, feeding a 3-inch exhaust with X-pipe and Flowmaster mufflers. A Holley HP computer runs the whole thing, and it's shifted with a TKO 600 transmission. On the dyno it made 450 to the tires, which ain't too shabby.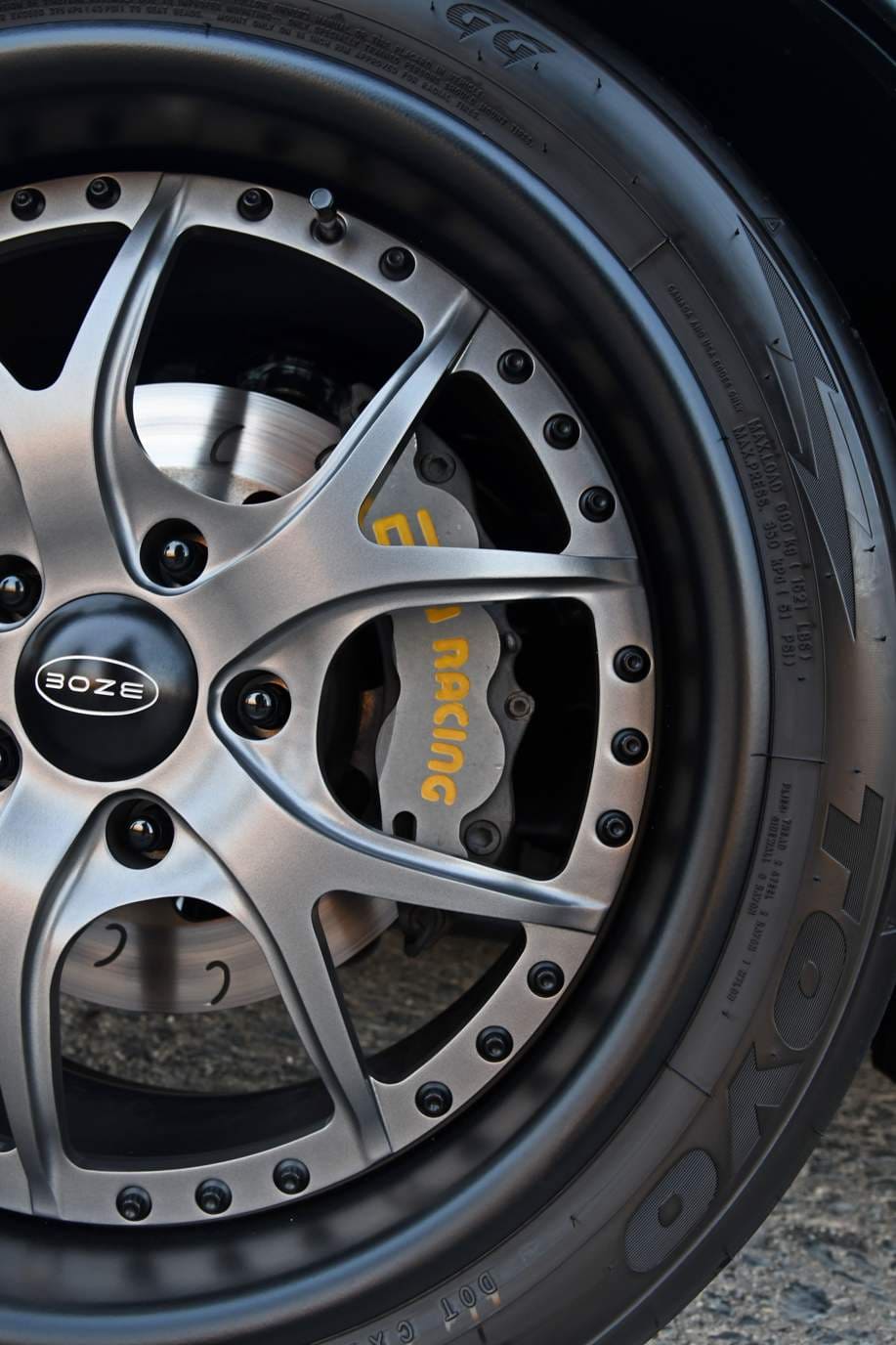 Early in the build, Anthony decided to shoe his ride with the Boze Clutch wheels customized with exposed hardware. The rims are finished with matte gunmetal centers and satin black lips and are shod with Toyo Proxes R888R tires.
The marker lights and key locks were shaved for a cleaner look. "I made markers up front and their bezels and the taillight bezels were hydrodipped," Anthony tells. "I also fabbed my own front bumpers since I wanted them to tie into the grille."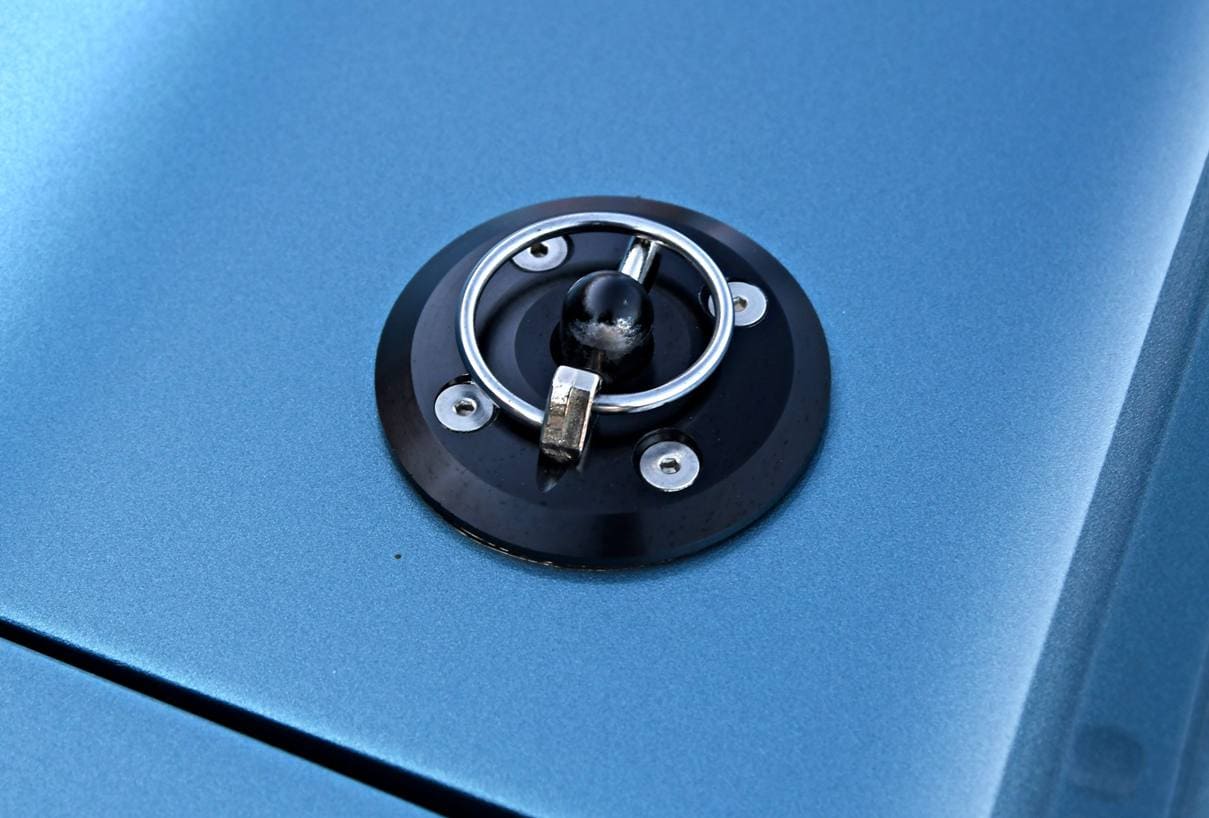 Once completed, Anthony was beyond engaged with his new ride. "I'm a big fan of circle track and I wanted to build something that Dale Earnhardt would drive: clean, simple, and to the point," Anthony declares.
"Thanks goes out to everyone who made this dream ride happen," Anthony announces. "I want to thank my brother, Eddie, and my family and friends. Shout-outs to my kids, Vincent and Sofia for their support. Of course, a big 'thank you' goes out to my wife, Mina, for helping make this all happen."
Tech
Owner: Anthony Cacioppo, Medford, New York
Vehicle: '71 Chevy Camaro
Engine
Type: LQ4
Displacement: 6.0L
Compression Ratio: 11.5:1
Bore: 4.000 inches
Stroke: 3.622 inches
Cylinder Heads: 853 heads
Rotating Assembly: Stock crank LS2 rods and pistons
Valvetrain: Comp Cams pushrods, stock rockers, trunion upgrade, LS7 lifters, Patriot Extreme gold springs
Camshaft: Thunder Racing T-Rex 0.242/0.248 at 0.050/0.608/0.612 lift, 110 LSA
Induction: Edelbrock Super Victor intake, Accufab 4150 throttle body, 60-pound injectors
Ignition: GM coil packs
Exhaust: Dynatech 1 7/8-inch long-tube headers with 3-inch exhaust, X-pipe, and Flowmaster mufflers
Management System: Holley HP computer
Ancillaries: Be Cool radiator and fans
Tuning: Initial tune by owner and Paulie Diamond, Dyno tuned by Dave Kogan
Output: 450 hp at 6,480 rpm, 399 lb-ft at 5,400 rpm
Drivetrain
Transmission: TKO 600 faceplated and treated by Liberty Gear, Hayes clutch and flywheel, McLeod hydraulic throwout bearing
Rear Axle: GM 10-bolt, Yukon posi, 3.90 gears, Moser axles
Chassis
Front Suspension: DSE upper and lower control arms, Aldan coilover shocks, Sweet Manufacturing steering box, Hotchkis sway bar
Rear Suspension: Modified RideTech triangulated four-link, Aldan coilover shocks, Hotchkis sway bar
Brakes: Custom AP Racing calipers and rotors, Wilwood hubs and hats
Wheels & Tires
Wheels: Boze Clutch wheels with custom exposed hardware (18×9 front, 18×12 rear)
Tires: Toyo Proxes R888R (275/35R18 front, 335/30R18 rear)
Interior
Upholstery: Stock carpet
Material: Vinyl
Seats:  Procar by Scat front, reupholstered rear
Steering: Eddie Motorsports steering wheel
Shifter: JOES Racing shifter
Dash: Anvil Auto carbon
Instrumentation: AutoMeter Phantom gauges
Audio: iPhone, AirPods, Apple Music
HVAC: None
Exterior
Bodywork: Shaved markers and key locks
Paint and Finish: Kevin King paint, Nick Martucci wet-sand and polish
Paint: PPG BMW Atlantic Blue
Hood: Glasstek 2-inch cowl hood
Grille: eBay special, powdercoated satin black
Bumpers: Custom front bumpers, front and rear shaved hardware