Tony Karamitsos' Street/Strip 1969 Z/28 Camaro
By Nick Licata   –   Photography by Kevin DiOssi
No matter how you look at it, car guys are a different breed, especially those with their callous hands submerged deep into the performance world. They are always looking to go quicker and faster regardless of the cost–financially, mentally, or otherwise. Tony Karamitsos, the owner of this brutally quick '69 Z/28 Camaro, is no exception. He's always been into cars, beginning as a youngster playing with toy cars, which he still does today, only now he gets paid to do it as he's a die-cast brand manager/senior designer for Johnny Lightning, Auto World, Racing Champions, and American Muscle.
Immersed in small-scale and actual-scale cars, it started at home as his dad, Nick, spent a good amount of time spinning wrenches on vintage cars–old convertibles, mostly. Tony would help his dad and soak in tons of automotive repair and restoration knowledge. That interest carried on through his high school days working on a dragster owned by Mr. Hofer, his auto mechanics teacher. "That really got me into the performance side of cars," Tony says. "I loved working on that race car with Mr. Hofer, and I'm proud to say that we are still friends to this day."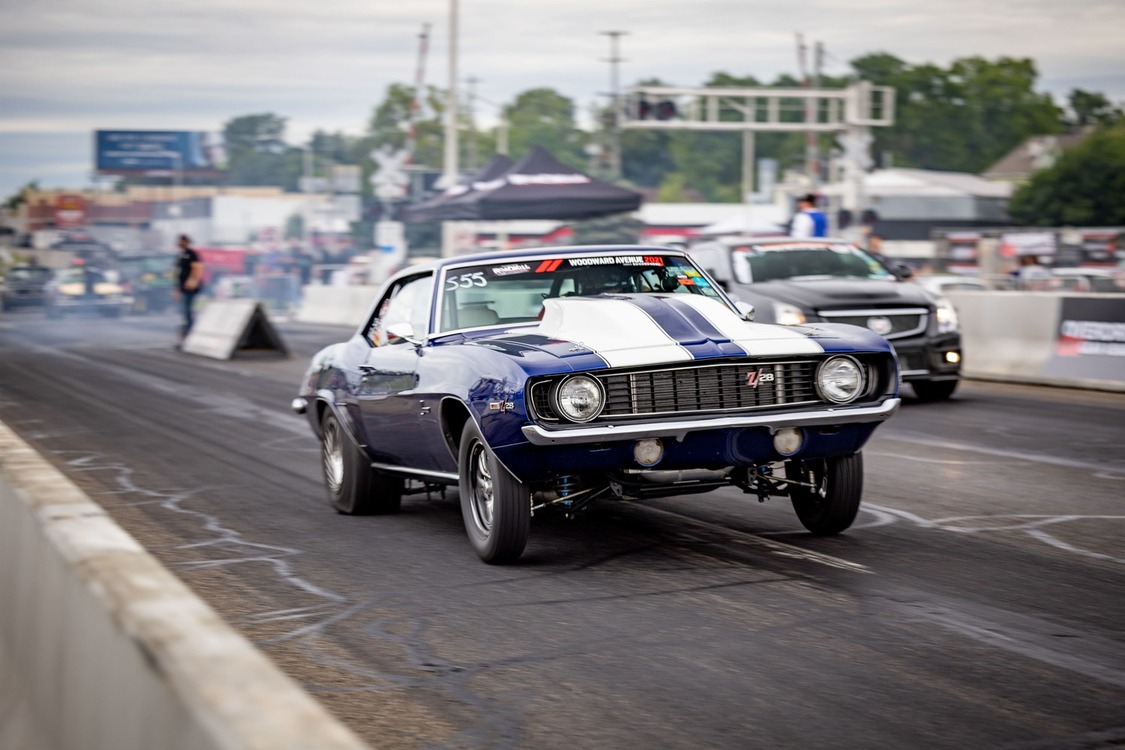 It was that influence which led Tony to a '69 Camaro–although not this exact one, as the one he bought in the early '90s fell victim to a freak accident. From that car he salvaged what he could and incorporated the surviving parts into this car, which Tony bought back in 1997 as a shell, or in his words, "it was basically just a roof," Tony chuckles. "Everything I learned about cars from my father enabled me to restore this Camaro."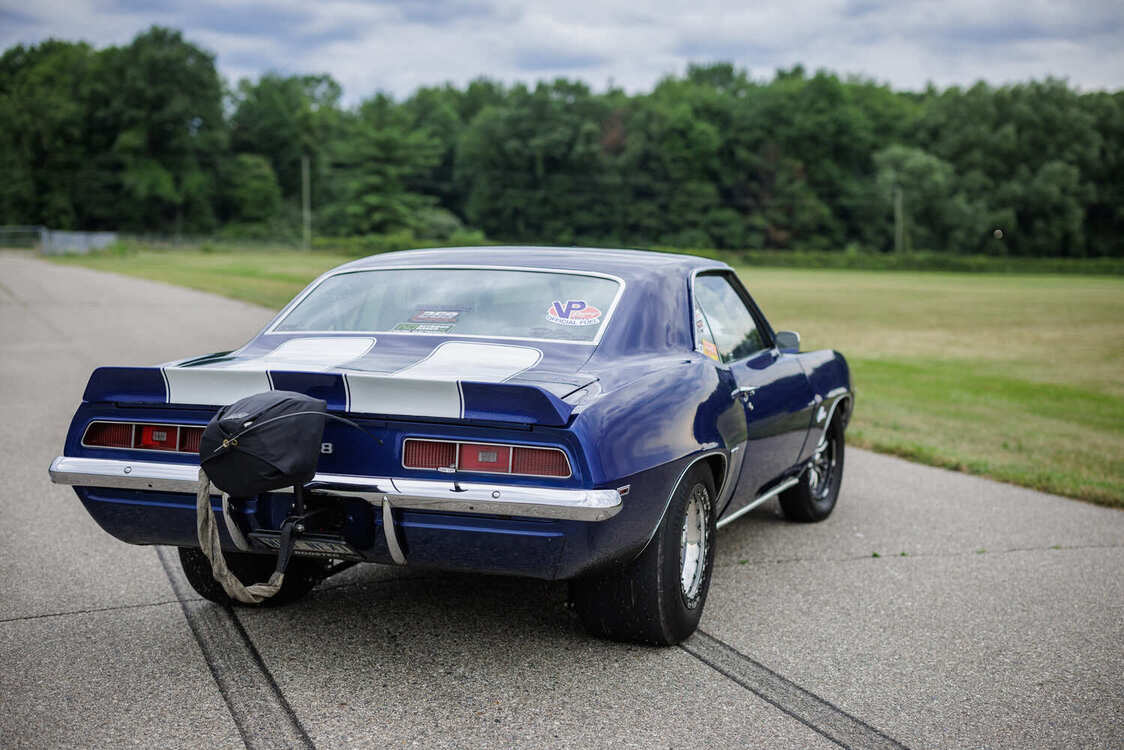 The Scott's LS Swapped 1969 Chevy Camaro: This '69 Camaro has a Supercharged LSA for Power and a Custom Chassis for Handling
Right out of the gate, Tony wanted this Camaro to be fast … real fast, but also a driver. He didn't want to be limited to quarter-mile passes plus the length of the trailer ramps. Building the car into the champion as it's configured today has been a steady progression. In the early '00s, the goal at first was to build a 10-second street car. With that goal reached, 9 seconds became the new target. Again, it was easily achieved with his newly installed nitrous setup. In time, 8 seconds was achieved. Looking ahead at the 7-second goal, Tony started taking the car more seriously than he ever had. A new rollcage was built, adding a track-legal cushion and peace of mind for future power upgrades. A Gear Vendors Overdrive unit added the creature comfort of overdrive, making his Camaro a true highway cruiser for those endurance-testing drag-and-drive events like Hot Rod Drag Week and Sick Summer. Nearly 20 years later, as one of the fastest cars in the Midwest, Tony pierced the 7-second threshold with his quickest pass to date at 7.93 seconds at 177 mph. While this car is most definitely a driver, including the hitch for its small support trailer, make no mistake, Tony's '69 Camaro is still a top contender in the NMCA True Street class.
The car has gone through numerous engine combinations, including a naturally aspirated 383ci small-block, a 327 that was followed up by another 383ci small-block fed with nitrous. In 2014 Tony went the turbo route with another small-block engine combo that was converted to run on E85. "I've put in a ton of work on this car over the years and continue to do so today," Tony confesses. "It's the never-ending chase to go quicker—something I really enjoy."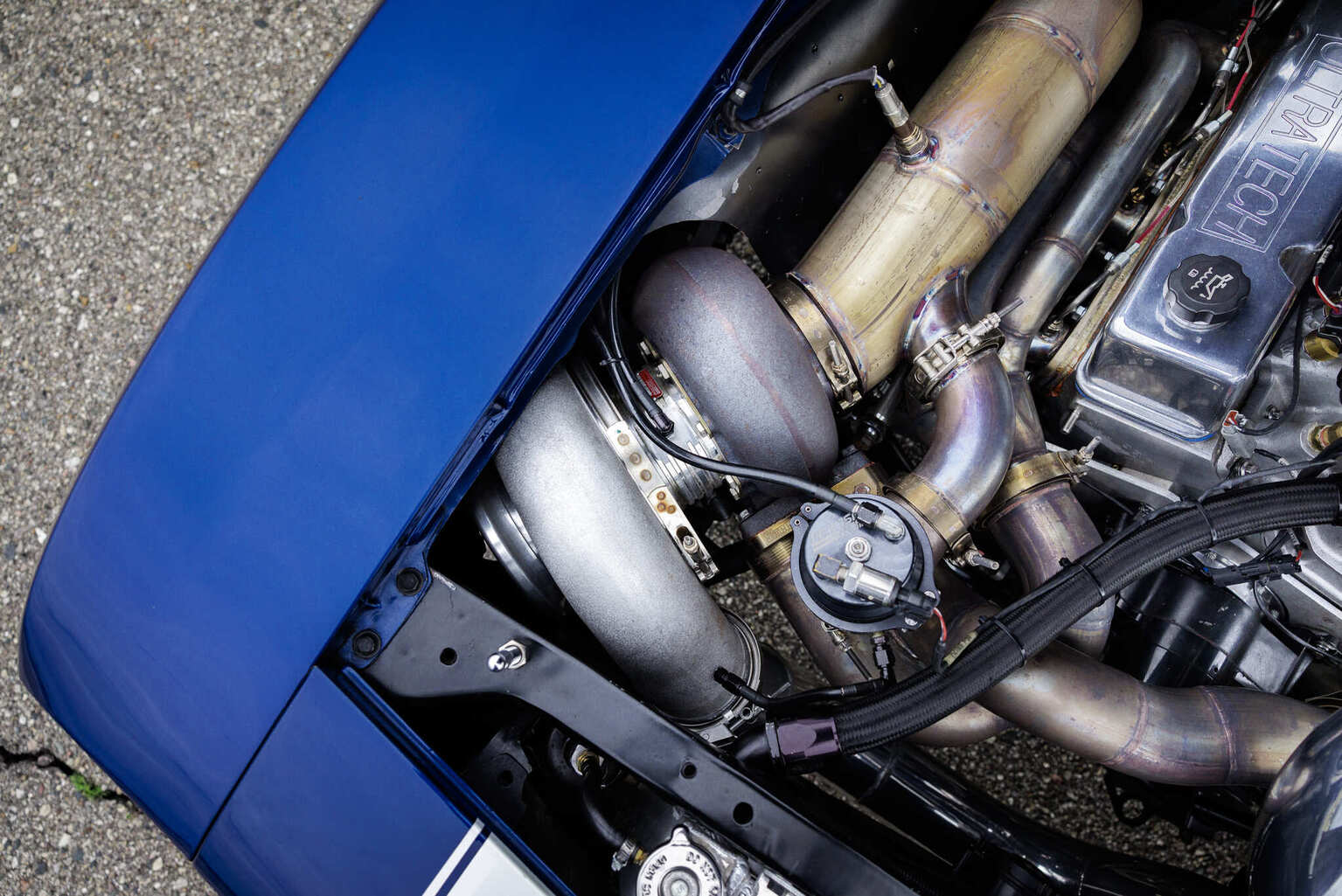 The root of its power comes via a 400ci small-block Chevy-based Dart block stuffed with a rotating assembly consisting of a Crower crankshaft, Callies rods, and Diamond pistons. The specs on the camshaft remain under wraps as part of the "drag racers code of ethics" manual–it's a drag racer thing. The 98mm Precision turbo shoves air into an Edelbrock throttle body, with waste management handled by a pair of custom-fabbed 1 7/8-inch R&R Fabworks headers and 5-inch exhaust. Ultra Tech Racing (Mishawaka, Indiana) and Performance Tech (Wakarusa, Indiana) handled the machinework and Tony assembled the beast himself. What all that means is that this completely badass F-body makes over 1,700 hp, which Tony expects to go even higher once he installs dual rails and 16 injectors, which is currently in the works. "The fuel injectors I had been running couldn't keep up with the fuel demands," Tony reveals. "Talk about a thirsty beast."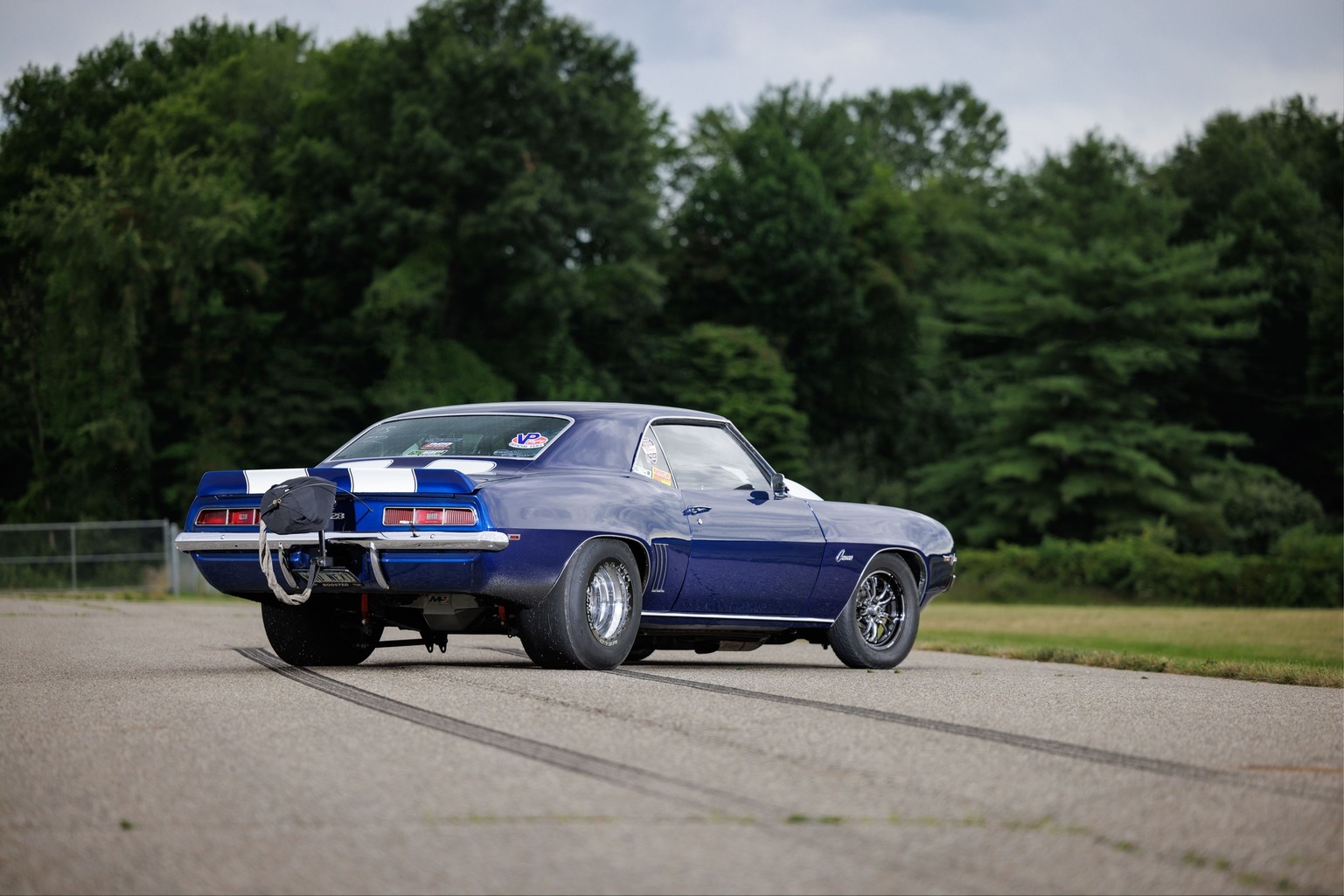 Up front resides a Smith Racecraft chromoly tubular subframe with TRZ spindles, Afco springs, and double-adjustable shocks along with a Smith Racecraft rack-and-pinion steering system. Out back you'll find split monoleaf CalTrac springs enhanced with CalTrac traction bars and Santhuff's double-adjustable shocks and a TRZ antiroll bar to keep both tires firmly planted on the ground.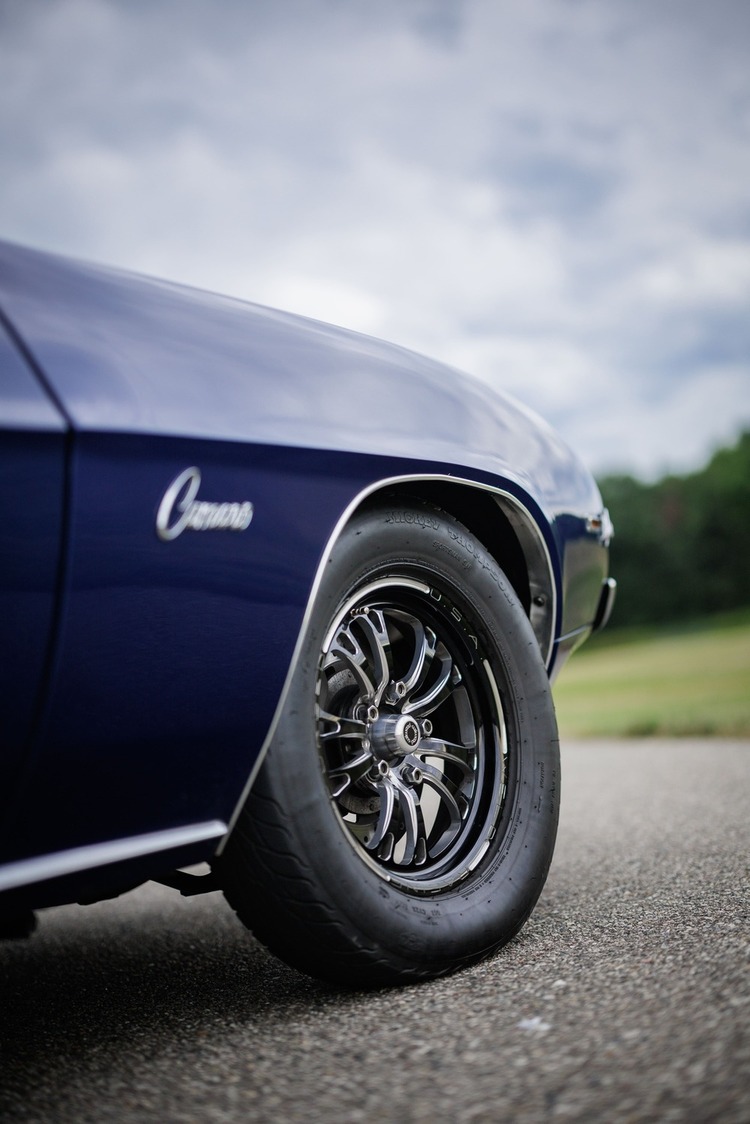 Kindred Spirits: Mike Jorgensen's 1971 Camaro Dream Machine
Weld V-Series 15-inch wheels are bound in Mickey Thompson rubber all around with a set of Wilwood disc brakes up front and Aerospace Components binders employed out back. A Stroud parachute was incorporated to help slow down this beast from one of its 7-second runs.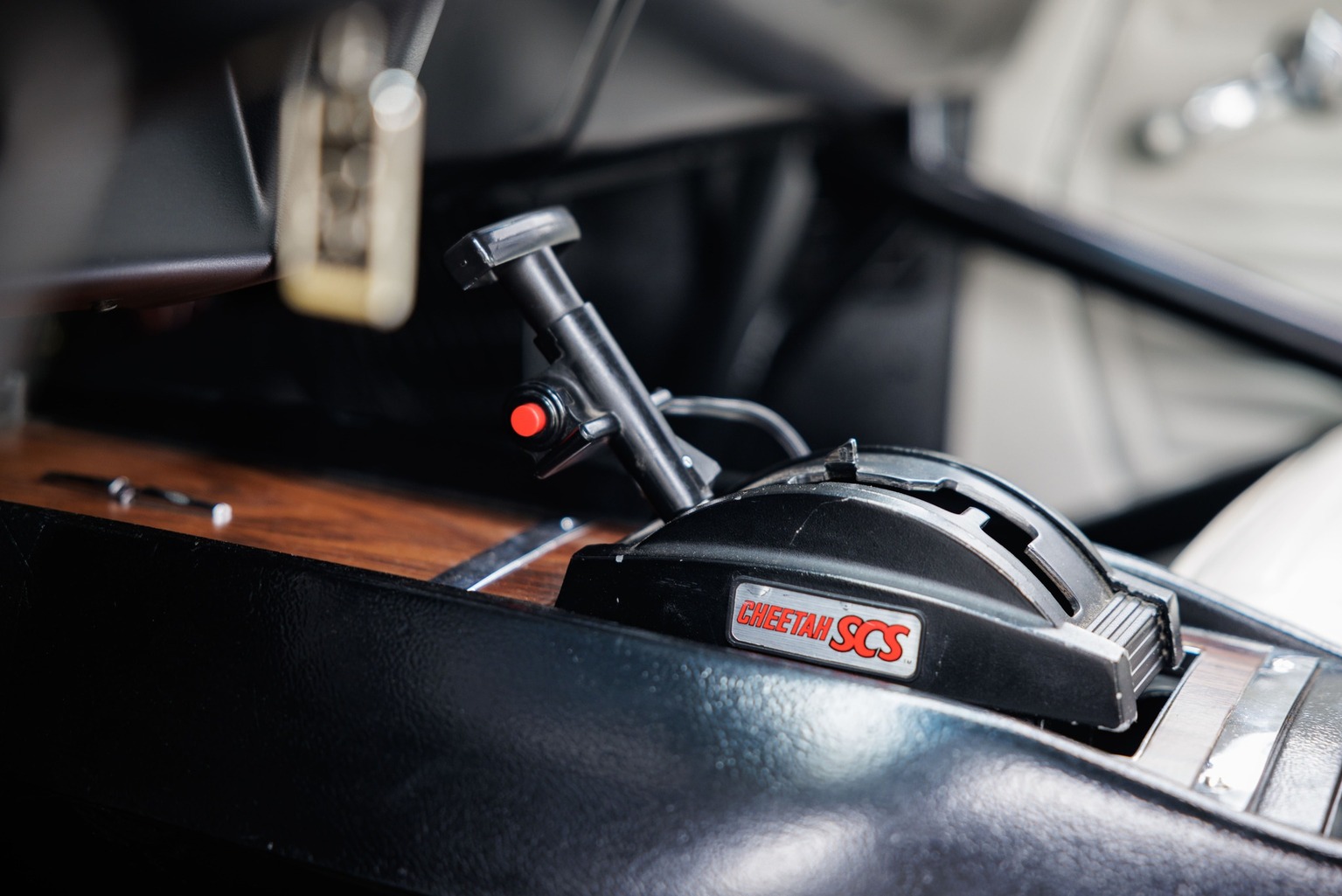 Rodney Massengale and the crew at RPM Transmissions beefed up that GM Turbo 400 trans with a Reid case while a PTC torque converter contributes to consistent launches. A Cheetah shifter provides precise shift points and keeping the rpm right in the sweet spot. A Moser M9 rearend houses 3.45 gears, aluminum centersection with a spool, and Moser 40-spline star flange axles–plenty of hard-core artillery to get all that power to the ground and survive the process.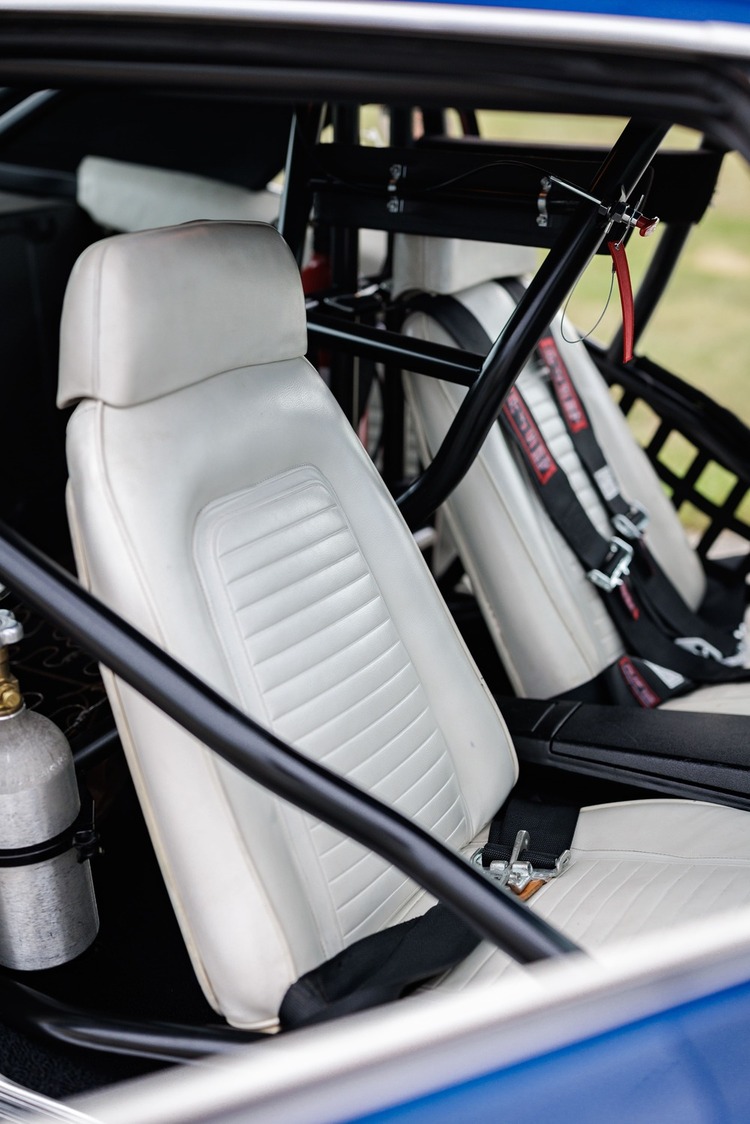 Once you get past the 6.50-certified R&R Fabworks 25.3 chromoly 'cage and RJS Racing Equipment five-point harness, the interior conveys a somewhat stock arrangement consisting black loop carpet and the appropriate stock Camaro door panels and white vinyl bucket seats. The center console is still present, and the stock dash houses a Classic Dash insert, which plays home to the Holley touch screen display. The factory steering column and steering wheel do their part in retaining that timeless '60s aura.
Tony took on the bodywork chores prior to spaying on a brilliant layer of Axalta Royal Blue Metallic with white Z/28 racing stripes. The scheme pays tribute to the car's original muscle car heritage–although now its performance is light-years ahead of its showroom days.
"I've had so many fun times with this car over the years and I enjoy racing it and sharing memories with my friends and family," Tony reveals. "If I had to choose one special day it would have to be the Cancer Awareness race since I lost my dad to cancer. I wanted to win that race for him, and that's what I did. That was by far the greatest moment I've had with the car."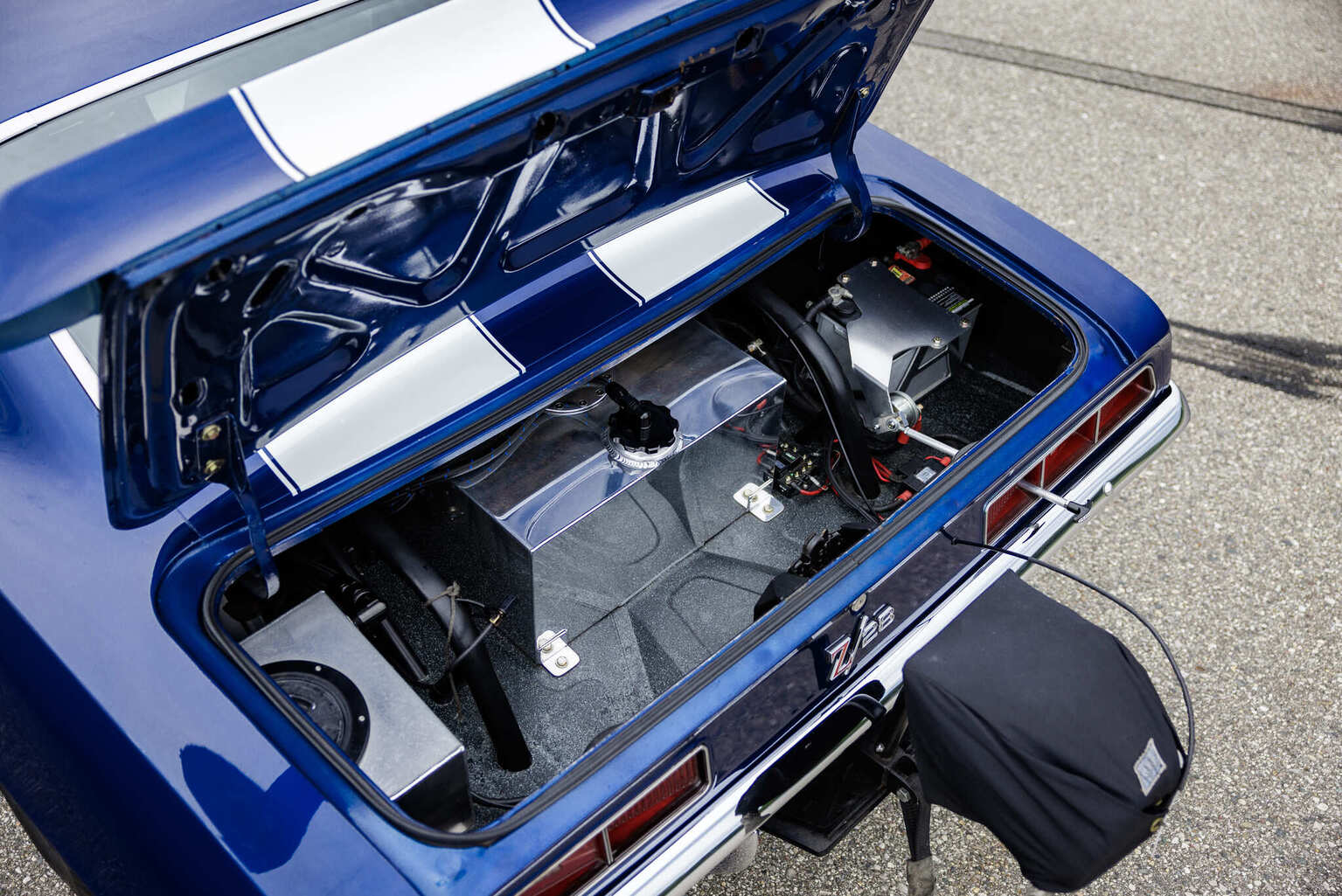 Tony laughs at the amount of money it costs to go fast in an old Camaro, but he also knows it requires a bit of insanity, solid sponsor relationships, and an understanding family. "I have to thank my wife, Jenny, and my sons, Nicholas, Alex, and Christian," Tony says. "I also couldn't do this without my close friends who help on the car, including Dave Reppert and Sam Colalillo. In addition, Tony Maez from T. Maez Inc., Rich at R&R Fabwerks, Norm at Ultra Tech Racing Engines, and Jim at Performance Tech have all been a huge help with my program."
Tony has some upgrades coming soon that will help get the car into the mid 7s—more proof that he's a true drag racer at heart. One who does whatever it takes to go quicker and faster and, all the while playing with toy cars for a living.
Jealous much? Yeah. Just a little.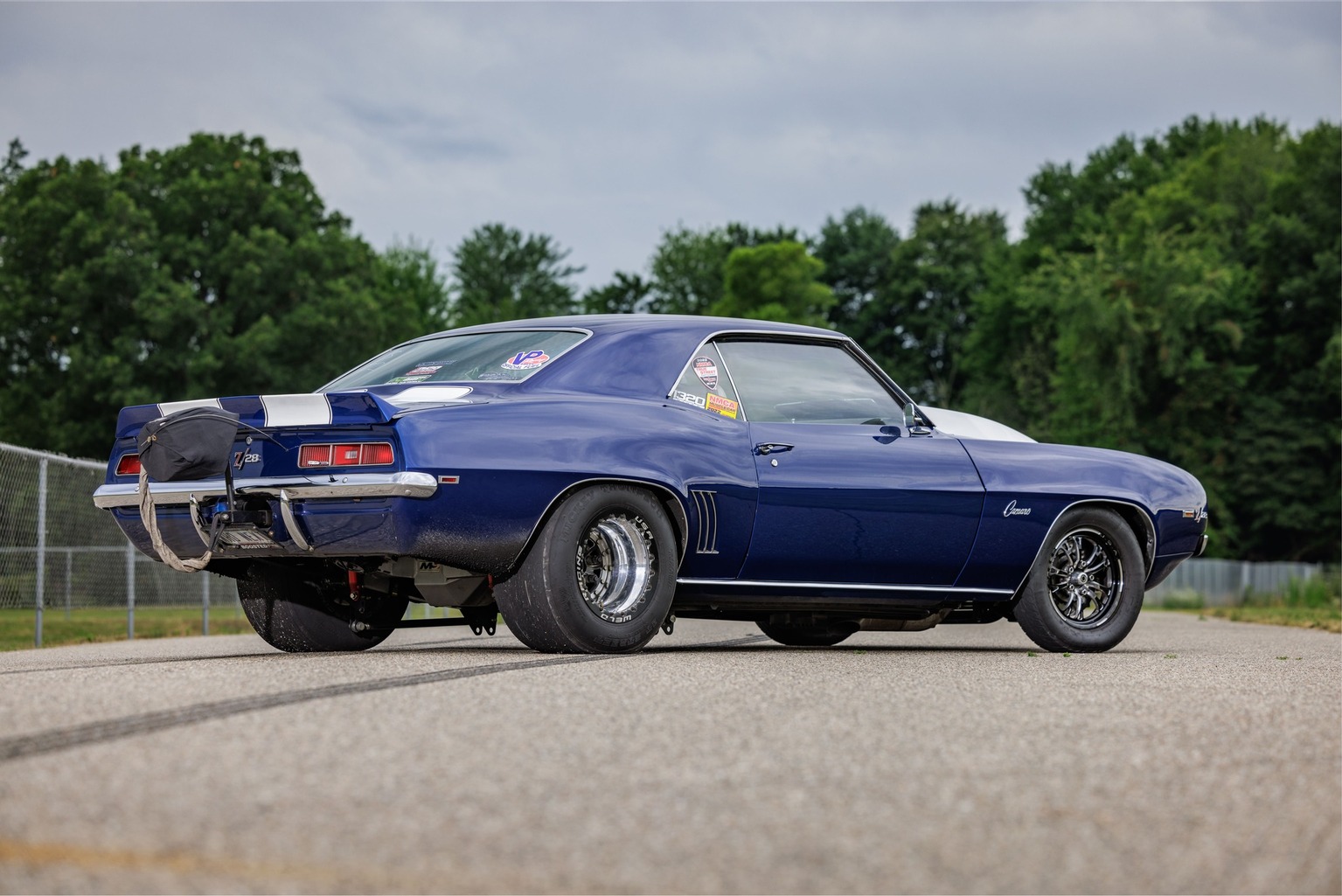 TECH CHECK
Owner: Tony Karamitsos, Mishawaka, Indiana
Vehicle: '69 Camaro Z/28
Engine
Type: Chevy-based small-block
Block: Iron Dart Little M
Displacement: 400 ci
Compression Ratio: 10.5:1
Bore: 4.125 inches
Stroke: 3.75 inches
Cylinder Heads: All Pro 23-degree, raised runner, full CNC-machined aluminum HIP castings
Valvetrain: Isky valvesprings, T&D shaft-mount rockers
Rotating Assembly: Crower crankshaft, Callies 6-inch Ultra Enforcer forged Timken steel rods, custom Diamond pistons, Clevite bearings, Total Seal rings
Camshaft: Crane custom grind
Induction: Edelbrock hi-port modified by Wilson
Throttle Body: Edelbrock
Assembly: Owner
Power Adder: Precision Turbo 98mm with Precision 66mm waste gate and Precision water to air intercooler and ProCharger blow-off valve
Ignition: Holley coil packs
Fuel Injection: Holley Dominator ECU, billet Atomizer 235cc injectors with Aeromotive Eliminator fuel pump and Aeromotive 10 brushless variable speed fuel pump
Exhaust: R&R Fabworks 1 7/8-inch headers, R&R Fabworks 5-inch exhaust system
Ancillaries: FireCore wires, aluminum valve covers, Meziere water pump, Derale fan, Be Cool radiator
Weight: 3,690 pounds with driver
Output: 1,700 hp at 7,800 rpm
E.T.'s: 7.93 (quicker times coming soon)
MPH: 177
Drivetrain
Transmission: Reid Case Turbo 400, Gear Vendors Pro Mod overdrive
Assembly: RPM Transmissions
Driveshaft: Action Machine
Torque Converter: PTC Pro Mod Bolt Together
Shifter: Cheetah
Rear Axle: Moser M9 rearend, spool with aluminum centersection, 3.45 gearset, 40-spline gun-drilled and star-flanged axles
Chassis
Chassis: Smith Race Craft chromoly tubular front subframe
Spindles: TRZ
Front Suspension: Afco springs, Afco double-adjustable shocks
Rear Suspension: Stock, CalTrac split monoleaf springs, CalTrac traction bars, TRZ sway bar, Santhuff double-adjustable shocks
Brakes: Wilwood four-piston calipers, 12-inch vented rotors front, Aerospace Components four-piston calipers, 10-inch vented rotor rear, Wilwood master cylinder
Wheels & Tires
Wheels: Weld V-Series; 15×3.5 front, 15×12 rear
Tires: Mickey Thompson Sportsman 26×7.5 R15 front, Mickey Thompson E.T. Street 275/60R15 rear
Interior
Upholstery: Black loop carpet, stock white vinyl bucket seats, stock door panels
Steering: Stock column, stock steering wheel
Safety Harness: RJS five-point
Rollcage: Chromoly NHRA 25.3 Cert. 6.5 e.t.'s by R&R Fabwerks
Dash: Stock, Classic Dash insert
Instrumentation: Holley
HVAC: Windows down 175 mph
Wiring: Nitrous Dave's Racing Electronics (Mishawaka, IN)
Exterior
Bodywork and Paint: Owner
Paint: Axalta Royal Blue Metallic, white Z/28 stripes
Hood: VFN fiberglass
Bumpers: Stock
Headlights: Stock
Taillights: Stock