Ray Thompson's High-Mileage 1968 Camaro
By Nick Licata – Photography by Randy Pugh
For Ray Thompson the Camaro bug started in 1975. But it wasn't just a subtle itch that needed a good scratching, it went much deeper. "When I took a ride in my buddy's insanely fast 1969 Camaro that had 4.88 gears, it would actually lift the front tires off the street. From that moment I was hooked." Ray continues, "A few years later I had just turned 16 and saw this 1968 Camaro in a Sears parking lot in November of 1978, so I left a note on the car informing the owner I was an interested buyer. In February 1979 he finally called me back and was ready to sell. I gave him $600 and became a proud young Camaro owner."
Originally, the car was armed with a 396 and a four-speed. It had some history as a race car, but by the time Ray got to it, it had a 350 with three-speed transmission and a 10-bolt rearend. Right away he swapped out the weak sauce and put in a four-speed and a 12-bolt with 4:11s and bolted on a set of 15-inch Cragars, because that's just what you did back in 1979.
With the car looking tight and carrying a little attitude, Ray drove the wheels off it until 1988 when he, with the help of his brother, Joe, replaced the floors. That led to tearing the car down to the frame for "quick" redo.
At about the same time, Ray got married and, well, the car took a 12-year slumber. In 2000 Ray got back on the car with renewed vigor. He also met Kyle Tucker of Detroit Speed (DSE) who at that point was just getting started in the aftermarket suspension business, so Ray had Tucker fab together an early set of their upper and lower control arms and a coilover system up front. That upgrade led to a set of DSE mini-tubs and a six-point rollbar—all done in Tucker's garage back in Brighton, Michigan.
From there Ray upped his horsepower game and dropped in a 383 stroker and a five-speed transmission to put the new suspension goods to work for a few more years. Continuing his quest to improve the car's performance, in 2013 the car got a full DSE hydroformed subframe up front and a QUADRALink suspension system out back. "I had DSE's latest and greatest suspension goods," Ray says. "So I put in an LS3 and have been driving the hell out of this car ever since. I've put about 65,000 miles on the car and have given rides at Daytona, Road Atlanta, Road America, Pitt Mid-Ohio, and I had an absolute blast driving the Tail of the Dragon in the Great Smoky Mountains in Tennessee."
The aforementioned LS376 came out of the Chevrolet Performance catalog and consists of mostly stock internals sans a cam with proprietary specs. The factory-assigned intake pulls in air via a K&N cone air filter and exits through a set of DSE stainless steel headers and 3-inch stainless exhaust topped with a pair of Borla mufflers. Although the LS remains mostly "as-is," and carries the out-of-the-box appearance (that's how Ray likes it), the engine bay benefits in the looks department from the smoothed firewall, painted inner fenders, and Ringbrothers hood hinges. A Vintage Air Front Runner drives the accessories, while a C&R aluminum radiator sees the temps keep cool.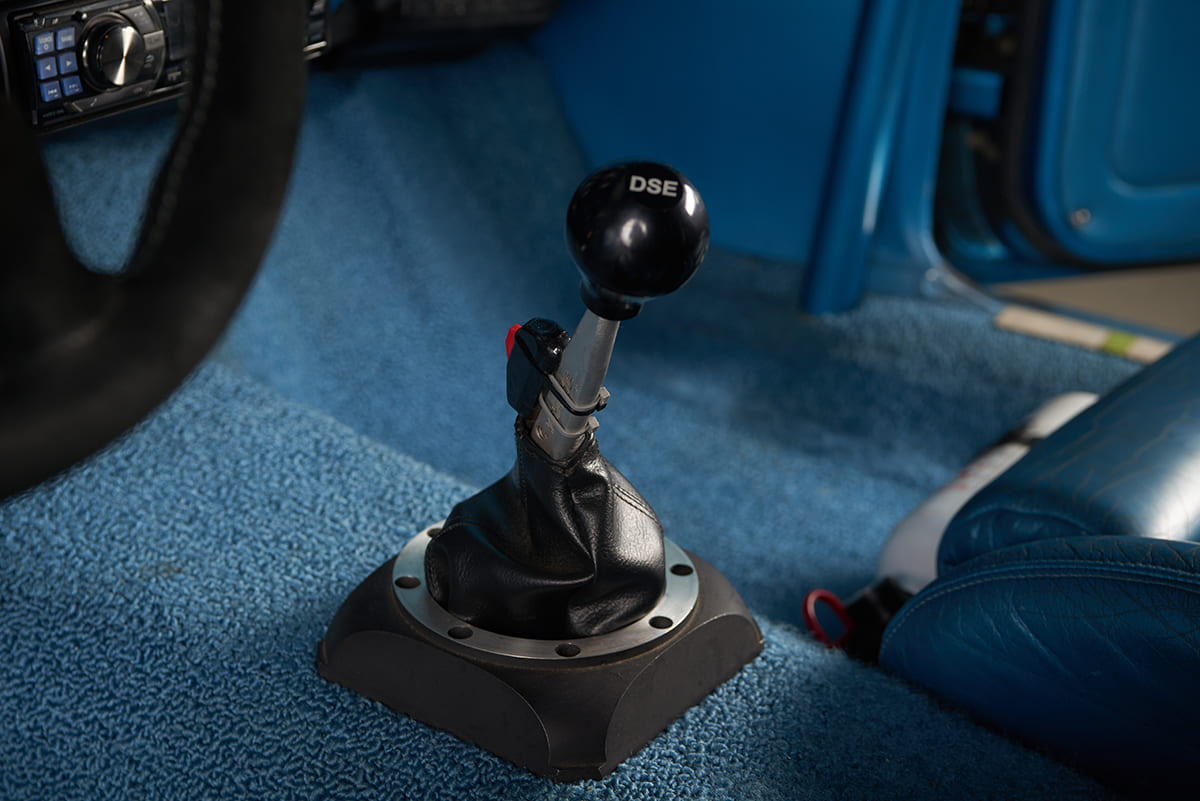 A hefty manual transmission is a must for doing track time, so Ray went with a Legand Gear & Transmission LGT700 trans—a burley five-speed all done up for high-rpm street and track shifting. That beast is backed up with a Centerforce DYAD twin-disc clutch and Hurst shorty shifter for quick gear manipulation. A Dave Bishop driveshaft sends twisting force to a DSE-prepped 9-inch and 3:90 gears along with a 30-spline Moser axle.
A lot of hard drivin' means a lot of hard stoppin', so Ray went no-nonsense and bolted on a set of Baer 14-inch rotors and six-piston calipers on all four corners. Ray's been rolling on a set of Fikse FM5 wheels since they became fashionable years ago, and today, they are wrapped in BFGoodrich Rival S rubber and still look legit—it all jives with the Camaro's Pro Touring motif.
Ray handles business in a relative stock office that includes a custom gauge pod filled with AutoMeter dials. A suede DSE steering wheel perched on the stock steering column manages course direction through the Detroit tuned power rack-and-pinion steering system. The interior color coordination comes together via the C.A.R.S Brite Blue door panels, Recaro seats, and ACC carpet. That process was handled by Curley Branon out of Tallmadge, Ohio. A harness bar supports a Sony video camera and a Simpson Racing five-point harness for added safety. Ray hid the Vintage Air A/C controls in the glovebox for a clean scene, and an Alpine head unit powers a pair of 4-inch speakers and a set of 6x9s, allowing Ray to pick the soundtrack for those lengthy road trips.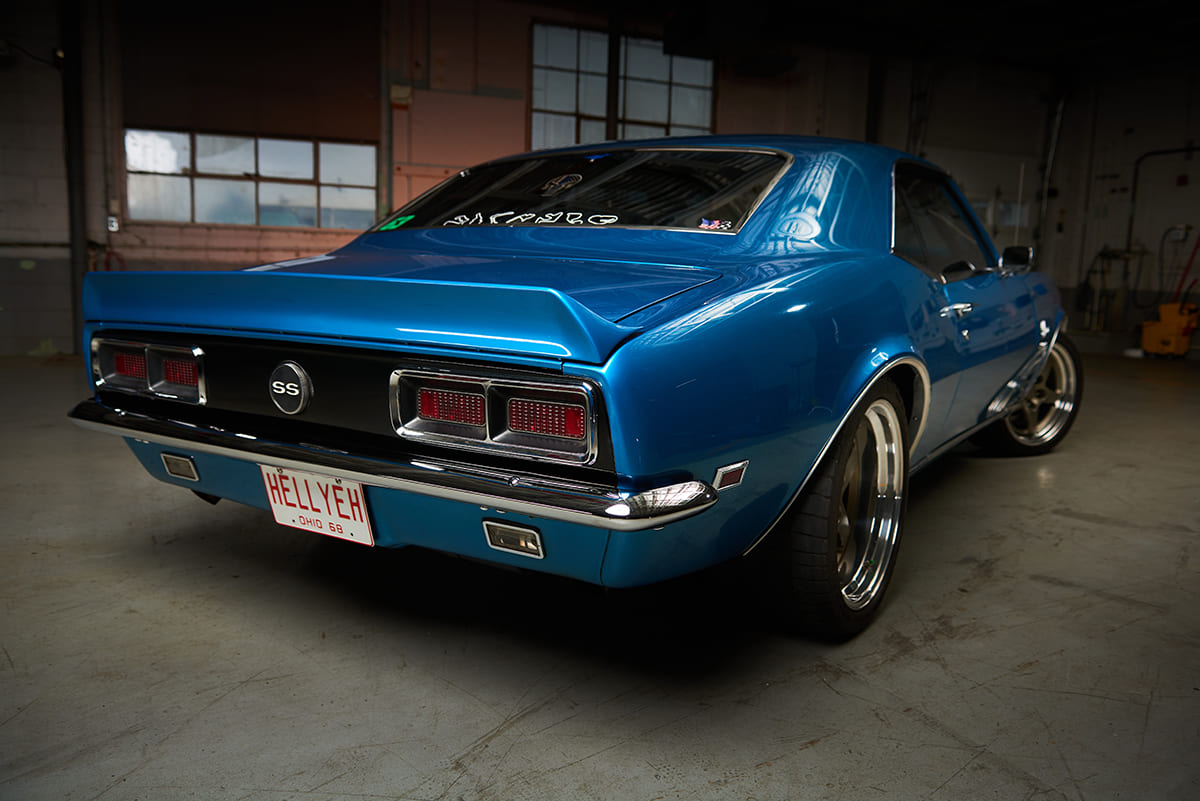 The factory-preserved sheetmetal took a good massaging by Youngstown, Ohio's by Bob Swarm prior to him laying down a rich coat of Glasurit LeMans Blue pigment—a bright complexion that ensures the car stands out among its peers while still preserving the Camaro's vintage spirit. The stock bumpers, side mirrors, and trim shine to perfection due to the plating work by Paul's in Evans City, Pennsylvania. For a custom touch, the trunk keyhole was filled and the gas filler opening can be found inside the trunk.
Ray would be remiss if he didn't thank the many people who contributed to getting, and keeping, this car on the road. The list includes his dad, his brother Joe, Andy Stapp, Kyle Tucker and the crew at DSE, Bob Swarm at Universal Paint, Curley Brannon for the upholstery work, "Little" John Kundrat, and most importantly, his wife Lori.
Today, Ray regularly gets behind the wheel of his tried-and-true 1968 RS/SS and drives it with authority—like he always has—like he's supposed to. We first met Ray years ago beating on his Camaro at Road Atlanta's road course giving rides to anyone willing to strap into the passenger seat. This author was one of those who buckled in and took some spirited laps, and I can truly say Ray doesn't like to drive… Ray loves to drive.
Here's to the next 65,000 miles!
TECH CHECK
Owner: Ray Thompson, Tallmadge, Ohio
Vehicle: 1968 Chevy Camaro RS/SS
Engine:
Type: Chevrolet LS376
Displacement: 376 ci
Compression Ratio: 10.7:1
Bore: 4.65 inches
Stroke: 3.622 inches
Cylinder Heads: Aluminum L92-style port
Rotating Assembly: Nodular iron crankshaft, powdered metal connecting rods, hypereutectic aluminum pistons
Valvetrain: Stock GM
Camshaft: Hydraulic roller (specs proprietary)
Induction: Stock
Assembly: GM
Exhaust: Detroit Speed (DSE) headers, DSE 3-inch stainless steel exhaust, Borla mufflers
Ancillaries: Vintage Air Front Runner, Vintage Air A/C, Ringbrothers hood hinges, C&R aluminum radiator, K&N air filter, Optima BlueTop battery
Output: 495 hp, 473 lb-ft
Drivetrain:
Transmission: Legand 700 five-speed
Clutch: Centerforce DYAD twin disc
Rearend: DSE 9-inch with limited-slip differential, 3.90 gear ratio, Moser 30-spline axles
Chassis:
Front Suspension: DSE Hydroformed subframe, JRi nitrogen-filled shocks, DSE Corvette-style spindles, DSE subframe connectors and sway bar
Rear Suspension: DSE QUADRALink with Panhard bar, sway bar, JRi nitrogen-filled shocks
Brakes: Baer 14-inch rotors with six-piston calipers front and rear
Wheels & Tires:
Wheels: Fikse FM5; 18×10 front, 18×12 rear
Tires: BFGoodrich Rival S; 275/35R18 front, 315/35R18 rear
Interior:
Upholstery: ACC Brite Blue carpet, C.A.R.S. door panels
Seats: Recaro
Steering: 1968 Camaro with DSE steering wheel
Shifter: Hurst
Dash: Factory
Instrumentation: AutoMeter
HVAC: Vintage Air
Rollcage: DSE
Exterior:
Bodywork and Paint: Bob Swarm, Youngstown, OH
Paint: Galsurit LeMans Blue
Hood: GM cowl
Grille: Stock with DSE RS headlight doors
Bumpers: Factory polished by Paul's (Evans City, PA)