This 1971 'Cuda is Both Aesthetically Pleasing and Thunderously Powerful
By Brian Brennan – Photography by John Jackson
MR- 1971 Cuda owned by Matranga and shot by Jackson from In The Garage Media on Vimeo.
Modern Rodding opted to pay homage to Mopar's contribution to hot rodding in a unique way by recognizing this four-year project, a 1971 Plymouth 'Cuda belonging to Kent and Lisa Matranga of Dana Point, California. To complete the celebration, MR has, elsewhere in this issue, a story on the 50th anniversary of the movie Vanishing Point. The 1970 Dodge Challenger from Vanishing Point and this 1971 Plymouth 'Cuda do share family similarities, all the while having their own characteristics and fan base. The third generation 'Cuda was manufactured from 1970 to 1974 and was based on the Chrysler E-body (formerly an A-body).

Kent is no stranger to all things hot rod, having an extensive collection of cars ranging in years and build styles. Although the 'Cuda is his first Mopar, the absolute draw to the 'Cuda was "burned" into his subconscious at a very early age. His love of hot rods, and all things mechanical, was furthered by his father, Bob, who helped Kent build his first hot rod, a 1934 Ford pickup way back when. (Editor's Note: Bob Matranga's name may ring familiar to Modern Rodding readers as it was his 1955 Chevy that graced the first cover of MR. Yep, that Tri-Five!) Together father and son do have a significant collection of hot rods crossing multiple years, makes, and models.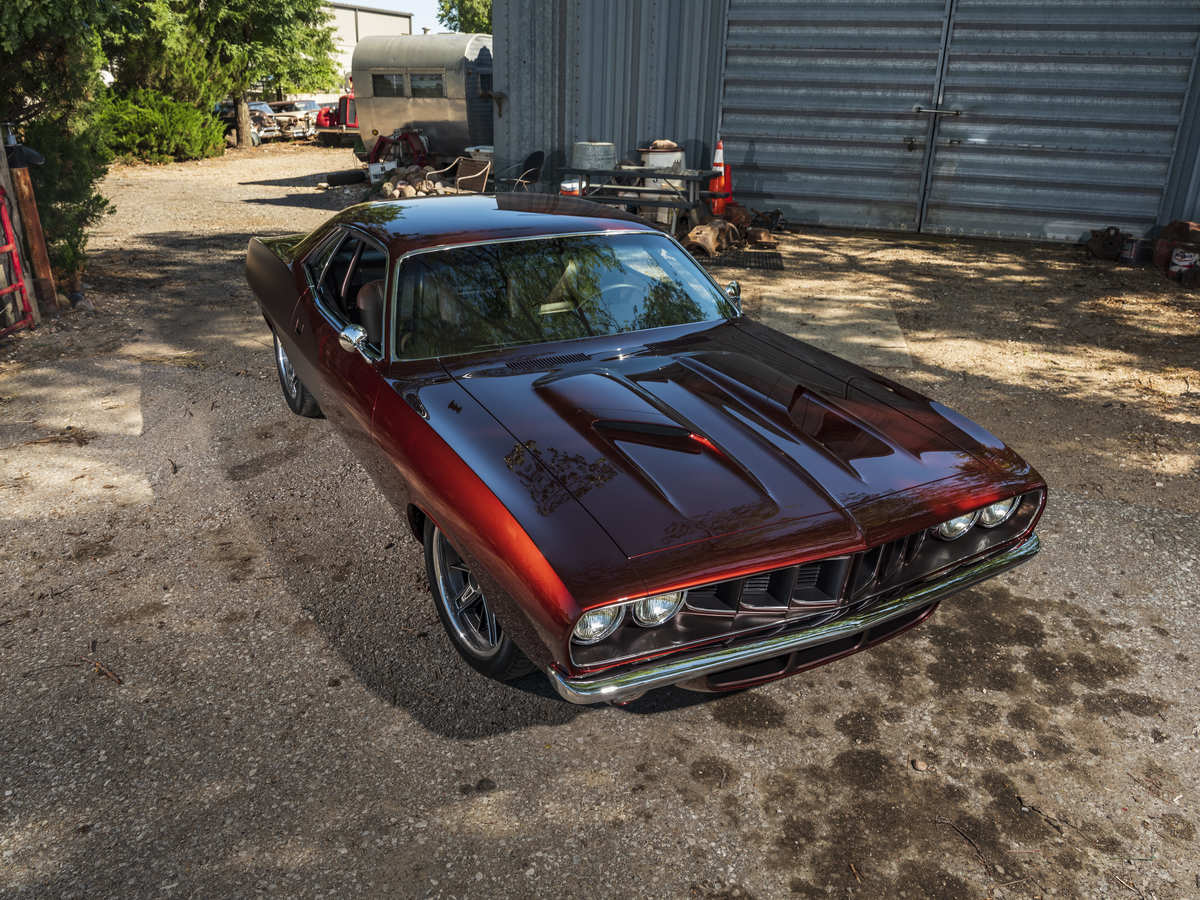 Let's begin by covering some of the basics on where this 'Cuda came from and who is responsible for its build. Kent and Lisa are the proud owners but it should be noted Kent's ideas made it through the "ink to paper" phase by way of Ragle Design. From here it was up to Andy Leach and his artisans in all things fabrication to body- and paintwork from Cal Auto Creations (Jim Karls, Eric Hanson, Matt Summers, Paul Caruana, Ethan Janson, Tommy Brandt, Steve Socha, Taylor Bonnstetter, Scott Clark, Scott Scheckloth, and Brian Dinsmore) to bring the 'Cuda to life.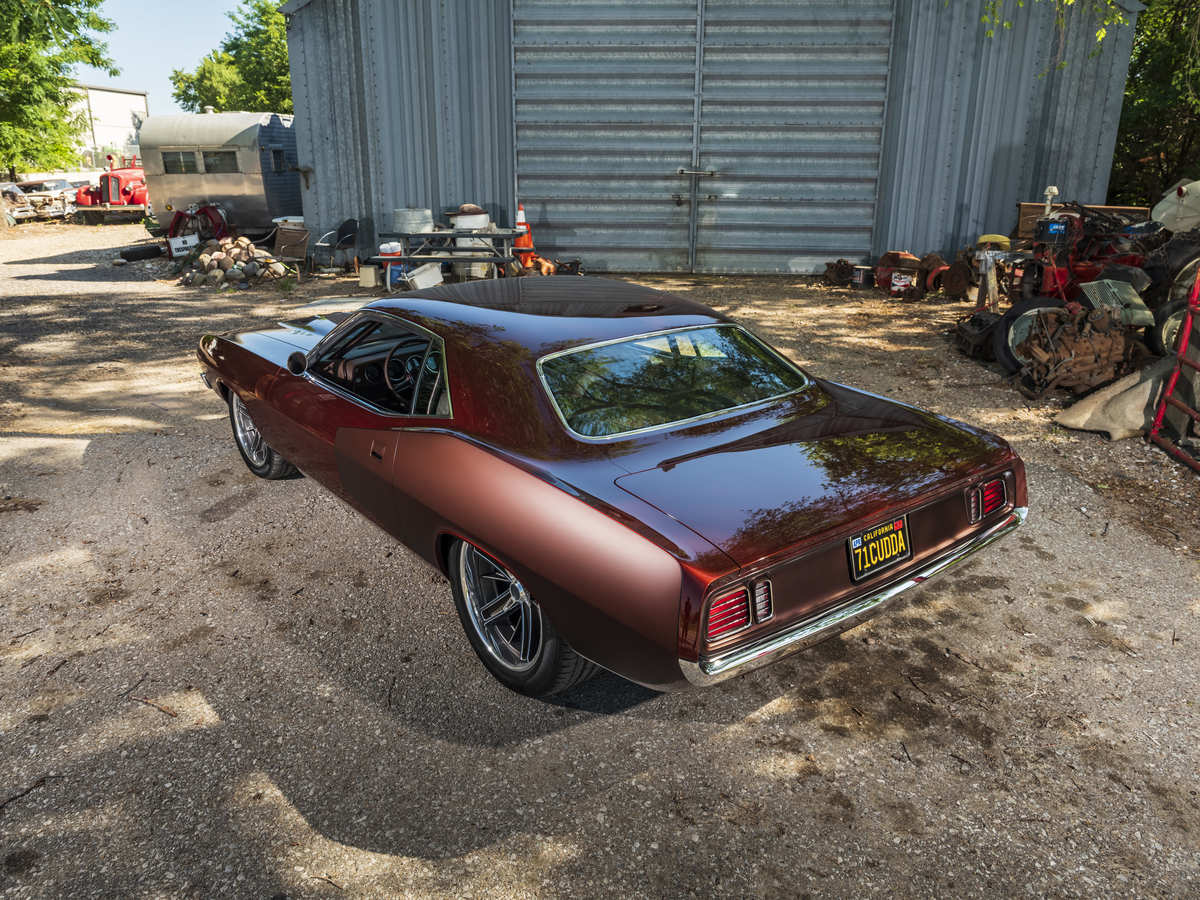 It should be noted that Leach pays high praise to both Kent and Bob. "This car is simply amazing. The way it rides and handles you would never know you're in a 1971 'Cuda. And the power is unreal and really fun to drive." Leach goes on to tell us something we haven't heard often when dealing with car builders and owners. "Kent changed the way we build cars. He's had a big influence on us. I don't think we could ever ask for a better customer. He will call and ask questions that even us car guys have to think about. He's a guy who gets it!" Praise comes in all forms and manner but this is about as good as it could possibly be.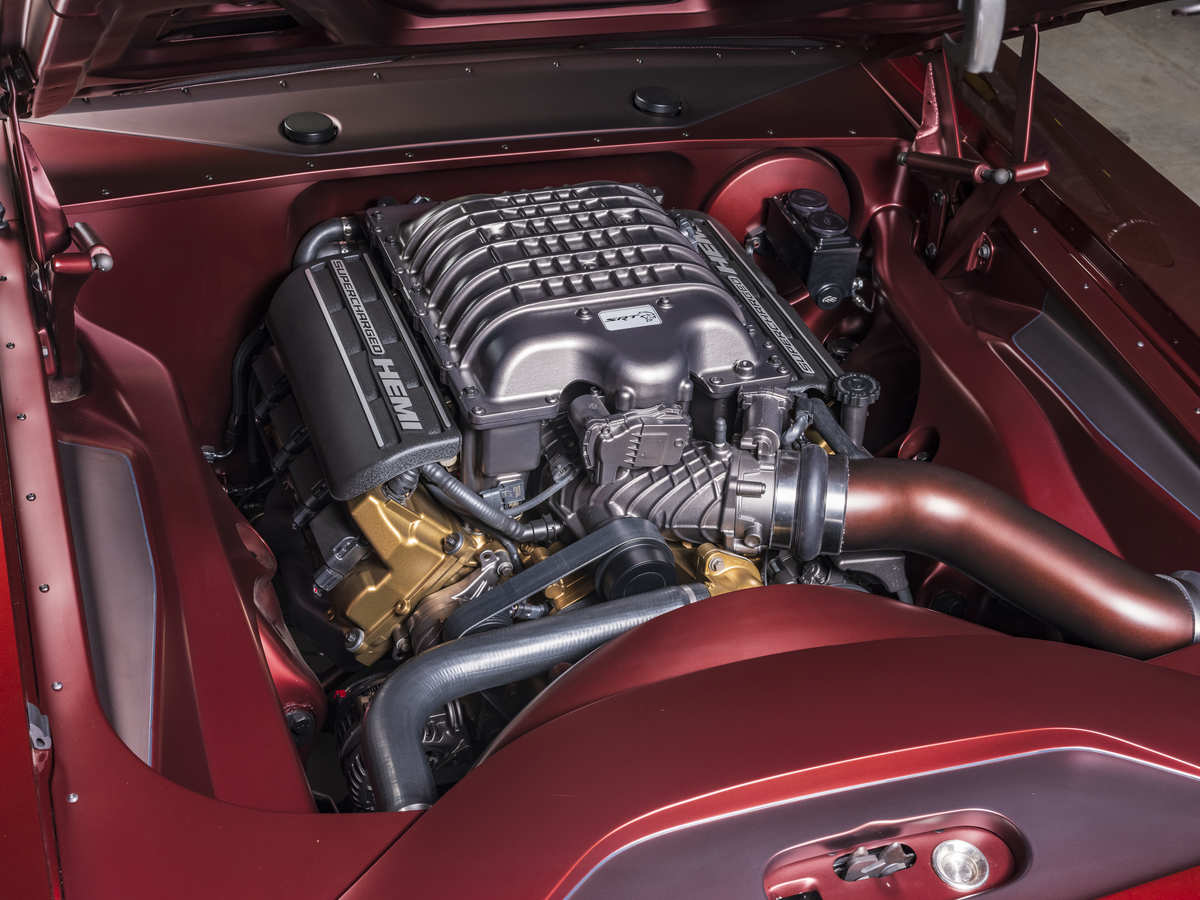 Before we get too "deep" into the whys and wherefores, let's provide the basics. The power comes by way of a Mopar supercharged 6.2L Hellcat Hemi spinning out 707 hp (go-juice comes via a custom 20-gallon tank), then moves through a Bowler Performance–prepped TREMEC T56 six-speed, and, finally, the power finds its way rearward to the Strange-prepped Dana 60 rearend. Other major "hands" in the project include the "master of spray" Charley Hutton of Charley Hutton's Color Studio and his use of PPG paints. The basic color is a custom-mix self-titled Bronze Fire. The 'Cuda is covered in Billboard, Ionized Copper #926110, gray #908813, clear is FC03 Eggshell made up by using D8115 matte clearcoat, D8117 semigloss clearcoat, D8239 Slow HS hardener, and DT895 Hot Temperature reducer. For more outside "pop" Advanced Plating handled all of the brightwork, while additional machining was provided by Atomic Machine and Design. The one-off wheels were designed by Ragle Design, manufactured by EVOD Industries, and wrapped with Pirelli rubber. A quick look inside shows us the threadwork of Tracy Weaver of Recovery Room Interiors, which hides but doesn't downplay the extensive wiring by Brad Nagel of Nagel Performance Wiring to keep everything properly charged.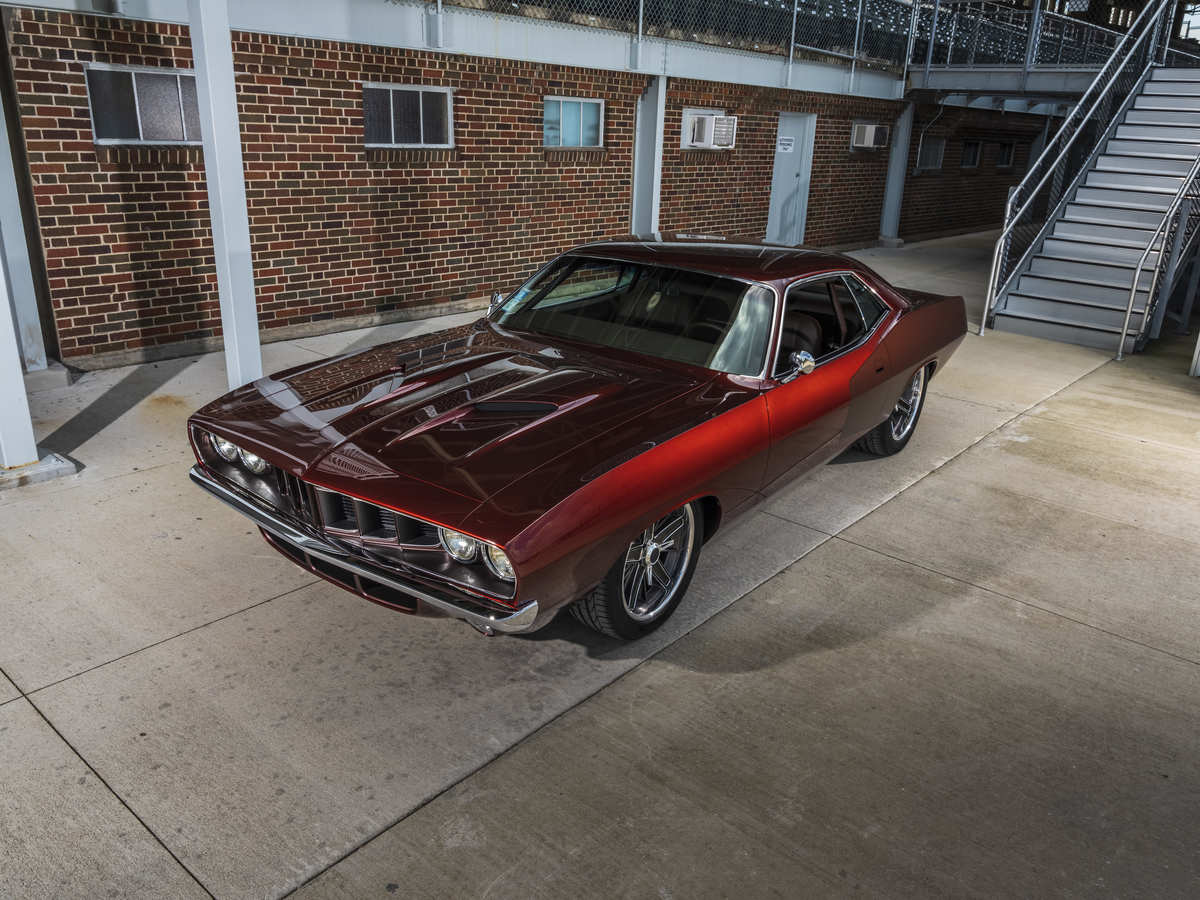 Let's get more into the paintwork. Above we listed the names and part numbers used in the paint process but a further explanation should be more helpful. The Billboard that's mentioned is a matte clear used on the side of the car where decals would have once lived from the factory. The foundation colors are made up of #926110, which is a 2010-and-up Honda color called Ionized Copper and is the main body color. Next up is #908813, a 2003-and-up BMW color called Mojave, which is a gray. The FC stands for "flat clear" while the "03" is a degree of measurement to tell us the level of "flatness". (PPG has five levels of flat clear, starting with FC01 through FC05; 01 is flat, 02 is matte, 03 is the Eggshell used on the 'Cuda, 04 is a satin, and 05 is a semigloss.) To achieve the level of Eggshell flat finish both the D8115 and D8117 matte clears were blended.
All of that paintwork hides (but not completely) the modified body panels throughout. The 'Cuda features custom rocker panels, reshaped quarter-panels, reworked cowl and firewall, custom front and rear valence panels, and narrowed and tucked front and rear bumpers. The hood, while stock, is mildly "warmed over" to give an even more pleasing appearance. Additional massaging can be found on the stock headlights and taillights for optimal fit and finish.
The foundation for the 1971 'Cuda chassis is based on a modified Magnum Force front clip that when mounted was elevated within the chassis to yield an even lower ride height. In back a Strange Dana 60 is surrounded by a custom four-link that's coupled with RideTech coilovers, Baer Pro+ drilled-and-slotted 14-inch rotors and six-piston calipers, all pressed into service through a Corvette master cylinder. The Magnum Force IFS clip uses the same Baer brakes and RideTech coilovers along with power rack and pinion steering, tubular upper control arms, and 1-¼-inch sway bar. The Magnum Force IFS clip also removes 100 pounds of factory weight, further enhancing the ride and handling characteristics. To make sure the ride and handling are optimized, the one-off EVOD wheels measure 18×8 for the front and 20×10 for the back and are then shod with Pirelli 245/45R18 and 295/45R20 rubber.
With all that rubber an appropriate amount of power underhood is mandatory, or maybe that's vice versa? A 2015 Hellcat 6.2L supercharged Hemi crate motor (707 hp) is twisted into service while it's monitored by a Holley EFI system. Corralling the horsepower and moving it rearward is a Bowler-prepped TREMEC T56 six-speed that's controlled by a Bowler shifter. Handling the clutch chores is a McLeod Racing flywheel, pressure plate, and disc. The exhaust system begins with factory Hellcat manifolds that empty into a pair of custom 3-inch exhaust tubes run through a pair of SpinTech mufflers.
While the world is flashing by, those inside can rest in control and comfort. Upon careful viewing you will note that a custom rollcage exists, which shadows the front passengers. The twin front buckets are constructed by using Glide Engineering frames and then covered in brown leather by Weaver. He also took the stock door panels and once they were reworked, he covered them in leather. Resting beneath the seating is more custom sheetmetal in the form of a driveline tunnel that covers the Bowler-prepped TREMEC and provides the interior entry point for the Bowler shifter. More custom aluminum work shows up in the form of a dashpad and door panel trim painted in a matching color. An ididit steering column along with a 'Cuda-inspired steering wheel designed in Solidworks and then brought to life by Atomic Machine and Design is there for Kent to grab control all the while taking in some easy reading via the Dakota Digital 'Cuda-enhanced gauges.
There's no denying the good looks of this 1971 Plymouth 'Cuda but it's the everyday drivability and performance that pulls it away—a long way—from the crowd. Should you find yourself in a place to take a long look, do it … it will be time well spent. MR