Ken Thurm Makes Unusual Changes to His Brookville-Bodied, Coyote-Powered Deuce
By Brian Brennan   –   Photography by the Author
Right about now there's probably more going on in hot rod garages all across this country than has occurred in some time … possibly ever! Bold statement for sure but the current quarantine has many of us looking for something to do … to keep our sanity. It's not that hot rodding is more popular, it's just there can be no denying there's lots going on and there are more rodders building more cars (and trucks) than at any other time.
Ken Thurm, a SoCal rodder and member of the California Roadsters, might just ring a bell with rodding magazine aficionados. In his lifetime he has built many a race car, muscle car, and street rod. During the past 20 years he has built five Deuces—three of them being our favorites, a highboy roadster, a highboy coupe, and a highboy sedan, that have all graced the covers and inside pages of the once-mighty street rod magazines. But alas, this is a new age and Modern Rodding is content to pick up what others have abandoned while taking a peek inside Ken's garage to see what's next.
Once again, Ken has opted to build what he likes, knows, and what he has had success with … 1932 Fords. The latest effort is based on a Brookville Roadster body. All of us would be remiss if we let our eyes pass over this highboy roadster too quickly. Here's a chance to see the "eye candy" while it's being made—and that's surely a delight to the senses. Look closely, as you will see how much is already accomplished with these near-end results.
If one were to check into Ken's background you would see his lifelong profession as a mechanical engineer comes in handy and is, oh so, visible. He's never been one to "rush" to get his hot rod on the road. Each one is more technologically advanced than the one before, and that suits him just fine.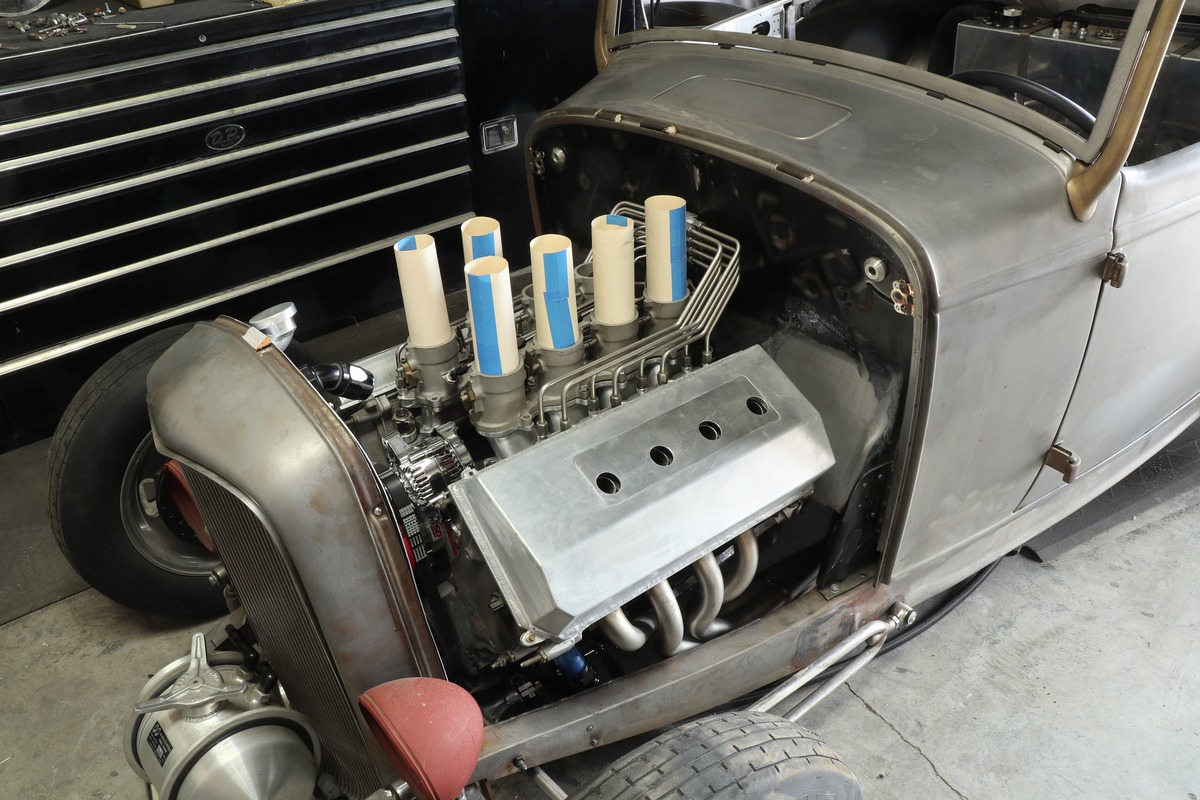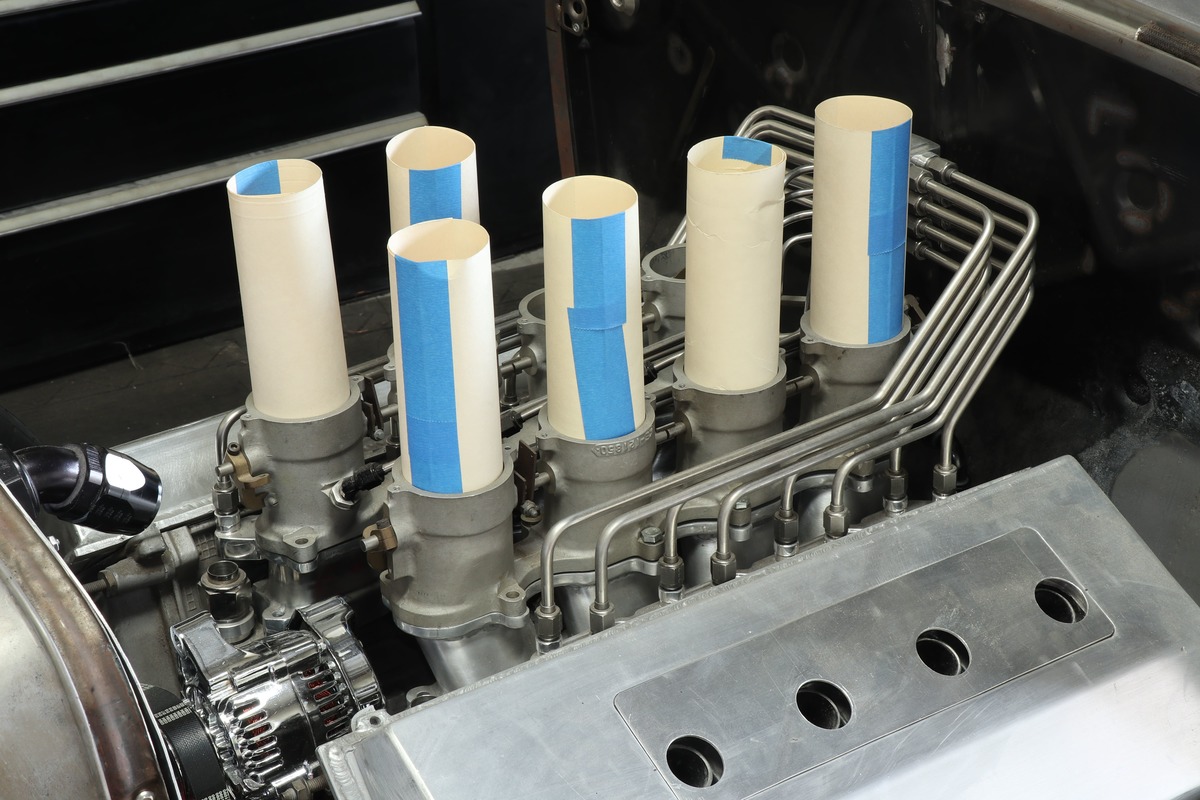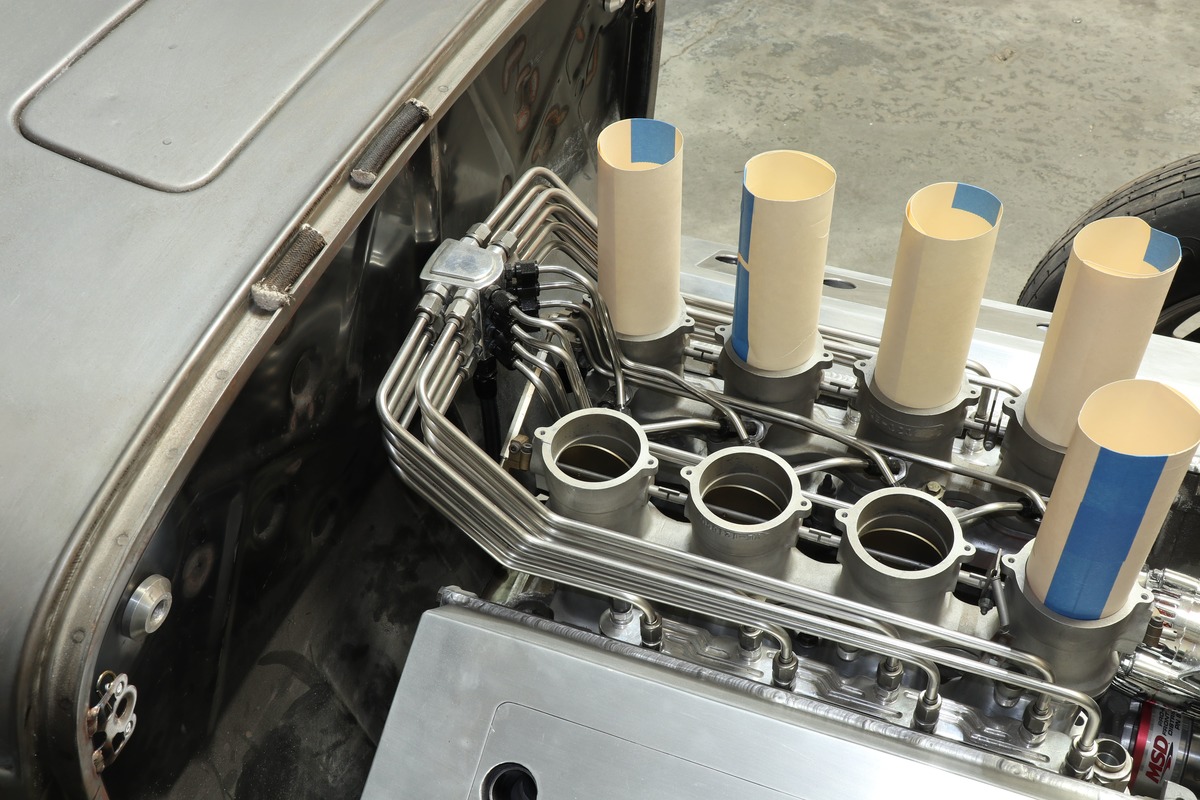 The thundering hooves for his 1932 Ford highboy roadster come by way of an aluminum block 2002 Ford Coyote 5.0L. Look closely and you will see the Thurm custom-made valve covers, but upon closer inspection do you see what rests up top? That's a German-made fuel-injection system built for Gurney-Weslake and its 1965 Indy race car program. While the fuel injection is a vintage mechanical system, Ken kept the vintage look but has converted it into a modern electronic system. The fuel delivery and ignition systems are based on a Bosch fuel pump, LS7 injectors, Holley ECU, MSD belt drive, and an electronic crank trigger. Longtime hot rodder and supreme maker of exhaust systems Rod Sexton received the nod to build the 1-5/8-inch headers, stainless exhaust system, and supply the custom mufflers. Other engine accessories include a Meziere electric water pump located under the bench seat, FanMan electric fans, a Powermaster starter, an Odyssey Extreme PC925 battery located under the dash, and an 85-amp alternator that was pirated from a Toyota forklift and then fit via Thurm-made brackets. Even closer inspection will reveal that all of the unnecessary brackets and extended metal was ground off the block.
Backed up to the Coyote 5.0L V-8 is a Richmond six-speed (equipped with an aftermarket shifter featuring Ken's handmade drilled/slotted shift lever) that utilizes a McLeod twin-disc clutch and pressure plate. The driveshaft is an aluminum tube from Drive Line Specialties, while the transmitted horsepower (about 500!) is then distributed directly to the Winters quick-change featuring a limited-slip diff and 4:10 gears.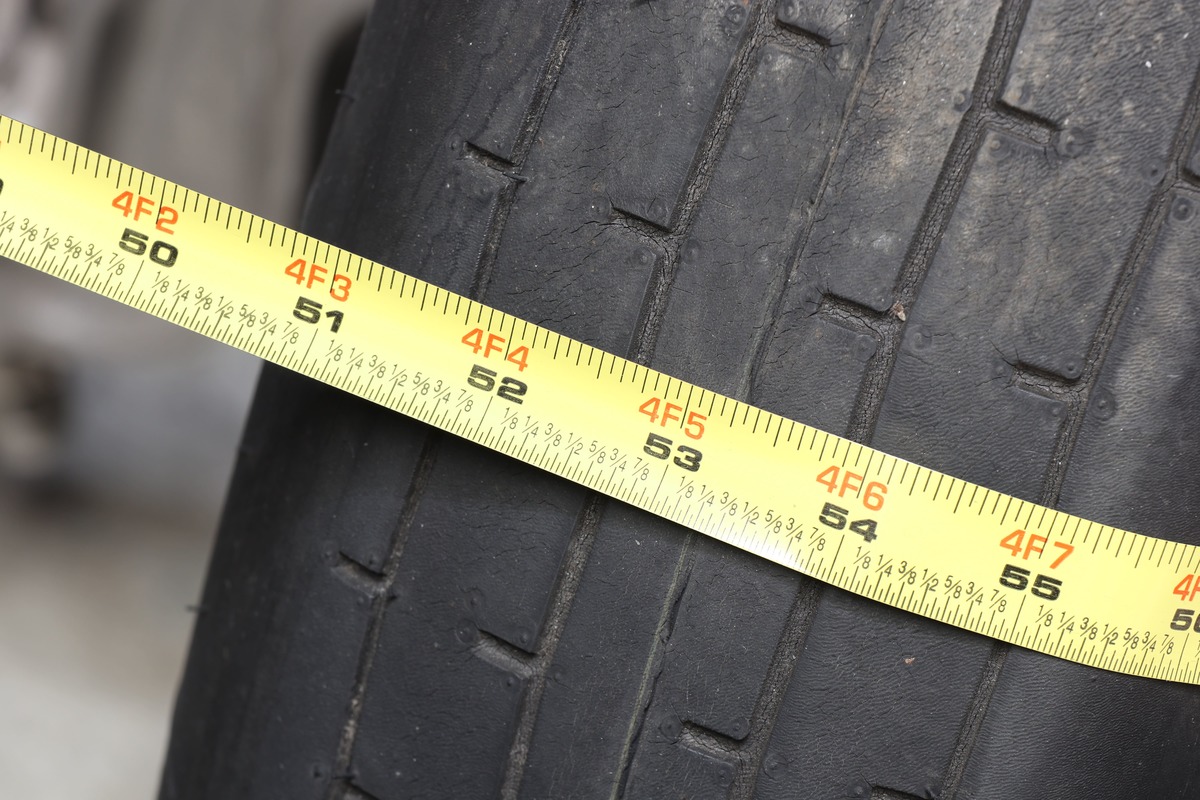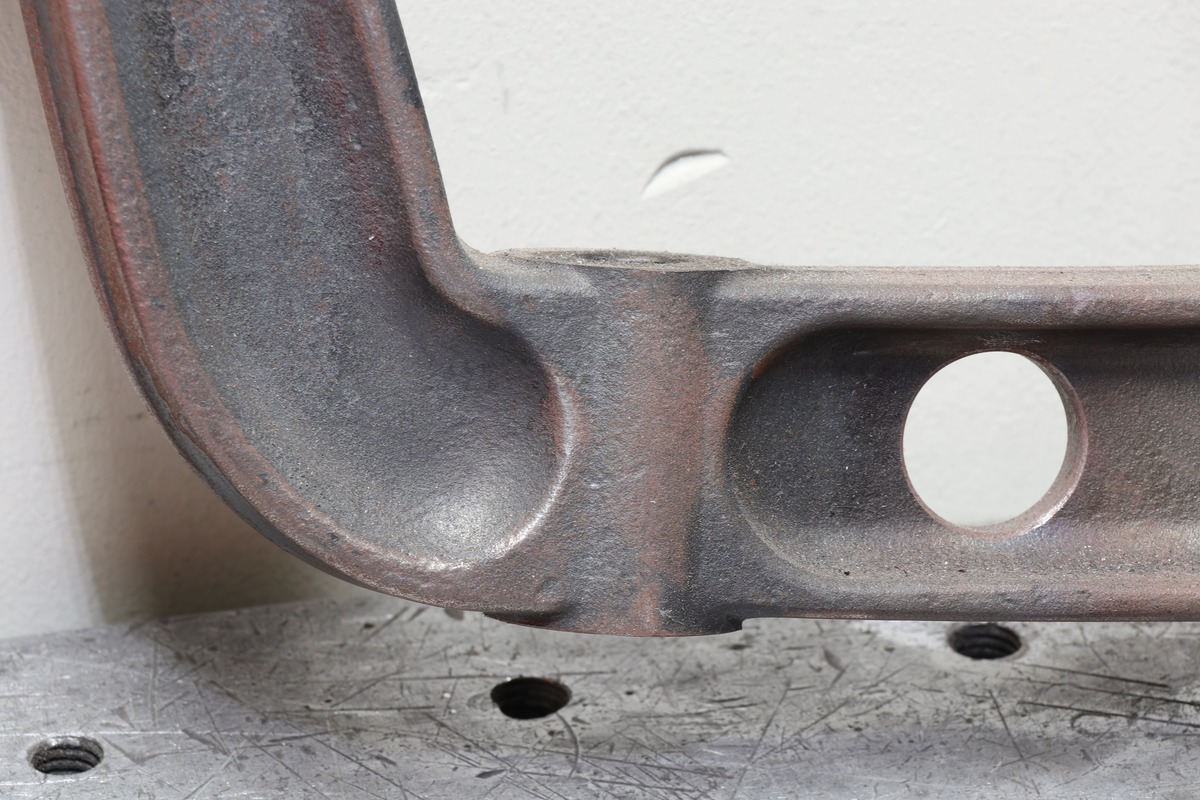 The axle is an interesting story. Ken will tell you that since he was 15 years old he never cared much for the way a highboy looked  head-on. It seemed as if the track width was too wide for his tastes. Now he had the chance to do something about this unpleasantry. He began with a 46-inch-wide I-beam (perch bolt to perch bolt) with a 4-inch drop. There's a shop in Las Vegas (and we wish we could find it!) that takes 4-inch dropped axles and massages them into 5-inch dropped axles. When the process is complete, the end result is a 5-inch dropped axle that's 2 inches narrower than its original overall width. The slimmed-down axle really makes a statement … if you notice it! Subtle is the way to define this modification.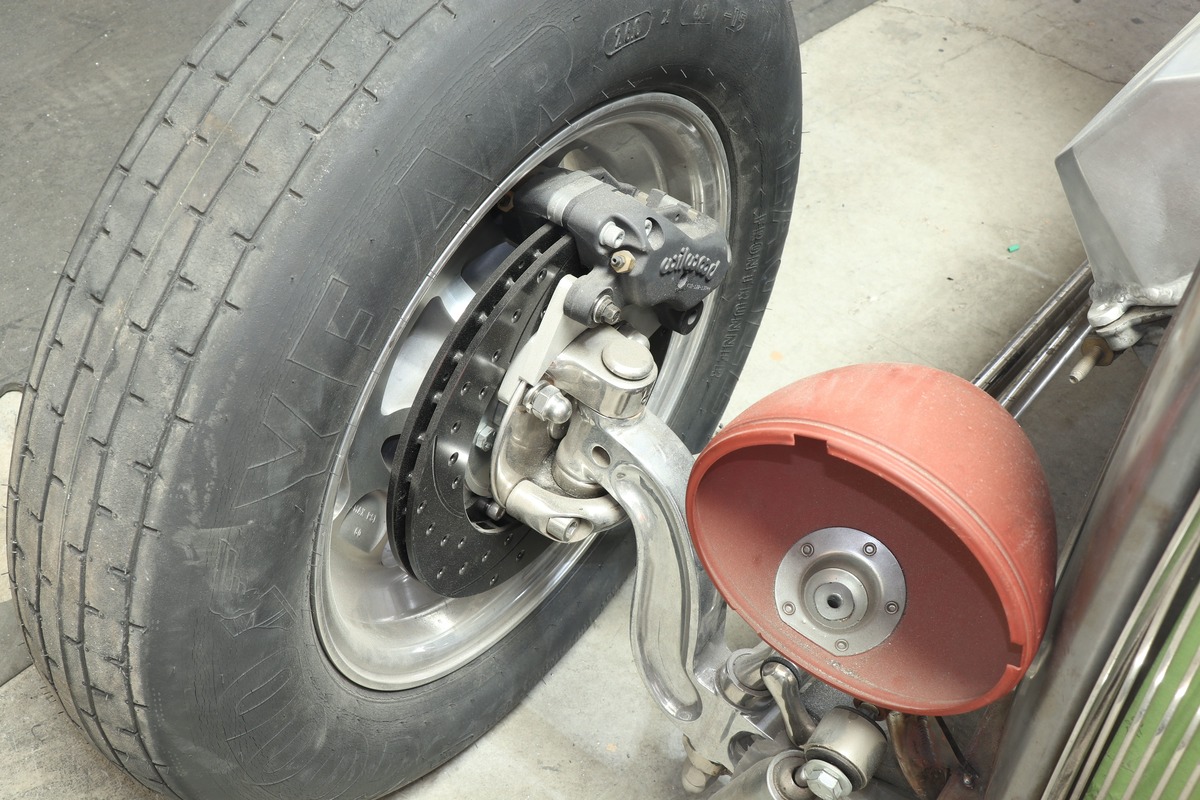 Ken took this dropped and narrowed axle and with the use of spindle mount wheels thereby deleted the hubs, yielding another inch narrower track width. The track width is now 3 inches narrower than the typical Deuce. The framerails, as part of his original modifications, are pinched while the aesthetics are retained but the narrower head-on appearance does give the car a more pleasing look, and when compared to a "stock" 1932 Ford highboy the difference is noteworthy.
The chassis is based on ASC framerails that Ken tinkered with by raising  the front subframe section (firewall forward) by 3 inches and the rear framerails section raised by 4 inches. From here the front suspension features a custom transverse leaf spring with reversed spring eyes and the perch bolt then runs through the now-custom I-beam axle holding the hairpins and provides an anchor point for the lower shock mounts. The front sway bar is more Thurm handywork, while stainless spindles are used, traditional tube shocks, all guided by a Unisteer system,  the steering column is another "from the workbench of Thurm." The rear suspension, as mentioned earlier, is based around a Winters quick-change with Wilwood Dynalite calipers and rotors, RideTech shocks, and a Deuce Factory sway bar.
More mods to the frame included the shortening of the wheelbase. Yes, shortening! Typically Deuce hot rods enjoy the lengthening of the wheelbase at the hood region to allow more complex engine and accessory configurations. Ken figured out how to get this modern Coyote V-8 in there and still keep the stock firewall (although the heads stick out like an old Hemi, not all bad!). The wheelbase is now 103 inches, sporting the 3-inch shortening. This was accomplished by taking 1-1/2 inches from the forward frame cowl area and 1-1/2 inches from the rear.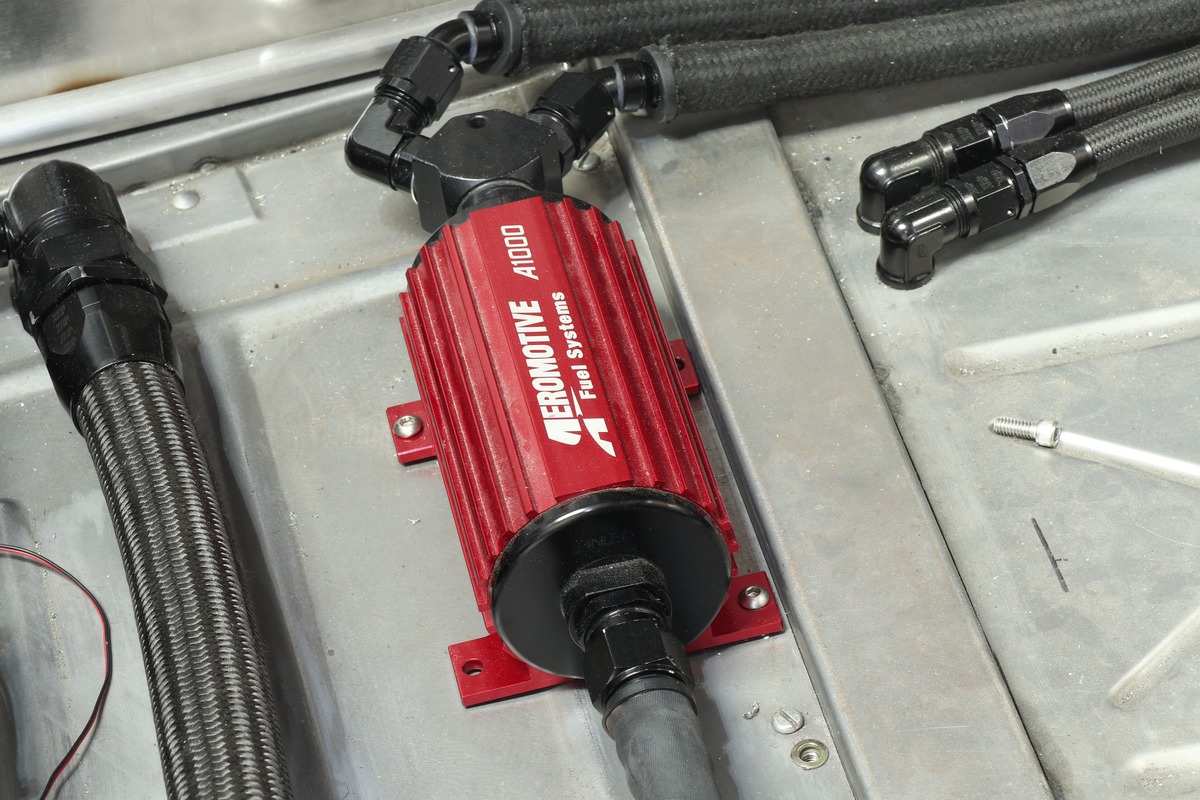 The chassis rests on Mickey Thompson 15/5-24 rubber in front while the rears are Toyo 305/70R18s. The rubber is mounted to spindle-mount Rebel Wheels in front measuring 15×4.5 and the rears are some of Mike Curtis' handiwork measuring 10×18. Resting behind the bigs 'n' littles combo are Wilwood Dynalite calipers and rotors, actuated through a CPP dual reservoir master cylinder and pressed into service via an under-cowl 90-degree master cylinder/pedal assembly from Kugel Komponents.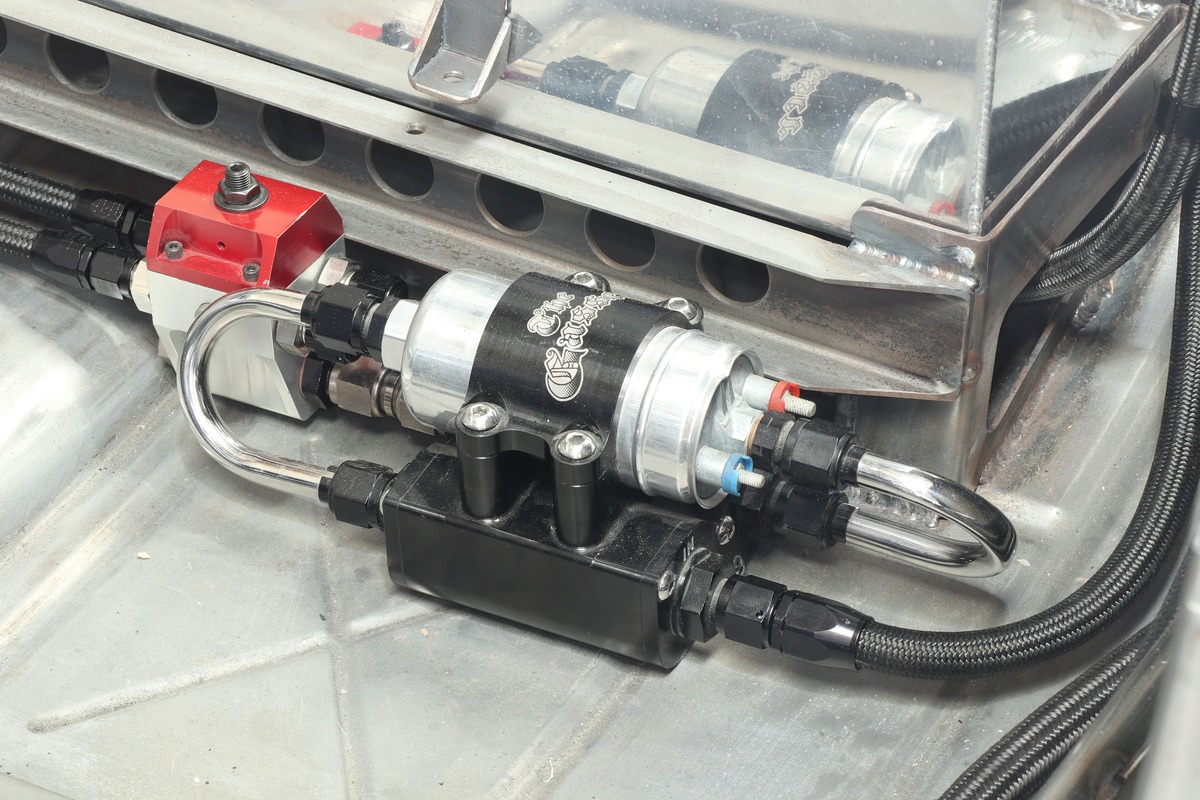 Now we come to the Brookville Roadster body. It too has undergone the keen eye and craftsman hands of Ken and fellow hot rodder Gavin Hughes. First off, with the shortening of the wheelbase, the hood was also shortened by an inch. But there is more. The rear wheelwells were raised  2 inches while the rear floor was  raised   by 4 inches. The trans and driveshaft tunnel is another handmade item. Gaze upon the hood and decklid and you will see a voluminous number of traditional louvers. The hood has five cascading rows totaling 51 louvers. There are 139 neatly assorted louvers arranged into seven rows with the middle row minus one louver to make room for the handle. From here you can see frenched 1939 Ford taillights, license plate light, and plate mounting area. (Sometime in the future, the 1932 Ford highboy roadster will be painted in Candy Apple Red.)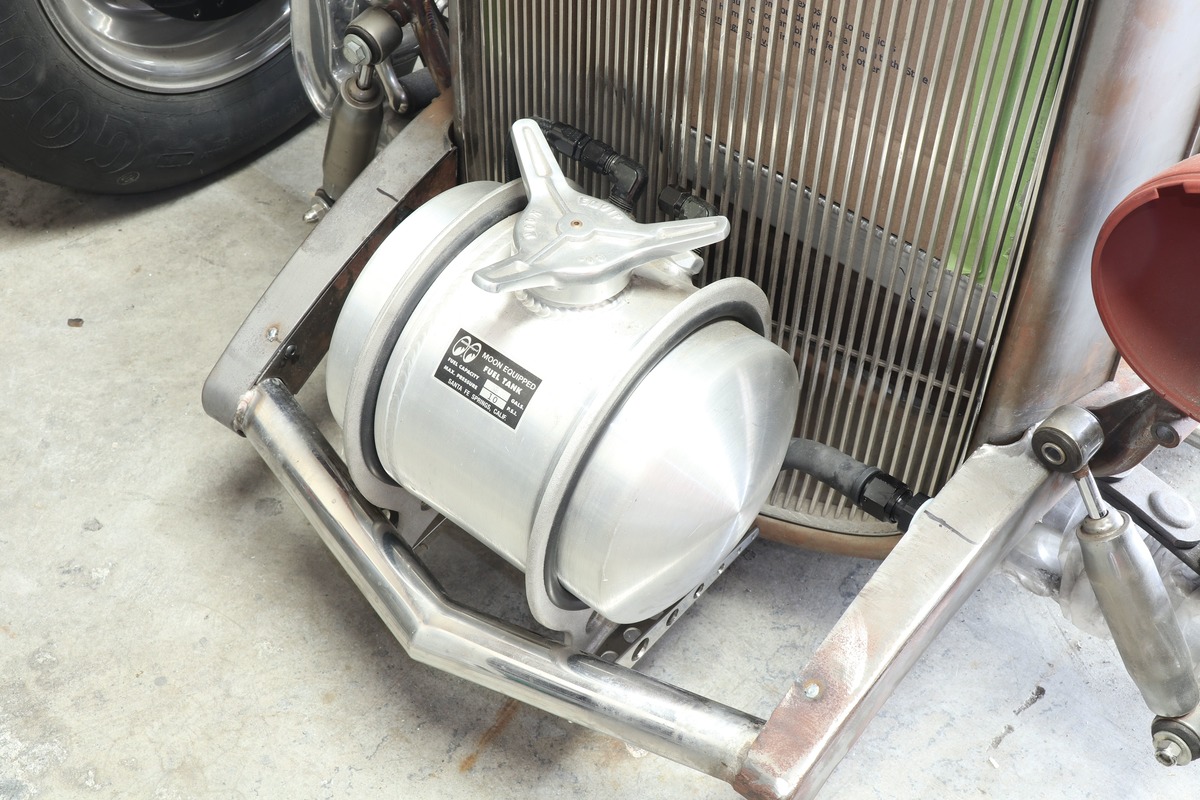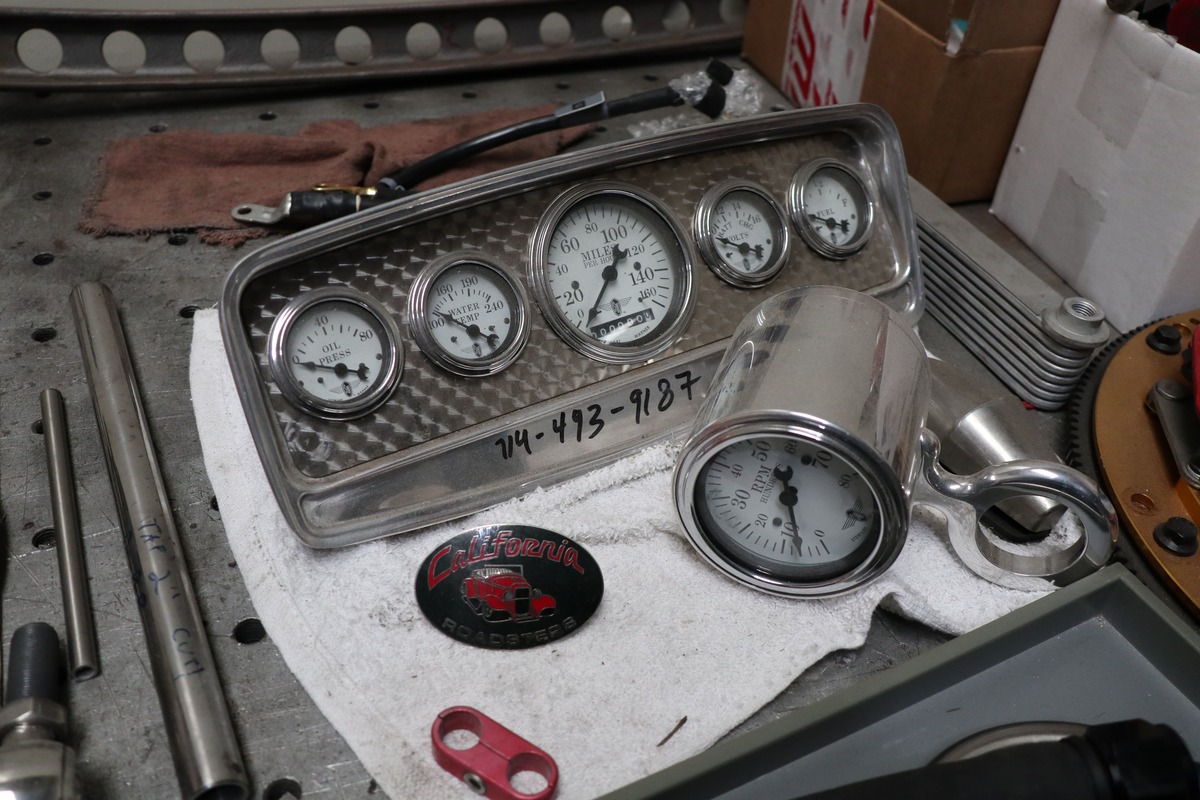 Inside the cockpit the future still holds the application of leather upholstery, but right now you can see the traditional Stewart-Warner Wings gauges and steering column–mounted tach. The dash panel itself is Auburn in style with an engine-turned inset that surrounds the five-pack of gauges. Although the wiring is a long way from completed you can see the makings of the electrics with the Centech fuse panel, an assortment of breakers, relays, battery-kill switch, AutoMeter GPS system, and a Blinkie turn-signal system. Look at the seat riser, another Thurm part, and you will see design holes cut into the base, but they do serve a function. There is a heater mounted under the seat base and within the riser air and the hot air is directed out through the holes to help keep the passengers toasty on those cold morning runs.
A lot is accomplished but there's a lot more to go, which is the nature of a hot rod. It will take a bit longer, but when Ken wraps up his project you can rest assured that Modern Rodding will be on hand to shoot the final feature on this 1932 Ford highboy roadster. MR
In The Garage: 1932 Ford Highboy Roadster