Mark Gustafson of Buda, Texas Gives Us a Tour of His Collection & What a Garage it is!
By Brian Brennan – Photography by Mark Gustafson
The In the Garage section of Modern Rodding website is intended to show what's going on in hot rodders garages everywhere. To kick-off the series we contacted longtime hot rodder and good friend Mark Gustafson of Buda (think, Austin), Texas. He managed to pull himself away from the "good life" (retired and on "cruise control") and take a hot lap of his shop for us.
Over decades of rodding he has managed to collect a garage full of memorabilia, cars, and projects befitting any lifetime rodder. He has good intentions of getting them all on the road but as he admits, "I will have to live until I'm 118 to get all the projects done." He has the right spirit as he says, "So, far so good!" As you run through the 150-plus photos that chronical Mark's shop just image how many stories all of these exploits represent.
If his name sounds familiar it should to anyone who has managed to make it to the Lonestar Roundup in Austin and taken part in the garage crawl. (If you haven't you should.) The tour will take you to a number of local hot rodders shops/garages and there you will see ample rodding goodies.
1955 Chevy Pickup, Woodie & Olds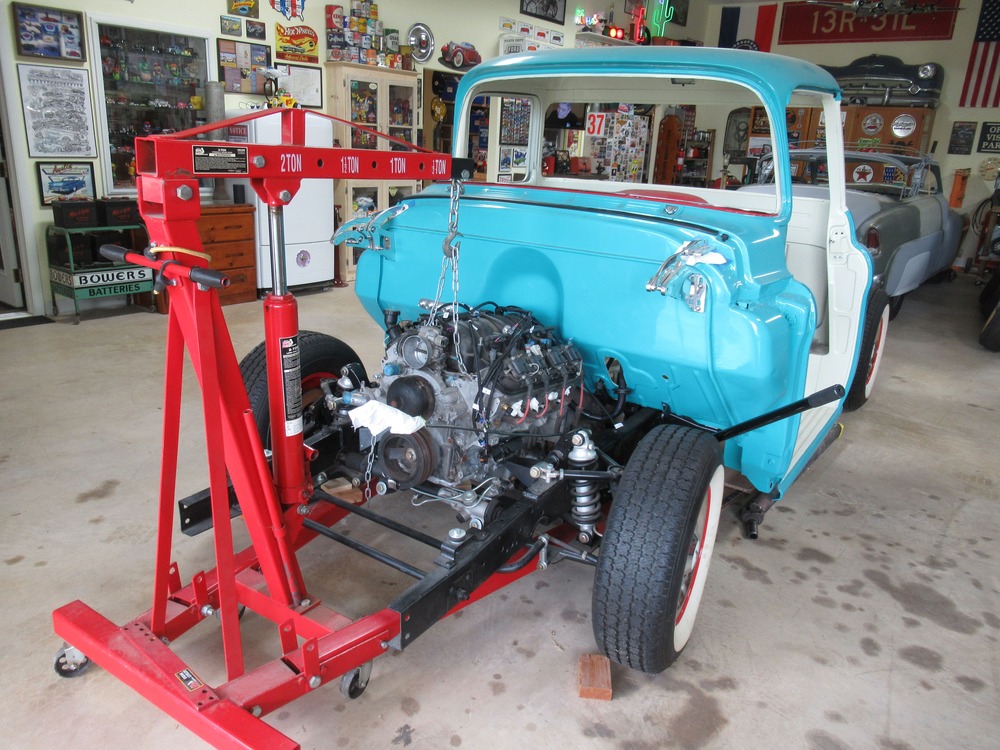 As you look at the photos you will see a turquoise 1955 Chevy truck. It's the one project that isn't his but rather it belongs to a local rodder, a good friend, who passed away and he and his buddies are finishing it up for the man's wife.
Keep looking and you will see a Ford Woodie that made the trip from Texas to Hot Rods and Hobbies in SoCal. Next up is a 1940 Olds that's a true low mileage, 58,000, that Mark says is in amazing shape but he has to cut it loose from his herd…it's for sale, a "creampuff". Another '60s hot rod is the 1934 Ford pickup (basket case) that was originally rodded in the 1960s and Mark found it just 4 miles from his home and, it too, needs to be cut loose.
1972 Ford Mustang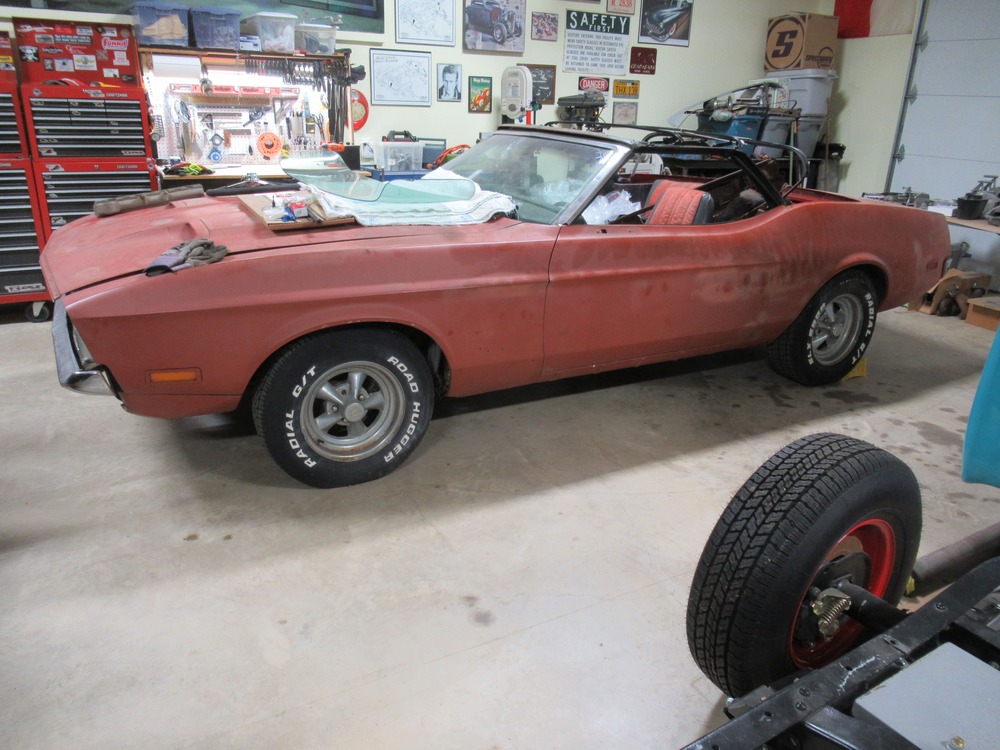 We noticed a primered Ford Mustang and asked for the story behind it.
"That's a 1972 Mustang, I've owned for about 40 years, with Firebird taillights and 1968 Olds headlights. It's an old hat bought it from the second owner bought it in 1976 did a mild custom and then decided to get on the 1980 to 1981 ISCA circuit for a while in the Mid America Division and found some 1968 Olds headlights that I installed and I didn't know of anyone who made a tube grille so that's electrical conduits that I built and bent over the front contour of the front bumper. From there I had a local guy weld them and then got it chromed. From there I had a body shop do the 1969 Firebird taillight panel. I climbed up about six or seven cars high that were stacked in the salvage yard to this teetering Firebird. They brought it down with a crane and cut the backend off and I harvested the taillights."
1932 Ford Five-Window Coupe
Ford five-window highboy coupe that looks like it's progressing along…although it's never fast enough.
"That was owned by an elderly gentleman, just west of here, he'd had it for a couple decades, and after a point he just realized he wasn't going to build his dream car. He kind of searched around and asked around for somebody that would be the new caretaker. And I guess I've had it two or three months now and a mutual friend hooked us up. It was more like a job interview, talking to him."
"I mean it's kind of strange the questions he was asking but it's like I wanted to date his daughter or something with these probing questions but really he just wanted to find somebody that would respect it. He was looking for someone who would make it into as old hot rod and not, you know, do anything weird to it, it's going to remain as it is, it's got a 1959 Corvette engine with four two-barrel intake. It has a banjo rearend but will be converted to a 9-inch Ford. It's going to be highboy, remain un-chopped, and will be built in the old school-style. The biggest decision now is to run a hood or not but it's going to look like it should have late '50s early '60s like the gentleman envisioned it."
Pair of 1937 Fords
Look closely into Mark's collection of goodies and you will see a pair of 1937 Ford's out of Austin; one is a coupe and the other a sedan. The two cars were garage mates for decades and Mark bought both of them and, literally, a garage and rafters filled with parts and to this there were two outdoor storage building filed with vintage and rare parts.
Mark told us that the little black coupe was repainted once but now suffers some checking in the old lacquer paint job. The woodgrain was restored as it's been in the four-door sedan. There's a V8/60, 60 horsepower flatty, in there and it runs. And the thing is an absolute time machine and in great shape.
The four-door sedan sports its original Washington blue paint. It appears at some point someone tried sanding on the other right (passenger door). Mark says it's a shame they tried that but other than that the paint is cheery. According to Mark he's never seen a better unrestored example; one look at the door gaps makes the point.
Mark tells us that he doesn't want the four-door sedan so it will be "headin' on out" while the coupe is a keeper.
Along with the pair of '37s (and that should have been enough of a haul!) Mark tells us that there was a staggering amount of memorabilia that came out of that garage. Everything from diagnostic equipment, old bits and pieces, and boxes and boxes of new old stock. Even old Ford piston rings in the original boxes with the wax seal and the little zip string that you would pull on to open them up. Mark has kept them sealed and on display for all of you who make the Garage Crawl while in Austin.
1949 Merc Convertible Custom
We then noticed what looked like the makings of a Merc custom. So, we asked Mark what was that all about.
"It's a 1949 Merc and that was being actually made into a mild custom by a buddy of mine up in Missouri who was teaching me about metal shaping. I did a little bit on the Merc years ago, probably 15 or more years ago. I said, 'Mercury is my dream car and a convertible would just be over the top.' I was able to pick it up for a "song." And then in the interim we did some more metal shaping on it taking it to my vision."
"I then added the 1955 Plymouth quarter panels, a 1952 Ford rear bumper, then everything else was pretty traditional rounded corners fringe headlights and all that stuff, but my buddy Kurt McCormick has got the Buddy Alcorn 1950 Merc and it is styled the same way by Barris it's got the 1955 plus quarters, 1952 rear bumper and as fortunate enough to spend some time with Kurt with a tape measure, measured everything and kind of did that. it's gonna not be a clone of the Alcorn merch but it's got those influences.
"I am going to do 1955 Pontiac Star Chief trim down the side so that characteristic little bump in the door will have the Star Chief trim come down, go down separate and I'm going to go a two-tone paint scheme."
1941 Ford Pickup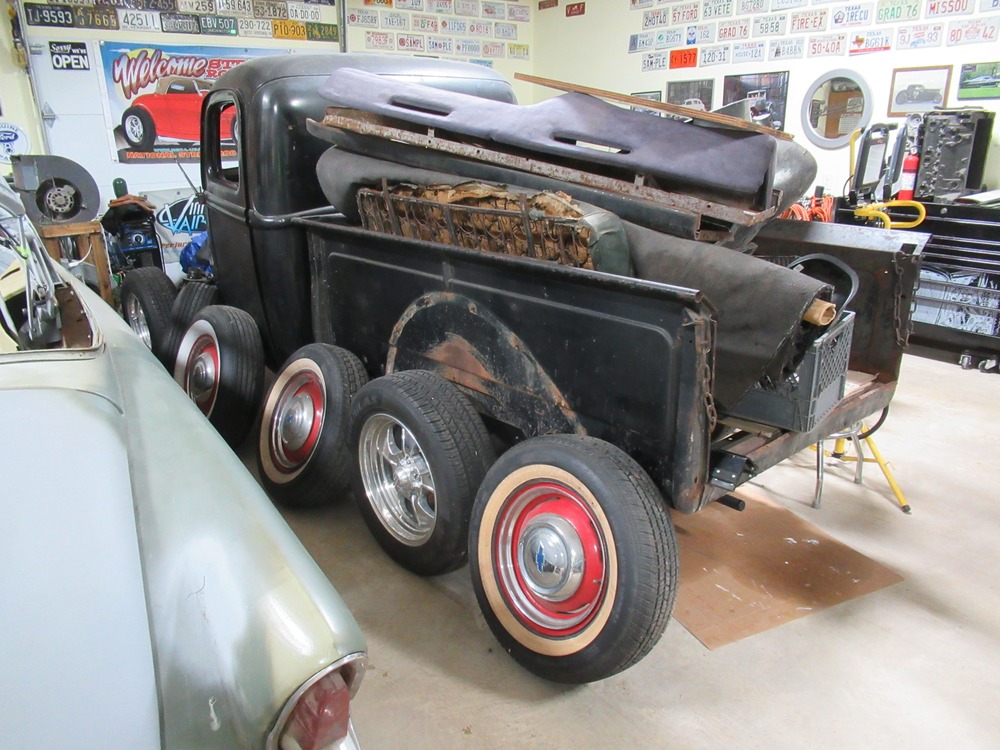 Next up we noticed a 1941 Ford pickup that belongs to his wife. Yep, it's her ride! We asked Mark to tell us about the '40 Ford pu.
"Sitting next to the Merc is a black Ford pickup truck that we found in Missouri a while back. It's got a box that's in the bed. That is my lovely brides 1941 Ford pickup. Years ago, she had a 1940 that was chopped and probably a little bit too chopped for her taste. It was an '80s rod, a lot of billet and digital stuff."
"This time no chop and more traditional. She wants to keep all the bumps and handles and everything. And I've got two Classic Instruments gauges that are going in the dash. It's their new series they've got. It's a tach and speedo and looks like the original stuff."
"It will also have a 9-inch Ford rearend with a Mustang II IFS, which is already done. So, it's just a matter of getting it done. It's got some really nasty rear truck fenders because they were, you know, trucks that we used. So, she's got me on the hunt for steel fenders as there will be no fiberglass on this hot rod."
Memorabilia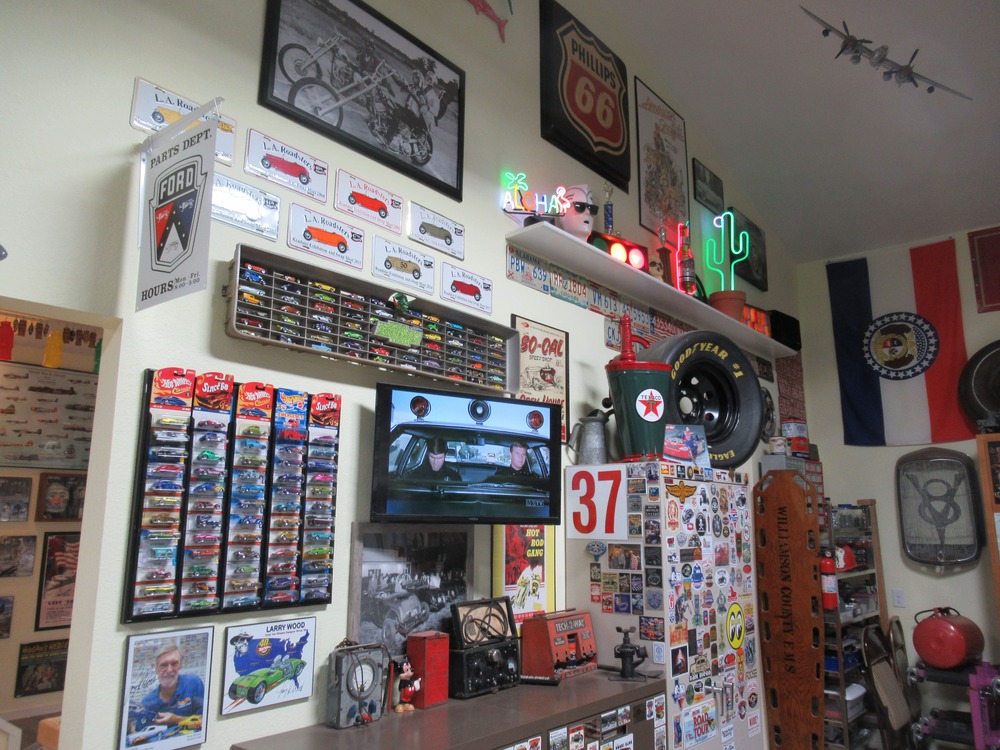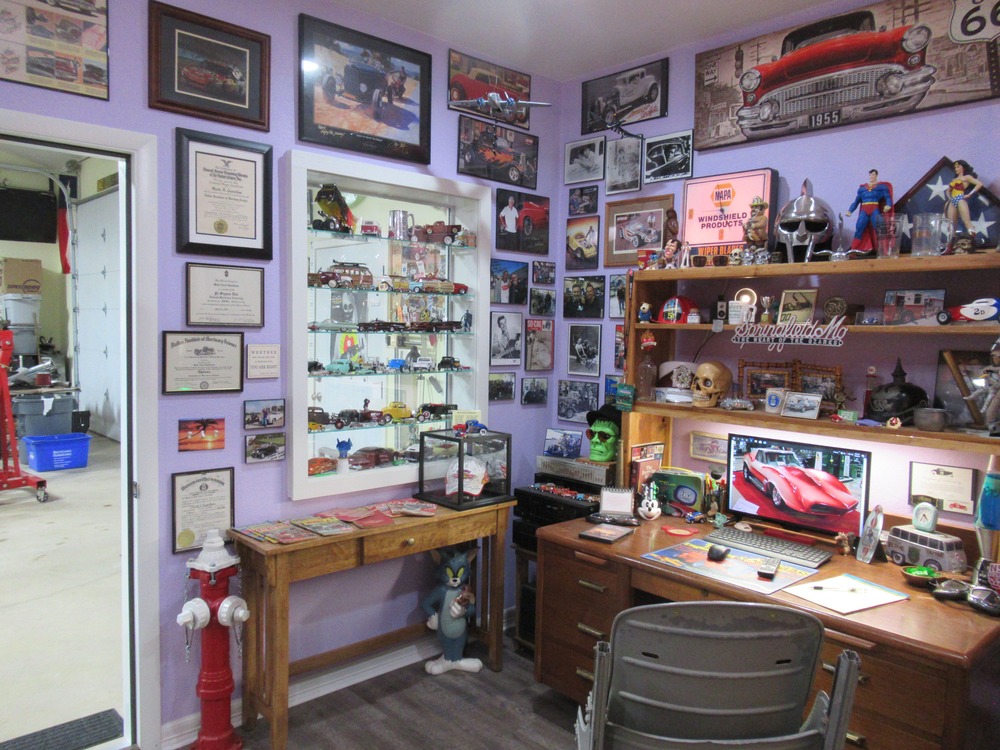 One last cruise around the Mark's shop and we notice collectible after collectible. Anyway, lots of memorabilia, model cars, autographs and so on fill the shop. Mark tells us that he has numerous record albums, there are over 300 lunch boxes, with the The Lost in Space lunchbox the one he carried to school. Mark tells us that it was his dad who punched out the name label.
The upstairs tiki bar is an entirely different level of insanity and Mark readily agrees. The pictures don't do it justice. His plan was to take the best from what he saw and could collect form tiki bars from across the country on his wanderings.
To Mark, it's "Kinda like the Enchanted tiki room, Trader Vics, Kon Tiki and Don the Beachcomber all rolled into one. It is my happy place for sure."
We here at Modern Rodding would agree that this is one heck of a hot rod garage. We hope you all agree. MR
In the Garage: Texas Style