By Rob Fortier & Mark Wedell
Photography by Dominick Damato
"Human Interest" always makes for the most interesting feature stories, and every so often, we stumble upon one so meaningful and endearing that truly deserves retelling from the owner's viewpoint. Such is the case with Mark Wedell, who inherited this hybrid heavy hauler from his aging father-in-law, and dedicated it to his terminally ill daughter, who has been stricken with Cystic Fibrosis since birth.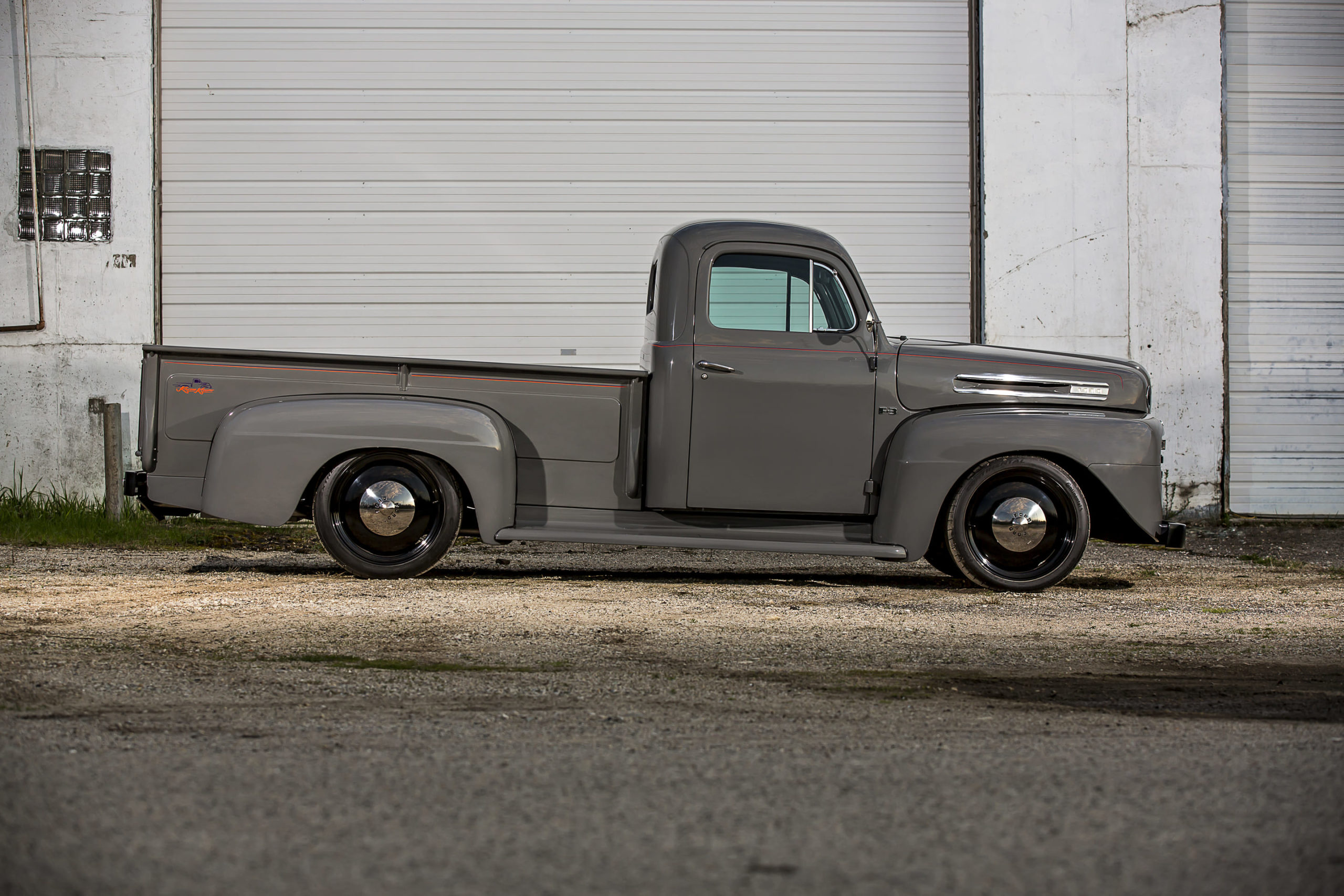 "This 1949 Ford F3 pickup spent the first part of its life on a farm, hauling grain, hay, tools, supplies, groceries, and of course, the family. During that time, the original owner made necessary repairs, and even attempted to restore the body to keep it alive and looking good.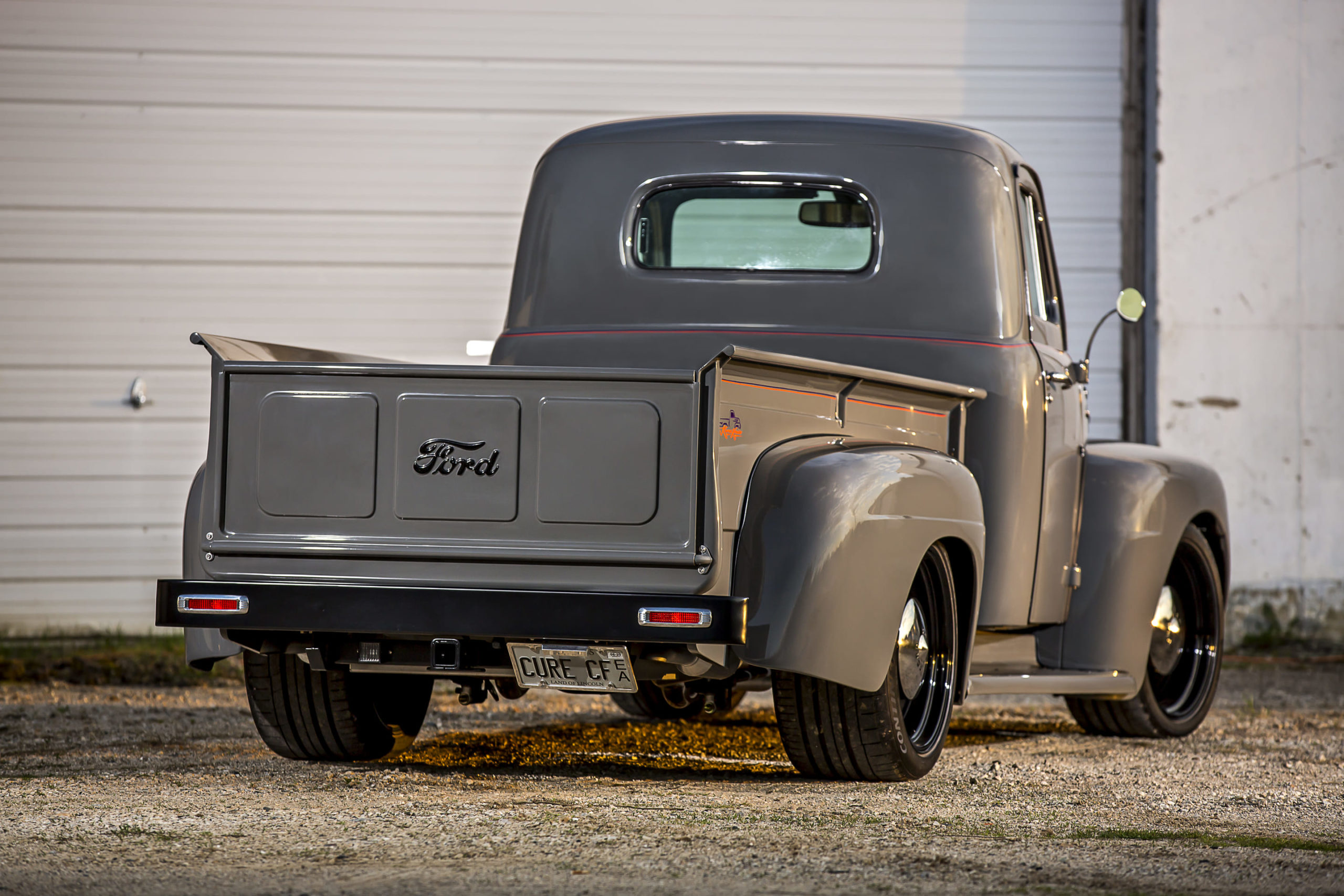 "The original drivetrain was a 225 cubic-inch flathead inline six, rated at 95 horsepower, connected to a 4-speed 'spur gear' manual transmission, driving a Timken banjo-style rear axle with a 4.86:1 gear ratio. This setup was great for use on the farm, but not suited for long trips over the road.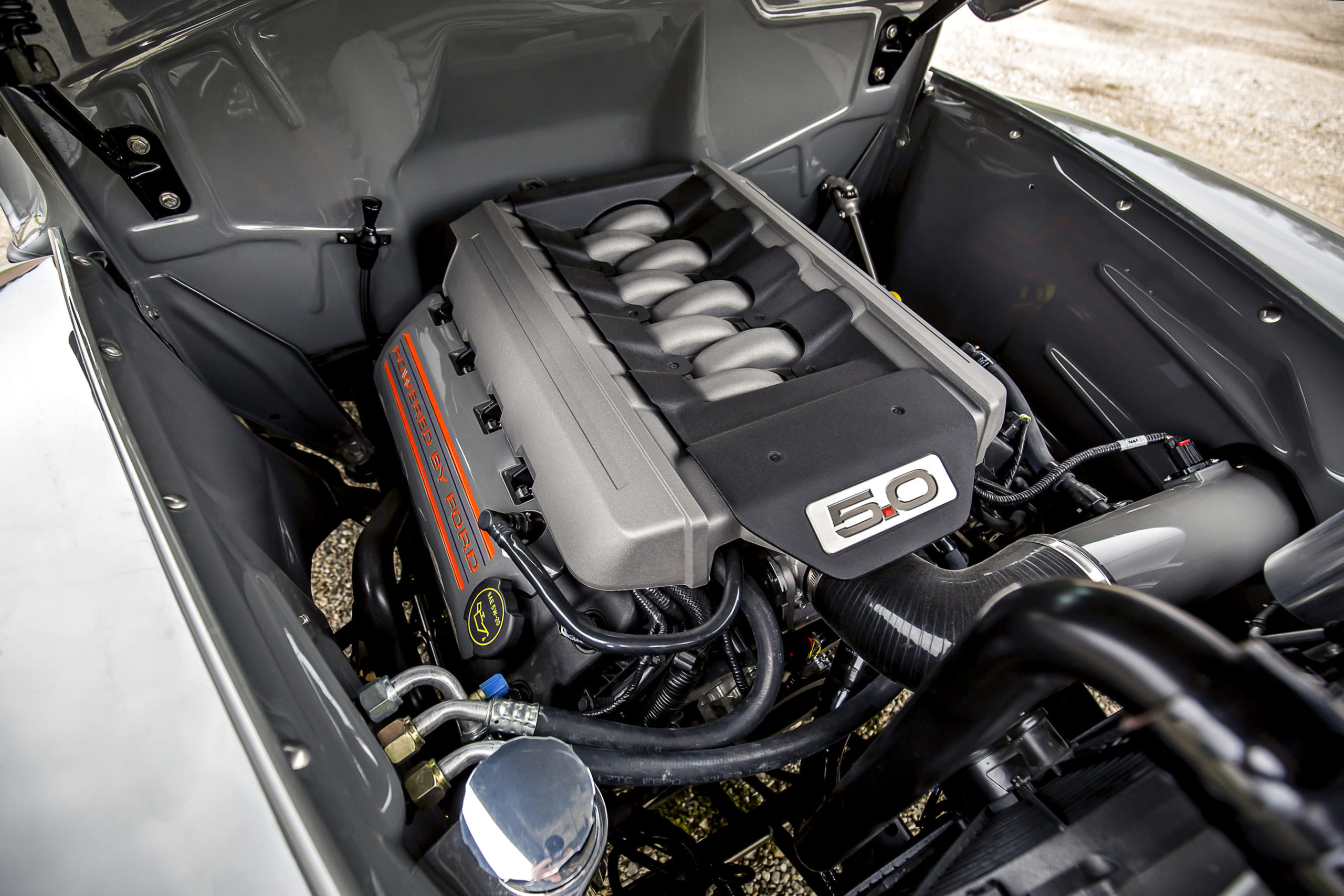 "Known as the 'Bonus Built' series of trucks, the F3 was a bare bones vehicle. It had one vacuum operated wiper on the driver's side only, no heater, and a 13-leaf rear suspension with no shock absorbers. It did, however, have a long bed, which made it extremely useful for hauling.
"In 1986, my stepfather, Ron, became the second owner. We picked the truck up at its original home: a farm just outside of Kenosha, WI. It was a running, driving vehicle, so we drove it home. (That was a story all on its own!) After a few small maintenance items, Ron drove the truck to work daily, in stock form, for about two months.
"The truck was due for a makeover, and the first item on the list was a friendlier, more modern rear axle. A Dana 60 from a 1972 Ford F250 Camper Special was located, and was a one-hour bolt-in. Ron drove that configuration for another month. Next on the list was an engine and transmission swap. A 1986 Ford 5.0 H.O., along with an AOD transmission, were selected for the job. A fairly easy swap, the truck was up and driving again within a month and returned to daily duty. It remained in service for nine years. A broken motor mount brought that configuration to an end when the accelerator became stuck wide open and spun a crank bearing. The truck was parked with the intention of repairing it, but life got in the way, and it was put to the side, awaiting its resurrection.
"In 2016 it became apparent that Ron was unable to bring the truck back to life. He approached me and asked if I wanted it. Of course, I said yes! I knew exactly what I was going to do with it and brought it to my shop immediately. I staged it in my work bay, and began disassembling it, dreaming of getting back on the road.
"After about 8 months of not being able to work on it very much, I decided to change direction, and have a shop take over. I knew I would never be able to complete the job myself in any reasonable amount of time. The idea of building the truck into a show truck was the only way to go.
"The truck would be used to take to functions to raise awareness, and for fundraising to support research for treatments and a cure, for Cystic Fibrosis, a terminal genetic disease that my daughter, Shelby, has been battling her entire life. She just turned 13, and with the help of her doctors, and the Cystic Fibrosis Foundation, she is living as close to a normal life as possible. She still has battles and challenges, but I cannot say enough about the leaps and bounds in treatment and medication made possible by the generous donations made to the CFF.
"The name of the truck, 'Karma Kruiser', is based on something I used to tell my daughter when bad behavior backfired on her: Karma! We named our fundraising team Shelby's Karma Kruisers, and the name just naturally fit the truck due to its intended function. It can be seen at local car shows and events, as well as being in attendance each year at our annual CFF Great Strides fundraising walk in Barrington, IL.
Jeff Schwartz at Schwartz Performance eagerly took on the job, personally picking up the truck, and making sure to keep me deeply involved in every step of the process. There were no shortcuts, and the team was able to implement every idea and suggestion I had, building the truck to a level I had never imagined. Although it takes time to build a vehicle of this magnitude, it was painless, exciting, and well worth it all.
"I let Ron drive the truck first upon completion. It was a symbol of the evolution of the truck, and a way to thank him for giving me the truck, which allowed this all to happen. It has become a sort of family heirloom, now. I hope it stays in the family for a long time. Hopefully long after a cure for Cystic Fibrosis is found."
Among the major modifications performed by Schwartz Performance, the implementation of their proprietary G-Machine chassis was by far one of the best overall improvements made when it comes to drivability and performance. With Wilwood disc brakes, power rack-and-pinion, and RideTech adjustable coil-overs, without question the F3 has seen its last days of shock-less, multi leafpack farm road driving! Solid steelie reminiscent 20-inch Circle Racing wheels in gloss black wearing 1949 Ford passenger car caps complement the exterior's Destroyer Gray (by Steve Nick's Customs) quite well. Even the interior got a well-deserved modern upgrade with a distressed black leather interior by Rod's Designs, Dakota Digital VHX instrumentation, Vintage Air climate control system, Flaming River column, and a Lokar shifter manipulating the 4R70W overdrive in place of the old gear grinding top-loader.
But no matter what's on the surface or beneath the Schwartz-modified sheetmetal, it's what's behind the project that really gives this one its heart string tugging characteristics. Kudos to Mark Wedell and Shelby's Karma Kruisers!