Pro-Fit TKX Transmission Systems for Gen 3 F-Body
American Powertrain offers a Pro-Fit five-speed system for the 1982-92 Chevy Camaro and Pontiac Firebird, featuring the all-new TREMEC TKX transmission. The TKX Pro-Fit kit fits the third generation F-body like an original GM manual transmission with zero tunnel modifications. American Powertrain modifies the TKX shifter location that mimics the factory fitment and shifter location.
The new Pro-Fit five-speed system features the new TREMEC TKX transmission with 600 lb-ft of torque capacity with shifts up to 7,800 rpm. The system comes with a new crossmember that allows the factory torque arm to be reused and can be adjusted. It comes with all the installation parts and a new custom-built driveshaft for easy installation. Pro-Fit kits are covered by American Powertrain's two-year warranty and comprehensive tech support. Six-speed kits are also available.
For more info, check out American Powertrain by calling (931) 646-4836 or visit americanpowertrain.com.


AMD's New 1970-74 Mopar E-body Doors –  Auto Metal Direct's (AMD) latest release is aimed at the Chrysler Corporation E-body. AMD has completed development and offers the inner door bottom structure for the 1970-74 Plymouth Barracuda and Dodge Challenger models; driver side door: PN 515-1570-L, passenger side door: PN 515-1570-R.
The reproduction inner door bottom repair panel is for the 1970-74 Mopar E-body cars (Dodge Challenger, Plymouth Barracuda, 'Cuda). Ideal for replacing a damaged or rusted original panel, this piece allows for repair of the inner door bottom without replacing the entire door shell. Pair this with the AMD doorskin and you can save that E-body door that was once considered scrap.
Read More: Retrofitting 1973-80 AMD Inner Fenders On 1981-87 Square Body Chevy
Each piece is stamped from high-quality heavy gauge steel and features the correct shape, size, bends, and curves, like the original. It arrives EDP coated to protect against rust and corrosion prior to installation. Mopar official licensed restoration part.
For more info, check out Auto Metal Direct by calling (877) 575-3586 or visit autometaldirect.com.
Mechanical Speedometer Cable Adapter for TREMEC
Bowler Performance Transmissions now offers a mechanical speedometer cable adapter for TREMEC transmissions. They include the T56 Magnum, TKS, TKO, and T5 that use a Ford-based mechanical speedometer drive and require an adapter or a custom speedometer cable to drive a traditional speedometer. This mechanical adapter is the easiest and most economical solution to connect your existing GM 7/8-inch threaded speedometer cable to the transmission.
The one-piece design incorporates a double O-ring seal for the transmission case opening, as well as an internal seal to prevent fluid from leaking through where the cable attaches, which is a common problem with other adapters on the market. The drive spindle is a solid steel Swiss machined part for extra strength and accuracy. This adapter has the option of 16- through 21-tooth driven gears to accommodate for a wide range of gear ratios and tire sizes. Made in America.
For more info, check out Bowler Performance by calling (618) 943-4856 or visit bowlertransmissions.com.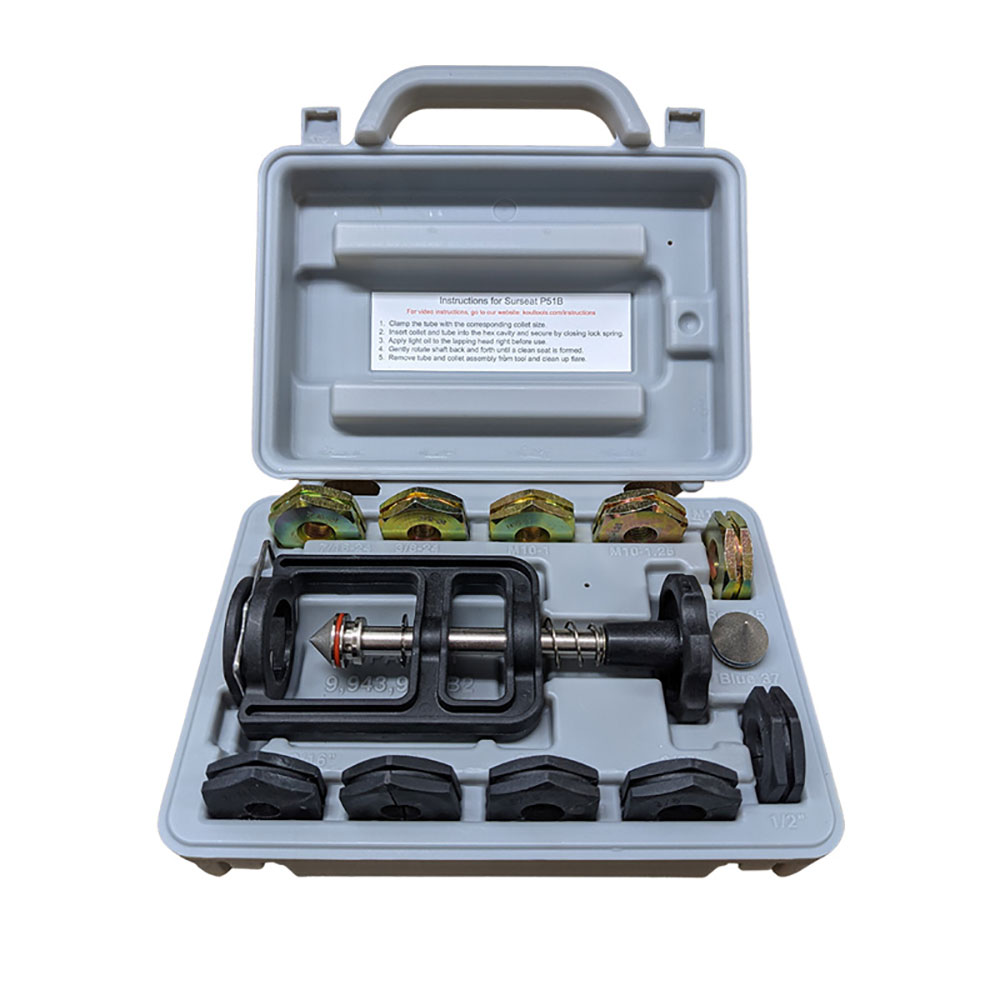 Koul Tools' Hard Line Flare Lapping Tool
Koul Tools offers the new Surseat P51B flare lapping tool, featuring improved usability and additional collets for metric sizes. The new shape and size of the tool make it easier to work in tight spaces and the lock-spring system secures the tube seamlessly in the tool's cavity.
Another addition to the P51B is the easy-to-use clip mechanism for the interchangeable 37- and 45-degree lap heads. "On our previous model you had to attach the lap heads with set screws, which was a little annoying and time-consuming. The new clip-on system is quick and fail-proof," founder Dick Raczuk adds.
The Surseat P51B removes irregularities in flared hard line tubing, leaving an ideal sealing surface. A precision 37- or 45-degree lap head coated with diamond dust literally polishes steel, stainless steel, and copper tubing to perfection.
For more info, check out Koul Tools by calling (928) 854-6706 or visit koultools.com.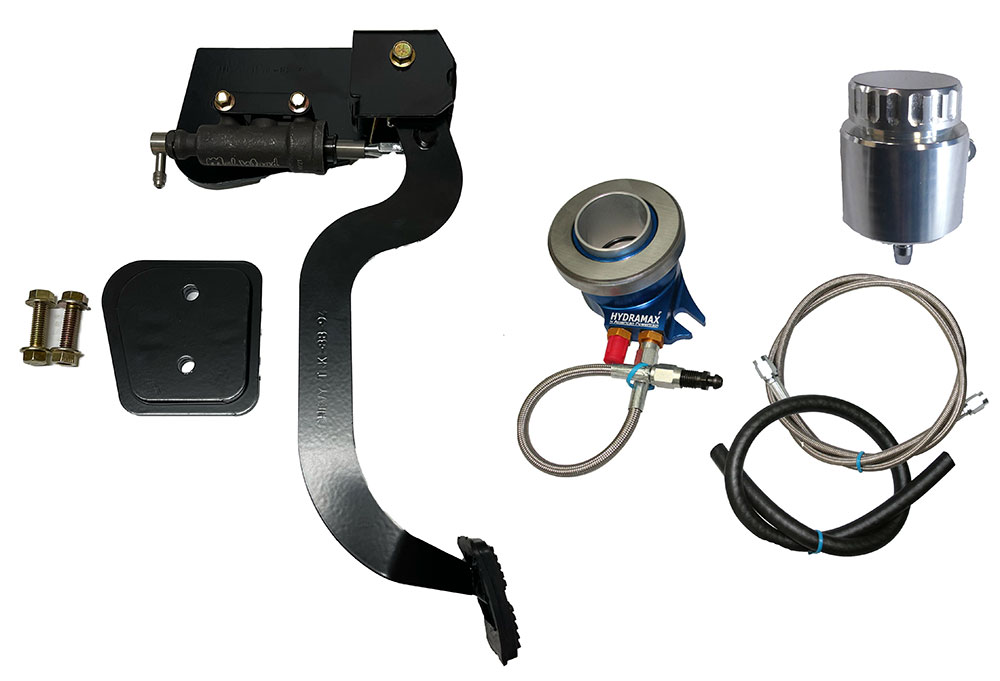 Bolt-In Under-Dash Hydramax Hydraulic Clutch Kit
American Powertrain now offers new Hydramax clutch system applications for five- and six-speed GM models. This Hydramax hydraulic kit is designed for a wide variety of 1964-72 GM A-body, 1967-81 GM F-body, and 1962-74 Nova, all equipped with five- and six-speeds. There are many other Hydramax kits available for other GM models, including 1955-57 Chevys.
Read More: The Best Powertrain Combo For Your Hot Rod
The new Hydramax clutch pedal kit includes a master cylinder, clutch pedal, lines, and a billet Hydramax hydraulic slave cylinder bearing. The conical slave cylinder is pre-bled, dual-sealed, and comes with shims to adjust the distance to the clutch fingers for any type of clutch setup. Included is a billet reservoir to finish out the installation. These kits work with any TREMEC transmission, including the T5, TKO/TKX, and T56 Magnum six-speed. The included clutch pedal allows for easy conversion to hydraulic or an automatic car to manual. The hydraulic pedal is also available for purchase separately, with no hydraulic slave.
For more info, check out American Powertrain by calling (931) 646-4836 or visit americanpowertrain.com.
New Carbon Edition Upgrade For TREMEC T56 Magnum & TKX transmissions
Bowler Performance Transmissions now offers a new Carbon Edition TREMEC Magnum six-speed and TKX five-speed upgrade package. The Carbon Edition package is designed to improve the transmission's ability to handle higher horsepower/torque loads and/or extreme-use environments, like Road Course and Auto-X racing. According to Bowler you will notice a much better shift feel and ability to shift at higher rpm under these heavier loads on the transmission, plus quieter operation and less vibration. These benefits with the Carbon Edition package are an excellent upgrade for any application where you want the best possible performance out of your new TREMEC trans.
For more info, check out Bowler Performance Transmission by calling (618) 943-4856 or visit bowlertransmissions.com.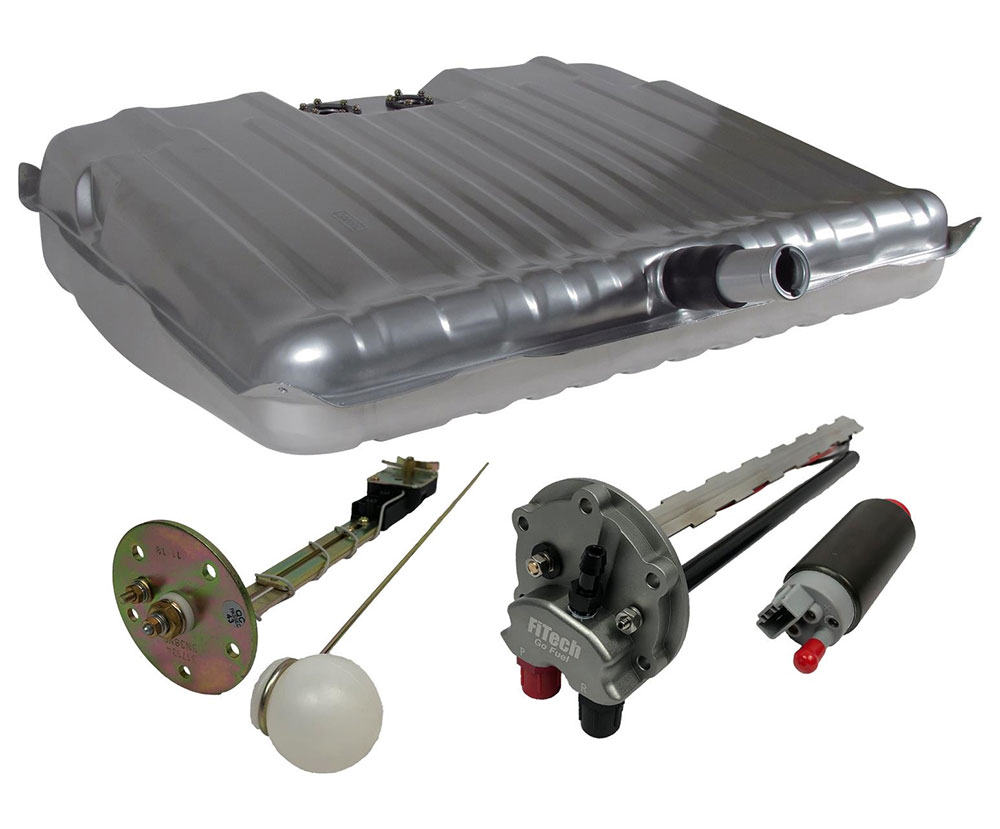 Drop-In FiTech Go EFI Fuel Tank Kits for Chevy, Ford, and Mopar
The best place to mount a fuel pump is in the gas tank. FiTech partnered with Tanks Inc. to create a bolt-in solution to feeding your EFI engine. The FiTech Go EFI Fuel Tank Kits feature a 340- or 440-LPH electric fuel pump module that slides into a direct-fit steel fuel tank. The 340-LPH pump can support up to 800 hp, and the 440-LPH pump supports up to 1,000 hp.
Read More: '67-72 C10 EFI Tank Setup Upgrade
FiTech Go EFI Fuel Tank Kits come with an application-specific fuel sending unit, a -6AN inlet and outlet for secure fuel line connections, and tank mounting straps. Available applications include a wide variety of early and later model Chevy, Ford, and Mopar cars and trucks.
For more info, check out Summit Racing Equipment by calling (800) 230-3030 or visit summitracing.com.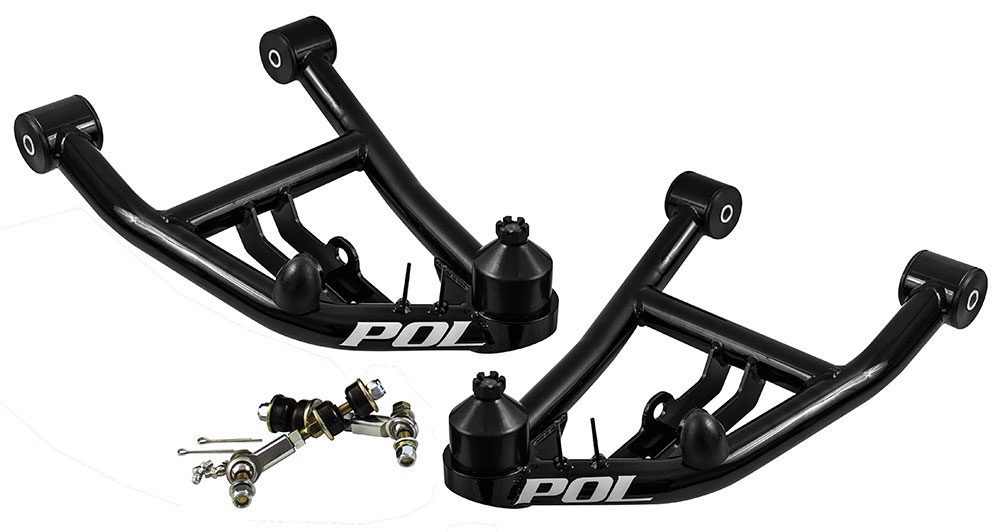 Lower Tubular Control Arms For GM A-body
Performance Online now offers new lower tubular control arms that will strengthen your suspension and improve the handling for your GM A-body, like the 1964-72 Chevy Chevelle. Specifically designed to run with coilovers and manufactured from 1.625 OD DOM tubing, the ball joint area is greatly strengthened, eliminating the problems found on the OEM factory units and the ball joint has been re-positioned to help eliminate ball joint binding. These arms have been installed and running on driving vehicles for over a year to ensure all geometry and performance at its best.
For more info, check out Performance Online by calling (866) 605-1453 or visit performanceonline.com.