The Go-To Manual Transmission Setup For Your LS Engine
By Ron Ceridono – Photography by Brian Brennan
While tradition will always be an important part of hot rodding, the impact of technology cannot be denied. In the same way the Flathead Ford was eclipsed by overhead valve designs, the popularity of the Gen I and Gen II Chevy small blocks has lost ground to the LS series of engines (address all hate mail directly to Brian Brennan).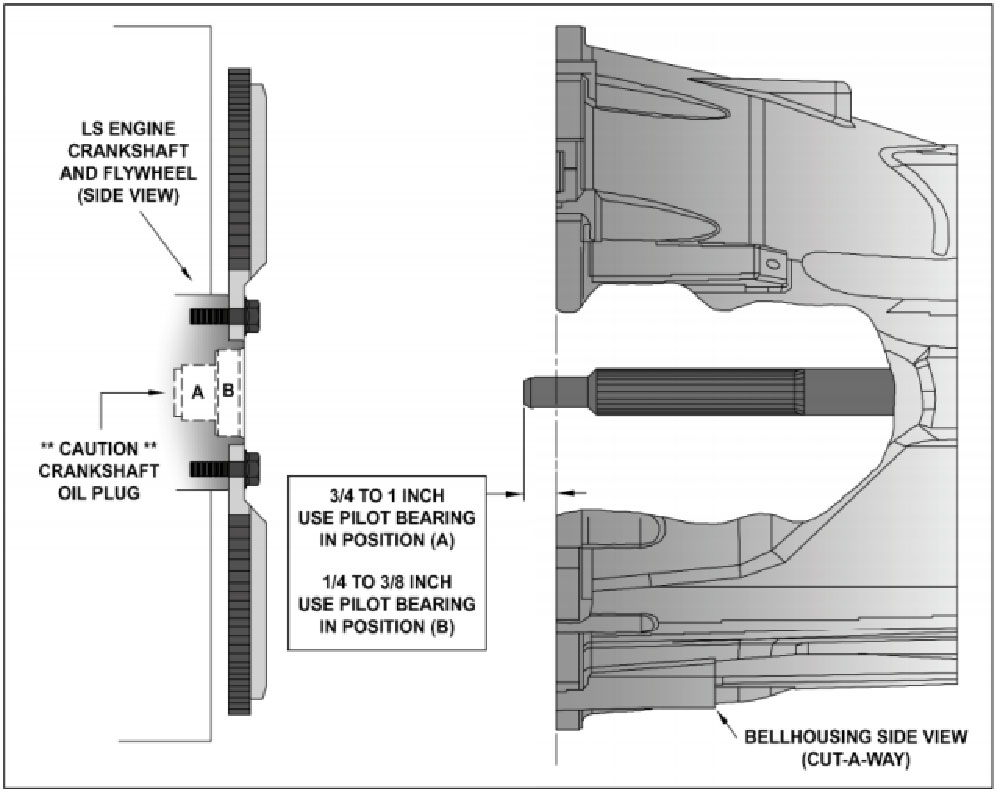 LS Engines
Not exactly the new kid on the block, Chevrolet introduced the LS series in 1997 (and yes that really was 25 years ago). And while some hot rodders would complain when these engines first began to be used that "they don't look right," the advantages of the LS engines were hard to ignore. As a result of their performance, durability, and availability the LS series have become today's go-to hot rod engine.
Read More: Top 10 LS Engines
Along with the popularity of LS engines has come a renewed interest in hot rods with three pedals. The reasons are simple enough—today's crop of five- and six-speed manual transmissions offer great gear ratio spreads for performance and overdrive top gears for highway cruising. And, of course, nothing is cooler than going through the gears manually rather than having it done for you automatically. In the example shown here we're combining a Chevrolet LS3 crate engine with a TREMEC TKO five-speed manual transmission. We went to Summit and gathered the parts in question.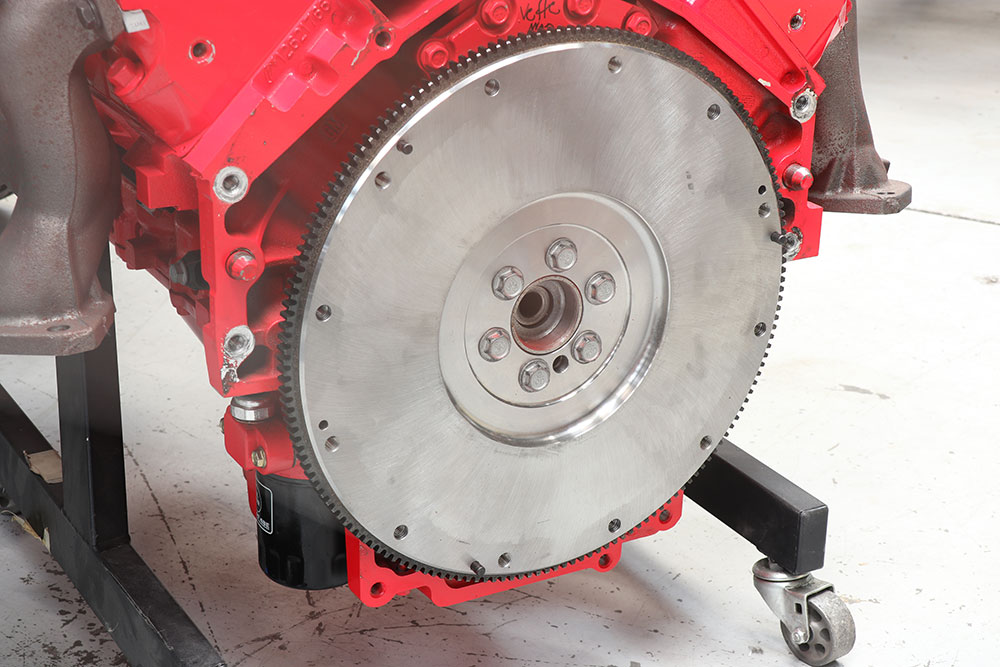 TREMEC Transmissions
The battle cry of American Powertrain since they opened their doors has been "Save the Stick" and today they are the world's largest TREMEC transmission dealer. American Powertrain offers individual components as well as complete vehicle-specific kits in their ProFit transmission systems line to retrofit most cars and trucks with a five- or six-speed TREMEC transmission.
Are Tremec Transmissions Good?
TREMEC transmissions are manufactured by the world's largest RWD manual transmission company. They produce a variety of transmissions with torque capacity from 300 lb-ft to well over 700 lb-ft. Various gear ratios are available in five- and six-speed transmission with five-speeds having an overdrive top cog and six-speeds overdrive in the top two gears. The result is improved performance through the gears with cruising rpm dropped 18 to 50 percent. All transmissions feature internal rail shifting mechanisms and American Powertrain offers kits to move the gearshift lever forward, backward, and even off to the side to accommodate any installation.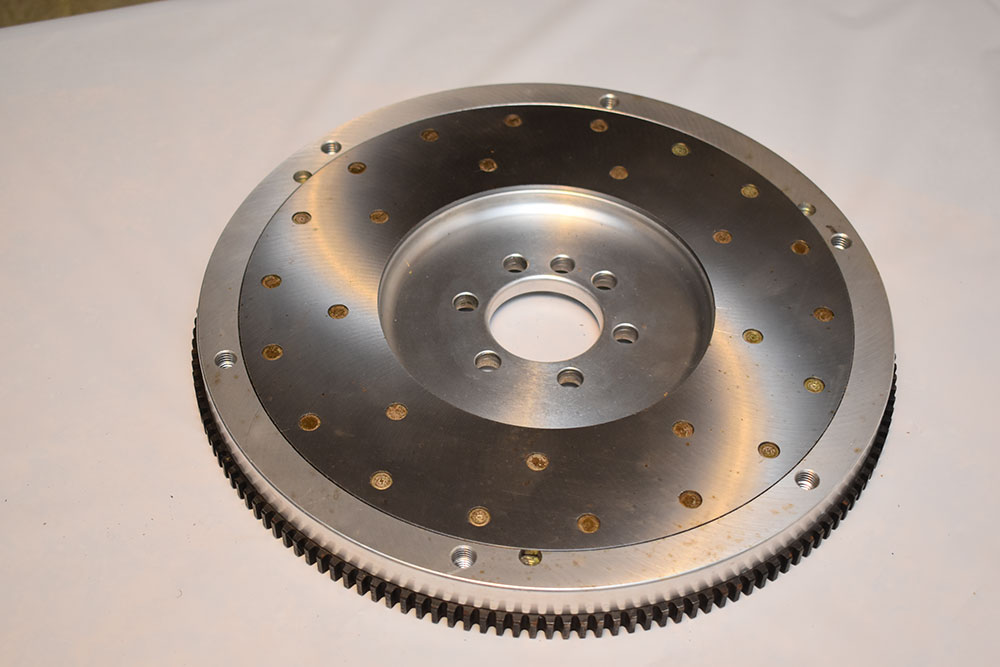 SBC vs LS Bellhousing
Early on Gen I Chevy small blocks had a cast in boss with a drilled and tapped bellhousing bolthole at the top, or 12 o'clock position on the bellhousing flange. Eventually that hole was not drilled and tapped, although the boss remained. On the LS bellhousing bolt pattern a hole at the 12 o'clock position is drilled and tapped once again, but the first hole clockwise to the right found on Gen I and II engines has been eliminated on the Gen III. Another difference in the generations is Gen I and II SBC Bellhousing bolt size is 3/8-16, the LS bellhousing bolt size is M10 mm x 1.5 pitch, 1.375 inches long (ARP PN 134-0901 for hex head, PN 134-0902 12-pt, PN 434-0901 12-pt stainless).
In the example shown here we used a Quick Time RM-6036 bellhousing from American Powertrain that connects GM LS engines to transmissions utilizing the GM standard pattern such as the Muncie, Saginaw, BorgWarner T10, and TREMEC TKO transmissions. This bellhousing is SFI 6.1 certified and is a universal fit rather than vehicle specific. Quick Time also offers bellhousings for use with all the other TREMEC series, such as the Magnum transmissions and LS engines (there are applications for other engines as well).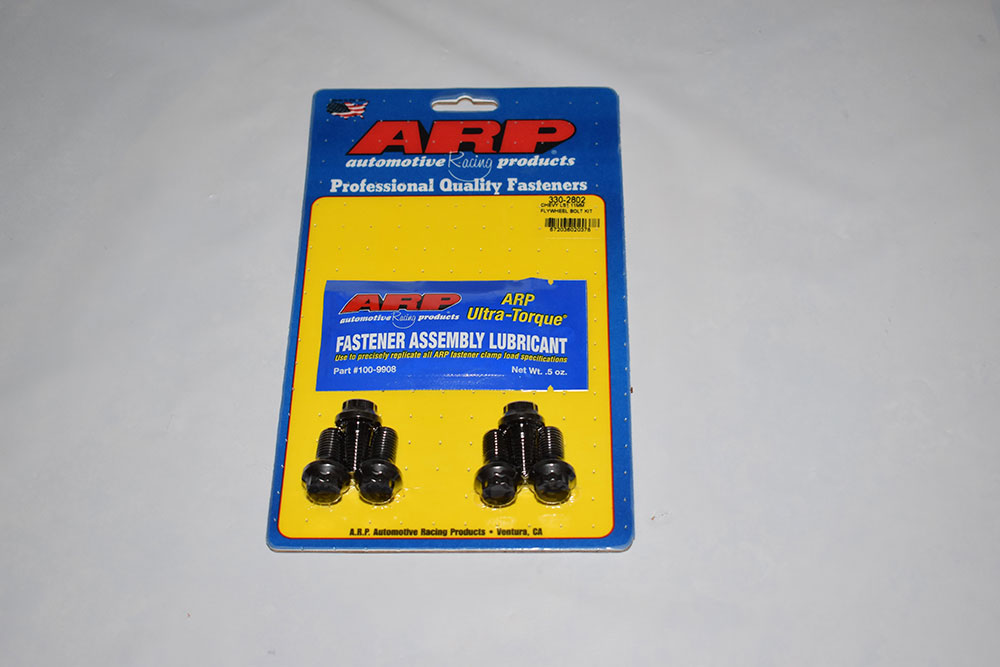 SBC vs LS Flywheel Differences
Unlike Gen I and Gen II Chevy small blocks, which had six-bolt flywheels (or flexplates) with either 153- or 168-tooth starter ring gears, Gen III LS engines were all equipped with large-diameter, 168-tooth flywheels (or flexplates). However, while the diameter of the ring gears is the same, the number of boltholes vary—there may be 6-, 8-, or 9-bolt (LS1, LS2, LS3, LS6, LS7 are 6-bolt; LSA, LSX, LT1 and LT4 are 8-bolt; and the LS9 is 9-bolt). And while Gen II engines are externally balanced at the flywheel, Gen I and Gen III engines are internally balanced (flywheels are 0 balance). Another variation to be aware of is the early 4.8 and 6.0 LS engines (1999-2000) as they have an extended crank flange that requires a unique flywheel/flexplate.
Aluminum Vs Steel Flywheel
Another consideration when selecting a flywheel is choosing steel or aluminum. As the people at Ram Clutches explain it, the heavier steel flywheels store more energy than the lighter aluminum versions. Engine and gearing combinations that require more power or inertia to make the car launch without bogging need heavier flywheels. However, heavier steel flywheels accelerate slower so while aluminum flywheels create less inertia at launch, they will allow the engine to accelerate quicker through the gears. When choosing a flywheel, you must consider the car's weight, operating rpm of the engine, and, most importantly, the gearing. For a heavy car with tall gears a steel flywheel is often the way to go, particularly if how the car launches from a standstill is a consideration, a lighter car with lower gears may benefit from a lighter aluminum flywheel for better acceleration.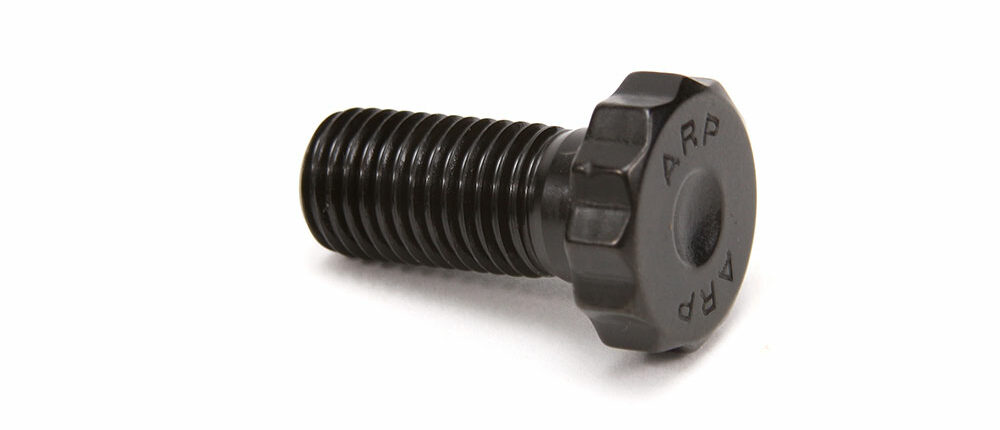 LS Pilot Bearing
This small but important part fits in the end of the crankshaft and supports the input shaft of the transmission. American Powertrain advises there are two LS pilot bearings with different outside dimensions (see the included chart) that fit in two different positions in the crankshaft; all are available from American Powertrain. The best method to determine the correct pilot bearing position is by using a straightedge across the front of the bellhousing and measuring the distance the input shaft protrudes past the front of the bellhousing mounting surface.
Learn More: Determining the Correct Pilot Bearing with Your Manual Transmission Installation
Be aware some GM LS engines use a press-in oil plug deep inside the crankshaft flange. Do remove an original pilot bearing with the "hydraulic" method (filling the cavity with grease then driving a round rod into the center of the bushing pushing it out) as the plug will be pushed into the crankshaft and a gigantic oil leak is the result.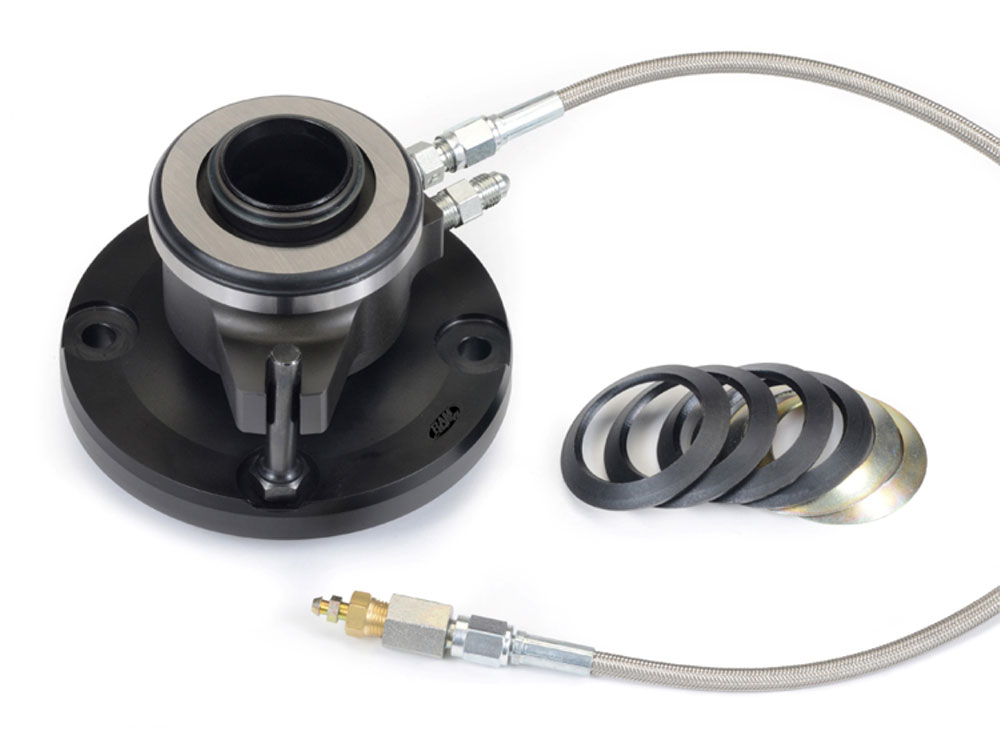 Throwout Bearings
While mechanical clutch linkage with a throwout bearing and release fork have been around forever, we opted to go with a HydraMax hydraulic throwout bearing. They are simple to install, are compatible with diaphragm pressure plates, and thanks to hydraulics can keep pedal pressure manageable even with the stiffest of pressure plates.
Installing the American Powertrain HydraMax hydraulic release bearing isn't difficult, it's simply a matter of positioning the assembly to be within 0.150 to 0.200 inch of the pressure plate fingers. This is done by measuring the distance of the pressure plate fingers from the transmission mounting surface on the bellhousing. A second measurement is taken from the transmission mounting surface to the face of the release bearing. It's then a simple matter of adding shims behind the release bearing assembly to establish the proper clearance.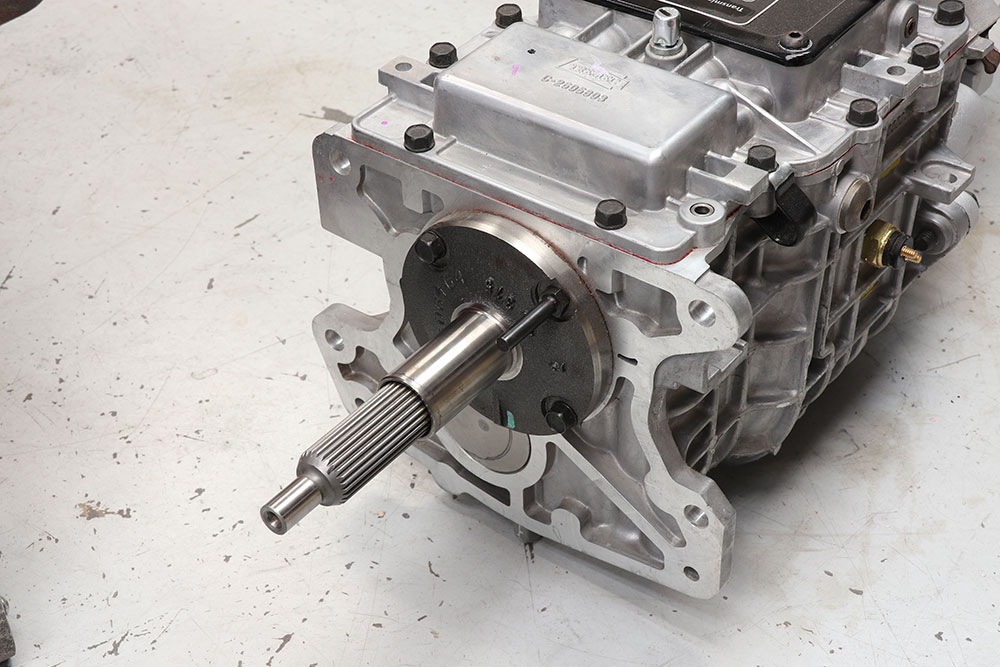 Clutch Kit and Flywheel Combo
For our flywheel/pressure plate/disc combination we turned to Summit Racing Equipment for Ram components. Ram offers a variety of clutch packages for LS engines; the determining factor is the amount of horsepower involved and the vehicle's use.
Transmission Hardware
We always rely on ARP for quality fasteners, including those for the flywheel and pressure plate.  For flywheel bolts we used ARP PN 330-2802—12-point, M11x1.50, 0.880-inch UHL (under head length). These bolts are designed to be used without washers of any kind. It's recommended that flywheel bolts be installed hand tight, using an alternating pattern tighten to 85 lb-ft in three increments. For pressure plate bolts there are two options, ARP PN 134-2201 for 10- and 11-inch clutches, PN 134-2203 for 12-inch clutches; both are M10x1.50.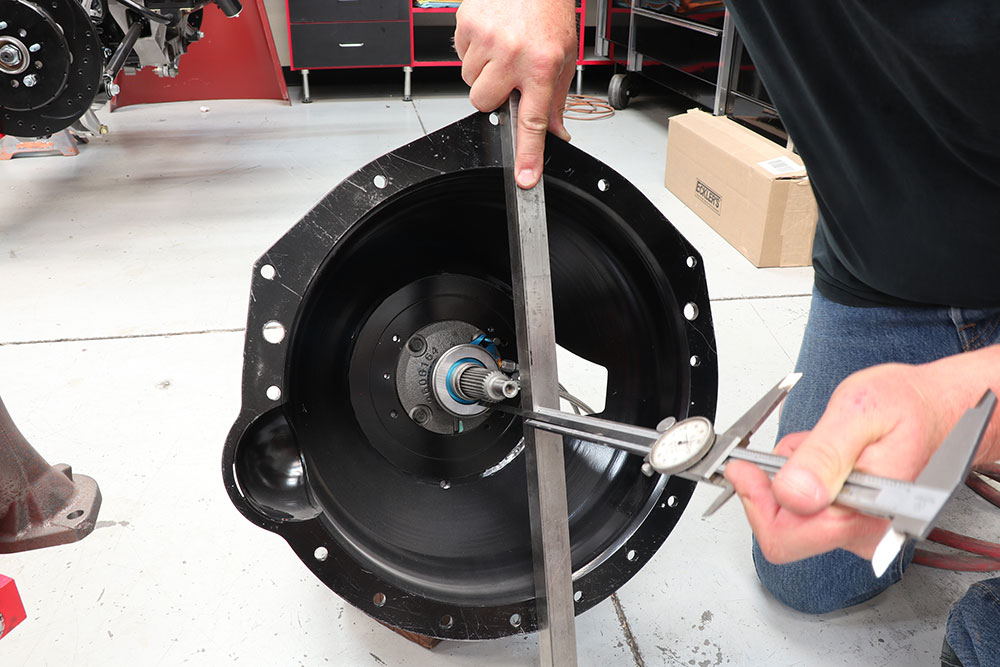 Read More: How To Install a TR3550 Tremec Transmission Into a Dentside Ford
The Perfect Match
Combining the power and reliability of a Chevrolet LS engine with the gear selection offered by a TREMEC five- or six-speed transmission creates a combination that is hard to beat for cruising around town or freeway flying, plus you get the satisfaction of shifting for yourself. MR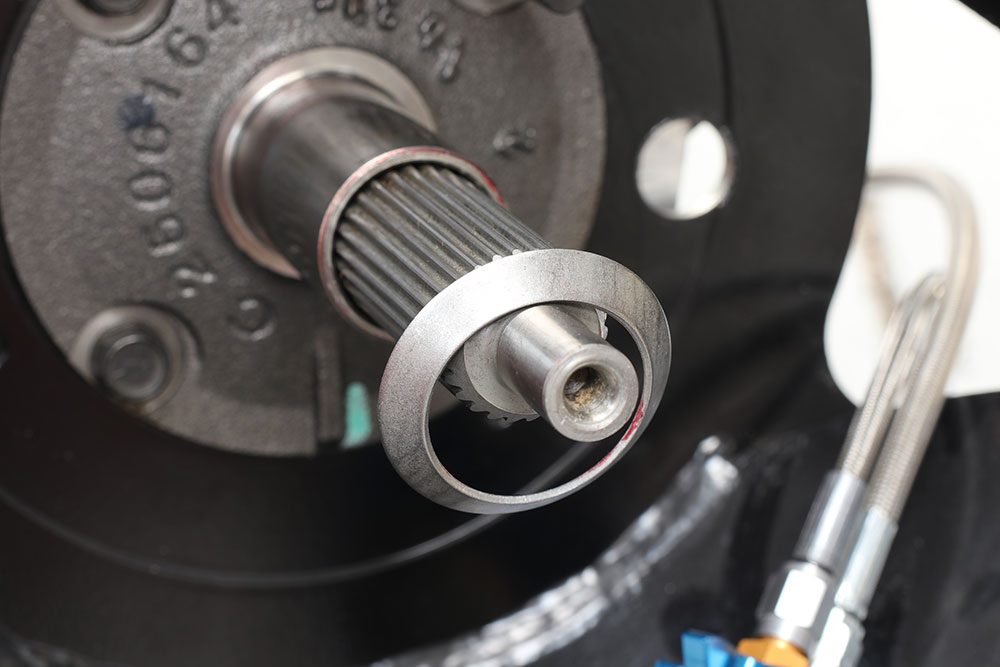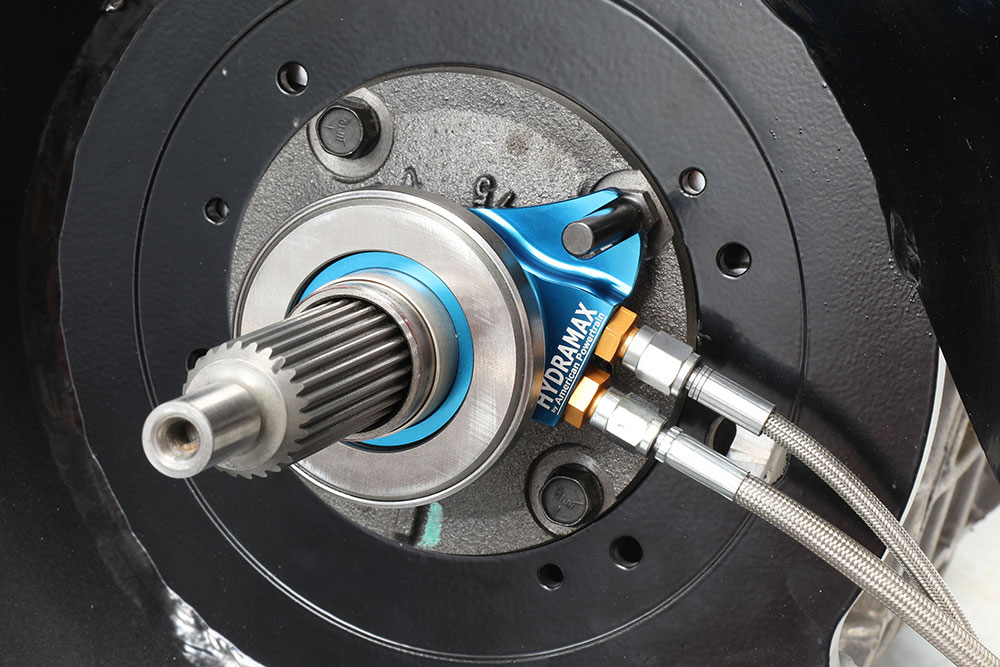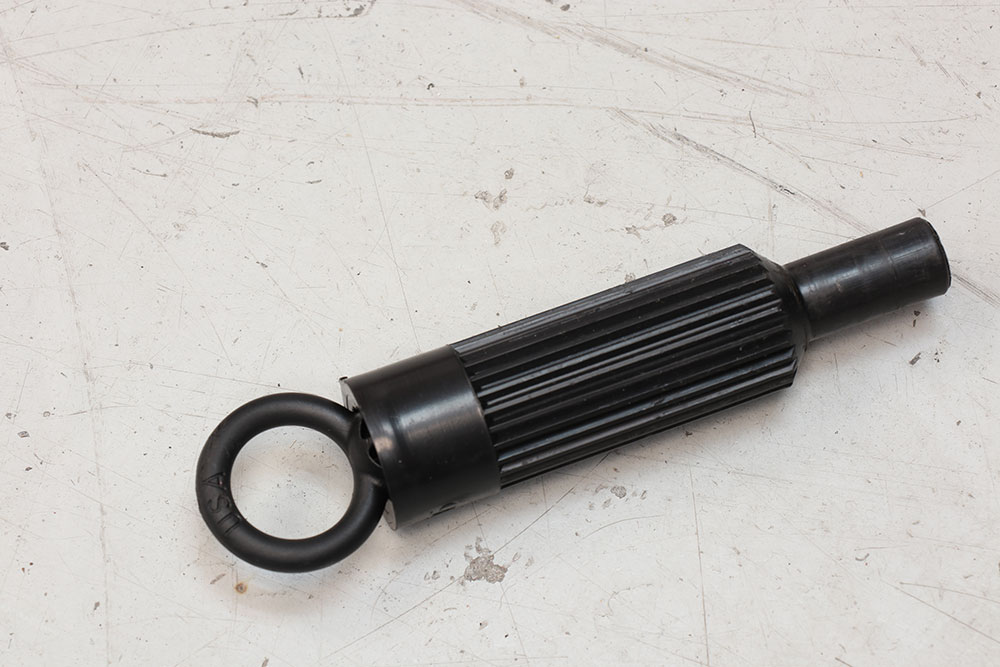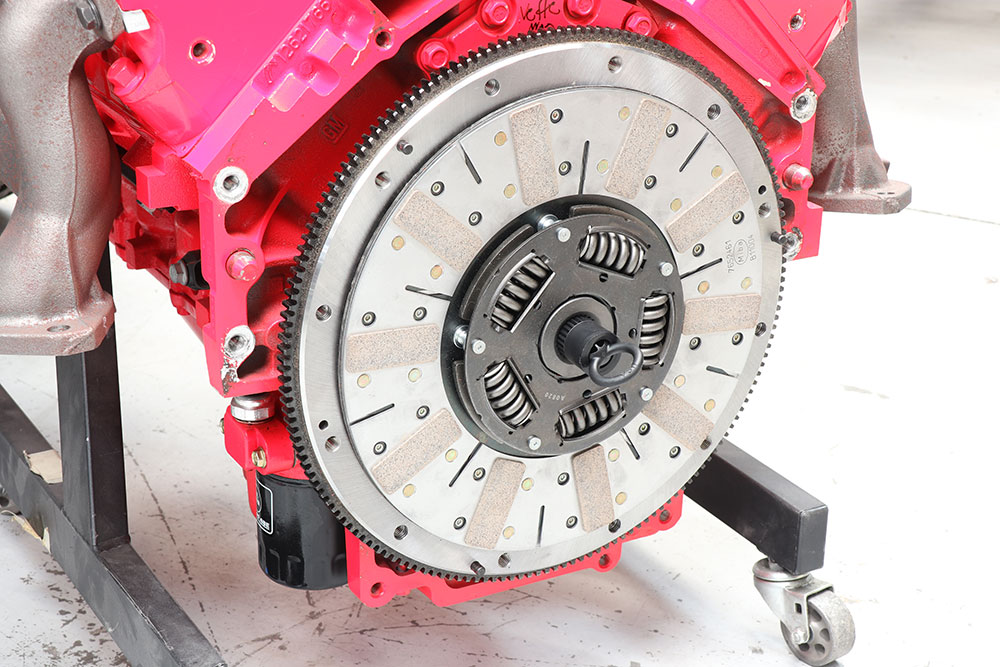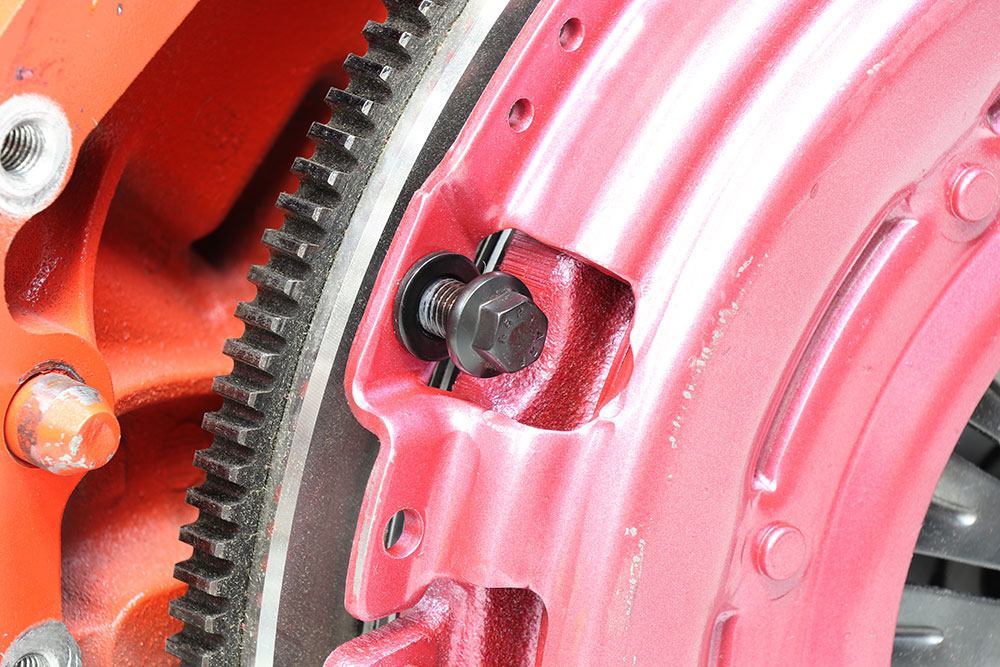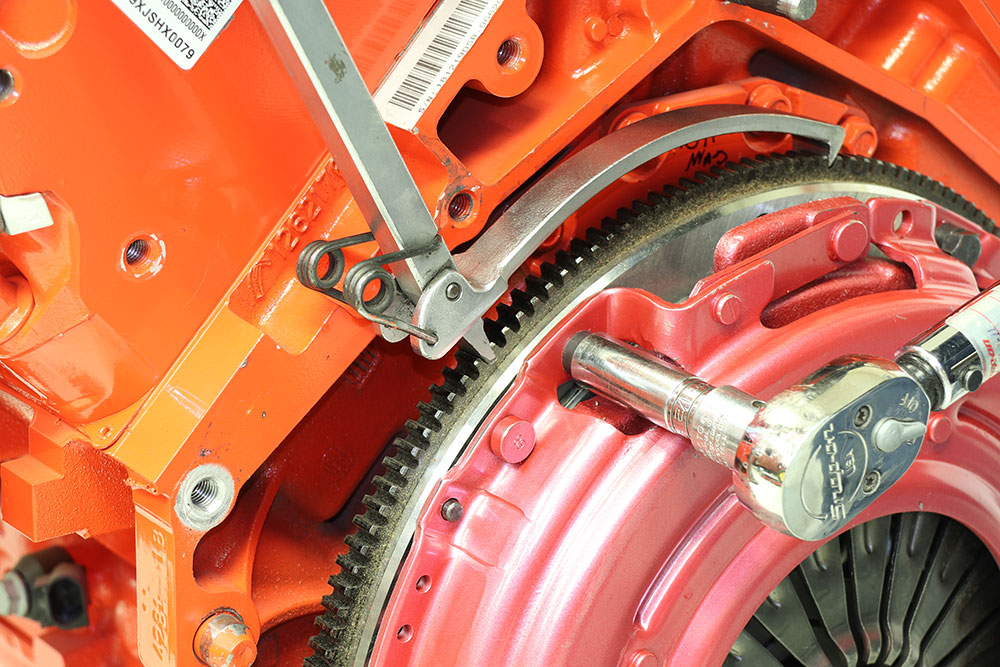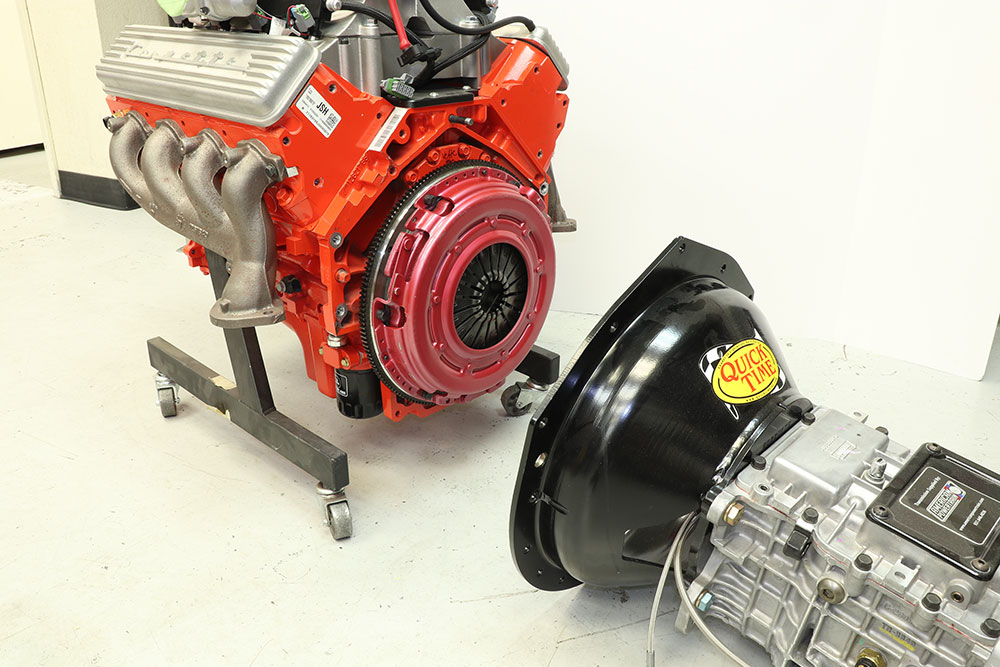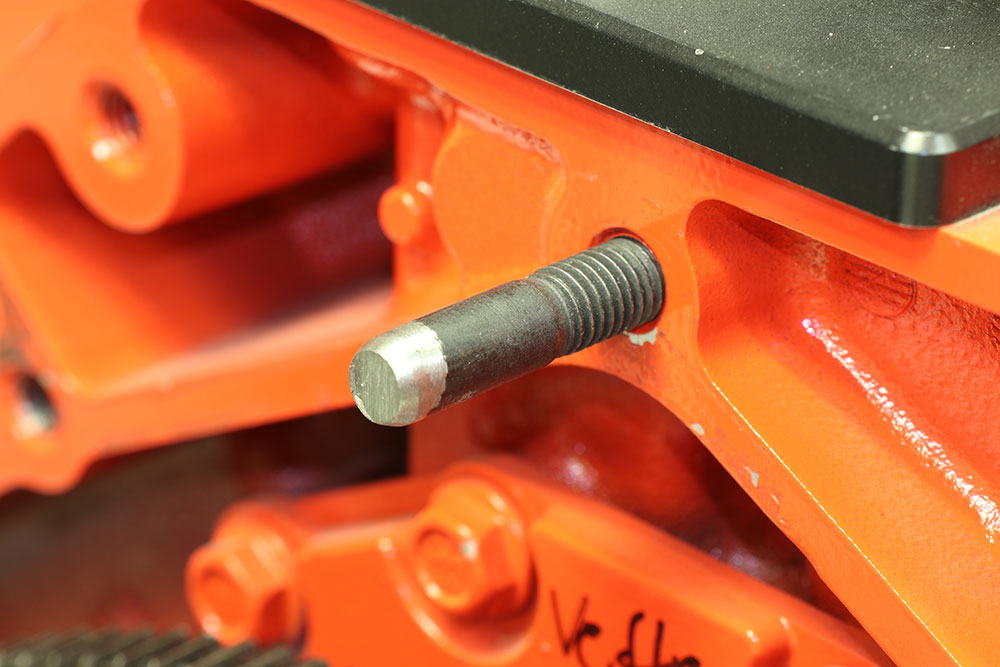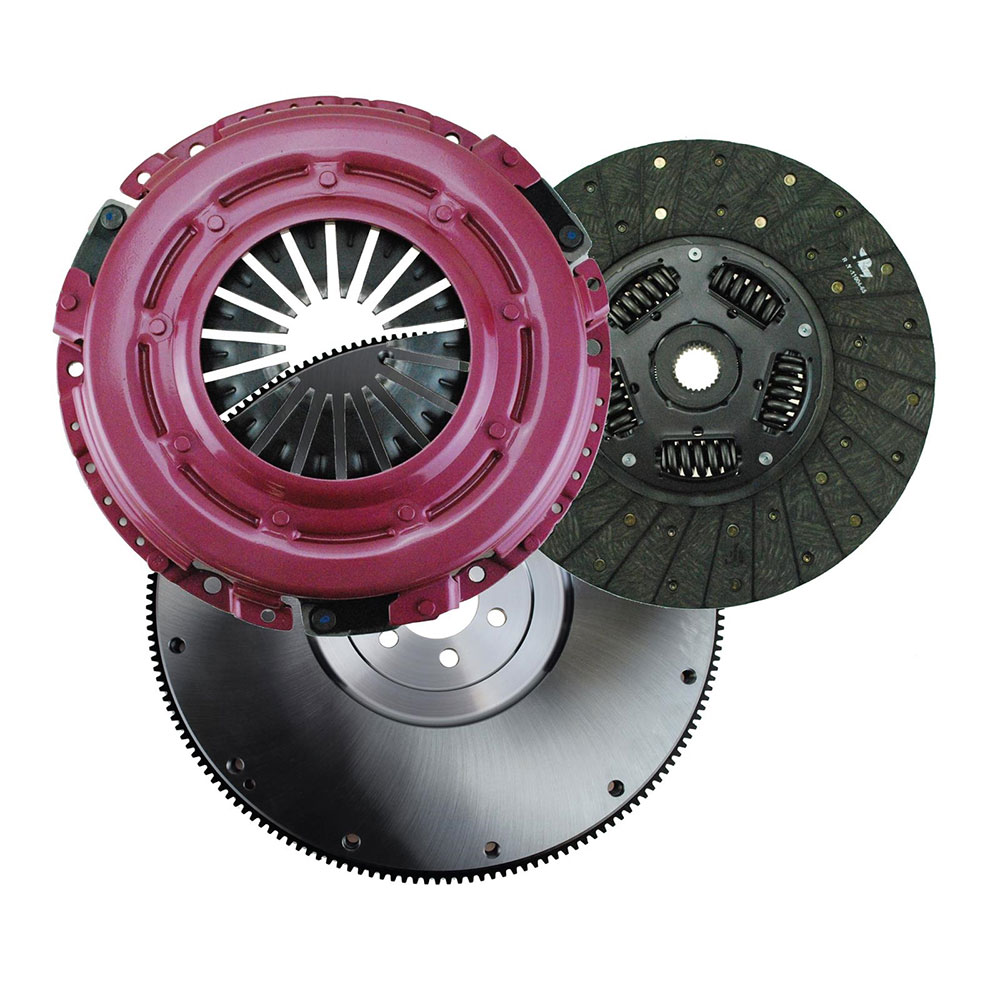 Sources
American Powertrain
(931) 646-4836
americanpowertrain.com
Automotive Racing Products
(800) 826-3045
arp-bolts.com
Hot Rods by Dean
(623) 581-1932
hotrodsbydean.com
Summit Racing Equipment
(800) 230-3030
summitracing.com