The LST Truck Show Brought the Heat!
By Shawn Brereton   –   Photography by the Author
Even though Conroe, Texas, is only located a mere hour and a half away from the Gulf of Mexico sometimes it can get chilly — mighty chilly. Oh, and we can't forget wet. It can definitely be that! For the three days of Lone Star Throwdown (LST) 2022 it went through all the cycles, from cold, to cold and wet, to downright pleasant and sunny in the end. If you looked at the vehicle count and the number of spectators it probably wouldn't have mattered if there was a hurricane. People showed up and had a good time despite the goofy weather.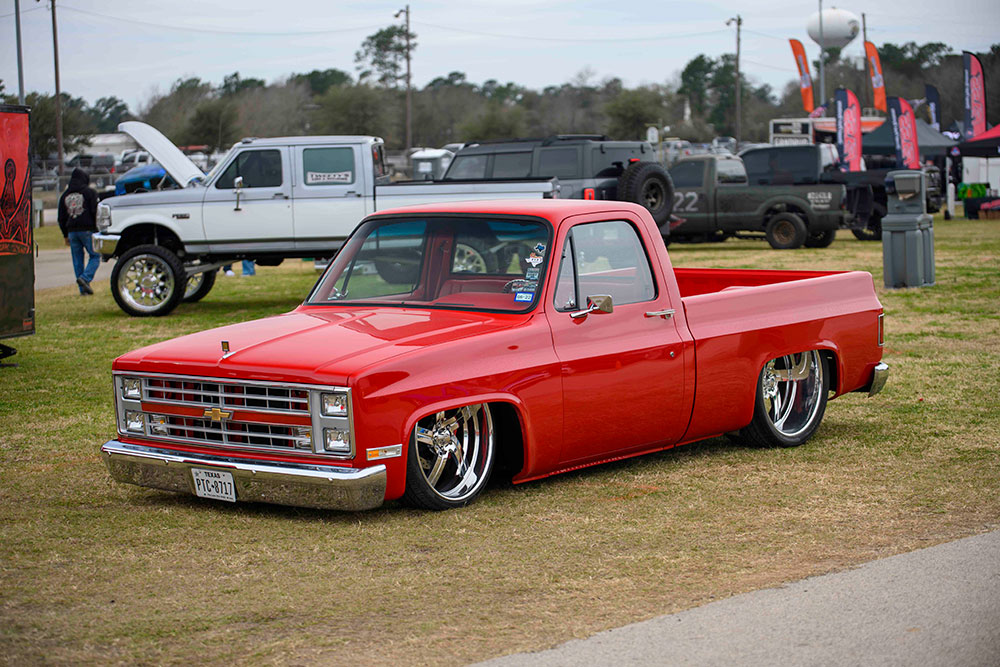 More Show Coverage: LMC Truck Spring Lone Star Nationals Ft. Worth, Texas … it's More Than Just…
Typically one of the first shows of the season, LST has grown into a powerhouse of a truck show (with a few other vehicles mixed in) at the Lone Star Convention and Expo Center and Montgomery County Fairgrounds. When online registration opens, you better be on the ball or risk missing out on getting a spot. It often sells out the 2,000 show-vehicle spaces within the first few days (if not hours). Each year, they reopen registration in January for people who determined they couldn't make it to resell their tickets. So many people hit the website on the second-chance day that it took the site down. It is that popular of a show!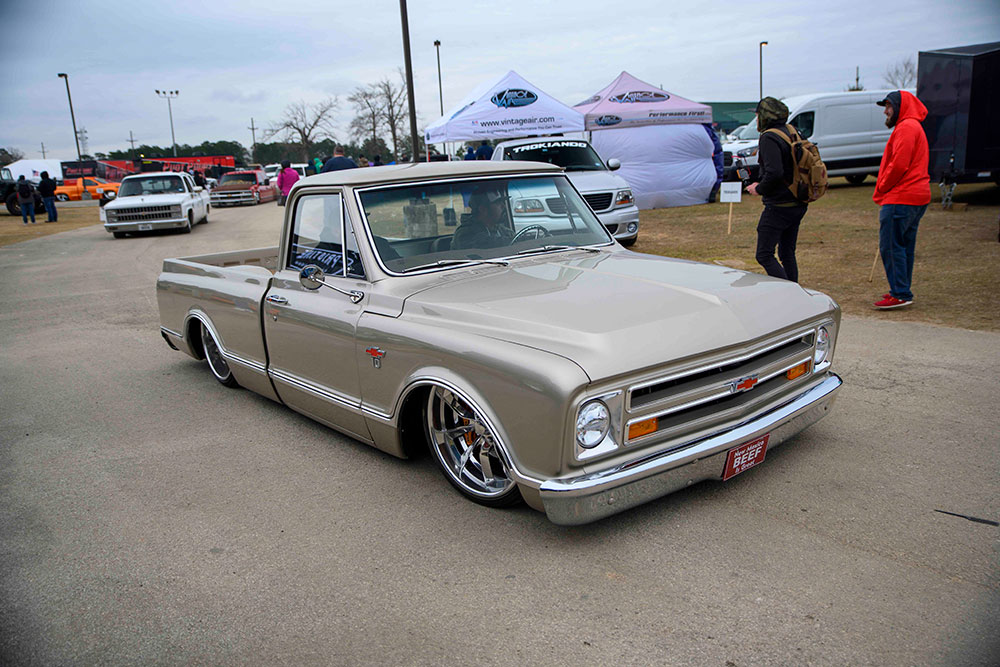 Why? You might ask. For starters, it is located just outside of Houston and a few hours' drive from San Antonio, Austin, and Dallas—although many travel from much further away. A large contingent came from Memphis, Tennessee, and we even saw a few vehicles from as far away as Oregon and Washington state. Secondly, It's about camaraderie, friendship, and the general organization of the show. The organizers do a tremendous job catering to clubs, allowing them to park together and put up tents. Vendor support is also very strong, with those spots even selling out. It all comes together to make a can't-miss event.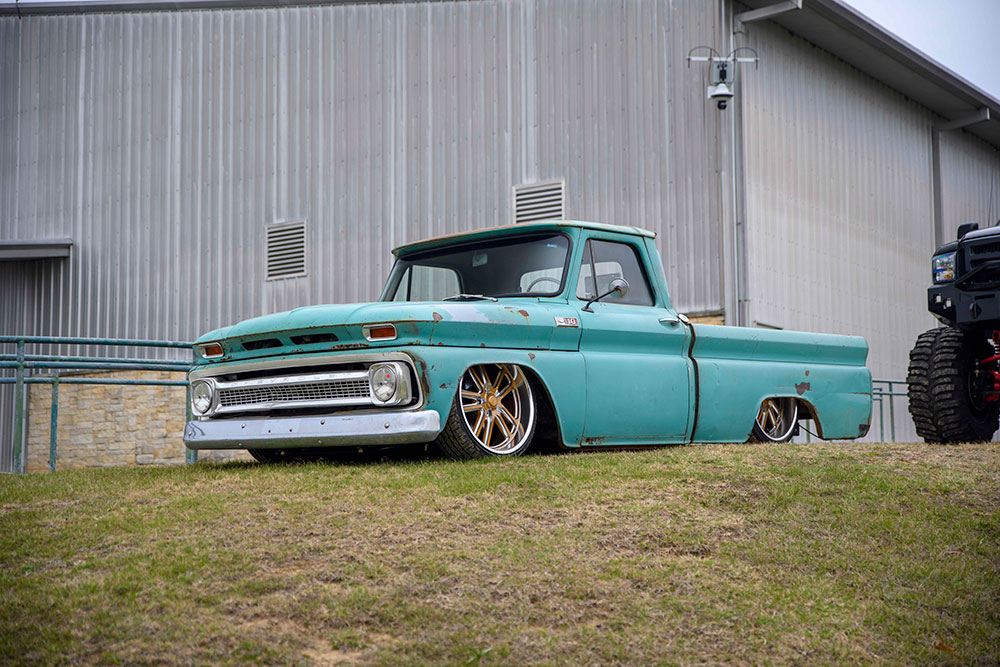 More Show Coverage: Dinos Git Down 2021
Whether it's full size trucks or mini, off-road or on, lowered, lifted, or somewhere in between, there is something for everyone who likes trucks to enjoy. Though Friday is the first official day of the show, it is more or less a laid back, move-in day of sorts. The car count is low until the afternoon as people travel toward Conroe. Once you get there, you'll have no problem getting your truck cleaned up for the showground. There was a battalion of detailers waiting and willing to get your ride into top shape before going through the drive-thru judging just inside the entrance. This year, the detailers earned their money as the sporadic Friday rains were just enough to wet down the streets. With temperatures hovering below the 40 degrees F mark, the fairgrounds held up well for the first day but overnight would change things quite a bit.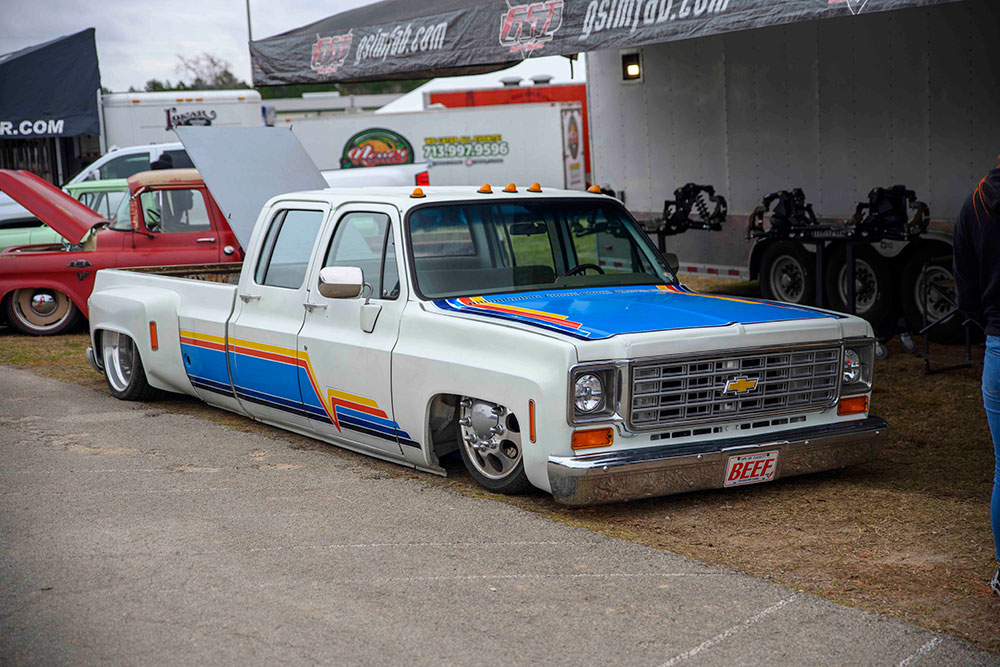 Saturday dawned with cold, wet, and windy conditions, forcing many to create makeshift shelters with tarps tied to their tents. Clubs hunkered down and huddled together around fire pits and propane heaters to brave the conditions. As you'd imagine, the indoor vendors and show trucks saw a ton of foot traffic. The steady rain didn't let up very often but it didn't deter the line of people at the spectator entrance, nor did it stop people from cruising the grounds. The Mayhem The Ride monster truck enjoyed giving brave customers a mud bath all day. Everyone just seemed to go on about their business as if it was a sunny 80 degrees F.
More Show Coverage: Truck Show: C10 Nationals 2021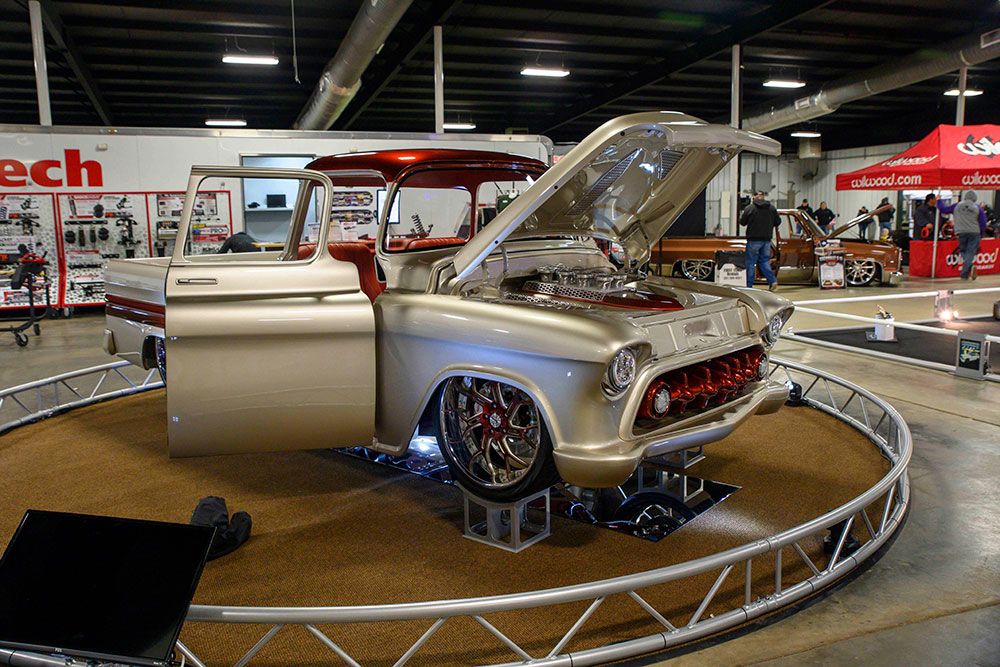 Sunday was more promising, with dry roads and sun forecast later in the day. Midday dreams came true as the clouds broke and everyone stepped out into the warming sun. It was wonderful to see the colorful paint jobs in the sun. Some practically changed colors from the previous day, with pearls and metallics dancing in the gleaming sunlight. The only problem was it was only a short time until the awards ceremony took everyone back inside to close out the show.
With this being one of the first shows of the season, we noted a few trends to keep an eye on in 2022:
Patina is still in!
Mini-truckin'-style graphic paint jobs of yesteryear are making a comeback, and not just on mini-trucks. We saw quite a few full size trucks  (even new models) sporting elaborate paint schemes.
The four-wheel-drive lifted truck scene is where all your mortgage money goes! It is incredible how much cash people are dumping into these monsters, from full-on chassis to chrome to lighting and stereo equipment.
Truck shows are not just for Chevy C10 trucks anymore. With the aftermarket catching up to the old truck market, we saw quite a few Ford F-series trucks in attendance — even a few Dodge D-100 and Ram trucks! With the way prices are rising on these trucks, we're sure to see more of them hitting the road in 2022.
The bed is no longer just for hauling stuff. While some may render the bed useless for its original purpose, the creativity put into making the bed into a piece of art has really ramped up. Some beds lift to reveal what is underneath, while others are completely open, but both allow owners to show the artistry of the suspension, exhaust, and rearend.
Trucks are not just for cruising anymore. We're seeing a growing number of trucks set up for performance (obviously something we like to see). As the aftermarket meets the demand, companies are developing dedicated chassis and suspension designs to help them perform better. Big-horsepower modern engines sit between the frame rails sporting cams, superchargers, and turbos.
Interior design is pushing into new realms. A plain bench seat is no longer the norm at shows. With such small real estate to work in people are getting creative with the upholstery and dashes in pickups.