Sam Smith's 1963 Corvette Sting Ray Restomod
By Nick Licata   –   Photography by Chadly Johnson
The '63 Corvette Sting Ray coupe, with its sleek body lines and signature split rear window, make it the pinnacle of styling for muscle cars and comparable sports cars of the era. With much of its design inspiration borrowed from marine life, it was GM's Bill Mitchell's curiosity with the stingray and mako sharks that brought those elements into the Corvette. The gills behind the front wheels and the spine-like element that divided the rear window glass are both borrowed from a couple of intimidating sea creatures, which translated exceptionally well on the '63 Corvette's fiberglass body. Other notable '63 Corvette introductions were the independent rear suspension for improved handling, hideaway headlights, and the split front bumper, making the car more unique and futuristic than the previous Corvette model.
Although revolutionary and totally cool, the split rear window rendered the rearview mirror basically useless as it impeded the view directly behind the car. This enticed some owners to have GM replace the iconic design with a one-piece window. Today this sort of behavior is considered sacrilege and one might be persecuted for doing so.
So how did this American gem get in the hands of Sam Smith? While attending the Barrett-Jackson auto auction in January 2017 he was interested in a '57 Chevy Bel Air that was up for auction–a car where he successfully became high bidder. Happy with his purchase, and quite possibly celebrating a bit, he stuck around long enough for a beautifully restored '63 Corvette to catch his attention as it too came across the auction block. We'll leave out all the details, but the Corvette and the Bel Air both made it to Sam's home in Las Vegas, post auction.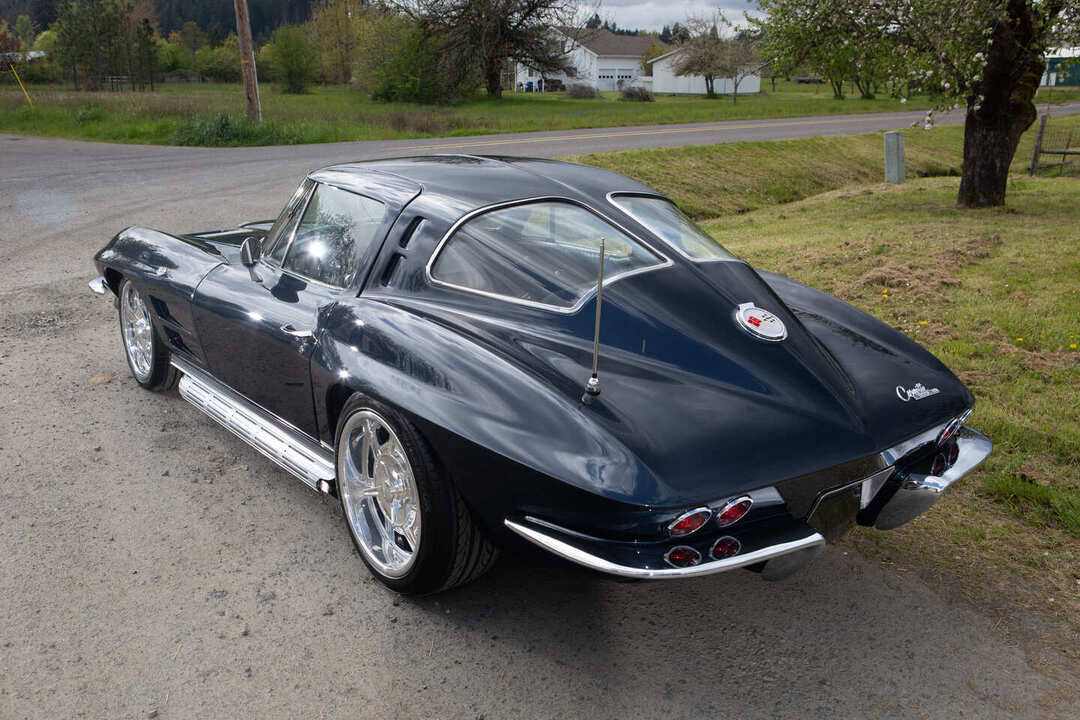 Check out this Flashback: 470 HP 1961 Chevrolet C1 Corvette Gasser Style Hot Rod
Sam, ecstatic with his purchases, drove the Corvette for a couple of years, and although the nostalgia aspect of driving the vintage Vette was certainly attractive, the ride quality was rather crude due to the nearly 60-year-old suspension and brake technology.
Sam has since sold the '57 Chevy and given full attention to the Sting Ray. Although the C2's independent rear suspension was innovative back then, today's suspension and brake components are light-years ahead of even the most exotic offerings of 1963. Sam, being fully committed to the car, wanted to get the Corvette's chassis, brakes, and engine updated with modern components to make the car much more driveable.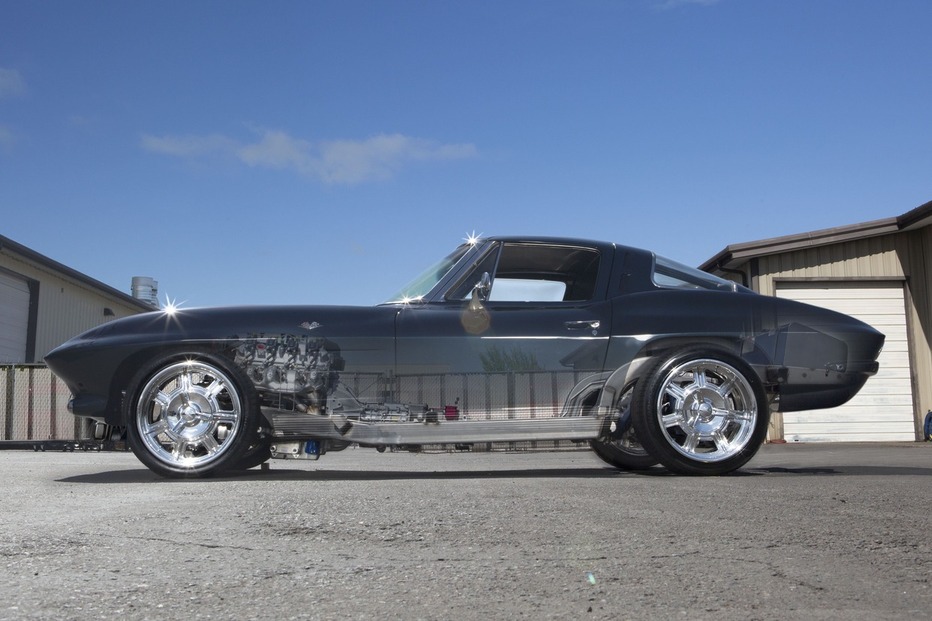 This led Sam to the crew at MetalWorks Classic Auto Restoration in Eugene, Oregon, for ground-up restoration where the Corvette would receive an all-new chassis, brakes, and an LT1 engine to offer Sam's classic Corvette a driving experience relative to a modern muscle car.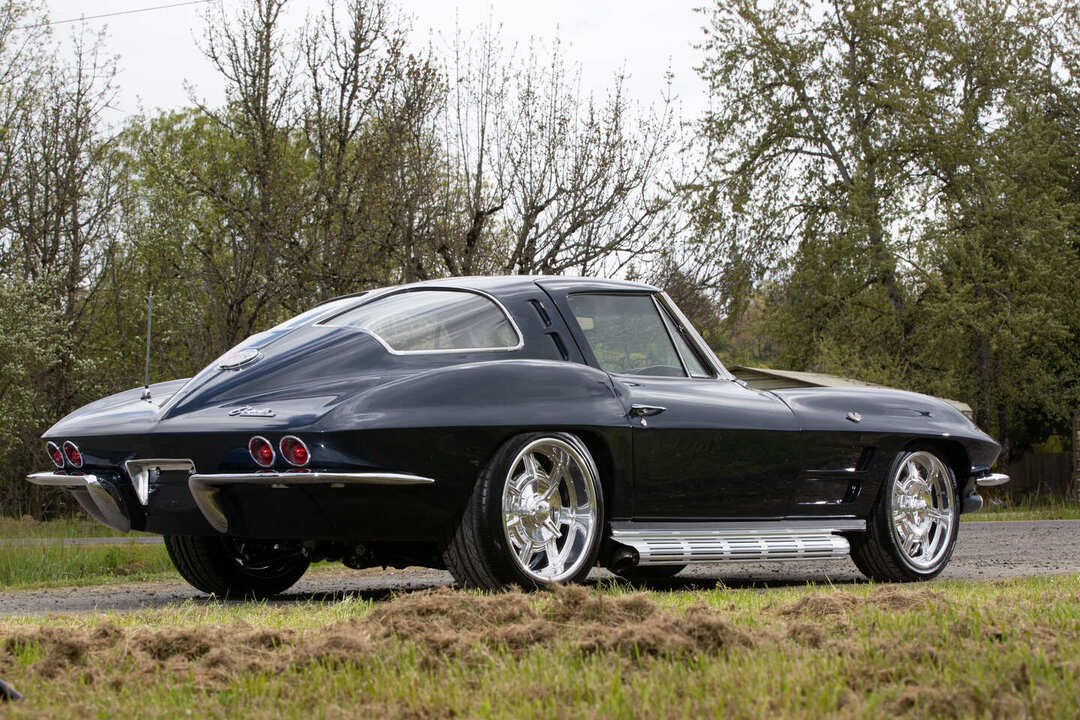 The MetalWorks crew got started underneath by removing the stock chassis and replaced it with an Art Morrison Enterprises (AME) GT Sport chassis complete with AME tubular control arms, Wilwood Pro II spindles, and AME rack-and-pinion steering up front with an AME Multilink IRS out back. The top-shelf chassis employs Wilwood 14-inch rotors and six-piston calipers on all four corners along with Strange Ultra Series dampers.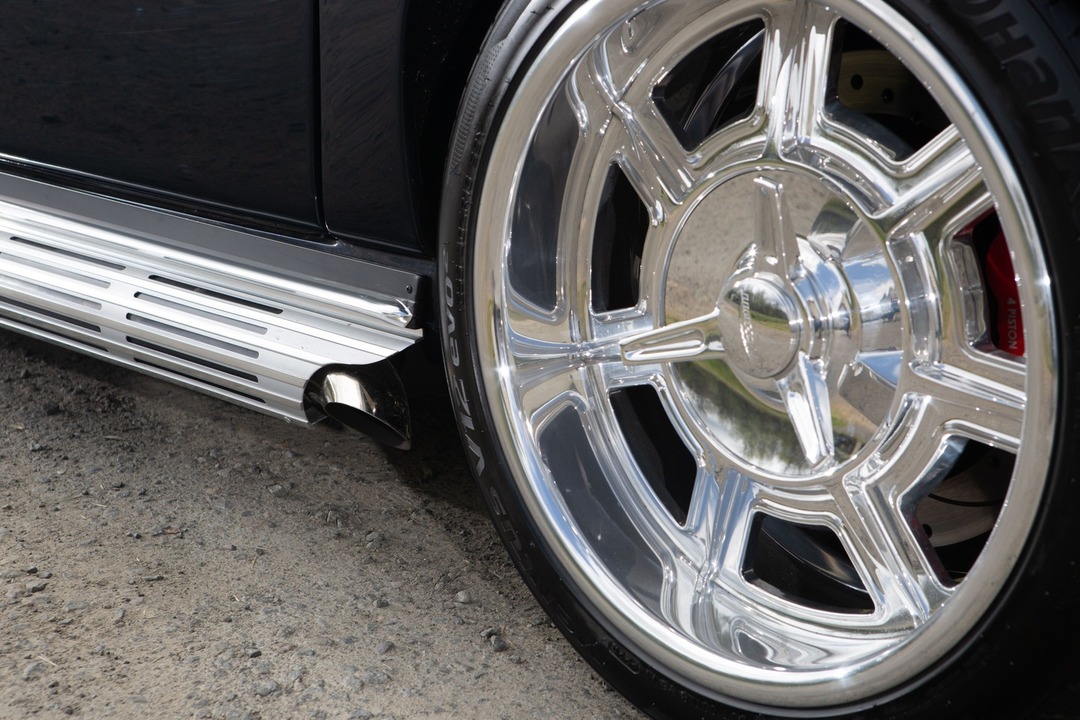 The AME chassis design invited the Corvette to run larger-than-stock tires and wheels in which Sam took full advantage by wrapping Hankook rubber (235/40R18 front, 255/40R18) around a set of polished Schott C7 Cover-Loc wheels. It's a combination that offers improved functionality and performance while holding onto the Vette's '60s vibe.
Reliability and a good dose of horsepower come by way of a mostly stock Chevrolet Performance LT1 crate engine that inhales through a K&N air filter and custom intake tube and blows through a set of stock exhaust manifolds onto a set of nostalgic-inspired Eckler's side pipes. Up front, the modern mill is dressed up with a Holley accessory drive system just behind the Ron Davis aluminum radiator. At 460 hp, the LT mill gives the vintage Vette plenty of punch compared to the stock 327 it came with.
With continued focus on driveability, MetalWorks employed a Bowler Transmissions TKX five-speed transmission armed with a McLeod twin-disc clutch, which feeds to a Dana 60 rearend stuffed with a limited slip and 3.70 gears. The combination contributes to vibration-free highway cruising speed … or a little beyond "cruising speed."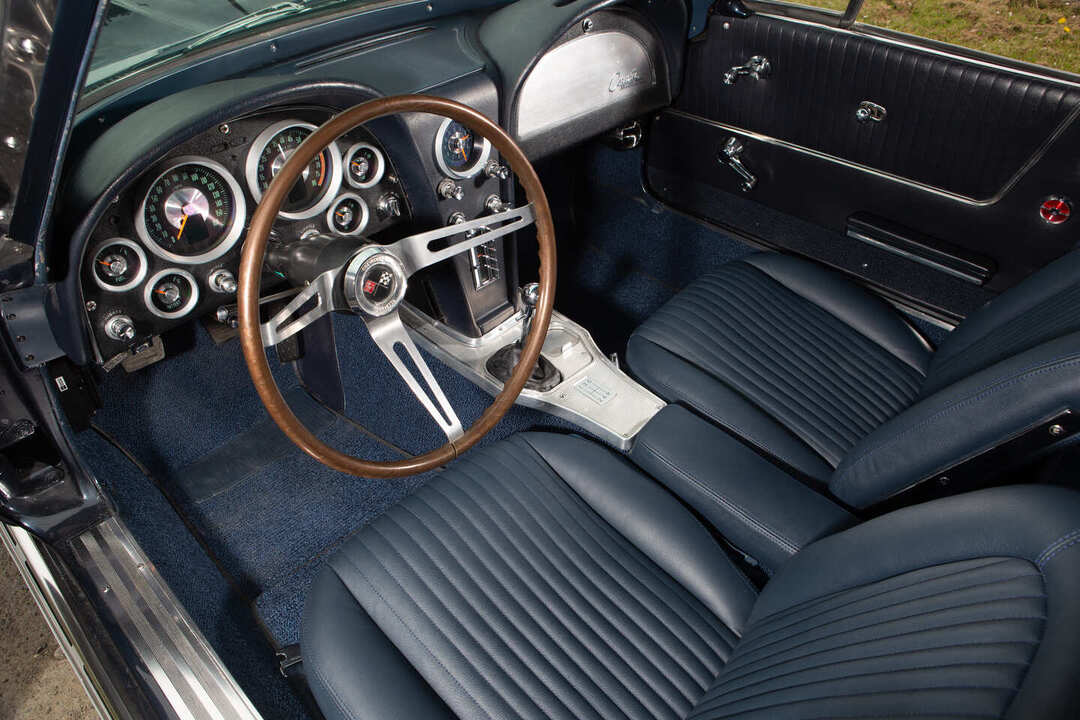 More Vette Love: Domesticated – 1,016 HP 2009 Chevy Z06 Corvette
The interior is a combination of OEM and refurbished parts that keep the car in its original '63 vintage. The upholstery consists of fresh blue loop carpet and redone seats, door panels, and center console in Admiral Blue leather by Jon Lind Interiors out of Marcola, Oregon. The steering wheel and column are stock equipment, and the factory dash plays home to Dakota Digital RTX gauges that take on a remarkable stock appearance doing little to deviate from the period-correct vibe.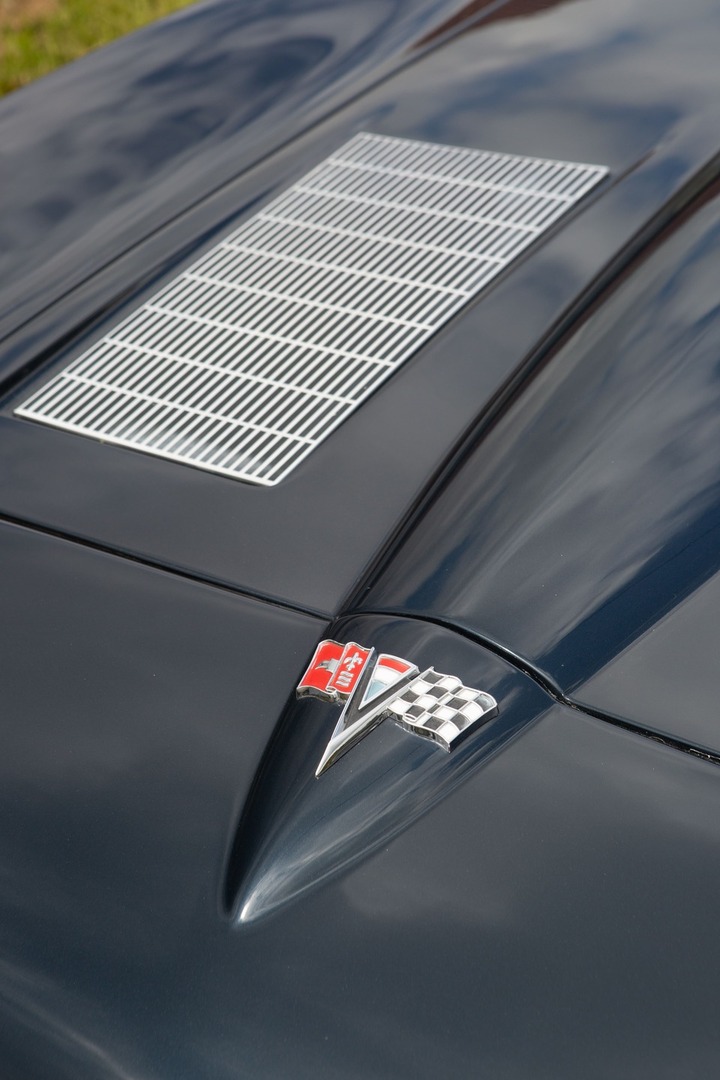 Outside, the C2 shines, literally and figuratively, thanks to the immaculate bodywork and attention to detail performed by the MetalWorks gang when they replaced the driver side quarter-panel, then color-matched the paint to the existing hue for a flawless transition using BASF Daytona Blue.
With Sam's sights initially set on a Bel Air, the sexy lines and limitless style of the C2 won him over, and with the Corvette now possessing modern performance components it conforms with all the attitude of a 460hp hot rod, yet adapts to the road like a modern sports car, which underneath the skin is exactly that.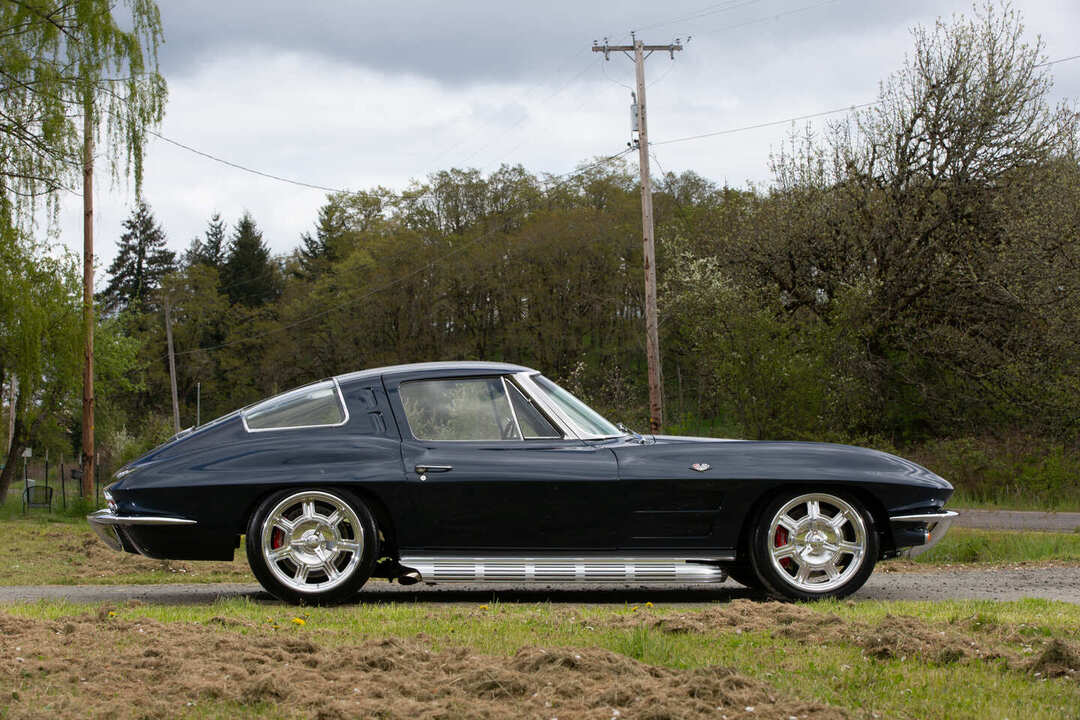 TECH CHECK
Owner: Sam Smith, Las Vegas, Nevada
Vehicle: 1963 Chevy Corvette Sting Ray
Engine
Type: GM LT1
Displacement: 376 ci (6.2L)
Compression Ratio: 11.5:1
Bore: 4.065 inches
Stroke: 3.622 inches
Cylinder Heads: Aluminum rectangular port, direct injection
Rotating Assembly: Forged steel crankshaft, forged powdered metal connecting rods, hypereutectic aluminum pistons
Camshaft: Billet steel roller 0.561/0.531 lift, 242/244 degrees duration at 0.050
Induction: Stock, K&N filter element
Exhaust: Stock manifolds, Eckler's side pipes
Ancillaries: Holley accessory drive kit, ZL1 fuel pump, Ron Davis aluminum radiator, Rick's Tanks EFI fuel tank
Output: 460 hp and 465 lb-ft
Drivetrain
Transmission: TREMEC/Bowler TKX five-speed
Clutch: McLeod twin disc
Rear Axle: Dana 60, Eaton Truetrac limited-slip differential, 3:70 gearset
Chassis
Frame: AME C2 GT Sport chassis
Front Suspension: AME Sport IFS, tubular control arms, Wilwood Pro II spindles, 1 1/8-inch sway bar, AME rack-and-pinion steering, Strange Ultra Series shocks, Strange springs
Rear Suspension: AME Multilink IRS, ¾-inch sway bar
Brakes: Wilwood 14-inch rotors, six-piston calipers front and rear, Wilwood master cylinder, Wilwood proportion valve
Wheels & Tires
Wheels: Schott polished C7 Cover-Loc wheels (18×8 front, 18×10 rear)
Tires: Hankook; 235/40R18 front, 255/40R18 rear
Interior
Upholstery: Blue loop carpet, Admiral Blue leather
Seats: Factory with leather covering
Installation: Jon Lind Interiors (Springfield, OR)
Steering: Stock column and steering wheel
Shifter: Bowler Performance Transmissions
Dash: Stock
Instrumentation: Dakota Digital
HVAC: Vintage Air
Wiring: American Autowire Claissic Update kit, by Tony at MetalWorks Classic Auto Restoration (Eugene, OR)
Exterior
Bodywork and Paint: MetalWorks Classic Auto Restoration
Paint: BASF Diamont Daytona Blue
Hood: Stock
Trim Pieces: Stock
Bumpers: Stock