Jed & Kristi Gage's 1957 Chevy Bel Air Two-Door Hardtop
By Shawn Brereton   –   Photography by the Author
For most of us in the automotive hobby, a car becomes a personified family member. We give them names and talk about them as living, breathing entities. And why shouldn't we? When you spend that much effort, money, and time on something, it takes on a life of its own. For Jed Gage of Wills Point, Texas, his lifelong love affair with cars started with "Ol' Betsy," his 1957 Chevrolet two-door hardtop Bel Air.
Jed grew up in the hotbed of hot rodding in Southern California. He had a mechanical mind from a young age after getting involved in the early days of BMX and then dirt bike racing with his two friends, brothers Steve and Richard. The Chevy bug hit when the boys' grandfather surprised them with a junkyard '54 Chevy to get running. They fixed the engine and were soon practicing burnouts while sitting on the waxed front fenders at the age of 14. Back then, you could buy a '50s car for next to nothing, and Jed had to have one. With $200 in his pocket, he searched for a deal and found it.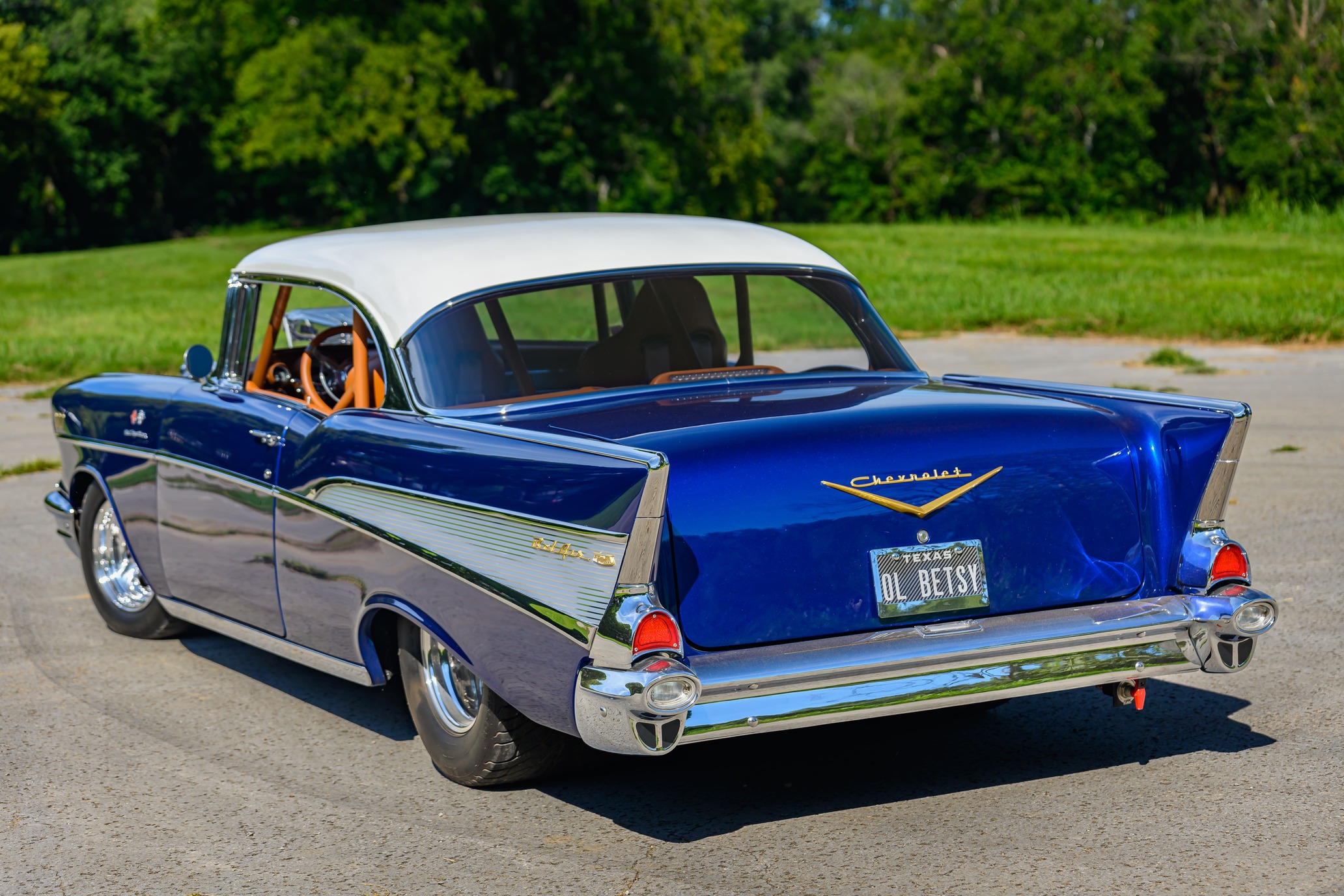 Jed calls Ol' Betsy "his first girlfriend." They met in 1973 when they were both just 15 years old. Another teenager with less skill had taken the engine apart and couldn't get it back together, so he let it go for $90. Jed's other $110 went to repairs for the all-original two-door Bel Air with a four-barrel 265 and a three-speed. He fixed the engine, put in a Hurst floor shifter, added some cherry bombs, and hit the road. Wednesday nights would be occupied with drag racing at Irwindale, then cruising Van Nuys Boulevard until late into the night. Weekends involved making memories cruising Malibu Beach or camping at Big Bear Lake with Ol' Betsy.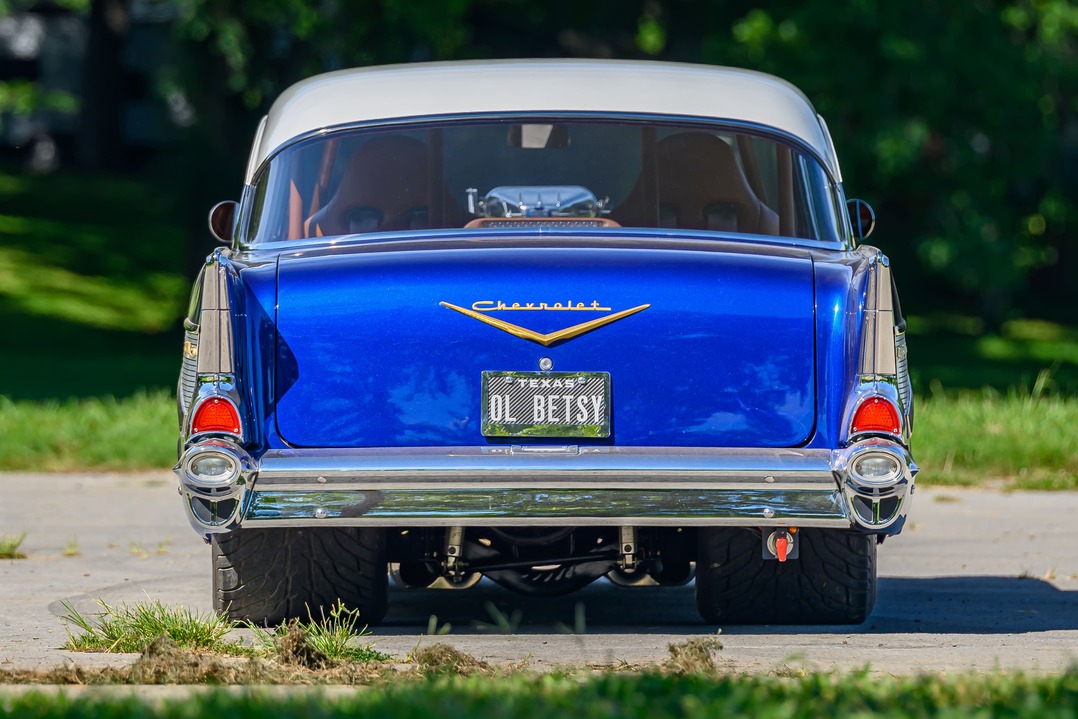 Check it out: Deep Blue Bel Air With Big Block Performance
A lot has changed throughout Jed's 50 years with the Bel Air. It has seen six engines (of increasing cubic inches), four transmissions, three rearends, three front clips, and five different colors. Jed followed all the magazine builds, especially Project X, but couldn't afford to build the car the way he wanted until the latest iteration. He never dreamed the build would span 20 years and three states after he started backhalving the Bel Air in his Colorado garage. During that time, Jed learned to weld and Kristi learned to use a plasma cutter on the rear floorpan. Countless hours were spent planning, building, and rebuilding Betsy to become the "luxury Pro Street" car you see today.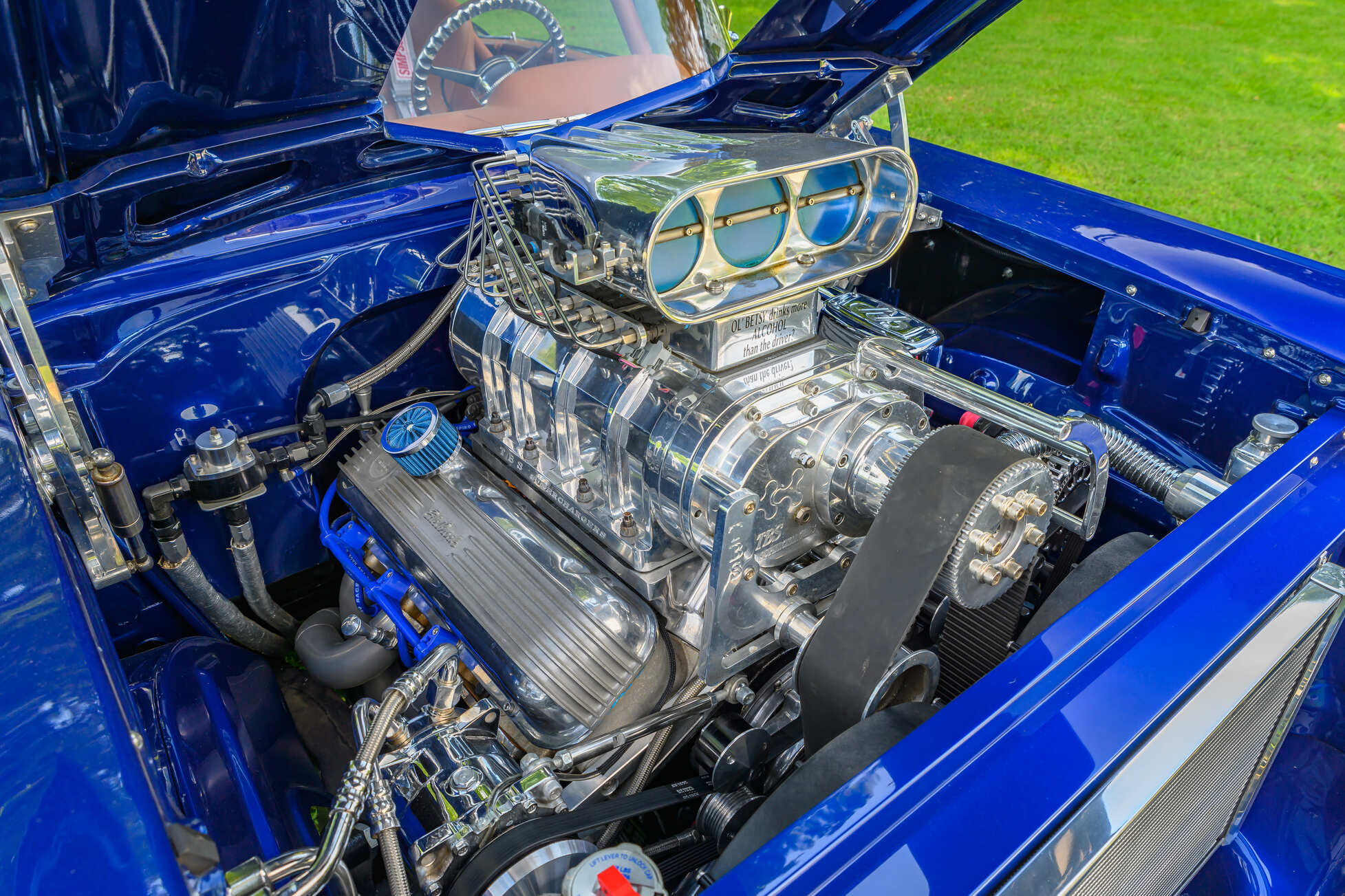 The original fully boxed frame features a Competition Engineering four-link backhalf with Chris Alston's Chassisworks chromoly bars and rod ends, centering a narrowed Ford 9-inch. Mark Williams 35-spline axles engage with a Detroit Locker and 4.10:1 gears. Big 29×18.5 Mickey Thompson Sportsman SR tires wrap 15×15 (7-inch backspace) Colorado Customs Knockdown Series wheels. QA1 adjustable coilovers dampen the ride while Wilwood four-piston calipers grab onto the 12-inch drilled-and-slotted rotors.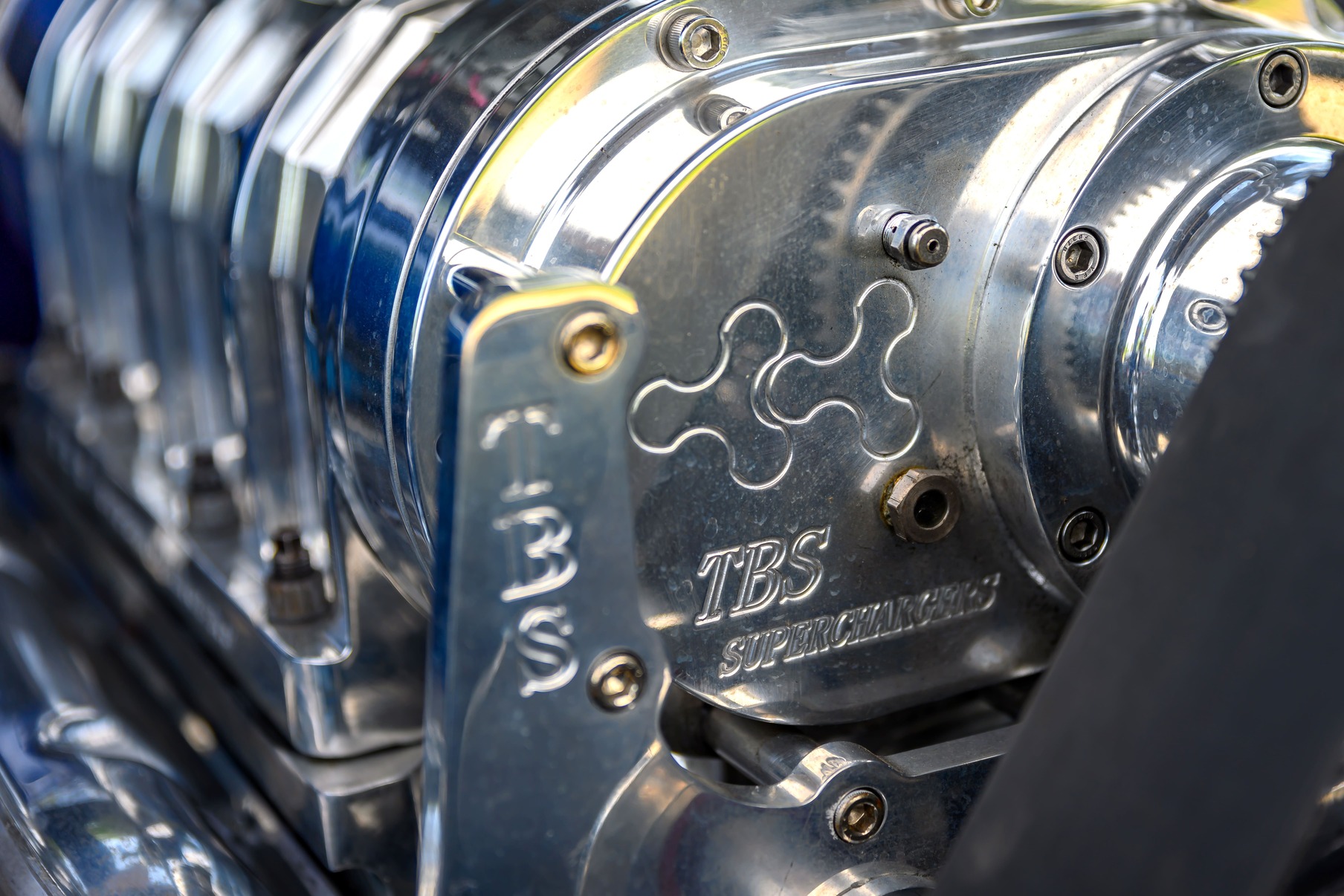 The front suspension consists of QA1 adjustable coilovers with Classic Performance Products (CPP) lower and SPC adjustable upper control arms with Heidts 2-inch drop spindles providing the stance. The Colorado Customs wheels are 15×6 with 3 inches of backspace. A Flaming River rack-and-pinion steering works with the CPP HydraStop master cylinder to power the Wilwood four-piston discs. The stock crossmember is notched to provide clearance for the powerplant's oil pan.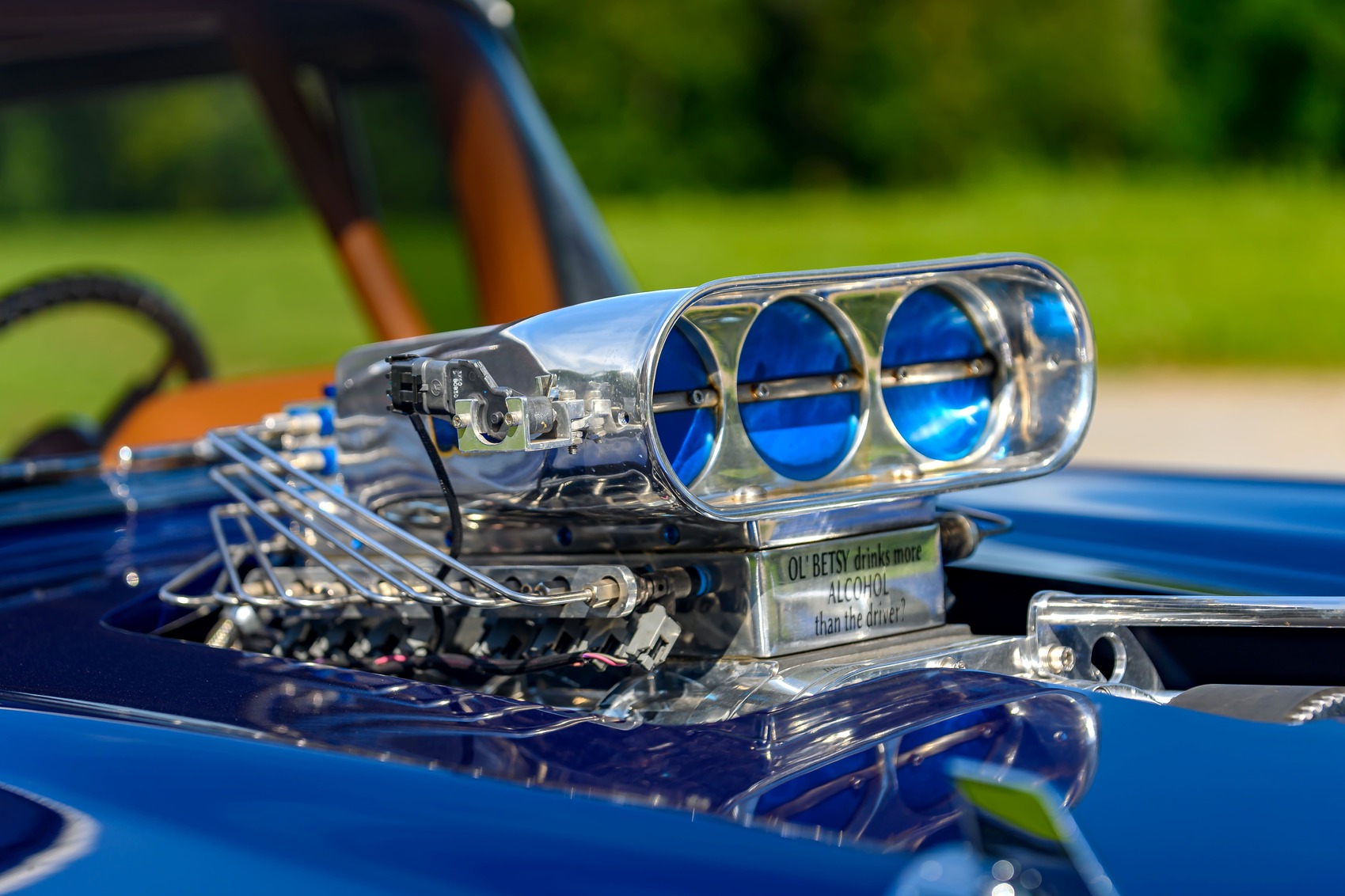 More Bel Air Love: 1955 Chevy Bel Air Convertible; Sight Unseen Hot Rod Build
That powerplant is a blown and injected monster Dart tall-deck 632ci big-block Chevy machined by United Racing Engines. The blueprinted and balanced bottom end is all Lunati with a 4.750-inch stroke 4340 crankshaft, 6.700-inch steel H-beam rods, and 4.600-inch bore pistons. The valvetrain from cam to valves comes by way of Comp Cams. The AFR aluminum heads are capped by some sweet '75 Edelbrock finned valve covers. The giant 10-71 billet supercharger is from The Blower Shop, topped with a Force 16-injector billet plate wearing an Enderle hat. Exhaust exits through Lemons Pro Drag Series headers with 2-¼-inch primaries into 4-inch collectors. When not using the 4-inch QTP cutouts, it routes through 3-½-inch thermal-coated and hand-polished pipes to Flowmaster big-block series mufflers.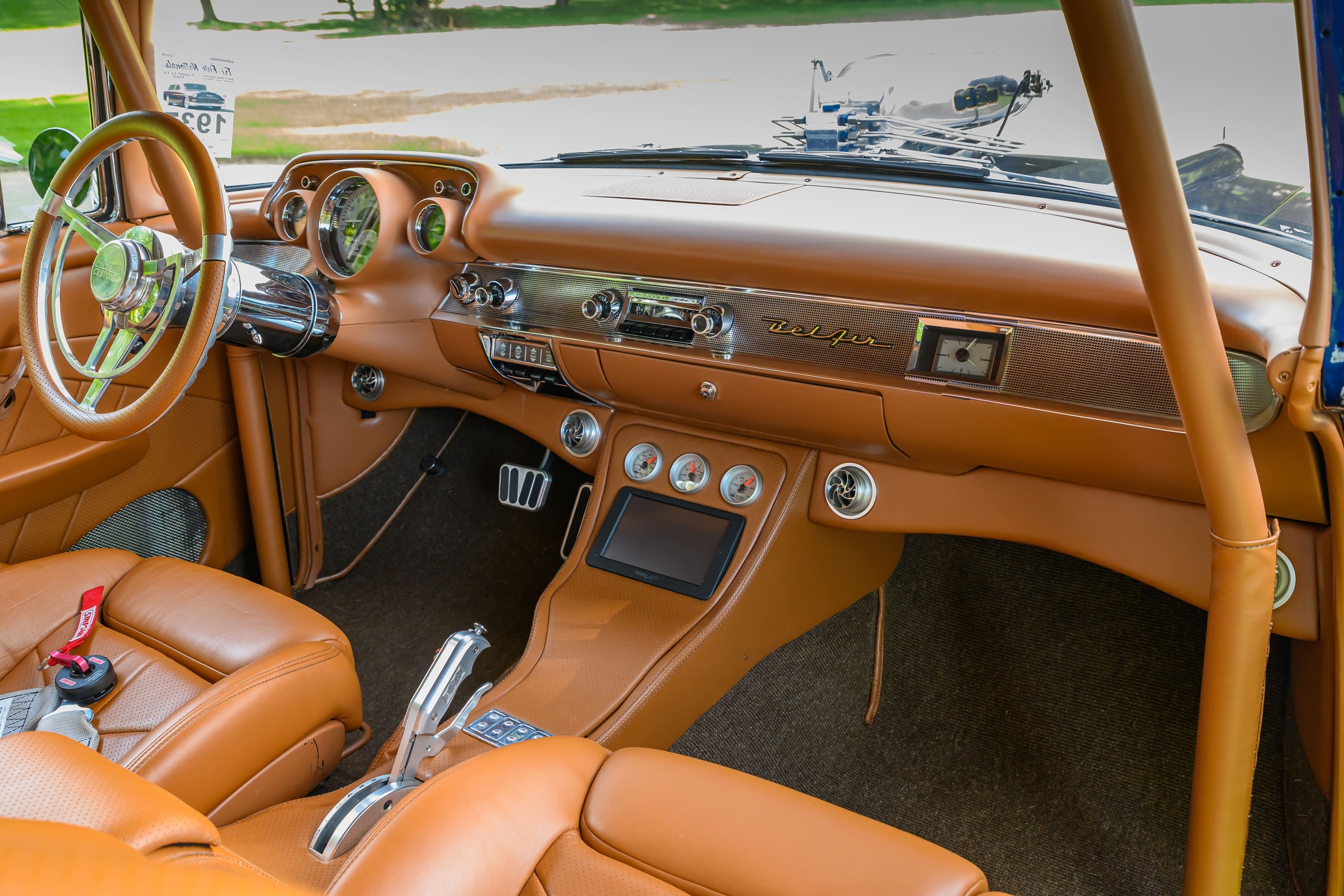 Don't let the pretty façade fool you—this engine still packs a punch, pushing 1,259 hp on pump gas and 1,400 hp on E85 at 6,550 rpm. With 1,122 lb-ft of torque at 5,000 rpm, it's good that the rear bumper sits so low to keep it from flipping over. Jed has four programmed tunes via a multi-positioned keyed switch for Pump Gas, E85, Flex Fuel, and Race. A Hughes Performance 4L80E receives power through a 3,500-stall Hughes converter before sending it to a Denny's chromoly driveshaft. A Holley Dominator ECU controls the injection, MSD crank trigger ignition, and transmission.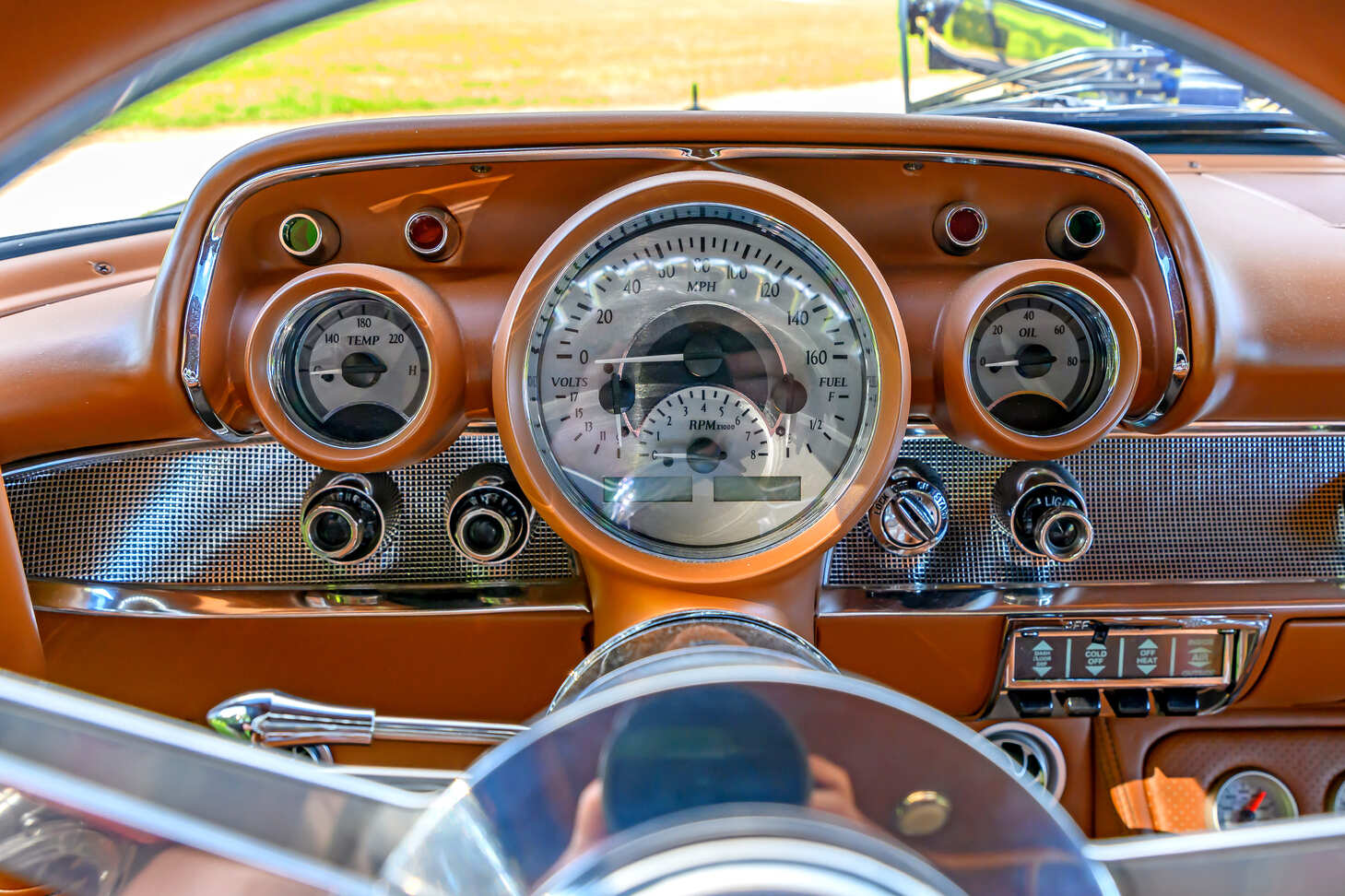 The body is just as beautiful as the engine and probably straighter than when it came off the assembly line. Jed did most of the work himself, welding in new rear floorpans, steel wheeltubs, and the trans tunnel before smoothing the firewall. Next, Jed and his friend Cody Norris of Norris HotRods & Restorations in Emory, Texas, took painstaking hours massaging the body to perfection before Cody expertly laid down the PPG Midnight Sapphire Metallic Pearl on the body and white pearl on the roof. All the stock trim is polished and in its proper place, although he upgraded the hood hinges to Eddie Motorsports billet units. Jed also upgraded the taillights to LED and the headlights to halogens for a better view.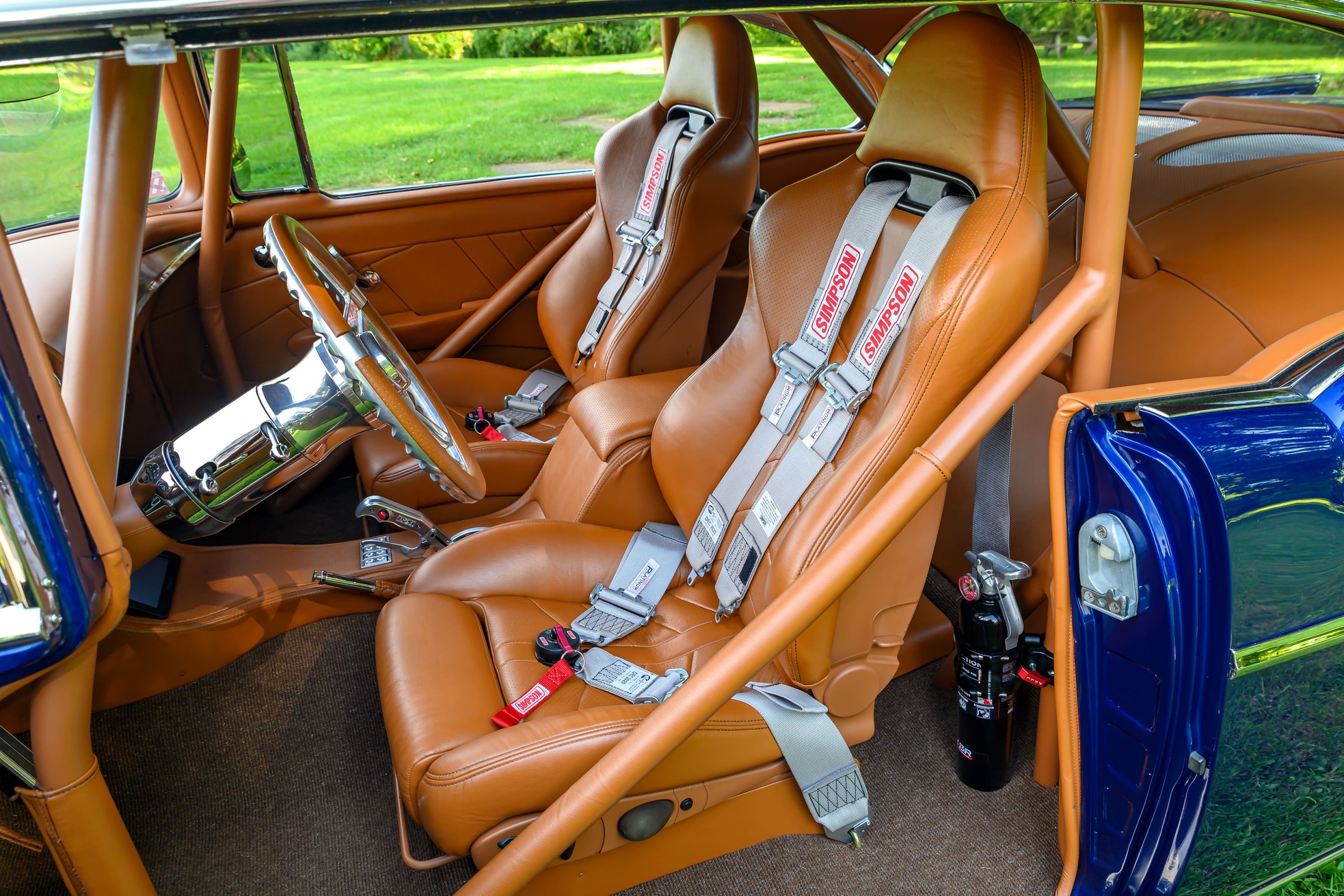 Luxury really meets Pro Street in the interior, starting with a foundation of Lizard Skin and Dynamat under the light Coco Brown square-weave carpet and Vintage Air to keep the cabin comfortable and quiet as it can be. Shawn Cook of Cook's Auto Top and Trim in Murphy, Texas, wrapped the custom console and full-powered heated/cooled Recaro bucket seats in Curry-colored Ultraleather. In case things get hairy, Jed outfitted the interior with an eight-point mild-steel cage and Simpson Platinum series five-point harnesses. Meanwhile, Dakota Digital and AutoMeter gauges display all the vitals through the Colorado Customs steering wheel on an ididit column. For tunes, Jed installed an American Automobile Wonderbar radio with hands-free Bluetooth and JBL speakers front and rear.
Even though the latest recreation of Ol' Betsy took longer than he would've liked, Jed and Kristi couldn't be happier with the result since re-debuting it in 2019. However, don't think for a second that Jed is done. He is definitely a believer in the motto that "they are never really finished." If his track record is any indication, we can't wait to see what else he does to Ol'Betsy!
TECH CHECK
Owner: Jed & Kristi Gage, Wills Point, Texas
Vehicle: 1957 Chevrolet Bel Air two-door hardtop
Engine
Type: 2019 Dart Tall-Deck big-block Chevrolet
Displacement: 632 ci
Compression Ratio: 9.1:1
Bore: 4.600 inches
Stroke: 4.750 inches
Cylinder Heads: AFR aluminum
Rotating Assembly: Lunati 4340 crankshaft, Lunati 6.700-inch H-beam rods, Lunati pistons, bearings, and rings
Valvetrain: Comp Cams cam, steel roller rockers, springs, and valves
Camshaft: Comp Cams (0.702/0.703-inch lift, 264/272 deg. duration at 0.050)
Intake/Throttle Body: The Blower Shop
Induction: 10-71 Blower Shop Billet Supercharger
Fuel Injection: Force 16-injector Billet Plate With Enderle bug catcher, Holley Dominator ECU
Assembly: United Racing Engines
Exhaust: Lemons Pro Drag Series 2-½-inch primaries to 4-inch collectors, QTP cutouts, 3-½-inch thermal-coated pipe, 3-inch Flowmaster big-block series mufflers
Radiator: Custom crossflow with two Delta PAG 14-inch brushless fans
Ancillaries: Custom March Performance belt-drive system, Mechman 370-amp alternator, MSD crank trigger, Taylor 10.3mm wires, Alky Digger quick-release K&N air filter, vintage '75 Edelbrock valve covers, Aeromotive 20-gallon fuel cell
Output: 1,259 hp on pump gas, 1,400 on E85 at 6,550 rpm, 1,122 lb-ft  at 5,000 rpm
Drivetrain
Transmission: GM Hughes Performance 4L80E
Torque Converter: Hughes Performance Lockup, 3,500 stall
Driveshaft: Denny's chromoly
Rear Axle: Narrowed Ford 9-inch, Detroit Locker, Mark Williams 35-spline axles, 4.10:1 gear ratio
Chassis
Frame: Fully boxed stock chassis with Competition Engineering backhalf four-link kit, notched front crossmember
Front Suspension: CPP lower and SPC adjustable upper A-arms, Heidts 2-inch drop spindles, QA1 adjustable coilovers, Hellwig 1-¼-inch antiroll bar
Rear Suspension: Competition Engineering four-link kit, Chris Alston's Chassisworks chromoly bars and rod ends, Competition Engineering panhard bar, QA1 adjustable coilovers
Brakes: Wilwood four-wheel disc, 12-inch drilled/slotted rotors with four-piston calipers
Master Cylinder: CPP HydraStop
Steering: Flaming River rack-and-pinion, ididit column
Wheels & Tires
Wheels: Colorado Customs Knock Down Series; 15×15 rear (7-inch backspace); 15×6 front (3-inch backspace)
Tires: 29×18.5/R15 rear, 26×8/R15 front, Mickey Thompson Sportsman
Interior
Upholstery: Curry Ultraleather, Shawn Cook of Cook's Auto Top and Trim (Murphy, TX)
Carpet: Square-weave Light Coco Brown
Seats: Recaro full-power, heated and cooled Ultraleather
Seatbelts: Simpson Platinum Series five-point
Door Panels: Custom Ultraleather
Pedals: Lokar
Steering: Ididit column, Colorado Customs steering wheel
Console: Custom fabbed by Shawn Cook
Shifter: B&M Street Bandit
Stereo: American Automobile Wonderbar with Bluetooth/hands-free, JBL 6-inch front and JBL 6×9-inch rear speakers
Dash: Stock painted to match
Instrumentation: Dakota Digital
HVAC: Vintage Air with original controller modification kit
Wiring: Painless Performance
Rollcage: Eight-point mild steel
Exterior
Bodywork: Jed Gage/Cody Norris, Norris Hot Rods and Restorations (Emory, Texas)
Paint: PPG Midnight Sapphire Metallic Pearl/white pearl
Trim: Original, sideview mirrors with hidden turn signals
Hood: Stock
Grille: Stock
Bumpers: Stock
Hood Hinges: Eddie Motorsports
Lights: Halogen/LED
Glass: Auto City gray tint