An Incomplete 1958 Chevy Bel Air Proved to be a Dream Project Car for Todd Nelson
By Tommy Lee Byrd   –   Photography By the Author
When scanning classified ads, seasoned hot rodders can usually sniff out untruths, like "ready to paint" or "90 percent complete" or, the old standby, "Corvette engine." It's almost always a red flag when these statements are presented in the ad, but sometimes curiosity gets the best of us. Such is the case with Todd Nelson, a longtime car guy from Land O' Lakes, Florida. He's bought and sold quite a few cars and trucks through the years, and that list of previously owned vehicles includes a '58 Chevy Biscayne. He sold that car to his brother-in-law, Doug Peterson, and that car created a new appreciation for the one-year-only body design for both Todd and Peterson.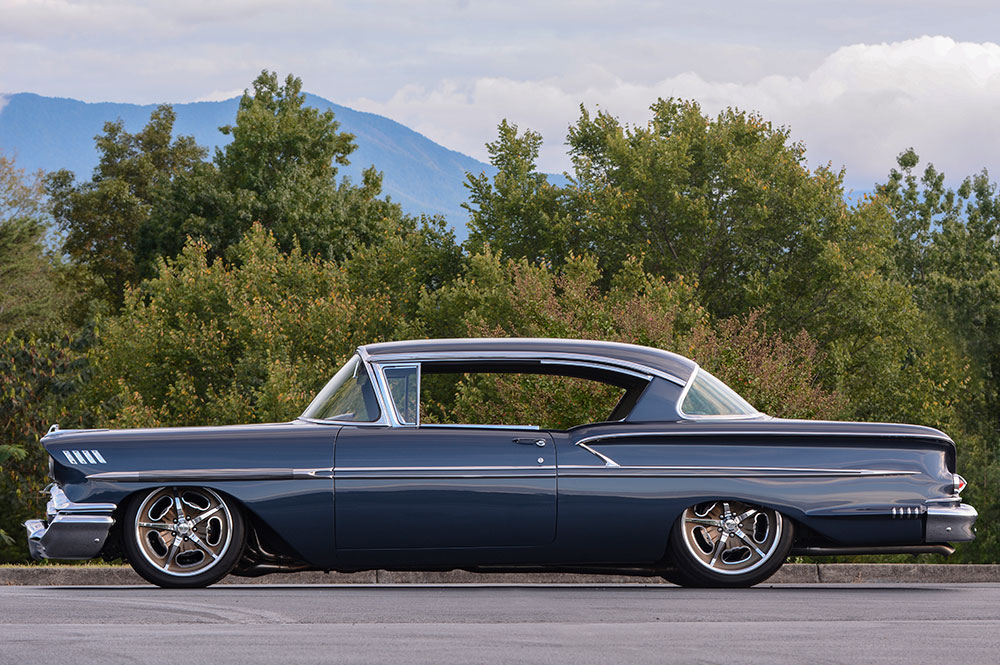 Todd's hankering for another '58 led him to the Internet where he stumbled across an eBay listing for a '58 Bel Air project car that was in primer. The ad claimed it was a "dream project car" that was ready for paint, upholstery, and assembly. Knowing the risks of buying someone else's project, he proceeded with caution and called the owner to talk over some of the details. The conversation and the photos proved to be an honest representation of the car, so Todd pulled the trigger and struck a deal. He arranged transport, as the car was on the other side of the country, and upon delivery of the car, he realized just how much money had been invested in this project. With the shipment were two pallets full of parts, including restored trim and brightwork, a brand-new Chevrolet Performance 572 crate engine, and much more. Despite his excitement about the new project, Todd placed the car in his so-called "penalty box" until he was ready to dive into a big build.
Read More: The 2023 Al Slonaker Memorial Award Winner is a '60 Buick Invicta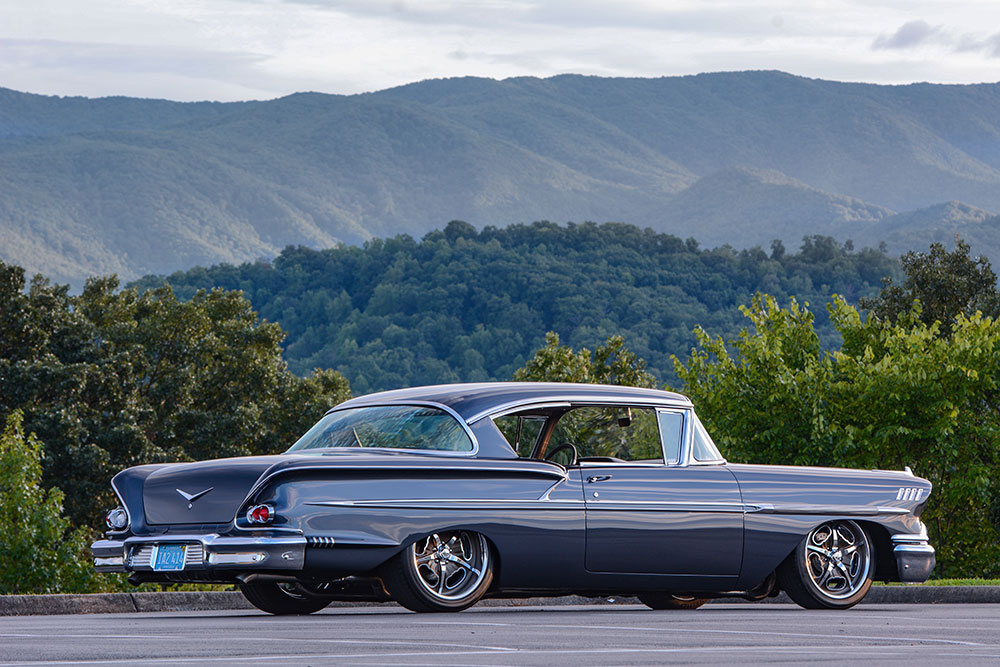 Finally, in 2019, the green flag waved on the project, and Todd rolled it into his garage where he mocked up the engine and drivetrain. At that point he called upon help from Peterson who started disassembling the car and finishing prepwork that was still needed on the body. Although Peterson was naturally skeptical of the previous owner's description of "ready for paint," he was pleasantly surprised by the quality of work that had already taken place. The body was extremely solid, with no replacement panels added, and no extensive damage to the original sheet metal. He put the finishing touches on the body and then painted it in his two-car garage. Peterson used Spies Hecker materials in a beautiful color called Deep Formal Blue. The metallic color dances in the sun and turns a true blue in the shade beneath clear coat that has been sanded and buffed to perfection.
Inside, you'll find high-end stitchwork from Chris McClintock at Bux Customs in Pottstown, Pennsylvania. The original front bench seat was completely reworked, while the rear seat was built from scratch. Brown Relicate leather with vintage tri-color fabric inserts combine classic styling with modern build quality. The German weave carpet is a distinct blue, trimmed in brown to match the rest of the interior. The Sparc Industries steering wheel is wrapped in matching leather and is positioned perfectly with an ididit steering column. The original dash features a Dakota Digital VHX-series gauge cluster, while Vintage Air controls and vents reside in a custom leather-wrapped panel beneath the dash. A custom console features cupholders and houses the Kicker head unit, which feeds a JL Audio system. A Painless Performance Products wiring harness sends power to the accessories.
Read More: 1955 Chevy Bel Air Convertible; Sight Unseen Hot Rod Build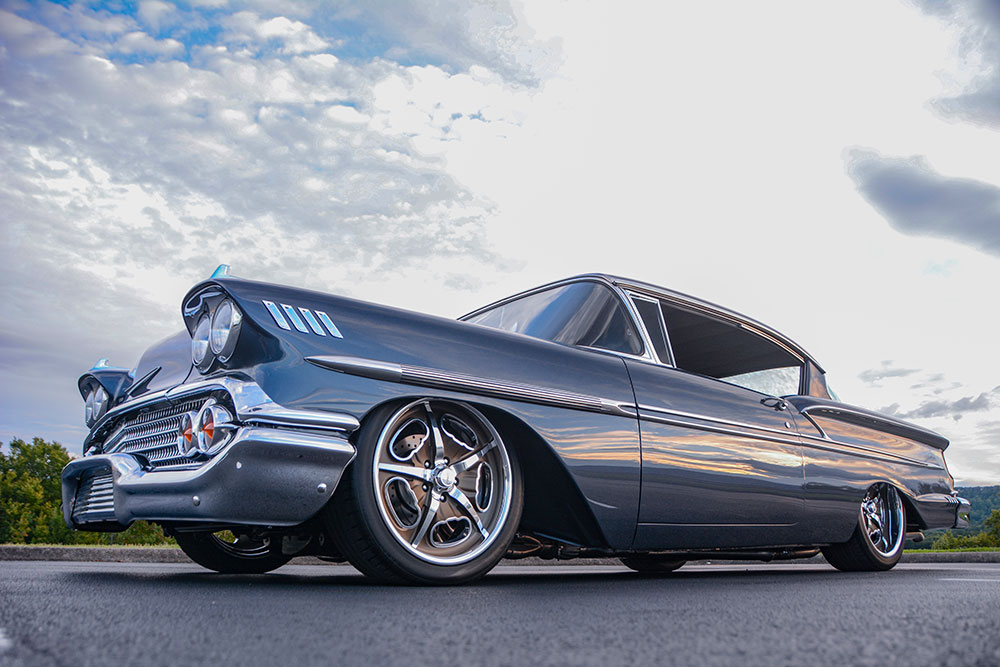 Underneath the beautiful body is the original frame, which has been upgraded extensively to accept a Ridetech air suspension, complete with AirPod management system. The air suspension allows for comfortable cruising and a super-low stance when the car is stationary. Ridetech upper and lower control arms, along with ShockWaves are used up front, as well as a Ridetech splined sway bar. The rear suspension also features tubular control arms with airbags in place of the coil springs. A Ford 9 inch rear end housing features custom brackets for the tubular arms as well as brackets for the Ridetech adjustable shocks.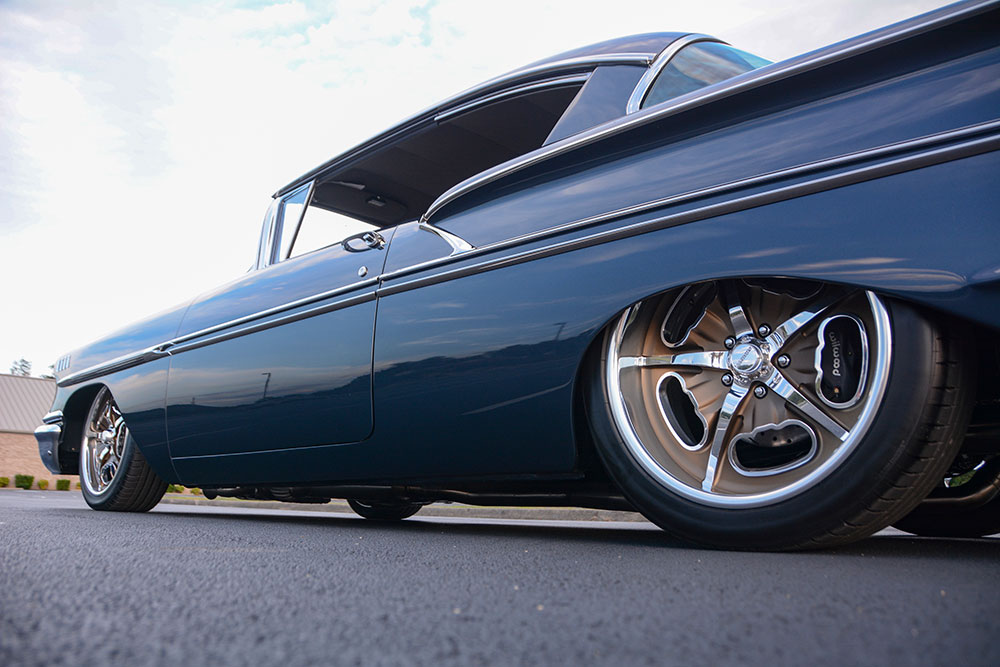 Wilwood brake kit includes drilled-and-slotted rotors and four-piston calipers on all four corners, and the brake system is fed by an aluminum Wilwood master cylinder. Rolling stock consists of Octane EXL Schott wheels, measuring 19×8 up front and 20×10 out back, wrapped in Michelin Pilot Sport tires, sized at 225/45R19 and 275/40R20 respectively. The wheels feature polished details and a bronze inset color for a cool contrast of finishes, while the tire sidewalls have been smoothed for an extra custom touch.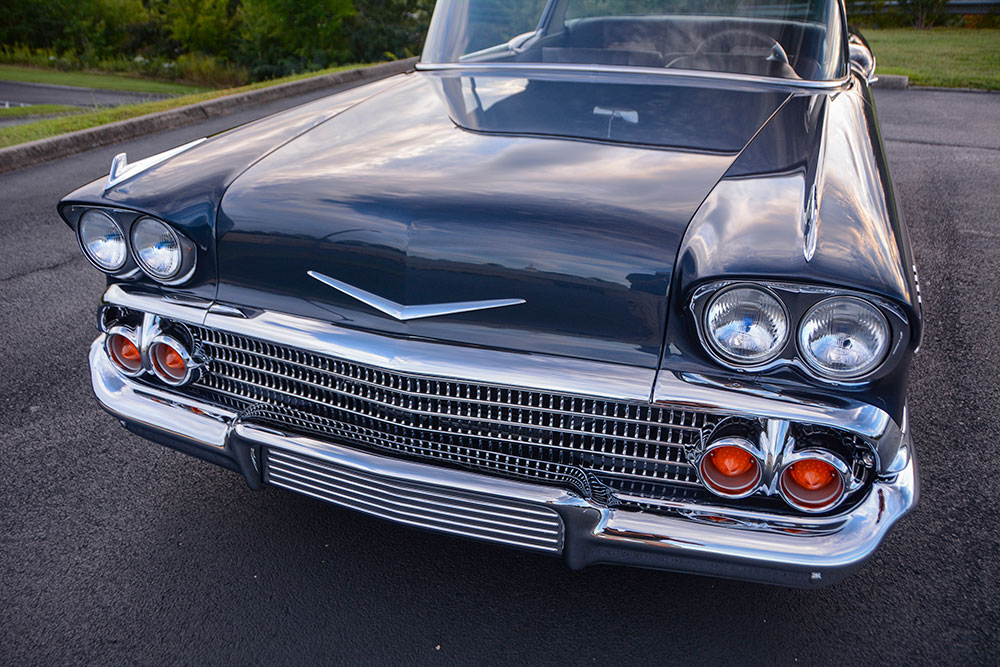 There is no shortage of horsepower under hood, as a Chevrolet Performance big-block crate engine fills the spacious engine bay. Coming in at 572 ci, the big-block features a street-friendly 9.6:1 compression ratio, rectangular aluminum port cylinder heads, and a 0.632-inch lift hydraulic roller camshaft. Todd installed a 850-cfm Demon carburetor on the aluminum Chevrolet Performance intake manifold and used an HEI-style MSD distributor. When Todd bought the car it already had the custom-fabricated stainless steel headers, which are a work of art. The headers feature 2-inch primary tubes and lead to a stainless steel 3-inch exhaust system, complete with Borla mufflers. A Concept One serpentine pulley system features polished accessories, while the rest of the engine bay features a low-gloss finish. Smooth valve covers with stainless steel trim and an original-style dual snorkel air cleaner finish off the custom look. Behind the big-block is a TREMEC TKO 600 5 speed manual transmission, with a McLeod clutch and custom billet shifter.
Read More: Second Time is the Charm: 1955 Chevy Bel Air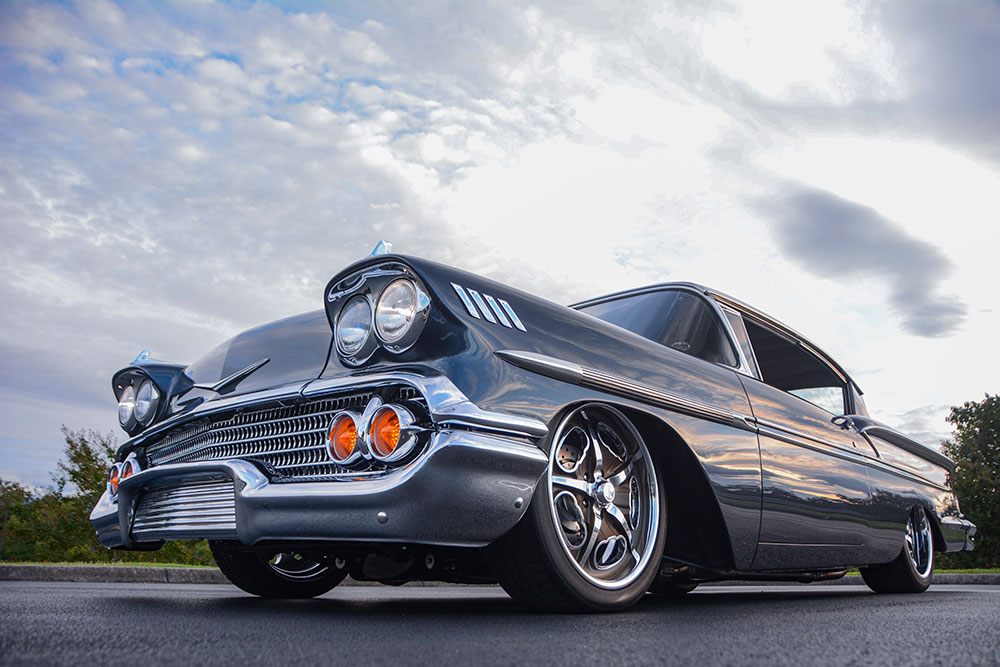 For the past two years, Todd and Peterson have reassembled the Bel Air and worked out the bugs along the way. As with any project, Todd wanted to keep perfecting it, and he finally rolled it out for the public to see in September 2022. The debut show for the car was the final Shades of the Past Hot Rod Roundup, where the car took home a highly coveted Top 25 award and got a tremendous amount of positive feedback. The one-year body style grabbed a lot of attention, as did the color and the healthy big-block. It's a combination that is seldom seen, but it's the eye for detail that took this show stopping '58 Bel Air to the next level. MR