Buying This Tri-Five Chevy Sight Unseen was a Bold Move
By Brian Brennan – Photography By John Jackson
It takes a brave soul to purchase a hot rod sight unseen. Yet when it's from a friend you trust you willingly take the leap. Steve Spang of Minnesota had been looking for a 1955 or 1956 Chevy Bel Air Convertible for some time when he found a 1966 Chevy Nova and couldn't pass it up. Fast-forward a few years when a church friend told him of a stalled project that had been in the works for 15 years and it looked like it wouldn't get finished. It was a 1955 Chevy Bel Air Convertible that had been in storage and showed 54,000 miles on the odometer. It was almost too good to be true. Steve tells us, "One thing led to another and a week later Kevin Bowman of Bowman Real Hot Rods was picking it up."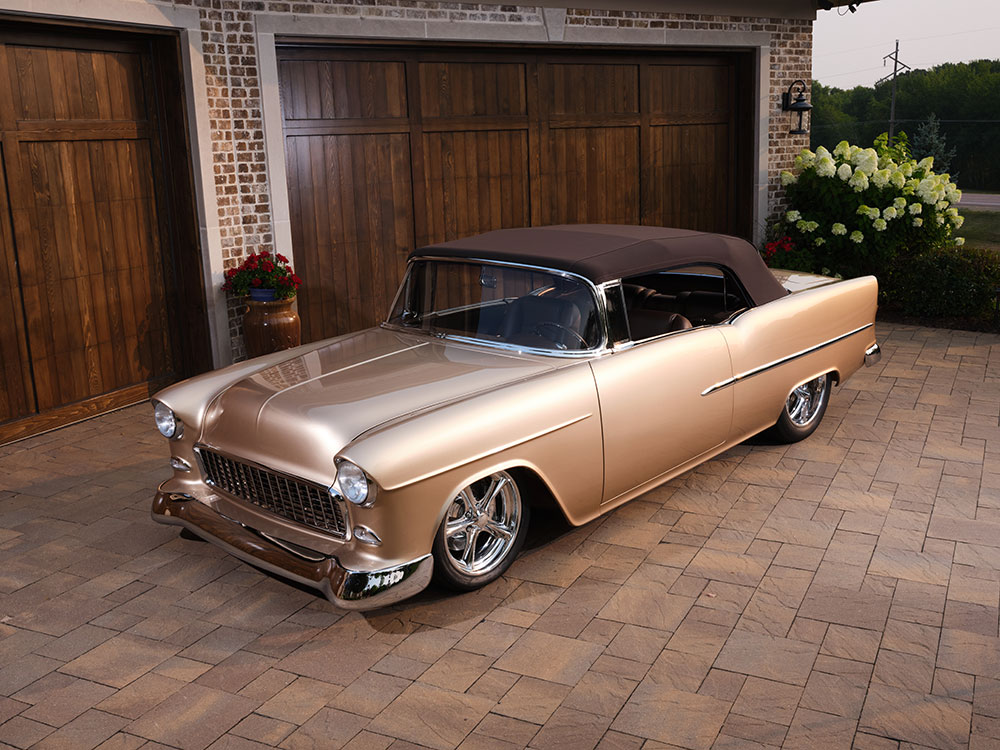 As it turns out it was true with one itsy-bitsy hiccup. The Tri-Five Chevy at one time was hit hard in the rear. The trunk, decklid, and rear quarters sustained a great deal of damage. Steve solved this problem by taking the 1955 Bel Air to Bowman Real Hot Rods in South Dakota. From here the sheet metal was either replaced with Danchuk panels or straightened. In the end, the quarters, tail pan, decklid, and trunk floor were replaced or refurbished. New mini-tubs from Real Deal Steel were added to accommodate the oversized wheel and rubber combo. In the meantime, the freshly addressed body was dropped onto a Precision Hot Rods chassis.
Read More: Tri-Five Dash Revamp
The body is fundamentally a 1955 Chevy Bel Air convertible with a handful of modifications to "clean" the lines up a bit. The Bel-Air grill crossbars were modified, as were the inner fender panels, to accommodate the Billet Specialties hinges, firewall, and other engine compartment sheet metal. Another subtle body mod is the reconfiguring of the front turn signals. Look closely as they are redone and now smaller than the original design. While in the front also look at the hood as it too was smoothed over and emblems were removed.
The rear decklid was also "warmed" over with a frenched license plate holder and a three-sided surround to add a design element to the rear plate. Note the gas filler was removed from the normal driver side rear quarter-panel location and now hidden within the driver side taillight. This is reminiscent of what would be considered stock for a 1956 Bel-Air. Gaven Bowman, son of Kevin, took the lead at Bowman's in handling the body- and paintwork. Speaking of paint, it is a custom mix from PPG Deltron 2000 Basecoat (DBC1) in a Candy Mocha applied by Gaven over his bodywork. From here all the brightwork was handled by Dan's Polishing and Chrome.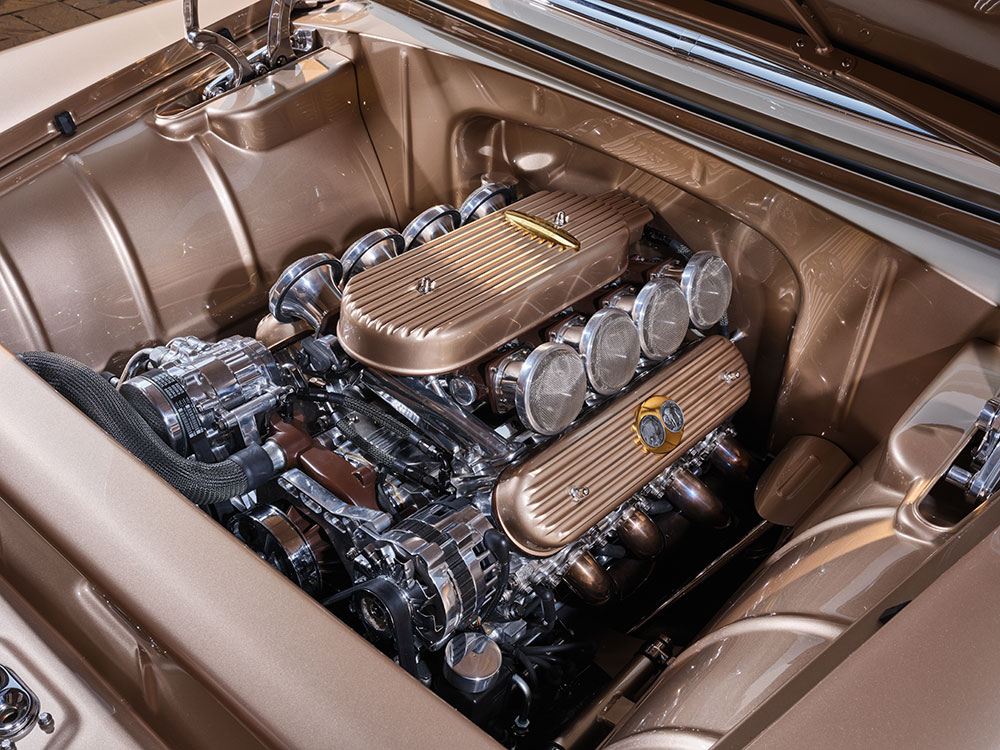 The custom chassis comes by way of Danny Tesar and Larry Brunkala at Precision Hot Rods. The custom chassis shows off a raised front crossmember, which allows Gaven to get the ride even lower. The front and rear are equipped with Heidts Superide II Front Suspension. The fully polished Independent Front Suspension features 2-inch drop spindles and polished double-adjustable Viking coilovers (550-pound springs). From here a polished ¾-inch front sway bar, Flaming River rack and pinion power steering, and Wilwood 13-inch drilled-and-slotted rotors with polished Wilwood Dynalite caliper are used.
In back the Independent Rear Suspension is based on a fully polished Heidts unit packed with 3.73 gears and a Richmond Gear limited-slip differential. Then Wilwood brake kit (11-inch drilled-and-slotted rotors and polished Dynalite calipers) and more polished double-adjustable Viking coilovers with 450-pound springs complete the Independent Rear Suspension. The brakes are actuated by a Wilwood master cylinder and a Kugel Komponents under dash pedal assembly.
The one-off wheels were designed by Eric Brockmeyer and machined by EVOD Industries. The fronts are 18×7 wrapped with Kumho 255/45R18 rubber while the rears are 20×10 and wrapped with Michelin 275/50R20 rubber.
TPiS oversaw all the engine machining, assembly, and tuning (dyno) of the all-aluminum polished LS3 engine (427 inches) pumping out 600-plus hp. The balanced internals are based on a Callies Compstar crank and rods, Mahl forged pistons, and a TPiS custom camshaft and rockers. Capping the V8 engine are polished LS3 aluminum heads held in position with ARP head studs. PJ Motorsport fabricated the LS3 EFI side draft screen covers while Aeromotive supplied the fuel filters and regulator. The custom valve covers, air cleaner, and all badgework was machined by G.W. Taylor of Taylor Design.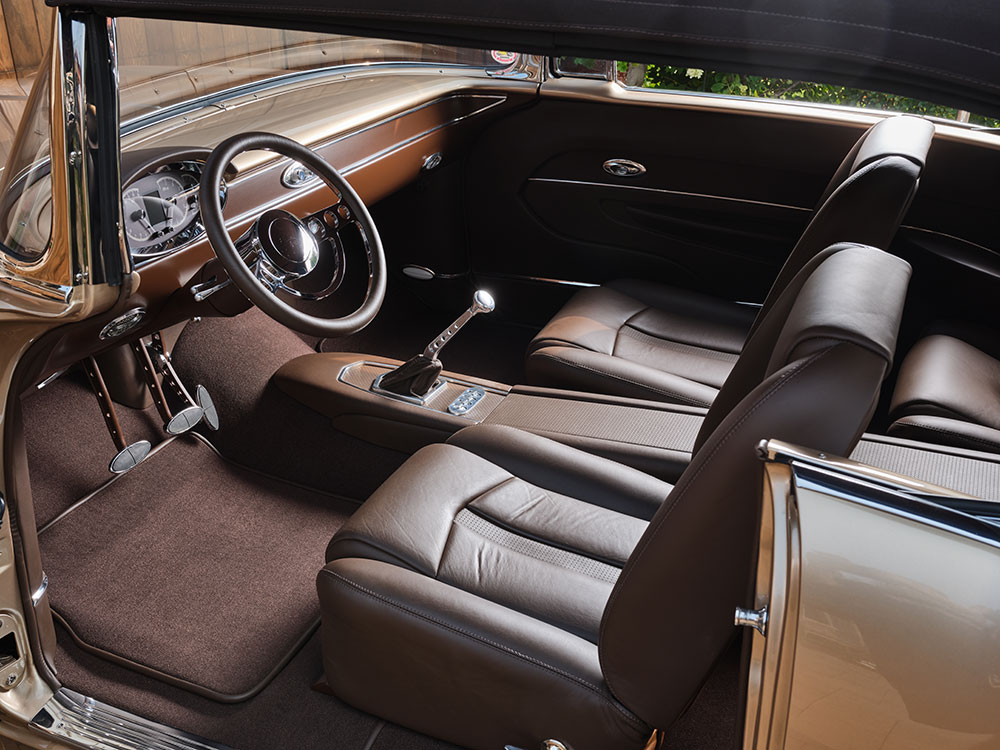 The exhaust system is based on Ultimate Headers in 1-3/4-inch primary tubes made from polished stainless steel. The remainder of the exhaust system is ceramic coated and includes Performance SpinTech mufflers. Other engine accessories include a Vintage Air Front Runner, polished water pump, SPAL electric fan, a Tuff Stuff alternator, a Powermaster starter, and an Optima battery. Matched to the LS3 engine is a Legend Gear & Transmission LGT700 5 speed manual transmission with a McLeod Street & Strip flywheel, clutch, and pressure plate. There is also a Lakewood bellhousing and a Bowman Real Hot Rods custom shifter.
Read More: The Forgotten Tri-Five Chevy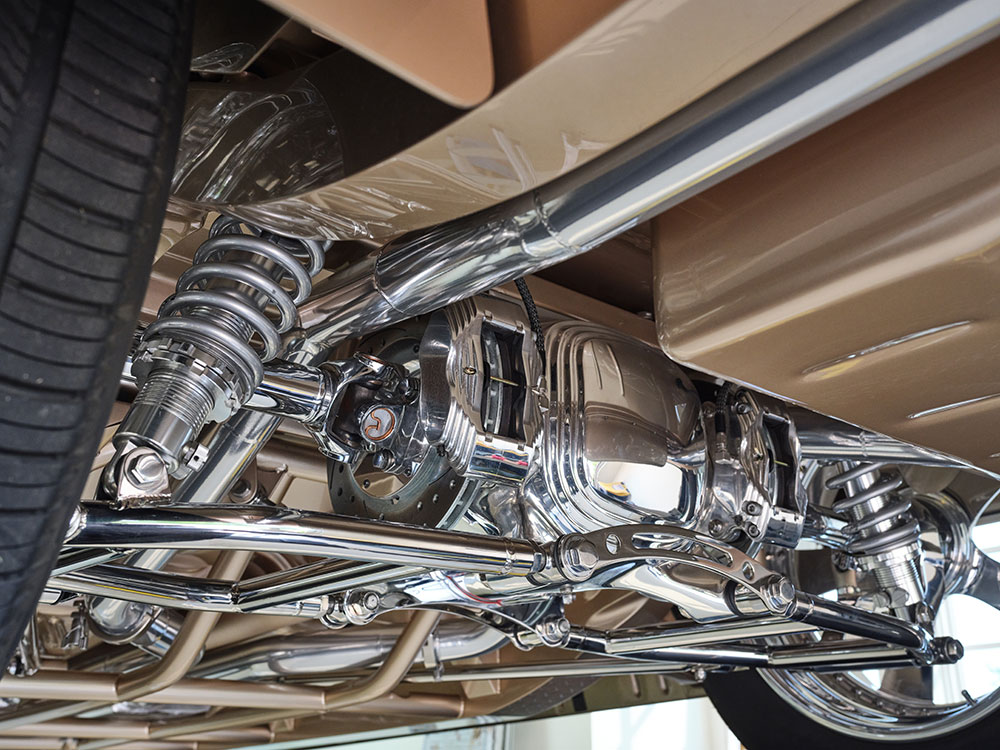 Once inside there is more to behold. Let us start with the Bowman Real Hot Rods custom dash that is now outfitted with Dakota Digital HDX-2017 instrument system with unique colors. The wiring is based on a Centech harness that was positioned into place by Neil Erickson of Bowman Real Hot Rods. This wiring also links up the Vintage Air AC, power door locks and power trunk from Dakota Digital, and a system from Nu-Relics Power Windows. The AC system registers as well as the AC controller bezel were fabricated by Taylor Design.
The front buckets and rear bench, the headliner, and convertible top were all capably stitched by Steve Holcomb of Pro Auto Interiors. Holcomb also provided the seating in a Chocolate Brown leather along with a brown Daytona weave for the carpeting. A real challenge was the hand-stitched convertible top that was fitted with the suede headliner.
The Bel Air convertible has made the rounds over the past year-plus to several events. It has taken home such honors as several Builder's Choice, Meguiar's Magnificent Masterpiece, a pair of Top 25 awards while at Shades of the Past, and a Top 25 at the most recent Tri Five Nationals.
Read More: How To Install Coilover Conversion Kit On A Tri-Five Chevy
Well, taking this leap of faith proved to pay off handsomely for Steve as he now enjoys those weekend hot rod runs in style. MR