Modern Gauges for a Classic Car – Classic Instruments Bel Era III Gauges Install on a Tri-Five Chevy
By Todd Ryden – Photography by the Author
Relaying information about the engine to the driver was never really of huge importance to Chevrolet or the other OEMs. They figured a temp gauge was worthy of being in most instrument clusters and maybe a couple of warning lights, just in case. We install modern gauges for a classic car, with the new Classic Instruments Bel Era III gauges in a 1956 Chevy.
Read More: LS Engine, Big-Block Look – Parts Bin
Case in point is the dash of a 1955 or 1956 Chevy. A temp gauge, with the values of simply C and H, was included in the dash along with the fuel gauge placed above the Chevy speedometer span. A warning light would glow to let you know there was no way the car would start again, as the generator was not charging. If the oil psi warning light came on, it was likely to let you know that something very expensive just failed. In a Tri-Five there was no tach, no voltage, no oil pressure, not even as an option. This is why hot rodders have always hung a few gauges under the dash.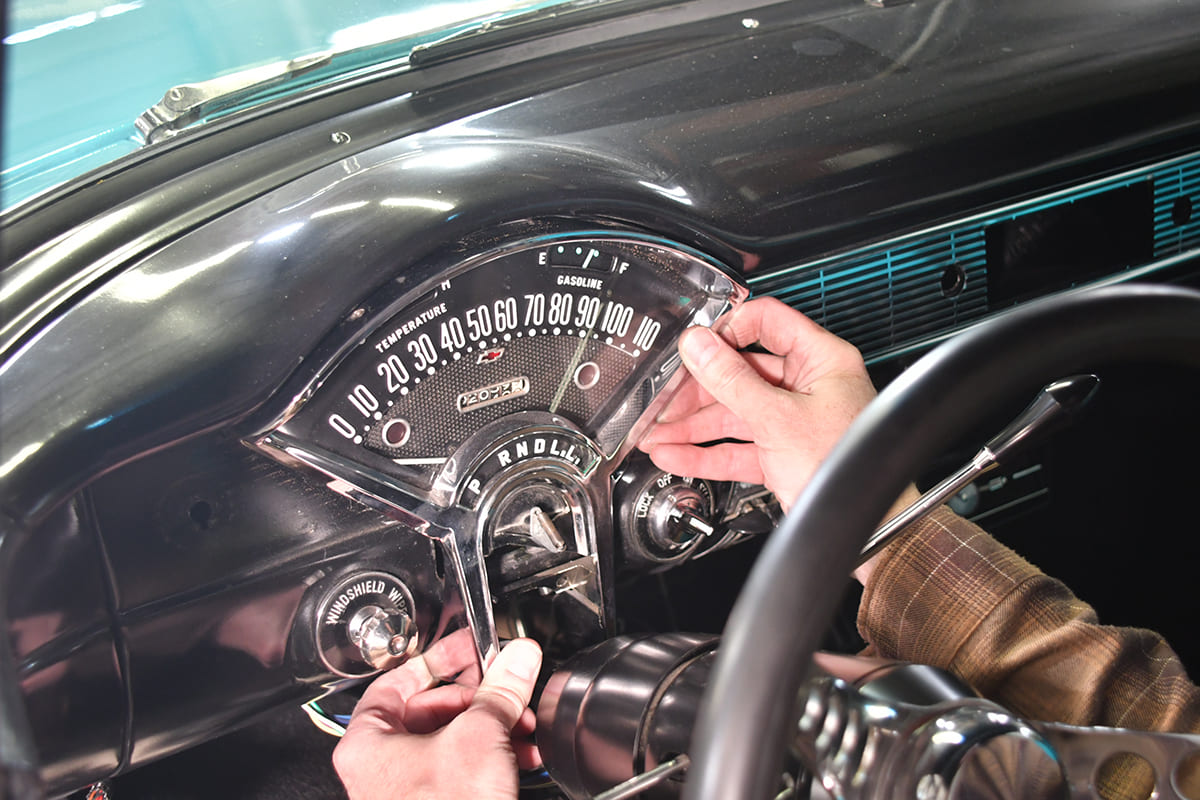 Though Classic Instruments offers standard-size individual gauges that can be mounted in a pod under the dash, they're known mostly for manufacturing modern gauges for a classic car, as direct-fit instrument clusters. These assemblies generally house a full set of gauges that are designed to fit into the factory location on the dash. Case in point is their line of Bel Era panels for the 1955 and 1956 Chevy.
Classic Instruments offers three different Tri-Five systems, each with its own look and style with a direct fit into the 120-degree swept form of the original dash. The Bel Era III version is designed to look considerably like the factory gauge cluster, yet features modern oil pressure, temp, voltage, fuel level, and speed. Note there's no tach but that is available in their other models.
Read More: A New Five-Speed in Town; Inside the new Tremec TKX
Our buddy Justin has a sweet-cruising Handyman 210 wagon that was in dire need of an instrumentation update. The speedo was off, half the lights didn't work, and the cheesy trio of no-name store gauges below the dash just didn't seem to be honest. He wanted something with original style so it wouldn't look dated in 10 years. Enter Classic Instruments with the Bel Era III. We got to sit back and watch as he did the installation.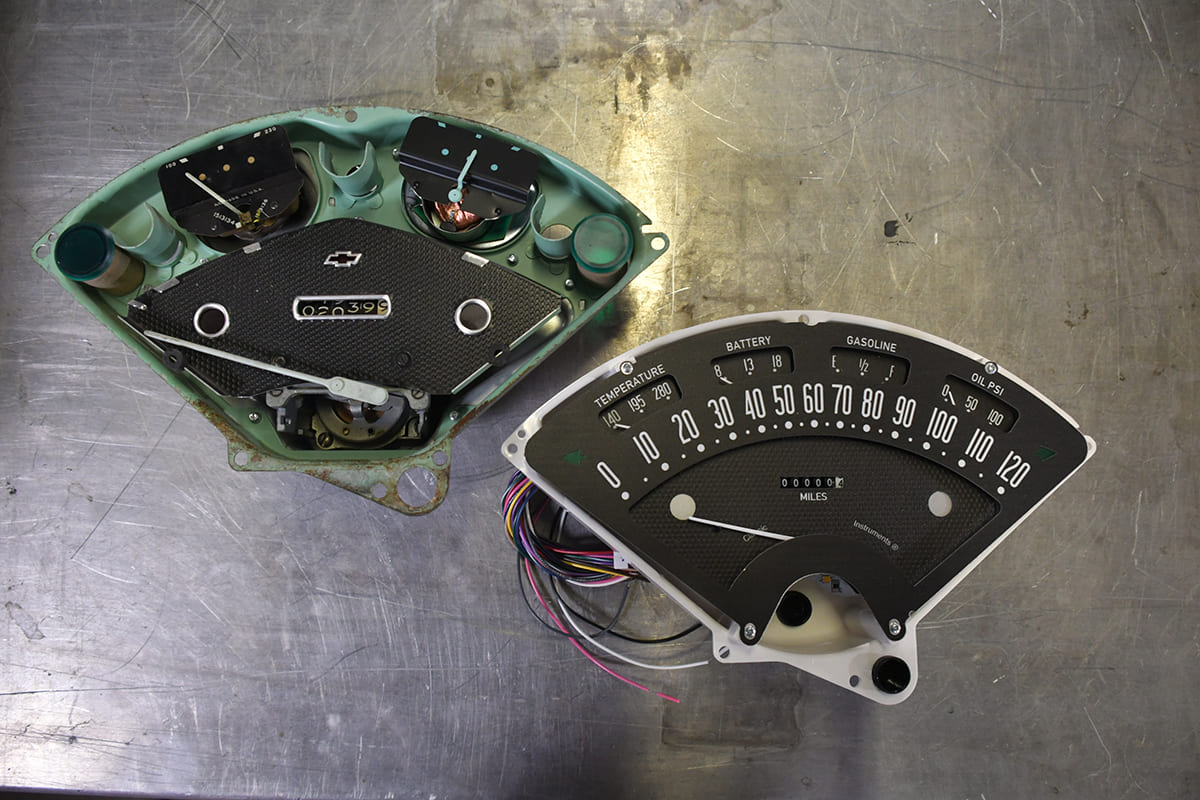 When you open the box, the Bel Era III is fully assembled into a rigid injection-molded housing. This provides a solid foundation for each gauge, and all of the wiring is put into a single 14-pin connector. Sure that's a lot of wires, but remember, you're connecting four gauges, a speedometer, LEDs, turn signals, a warning light, and high-beam indicator. The nice thing is that you can finish the wiring and then simply plug in one connector.
Convert Analog to Digital – Speedometer
As for the speedometer, the 1956 Chevy received a TH350 trans long before Justin owned it, so it had a traditional speedometer cable spinning the needle. Classic Instruments does nothing but electronic gauges, including their speedometers, but making the upgrade is simple with a pulse generator sensor that screws right in place of the cable on the trans. The sensor, called an SN16, is supplied and connects with a three-wire harness that ties into the single connector of the dash.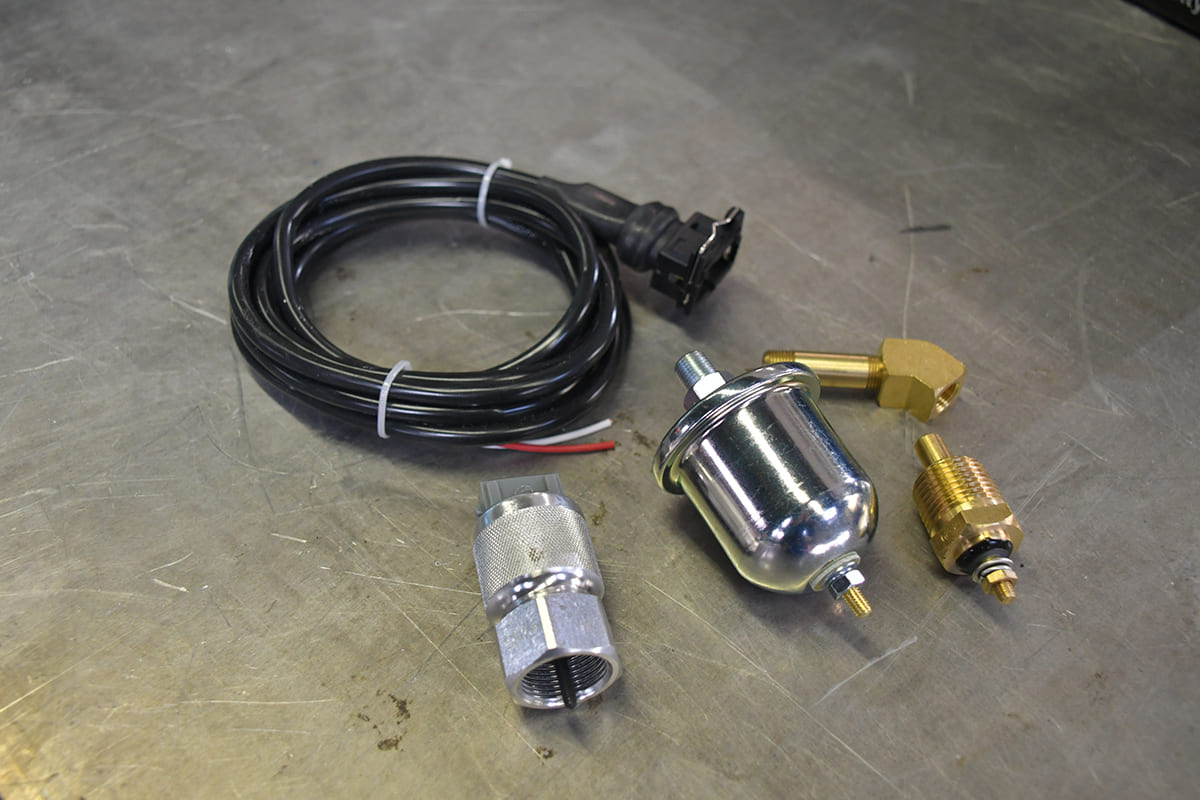 The Bel Era III dash comes out of the box ready to connect to any transmission (or tach if equipped). Classic Instruments introduced their Zeus Speedometer Technology (ZST) a few years ago, which allows the speedometer to easily display speed through a pulse signal generator, like ours with the SN16, a Vehicle Speed Sensor (VSS), as well as the output from an electronic trans control or ECU. This makes for an easy installation with no external boxes or accessories to wire, and if Justin ever upgrades to an electronic overdrive, the dash is ready to accept the new signal for speed.
Read More: Ride of a Lifetime; 1962 Chevy Bel Air
For the first time since he's owned the Handyman, our pal now has fully functional gauges in the classic dash, an accurate speedometer, and gear indicator. At night the assembly lights up evenly and the stock appearance will never fall out of style. Welcome to the modern era, thanks to Classic Instruments for modern gauges for a classic car.
Sidebar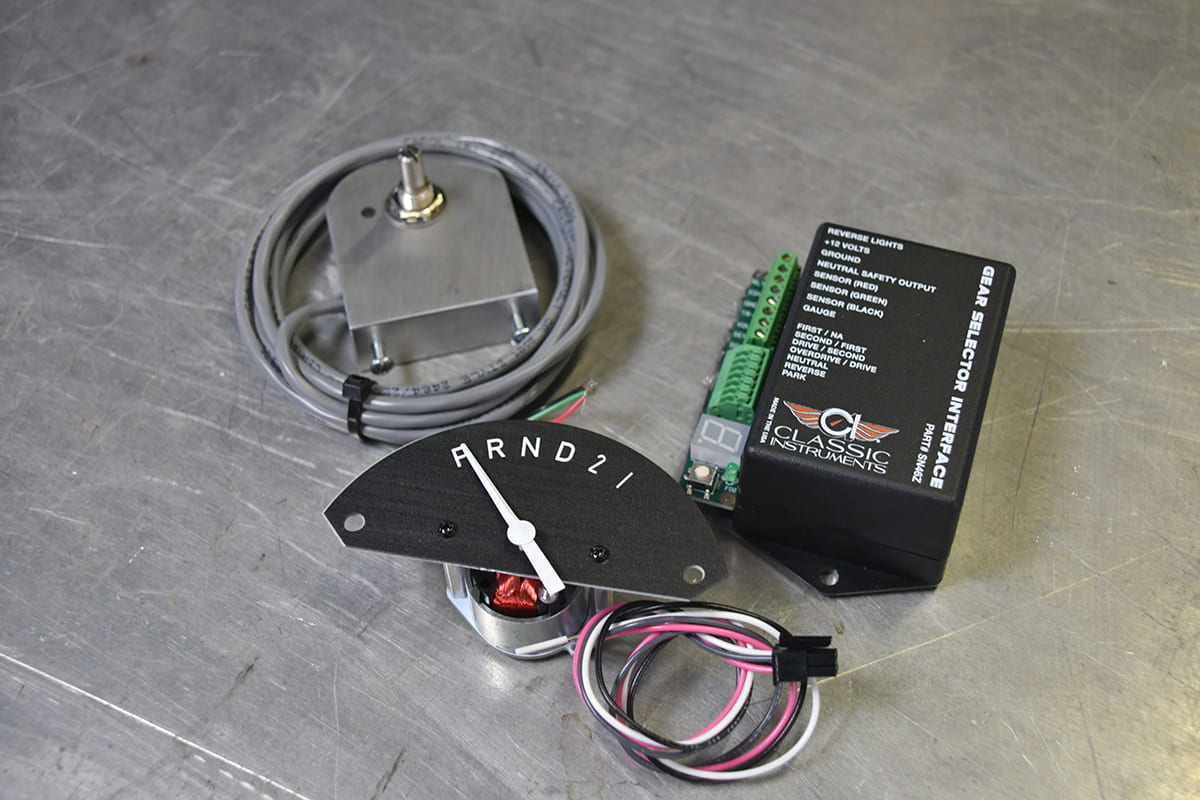 Modern Gauges for a Classic Car: Electronic Gear Indicator
For the 1955 and 1956 Chevy there is an optional electronic gear indicator, which we opted to try out as the stock indicator was never even close due to the driveline swap. This kit, which can even be used with a floor-mounted shifter, consists of a potentiometer that connects to the shift arm of the trans through the supplied linkage, then sends its signal to a small interface module. This device is programmable for the number of gears and the position of each gear to electronically move the new pointer.
Due to the trans and column replacements on our subject, the shift arm geometry was not conducive to moving the potentiometer enough, so we easily adapted a second shift arm in a vertical position that worked like a charm. It should be understood that cars with a variety of parts may need a little fab work here and there. Once connected, the interface module needs to be programmed, which is done through its LED and moving through each gear position.
Sidebar 2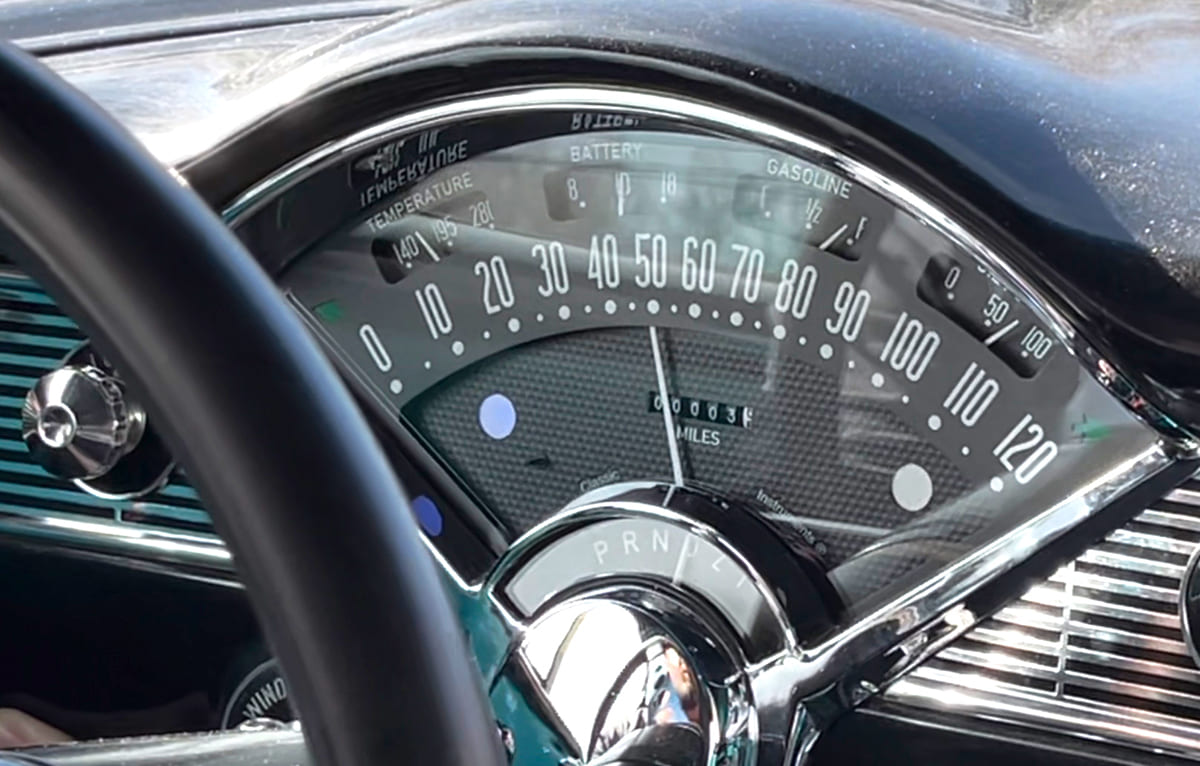 Speedo Calibration
There are three ways to calibrate a new speedometer from Classic Instruments when installing modern gauges for a classic car: Instant, Real-Time, and the Measured Mile. We chose the Instant manner, which means you'll need a GPS signal from a phone app (or pace car). Following the steps to put the speedometer into calibration mode, you simply drive at 30 mph then push the calibration button for a few seconds. The speedometer is then set.
The Real-Time calibration is exactly as it sounds; have a friend drive at a set speed then you can set the gauge to match as you drive. You can probably guess how to calibrate the speedometer using the Measured Mile procedure. It's great to have the different options available and Classic Instruments supplies a small calibration button that simply connects between the dash and ground.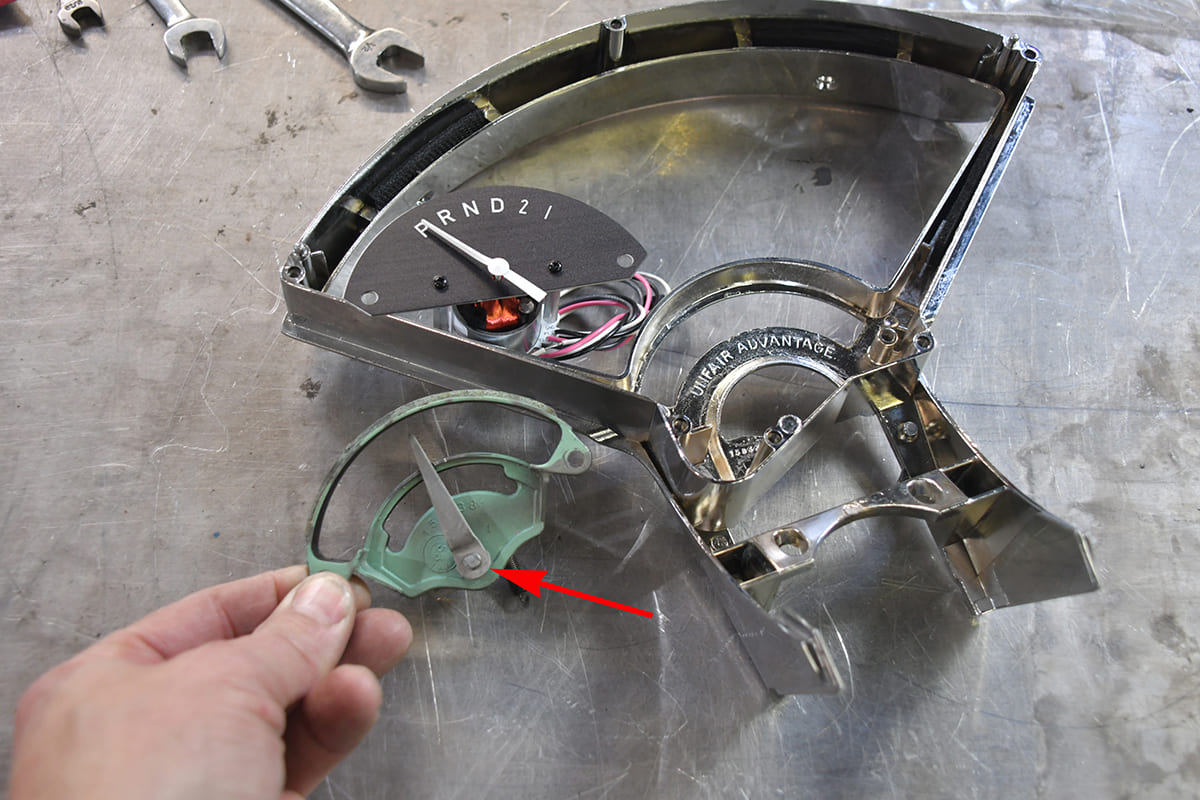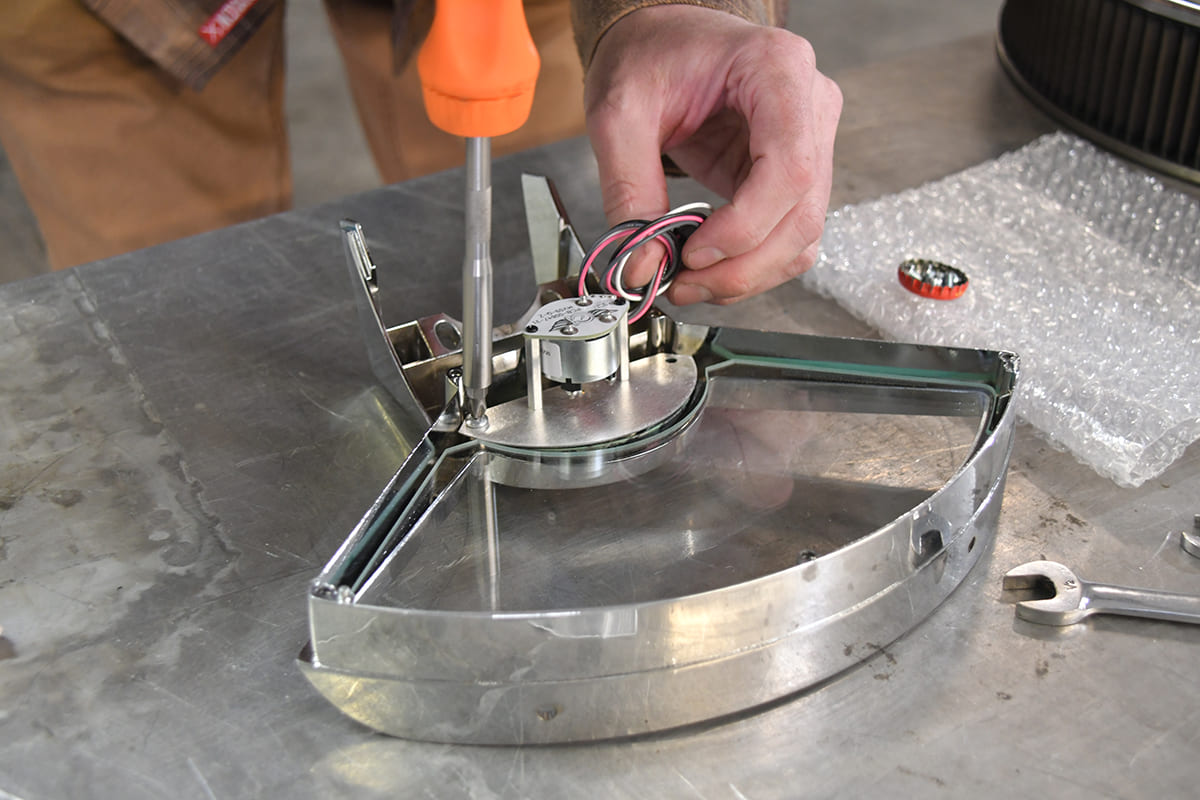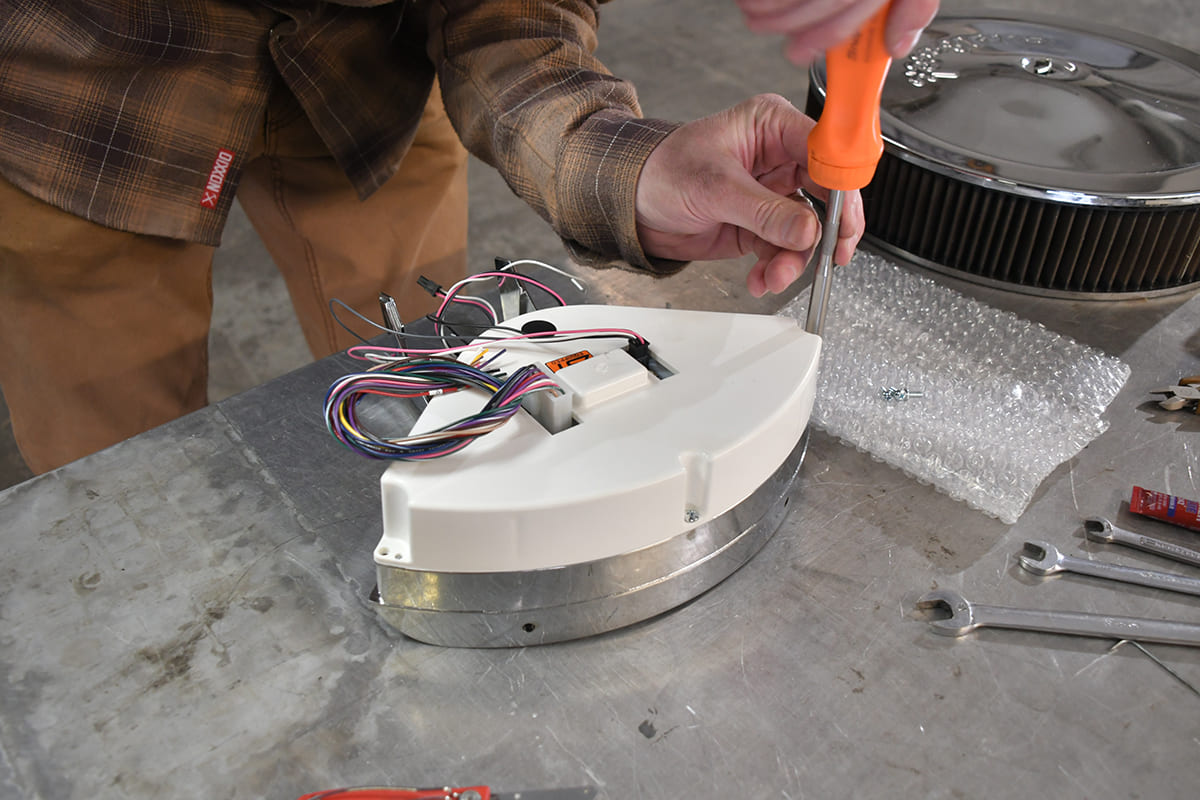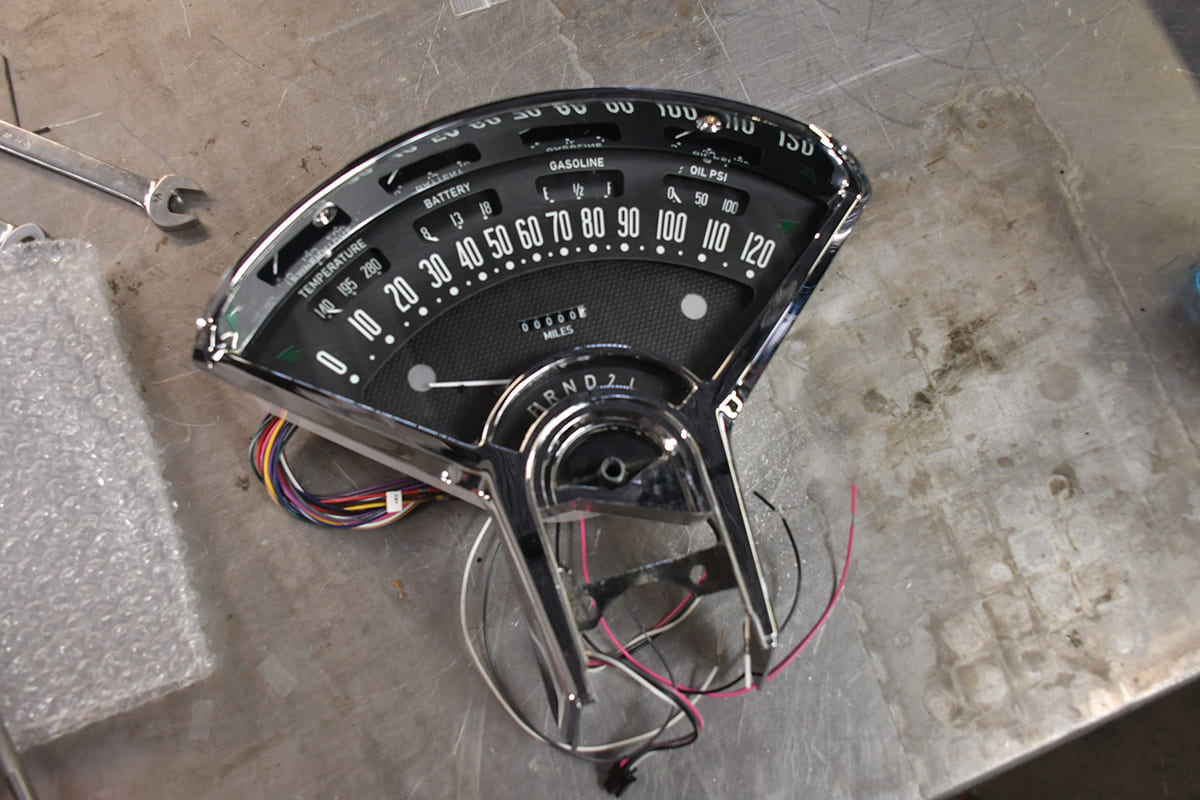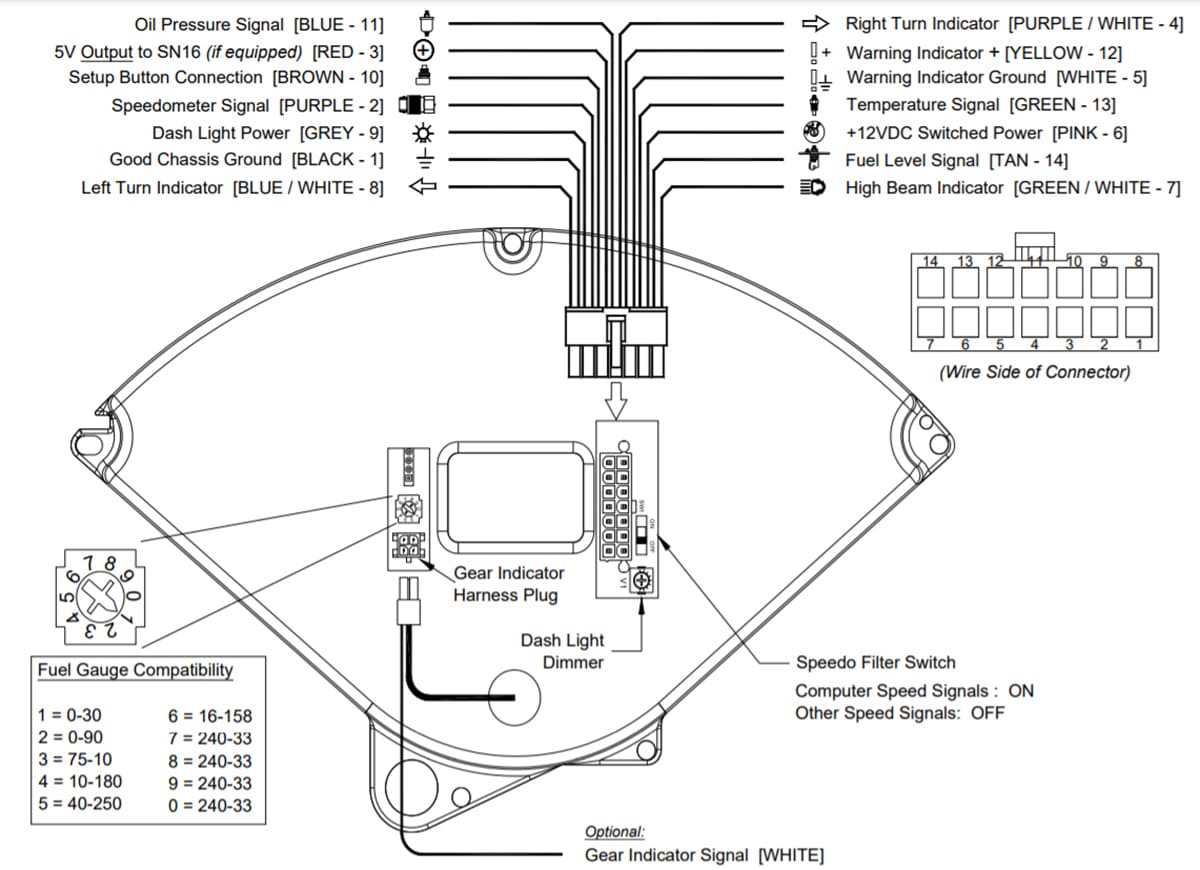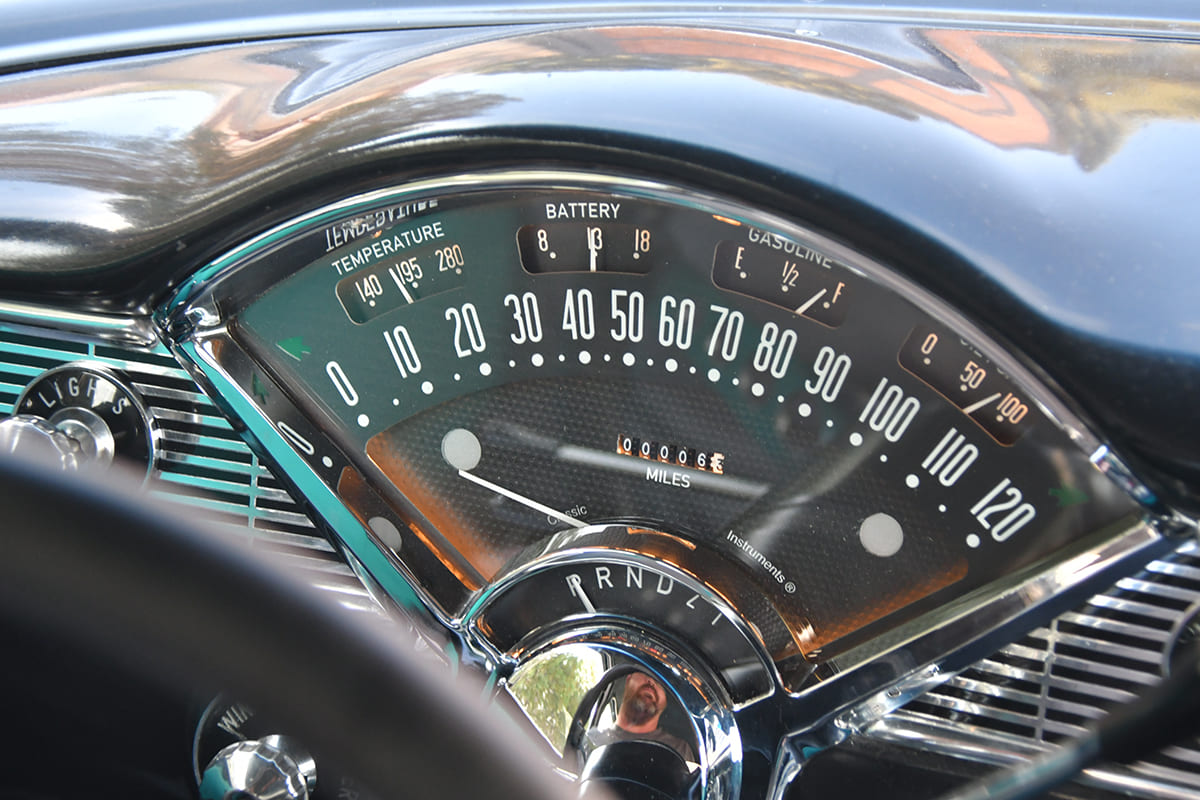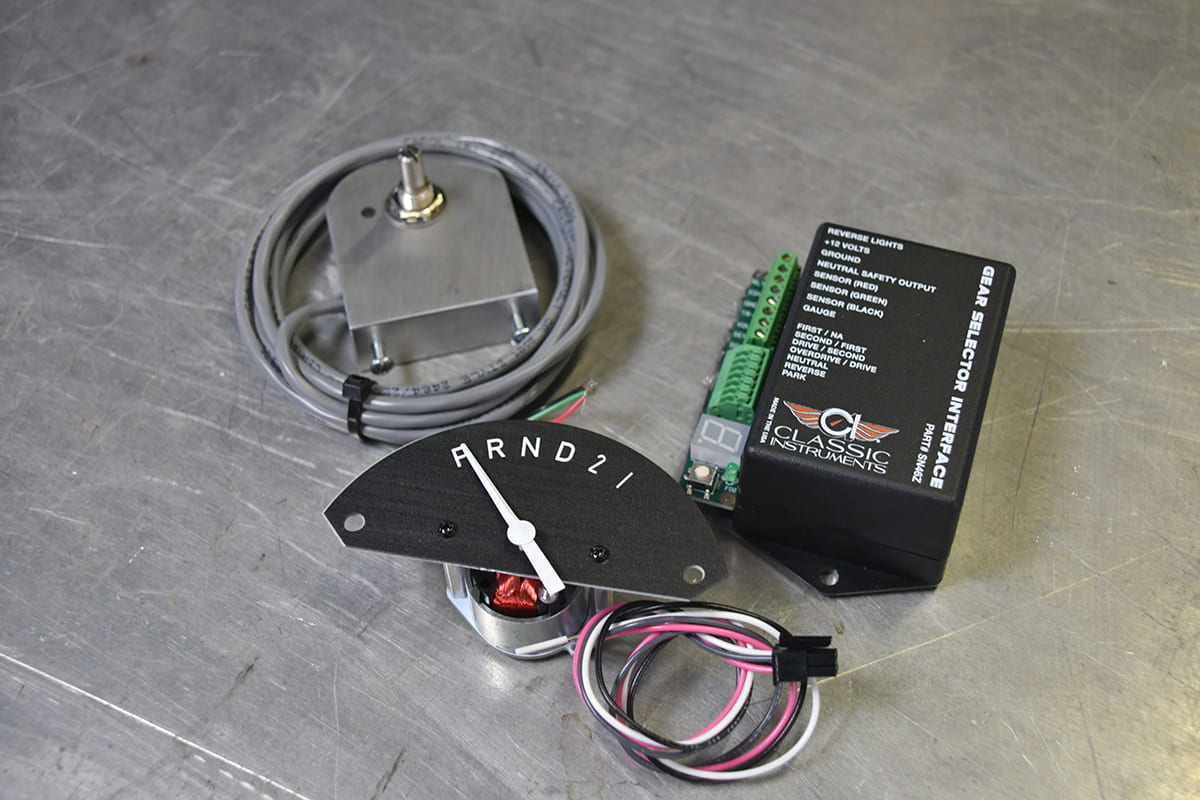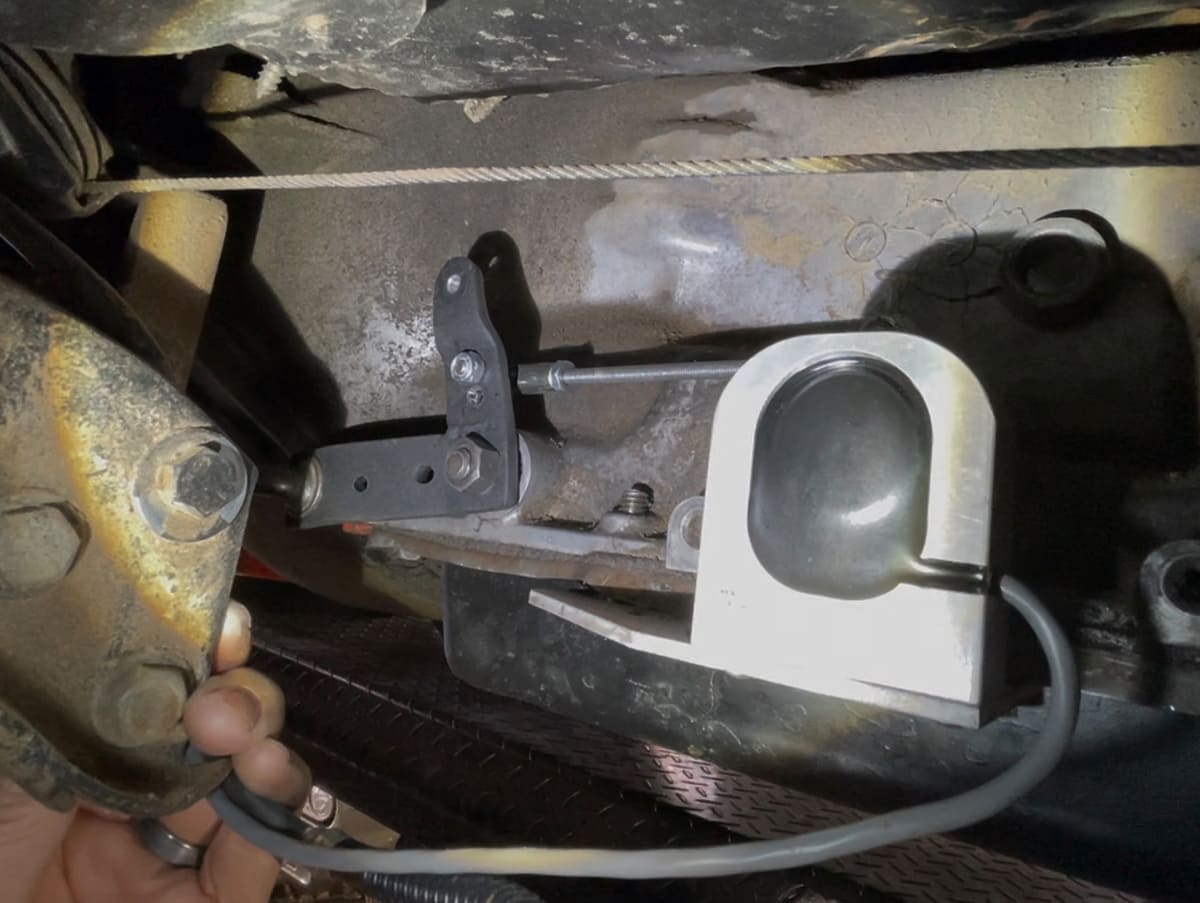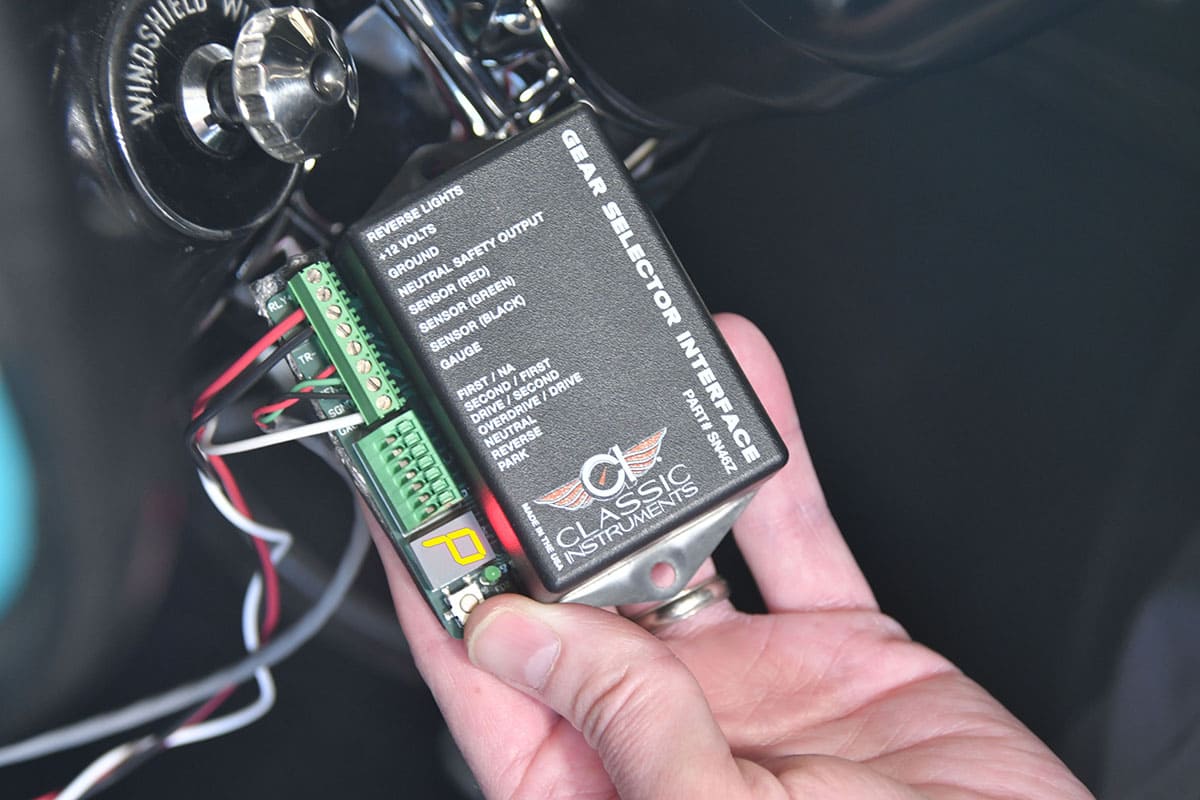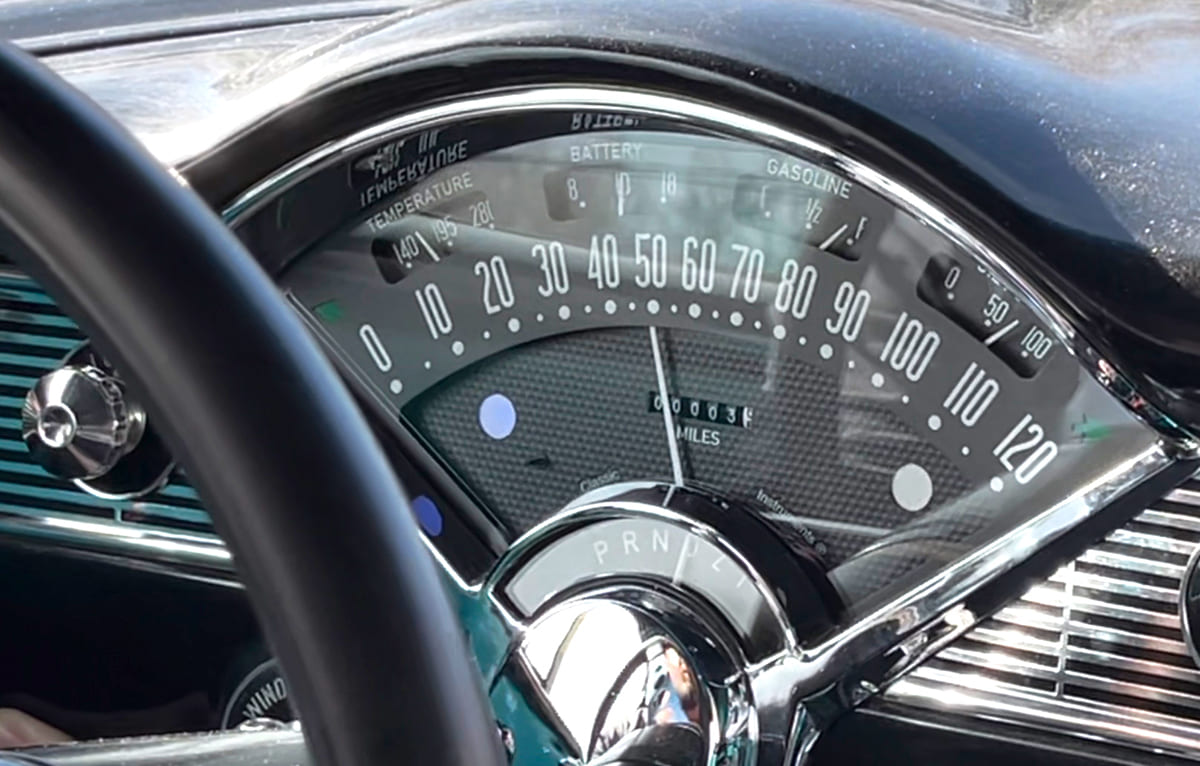 SOURCE:
Classic Instruments
(844) 342-8437
classicinstruments.com