Nelson Banuelos' 1967 Camaro
By Nick Licata   –   Photography by Grant Cox
Nelson Banuelos came from a car background that began about the time he started his first job. But his automotive roots weren't planted in the muscle car world as much as they were in the lowrider scene. His first restoration was an 1985 Oldsmobile Cutlass that was built as a lowrider. A few cars and trucks followed in that same vein. Years later he attended The Darryl Starbird Classic Rods & Custom Car Show and was exposed to the Pro Touring build style for the first time. It was a first-gen Camaro that made a huge impression on Nelson, so much so that he instantly fell in love with the look, the style, the power, and everything about that car. To him it was new, it was fresh, and he had to build one.
He put up a flare among his car buddies to let them know he was on the prowl for a '69 Camaro he could turn into a car just like what he saw at the Starbird show. "A good friend knew I was looking for a 1969 but came across this 1967 back in 2016," Nelson reveals. It was in good, restored condition, and it wasn't too far away."
Nelson bought the car even though it wasn't a '69, but he liked it just the same. Not long after, he got together with Mike Redpath at Musclerodz & Customz in Washington, Oklahoma, to start the Pro Touring upgrade process. First to go in was a Ridetech coilover suspension with Wilwood disc brakes. Musclerodz welded in mini-tubs to accommodate a set of 18-inch Forgeline DE3C Concave wheels, and fat BFGoodrich rubber. Nelson was digging the direction of his new ride and drove it in that configuration for a few months. Come 2017 it was time for some more upgrades. "The automatic transmission wasn't cutting it any longer, so I headed back to Muslclerodz and had Mike install a TREMEC T56 six-speed trans, Moser 9-inch rearend, and a few other drivetrain mods," Nelson says. "I just had to have a manual transmission setup with overdrive."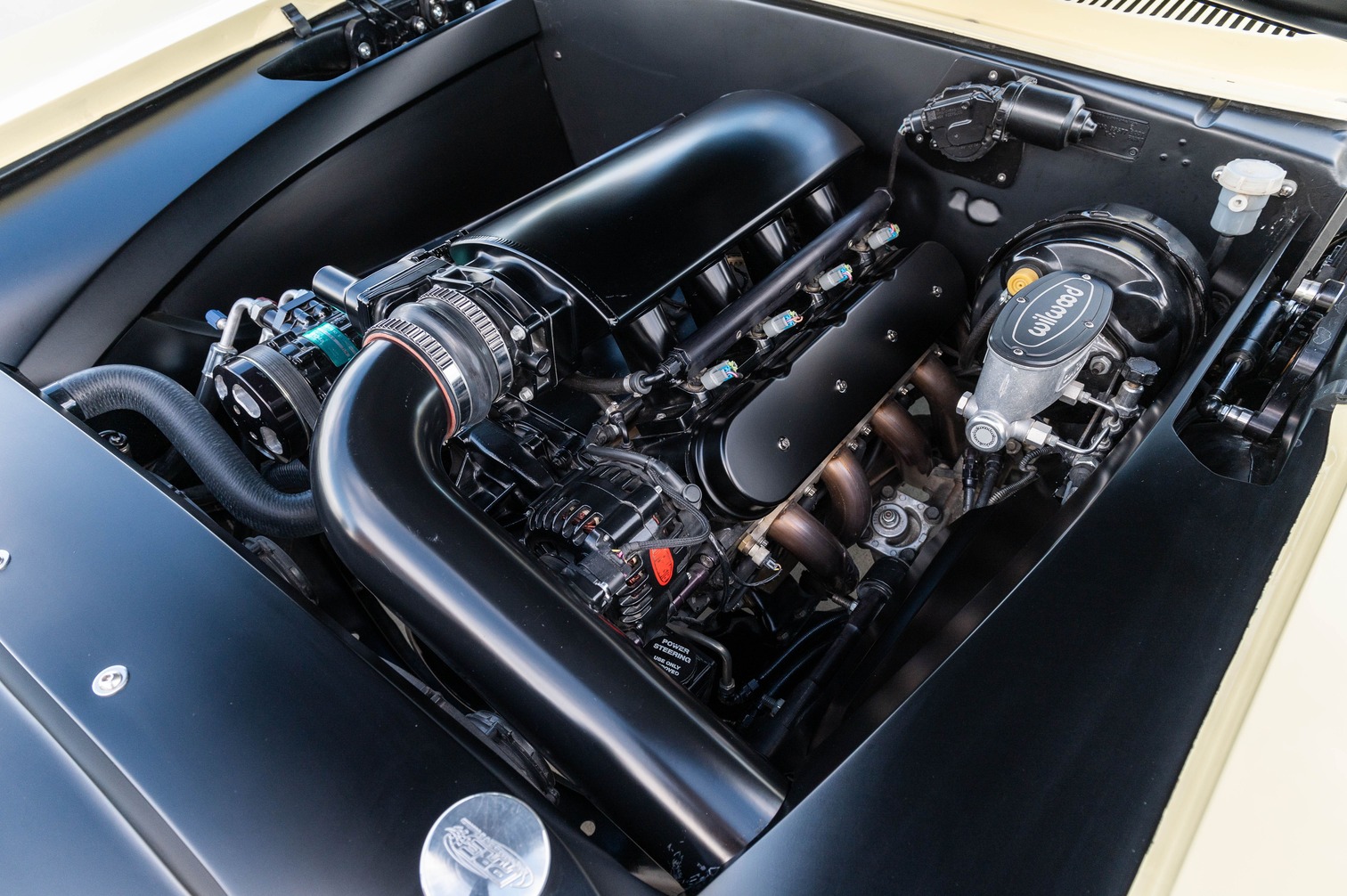 In true hot rodder fashion, Nelson wanted more power for his ride. The small-block was fine for a while, but a true Pro Tourer requires some modern power and driveability. "In 2018, I headed back to Musclerodz to have Mike and the crew drop in an LSX454," Nelson confesses. "Mike surprised me and brought the car to the 2019 Dallas Goodguys show fully built and ready to go. That was an amazing day and one I'll never forget."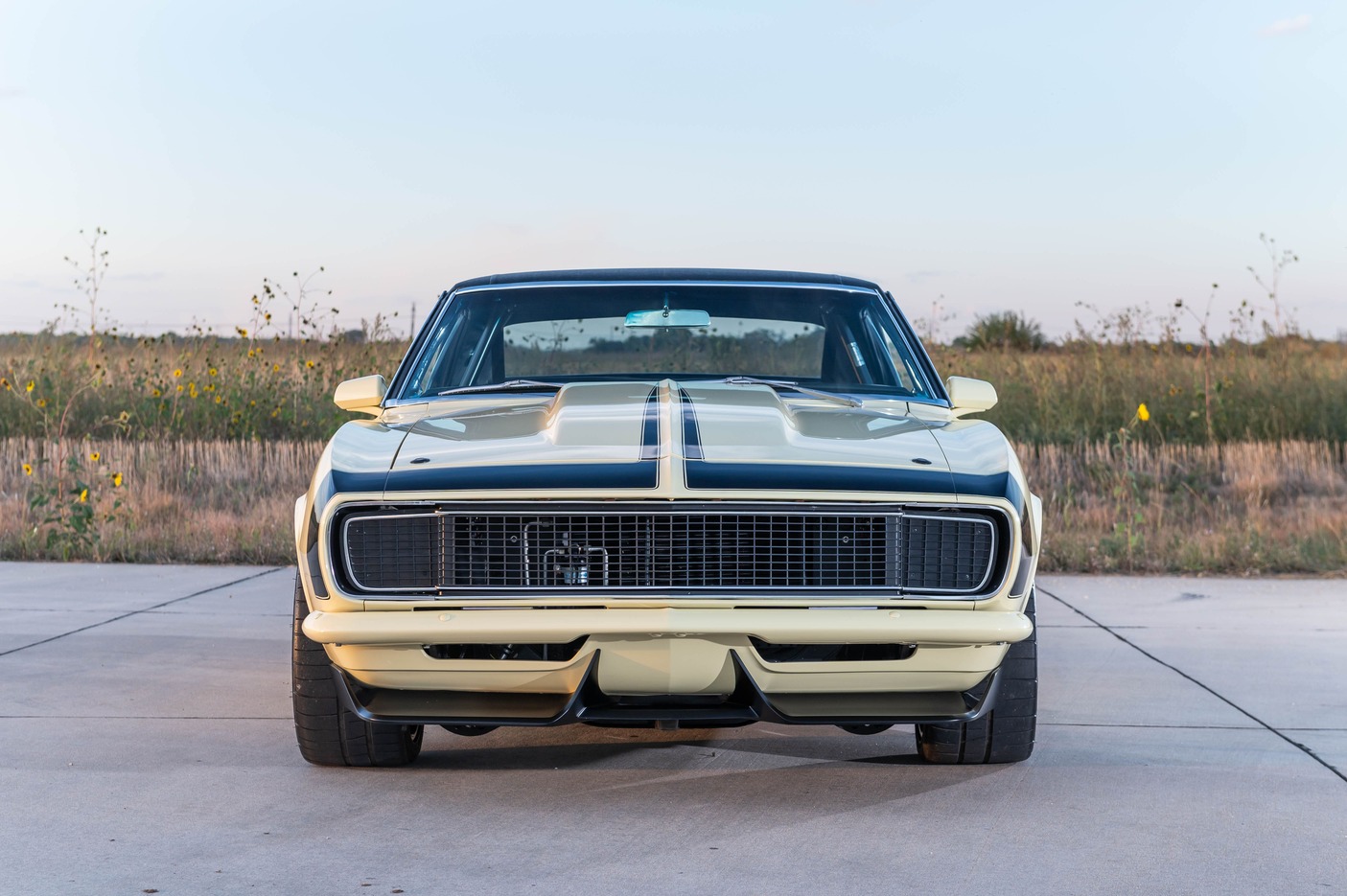 Check out Mike Fisher's 1967 Camaro: Wild Fully Customized Pro Touring 1967 Camaro
Nelson enjoyed the ride for about a year before COVID-19 hit and the car show scene was canceled. That left time for a full-on, ground-up redo. So, he conveyed his vision to Mike on where he'd like to go with the car who then enlisted his son Michael to whip up a rendering that was spot-on; Nelson liked what he saw. With artwork in hand, Nelson headed over to the RestoMod Store in Lee's Summit, Missouri, for the intricate transition.
The RestoMod Store crew got busy stitching in new quarter-panels and added some custom nuances in line with the rendering, which included a host of one-offs: custom front valance and one-off spoiler, custom rear spoiler, side skirts, notched and tucked bumpers, and fabricated rear valance for the custom dual exhaust tips. Heading back to the engine bay, the custom fabrication continued with a smoothed firewall and one-off inner fenders and closeout panel–all black for a mischievous appearance. Returning to the exterior, the sheetmetal was smoothed to perfection in preparation for a dousing of Axalta Butternut Yellow.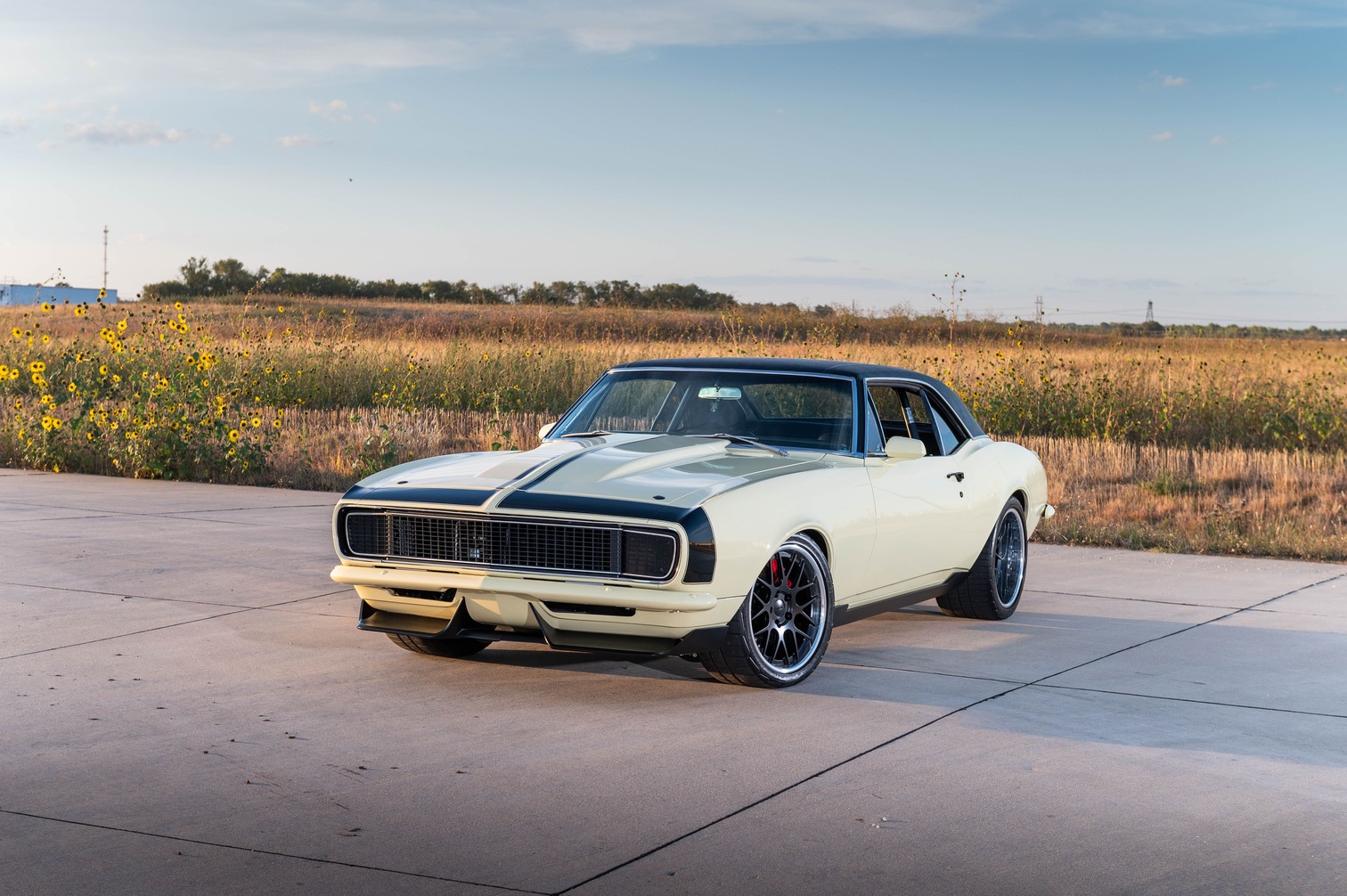 "When I first bought the car, I knew the Butternut Yellow paint had to go, but here we are with a fresh coat laid down by the RestoMod crew," Nelson laughs. "I grew to like it because it's not a color you see too often, and with the addition of bumble bee black hood stripes and the black vinyl top, it just works."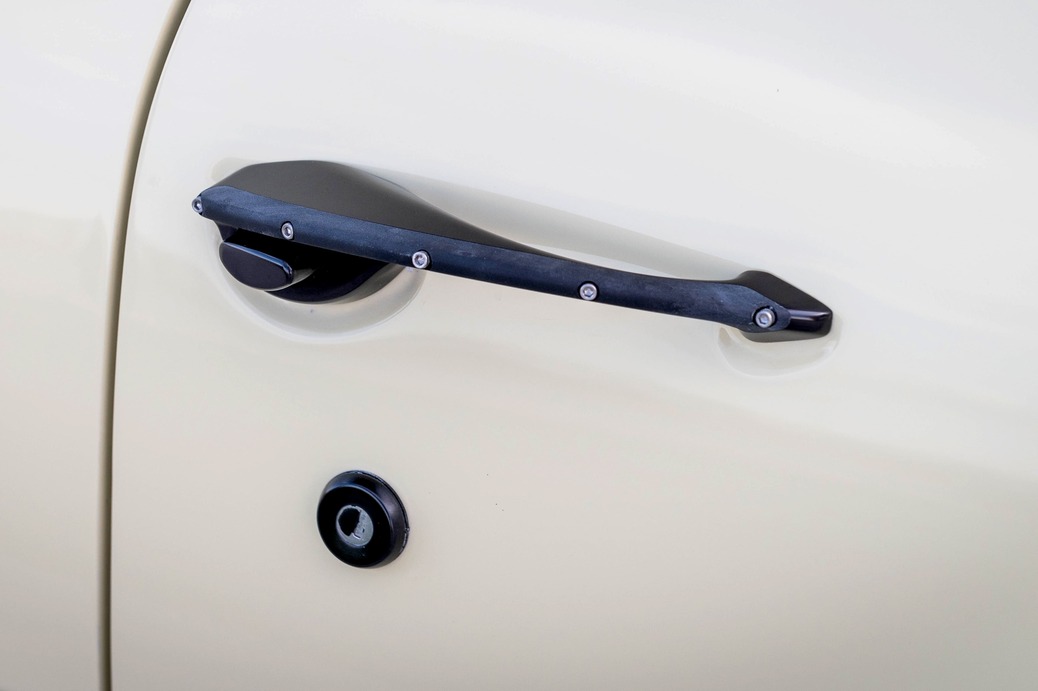 The refinement continued with Ringbrothers hood hinges and door handles, BBT Aero side mirrors, Dapper Lighting headlights, and Eddie Motorsports billet taillights with LEDs out back. It all gives the vintage Camaro a taste of modern style and functionality.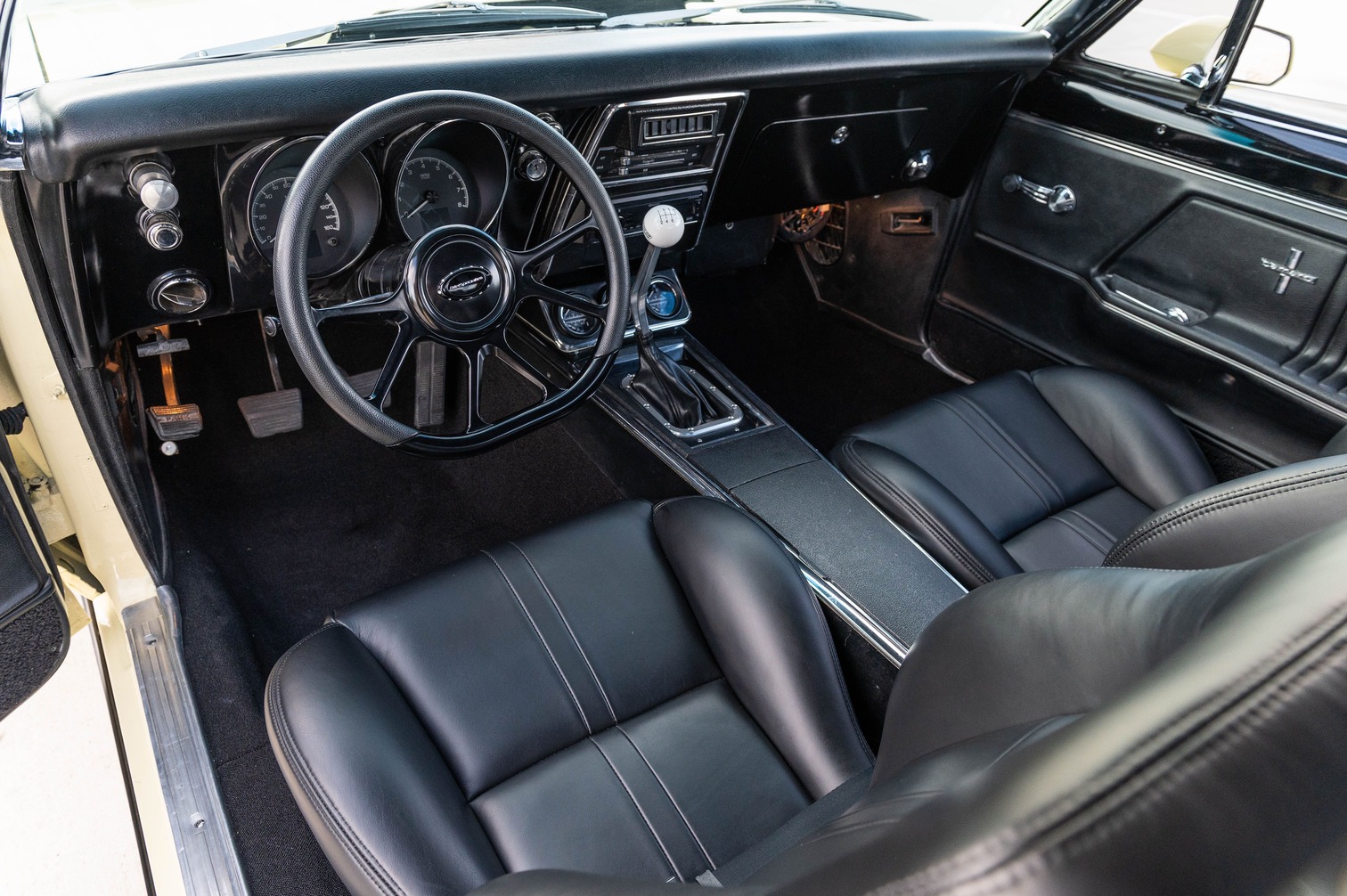 Fond of the original GM interior, Nelson stayed with the stock door panels and dash yet upgraded accordingly to fulfill the modern Pro Touring vibe. The aforementioned stock dash now houses Dakota Digital gauges for vital engine information, and a Ridetech Tiger Cage was bolted in for additional safety.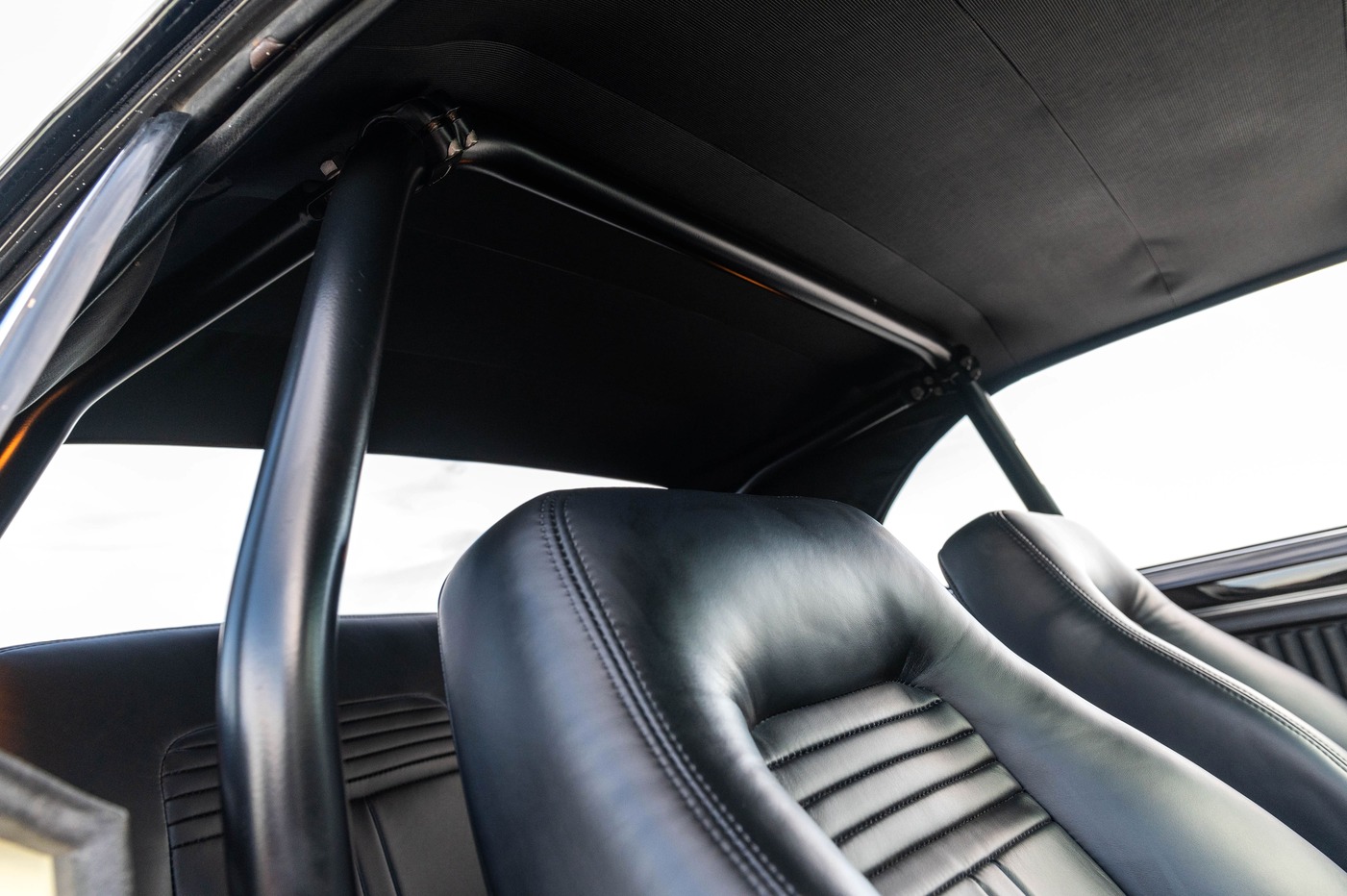 Check out this Camaro: Restored 1968 Chevy Camaro 350ci Muscle Car
Plum Crazy Kustom wrapped the Procar by Scat Elite bucket seats in Relicate black leather then laid down the Relicate Daytona black loop carpet for a combined performance and stylish approach.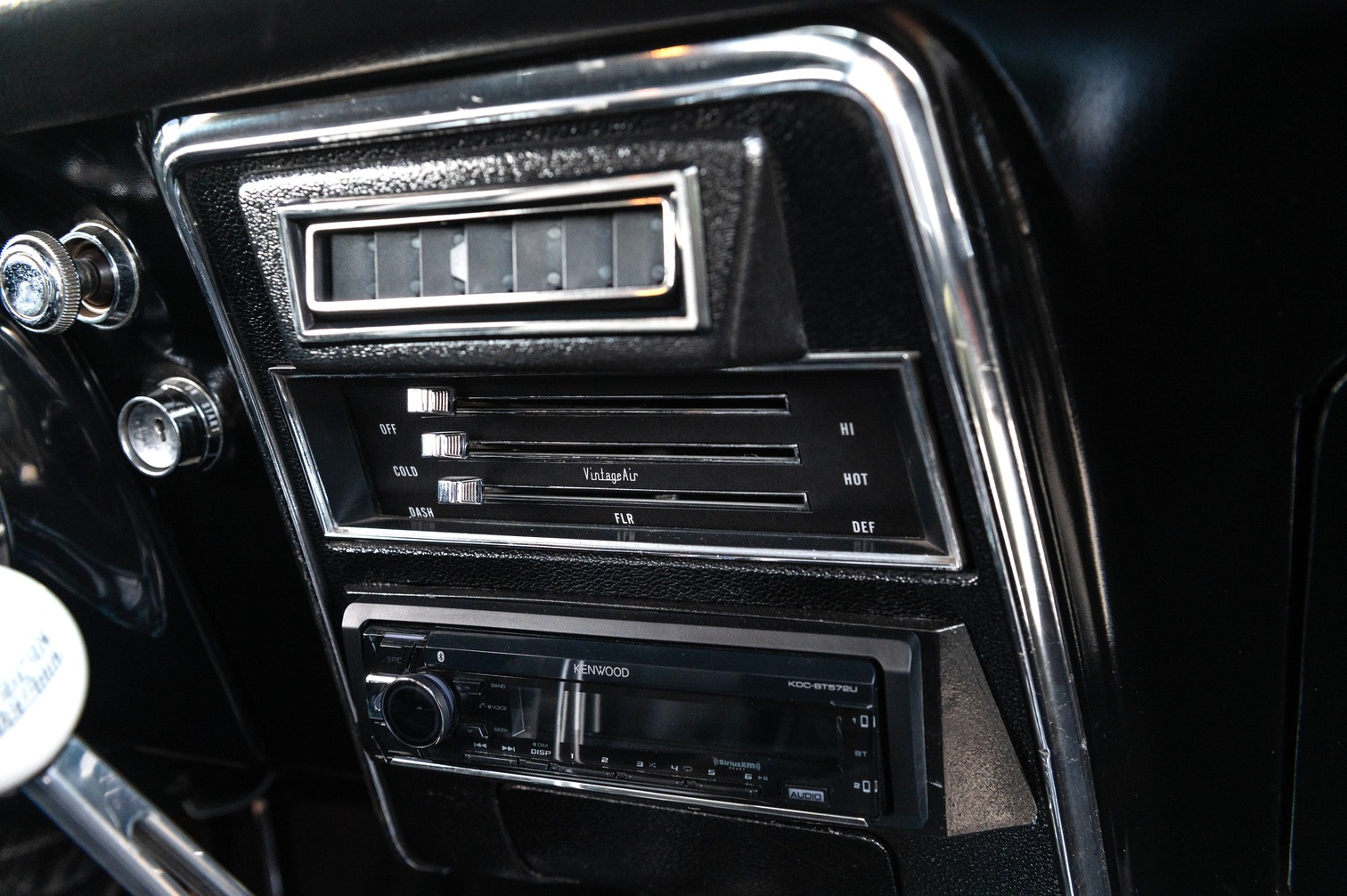 A comfortable climate comes by way of the Vintage Air HVAC system with tunes provided by a Kenwood sound system outfitted with Rockford Fosgate 5×7-inch speakers tucked in the kick panels and a 12-inch sub in the trunk. The Install Connection in Wichita, Kansas, took the honors of the installation process.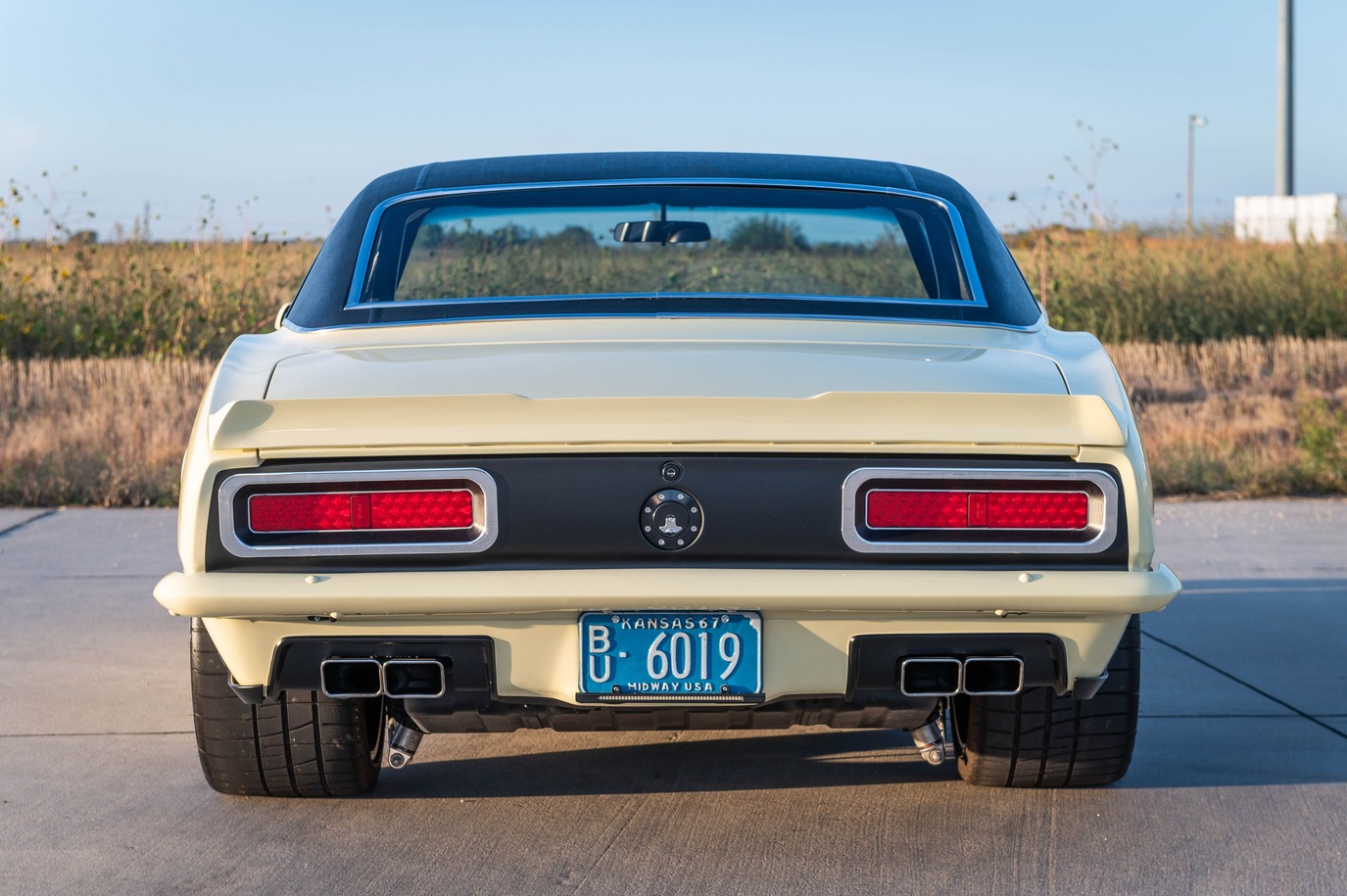 The six-year process had its ups and downs, but overall, Nelson couldn't be more thrilled with the outcome. "So far, the best experience I've had with the Camaro is taking my wife and kids to car shows in it," Nelson says. "My kids refer to it as a 'taxi' due to the yellow paint, but I nicknamed the car 'Butternut 67' which is totally fitting."
Although Nelson's early days of car building started with a different genre, he's still fond of lowriders, as that's where he got started in the car hobby, but the performance and driveability of his Pro Touring Camaro takes the thrill of driving to another level.
TECH CHECK
Owner: Nelson Banuelos
Vehicle: 1967 Chevy Camaro
Engine
Type: Chevrolet Performance LSX454
Displacement: 454 ci
Compression Ratio: 11.0:1
Bore: 4.185 inches
Stroke: 4.125 inches
Cylinder Heads: Aluminum LSX-LS7 port with 70cc chambers
Rotating Assembly: 4340 forged steel crankshaft with eight-bolt flange, 4340 forged steel connecting rods, forged aluminum pistons
Camshaft: Hydraulic roller (0.648 lift, 236/246 deg. duration at 0.050)
Induction: Precision Metal Craft intake
Assembly: Musclerodz
Exhaust: Hooker headers, custom 2.5-inch stainless steel exhaust by Musclerodz, Borla Pro XS mufflers
Ancillaries: PRC aluminum radiator, Ringbrothers hood hinges, Rick's Tanks 21-gallon tank, Wegner front drive system
Output: 627 hp and 586 lb-ft
Drivetrain
Transmission: American Powertrain TREMEC T56 six-speed
Clutch: Centerforce Twin Disc DYAD
Rear Axle: Moser 9-inch rearend, Truetrac limited-slip differential, GM 3.70 gearset, 31-spline axles
Chassis & Suspension
Chassis: Stock
Front Suspension: Tubular upper and lower control arms, Ridetech double-adjustable shocks, Ridetech springs, Detroit Speed rack-and-pinion steering
Rear Suspension: Ridetech four-link suspension system, Ridetech coilover double-adjustable shocks, Ridetech springs
Brakes: Wilwood 14-inch rotors, six-piston calipers front, Wilwood 14-inch rotors, four-piston calipers rear, Wilwood master cylinder, GM booster, Wilwood proportion valve
Wheels & Tires
Wheels: Forgeline DE3C Concave black inner with polished outers (18×8 front, 18×11 rear)
Tires: BFGoodrich g-Force Rival; 265/35R18 front, 315/30R18 rear
Interior
Upholstery: Black Relicate leather, Relicate black loop carpet
Installation: Plum Crazy Kustom (Haysville, KS)
Seats: Procar by Scat Elite bucket seats
Steering: Stock steering column, Billet Specialties steering wheel
Shifter: American Powertrain
Dash: Stock
Instrumentation: Dakota Digital
HVAC: Vintage Air
Rollbar: Ridetech Tiger Cage by Musclerodz
Entertainment System: Kenwood head unit with Rockford Fosgate 5×7-inch speakers, 12-inch sub
Sound System Installation: Install Connection (Wichita, KS)
Exterior
Bodywork and Paint: RestoMod Store (Lee's Summit, MO)
Paint: Axalta Butternut Yellow
Front Bumper: Stock, tucked
Rear Bumper: Stock, tucked
Headlights: Dapper Lighting
Taillights: Eddie Motorsports LED
Side Mirror: BBT Aero
Door Handles: Ringbrothers
Glass: Smoked
Body Mods: Custom rocker panels, custom front valance and spoiler, custom rear valance and spoiler, custom engine bay panels by RestoMod Store