A 1965 and a 1972 Chevy pickups Make for a Dynamic Duo of Muscle Trucks to keep this Mechanic Ramblin'
By Scotty Lachenauer – Photography by the Author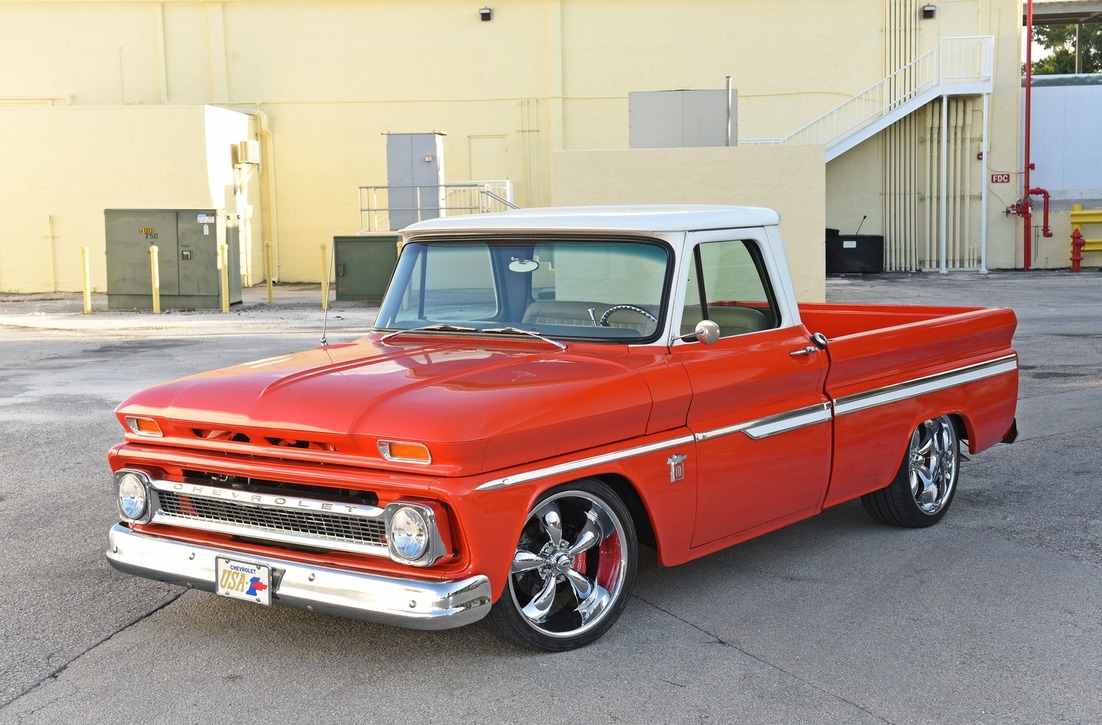 When Vic West was a kid growing up in South Florida, he would stare out the window during high school class and daydream about the myriad of muscle cars patrolling the local streets. "The rich kids down here had all the best cars; from Corvettes to Shelby Mustangs, with even a few Cobras mixed in. The quality was there for sure. When I got my license, it made me want to get some streetable power to call my own," states Vic. And the pair of C10 Chevy pickups gave him a dynamic duo with all the power he would need.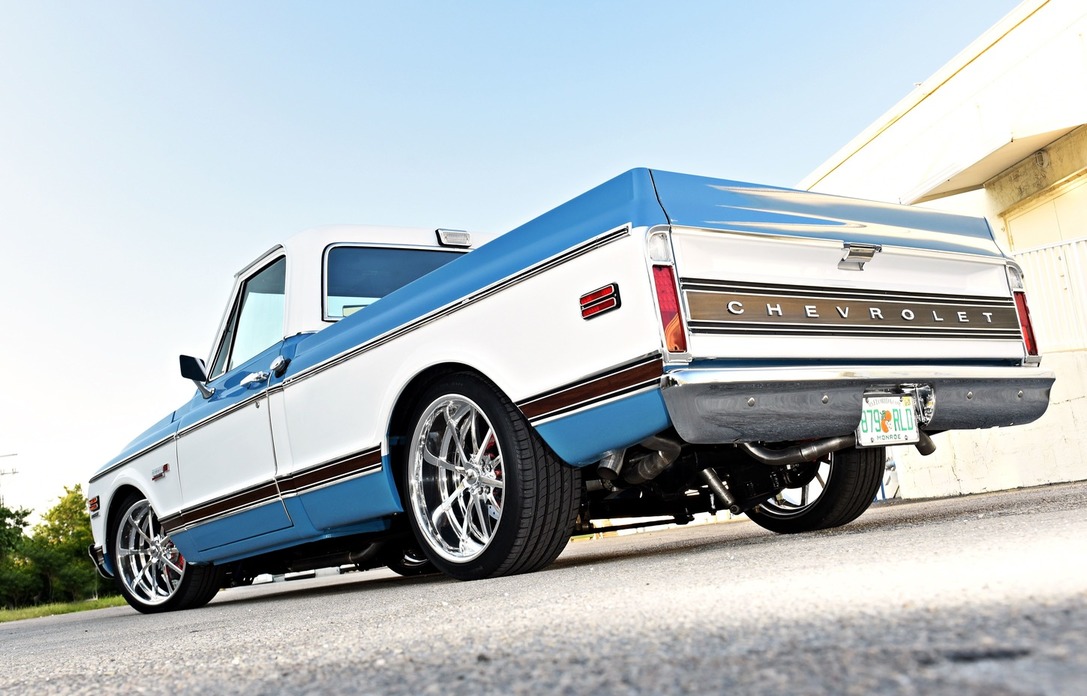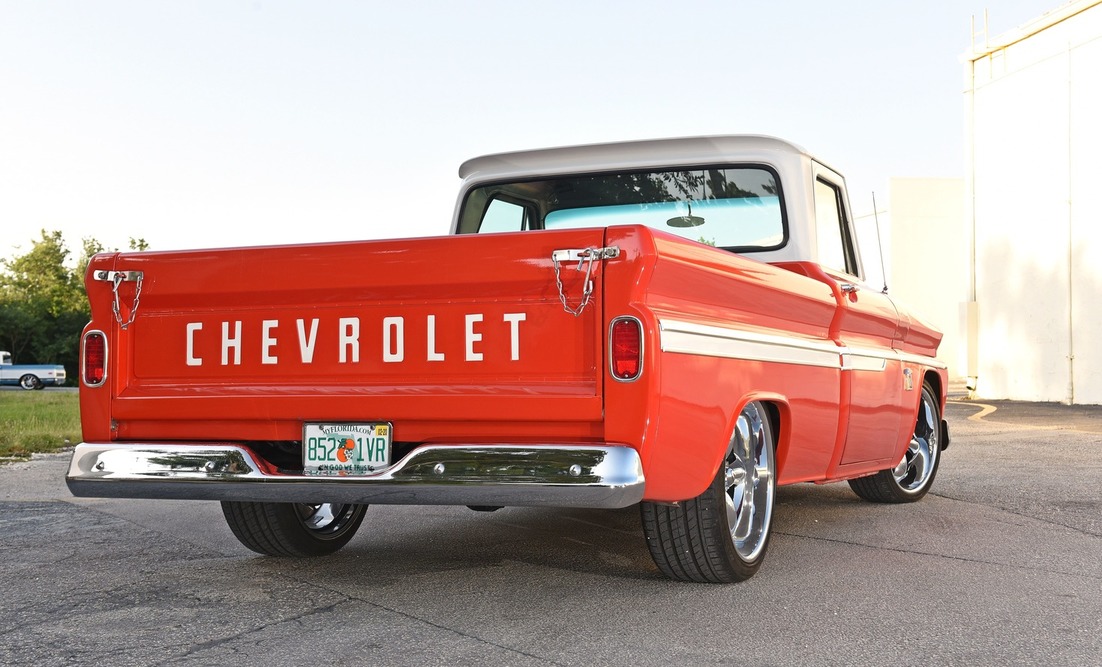 But unfortunately, the young, hot rodder in training didn't have the mammoth-sized wallet he needed to procure such non-obtainable treats. "We grew up really poor, so I had to work hard and save just to get my first ride. I went with something that was cheap, had some power, and a vehicle I could use to make money with. I bought a pickup," says Vic.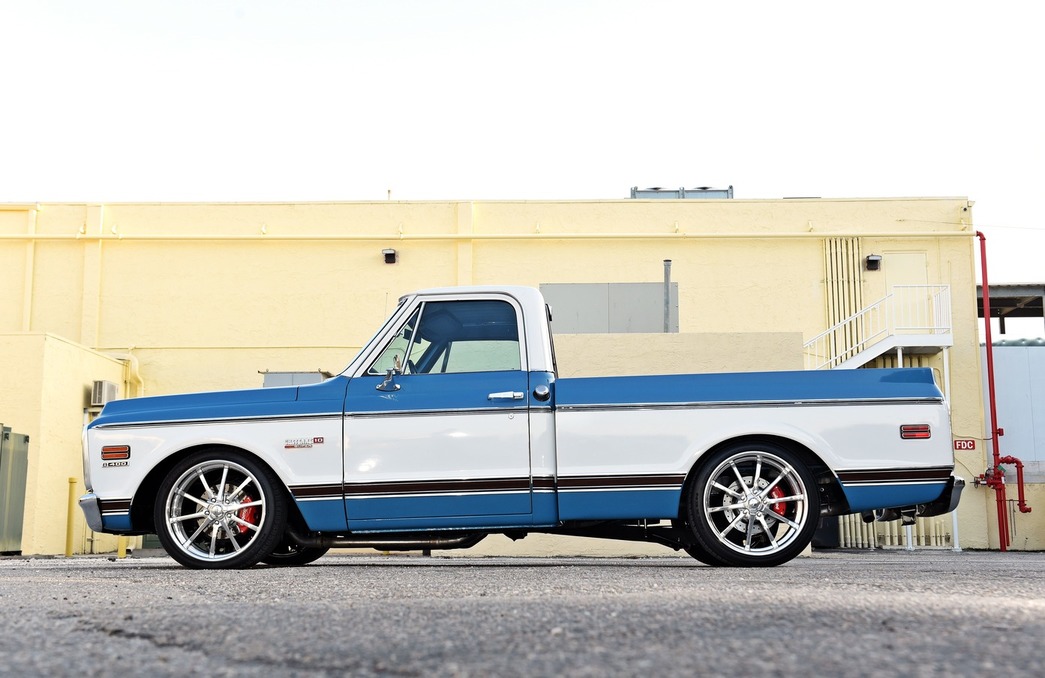 That first ride in question was a 1973 F100 that had seen much better days but was still in good enough condition to run for a few more. "I immediately did mods that I could afford on my small budget, like cutting off the exhaust to install a set of glass-packs, adding some used chrome reverse wheels to the corners, and doing some easy engine upgrades to the 302ci power plant," says Vic.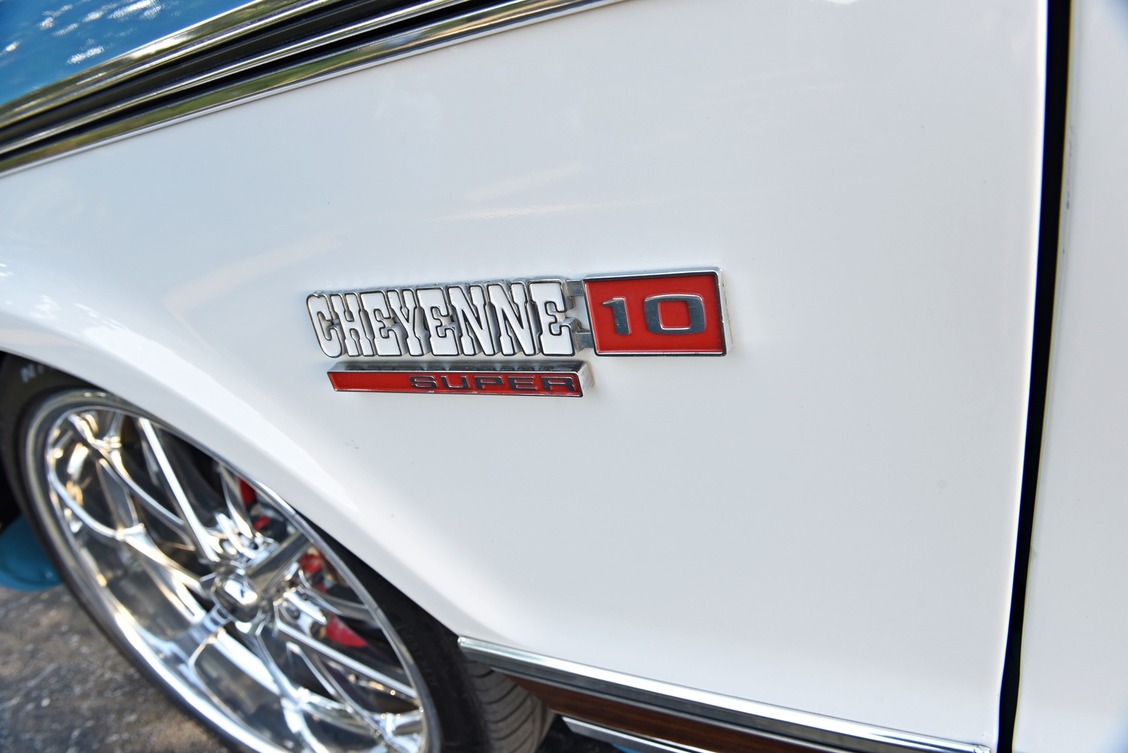 From that first purchase there would be a succession of bedded hot rods in Vic's garage space. With each purchase the young gun upgraded his daily ride, slowly moving up the ladder of power and quality. Vic was working on his mechanical skills as well, which would one day help him out in his chosen profession as an ace mechanic and shop owner in the paradise that is the Florida Keys.
A big change came his way after owning a few Blue Ovals. "In 1979 I purchased my first C10, and from then on, Chevy would be my brand of choice and the sole manufacturer I would pursue and purchase," says Vic. There would soon be a steady parade of bedded Bowtie's through his ample garage space, and he's never looked back. Right now, these trucks are just two of the many C10s in his possession, and they are the pair of rides that occupy the main stalls in his vast stable. Let's look at this perfect pair of Chevy trucks.
1965 Chevy C10
This "Cardinal Red over Cameo White" motif stunner came to Vic through a Craigslist ad. "I bought it out of Northern Florida. The paint wasn't too bad, and the body was clean; but it had driveline issues like a blown transmission and had no brakes. It was a project from the start without question. It also came with factory air conditioning which is pretty rare for this model," says Vic.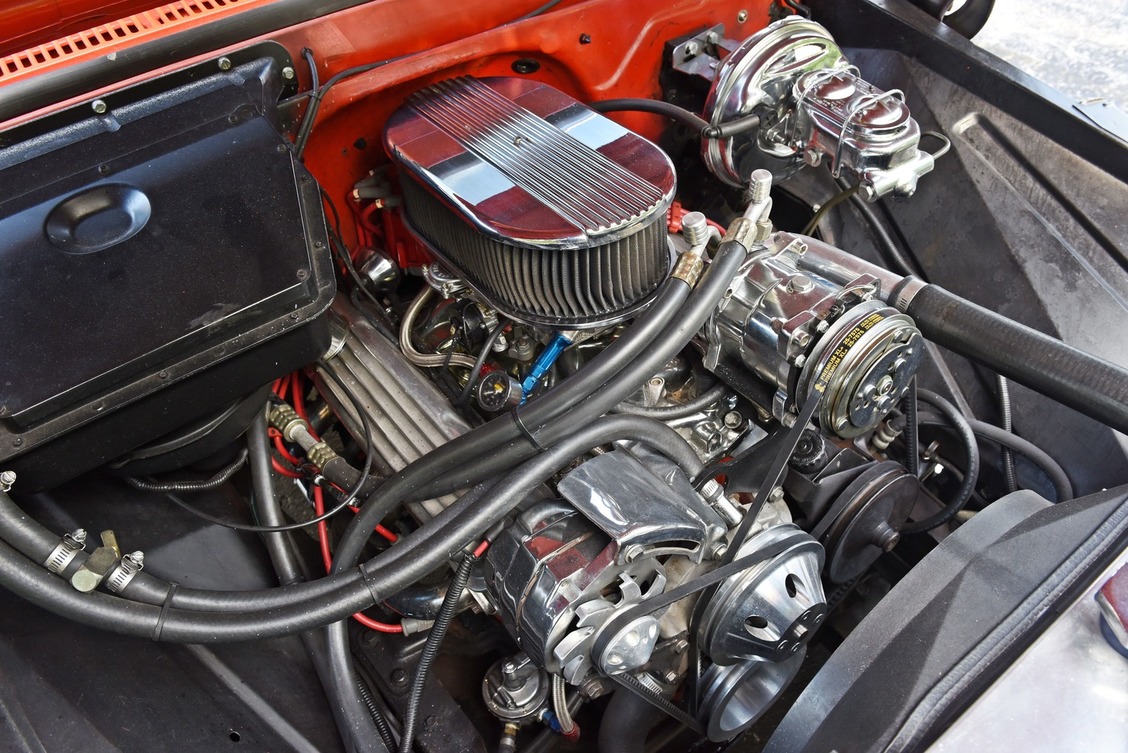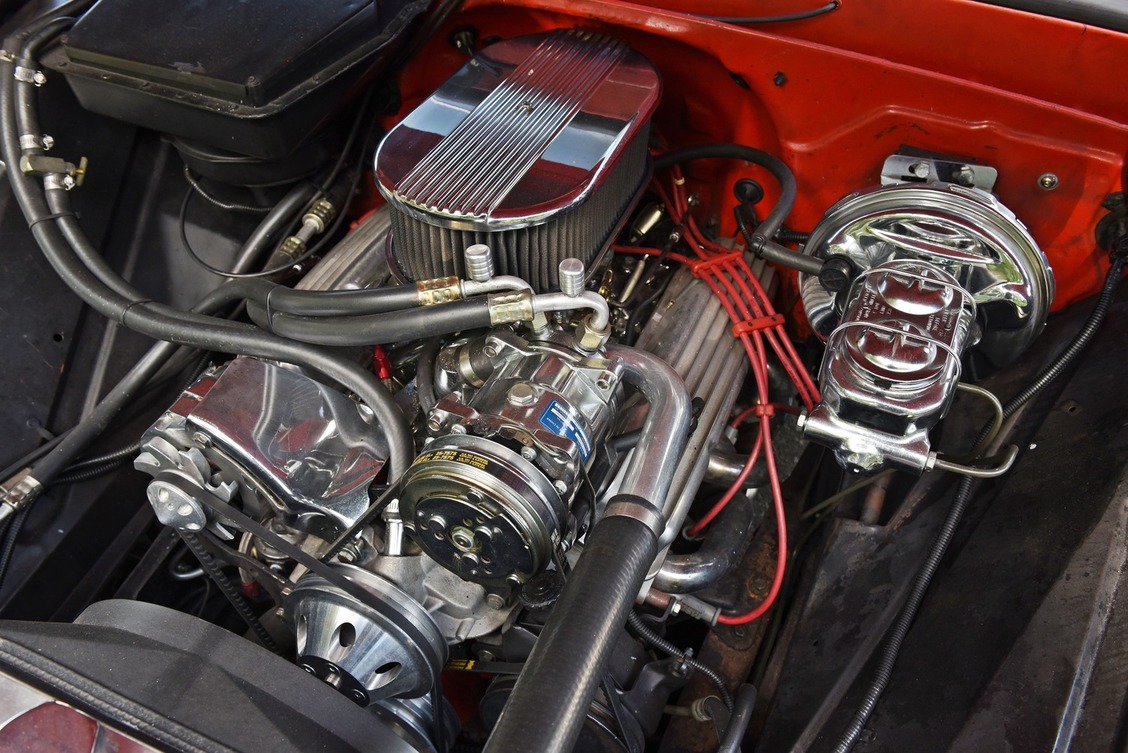 First thing Vic handled was the drivetrain, pulling the needy 327ci small-block it came with, then installing a Blueprint Engines 383ci stroker; built with an Edelbrock Performer intake topped with a Holley 650cfm carb. An ATI ignition handles the spark and Smithy headers feed a pair of Flowmaster Super 44 mufflers out back. To get through the gears, a built Turbo 400 with a 3000-rpm stall converter handles the duties. Power is sent out to a healthy GM 12-bolt Posi built with Auburn 3.57 gears.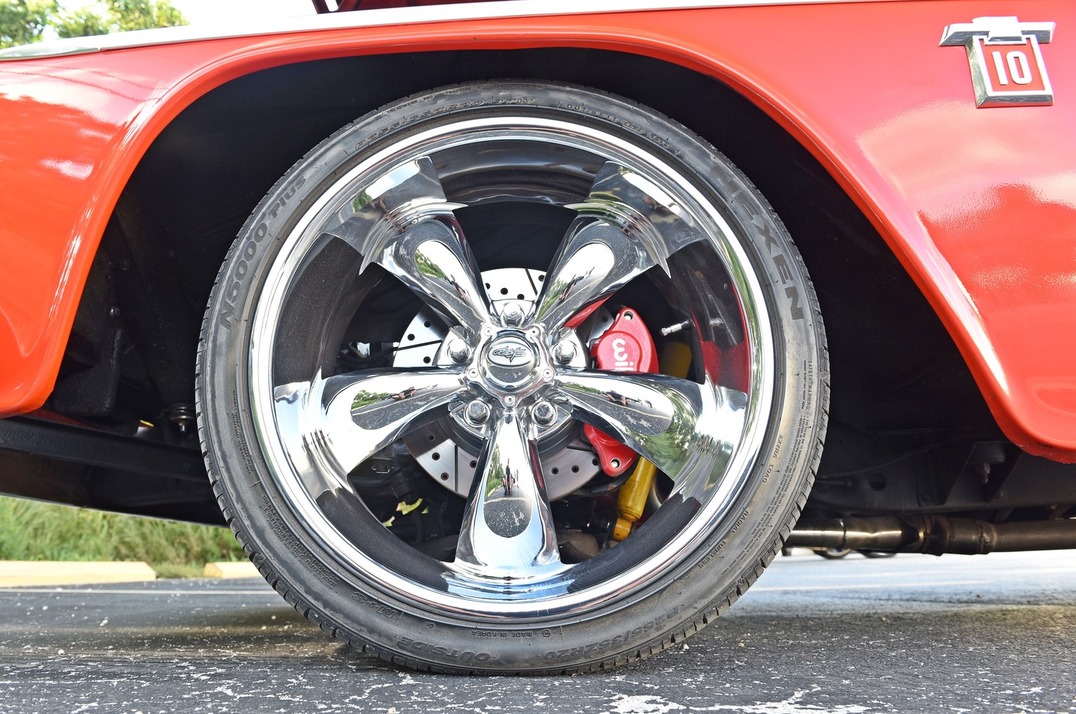 To get the stance that he wanted, Vic installed a Classic Performance Parts front end kit, which came complete with 3-inch lowering springs and 2-inch drop spindles. CPP shocks and sway bar finish-off the suspension add-ons up front. In the back, Belltech springs, shackles and shocks give the truck a 6-inch drop and just the right ride height with a touch of rake. Wilwood disc brakes supply the stopping power at the corners and are pushed by an 11-inch booster out of a 1970 Chevelle. For a little bling Coys Wheels; 20×8.5 up front and 20×10 in the rear fill up the wheel wells. They are shod in Nexen rubber; 245/40/20 and 275/40/20 respectively.
The interior starts around a bench seat from a '91 Silverado which was re-covered in ostrich skin. To keep this truck pointed in the right direction, a Billet Specialties steering wheel is mounted to the stock column and is assisted by a power steering set-up from a 1987 C10.  The beforementioned air conditioning is still there, now pushed by a Sanden compressor. AutoMeter gauges help keep track of the truck's vitals on the dash. The armrests are courtesy of an old Volkswagen!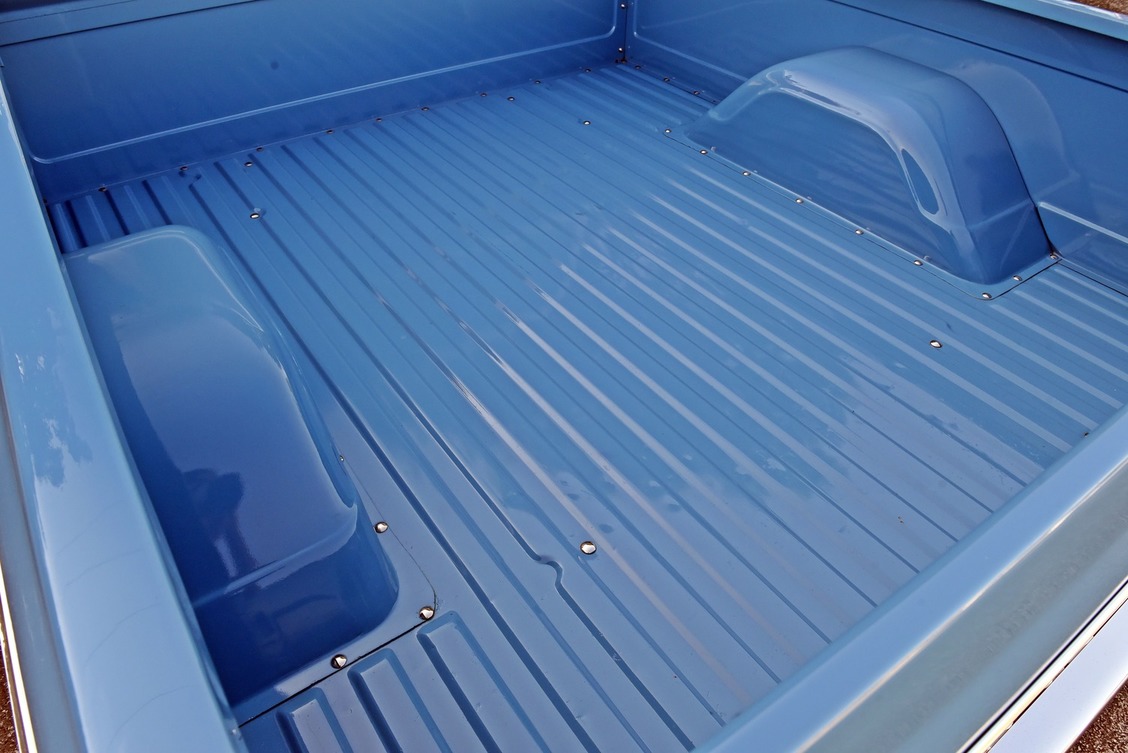 The bed was redone with an oak plank kit from Classic Truck Parts and uses stainless trim between the boards. Vic was lucky that most of the original body moldings and trim on this truck came to him in good shape including the bumpers, so aesthetically only a good polishing was needed to bring them back to life. Vic finished off the truck with a cut and buff of the paint which really helped set off this spectacular C10.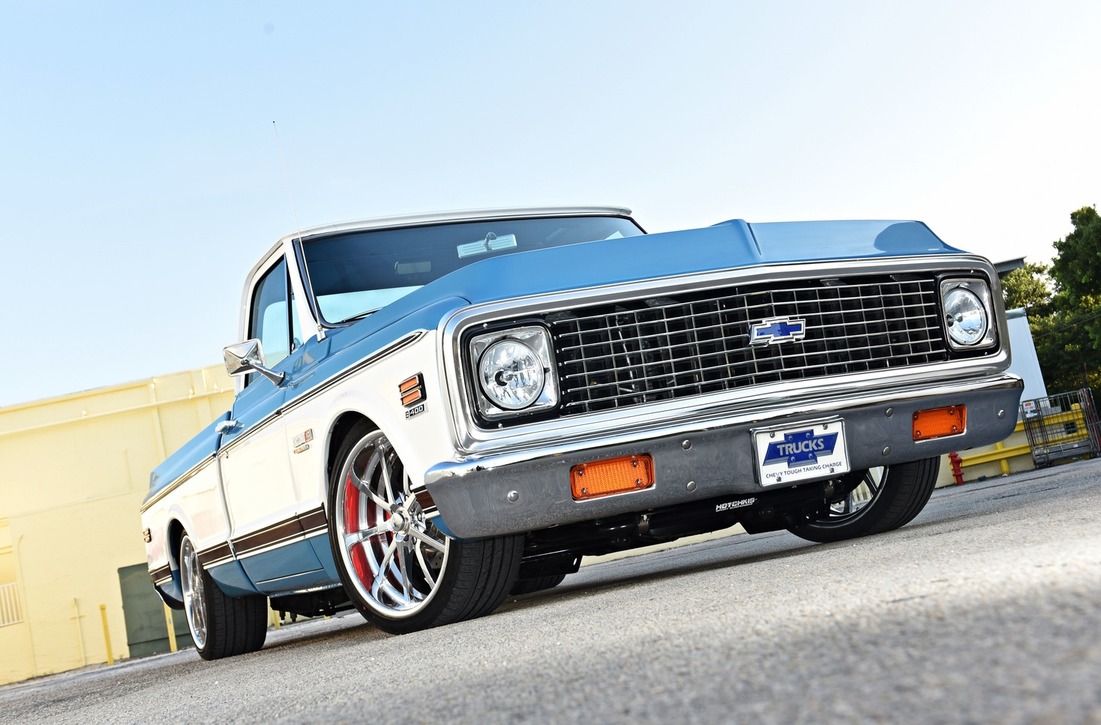 1972 Chevy Cheyenne Super
This top of the line pickup took a while for Vic to seal the deal on. "I saw it at the Turkey Rod Run in Daytona, Florida. Out of 1600, vehicles in the car corral, this one just stood out for me", says Vic. For four days straight at the show he couldn't get the owner to make a deal with him, but somehow convinced him to sell it to him once the truck went back to its home in Nashville. After meeting the seller halfway in the middle of Georgia, Vic loaded up the truck and headed back to the Keys. Once back home, he tore into the Cheyenne to see exactly what he had just purchased.
"These trucks came loaded, so I got a 402 big block, ac, factory tilt and buckets with this one. The paint was fresh and the interior was in amazing shape, so I dug right in on the mechanicals, which soon showed a big issue," says Vic. A rod knock forced him to remove and put aside the drivetrain (was going to happen sooner or later anyway). In its place he installed a fresh GM 572ci crate motor rated at 620hp right out of the box. "There's no replacement for displacement," was Vic's battle cry. A Quick Fuel 750 cfm double pumper feeds this truck the go-juice it needs. A TCI 700-R4 good for 650hp backs up this beast and feeds another GM 12-bolt Posi rear stuffed with 3.08 gears.
Trying to get this big-block behemoth to come to a stop was a challenge, so Vic ordered up a complete set of Wilwood disc brakes. Since the 572ci mill didn't make enough vacuum, he opted for a Hydroboost by Hydratech brake set-up, which is run with a Saginaw pump. Now the big front 11-inch rotors and the rear 10-inch set out back get plenty of pinch from the four-piston front and two-piston rear calipers respectively. Stance was supplied by Belltech springs, spindles, shocks, and shackles, giving the truck a 5-inch drop up front and a 7-inch out back.
The body is purely stock and was repainted its original Medium Blue and White motif before purchase. The interior was restored with only a few small changes. "There's a Flaming River tilt column along with a Billet Specialties steering wheel. The upholstery is stock and appears to be the original skins, which are in amazing shape. Besides those pieces and the Blaupunkt stereo, the interior is the way it left the factory," says Vic.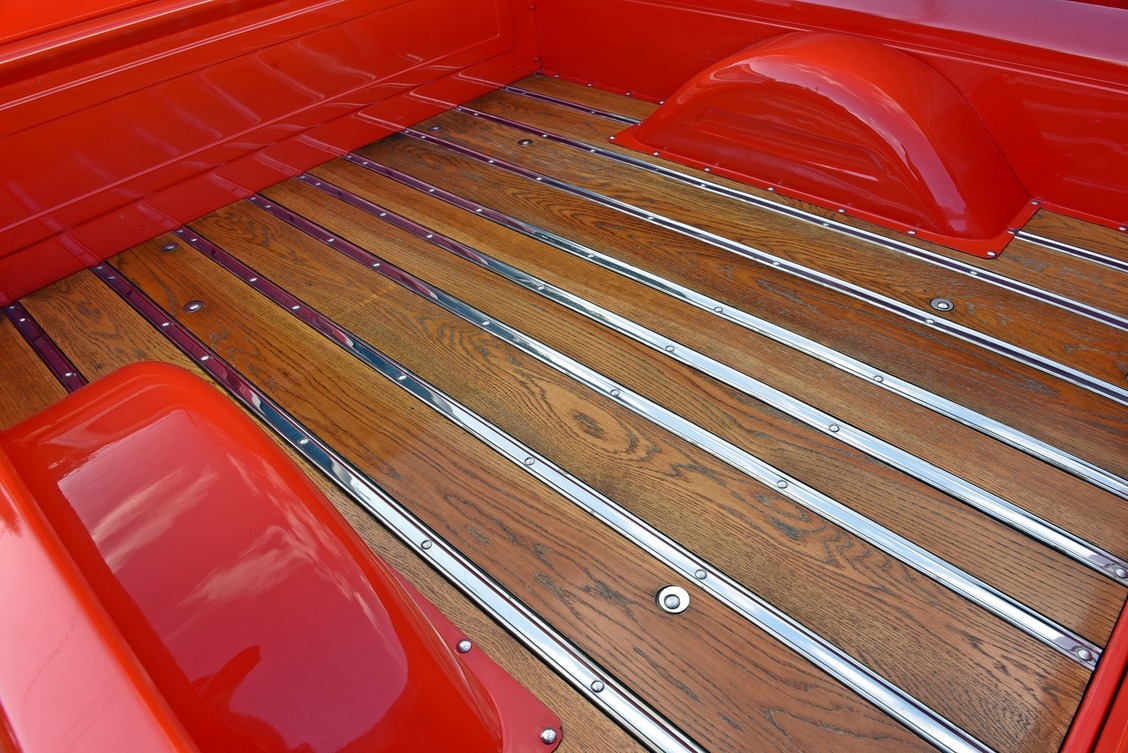 The bed is painted with marine grade paint and stainless-steel carriage bolts were used for a different look and corrosive resistance. "The inner fenders are held on by button-top stainless bolts," says Vic. Flowmaster Sniper 10s give the truck a healthy, muscular tone, and Vic buried the tips just behind the rear bumper for a cleaner look.  Wheels are Billet Specialties; 20×8 up front and 20×10.5 in rear and they are shod in Nexen rubber as well, using 255/35/20 and 275/35/20 pairings respectively.
Since completing both trucks Vic has given them ample road time out on the blazin' hot streets of the Keys. However, he's also got mucho other bedded hot rods just waiting for their turn as well. "I've got other iron s the fire as I'm working on nine trucks as we speak. They are other C10's, along with some Chevy trucks from the '50's through the '90's," says Vic. "I obviously have a lot of trucks, but when it comes down to it, the C10's are still my favorites". CTP
A Pair of 10's Wrapped up in These Chevy C10 Pickups