Mike Everett's Patina 1967 Nova
By Nick Licata   –   Photography by Wes Allison
"Patina [puh-tee-nuh]. A surface calcification of implements, usually indicating great age." That's one definition found on dictionary.com, although when it comes to vintage cars we'd likely include the word "cool" to said definition. It would make that interpretation a more accurate description regarding the finish on Mike Everett's '67 Chevy Nova.
There's been quite a bit of hoopla regarding patina cars these days, and although it's nothing new, many car guys have gone through great lengths to emulate the aging process via unauthentic means. Although we appreciate those efforts, Mike's '67 scored its natural finish by sitting in the previous owner's Moreno Valley backyard for the past 30 or so years. The Southern California town sits about 60 miles east of Los Angeles and is known for its relatively dry, desert climate, which is favorable for preserving vintage cars–even those sunbathing outdoors for decades.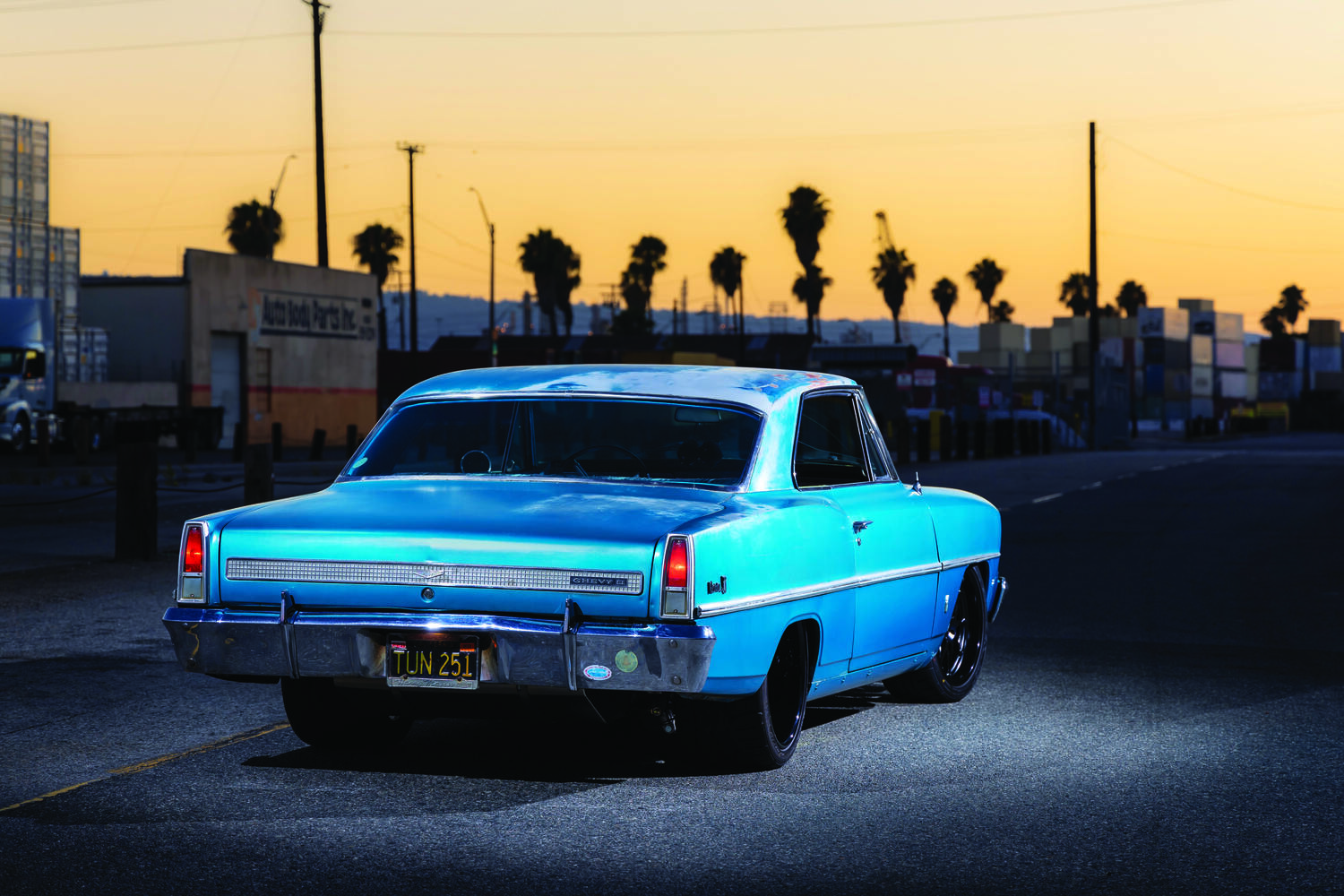 "I found the car on Craigslist and consider it a very lucky buy," Mike reveals. "The car had been sitting in the guy's backyard since 1989. It was a totally original six-cylinder car that had great patina and little rust—it had aged like a fine wine. I brought it home and gave it a little detail and it cleaned up. From there, I put it in the garage and started ordering parts."
It was a Nova of another vintage that introduced him to the car scene. "My neighbor had a 550hp '70 Nova and gave me a ride when I was 17, from then on, I was hooked," Mike reveals. "I saved up enough money for a '64 Chevelle when I turned 18 and the wrenching began."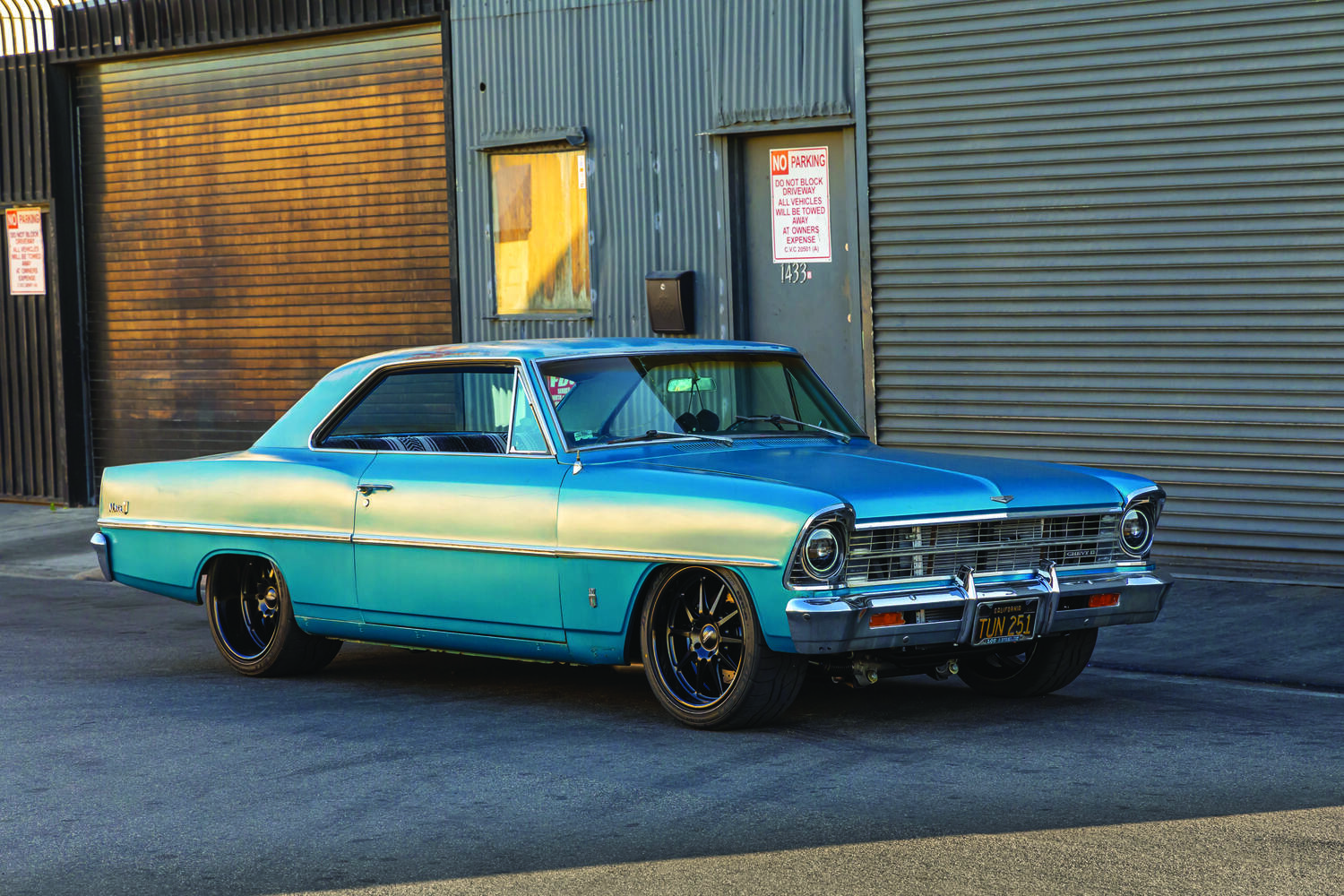 Check out this bad Chevy: Steve Chryssos' OG Pro Touring 1968 Camaro
The jiujitsu instructor from Los Angeles has been spinning wrenches for around 22 years and has never had a car painted. "I love the aged look of patina and like to keep the exterior as original as possible while using today's aftermarket components to create a vintage car with modern car driveability," Mike informs.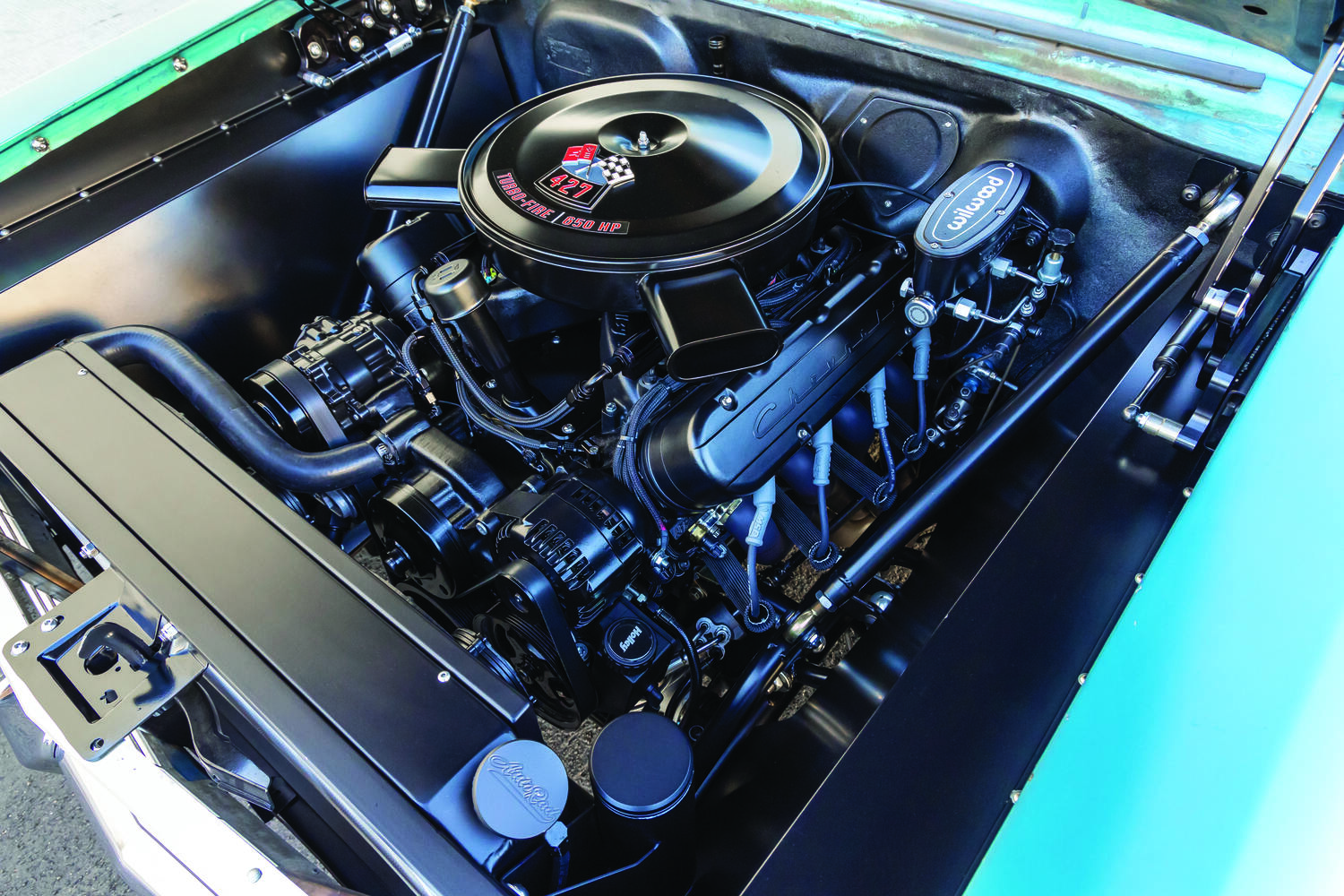 True to his word Mike incorporated modern power for the '67 and started with a Dart LS Next SHP block and took on the assembly process himself in his home garage. The 427ci mill was bored 4.125 inches and a forged crankshaft boasts a 4.00 stroke. Forged 10.95.1 pistons hang from 6.125-inch H-beam rods, and a Howards hydraulic roller cam controls the whole arrangement, which is capped with AFR Mongoose 260cc LS3 aluminum heads.
The engine room is a sinister affair infused with black components throughout. A black Holley single-plane intake delivers the air/fuel mixture provided by the Holley Terminator X Stealth fuel injection system topped with a black LS Classic '69 Dual Snorkel air cleaner lid. The black Holley mid-mount accessory drive system accompanied by matching Holley valve covers conspire with the Ringbrothers hood hinges–yep, also black.
The ominous theme continues with black-coated Ultimate Headers sending spent fuel down a custom 3-inch exhaust while Black Widow Race Venom mufflers slightly suppress the chaos created by the 650 hp bullet. It's a vocal system that reinforces the aggressive nature of what sits underhood.
Jake's Performance Stage 3 4L80E transmission with a manual valvebody and Jake's 3,500 stall converter sends power to a Currie 9-inch housing stuffed with a limited-slip Trutrac posi unit, 3.70 gears, and 35-spline Currie axles. A B&M shifter takes care of gear changes.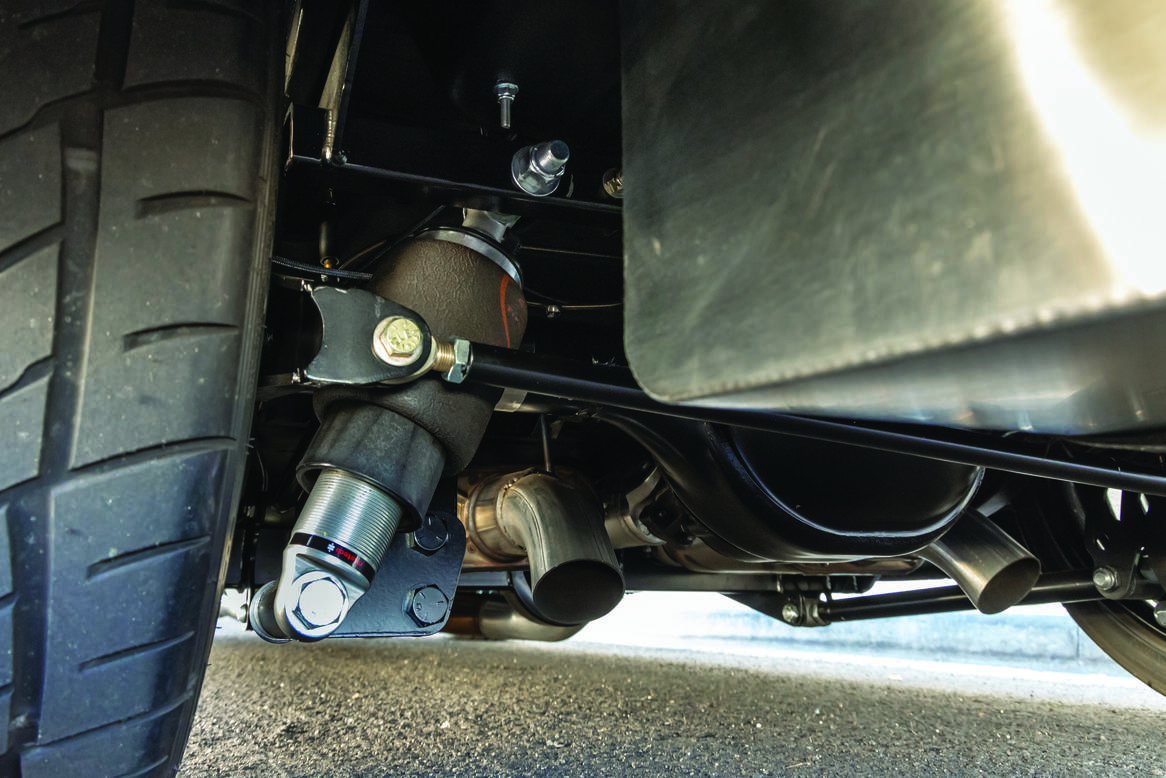 700HP Nova SS: Pete Jacob's Pro Street '63 Nova
A TCI four-link rear suspension is accompanied by a Ridetech air system and Ridetech ShockWave shocks, while up front a TCI Pro Touring clip hosts Ridetech HG ShockWave shocks. The whole enchilada is managed by a Ridetech RidePro E5 control system. Mike likes the idea of suspension adjustment on the fly to conform to any road condition, and should an autocross or any other aggressive driving situation present itself, the air-ride system offers changes at his fingertips.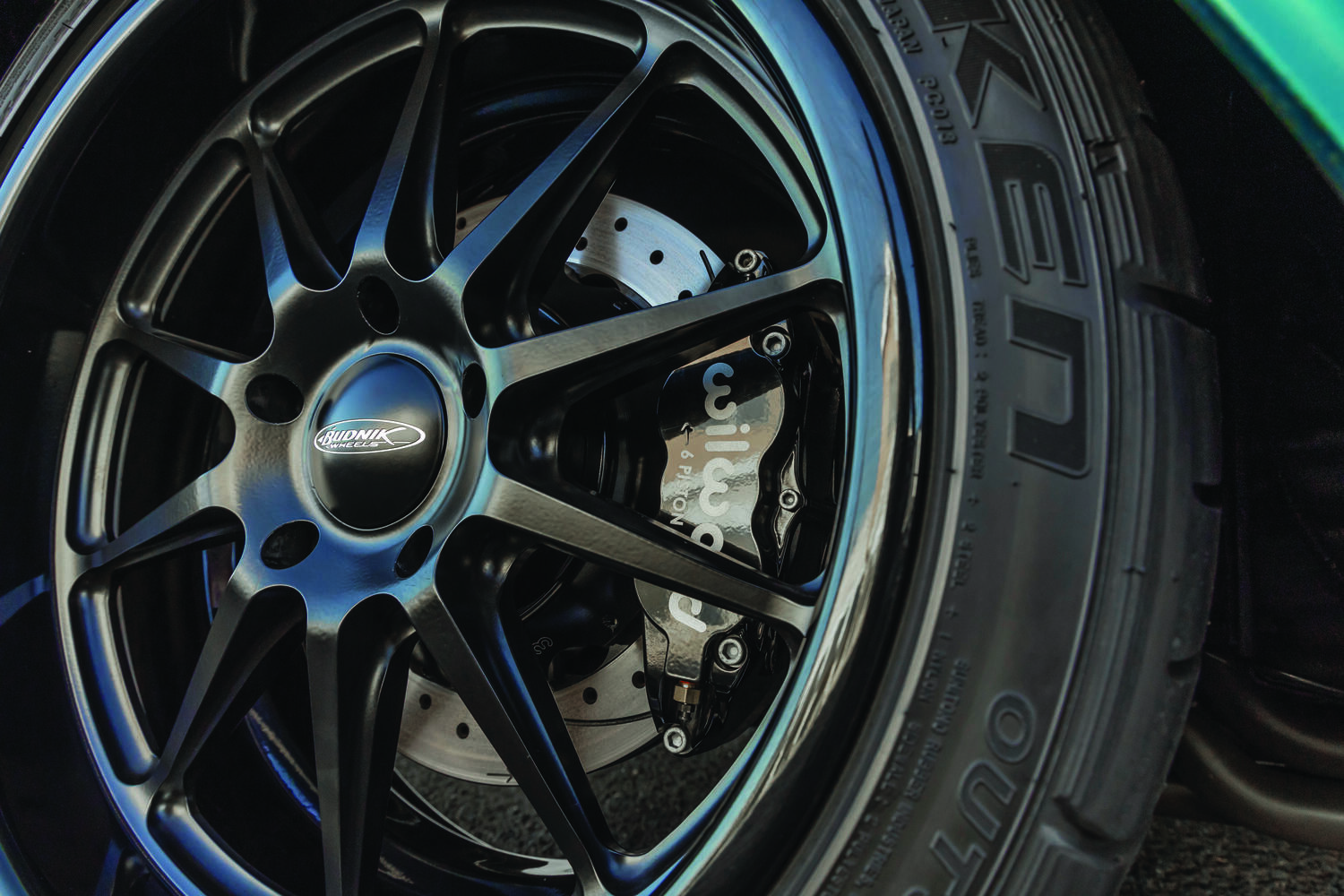 Blacked-out Budnick Vapor wheels on all four corners adhere to the scruff exterior's personality while Falken Azenis RT615K rubber establish a solid foundation to put those suspension goods to task. Wilwood 13-inch rotors and six-piston stoppers contain speed up front while a set of 13-inch rotors and four-piston grabbers execute business out back.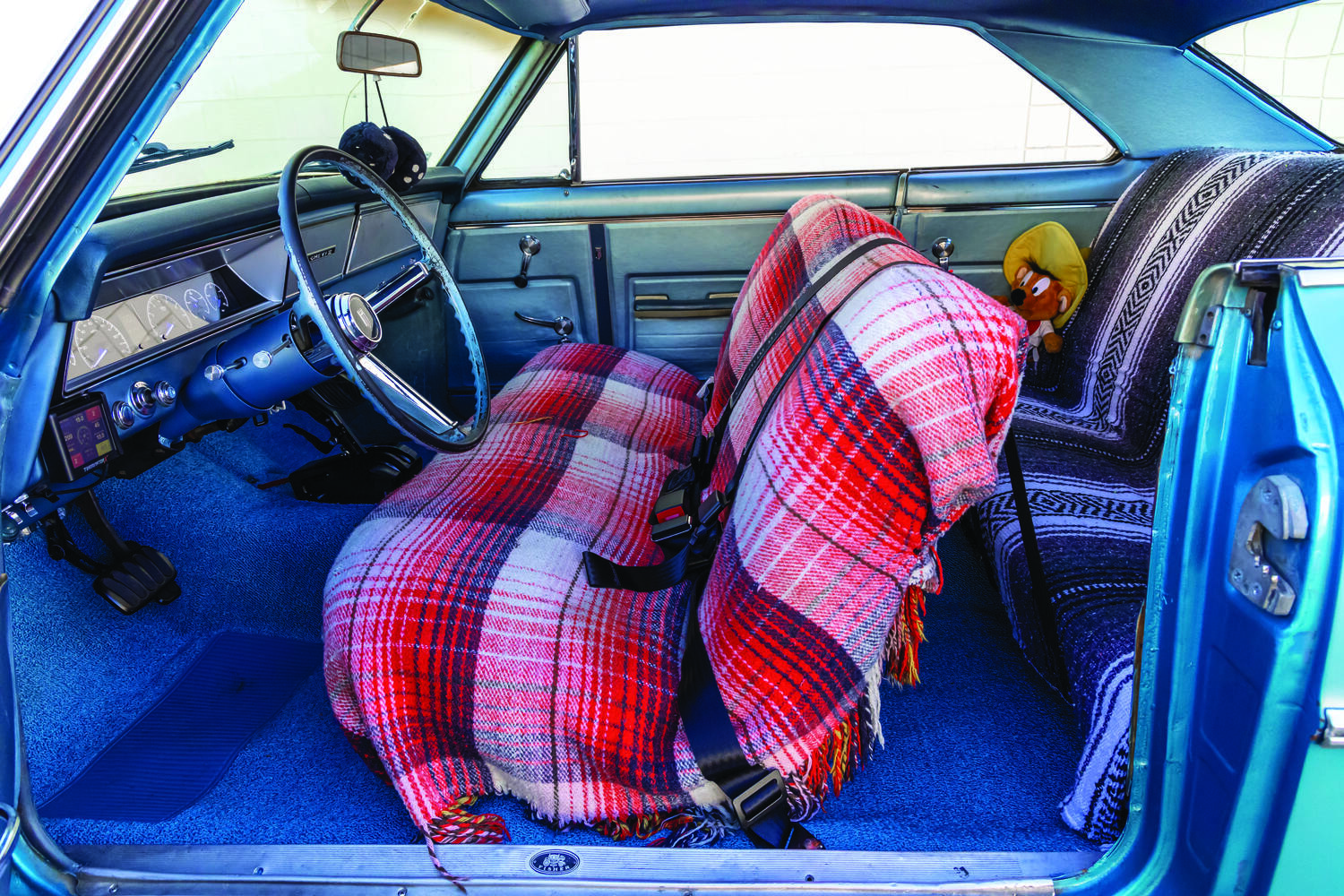 Mike continued with the poverty ruse in the business center by incorporating factory blue loop carpet and original door panels then covered the stock bench seat with a 40-year-old Mexican blanket he's had since childhood. A closer inspection reveals a factory steering wheel perched on an ididit steering column and Dakota Digital HDX gauges housed in the stock dash. The black Lokar pedals, B&M shifter, and Holley Terminator X touch screen override the remaining granny-driver vibe.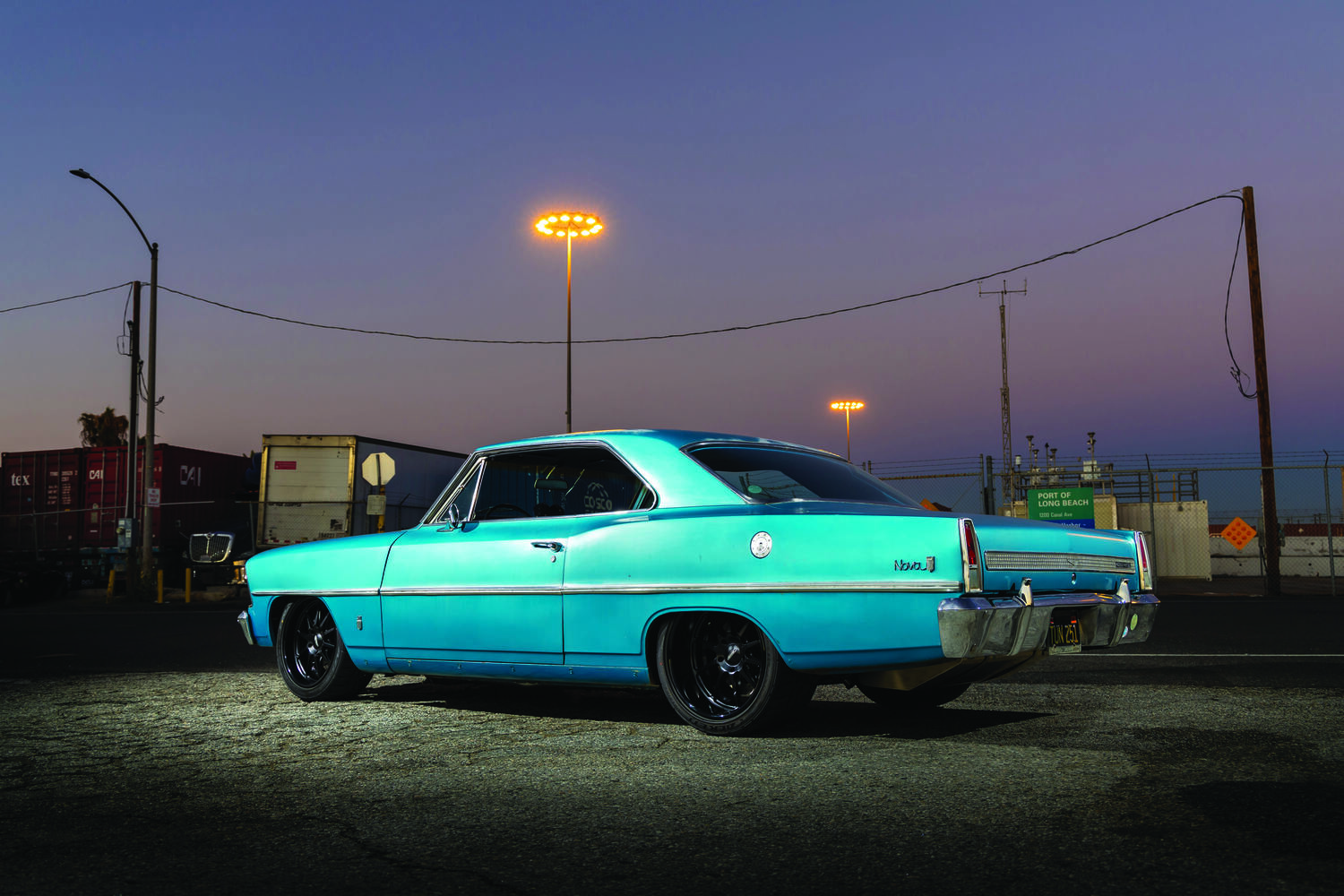 Figuratively, outside is where the car really shines, as the gruff exterior possesses a sunbaked rawness of imperfections that provide this chiseled Nova a casual demeanor offset by the low-slung stance and modern size wheels along with massive asphalt-gripping rubber.
"I really enjoy driving his car and love all the attention it gets. It's fun watching the reaction on people's faces when they look in the engine bay," Mike laughingly says. "I think they are expecting to see a dusty straight-six or tired, old small-block, and are totally surprised when they see this great-looking LS engine.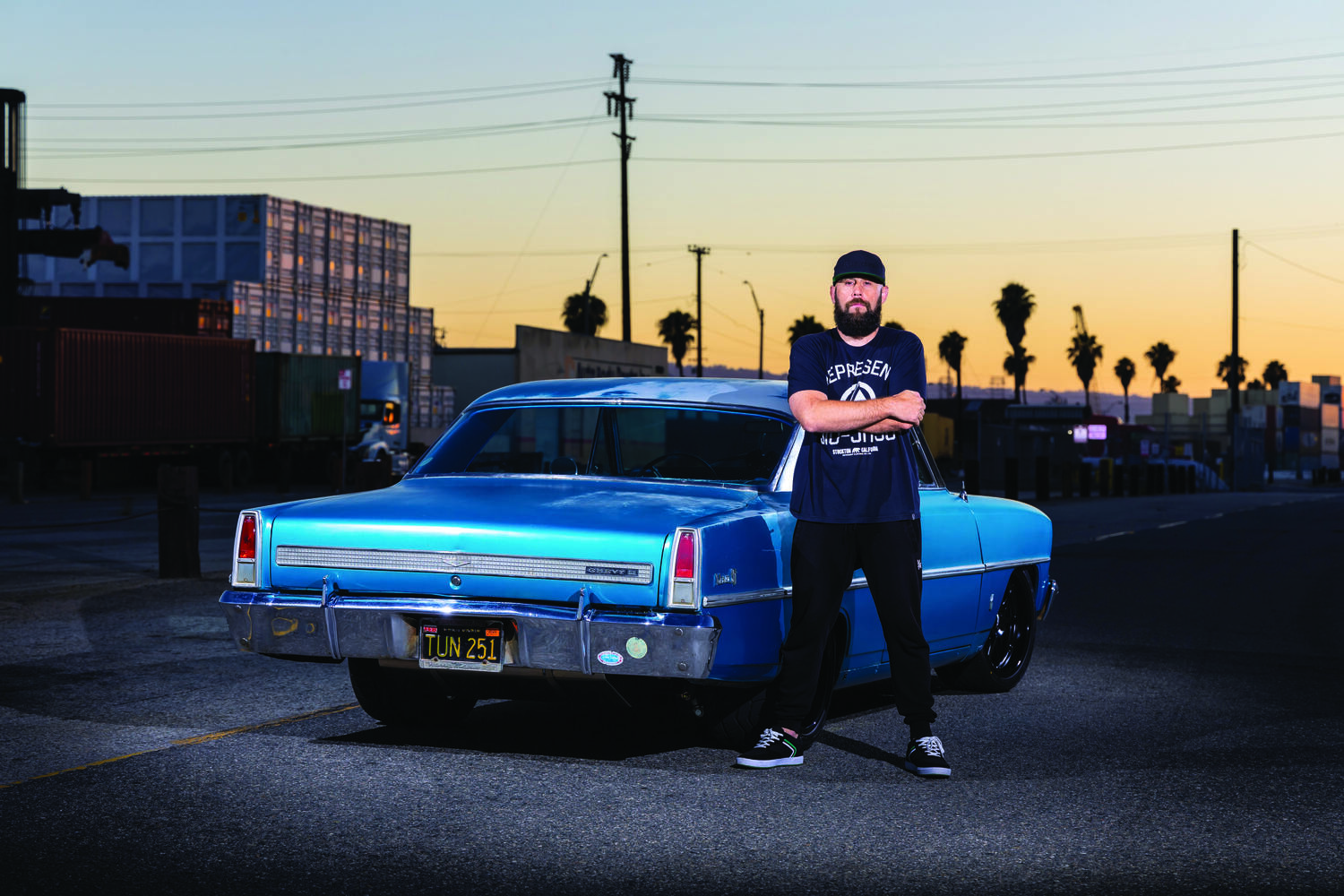 "Building this car with my son, Josh, helped create some great father/son bonding and memories that will last a lifetime. Although it took about five years to accumulate all the parts, when COVID-19 hit that gave us a lot of time to work on the car, so we had it on the ground running in just three months. We love taking it out on cruises and doing our part to spread the car culture vibe–patina and all.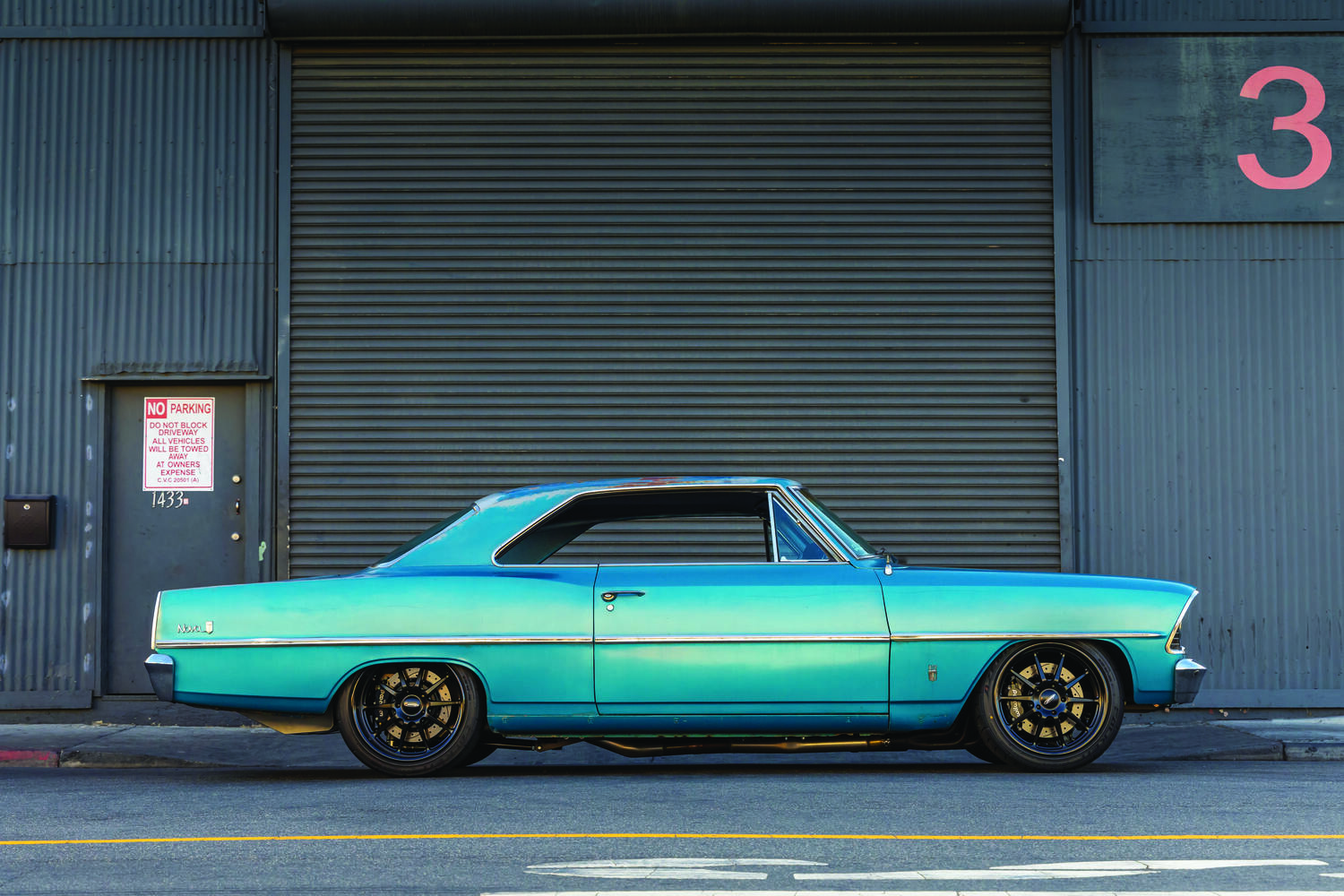 TECH CHECK
Owner: Mike Everett
Vehicle: '67 Chevy Nova
Engine
Type: Dart SHP LS Next Block
Displacement: 427 ci
Compression Ratio: 10.9:1
Bore: 4.125 inches
Stroke: 4.00 inches
Cylinder Heads: AFR Mongoose LS3
Rotating Assembly: 4340 Forged crankshaft, H-beam rods, forged pistons
Camshaft: Howards hydraulic roller
Induction: Holley single-plane LS3 intake manifold, Holley Terminator X EFI, LS Classic Dual Snorkel air cleaner lid, K&N filter
Assembly: Owner
Exhaust: Ultimate Headers black-coated 1 7/8-inch headers, custom 3-inch stainless exhaust, Black Widow Race Venom mufflers
Ancillaries: Holley Mid-Mount accessory drive system, Holley valve covers, MSD coils, MSD spark plug wires, Ringbrothers hood hinges, LS Classic retro valley cover, LS Classic dual snorkel air cleaner, Ringbrothers hood hinges, AutoRad aluminum radiator and core support, Rick's Tanks fuel tank
Output: 650 hp at 6,500 rpm and 585 lb-ft at 5,500 rpm
Drivetrain
Transmission: Jake's Performance (Bridgeport, TX)
Converter: Jake's Performance 3,500 stall
Rear Axle: Currie 9-inch, Eaton Truetrac limited-slip posi differential, 3.70 gears
Chassis
Frame: TCI
Front Suspension: TCI Pro Touring Clip, TCI spindles, Ridetech ShockWave air ride, Ridetech shocks,
Rear Suspension: TCI four-link, Ridetech air ride, Ridetech ShockWave shocks
Controller: Ridetech E5 air-ride control system
Brakes: Wilwood 13-inch rotors, six-piston calipers front, Wilwood 13-inch rotors, four-piston calipers, Wilwood master cylinder, Wilwood proportion valve
Wheels & Tires
Wheels: Budnik Vapor (18×9 front, 18×11 rear)
Tires: Falken Azenis RT615K; 265/35R18 front, 315/30R18 rear
Interior
Upholstery: Factory-style blue carpet, stock door panels
Seats: Stock bench, Mexican blanket
Steering: ididit steering column, stock steering wheel
Shifter: B&M
Dash Insert: Dakota Digital
Instrumentation: Dakota Digital HDX gauges, Holley Terminator X touch screen
Wiring: American Autowire Highway 22 kit
Door Handles: Stock
Pedals: Lokar
HVAC: Factory windwings open
Exterior
Bodywork and Paint: Natural blue patina
Mini-Tubs: Detroit Speed
Hood: Stock
Trim Pieces: Original
Front Bumper: Original
Rear Bumper: Original