Steve Chryssos' OG Pro Touring 1968 Camaro
By Keith Keplinger   –   Photography by the Author
This feature is something of a history lesson, as the Pro Touring car shown here is somehow already 20 years old. A current benchmark build might feature 335-wide rear tires, a streetable 800hp powerplant, and advanced suspension. All of that makes Steve Chryssos' 1968 Camaro something of a throwback.
Known as the "Streetfighter Camaro," the car debuted on the cover of the May '03 issue of Popular Hot Rodding magazine. The build officially started back in 1999 when Steve read an article about a soon-to-be-released aftermarket subframe that would accept C4 Corvette suspension and rack-and-pinion steering. The product, manufactured by a startup called Art Rasmussen Design and Fabrication (ARDF) may have been the first bolt-on subframe ever offered to the public. Serial #1, for example, ended up under Mark Stielow's mule. The subframe under our feature car? It was the pre-production "show display" unit.
Pro Touring All Day: Chris Shallcross' 1970 Pro Touring Camaro RS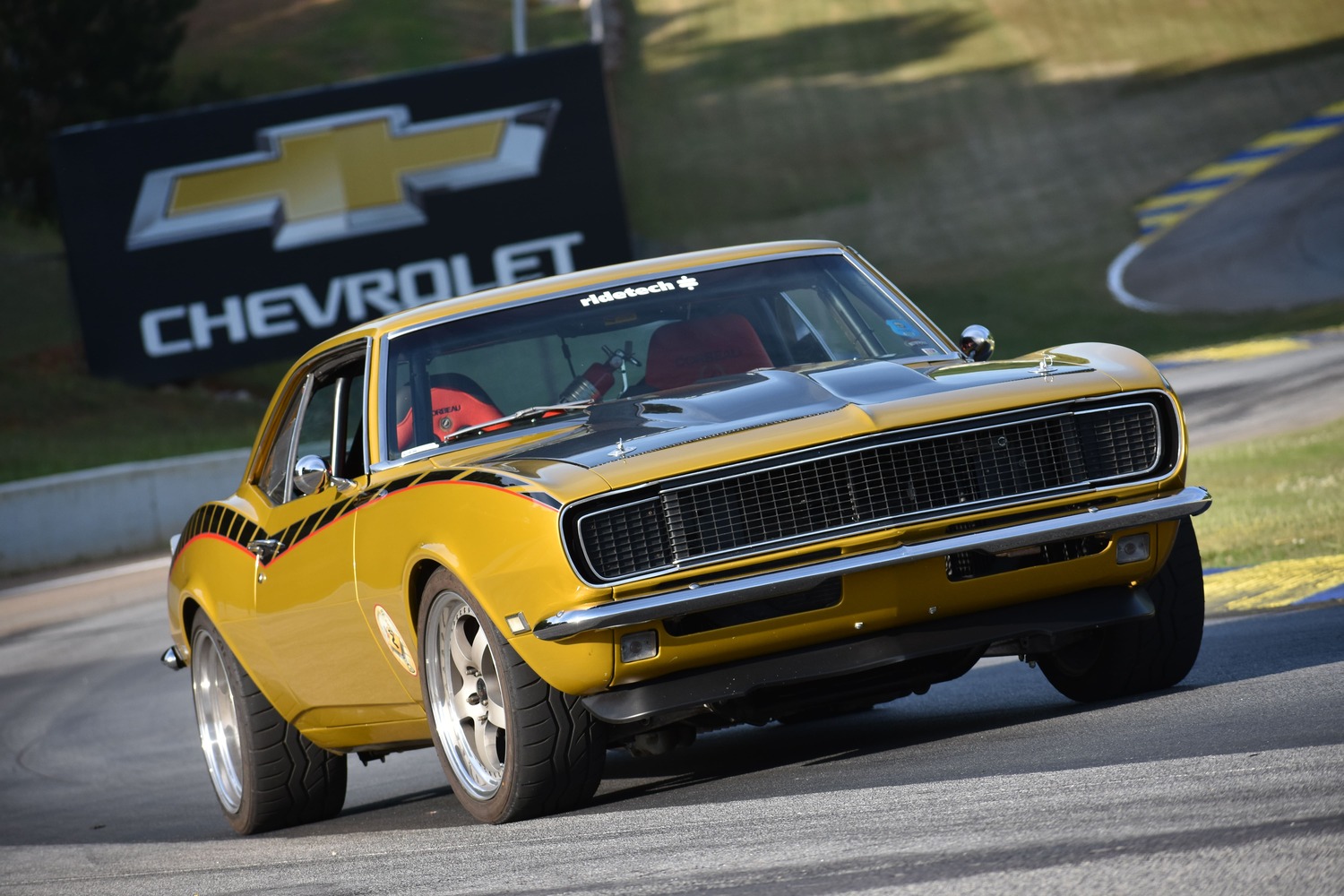 That pretty much sets the tone for the entire build. As Steve works in the automotive aftermarket, he comes across pre-production products before they launch to the public. Parts such as carbon-fiber hoods and multi-link rear suspension were pretty much unheard of when our feature car debuted. Many parts on this car are prototypes.
That first-ever bolt-on subframe needed extensive modification and is considered antiquated by today's standards. Lowered rear leaf springs were replaced with a Jake's Rod Shop torque arm system back in 2008 along with Ridetech coilovers. The wheel and tire package is considered modest these days. Falken Azenis RT 615 tires measure 275 in the rear with 245s up front. The wheels are Kinesis K58 18×10 and 18×8 inches, respectively. Steve says he has absolutely zero desire to fit steamroller 335/275 tires and believes that narrower tires contribute to nimble, neutral handling.
Based on a '71 400 block, the 406 features a forged crank and rods, Wiseco 4.155-inch pistons, and a Canton road-race oil pan. The top end consists of a Crane hydraulic roller cam, Dart Pro 1 aluminum heads, Holley HP multipoint EFI, and Dynatech headers. A Twist Machine paddle shifter signals a CompuShift electronic trans controller, Bowler 4L65E transmission, and Pro Torque converter, while a Ford 9-inch with 3.73 gears rounds out the drivetrain.
Check it out: Big-Block Power was the Only Choice for Brian Furness' Badass 1970 Camaro
Intended to piss everyone off, Steve collaborated with artist Chris Brown to pen the Porsche Gold Metallic and stutter stripe paint scheme. Nicknamed a tattoo, the "does everything well" graphic was hand painted on each front fender. Instead of rubbing everyone the wrong way, the stripped-down aesthetic had the opposite effect by inspiring future builds and even kicking off a series of die-cast models by GMP Diecast, appropriately named the "Streetfighter Series."
When pressed about plans for upgrades, Steve says he sometimes gets the itch to take the car apart and start over from scratch. But at the turn of the key, he enjoys driving his Camaro as-is–especially with his daughter, Juliette, riding shotgun and the music turned way up. The car still delivers a thrilling driving experience.