This 1956 Ford Country Sedan Wagon Has What Today's Rodders Want … Vintage Looks & Modern Power
By Brian Brennan   –   Photography by Tim Sutton
Wagons of all types became noticeably popular back in the early '90s and have continued to be immensely so with rodders to this day. The 1956 Ford Country Sedan wagon belonging to Rob Hervey, who lives in a SoCal beach community, believes this hot rod is the perfect weekend beach cruiser/surf wagon. It has all the vintage-appealing looks, a 5.0L Ford Coyote V-8, and state-of-the-art suspension.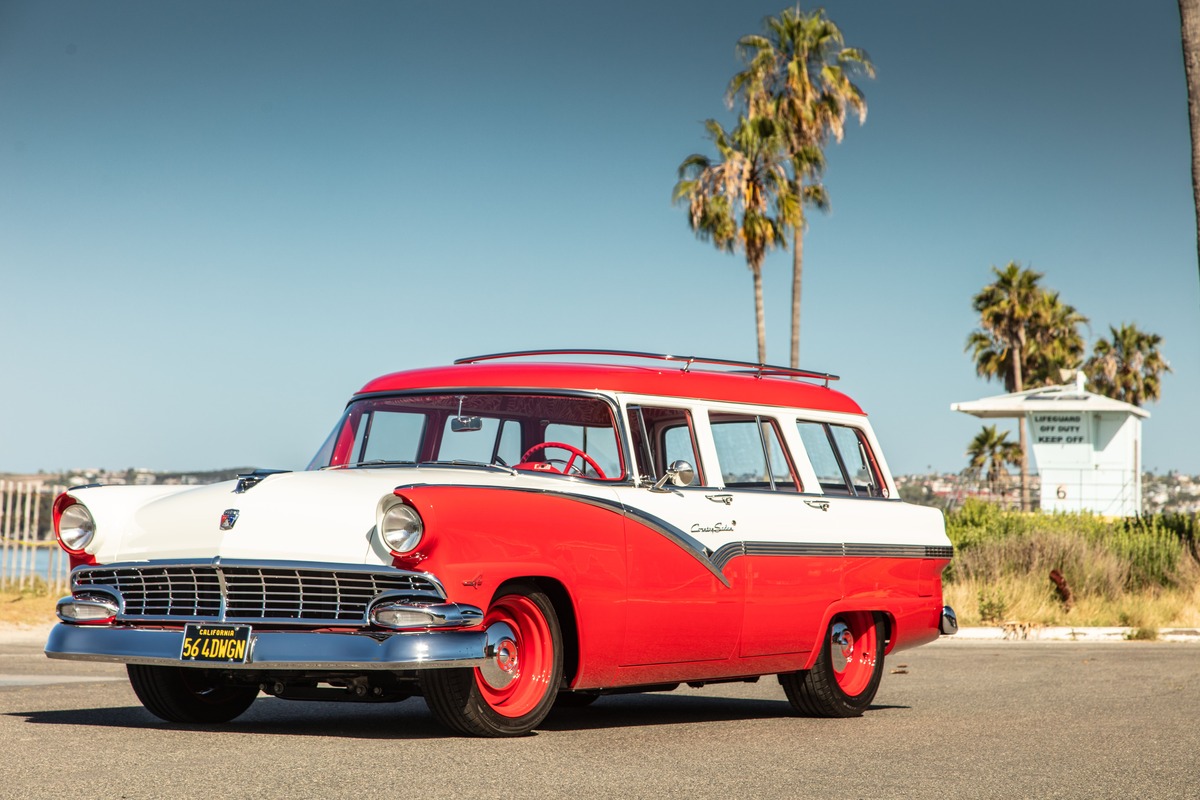 Of course, today's rodders aren't happy with vintage performance; they want today's "have it all" engine and chassis performance, too. Throw into that everyone wants the vintage looks to remind them of the "good old days." In this case Rob knew what he wanted, given his first car was a bright red 1955 Ford wagon, which satisfied his urge to tinker and was also his daily wheels to get to and from the beach for those early morning surf appointments. That was back in the '60s and time has a way of marching while life takes over, but dreams don't fade so easily.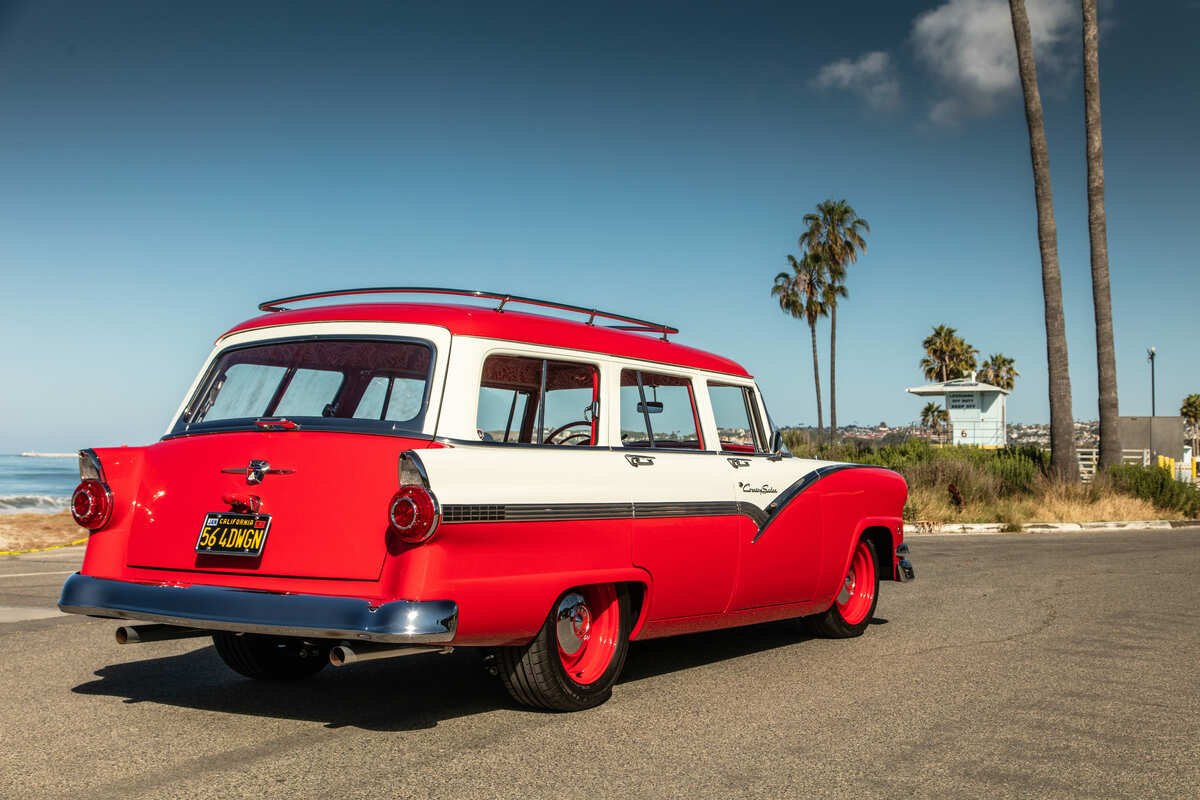 About two years ago Rob found the 1956 Ford Country Sedan wagon you see on these pages. First a little more on the backstory. Rob initially saw the wagon in a Mecum Auction brochure in 2015. He went through the usual steps to buy the car but it wasn't to be. In his search for something similar he happened upon the same car in Sioux Falls, South Dakota, but this time he was able to strike up a deal, packed it in a "box," and shipped it home. It was through the simple task of installing seatbelts that he realized the floor was rusted—seriously rusted. We've all heard the term "Swiss cheese," well that's being kind. At this point the decision was made to "go for it" and build from the ground up, making the perfect cruiser/surf wagon, as Rob still surfs to this day.
The time had come to shake off the dusty dream and make things happen. Once the ol' Ford wagon was in hand it was off to Scott Bonowski of Hot Rods & Hobbies (HR&H) in Signal Hill, California. Bonowski and his crew began the process that literally started from the ground up. Thus, began the three-year build ending in January 2019 where the 1956 Ford Country Sedan's first outing was to the Grand National Roadster Show where it took First in Class and an Outstanding Custom Interior award.
The Builder's Platform chassis (2×4/4×4 welded profile frame) comes by way of Art Morrison Enterprises (AME). The custom AME setup is outfitted with the Detroit Speed power rack-and-pinion with 20:1 ratio and it's attached to a modified stock steering column with a stock wheel, front and rear sway bars, and a triangulated four-link (equipped with RockJock Johnny Joint performance rod ends by John Currie; they are urethane bushed spherical ball joints) in back. The rearend is an AME modified Ford 9-inch plugged with a Strange centersection and axles. Visible are the JRi coilover shocks with 450-pound springs in front and 250-pound springs in back, all designed to yield both favorable handling and ride characteristics.
The IFS is also AME with Wilwood Pro 2-inch drop spindles covered by Wilwood 11-inch rotors and Dynalite calipers. Stomping the brakes into action goes through a Wilwood master cylinder outfitted with a Hydroboost and E-Stopp push-button emergency brake. More corner-located eye appeal comes by way of the Wheel Vintique 17×8 OEM-style steelies topped with factory Ford hubcaps and wrapped with Falken Azenis FK453 225/50R17s in front and FK453 245/55R17s in back.
Finding a home between the custom AME chassis is a Roush 5.0L Coyote crate motor that's naturally aspirated and comes complete with their computer-injection management system and wiring harness. Roush supplied the serpentine belt system with a KRC power steering pump. The power numbers are an impressive 474 hp and 418 lb-ft of torque and it's all backed by a Ford AOD trans. The exhaust is based on a combination of Doug's headers modified to solve fitment issues. The 2-1/2-inch stainless steel exhaust, run through Flowmaster three-chamber mufflers, was shaped by Jerome at Rodela Specialty Fabrication who is known for welding together some great-looking pipes. The motor is all aluminum (block, heads, and other items) and in an attempt to dress up the motor the water pump was smoothed over to a nice finish. The alternator is a Ford 150-amp, the electric fans come from SPAL, the starter is a Powermaster, and the battery is an Optima RedTop relocated to the passenger rear of the wagon.
The body was in dire need of lots of sheetmetal work, which included a new floorpan stretching from firewall to tailgate. The outside was brought back to its vintage appearance and then sprayed in red and white Axalta waterbase paints by painters Todd Griggs and Bonowski of HR&H. Next up was the Vintage Flatz Euro clear from Rich Evans of Huntington Beach Bodyworks and then applied over the final colors. There was some interior custom sheetmetal work too, as the dashboard was freshly fabricated to look vintage but this time it was outfitted with Vintage Air A/C ducts and controls and a modern radio. The gauges at first glance look original but they too were massaged and are now modern through the efforts of Shannon of Redline Gauge. The wiring harness came from Coach Wiring and was strung by Tim from HR&H.
The interior was designed and stitched by Mark Lopez of Elegance Interiors who also made the polished stainless steel strips visible on the door panels and rear cargo compartment. Vinyl was the material of choice for the seating as Rob goes surfing and he didn't want water and/or sand to "chew up" a more expensive material. The carpeting is done in a matching red. However, the focal point of this interior has to be the red and white Hawaiian pattern headliner. Rob found the material online as it was intended to be used on exterior boat cushion and outside patio furniture.
If you live by the beach, or anywhere for that matter, and want to have vintage looks and modern power and handling, this 1956 Ford Country Sedan wagon will surely get the job done. MR