Brian Raymond's Drag Radial '69 Camaro
By Shawn Brereton – Photography by the Author
Good things come to those who wait. This is true for those who try to build a car themselves. Everything seems to get in the way of completing the project, and the next thing you know 20 years have come and gone. It's why so many people give up on the dream of building a hot rod.
Brian Raymond, of Union, Missouri, is a lifelong car guy who played this game for more than 26 years with this '69 Camaro. His father fixed and restored vehicles for side money. Though he died when Brian was just a high school freshman, he bequeathed his passion for the automotive hobby to a very willing and capable young lad.
Brian didn't take the gift for granted and enrolled in auto shop classes. "It's all I ever wanted to do," he says. "I learned everything I could, so I could do it all myself instead of paying someone else to do it." After graduation, he found a job at Wally Elder's Custom Auto Works, acquiring the Camaro in 1995 for $1,400. But money was tight, so the car sat patiently waiting.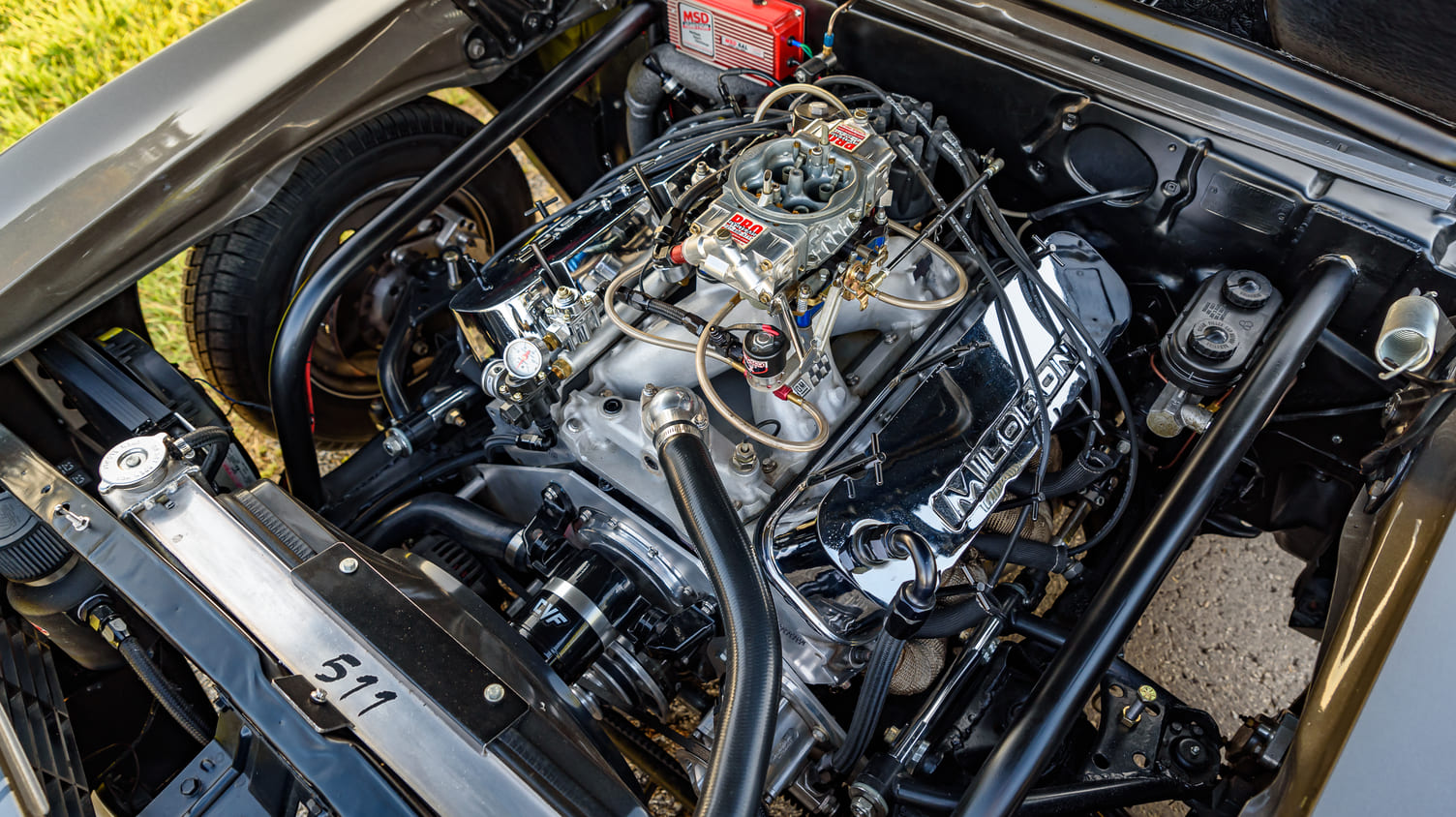 Brian moved into the racing world with stints at Chassis Fab Race Cars and Jerry Bickel Race Cars before rounding out his skillset for 10 years at Tim McAmis Race Cars. Being around all that talent hindered Brian from completing the Camaro as he fell into the trap of wanting the perfect car. He'd buy parts that ended up obsolete before he could use them.
Check Out another First-Gen Camaro That Packs Plenty of Big-Block Chevy Punch: Big Block Bruiser: Firecracker Red 1969 Camaro
Sometimes the simplest things kickstart your motivation. Brian's epiphany happened at a gas station in the Spring of 2014 when a Nova pulled up. It wasn't a show car—far from it—but the guy was out enjoying his car. That was all it took. Encouraged by his wife, Jenn, he finally built a shop and started earnestly working on the Camaro.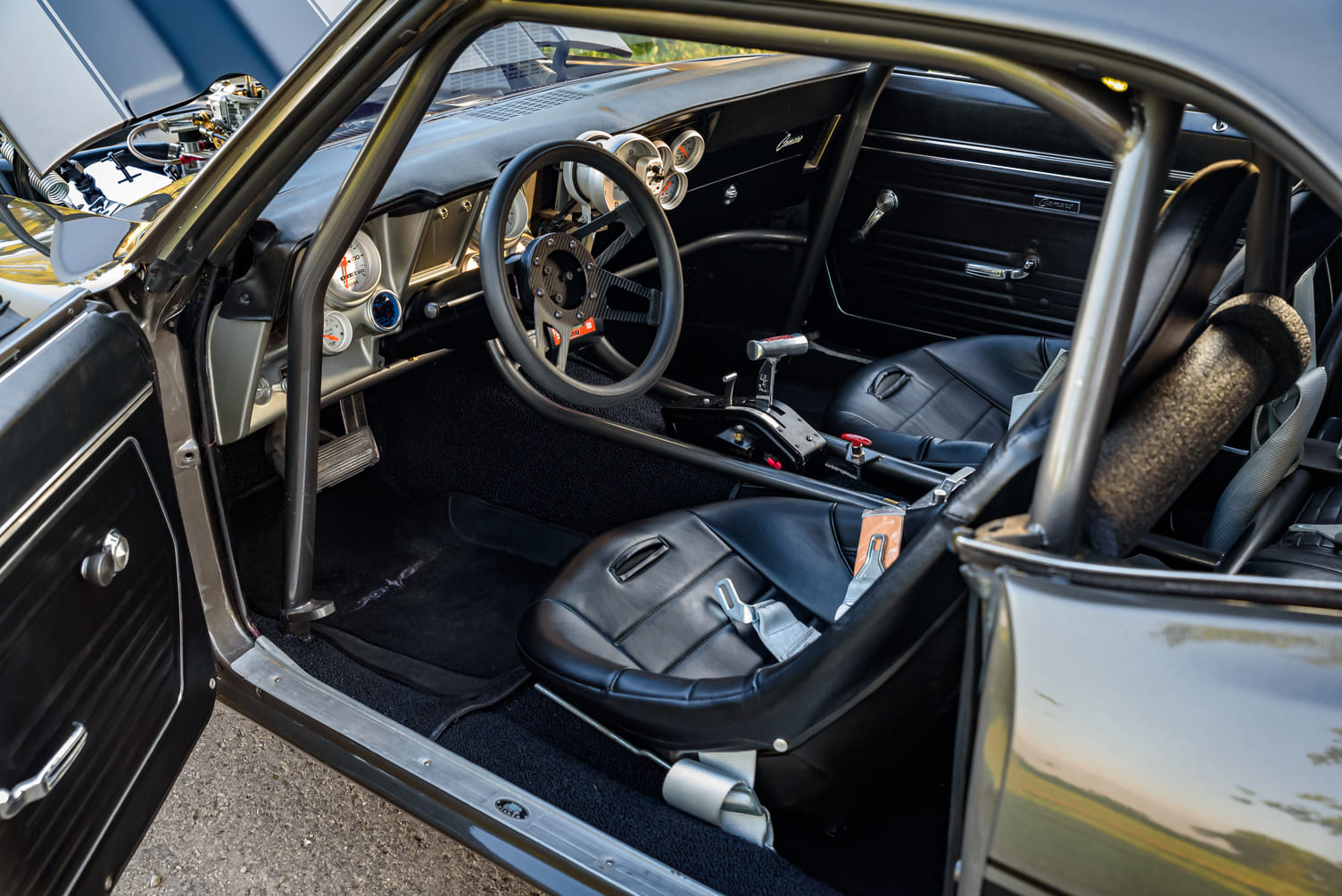 Brian's vision for the car was a high-horsepower street car that would feel at home on the track Saturday night or the ice cream shop on Sunday. He notched the frame to fit the 315 radials and strengthened it with extra crossbracing. He modified a Jerry Bickel 10-point cage with double framerail–style center bars running to a dash bar and lower door bars welded behind the rockers. He added half of a Funny Car 'cage and made the upper door bars and harness bar removable for easier access to the back seat.
The rearend is a custom Ford 9-inch running 3.70:1 gears and 33-spline axles, secured to the frame by 32-inch ladder bars, diagonal link, and a custom antiroll bar. Strange Engineering 12-inch double-adjustable coilover shocks plant the tires, while Speedway 11.75-inch vented rotors and GM calipers provide stopping power.
The front end uses factory-style tubular A-arms, 2-inch drop spindles, a pinto manual rack, and QA1 single-adjustable coilovers. Aerospace Components four-piston brakes connect to a Strange master cylinder. Weld Drag Lites sit on all four corners: 165/80R15 Nexen tires on the front and 315/65R15 (3.5-inch backspace) with Mickey Thompson ET Street R tires on the rear.
Remembering a short-block combination from the old PAW catalogs, Brian chose a '69 10.2-inch, tall-deck dump truck engine displacing 511 ci. Chris Caulkins of St. Clair, Missouri, did the machining and assembly using all the best internals. The combo looks mean just sitting in the engine bay with a Pro Systems 1,000-cfm carb, Sledgehammer nitrous plate, and Chevrolet Performance manifold and 572 heads topped with some late-'80s Milodon valve covers.
Some Not So Shiny Classics: BOWTIE BONEYARD – CRUSTY CAMAROS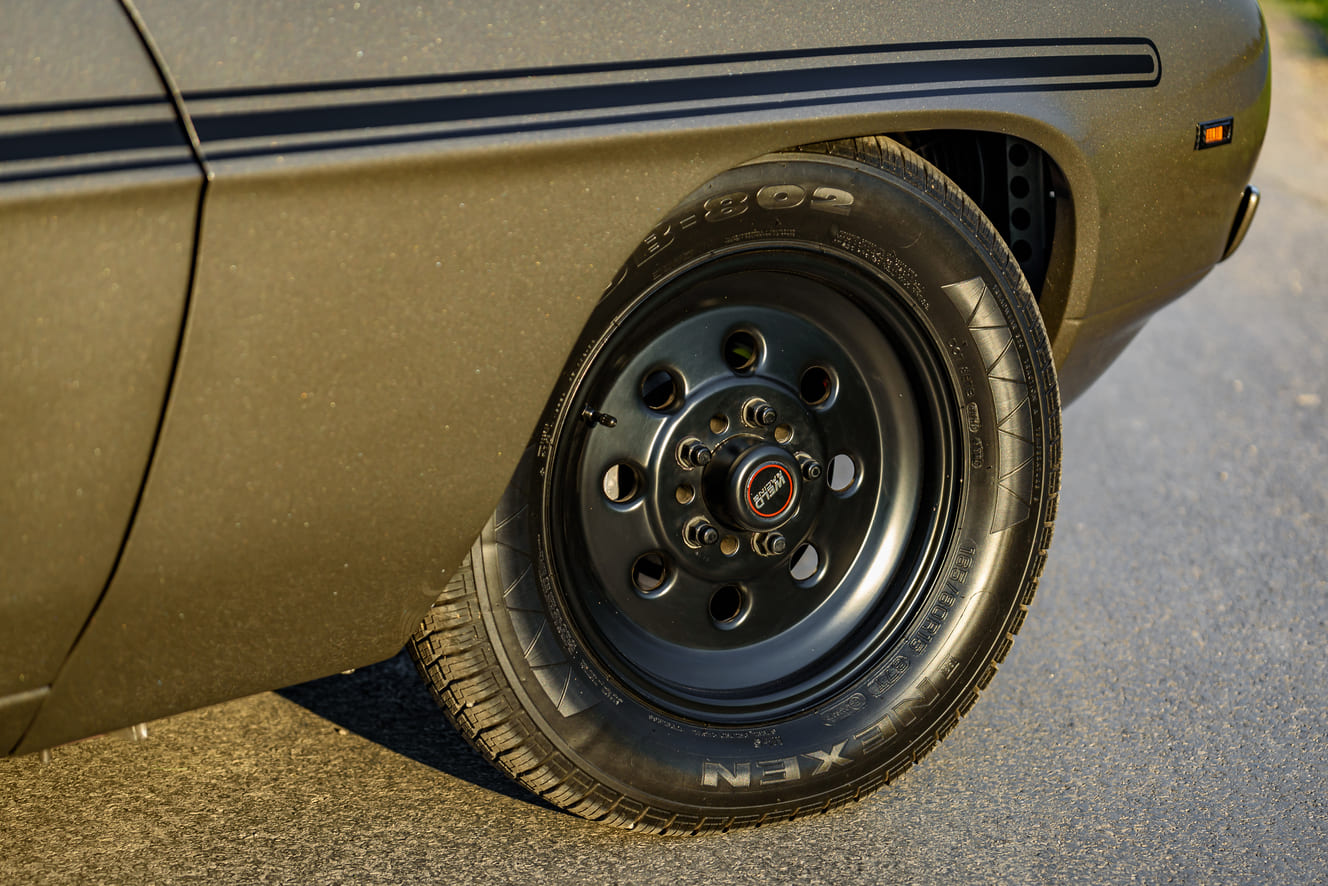 Nowack Racing Engines tuned the combo on the dyno and it proved to be a monster, making 733.7 hp and 661.4 lb-ft of torque in naturally aspirated mode. Kick on the 150-shot of nitrous and the numbers jump to a staggering 916.3 hp and 871.1 lb-ft of torque. All of that power transfers through a 3,400-stall converter into a $400, 20-year-old Powerglide transmission.
Despite not being a "car girl" before she met Brian, Jenn played instrumental parts in some critical aspects of the build. After changing his mind "50 times in 20 years," Brian settled on Candy Tangerine Orange for the color. Jenn asked him one question: "Do you want it to look pretty at the car show from across the field, or do you want it to look BADASS driving down the road?" Just like that, it changed to Medium Charcoal Gray Metallic from Kirker Paint expertly laid down by Wally Elder at Custom Auto Works.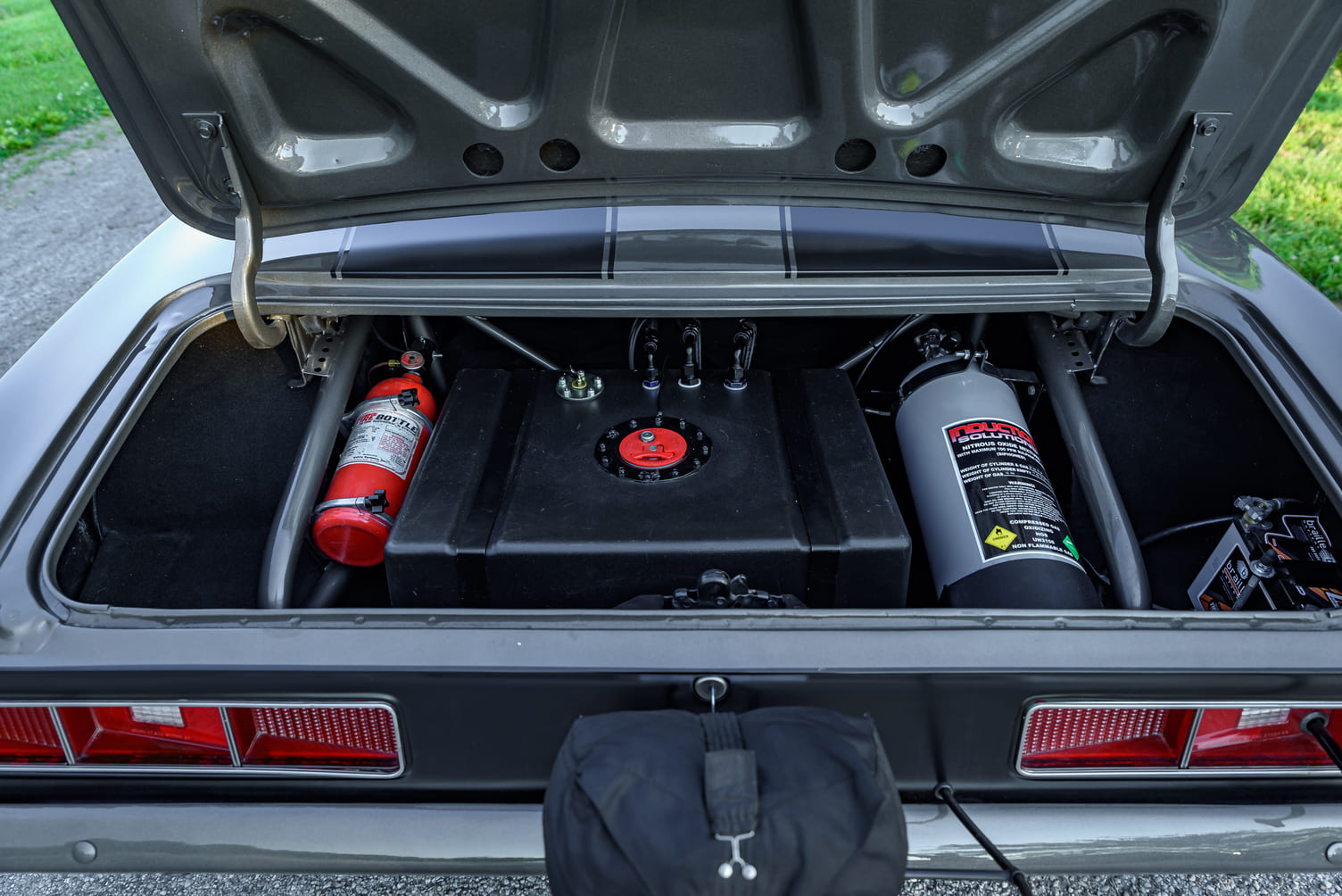 The Hot Rod Black Satin stripes were Brian's creation. He figured he'd never own a Yenko or a true Z/28, so why not just combine them. Brian was looking for a name to put where "Yenko" would usually go but was having trouble coming up with a name. Again, Jenn saved the day when the word "obnoxious" popped out of her mouth after her maiden voyage—and the '69 had a new moniker!
The interior is pretty much all business with gauges galore, racing seats, shifter, and stock trim mixed with carbon-fiber accents—clean and tidy but nothing fancy. Although it may not look like it, Brian built this car on a budget, doing most of the work or trading his time and expertise for things performed by friends. Like many other hot rodders he regrets it took him so long to finish.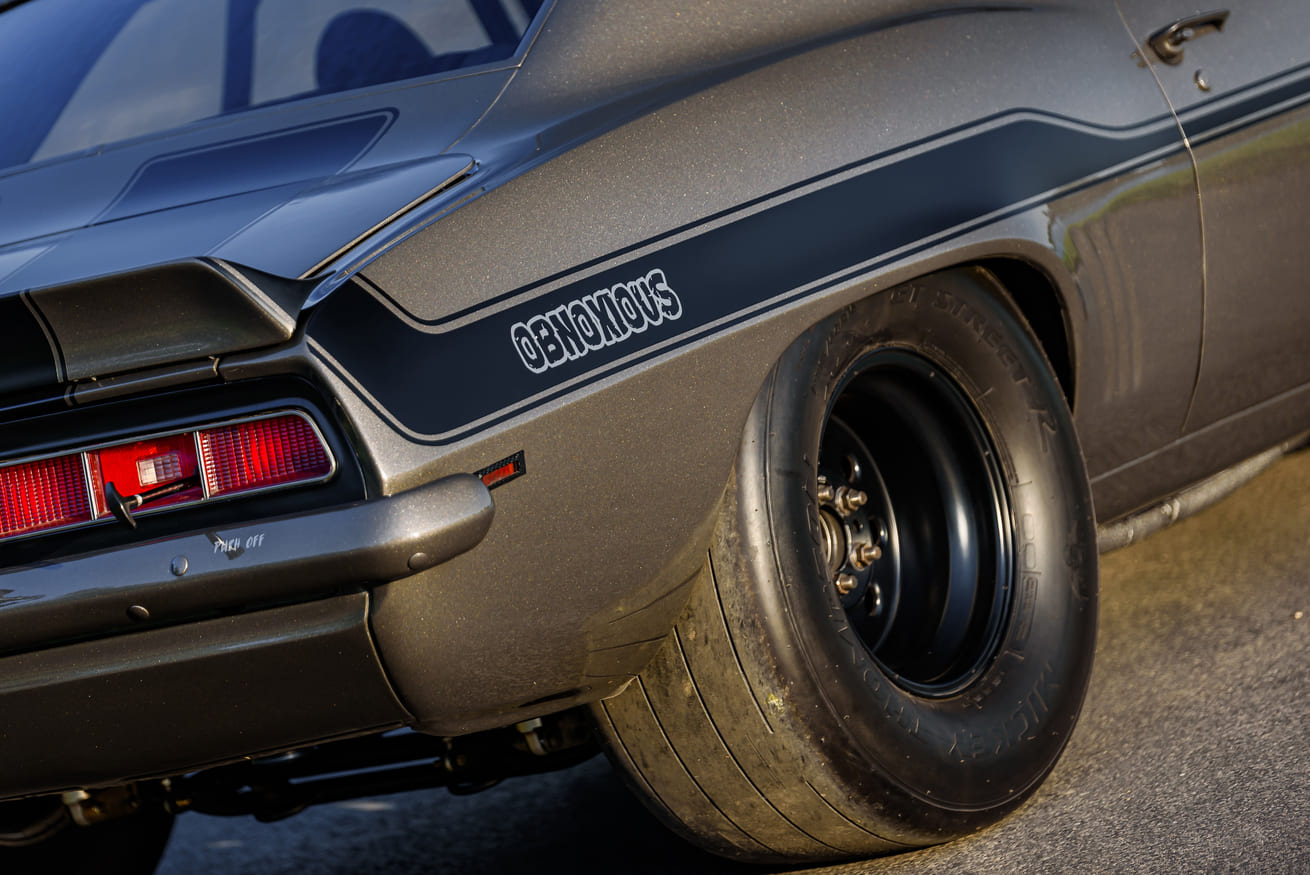 "When I got it, I was just a kid," Brian says. "I never thought I would be married, pushing 50 with kids, before I drove it. Jenn saw the car on our second date, and she got her first ride after 16 years of marriage." However, Brian is ecstatic about the way "OBNOXIOUS" turned out and is happy he got to make memories with his own son. Isn't that what hot rodding is all about?
TECH CHECK
Owner: Brian Raymond, Union, Missouri
Vehicle: '69 Chevrolet Camaro
Engine
Type: '69 Chevy 10.2-inch tall-deck dump truck
Displacement: 511 ci
Compression Ratio: 10.5:1
Bore: 4.312 inches
Stroke: 4.375 inches
Cylinder Heads: Chevrolet Performance "572" ported
Rotating Assembly: Ohio Crankshaft 4340, Molnar Rods, RaceTech Pistons, King Race Bearings, Total Seal Rings
Valvetrain: Stock 2.25/1.88 springs spec'd by Chris Straub, 572 rockers
Camshaft: Custom Straub Technologies hydraulic roller (0.731/0.714-inch lift, 272/274 deg. duration at 0.050)
Induction: Chevrolet Performance 572/620 4150 manifold with Steve Johnson Induction Solutions 4150 Sledgehammer nitrous plate, Pro Systems 1,000-cfm 4150 carb
Assembly: Chris Caulkins (St. Clair, MO)
Exhaust: Hooker Super Comp 2-1/8-inch primaries to 3.5-inch collectors, 3-inch single-chamber Flowmaster mufflers
Ancillaries: MSD 6 ignition, Griffin radiator, CVF water pump, Flex-A-Lite Black Magic X-treme electric fan, Aerospace Components vacuum pump
NA Output: 733.7 hp at 6,300 rpm, 661.4 lb-ft at 5,200 rpm
Nitrous Output: 916.3 hp at 6,300 rpm, 871.1 lb-ft at 5,000 rpm
Drivetrain
Transmission: Powerglide
Torque Converter: Old Fairbanks Gold series, 3,400 stall
Rear Axle: Ford 9-inch with Quick Performance aluminum through-bolt center, 3.70:1 ratio, 33-spline Moser axles
Chassis
Front Suspension: Auto City Classic factory-style tubular A-arms; QA1 GS401 single-adjustable dampers
Rear Suspension: 32-inch Chassis Engineering ladder bars and diagonal link, Tim McAmis antiroll bar, Strange double-adjustable coilovers
Brakes: Speedway disc on rear, Aerospace Components four-piston disc on front; 11.75 vented rotors; Strange master cylinder
Wheels and Tires
Wheels: Weld Drag Lites: 15×4 front, 15×10 rear
Tires: Nexen (front) 165/80R15; Mickey Thompson ET Street R (rear) 315/65R15
Interior
Upholstery: Black loop carpet
Seats: Jaz Racing front, stock rear
Steering: Stock column with quick-release adaptor and Grant carbon-fiber wrapped wheel
Shifter: B&M Pro Ratchet
Dash: Stock with molded ABS dash insert
Instrumentation: Auto Meter
HVAC: Stock AstroVentilation
Rollcage: Custom modified 4130/mild steel 10-point Jerry Bickel Race Cars Funny Car
Exterior
Bodywork and Paint: Owner and Wally Elder of Custom Auto Works (Dittmer, MO)
Paint: Kirker Paint, medium charcoal gray metallic/Hot Rod Black satin stripes
Hood/Fenders/Trunk/Bumpers: Glasstek Fiberglass
Grille: Stock
Spoiler: Custom-made with drilled air slots