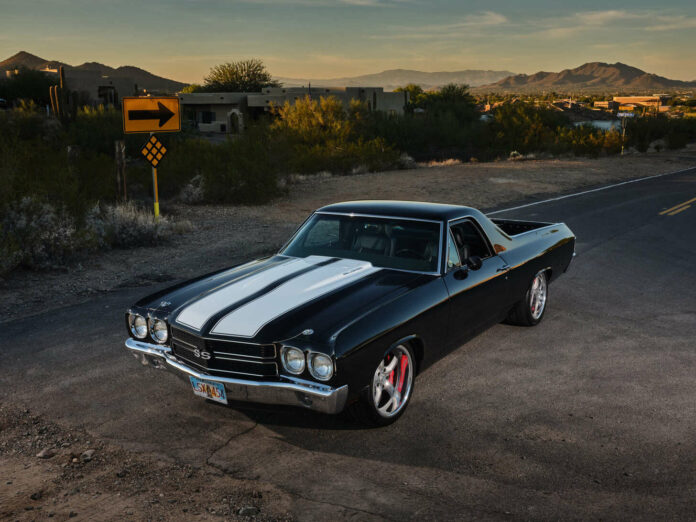 Dana Pruhs' 1970 El Camino
By Nick Licata – Photography by John Jackson
"Some of my earliest childhood memories include there always being an El Camino in our garage," Dana Pruhs remembers. "We lived in Fairbanks, Alaska, and they were my father's daily drivers, and over a 20-year period he had four of them and would replace them every four or five years."
Dana looks at the Elco as the original crossover vehicle. "My dad used them for work, took us to school, filled the bed with trash and hit the dump, went on hunting trips, and even used them to tow our boats and snowmobile trailers," Dana says. "They were rugged enough to handle Alaska's extreme weather conditions–60 degrees below 0 in the winter and 80 degrees in the summer. I took my driver's test in Dad's El Camino, and in the summer, I'd wash it on Saturdays in hopes he would let me drive it on dates."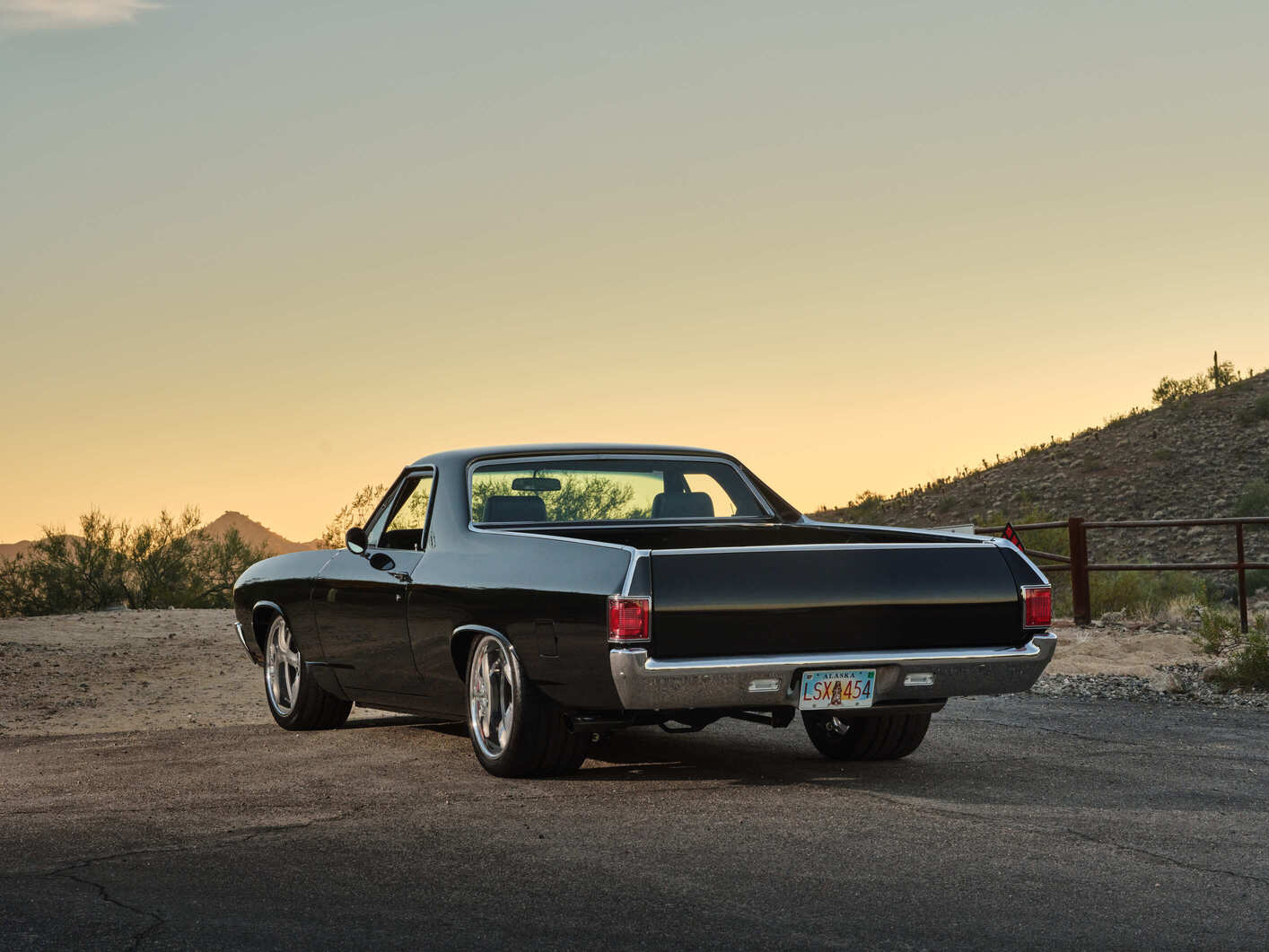 It's those memories that helped Dana adopt the muscle car lifestyle –growing up, he always had some form of hot rod, from race cars to souped-up airplanes to coincide with his rambunctious personality. Recently, he got the itch to revisit his younger self and build a classic El Camino of his own. He reached out to a former Alaska resident and shop owner AJ Schwichtenberg of GoodFellows Classic Cars in Phoenix for some help in finding a solid example, knowing the chance of finding a vintage El Camino in Alaska is pretty much zero to none.  Schwichtenberg also grew up in Alaska, which is where the long-distance connection (in climate and miles) between him and Dana comes from. "[Schwichtenberg] had a shop here in Alaska and was known for doing outstanding work," Dana says. "So, he was my first choice to scope out and build my El Camino."
Read More: From Grocery Getter to Heartthrob; 1970 El Camino
The good news is that Schwichtenberg was able to find one through his network of hot rodder friends. The bad news was that the one he located was pretty much a disaster. "We found the car out here in Phoenix," Schwichtenberg reveals. "There is a guy in the area who has a bunch of Chevys in his yard just baking in the sun, and he had a 1970 El Camino I figured was worth looking into. Well, it really wasn't, but the pickin's were slim, so we bought it anyway. Apparently, it was used as a landscape truck before it was left for dead in the desert. Once we started digging into it, I came to the conclusion, that we should have looked for another car, but we were too far into this one to turn back."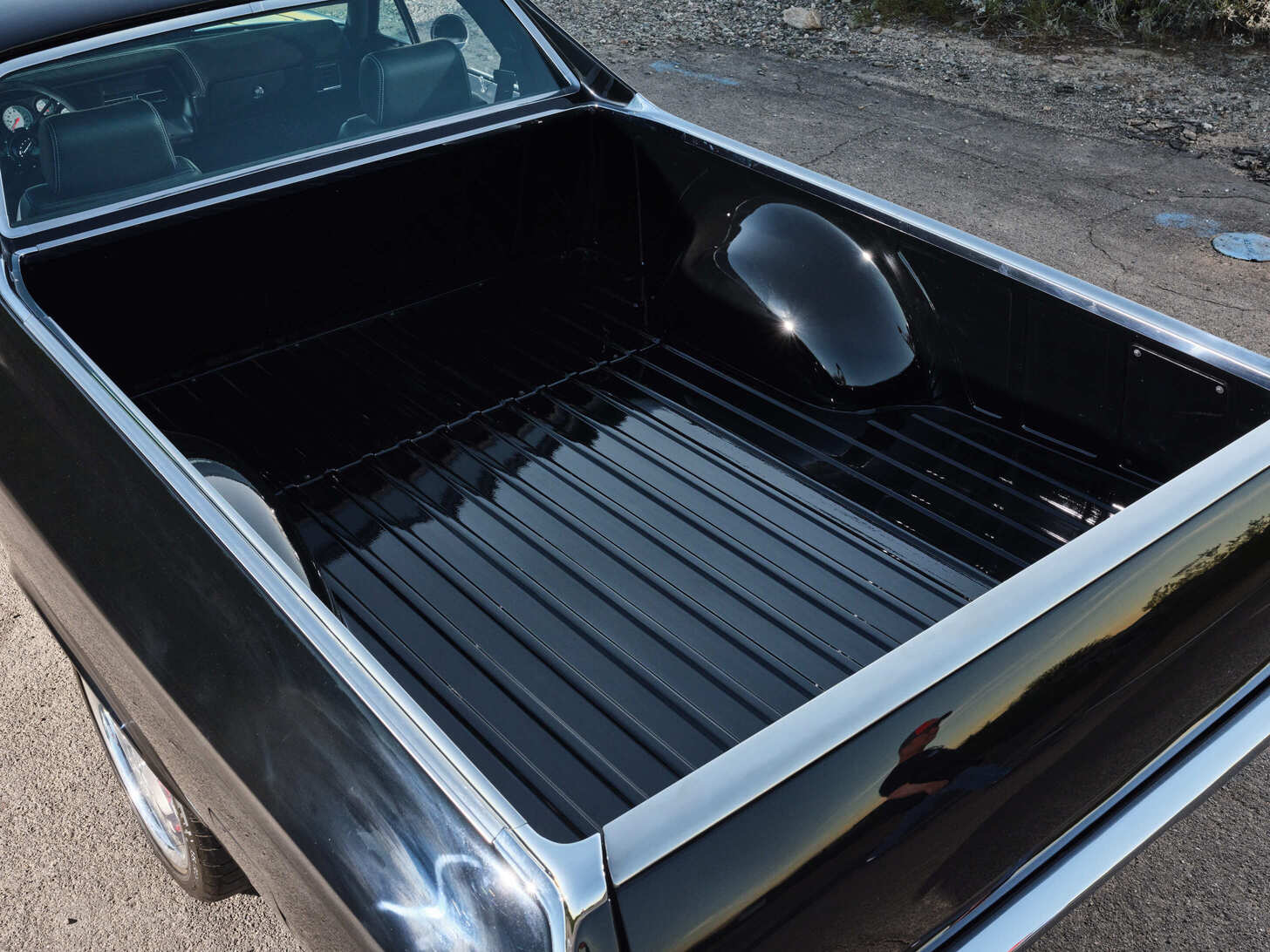 Schwichtenberg informed us that pretty much every piece of sheetmetal had to be replaced. The floors, the bed, the quarter-panels, and both fenders were toast. With that said, it was an original big-block SS, so at least there was something positive about the car.
Dana didn't flinch when he saw photos of the Elco's skeletal remains –the price was right, so he was totally on board with the rehab. Schwichtenberg and the GoodFellows crew got the Elco back on track by patching up areas that needed patching, hanging sheetmetal, and welding in new floors. With the welders still hot, they tubbed the rear as Schwichtenberg knew massive rubber would be part of the plan. From there they hit the body with hours of massaging sanding and more sanding prior to Schwichtenberg laying down an elaborate layer of PPG black paint and white stripes. Schwichtenberg then trimmed the bumpers to tighten up the scene.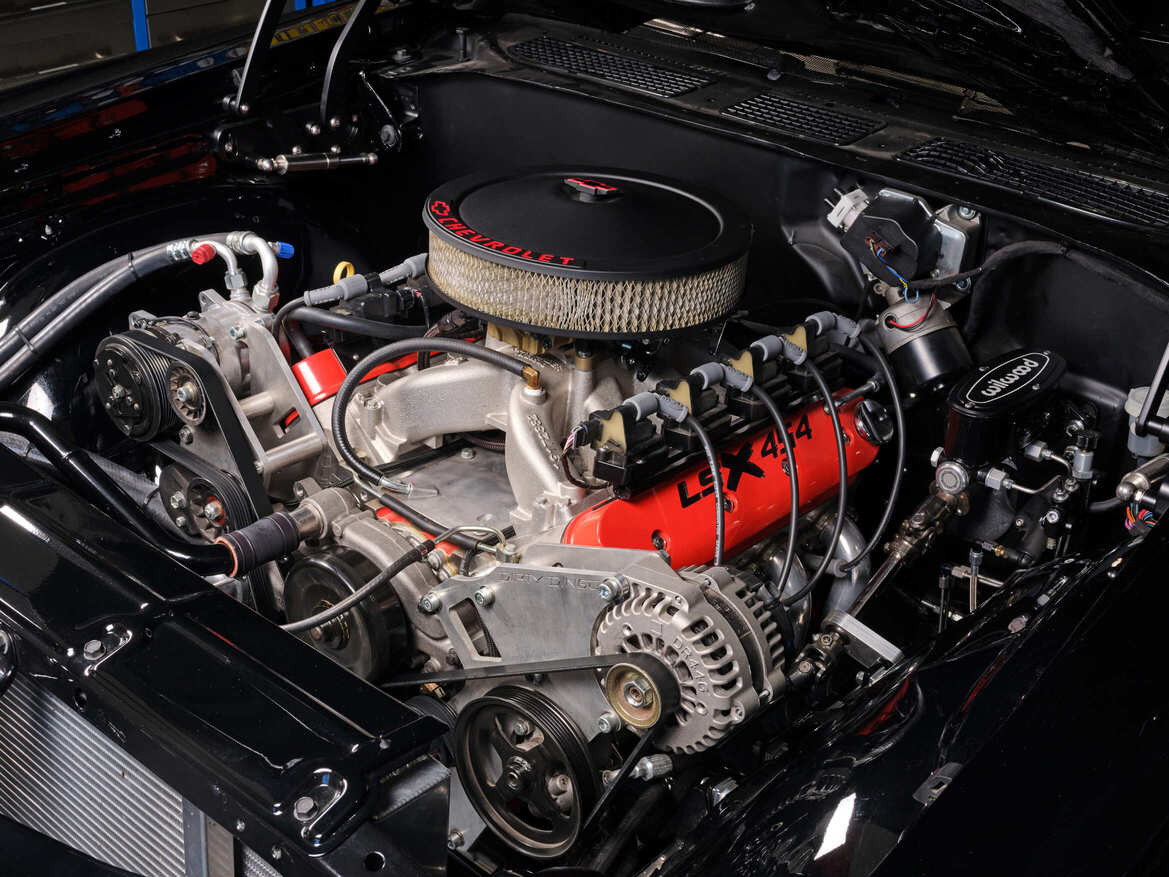 Dana's unrelenting fondness for big-bock–like power led to an LSX 454 underhood. GoodFellows sourced a Holley Sniper injection system and let it breathe via an old-school open element air cleaner and a set of 1 3/4-inch GoodFellows custom-fabbed stainless headers, stainless 3-inch exhaust, and a combination of Spintech and Flowmaster mufflers. The engine was then dressed with a Dirty Dingo serpentine drive system. Engine cooling comes by way of an aluminum piece from PRC, and those black-finished Eddie Motorsports hood hinges lurking in the background add a good bit of style.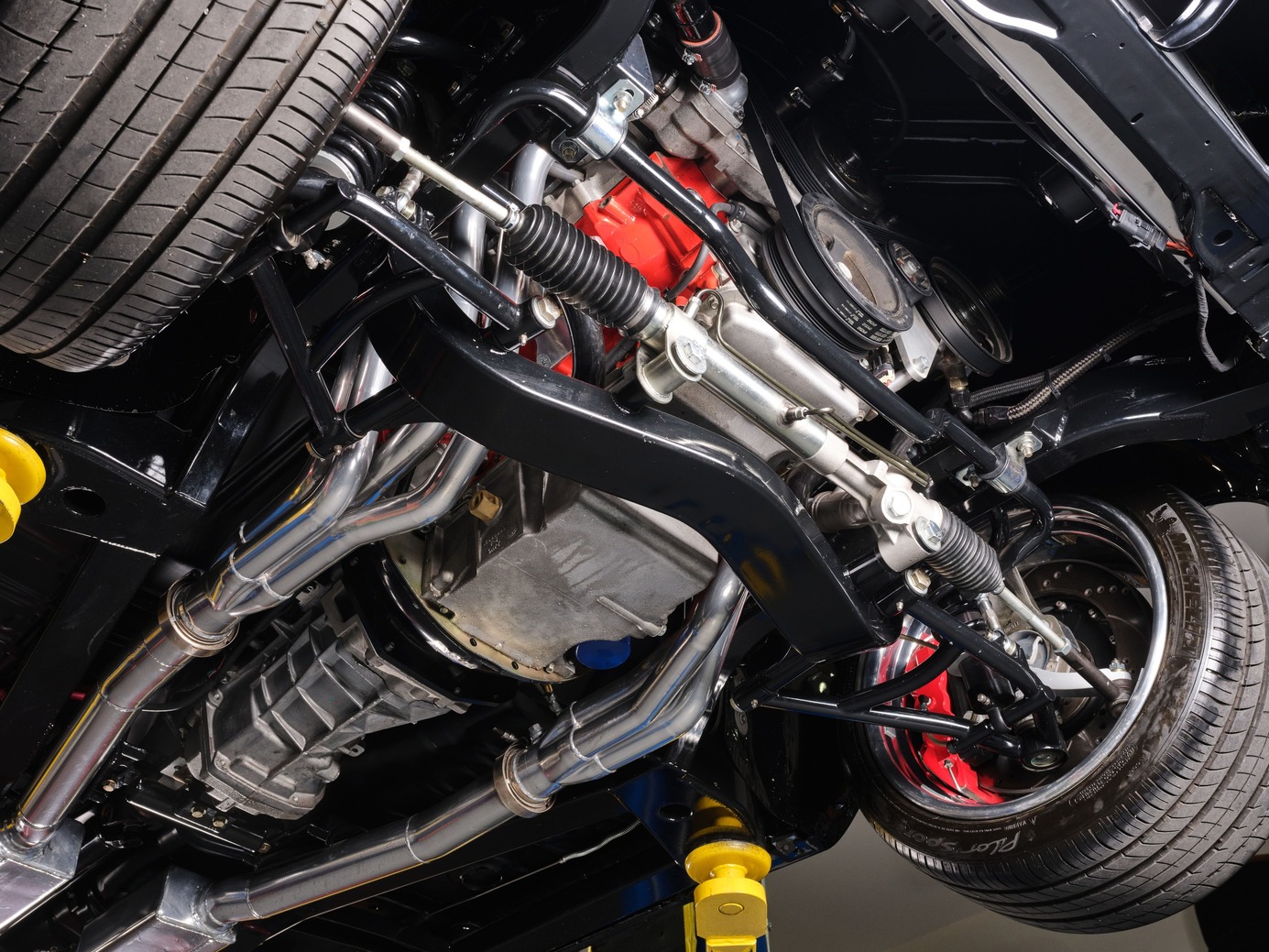 A TREMEC Magnum T56 trans provides a great combination of performance and driveability as the famous overdrive is a muscle car favorite for those who prefer manual shifting and exceptional highway driving behavior. Dana went with a McLeod twin-disc clutch for crisp high-rpm gear changes for those days when he needs a good adrenaline rush. A Strange 9-inch rearend outfitted with limited-slip posi and 3.70 gears accepts every bit of the LSX's 627 hp without breaking a sweat.
Read More: Bowtie Boneyard – Stick Shockers
An Art Morrison chassis was sourced for the ultimate in handling performance and for that perfect muscle car stance. Along for the ride are C6 Corvette spindles up front with Strange coilover shocks, 450-pound springs, and a 1 1/4-inch hollow sway bar. Out back, the Art Morrison four-link is accompanied with Strange coilovers, 250-pound springs, and 7/8-inch solid sway bar. The ensemble provides a modern ride that exceeded all Dana's expectations.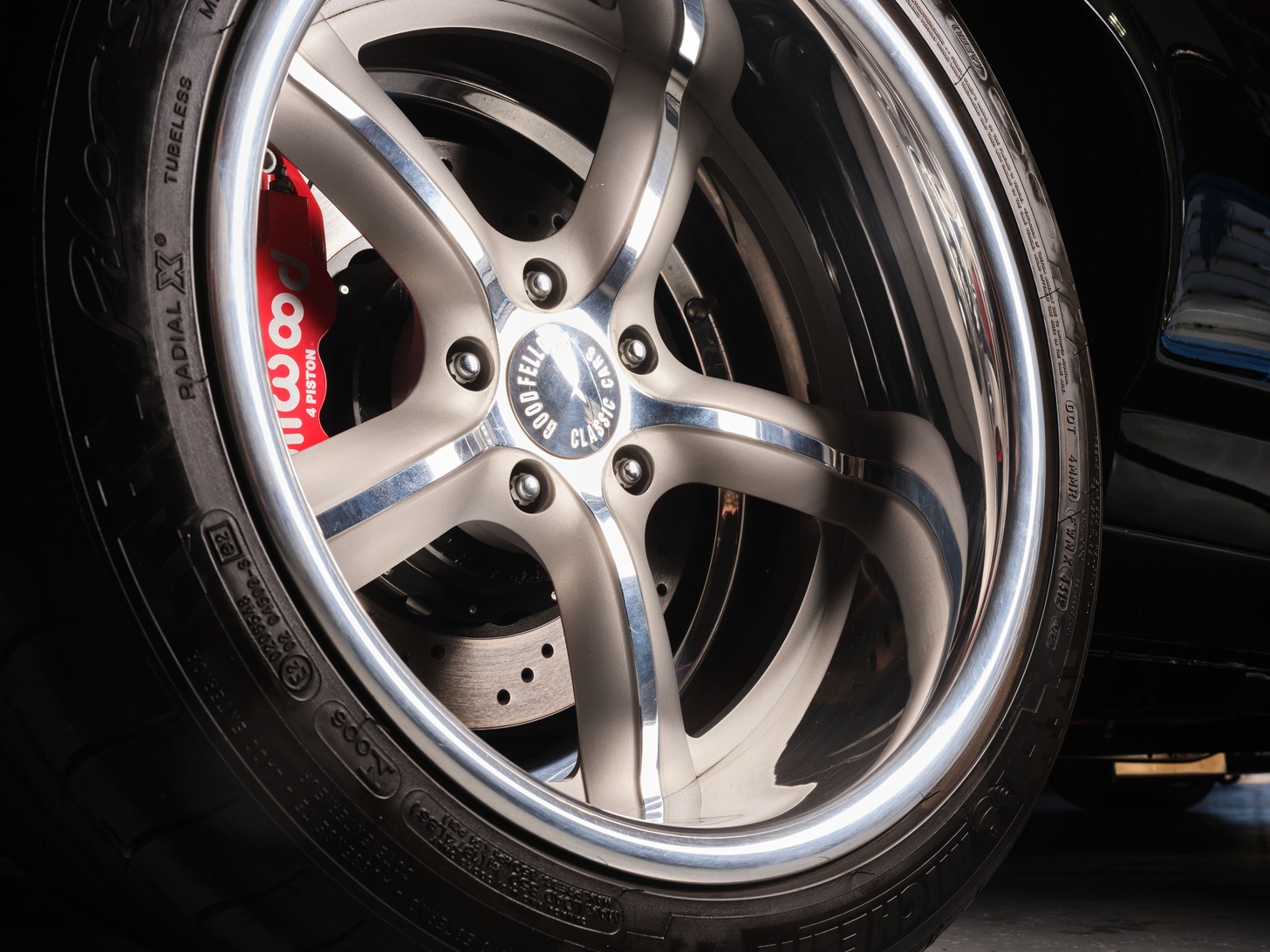 Wilwood binders equipped with 14-inch rotors and six-piston calipers tackle the braking chores up front, with a set of four-piston units taking up the rear. The custom Boze five-spoke Race wheels (18×11 front, 18×12 rear) fit the look and host Michelin Pilot Sport rubber (275/35R18 front, 335/30R18 rear) for optimum grip.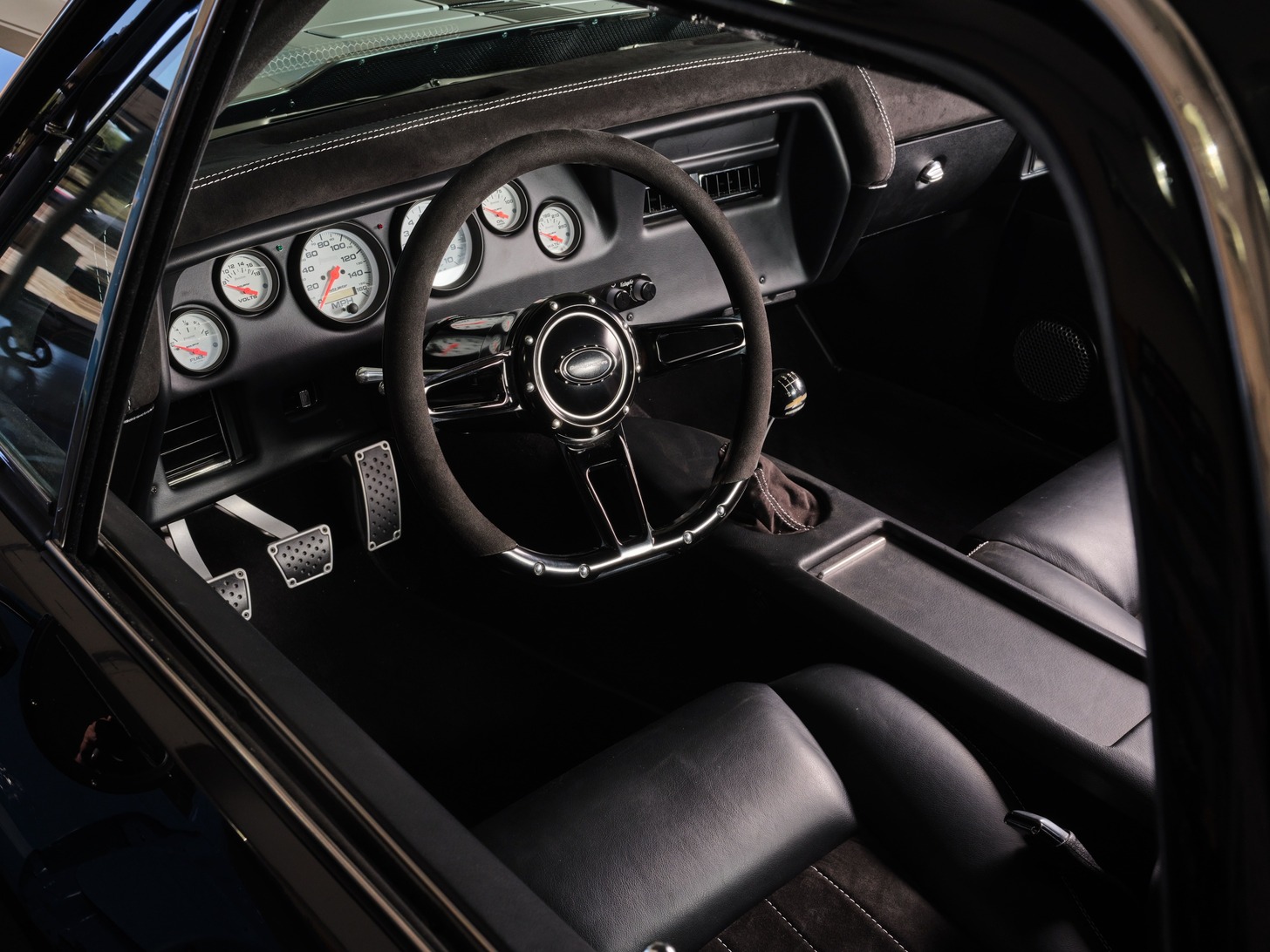 As you'd expect from an El Camino, the interior is modest in size, yet the GoodFellows team created a cockpit that's big on looks thanks to the Clayton Machine Works shifter, door handles, and pedal assembly. The OPGI black loop carpet looks stock yet integrates well with the Goodfellows custom suede leather door panel inserts, dashpad, shifter boot, and seat covers. Dana grips a Billet Specialties steering wheel propped atop a Flaming River column. A Vintage Air HVAC system keeps the temps comfy regardless of the weather, while the assemblage of Auto Meter dials add to the performance scene while keeping Dana in the loop on pertinent information.
Read More: 1964 Chevelle Station Wagon Built by an Upholster to Showcase His Skills
Dana can't help but crack a huge smile every time he gets behind the wheel of his freshly built ride as it takes him back to all the time spent in his dad's El Caminos. "The car is just a pleasure to drive," Dana reports. "The performance and handling qualities are absolutely amazing, but the icing on the cake is that my daughter thinks it's a very cool car and has even offered to wash it on Saturdays."
Sounds to us like déjà vu all over again.
ACP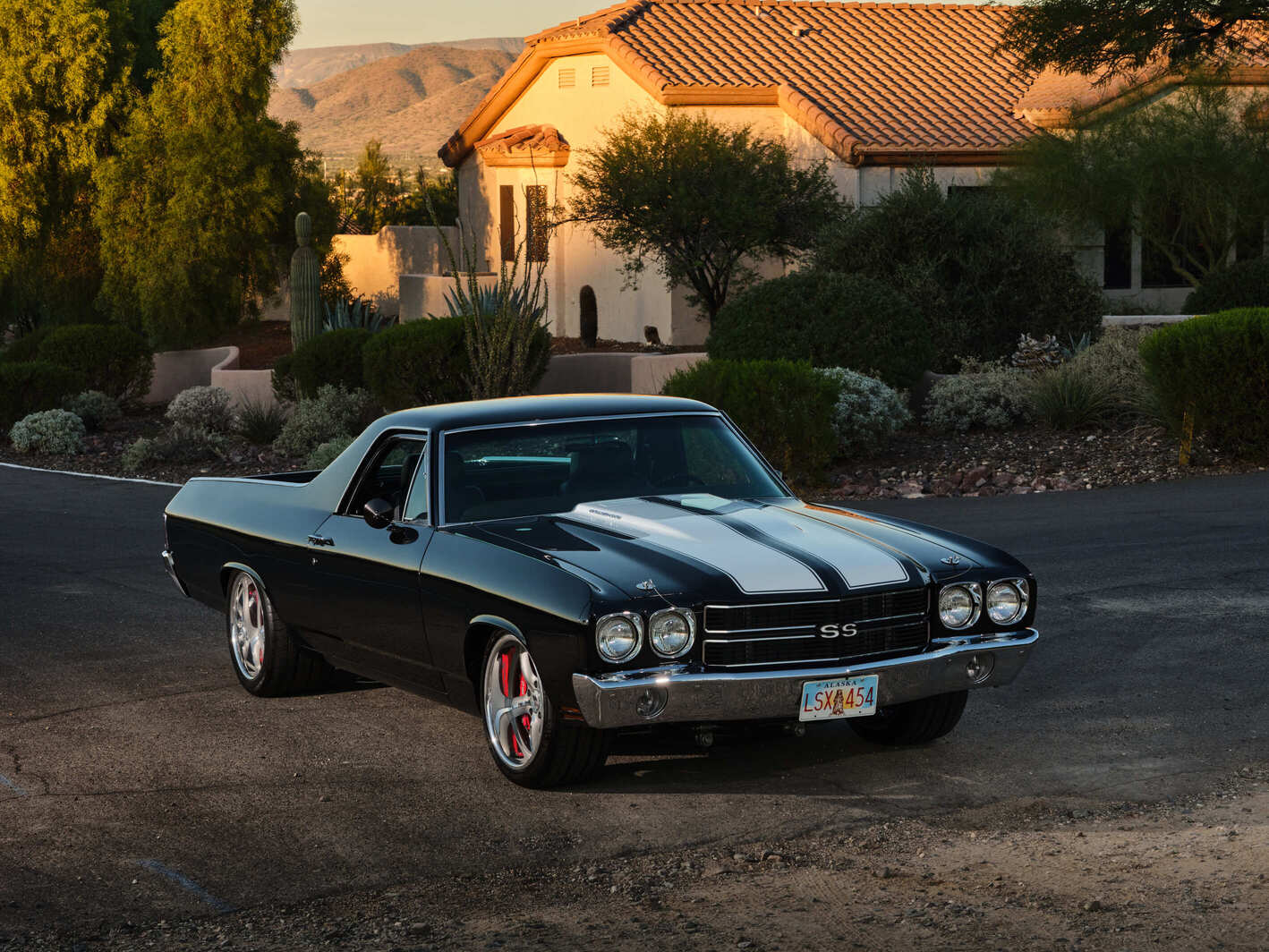 TECH CHECK
Owner: Dana Pruhs
Vehicle: 1970 Chevy El Camino SS
Engine
Type: GM LSX 454
Displacement: 454 ci
Compression Ratio: 11.0:1
Bore: 4.185 inches
Stroke: 4.125 inches
Cylinder Heads: Aluminum LSX-LS7 port, with "as cast" 70cc chambers
Rotating Assembly: 4340 forged steel crankshaft, forged steel rods, forged aluminum pistons
Camshaft: Hydraulic roller cam
Induction: GM intake, Holley Sniper EFI
Assembly: GM
Exhaust: GoodFellows custom-built 1 ¾-inch headers, 3-inch stainless exhaust, Spintech and Flowmaster mufflers
Ancillaries: Dirty Dingo accessory drive kit, PRC aluminum radiator, New Port Engineering wiper motor, Eddie Motorsports hood hinges, MSD plug wires, Delco Alternator
Tuning: GoodFellows
Output: 627 hp and 586 lb-ft
Drivetrain
Transmission: TREMEC Magnum
Clutch: McLeod twin disc
Rear Axle: Strange 9-inch, Eaton Truetrac limited-slip differential, 3.70 gearset, 31-spline axles
Chassis
Chassis: Art Morrison
Front Suspension: C6 spindles, Strange coilover shocks, 550-pound springs, 1 1/4-inch hollow sway bar
Rear Suspension: Four-bar suspension, Strange coilover shocks, 250-pound springs, 7/8-inch solid sway bar
Brakes: Wilwood 14-inch rotors, six-piston calipers front, 14-inch rotors, four-piston calipers, Wilwood master
Wheels
Wheels: Boze GoodFellows Custom (18×11 front, 18×12 rear)
Tires: Michelin Pilot Sport; 275/35R18 front, 335/30R18 rear
Interior
Upholstery: OPGI black loop carpet, custom suede leather door panels and dash by GoodFellows
Seats: Bucket suede leather
Steering: Flaming River steering column, Billet Specialties steering wheel
Shifter: Clayton Machine Works
Door Handles: Clayton Machine Works
Instrumentation: Auto Meter
HVAC: Vintage Air
Exterior
Bodywork and Paint: GoodFellows
Paint: PPG black, PPG white stripes
Trim Pieces: OPGI
Mirrors: Billet Rides (St. Petersburg, FL)
Front Bumper: Stock, trimmed
Rear Bumper: Stock, trimmed
Taillights: LED
Hood: AMD cowl
Plating: Royal Plating (Tuscon, AZ)