Mike and Mary Fell's 1967 Chevelle
By Nick Licata   –   Photography by John Jackson
It's not uncommon for kids to become a product of their environment and gravitate toward whatever it is that gets their attention. When passing through those influential teenage years, the guy down the street with the hopped-up muscle car who spends a good amount of time wrenching and cruising the neighborhood in a car with a highly pronounced exhaust and a burley V-8 underhood can easily suck a kid into the scene. Mike Fell's influence came from a similar situation but was compounded by an unlikely source: his grandmother. Yep. "When I was young, my grandmother had a 1967 Chevelle that I remember riding in many times as a young boy," Mike reminisces. "When she was done with the car, it was handed down to my parents who drove it for a few years before passing the keys to me on my 16th birthday. The car was very used, slightly dented, and well broken in."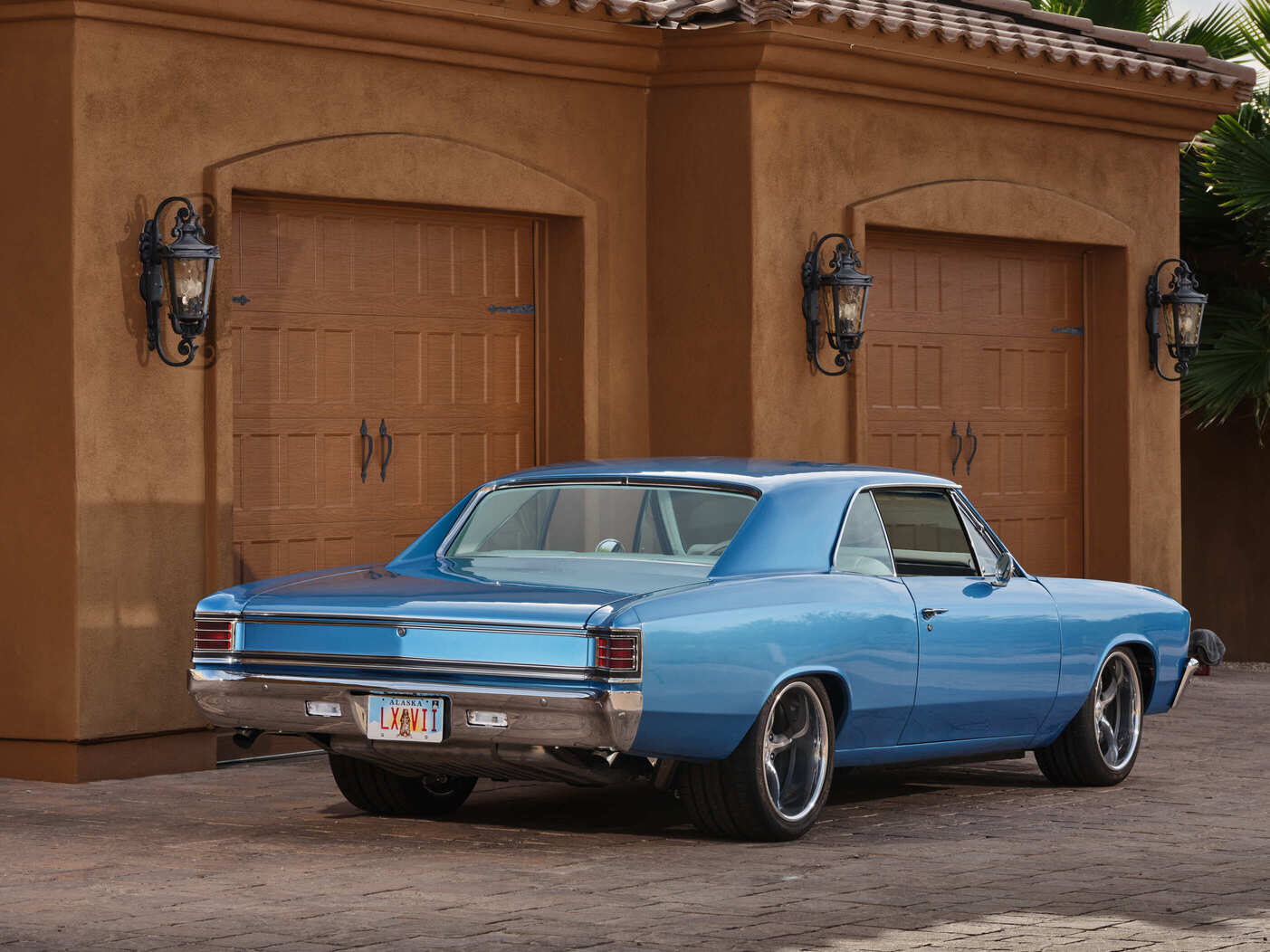 To put a time perspective on the mid-'70s event, Mike proudly installed an 8-track player and hacked up the doors to fit a pair 5-inch coaxial speakers soon after he took ownership. Mike was rocking with the car through his high school years, but just prior to heading off to college the car blew a head gasket. Mike pondered the idea of spending the money to fix it, but instead sold it to a junkyard as a parts car. Today we cringe, but a used up Chevelle wasn't worth much back in the late '70s.
As life went on Mike regularly thought about the Chevelle–couldn't shake it. He told himself if he ever had the financial means to own another one just like it, he would. Fast-forward 42 years and Mike was introduced to AJ Schwichtenberg, owner of GoodFellows Classic Cars in Phoenix–a shop that builds high-functioning, high-quality muscle cars and classic trucks.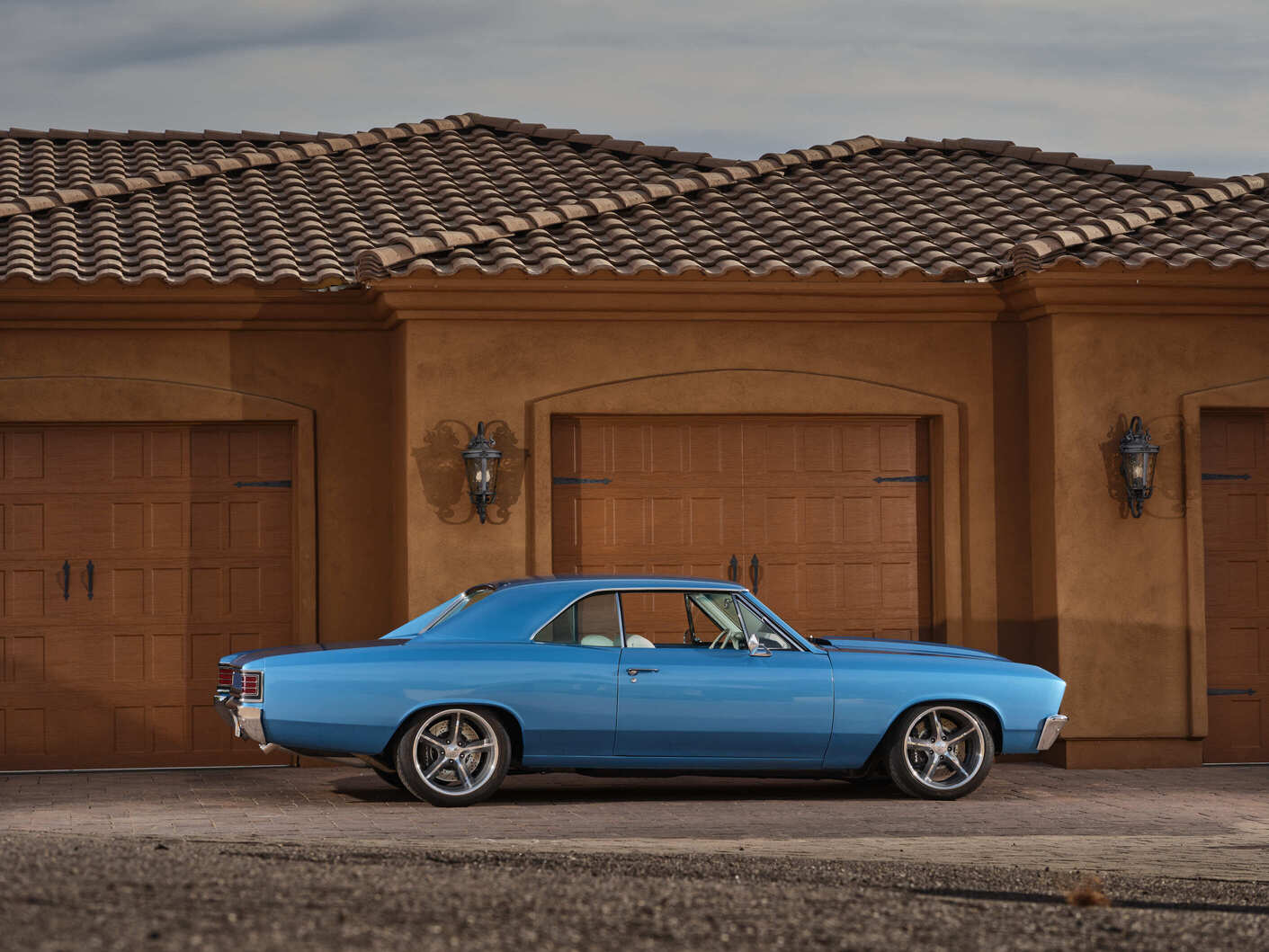 Check this out: Joel Russell's 1966 Nova
Mike asked Schwichtenberg if he could find and build a similar ride like the one he remembered going on dates and having fun with his buds during his high school years. Old cars have the distinct ability to carry a lifetime of memories, so finding one of the same vintage would be a great way to relive some good times, even though what Mike had in mind would be quite an upgrade from Grandma's ride.
Schwichtenberg's got a network of car stalkers–friends who know he's always on the prowl for early muscle. It wasn't long before they pulled through with a specimen, although rough, they know Schwichtenberg's got the ultimate set of tools and shop full of qualified gearheads who can turn trash into treasure.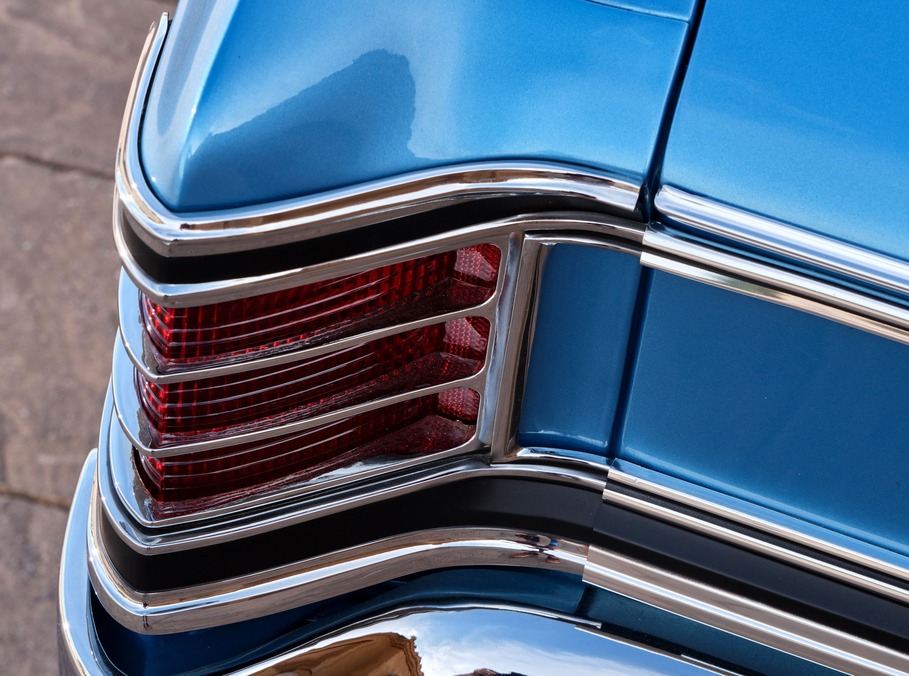 With a blank canvas waiting for a revive, Schwichtenberg and Mike fine-tuned the build style after a few versions were rendered, sent back a fourth, discussed, and adjusted. Schwichtenberg convinced Mike that going with an original color would be most effective at bringing the Chevelle back to a timeless hue. Although it took a little convincing, Mike agreed with AJ's opinion and has no regrets. In fact, he's happy Schwichtenberg talked him into going in a factory direction.
With a plan in place, GoodFellows' crew members Mark Lindsay, Jason Stark, and Larry Laws started with removing the tainted metal and swapped in some fresh bits from Auto Metal Direct. A couple new quarter-panels, doorskin, hood, and two front fenders got them on track and had the 1967 Chevelle looking more like, well, a 1967 Chevelle. Before the final touches, they opened the rear inner fenders with Detroit Speed mini-tubs as big fat meats were on the menu to help contain the Chevelle's appetite for smoking rubber. They smoothed and grooved the body to their liking, then laid down a fine layer of PPG Marina Blue. They accented the envelope with Billet Rides outside mirrors and had Royal Plating in nearby Tucson treat the stock bumpers and door handles to new chrome finish.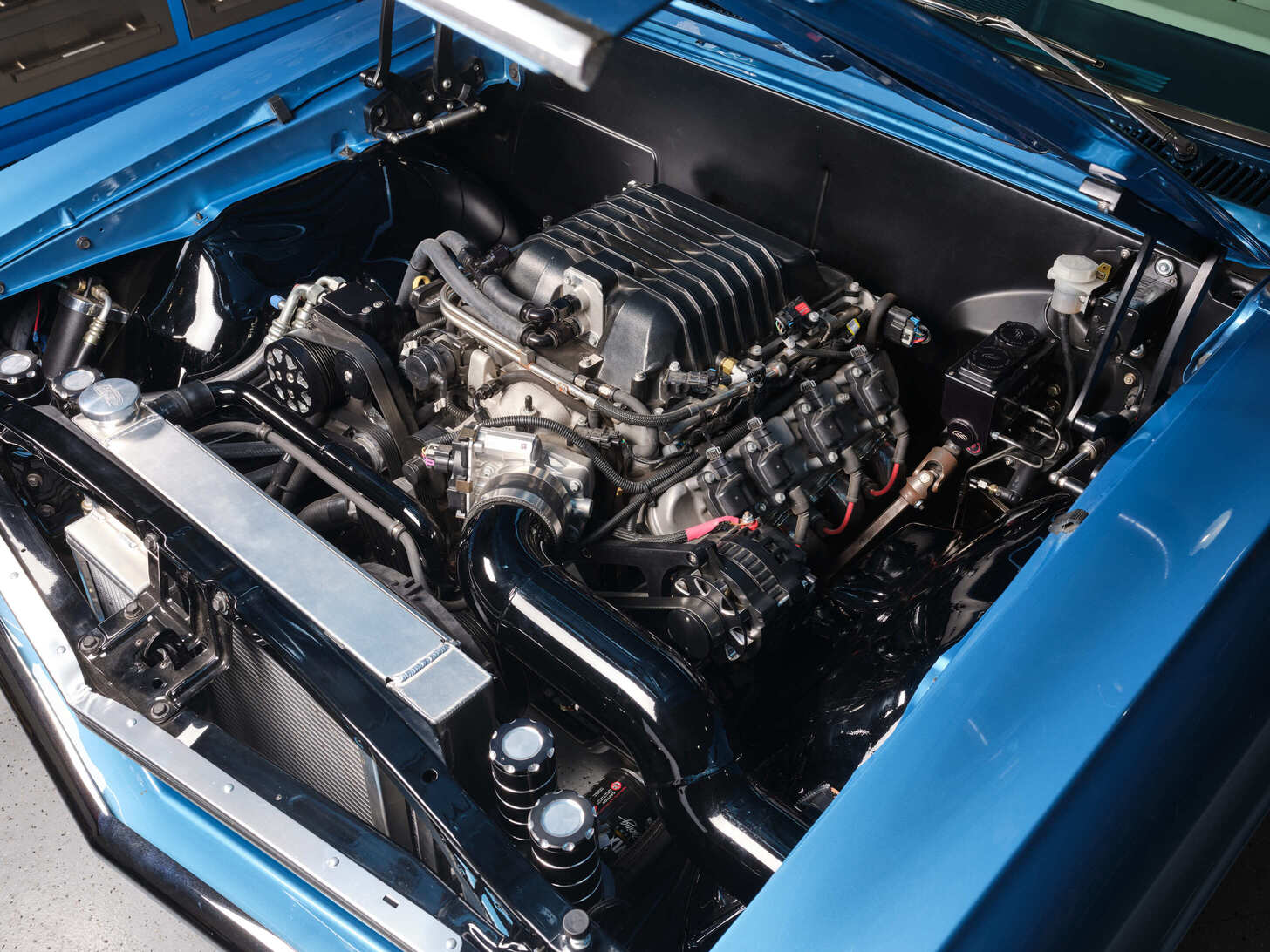 Schwichtenberg has tremendous faith in GM's LSA and, like many of his builds, uses the platform to power many of his customer's rides. Mike's Chevelle is no exception and going for reliable street manners GoodFellows dolled up the engine bay then dropped in the mostly stock mill, which inhales through a GoodFellows custom air intake tube topped with a with a Spectre Performance element. GoodFellows also fabbed up a set of custom 1¾-inch headers, a 3-inch stainless exhaust, then topped it with a pair of Spintech mufflers that attempt to subdue the commotion, but Mike confesses he likes the idea of making an audible announcement when he comes and goes. The All American Billet black accessory drive system provides excellent form and function while the PRC aluminum radiator ensures coolness prevails. The ensemble generates 540 hp to the tires, which is plenty for Mike's idea of a fun machine.
Mike's grandmother's OG Chevelle was born with automatic, but Mike prefers changing gears on his terms, so a new TREMEC T56 six-speed was sourced and backed up by a McLeod twin-disc clutch. A TAD driveshaft sends power to a Strange 9-inch rearend outfitted with a limited-slip posi, 4.10 gears, and Strange 31-spline axles.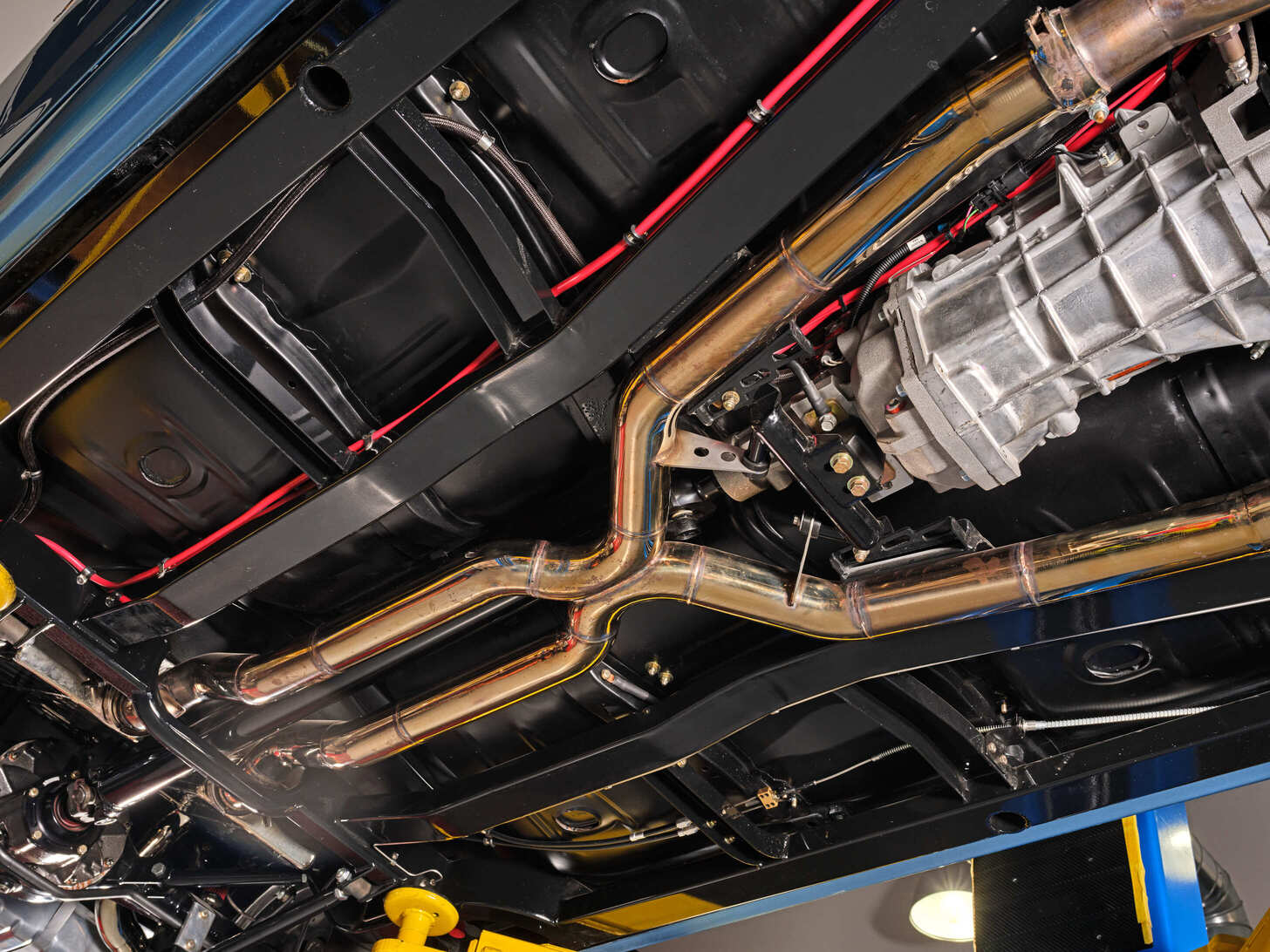 Laying Down the Law: This Family Insists on Keeping it an All-Chevy Crew
Aggressive stance and ride quality where both high priorities, so AJ dropped the body on an Art Morrison chassis. The ensemble includes a four-link out back with Strange coilover dampers, 250-pound springs, and a GoodFellows splined sway bar. Up front are C6 style spindles, Sport IFS tubular control arms, Strange adjustable coilover shocks, 450-pound springs, GoodFellows splined sway bar, and Detroit Speed rack-and-pinion steering system.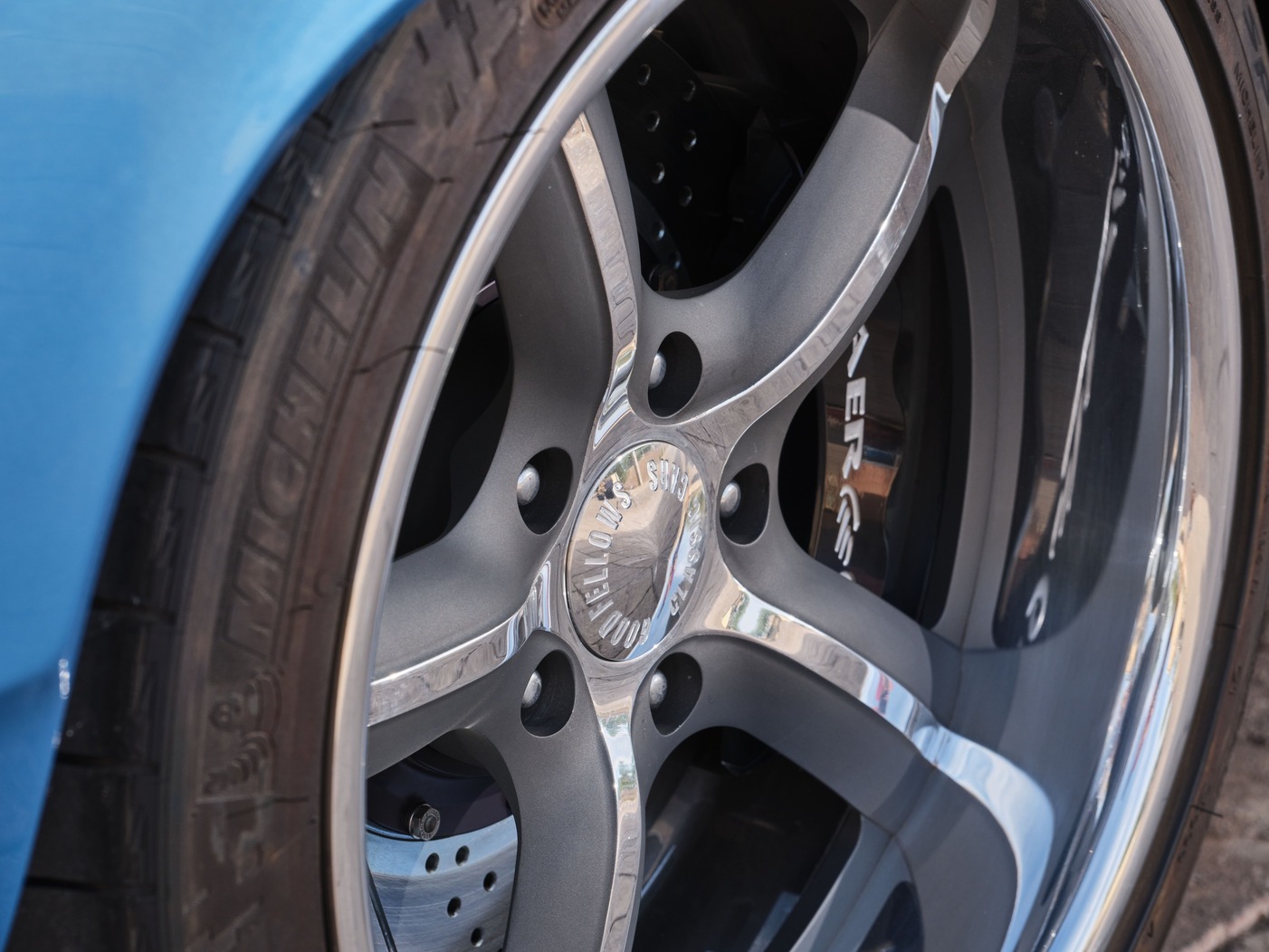 Solid stopping was handed to Baer Brakes, featuring 14-inch rotors and six-piston calipers on all four corners, while Mike relies on a Baer ReMaster for exceptional pedal feel.
The five-spoke aluminum wheels are a custom GoodFellows design, built by Boze (18×10 front, 18×12 rear) and are cloaked in Michelin Pilot sport rubber (275/35R18 front, 335/30R18 rear). The combination complements the Chevelle and gives it a personality all its own.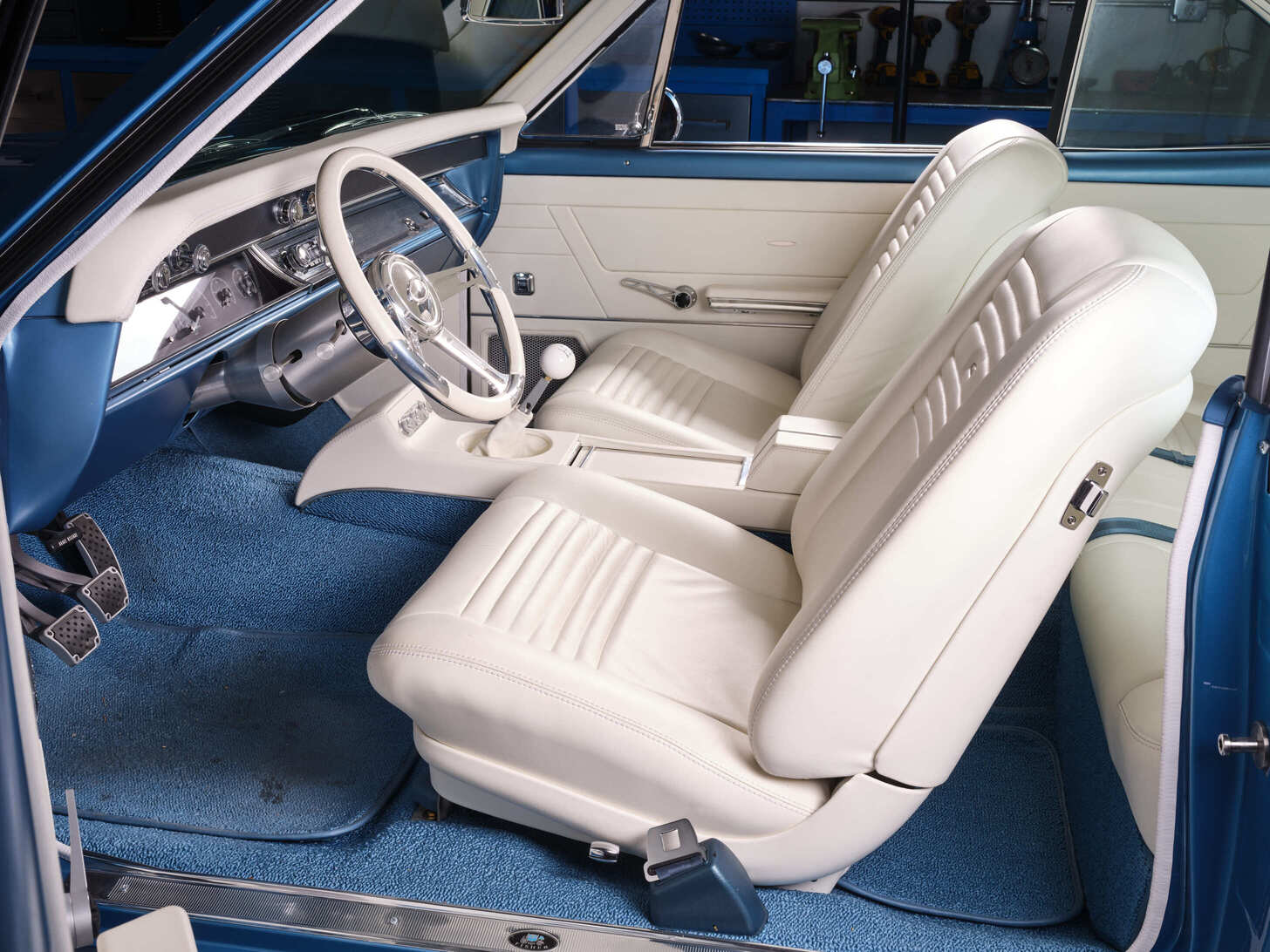 With the factory-style bucket seats and door panels redone in white leather, the interior conveys a stock-ish appearance complemented by the double-loop blue carpet. The stock dash houses black-face Dakota Digital HDX gauge package for vintage a look with modern performance. The ididit steering column and Billet Speciates steering wheel accent the scene, while custom nuances come by way of the Clayton Machine Works door handles, shifter, and pedals. The Vintage Air control panel looks right at home in the custom center console wrapped in white leather. The old-school-looking head unit appears harmless but is the catalyst to a 300-watt amp and a quad dose of 6×9 speakers strategically placed in the doors and package tray–a far cry from the 8-track player Mike installed in his first Chevelle.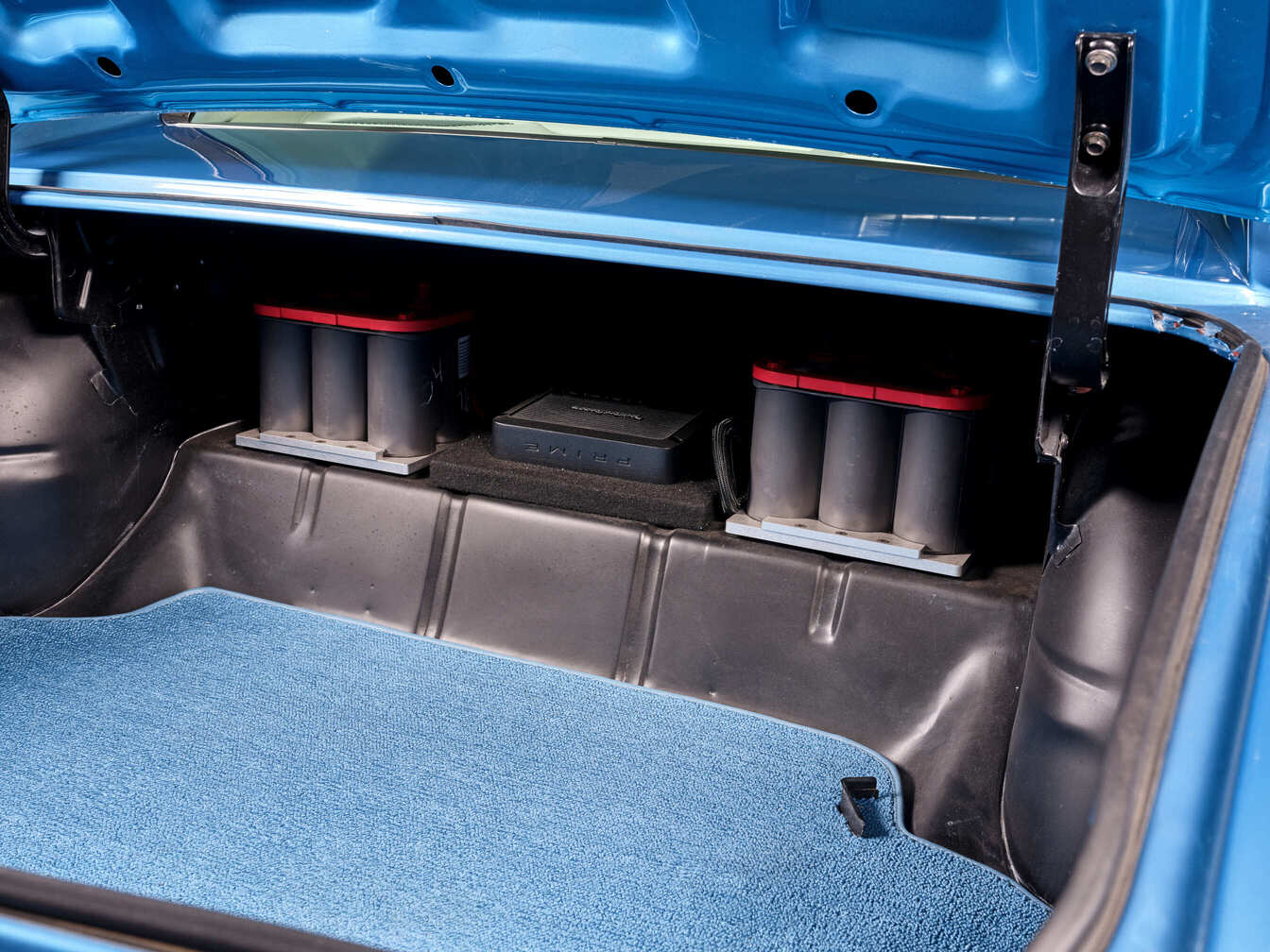 Mike's one-year project was well worth the short wait, and he says, "AJ got it right. He built a vintage car that has all the modern bits that make me feel like I'm driving a new performance car with all the power I need. The car not only looks beautiful beyond my expectations, but it also reminds me of my grandmother's original 1967 Chevelle, only with a lot more attitude.
TECH CHECK
Owner: Mike and Mary Fell, Homer, Alaska
Vehicle: 1967 Chevelle
Engine
Type: Chevrolet Performance LSA
Displacement: 376 ci
Compression Ratio: 9.1:1
Bore: 4.065 inches
Stroke: 3.622 inches
Cylinder Heads: Aluminum L92-style port
Rotating Assembly: Forged crankshaft, powdered metal rods, hypereutectic aluminum pistons
Camshaft: Hydraulic roller, 0.492/0.480, 198/216 degrees duration at 0.050
Induction: 1.9L Eaton TVS supercharger
Exhaust: GoodFellows custom headers, 3-inch stainless exhaust, SpinTech mufflers
Ancillaries: American Billet accessory drive system, PRC aluminum radiator, GoodFellows custom intake tube, Eddie Motorsports hood hinges
Tuning: GoodFellows
Output: 540 hp and 519 lb-ft to the tires
Drivetrain
Transmission: TREMEC T56 six-speed transmission
Clutch: McLeod twin disc
Rear Axle: Strange 9-inch rearend, limited-slip posi, 4.10 gears, strange 35-spline axles
Chassis
Chassis: Art Morrison A-body GT-Sport chassis
Front Suspension: Art Morrison Sport IFS control arms, C6 spindles, Strange coilover shocks, 450-pound springs, adjustable spline sway bar, Detroit Speed rack-and-pinion steering
Rear Suspension: Art Morrison triangulated four-bar, strange coilover shocks, 250-pound springs, splined sway bar
Brakes: Baer 14-inch rotors, six-piston calipers front and rear, Baer ReMaster brake master cylinder
Wheels
Wheels: Boze GoodFellows wheels (18×10 front, 18×12 rear)
Tires: Michelin Pilot Sport; 275/35R18 front, 335/30R18 rear
Interior
Upholstery: Double loop blue carpet, custom white leather upholstery by GoodFellows
Seats: Stock buckets with white leather covers
Steering: ididit steering column, Billet Specialties steering wheel
Shifter: Clayton Machine Works
Door Handles: Clayton Machine Works
Dash: Stock with Dakota Digital HDX gauge package
HVAC: Vintage Air
Center Console: GoodFellows Custom
Exterior
Bodywork and Paint: Mark Lindsay, Jason Stark, and Larry Laws
Paint: PPG Marina Blue
Hood: Auto Metal Direct
Quarter-Panels: Auto Metal Direct
Fenders: Auto Metal Direct
Mini-Tubs: Detroit Speed
Grille: Stock
Bumpers: Stock trimmed and tucked
Plating: Royal Plating (Tucson, AZ)