A 1964 Chevelle Station Wagon Built by an Upholster to Showcase His Skills.
By Brian Brennan – Photography By Grant Cox
 This 1964 Chevy Chevelle 300 two-door wagon is rare indeed. The Chevelle was the U.S. auto industry's only all-new car for 1964 and was positioned to fill the gap between the small Chevy II and the fullsized Chevrolet models. There were almost 340,000 Chevelles (coupes, convertibles, sedans, hardtops, and wagons in two- and four-door) produced, but the two-door 300 wagon is a rarity.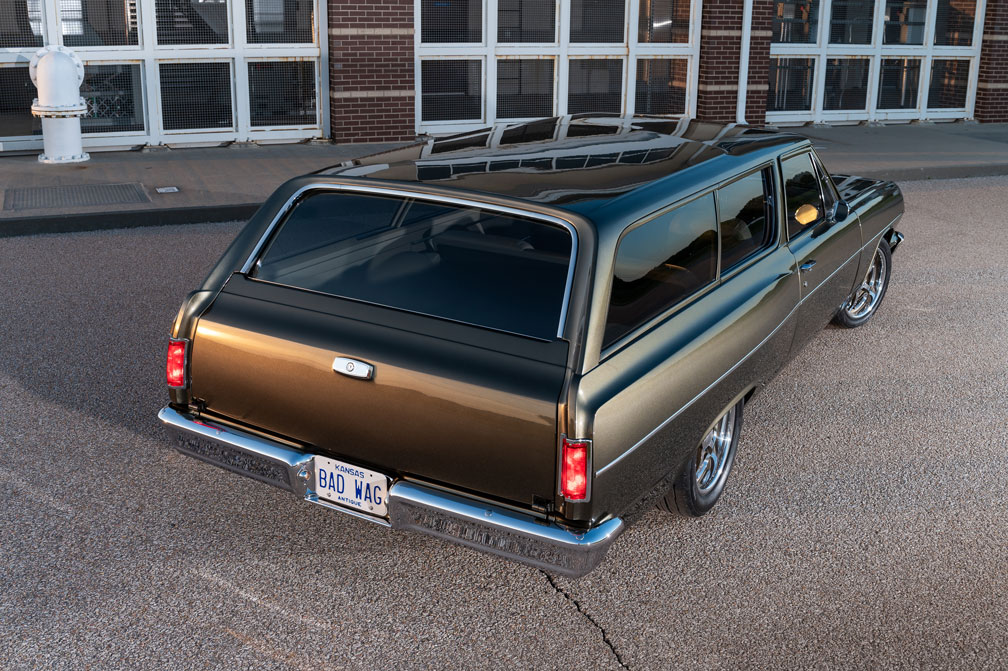 This also included a coupe utility (El Camino), which was a derivative of the two-door wagon. In line with other Chevrolet series, the two-door hardtop Chevelles were called Sport coupes. Four-door hardtop Chevelles were named Sport Sedans, available in 1966-1972. A two-door sedan and station wagon was available in 1964 and 1965 in the base 300 series.
Read More: Brownstone Roadster: '32 Ford Roadster With SoCal Style
Scott Downey of Kansas has long been a hot rodder, having grown up in a family obsessed with this era of cars. Following through, he's currently an automotive upholsterer with a real passion for Chevelles and El Caminos and figures this Chevelle 300 wagon is the best of both worlds. It took Scott and his friend Ross Harrison two years to bring this two-door wagon to its current state, which many call "state of the art."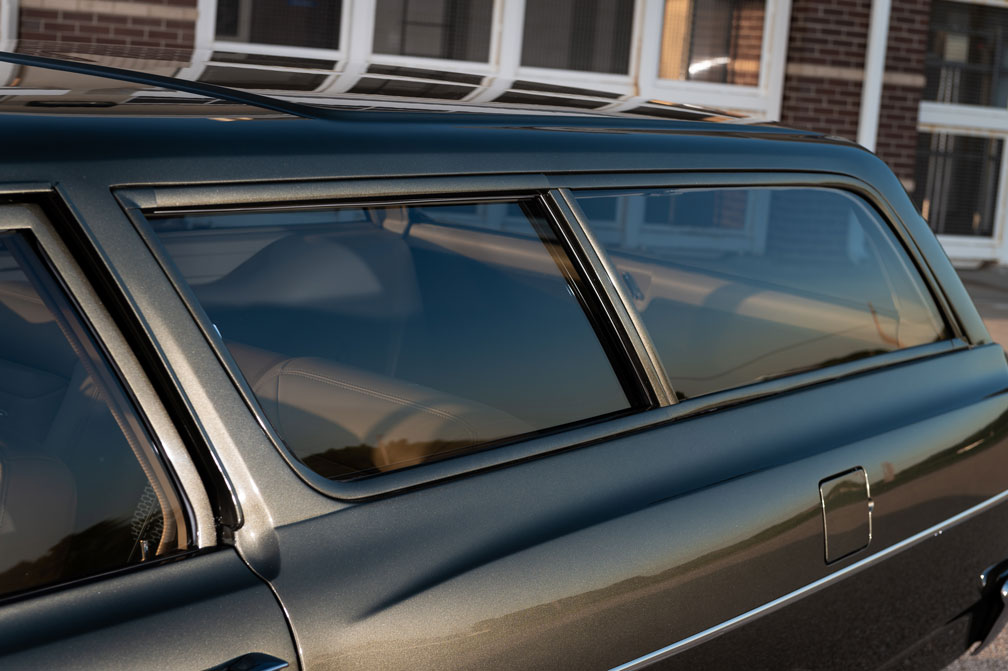 The chassis is based on the stock wagon frame with a Positraction 10-bolt Spicer rearend spinning 3.36 gears, boxed control arms, along with a 1-5/8-inch sway bar, KYB shocks, and lowered several inches.
In front tubular A-arms replaced the stock units along with stock spindles. From here the IFS was lowered 2 inches, KYB shocks added, and a GM quick-ratio steering was engaged. A 1-1/8-inch sway bar twists in front, while GM disc brakes are used along with a Delco master cylinder and power booster.
The chassis rests on a set of Schott Accelerator wheels measuring 17×7 (5-inch backspacing) and 17×8 (5.75-inch backspacing) on the rear wheels. From here Nitto radial performance rubber (NT555) is used measuring 225/45ZR/17 in front and 255/50ZR17 in back.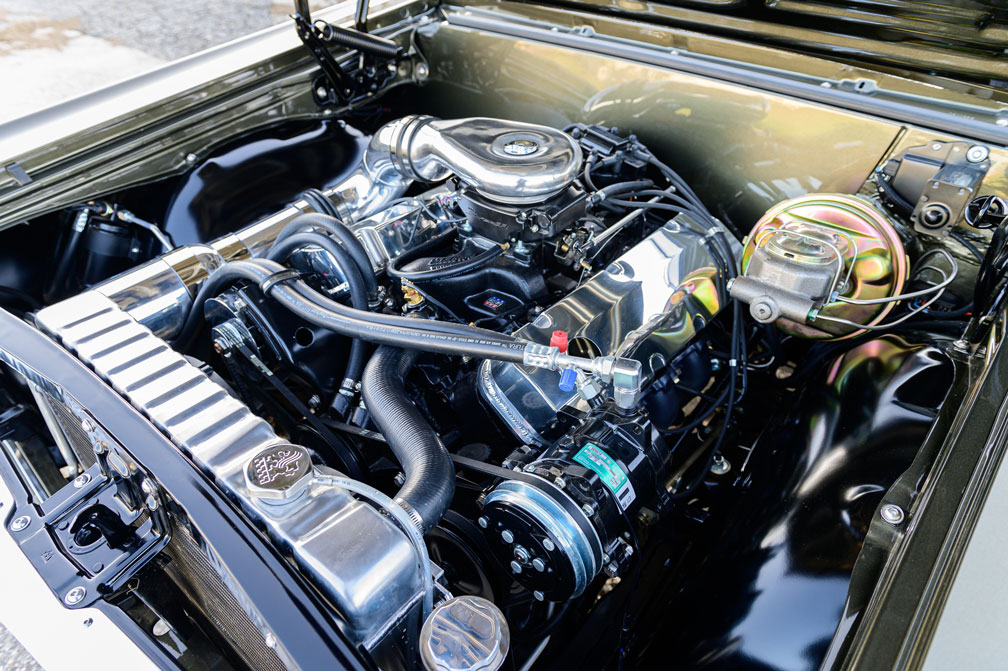 Read More: Hot Rod Harmony: Sather's '34 Ford Coupe Chassis
Now a wagon, even this sedate two-door, needs plenty of oomph to be a true hot rod and it has it all wrapped up within a 468-inch big-block Chevy built by Tom Wilhite. He made sure to fill the holes with forged pistons, an Elgin Pro Stock model camshaft, and iron Chevrolet Performance heads. Resting within and on the heads are stainless valves and roller tip rockers.
A Griffin aluminum radiator is used to keep engine "cool" with the help of an electric fan. Additional engine goodies include Edelbrock valve covers and an aluminum intake and to this a Holley Sniper throttle body EFI is bolted on coupled to a Spectra cold-air intake.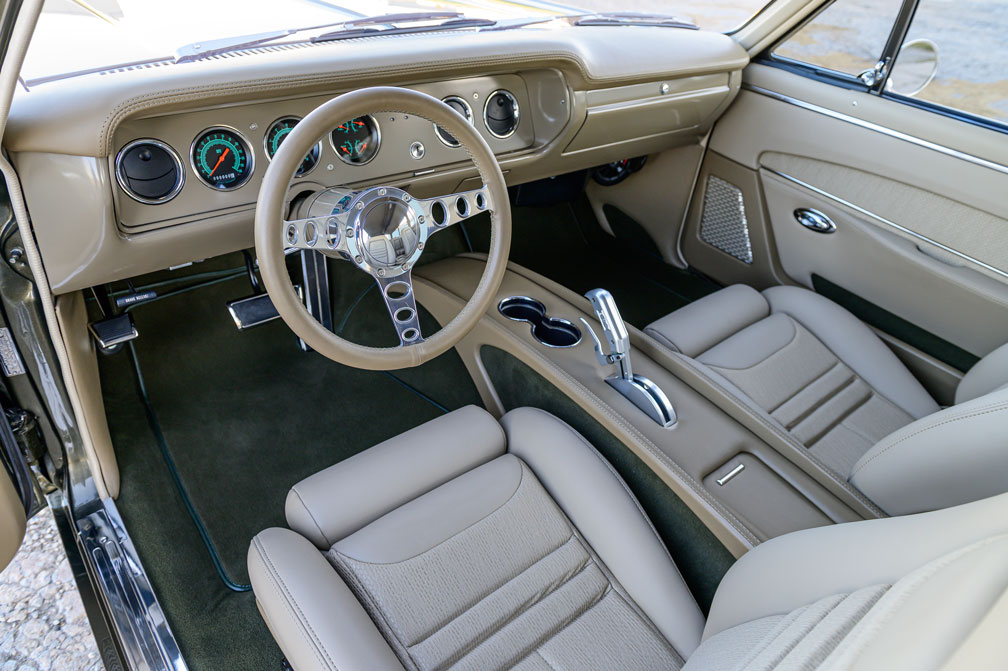 Firing the fuel load is a GM HEI ignition along with an MSD box and wires. Getting rid of the spent gases is a custom exhaust fabricated by Kevin Kaiser utilizing 2-1/4-inch exhaust pipe paired with two Walker Turbo mufflers. Putting the big-block Chevy together was a joint effort between Tom Wilhite and Scott. The big-block Chevy power is transferred to the rear via a 700-R4 complete with a Shift Kit, a billet sprag, and 10-vane pump all assembled by Chance Transmission and shifted into high gear by a B&M Street Bandit pistol grip shifter.
The '64 Chevy Chevelle 300 two-door wagon is primarily stock sheetmetal but the emblems were shaved with the addition of a singular piece of stainless steel side trim that came from McMillan Rod & Custom and runs the length of the body. While the wagon is a '64 it was the use of '65 two-door wagon taillights that give it a bit of customization.
We are talking about a wagon so there's lots of glass. In this case, while stock in its use and position, it's smoked glass to blend in nicely with the body color. The '64 tin was then massaged by Gary Cushenbery and Darrin McCollom of Bauer Auto Restoration and from here PPG Sarsaparilla Sage was selected as the color of choice and expertly sprayed on by McCollom.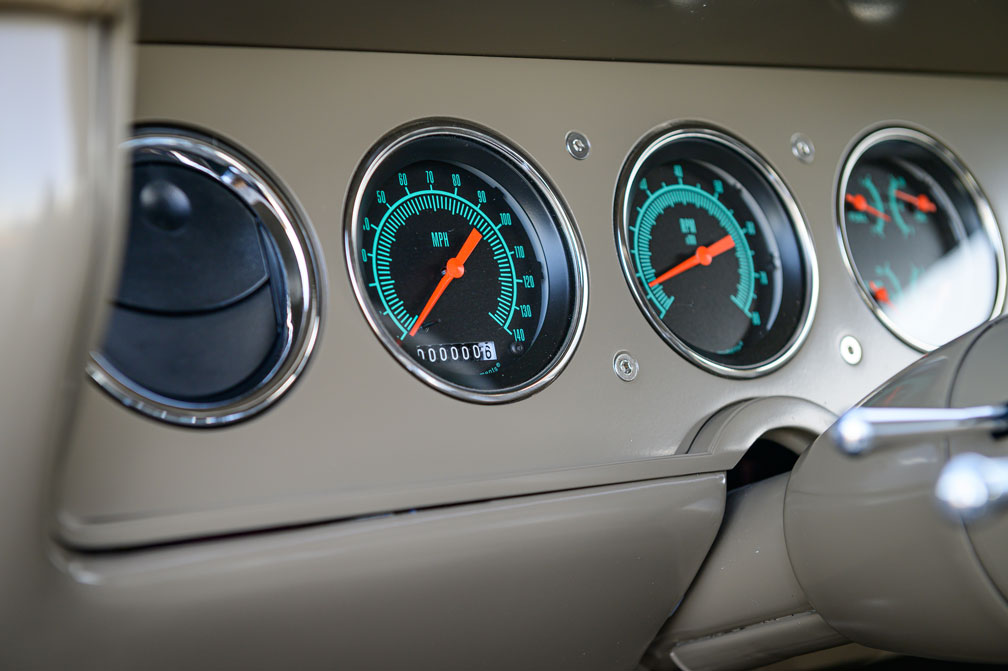 Read More: How To Repair a Cowl On a '55 Chevy
Remember, we mentioned earlier that Scott is in the automotive upholstery business so that means his hot rod is also his business card. While the dash is stock in its framework there's the use of light frost beige and taupe leather to cover it. From here it features an aluminum custom dash insert that's loaded with Classic Instrument gauges and F-150 air registers for the Vintage Air A/C.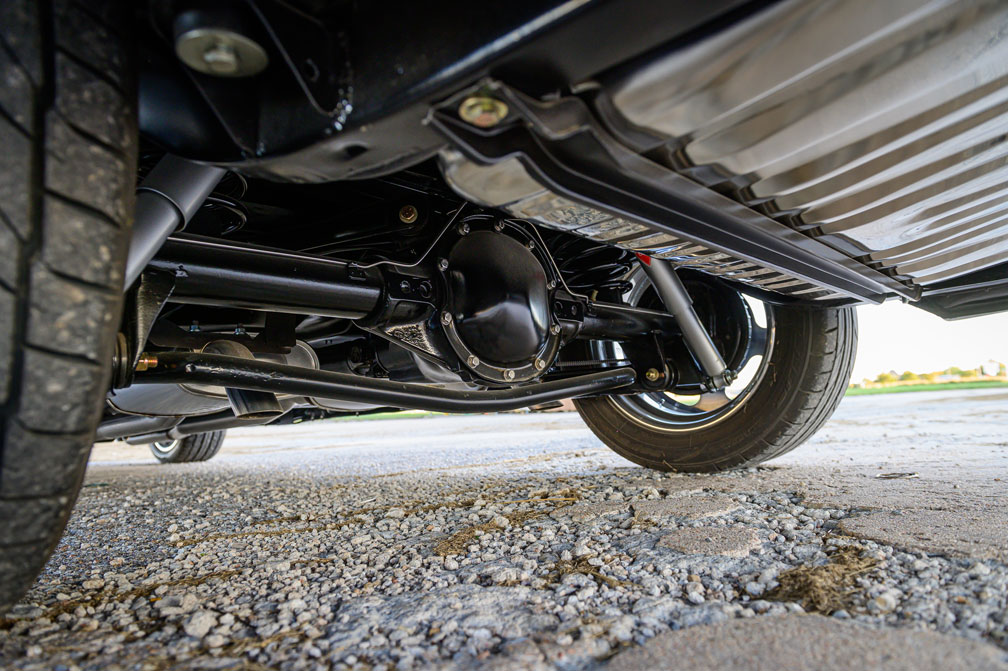 Making all of this "come to life" is the use of an American Autowire system, one more chance for Scott to show off his handiwork. A GM tilt column is used and topped with a matching leather-wrapped Flash Power three-spoke wheel. The seating is a combination of Mustang GT buckets in front and a handmade (by Scott) pair of buckets in back all covered in light frost beige and taupe leather and cloth.
There's also the matter of a center console treatment beginning in front and working its way to the rear, complete with a waterfall treatment between the rear buckets. The center console is filled with fore and aft cup holders, the power window switches, and the master controls for the Kicker stereo that's complete with front and rear Polk speakers (6-1/2 inch), Rockford Fosgate subwoofer (8-inch), and amplifiers. If you are wondering about all of the custom work and stitching look no further than Scott himself and fellow master of the sewing machine John Schmidt of Downey's Auto Upholstery shop in Scott's hometown of Wichita, Kansas.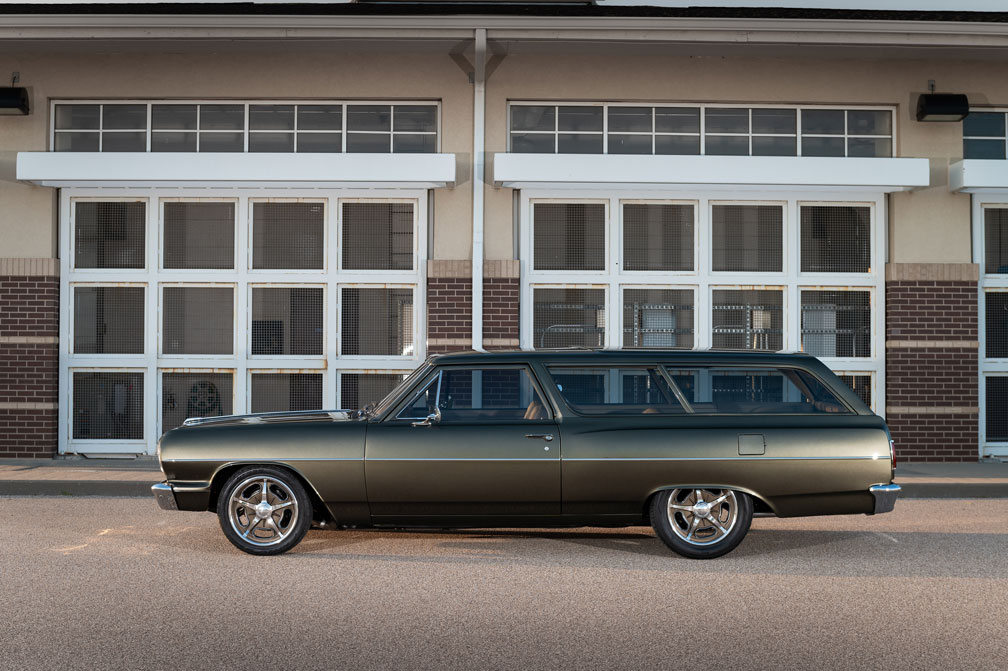 Long roofs are popular and have been for a long time. One would be pretty hard pressed to do better than a wagon–as it is both good looking and you can haul all of your buddies. Wait, maybe that's the problem–collect gas money! MR