Al Noe's '67 Camaro RS/SS
By Nick Licata – Photography by Randy Pugh
"My first car was a '68 Camaro RS/SS. It was red with white stripes," Al Noe fondly recalls. "I bought it when I was 15 and 'redid' it so that when I turned 16 I could have it finished and cruise in style." With only his learner's permit his parents reluctantly allowed him to take the car out with some friends who were a bit older and had actual driver's licenses. "So, off I went to Edgewater dragstrip in Cincinnati," Al tells. "I raced the car that night and have been hooked ever since. At the time I thought the car was fast, but in reality it was a stone. I think it went high 15s in the quarter-mile!"
Al's oldest brother, Tom, got him involved in the whole car thing as he owned a '69 Camaro with a big-bock. Only 8 years old at the time, Al looked up to Tom, which got the wheels of the muscle car addiction rolling for Al. "When I was in high school, Tom had a '67 Corvette coupe and he let me drive it to my senior prom," Al remembers, "which, to me makes him the best big brother ever!"
With the muscle car foundation fully instilled in his DNA, Al first laid eyes on this '67 Camaro while on the set of the late-'90s show Hot Rod TV where he was product manager for Mr. Gasket and was assigned the job of walking the hosts through a DFI fuel-injection installation. "The car was red with white stripes and looked good on TV, but the paint was so-so," Al says. "At the time I had a Corvette with an LS5, but with a pregnant wife I would soon need a project with four seats."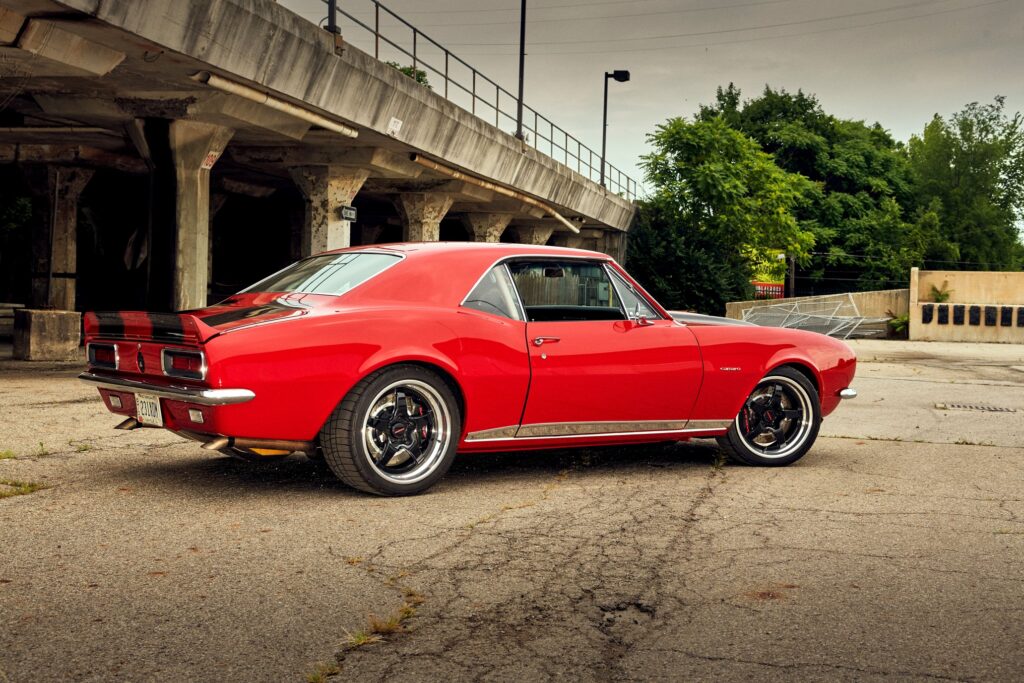 Once filming was completed, Al ask the producer if he could buy the car, but he said it wasn't for sale. Al was persistent. He wanted, no he "needed," the car. "I called the producer just about every day for a month after filming until he finally got tired of me bugging him," Al laughingly remembers. "He finally gave in and sold me the car. I'm sure he was relieved no longer having to receive my nagging calls."
Today Al is chief marketing officer at Summit Racing, so he's in the loop on what's happening on the racing and muscle car aspect of the aftermarket. Basically he knows what's up.
Like Camaros? Check this out: Big Block Bruiser: Firecracker Red 1969 Camaro
Over the past 30 years the '67 has gone through numerous suspension setups, five different engine combinations, and more modifications than Al can remember. Continuous upgrades over the years keeps Al immersed in the hobby, which plays right into his job. "If I need a part and Summit doesn't carry it, I do everything on my end to get those parts in stock. I figure if I need those parts, there's a good chance I'm not the only one." Al says. "Having this car has been a great help with keeping me up to date and making sure we carry or make the right parts and have them available for every other muscle car enthusiast out there."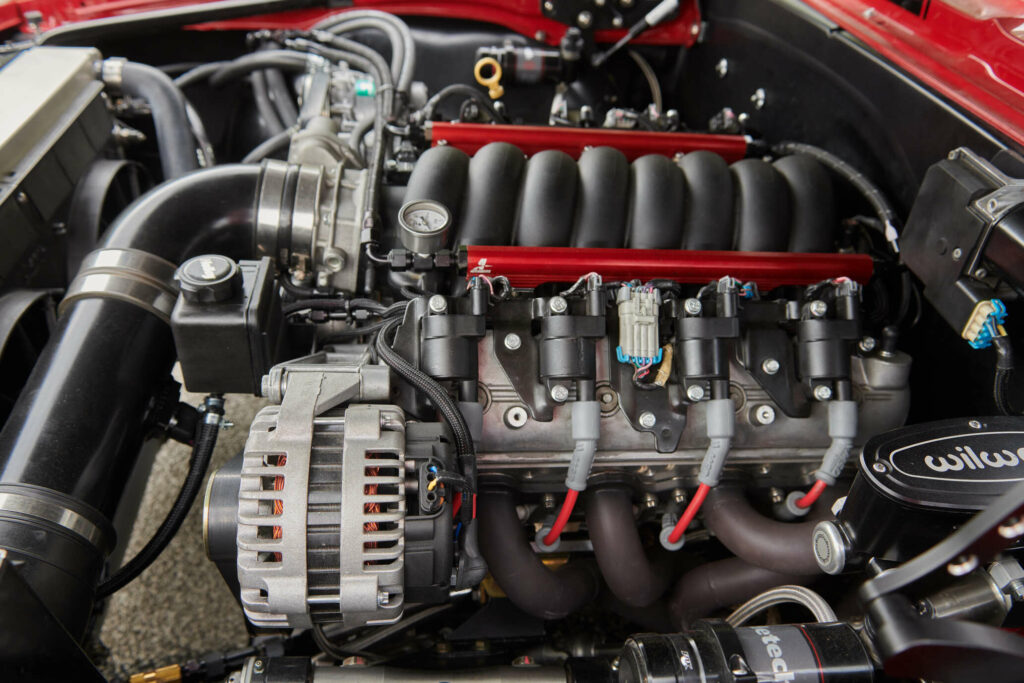 In its current configuration, the Camaro hosts a BluePrint Engines Pro Series LS 427, which is based off an LS3, but of course, Al's gearhead tendencies had him upgrade the cam and heads with a Trick Flow top-end kit. In his detached garage, Al and a group of friends bolted in the engine and told tall tales and exaggerations while spinning wrenches. Erik Johnson at Back Street Performance in Medina, Ohio, handled tuning chores and was able to coax 535 hp and 540 lb-ft to the tires. As Al explains, "The car runs and drives like it has a stock LS3 but with the heads and cam upgrade it has a lot more power and retains excellent driving characteristics."
From small-block, an automatic trans, and a four-speed, the '67 Al refers to as "Old Red" has seen it all. Today shifting duties are handled by a TREMEC TKO 600 and ACT twin-disc clutch. A Detroit Speed 9-inch with a full-floater rearend, Motive Gear 3:00 gearset, and Eaton Trutrac differential gets power to the ground.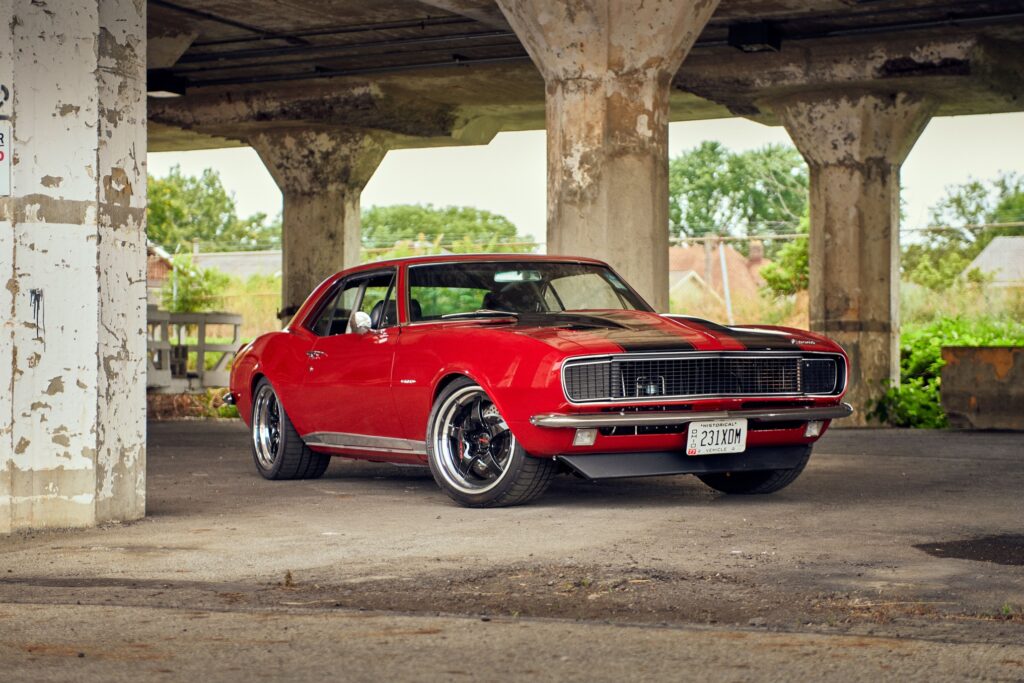 Al's not easy on his car–never has been, so he sourced a Detroit Speed hydroformed front subframe to satisfy his craving for lateral performance. Detroit Speed subframe connectors and body mounts provide additional chassis support. Ridetech triple-adjustable shocks ride up front while the same model shocks hang from the Ridetech four-link suspension system out back. Al's heavy right foot takes advantage of the available horsepower so a set of Baer Brakes Pro + brake system with 14-inch rotors and six-piston calipers on all four corners expeditiously bring it down from speed. The Wilwood manual master cylinder ensures precise pedal modulation and the Wilwood proportion valve offers tunable brake bias for more exact stopping ability. Al puts on his work hat (word has it, it's actually a full-face helmet) and is proud to mention that 99 percent of the parts on the car were pulled from the Summit Racing catalog.
Old Red has gone through numerous wheel and tire combinations but currently rolls on 18-inch Forgeline GF3 open lug wheels (18×10 front, 18×11 rear) wrapped in BFGoodrich Rival S rubber (275/35R18 front, 315/30R18 rear).
Read More, Forced Induction & a 69 Camaro: Jay Doerfler's 1969 Camaro Packs a Punch
Just about every piece of the interior is aftermarket, yet Al was able to preserve the car's classic vibe. Dakota Digital gauges populate the dash along with the Vintage Air A/C control panel, while a Summit Racing black carpet kit jives perfectly with the TMI door panels and Lokar door handles. A Grant steering wheel props onto a Flaming River steering column for accurate course management. Mustang Fox-body seats were recovered to simulate factory Camaro bucket seats, and a five-point Summit Racing harness keeps Al and his passenger wrapped in tight. A Ridetech Tiger Cage was bolted in for additional safety and chassis stiffness. And why not, it looks pretty damn cool, too.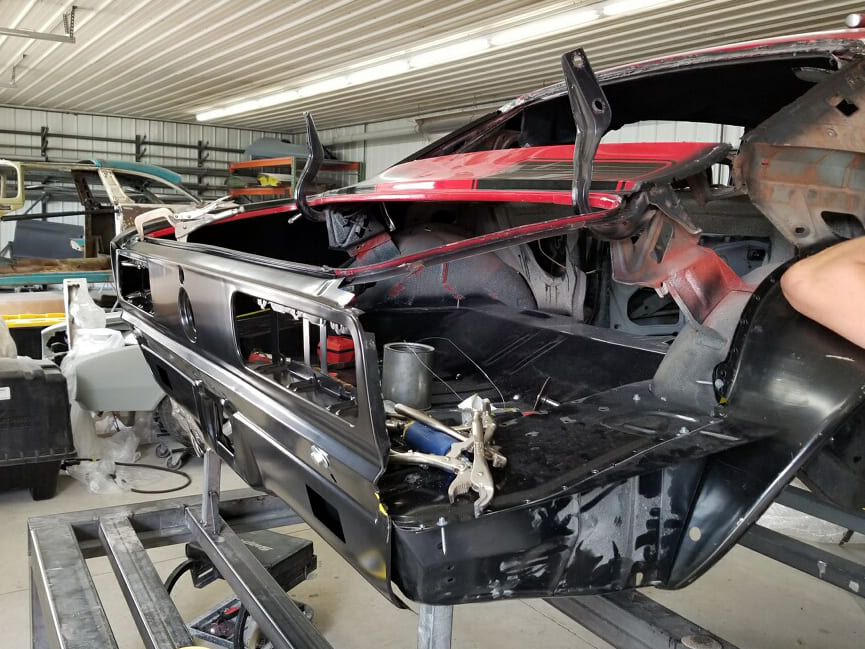 In 2017 Old Red was rear-ended by a distracted driver. At the time Al figured the car was a total loss. The rear end and everything up to the front seats were destroyed. Not ready to give up, Al dragged the car's remnants to Smitty's Custom Auto in Tiffin, Ohio. Chris Smith (everyone calls him Smitty) took a look at the Camaro's remains and told Al he had seen worse. Smitty promised Al he'd be able to get Old Red back on the road. Once again Al went to the Summit Racing catalog and hauled a truckload of parts to Smitty's in preparation for the transformation. With the car torn down, Smitty performed some additional upgrades, including smoothing the firewall, and added a carbon-fiber hood.
With the Camaro getting some crisp AMD sheetmetal, OER trim pieces, and SoffSeal weatherstripping, Smitty and his crew smoothed the body, massaged the new sheetmetal, set the gaps to perfection, and then laid down a deep layer of PPG Salsa Red Global basecoat with black stripes smothered in PPG Glamor clear.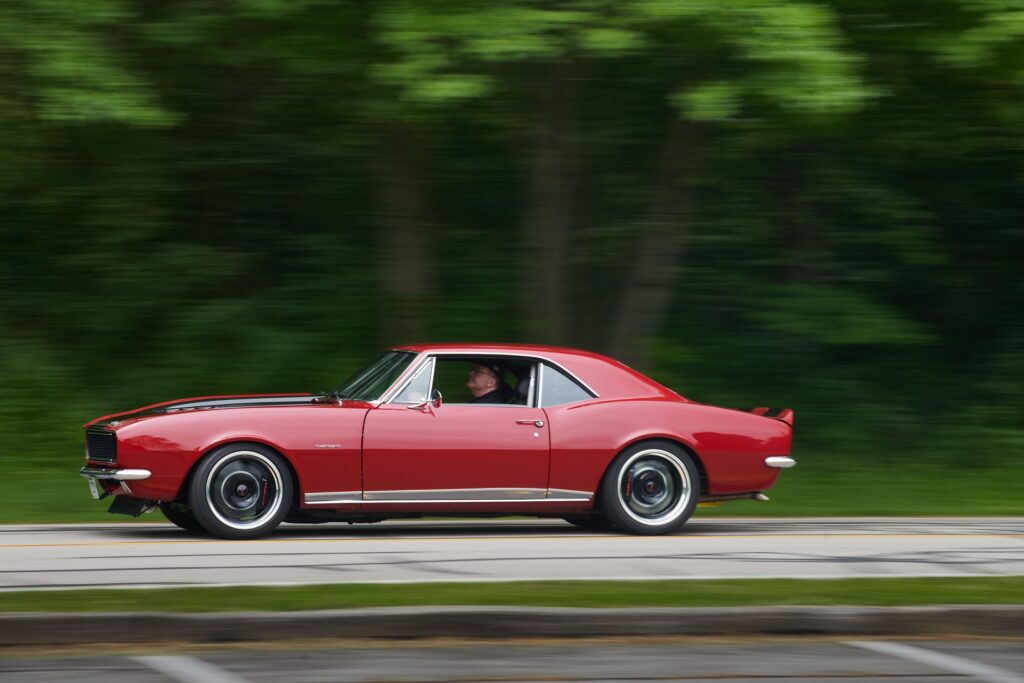 With Smitty's crew killing it on the shell, Al hauled the fresh body back to his place where he and his network of pals got busy reinstalling all the hard parts to get Old Red back on the road. With the redo redone, it got Al to reflect on all the family trips to baseball, football, and soccer practices, and all the autocross, track days, car shows, and drag races the car has encountered over the years–well over 30,000 miles worth of great memories were restored with more miles and new memories on the horizon. In fact, Al has already put well over 2, 000 miles on the car and is looking forward to thousands more.
Another Awesome Camaro: Doug Renner's 1,300hp '69 Camaro SS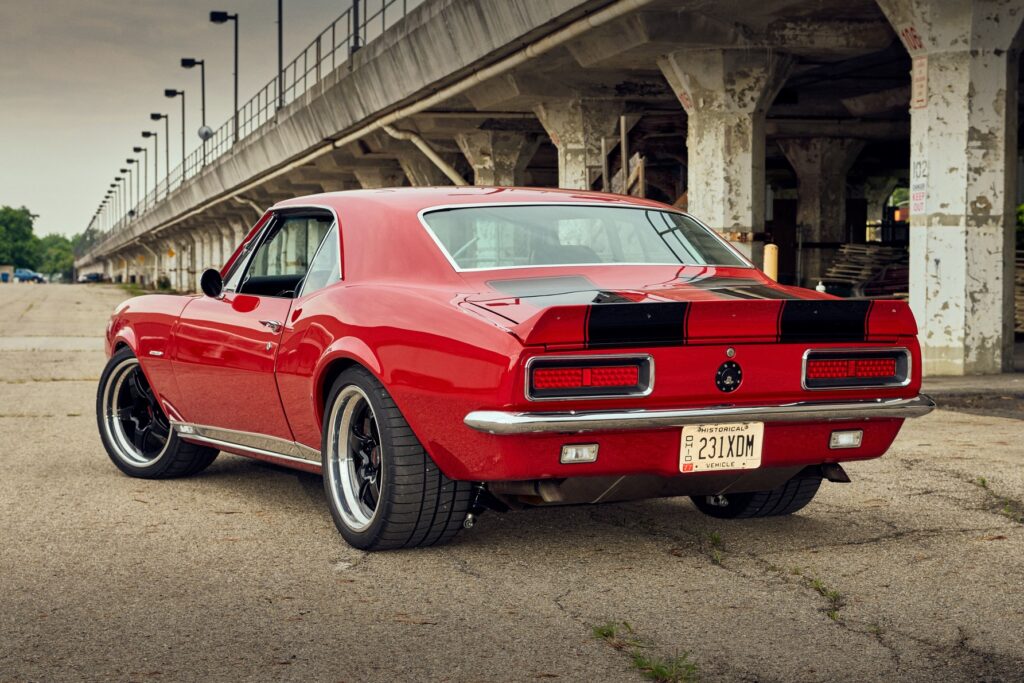 As builds like this go it's not uncommon for friends to pitch in to help by getting dirty or simply providing moral support. They are an important aspect with a major influence on the final outcome. Al realizes this and has put together a long list of folks who have become a part of this family jewel: "I couldn't have done any of this without the support of my wife, Lisa, and my kids, Allie, Daniel, and Michael," Al graciously says, "or my friends Mark Hamel, Brian Downard, Rick Gilbert, Ryan Piotrowski, Dale Ollie, Tom Long, Steve Butler, Brian Nutter, Erik Johnson, Mark Stielow, Danny Popp, Larry Woo, Lance Mallet, Chris and everyone at Smitty's Custom Auto, Dan Tesar and Larry Brunkala at Precision Hot Rods, and Michaels Racing Engines.
That extensive list of friends, old and new, proves how this muscle car hobby can bring so many likeminded people together. For now, Al's ready to hit the road for a few thousand more miles of cruising down the road with the Vintage Air A/C blastin' and the Alpine crankin'. But with Al's gearhead support system, we have a feeling Old Red's next upgrade is coming soon, whether that is more power or the latest suspension widget, it's likely just a Summit Racing box away. ACP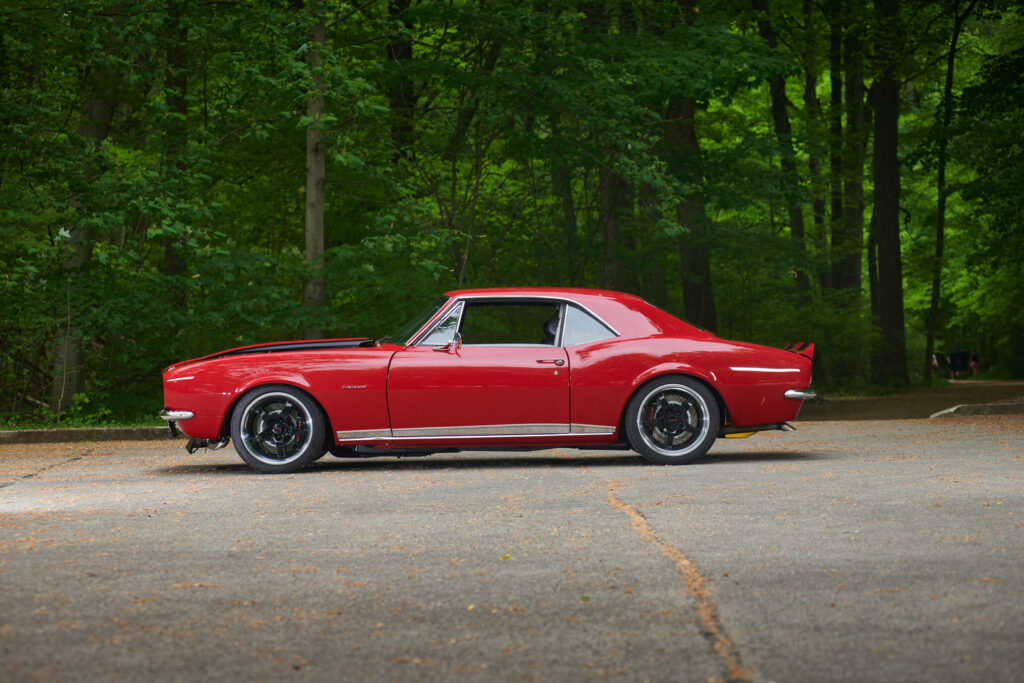 TECH CHECK
Owner: Al Noe, Macedonia, Ohio
Vehicle: '67 Chevy Camaro RS/SS
Engine
Type: BluePrint LS 427
Displacement: 427 ci
Compression Ratio: 9:1
Bore: 4.065 inches
Stroke: 4.125 inches
Cylinder Heads: Trick Flow GenX
Rotating Assembly: Forged crankshaft, forged rods, forged pistons with 8cc dish
Camshaft: Hydraulic roller cam
Induction: Chevrolet Performance LS3 manifold, Spectre cold-air intake kit
Assembly: Short-block by BluePrint, long-block by owner
Exhaust: Custom-built headers, 3-inch Stainless Works exhaust
Ancillaries: Summit Racing accessory drive kit, Aeromotive C&R aluminum radiator, Detroit Speed wiper motor, Summit Racing billet hood hinges, Painless main kit, Summit wire loom
Tuning: Erik Johnson at Back Street Performance (Medina, OH)
Output: 535 hp and 540 lb-ft to the tires
Drivetrain
Transmission: TREMEC TKO 600, American Powertrain crossmember
Clutch: ACT twin disc
Rear Axle: Detroit Speed 9-inch full floater, Eaton Truetrac limited-slip differential, Motive Gear 3:00 gearset, 31-spline axles
Chassis
Front Suspension: Detroit Speed hydroformed subframe, Ridetech triple-adjustable shocks
Rear Suspension: Ridetech four-link suspension, Ridetech triple-adjustable shocks
Brakes: Baer 14-inch rotors, six-piston calipers front and rear, Wilwood manual master cylinder, Wilwood proportion valve
Wheels
Wheels: GF3 open lug wheels (18×10 front, 18×11 rear)
Tires: BFGoodrich Rival S; 275/35R18 front, 315/30R18 rear
Interior
Upholstery: Summit Black loop carpet, TMI door panels
Seats: Mustang Fox-body recovered in Camaro pattern
Steering: Flaming River steering column, Grant steering wheel
Shifter: TREMEC
Dash: Stock
Door Handles: Lokar
Instrumentation: Dakota Digital
HVAC: Vintage Air
Rollcage: Ridetech Tiger Cage
Exterior
Bodywork and Paint: Smitty's Custom Auto (Tiffin, OH)
Paint: PPG Salsa Red Global basecoat, PPG Glamor Clear, black stripes
Hood: Stielow Designs Cynergy carbon-fiber, vented cowl induction
Mini-Tubs: Detroit Speed
Grille: AMD
Trim Pieces: OER
Front Bumper: OER
Rear Bumper: OER
Clear Bra: R&H Motorcars (Solon, OH)