Don Demers' East Coast Channeled Deuce Coupe Nails the Period Correct Look
By Chuck Vranas – Photography and Videography by the Author
Unless you just so happen to have a treasure trove of vintage parts stacked on shelves in your shop it's more than likely you'll have to go on a quest to source the period-perfect parts to build the traditional hot rod of our dreams. For Don Demers, of Rochester, New Hampshire, he stepped into a 20-year journey gathering all the bits to build the exceptional East Coast–styled 1932 Ford 5-window coupe channeled coupe displayed here. From waking up at dawn to canvas endless swap meets, following up on leads from friends, and avidly cruising the web, he persevered until he obtained everything needed to take on the build. It gets even better, as he was gathering parts for not one but two Deuce Coupe.
Read More: Coachbuilt 1932 Ford 3-window coupe is a Real Class Act
They always say that there's a trigger moment that helps define your taste in hot rods. For Don it was during a bike ride when he rolled up on a particularly wicked Ford 5-Window Coupe. The car was heavily channeled with a stock roofline packed with an early V8 Buick. The clincher was the leather jacket–wearing owner leaning on the roof looking like Milner from American Graffiti. That's all it took and the image of the coupe was forever burned in his mind. Flash forward as the decades passed and Don finally made the decision to build his version of the legendary Deuce coupe, starting with the first piece of the puzzle. After putting the word out it wasn't long until good friend Calvin Davis called letting him know he had a 5-window coupe body available. While checking it out it was obvious the body had been a hot rod back in the day, having lived a tough life obviously thrashed within an inch of its life. Don immediately felt a connection to the coupe though and made the deal to bring it home to his shop. At that point, the affair brought him on an adventure spanning almost two decades to gather many of the parts to get started.
As fate would have it, along the way he met local hot rod builder Howard Towne who shared his ideas on just how cool it would be to bring his East Coast–styled vision to life. Soon after Don began unearthing his treasures, bringing them to Howard's shop to get started. One of the pieces secured at a local swap meet was an original Deuce frame that had been Z'd hard back in the day. Howard, along with team member Geno Proulx, stripped it clean and gave it new life by first adding a Model A front crossmember, modified center X-member, and a narrowed 1934 Ford crossmember out back. They followed by removing the original Z and adding a 6-inch S-type kick. Out back a 1948 Ford rear end was rebuilt and packed with 1940 Ford axles spinning 3.78 gears. It's suspended in place by 1940 Ford radius rods complemented by a transverse spring with reversed-eyes and Pete and Jakes tube shocks. Up front a 4-inch dropped original Deuce axle with 1940 Ford spindles was deftly matched to a 1940 Ford transverse spring with reversed eyes, Pete and Jakes hairpins, and chrome tube shocks. When it's time to drop anchor, a 1940 Ford master cylinder pushes fluid through steel lines to matching Ford binders at each corner. Linking it to the street you'll find original 16-inch Ford steelies with vintage hubcaps and rings wearing a classic Firestone/Coker set of big 'n' little white wall tires.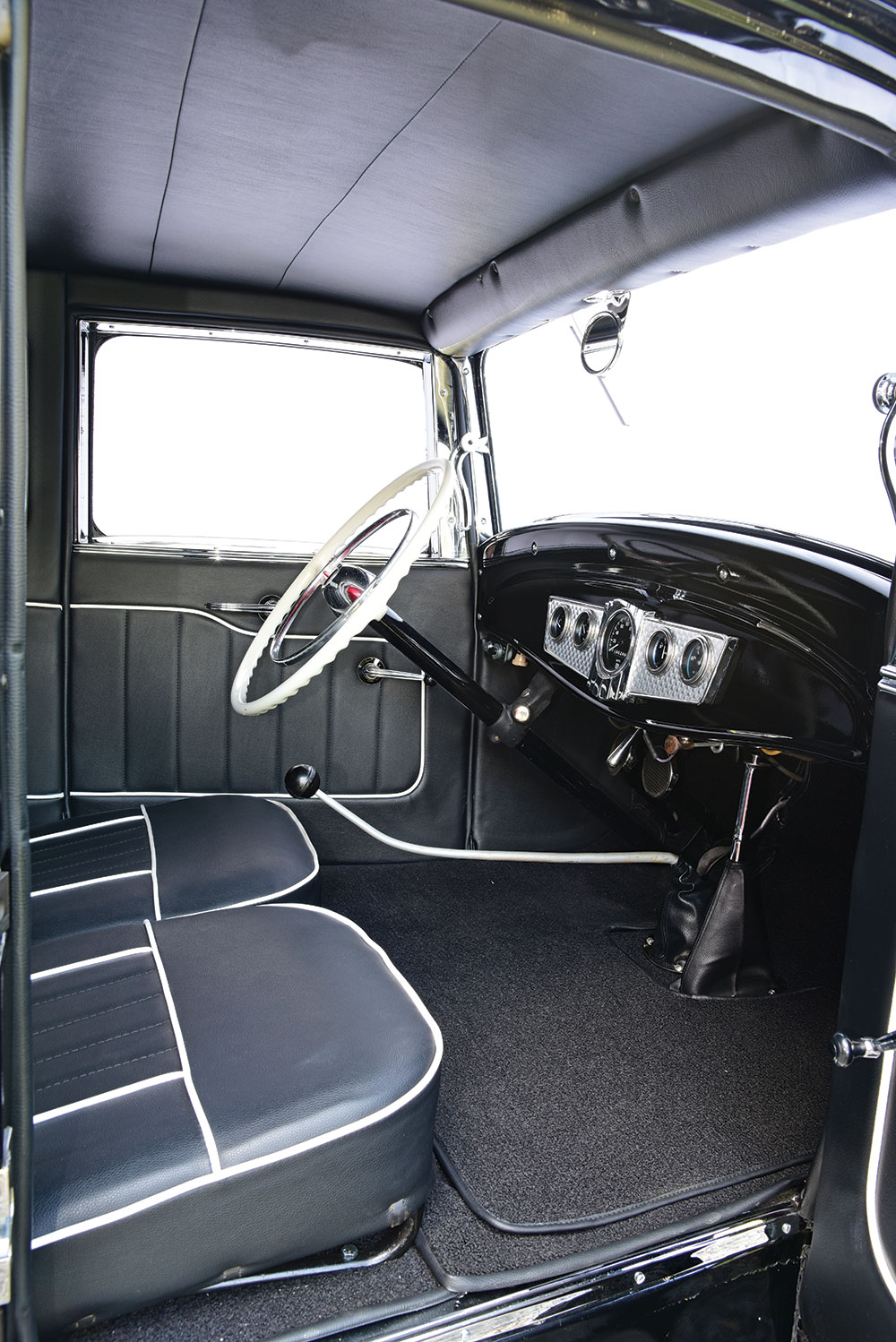 Read More: '33 Ford Vicky Packing a 454 Big Block
Nothing sounds better in a traditional hot rod than a hopped-up Ford Flathead V8. To handle the task, Towne contacted R&L Engines in Dover to work their magic on a 1940 Ford engine block starting with massaging it to 265 ci. It's packed with a speed shop full of go-fast goods, including a 4-inch Merc crank and rods wearing Offenhauser hypereutectic aluminum four-ring pistons bumped by an Isky ¾ race cam. Up top a set of stock iron heads make plenty of power, especially when matched to a vintage Edmunds two-pot intake wearing a pair of Stromberg 97-series carbs. A factory distributor lights the fire with spent gases dumping through a set of polished stainless steel headers to 1-¾-inch exhaust with Smithy's mufflers. Neat details include unique 1953 Corvette air cleaners complemented by a pair of truly rare Chris Craft marine finned aluminum valve covers. Don rebuilt a 1939 Ford transmission for three pedals complete with a 10-inch clutch and pressure plate linked to a torque tube.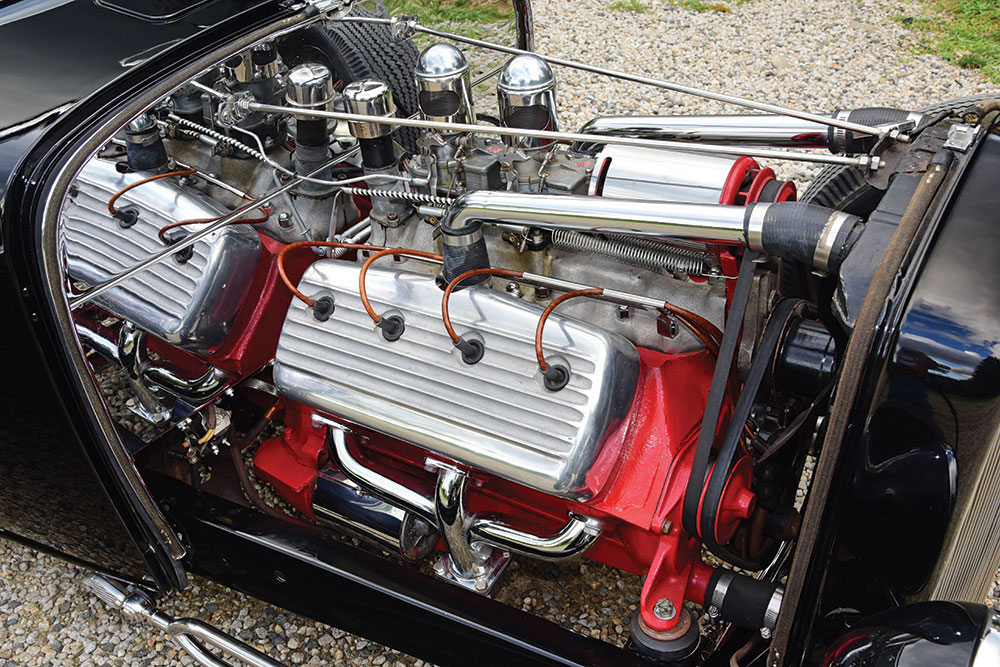 Breathing life back into the tattered 5-window coupe body it was not a job for the faint of heart as the years had not been kind to the vintage steel. Towne and Proulx rolled up their sleeves and got started to first set up the 8-inch channel followed by replacing the rear subrails and fabricating a new interior and trunk floors. With the inner structure now in good shape they proceeded by replacing the cowl, rockers, and door skins. From there, new quarter-panels from United Pacific were added along with an original decklid. The body was then gapped and metal finished to perfection, preparing it for paint. When it came time to lay down the vibe, Towne loaded his spray gun with plenty of PPG black to add a perfectly timeless finish. Other neat details include a modified Deuce headlight bar supporting a pair of original Dietz headlights, chrome firewall, and 1939 Ford tail lights.
Read More: Lady Driven 1954 Chevy 210 4-Door Sedan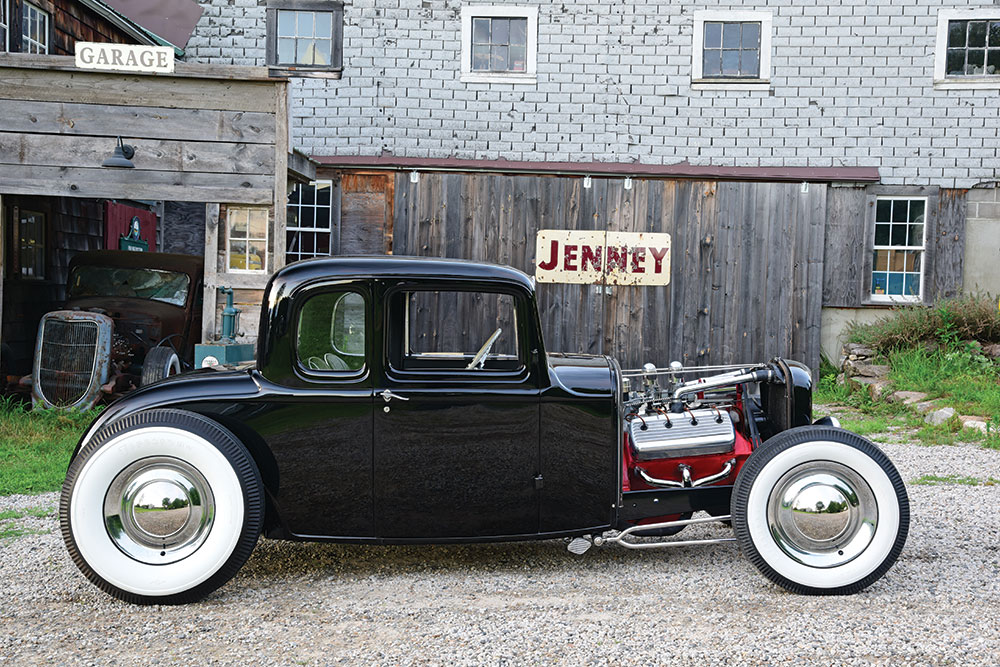 When it came time to dress up the interior it was important to fuse an equal amount of period-perfect style inside. To begin, the factory dash was treated to an alluring gauge insert from Davis Haus of Style packing dials from Stewart-Warner to monitor the vitals. A 1953 Muntz Jet steering wheel meets a Deuce column to carve the course while shifts move through a custom stick. For just the right blend of comfort, Eric Kulickowski at All-Right Kanvas & Upholstery in Berwick, Maine, reworked a set of early '60s MGB buckets in black vinyl accented with white piping while also crafting the complementing side panels, headliner, and black loop carpeting. Before hitting the road, the coupe was sent over to Eli English of Traditional Speed and Custom in Pittsfield for final details and initial shakedown. This is one East Coast–styled Deuce Coupe that relives the past with every mile driven, and to us that's the real deal! MR