Michelle Broussard Realized This 1954 Chevy 210 4-Door Sedan Struck a Personal Note
By Brian Brennan – Photography By John Jackson
Women look at hot rods differently than guys. Let's face it, oftentimes they can see what we don't. Michelle Broussard has come by her love of hot rods by being involved through her husband, David. He has built several Advanced Design Chevy and GMC pickups. In watching and participating she knew what it took in terms of commitment and hard work. Not to scare her off, she knew she wanted something special. There was a '54 Chevy 210 4-Door sedan in her future. 4-doors aren't as desirable as 2-doors but she, the woman in her, saw something the rest of us didn't.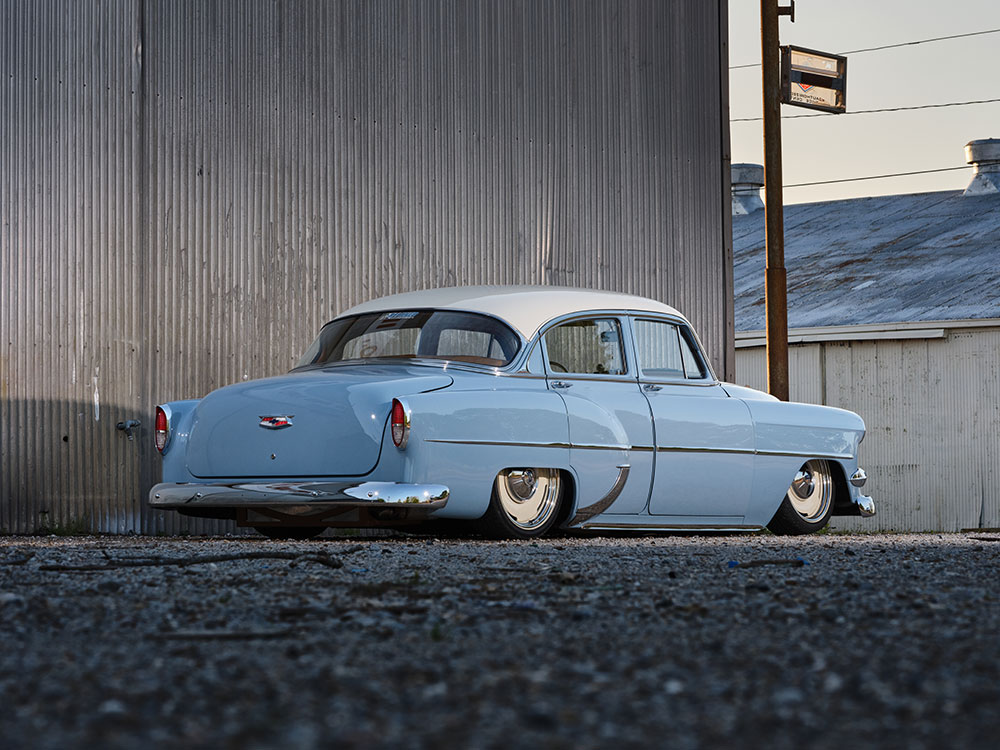 As is frequently the case, it takes an ample dose of perseverance and patience to make anything worthwhile happen. Michelle and David noticed a '54 Chevy 4-door out front of a nearby shop but were never able to find out who owned it or even if it was for sale. As time went by they learned that the car had been sold. Perseverance and patience are rock solid character traits and time would prove this to be true.
David was checking out his usual sources when he noticed a '54 Chevy 210 4-door Sedan was for sale. Lo and behold it was the one that had "gotten away" earlier. It was back and this time with trailer in tow he and Michelle were not going to let it slip by.
Unfortunately, a deal couldn't be struck so it was back home with an empty trailer rattling behind. Once home and settling in for the evening the phone rings. Let's just say that the seller had reconsidered. Although it was after sunset it was back on the road but this time they weren't coming home empty handed.
Read More: Cutting-Edge 1955 Chevy Cameo
The following day the build process began. David, Michelle, and their son, Luke, began by firing it up and driving it around their property–with no brakes. OK, enough fun, now it was time to settle down and get serious. It was to be literally a "grocery getter," albeit a very cool one. David and Michelle like history, especially history regarding the projects they undertake. They eventually met Ms. June, the original owner, and learned a lot about the car and its life way back when.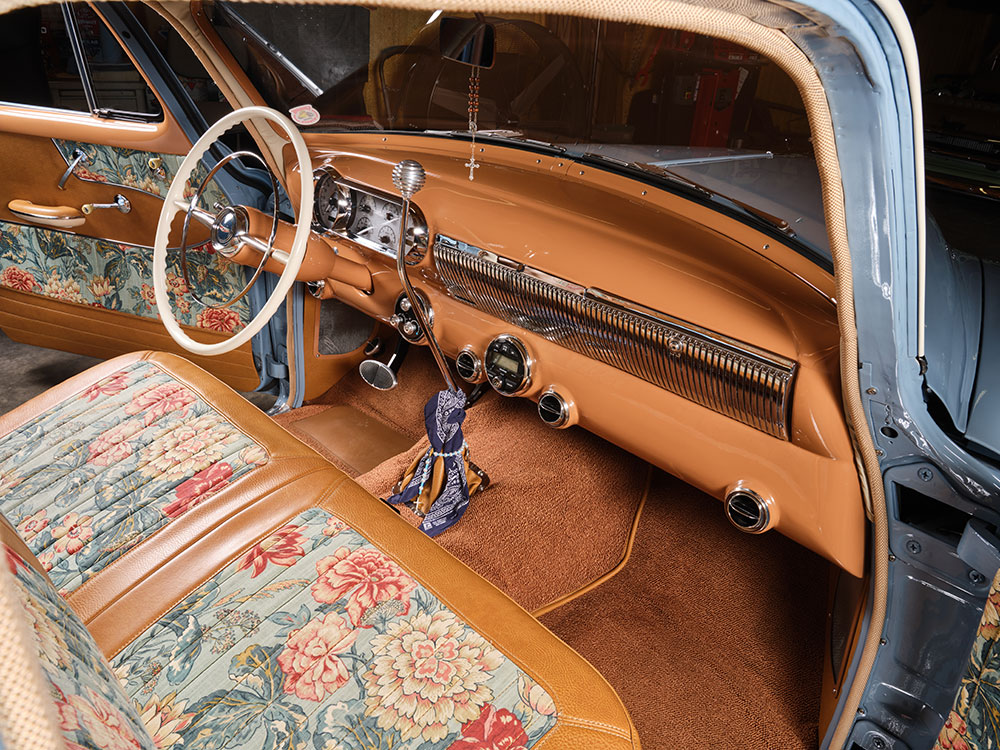 The car was stored for about a year while at Francis Bourque's shop, a family friend. While some work was getting done and parts were being collected more time was needed to be dedicated to the project. Up pops another friend in Cody "Popeye" Stoute, the owner of Popeye's Rod Shop. The team was now assembled. The build would happen through the amazing efforts of David, Michelle, and Luke along with the talents of Francis Bourque and Popeye (seems fitting).
One detail has been left out until now. Michelle's dad, Howard Viator, had died not too many years before and aside from instilling a hard work ethic in her it turns out family projects always take on a name. Yep, you guessed it, the '54 Chevy 210 now became "Project Howard," aptly named after her father. This was to be a special build in memory of her dad. David and Popeye came up with an idea to incorporate her dad's signature "H," which you can find throughout the build. It's located on the rear dash panel (backlight area), on the gas tank cradle, and throughout the framework.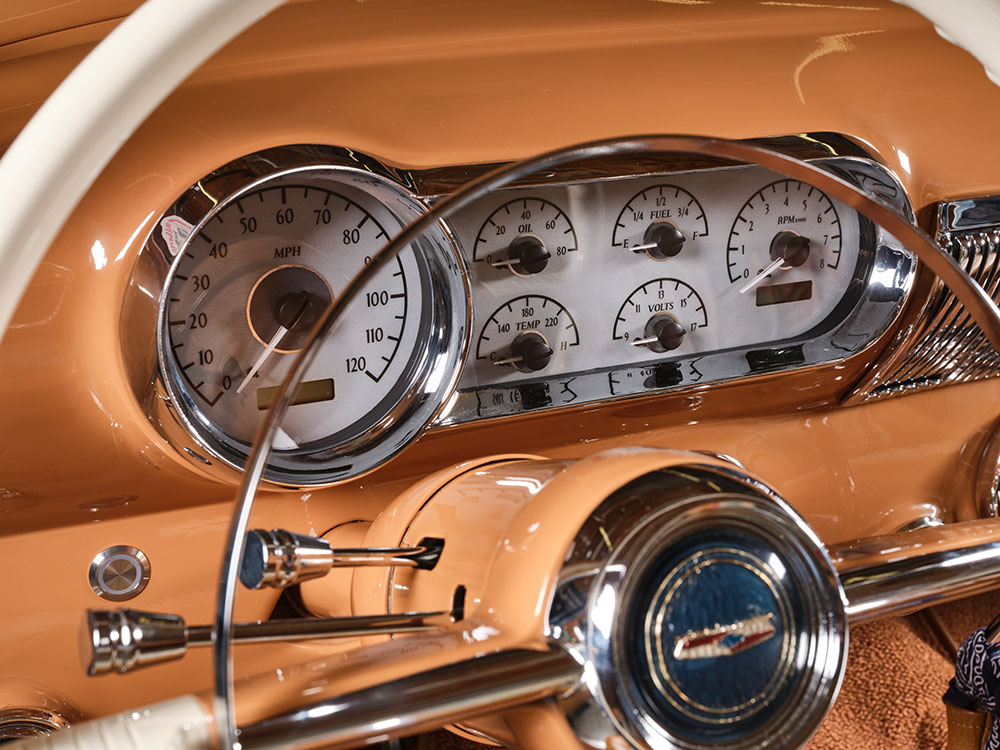 Michelle knew what she wanted in a "look" and the couple spent time attending car shows throughout the south, continually refining ideas to be incorporated into the build. Here David and Popeye worked on the chassis, realizing a strong foundation would make for a better ride and would also determine the final look. About this time, he entertained the idea of finishing in time for the 2019 SEMA Show. A lofty goal for any builder but especially for this crew with limited time. Nearing the end, the lifetime of respecting hard work and how to work hard kicked in; with the team pulling together, the '54 Chevy was finished at 3:00 a.m. on the 30th of October and it was off to SEMA.
Read More: Factory-Fresh 1964 Buick Riviera
But let's take a closer look at what was accomplished in the time before SEMA. It should be noted that what lies under the hood can often make or break the final outcome of any hot rod. The restomod approach to this '54 Chevy 210 gets an A+ for its final appearance. How about another A+ for power! A Chevy 6.0L (364 inches) LS engine is neatly dropped beneath the sheet metal. The iron block with aluminum heads was gently massaged with a Texas Speed cam, a Fast LSX intake with a FAST 102mm throttle body, and K&N air filter. Other engine components include Holley LS valve covers and polished water pump along with a Holley mid-mount serpentine belt system, MSD spark plug wires, electric fan, a Summit Racing fuel pump, a GM ECU, and a trunk-mounted Optima battery. A Champion radiator is used to control engine temps while a Derale trans cooler handles its cooling chores for the 4L80E transmission that transfers the power back to the 10-bolt Spicer rear end that's packed with 3.73 gears. The exhaust system is based on a pair of LS headers that drop down to and hook up with a 2-1/2-inch stainless works exhaust that streams back to a pair of Flowmaster HP-2 mufflers.
Holding up the slick body and drivetrain are factory frame rails that have undergone an assortment of necessary mods by the hands of David and Popeye. There's a Speedway Motors highly modified Mustang II Independent Front Suspension –goal here was to get the car on the ground without channeling the body. Airlift bags are used in front and the rear. The airbag mounts were custom made by David and Popeye at his shop. The front and rear suspensions also use a combination of Airlift 3H air management system and Airlift airbags with a ViAir compressor system. More of their custom work shows up in the rear custom two-link as well as a frame C-notch. The front sway bar comes from the Welders Series while a MII power rack-and-pinion steering is in use. The front and rear braking is a combination of a Speedway Motors GM single piston brake caliper in front and GM drums in back all pushed into service through a Lokar Performance pedal assembly. Rollers for this '54 Chevy 210 come by way of Detroit Steel Wheel Co. their John R's in 20-inch diameter front and rear with Lexani rubber mounted at the corners measuring a same size 245/35ZR20.
The use of factory sheet metal makes this a prime candidate as a restomod build. However, under the skin you can see a shaved and smoothed firewall as well as custom-fabricated inner fenders and channeled floor pans. All of the accompanying bodywork was handled by Bourque and David. The exterior is painted in Denim Blue and a Crème Brulé, both from RM Paint. The interior color is a Mojave and is also from RM Paint. As David is also a hobbyist painter there could be no denying who would be applying all of these perfectly complementing colors.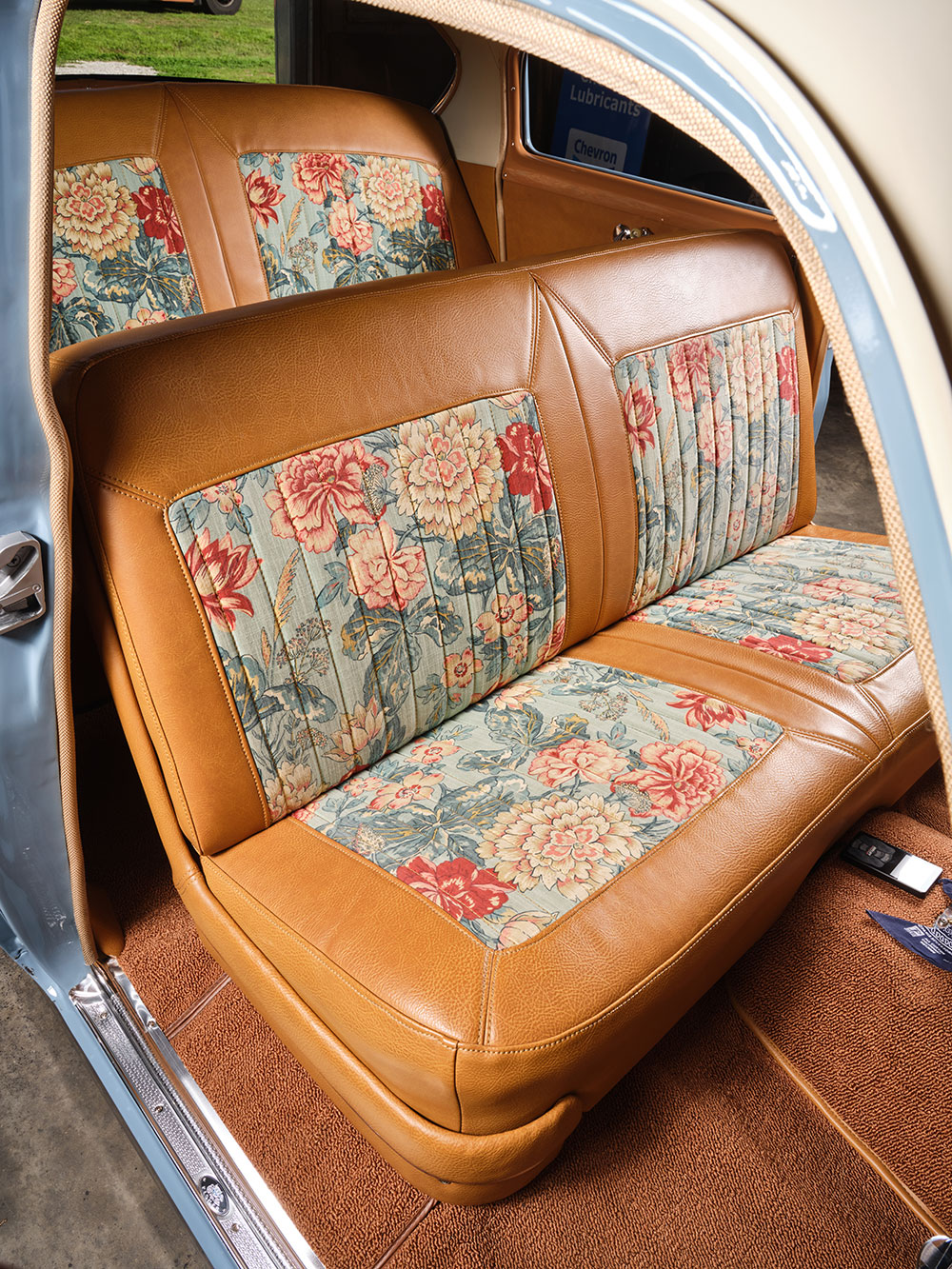 Inside there's no denying that the upholstery treatment grabs your attention. But first let's take a look at the modified factory dash that was extended 5 inches by David along the bottom to accommodate the round AC registers and controls and the radio. The AC system is a Vintage Air Gen IV series. David made the AC control housing while his brother-in-law Mitch made a decal to mimic a Vintage Air faceplate, all the while another of David's friends, Carroll, machined the metal portion of the control faceplate. The round machined housing matches the Memphis stereo as well as the AC registers.
Read More: Ice Blue Full Custom '31 Model A
Once you absorb the custom touches to the center of the dash you then focus back onto the factory instrumentation where now resides a Dakota Digital VHX system. The VHX features gauges that will read speed up to 120 mph, tach up to 8,000 rpm, and smaller matching gauges that monitor oil, fuel, water temp, and volts. Nestled directly below the instrumentation is the Ididit steering column with a factory steering wheel both painted in a Crème Brulé, matching the exterior color. Of course, all of the internal and external electronics needed to be wired and this chore fell to a Painless Performance Products kit aptly connected by David. The stock front and rear bench seating is covered in a combination of Buckskin distressed leather material that includes a Sonnet Sublime jewel floral insert, also seen on the door panels. The headliner is a vinyl in cream. The handy stitch work to pull this off comes by way of Saucier's Upholstery. Auto Custom Carpets received the nod for their carpet kit, note the Lokar shifter poking through, that was dropped into place also by David and Michelle. The trunk is another area fully upholstered.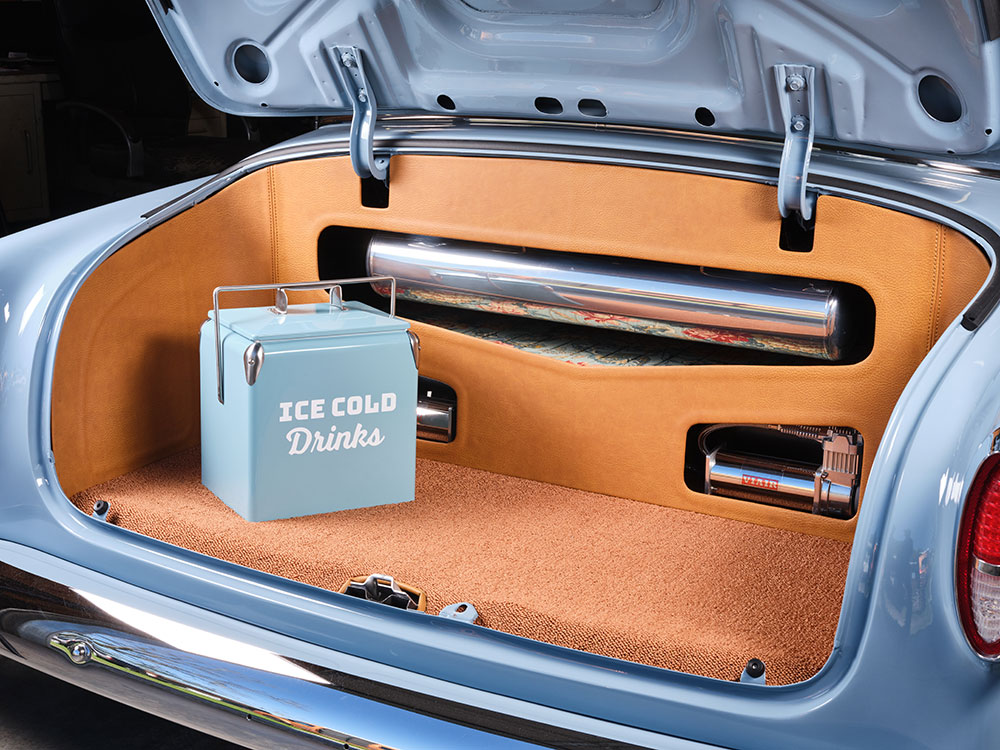 When it comes time to select your ride it pays off to spend the time and devote the patience and hard work to get what you want. We are guessing that Michelle is just fine with her ride and enjoys it daily. MR
(Editor's note: The original owner, Ms. June, was a bit reluctant when the car first left her hands. During the build process she still wasn't sure she had made the right decision. David and Michelle brought the '54 Chevy to Ms. June after SEMA. It was at this point Ms. June put all of her original fears and doubts to rest. She's very pleased with the outcome. —B.B.)