Stylish Deuce Coupe is a Hit in Any Crowd
By Dale M. Moreau – Photography by the Author
Ford cars, in general, are not a make one thinks of for arriving at the Waldorf Astoria in New York City in 1947. Visions of Duesenbergs, Cadillacs, and Packards come to mind. But, this 1932 three-window coupe is not a pedestrian factory built model, or a rough and ready hot rod.
Think of successful engineer Zora Arkus-Duntov and his dancer wife Elfi driving up in this car. This is about the time that Zora's OHV Hemi conversion for Ford's Flathead V8 motor was introduced, the legendary Ardun heads. The couple were an upscale and flamboyant pair who scandalized the New York social register with their style and flair for fun. This blown Ardun flathead equipped three-window coupe has been built to capture the style and flair of the Duntovs, and match that of any Packard or Cadillac.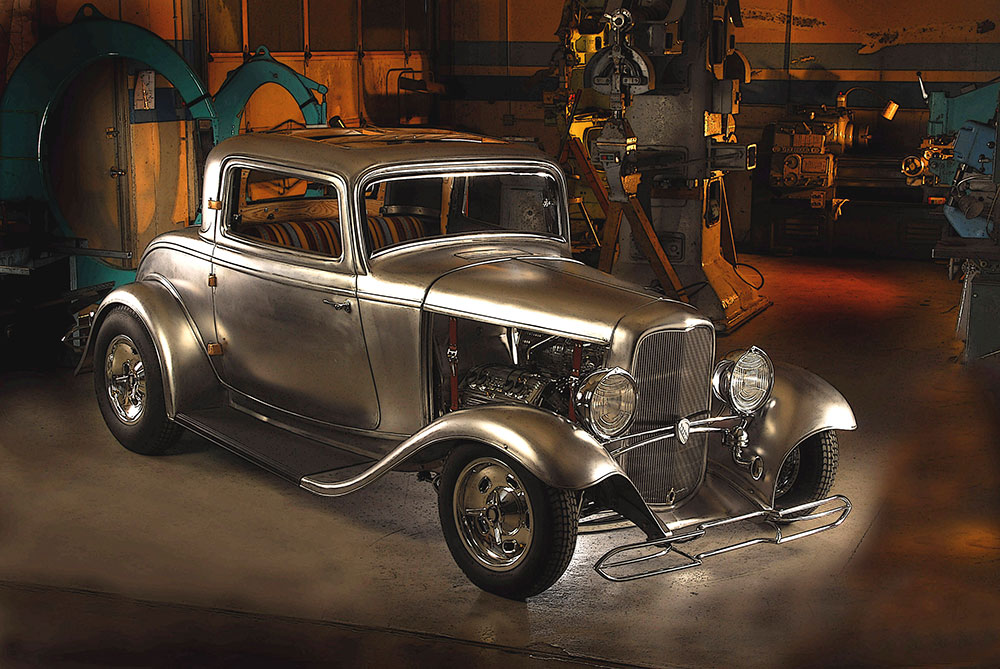 Read More: Finishing Chopping Your '32 Ford Highboy 3-Window Coupe
Jeff Chandler, of Rancho Santa Fe, California, got together with designer David Brost from Steve's Auto Restorations (SAR) in Portland, Oregon, to make a hot rod that would stand up to the best Detroit ever offered. In that vein of thinking, the goal was to emulate the style, flair, and cohesive design theme that Arkus-Duntov projected in his lifetime. A car that not only was a sum of its parts, but one that was built to replicate a period of time; post-WWII but pre-1950s.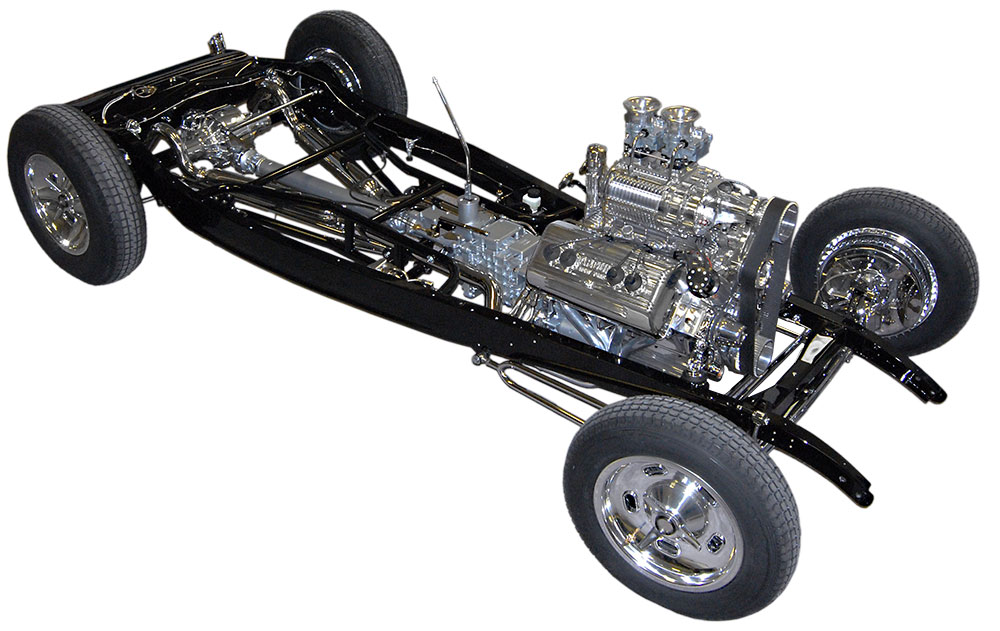 Pete and Jakes supplied the boxed and 2-inch stretched frame. Added to that is a chrome-plated Super Bell dropped I-beam axle working in conjunction with a Posies Rods and Customs-supplied front spring and hairpins. Brakes are Wilwood discs hidden behind polished SO-CAL Speed Shop simulated Buick finned brake drums while steering comes from a Vega box. Holding up the rear are chrome ladder bars, polished coilover shocks, chrome springs, along with a replacement stock fuel tank from Tanks Inc.
Read More: Deuce Coupe Returns To its Former Glory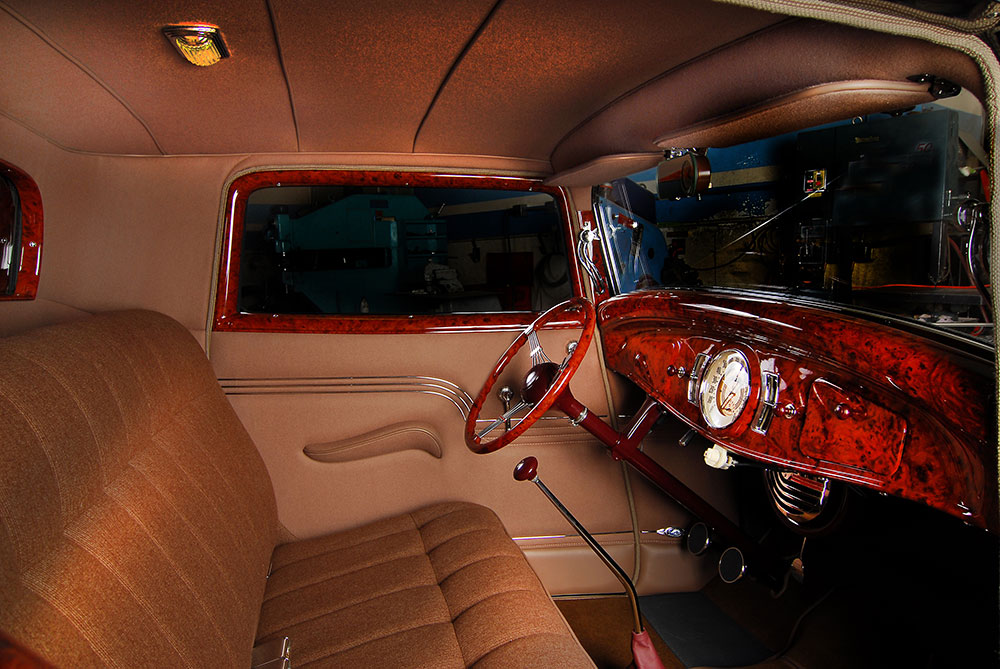 Don Ferguson built the aluminum Ford flathead-based block, with his improved Ardun head hemi conversion. It is a thing of beauty, and topped with his improved S.C.o.T. blower and intake manifold. The icing on the cake are two Rochester 2GC carburetors. What brings the Flathead to life is the Joe Hunt magneto, and from here the power is transferred back to the Tremec TKO 600 five-speed manual transmission. A Winters quick-change filled with Dutchman axles handles the power. Next up the exhaust is routed through a stainless steel system by SAR with Stainless Specialties mufflers. Real Rodders wheels in 15×5.5 and 16×7 and Coker/Excelsior Comp V in 500-15 and 700-16 tires make this chassis a roller.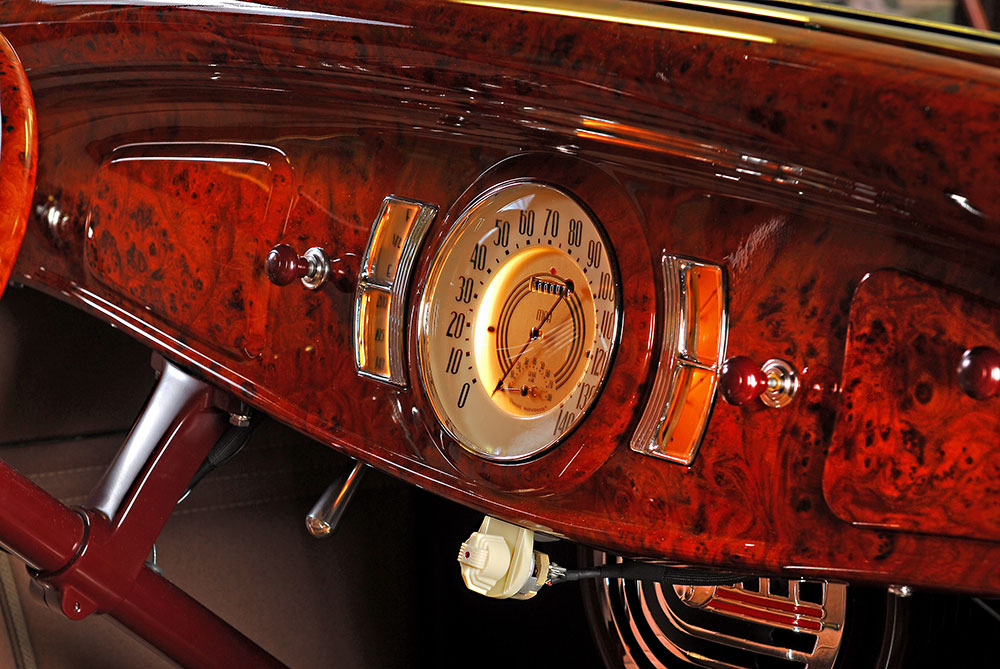 Brookville Roadster supplied the steel '32 three-window coupe body as a series of individual sheetmetal panels, then it was assembled by SAR. During assembly, the Rootlieb hood was stretched by 2 inches and the grille shortened by 1-1/2 inches. The hood sides were deleted while the two-piece hood is held down with leather straps allowing the blown Ardun Flathead to be shown off at its best. House of Kolor mixed up a batch of their jet black enamel that SAR used to cover the sweet coupe body. Master pinstripe artist Mitch Kim carried on the theme with an arrow-straight beltline stripe. Many details finish off the overall look, including '32 Nash headlights, '36 Pontiac taillights, '32 Pontiac outside door handles, early Robert Bosch motorcycle horn, SAR fabricated bumpers, front and rear, valance and gas tank covers, Indy roadster-inspired gas cap, and one-off headlight bar with "ARDUN POWER" badge attached.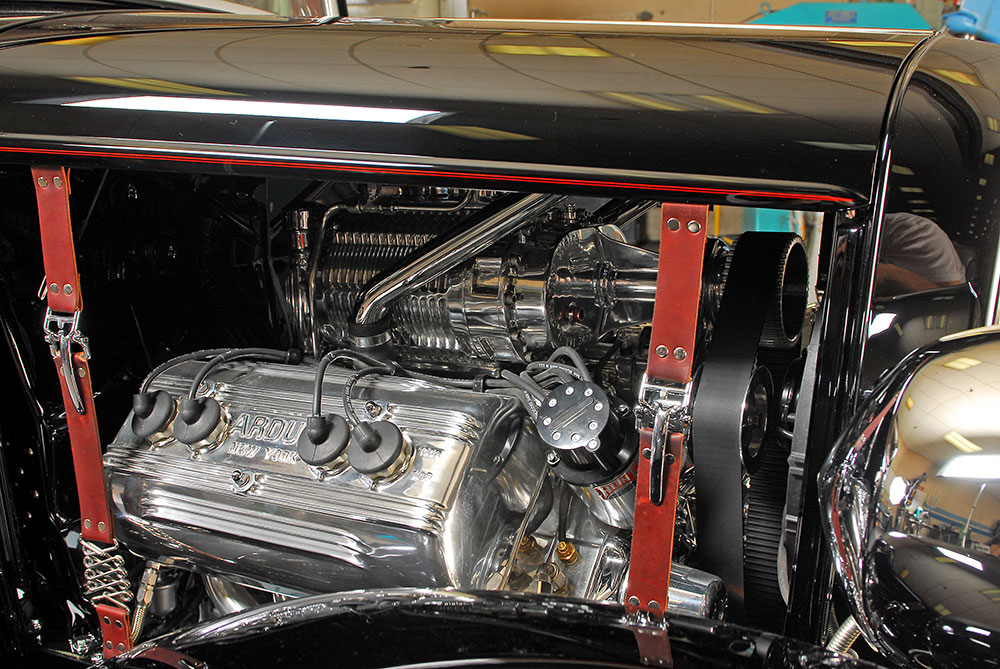 Read More: Brownstone Roadster: '32 Ford Roadster With SoCal Style
The interior flows with the overall design concept and invites you to enter an artistic time when no expense was spared on coach-built cars. The '32 Ford dash, window moldings, and the Juliano's steering wheel are woodgrained to the highest of standards. The dash is fitted with a '36 Oldsmobile gauge cluster restored with modern electronics by Classic Instruments.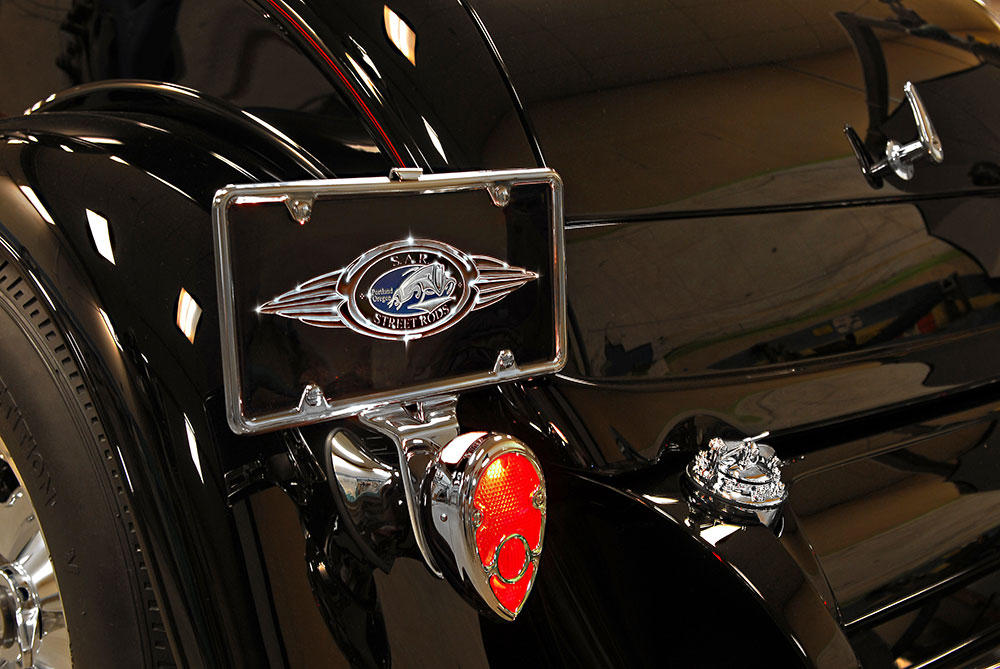 The Packard-inspired stainless steel door panel trim is a stroke of genius in following the overall goal. A '36 Ford clock mirror was fitted along with a working vintage Hadees accessory hot water heater. Bringing all of the hot rod's electrics to life is an American Autowire Highway 22 Plus harness, as acquired and installed by SAR. The headliner and door panels are done in tan English wool Broadcloth, giving an elegant background for the art deco dome light. Glide Engineering was chosen to supply the original-style seat. Elegance is inspired by the interior swathed in voiture classique tolle a' sac (translation: classic car sackcloth bagging) by Cedardale Upholstery in Mount Vernon, Washington.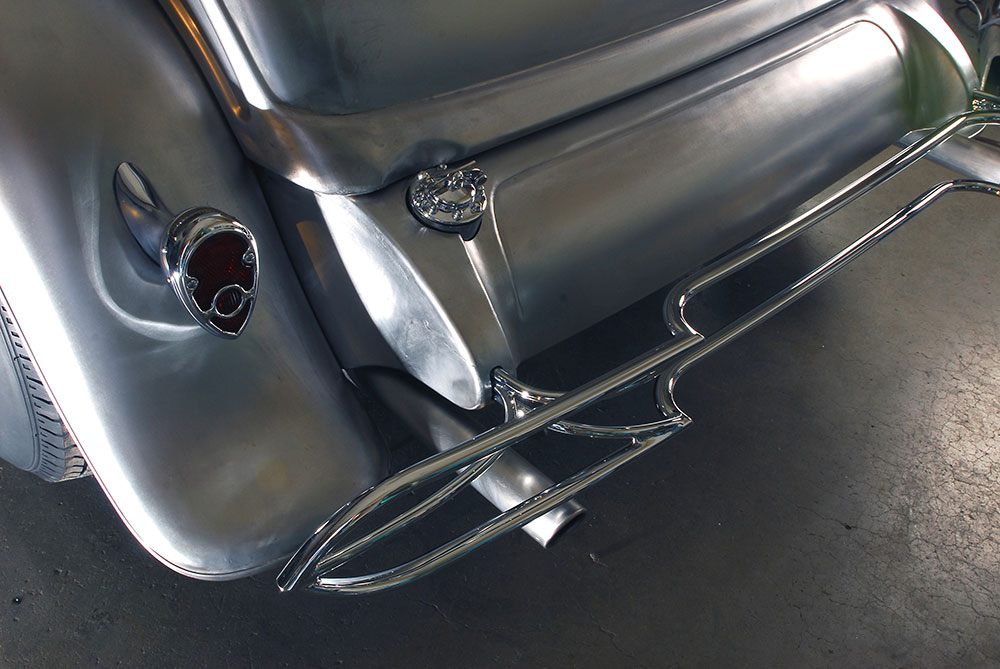 Historic Fords are not usually associated with the aforementioned coachbuilt luxury marques of the era. The style and execution of this one takes umbrage with that thought and proves that design and vision can make or break a project. Look closely at the details, because you may never see a 1932 Ford three-window coupe like Jeff Chandler's Ford three-window coupe again. MR