Tom Firth's "Brownstone Roadster" Hails from Canada but is all SoCal in its Heritage
By Brian Brennan – Photography by Wes Allison
Several years ago, this '32 Ford roadster belonging to Tom Firth of Canada and built by Stoker's Hot Rod Factory was in contention for the 2020 America's Most Beautiful Roadster Show—and no wonder as the look and craftsmanship are outstanding. Frequently you can tell if a hot rod truly has the right look by how it stands the test of time. Do the rodders of today like it as much as the rodders of the day? This Deuce roadster is a long way from being an "old build." Now, having seen it again for the first time in several years I believe it can be said that this car will be a favorite for many years to come. Affectionately called the "Brownstone Roadster" (the GM color sprayed on), it was the name given to it during the America's Most Beautiful Roadster Show competition. It's the type of hot rod that you look at once, walk away, and then find yourself going back multiple times. You want to make sure you didn't miss some detail, as in my case, for I went back multiple times and quickly realized how much I had missed in my previous visits.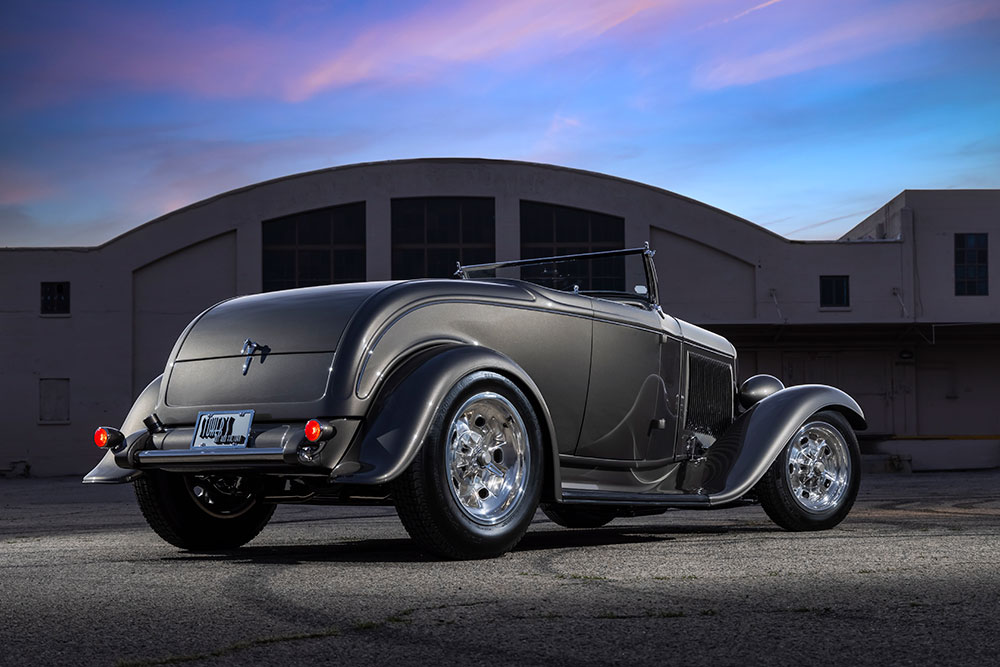 Read More: Speak Easy Green 1932 Ford Phaeton
Let's not get too far ahead of ourselves. Tom was in the market to build a '32 Ford coupe, and after a search that led nowhere he opted for a Brookville Roadster body; the hood is a 25-louver four-piece Rootlieb. As we hear all too often after waiting almost two years to get a '32 Ford roadster body, "life got in the way." What should have been an immediate dive into the build took some additional time. Tom will also point out that he had spent the previous 20 years collecting all manner of parts he wanted to use on this build; these parts also continued to sit on the shelf.
Next up was a phone call between Tom and his friend Vincent Mayeda in California who recommended that Tom take the project to Terry and David Stoker at Stoker's Hot Rod Factory. It wasn't long before Tom felt that the partnership between himself and the Stokers would be ideal. David took possession of the roadster back in October of 2018 and within the next two weeks had finalized what the look of the roadster should be with the help, and expert eye, of Eric Black through his artistry. The e.Black Design Co. originally called for the roadster to be gray but David felt that the car needed to be another color–hence the Brownstone metallic was chosen. There were other touches that were set aside, such as the use of side molding and '36 Ford headlights mounted without a traditional headlight bar—ideas that weren't used.
It wasn't long after that the discussion came up about the 2020 Grand National Roadster Show and competing for the America's Most Beautiful Roadster Show. While attending the 2019 Grand National Roadster Show the team of Firth and Stoker noticed some things about the cars in competition so it was back to the drawing board and a few more subtle changes were incorporated, like the use of a '34 Ford windshield.
Since we are on the subject of the body, let's get into just what subtleties occurred. It was now 16 months before the 2020 Grand National Roadster Show, leaving precious little time left to complete the build. We've mentioned the windshield, so let's finish this topic. It is a '34 Ford windshield that Tom fabricated incorporating a 2-1/2-inch chop with aluminum stanchions, while the Brookville steel cowl section would need to be reshaped to accommodate the shape of the '34 Ford windshield. From here the rear panel above the gas tank was lengthened to fill in the gap, a custom front splash apron was fabbed, and a very tastefully done hand-formed chrome brass side molding was added. You'll note that the headlights are '36 Ford but they rest on a custom-fabricated headlight bar that runs behind the grille shell (unlike many hot rods that have this bar running in front of the grille), tucking the lights in tight between the grille and fenders. A second look will also reveal that the grille shell has a custom peak molded into it. Look to the rear to complete the lighting story and you will see '37 Ford taillights that rest on custom mini stands attached to the spreader bar with the external custom fuel tank resting in-between. Also, in back take a look at the custom trunk handle with its trim that extends off the decklid and onto the body. The GM Brownstone metallic paint was applied to the body by Cal Blast (known for their paint and coatings removal and paint) under the watchful eye of Albert De Alba Sr. after the bodywork was handled by Stoker's Hot Rod Factory. Stoker's also handled the paintwork on the drivetrain and small parts in matching Brownstone metallic paint.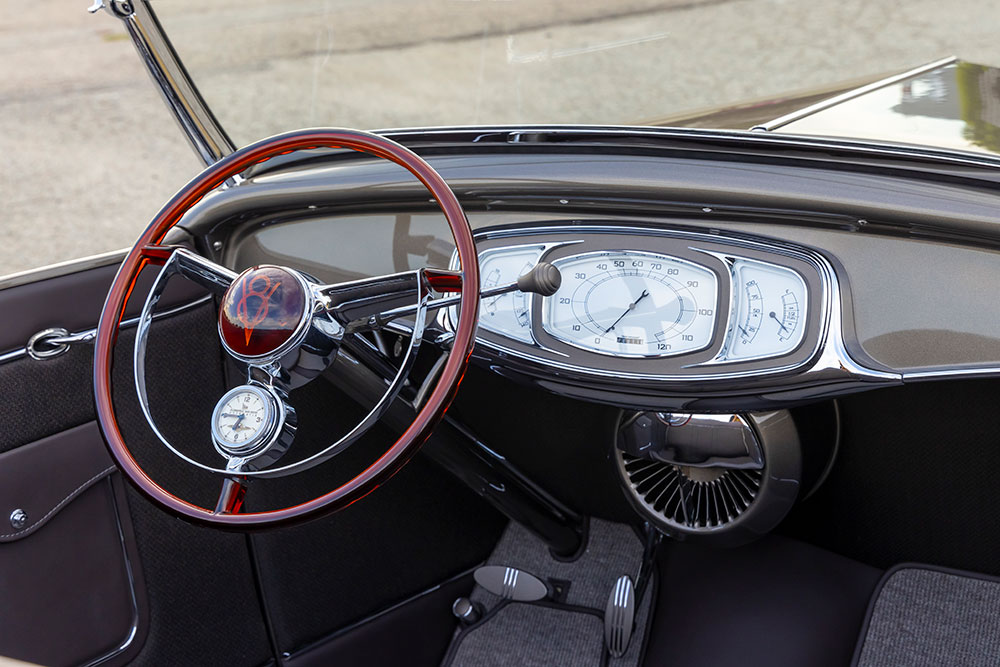 Read More: Modern Tech For Vintage Engines: PerTronix Flame Thrower Distributors
To stay with the roadster's traditional appearance, a '52 Ford Flathead V8 (239 inches) was used after the block was ground and polished smooth and then painted in a matte Brownstone metallic paint. All of the internal factory specs of the Flathead V8 are retained while Speedway Motors supplied the studs for the 25-bolt heads. A polished aluminum Offenhauser two-carb intake was bolted into position. Resting on top are a pair of chrome Stromberg 97 carbs topped off with a pair of polished and painted OTB Gear air cleaners. Other engine accessories include a PerTronix ignition, 925 Odyssey battery resting behind the bench seat, a four-blade chrome mechanical fan, and a Powermaster alternator and starter. Moving the near 200 hp from the Flathead V8 to the Ford 9-inch rear end filled with 3.25 gears paired to a C4 transmission with a Pinto torque converter (1,200 rpm stall) built by Chino Hills Transmission and incorporated is a California Driveline 'shaft. From here the C4 transmission was extensively detailed by Stoker's and shifted into use by a '40 Ford steering column–mounted shifter.
The chassis is based on a Pete and Jakes Hot Rod Parts frame with boxed front horns, a Super Bell 4-inch drilled and plated drop axle fitted with power-operated Wilwood brakes with SBC finned valve covers and operated by a P&J brake pedal assembly. Accompanying the axle are plated hairpins and spindles and a pair of P&J chrome tube shocks, while the steering comes by way of a Vega steering box operated through a '40 Ford column. The rear suspension is housed around an 11-inch drum brake equipped and painted Ford 9-inch rear end with plated ladder bars and transverse spring, while, again, a pair of plated P&J tube shocks are used. The roadster sits on a set of Real Rodders polished magnesium wheels measuring 15×5 in front and 18×7 in back and wrapped in Excelsior/Coker rubber measuring 5.50×16 and 8.10×18 rubber.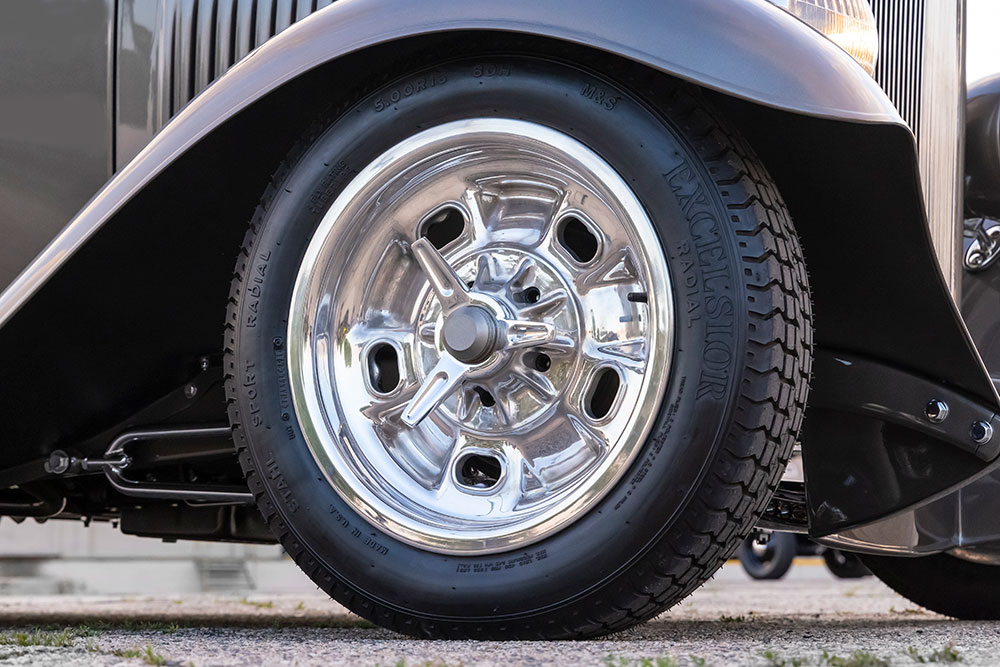 At first glance the interior appears subtle but upon closer examination you realize within its simplicity lies its beauty. We aren't sure what the first design element to grab your attention is but the steering wheel or gauge treatment are most likely the focal point. However, it's safe to say it could be the '50 Olds with accessory clock steering wheel cut down to 16 inches by Steering Wheels by Kris or the Pierce-Arrow designed panel that's a recreation by Hot Rod Alchemy with the one-off designed gauges by David and Eric Black then hand built by Classic Instruments; for sure it lies somewhere in-between. The dash itself is factory '32 Ford with the custom Classic Instruments instrumentation that's neatly trimmed by Stoker's Hot Rod Factory molding around the panel and running the width of the dash itself. The '50 Olds steering wheel rests on top of the '40 Ford steering column that retains its once-original shifter that controls the C4 transmission. The bench seat is custom and wrapped in a combination of leather and fabric while the flooring and trunk is trimmed in leather and carpet all by Mark Lopez of Elegance Auto Interiors. The top is another Elegance effort and finishes off the interior/exterior appearance.
Read More: This Hemi Powered 1950 Plymouth Coupe is all Business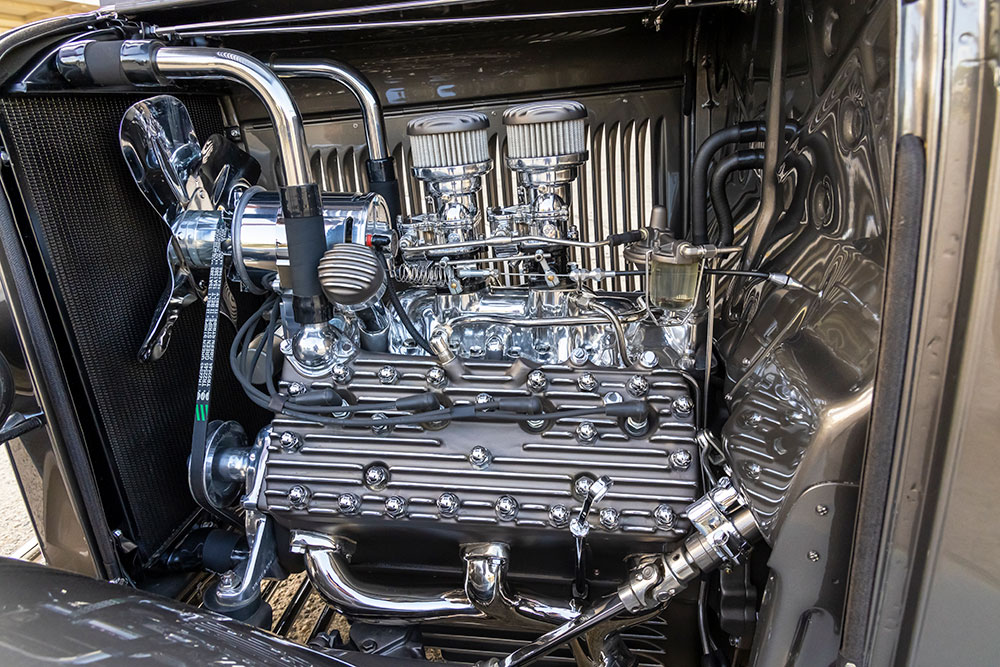 We should also point out that the '32 Ford roadster, while not taking home the AMBR, did garner three significant awards: AMBR Outstanding Interior, Outstanding Engine, and Outstanding Undercarriage. See, there are lots to see on this '32 Deuce coupe and you will find yourself coming back several times to see all that there is to see. MR