John Blane's 1955 Chevy 210
By Nick Licata   –   Photography by Jason Matthew
Bob Falfa: "Hey, you're supposed to be the fastest thing in the Valley, man, but that can't be your car. It must be your mama's car. I'm sorta embarrassed to be this close to ya."
John Milner: "I'm not surprised, drivin' a Field Car."
Falfa: "Field Car? What's a Field Car?'
Milner: "A Field Car runs through the fields, drops cow shit all over the place to make the lettuce grow."
That classic smack talk took place between two of the baddest car owners in the coming-of-age comedy drama American Graffiti. But most of us car folks knew that just by the names associated with the quotes.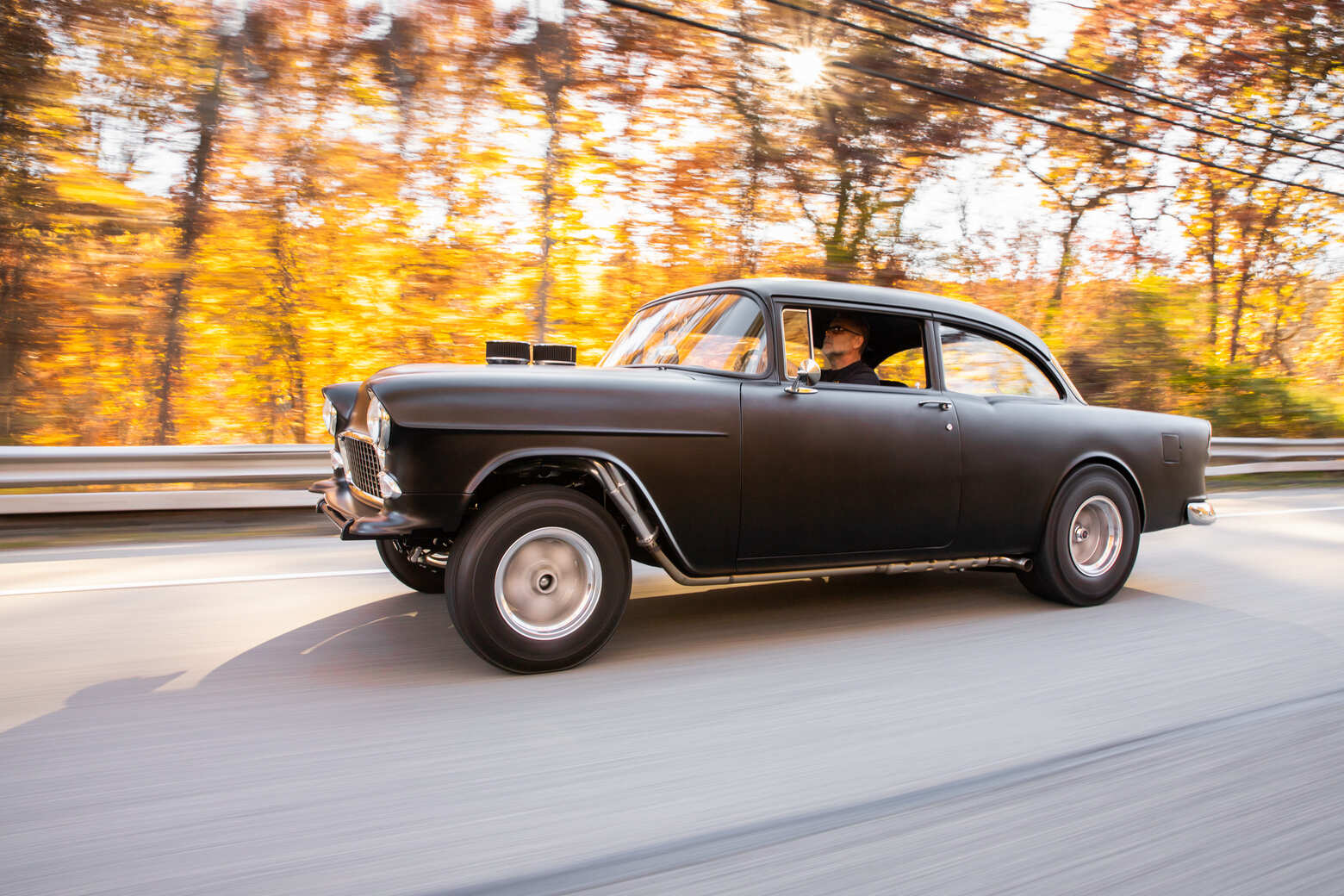 Those lines can help when you need a smile on your face or if you need a little inspiration when it comes to building a hot rod. It was Bob Falfa's '55 Chevy along with the souped-up Primer Gray '55 from the 1971 movie Two-Lane Blacktop (both car-guy cinema classics) that inspired John Blane to build a '55 Chevy in a style that reflects both of those cars. "This car has been a childhood dream after watching American Graffiti and Two-Lane Blacktop," John confesses. "Those two cars were totally badass and influenced me to build this car the way it is."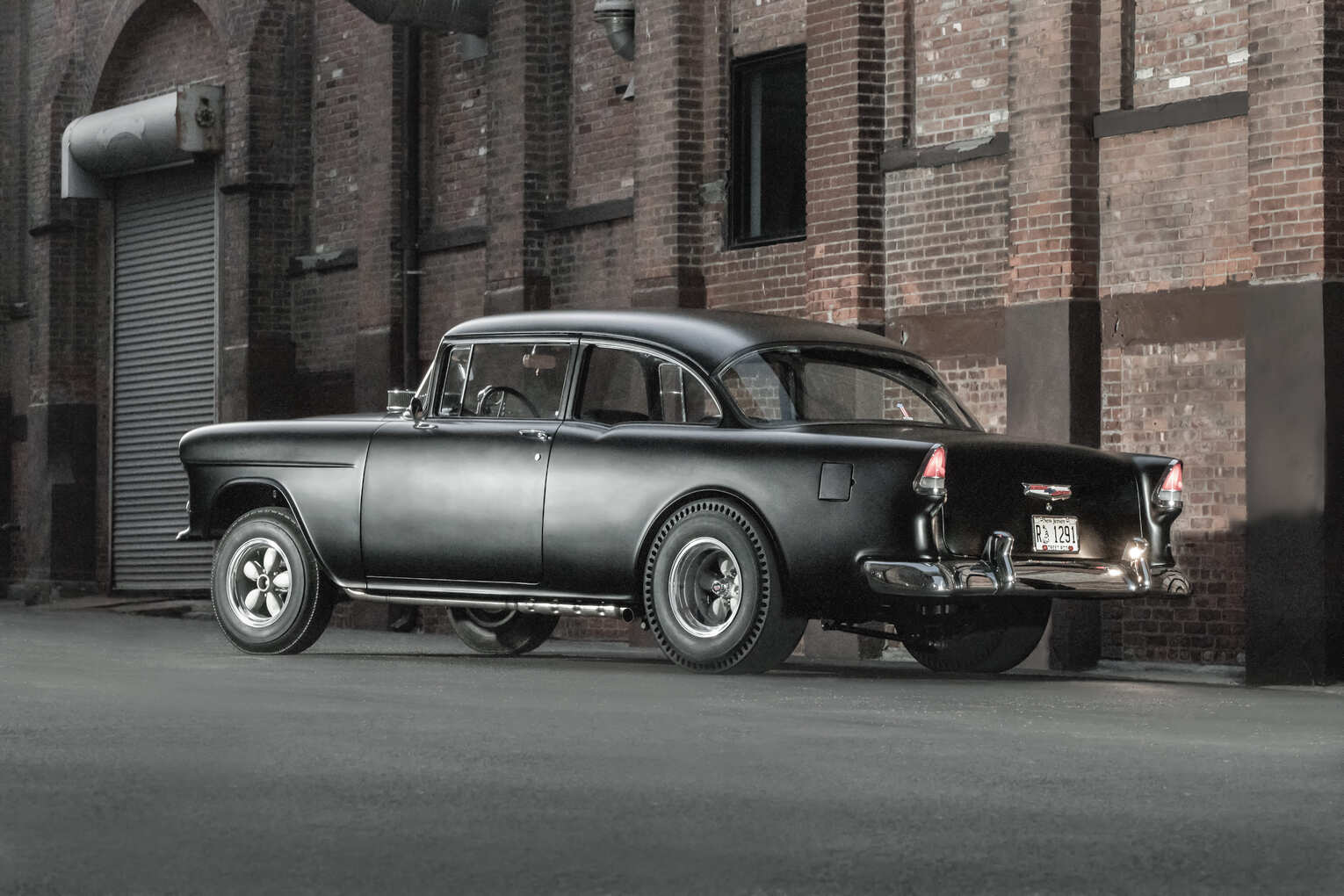 An LS V-What? Darrin Gartrell's 1955 Chevy 210 Has a Unique Powerplant
John's quest for a suitable '55 started online, but for the first six months he found a lot of what he calls "overpriced trailer queens or rust buckets beyond repair." Through a Facebook group he saw a picture of a '55 Chevy gasser that appeared to fit the bill. "It was a running, driving car that just needed some finishing touches to make it roadworthy," John says. "It was perfect–just what I was looking for."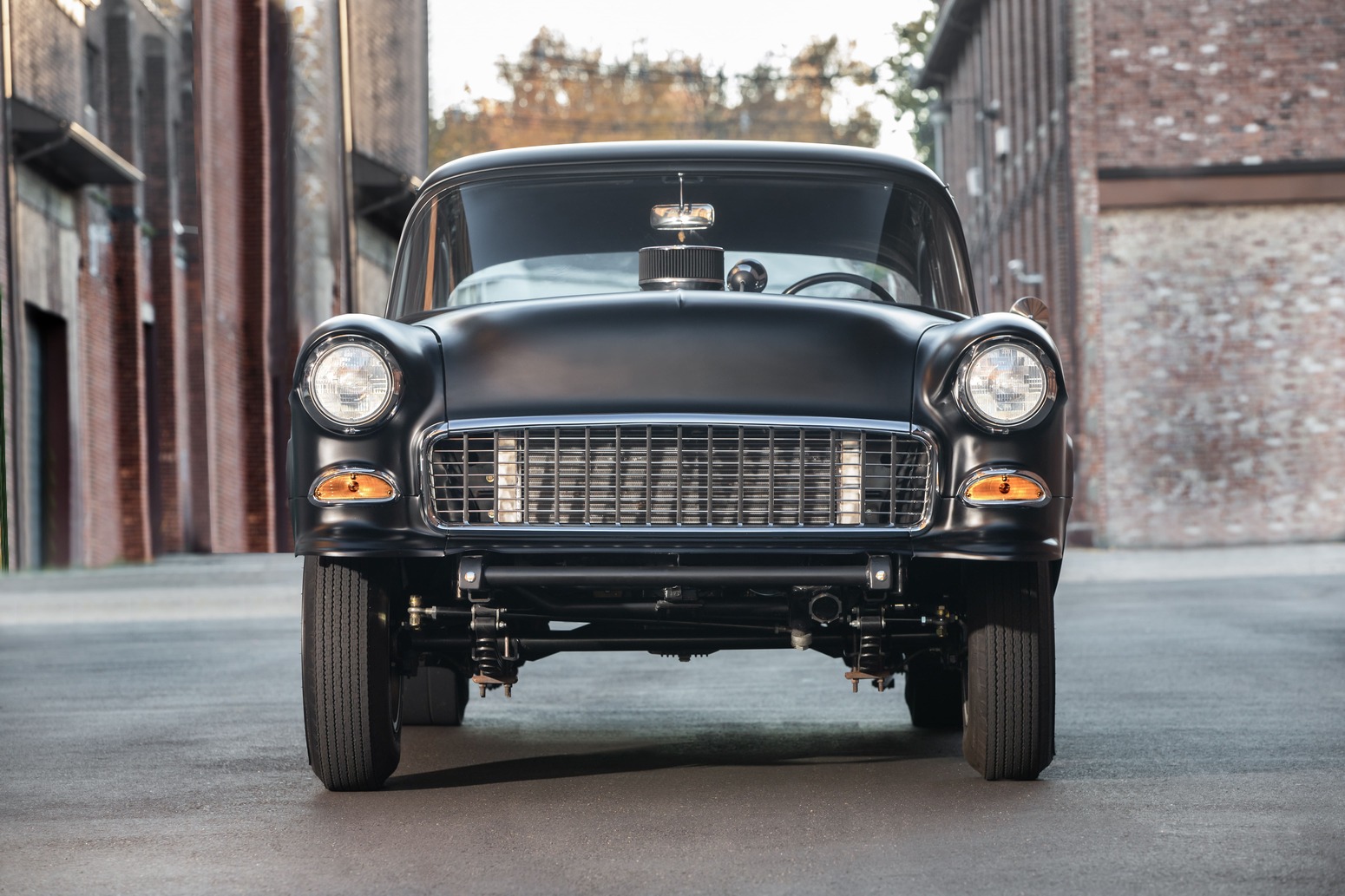 What wasn't perfect is that the car was about 3,000 miles away. "Buying a car sight unseen is something I'd never do," John confirms. "I was bummed until my girlfriend, Patty, reminded me she had a friend, Jim, who lived near the car, so she came up with the idea to have him Facetime me so I could see more of the car beyond the photos the owner had posted online."
Passing the Facetime test, the car was soon loaded on a hauler and was on its way from Washington to New Jersey. "That was the longest two weeks ever!" John exclaims.
Once the '55 arrived, John got busy getting to know the car, making some changes, and basically personalizing the car to make it his own. "I refer to it as an old-school, aggressive, purpose-built car," John reveals.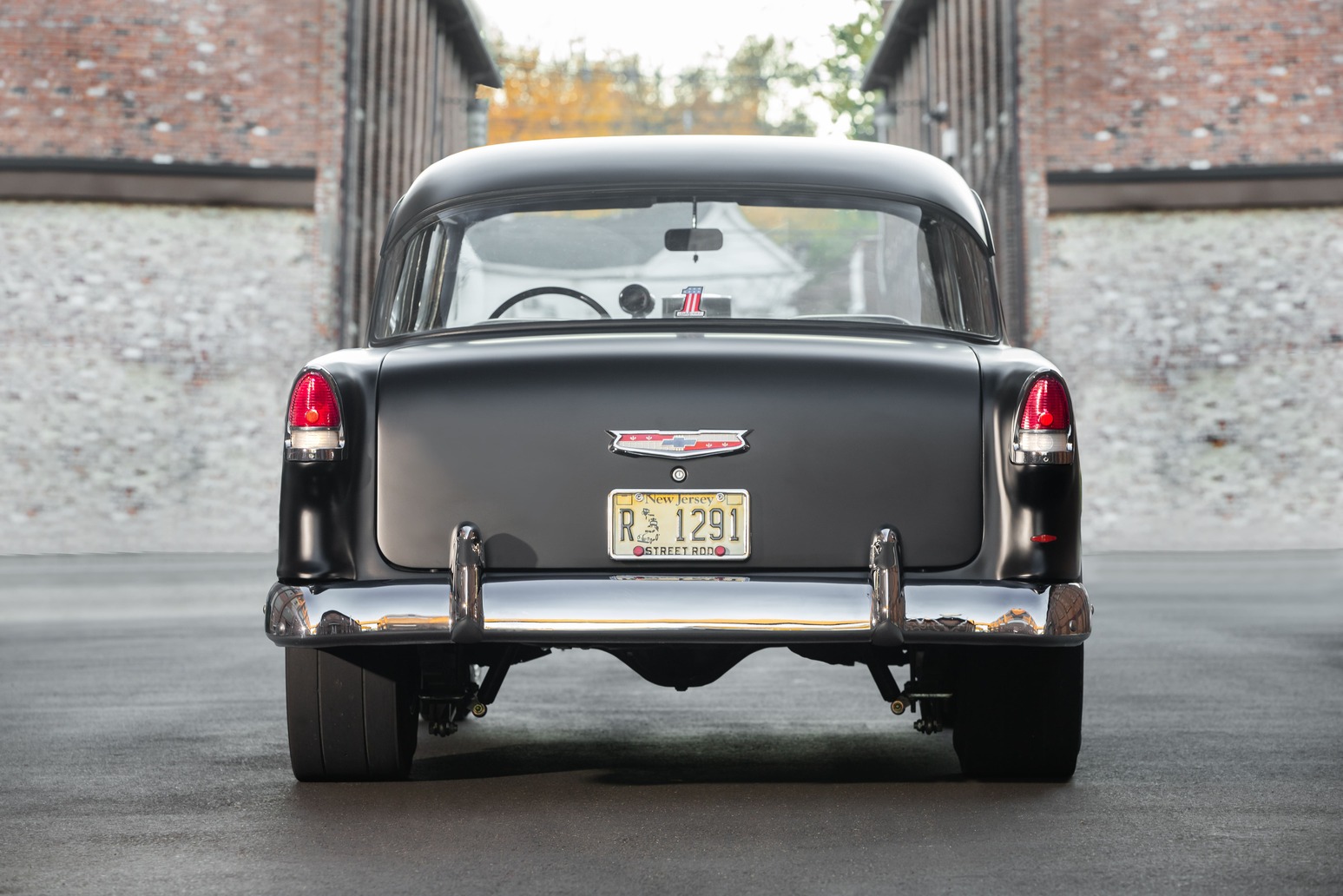 The chassis features a Speedway Motors gasser font clip with leaf springs, straight axle, and Vega steering box. Out back a set of CalTracs traction bars contain wheel hop, axle wrap, and everything else associated when a good amount of horsepower becomes part of the equation.
Two-piston, 11-inch disc brakes up front and stock drums out back get the job done, while also fertilizing the time-period style of the build. A stock pedal assembly works the Classic Performance Products (CPP) dual master cylinder for confident braking power.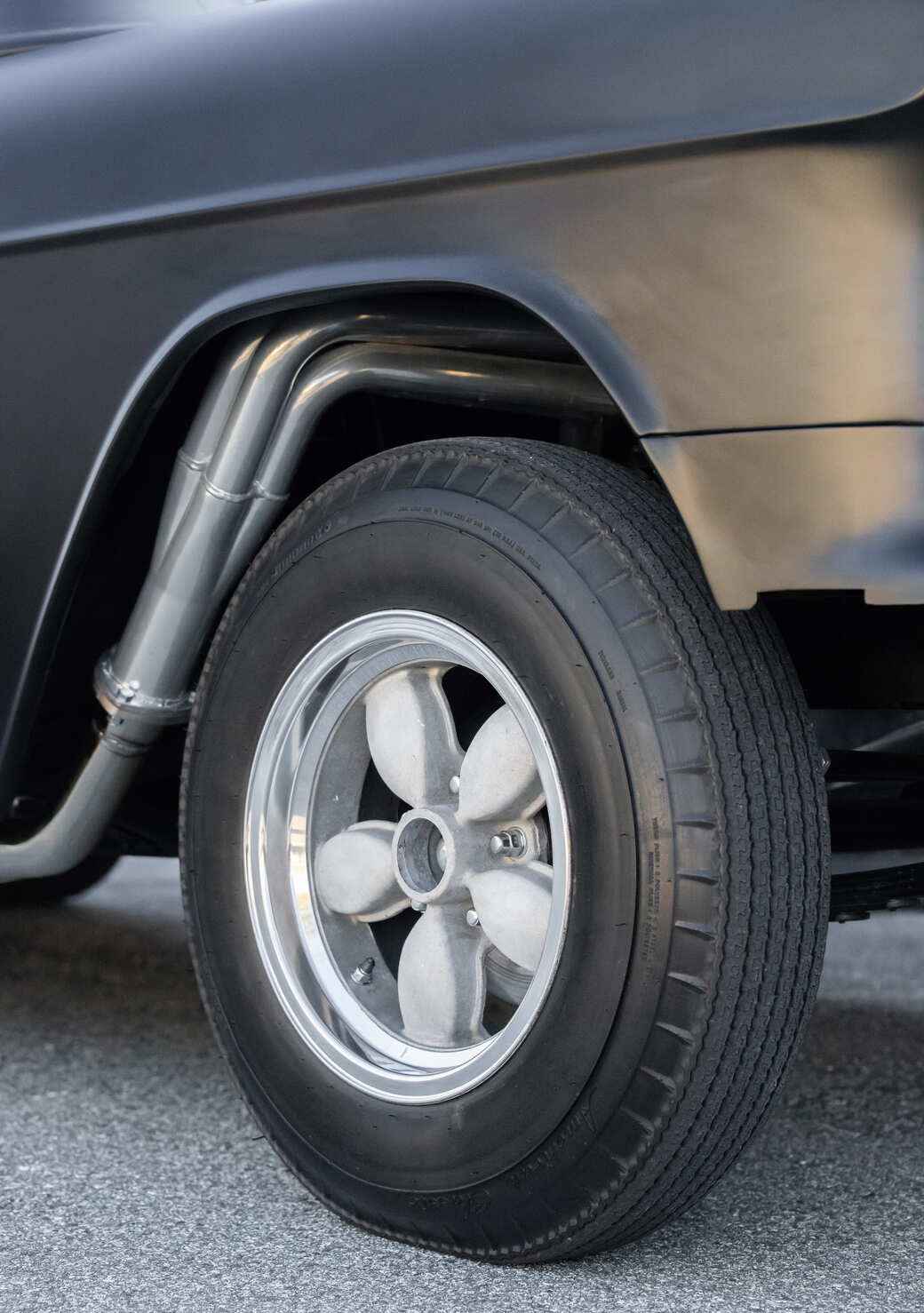 Check it out: Jed & Kristi Gage's 1957 Chevy Bel Air Two-Door Hardtop
To continue with the '60s gasser vibe, a set of 15-inch American Racing 200s, commonly known as Daisy wheels, reside on all four corners, while American Classic rubber rolls up front and Towel City Pie Crust Cheater Slicks grab asphalt out back–all doing their part in keeping this Tri-Five in the proper bygone decade.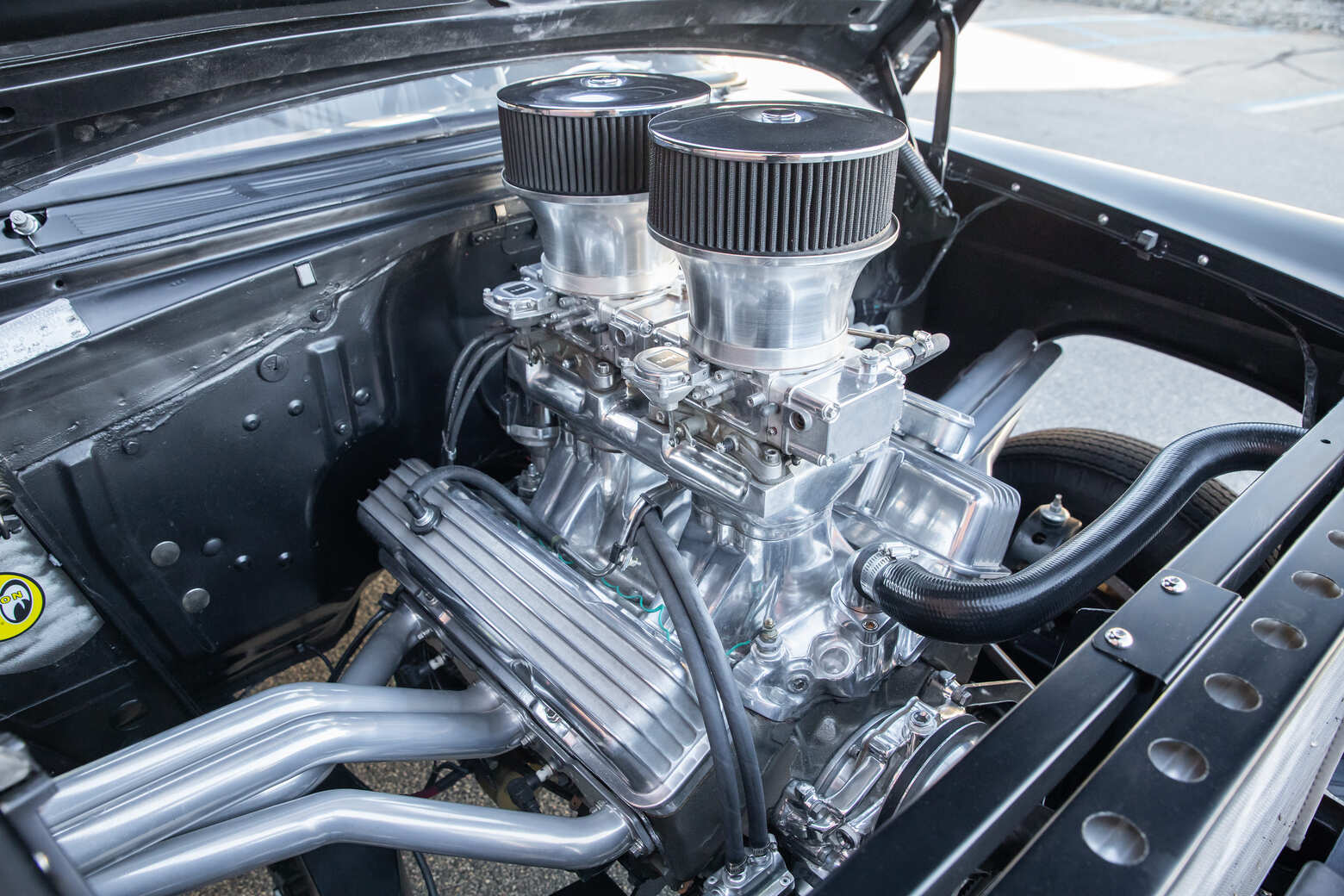 Continuing with the period-correct motif, John retained the 400ci small-block that came with the car. It features a GM steel crank, I-beam rods, and flat-top pistons. Although the compression ratio is not available, John informed us of a Comp Cams solid lifter cam and Camel-Hump 202 heads. The classic mill is dressed in finned valve covers, while a pair of velocity stacks roost on top of two Holley Brawler carbs and a tunnel ram intake–the perfect gear for this particular Tri-Five. A set of stainless Patriot fenderwell headers look the part and mate up to a 2.5-inch stainless exhaust tubes with a set of Stainless Works chambered exhaust doing their best to contain the commotion created by the rowdy small-block. The combination creates a rebellious sound that coincides with gasser attitude. John has yet to get the car on the dyno but estimates somewhere about 450 hp and 480 lb-ft of torque, which he claims makes this car a "monster to drive."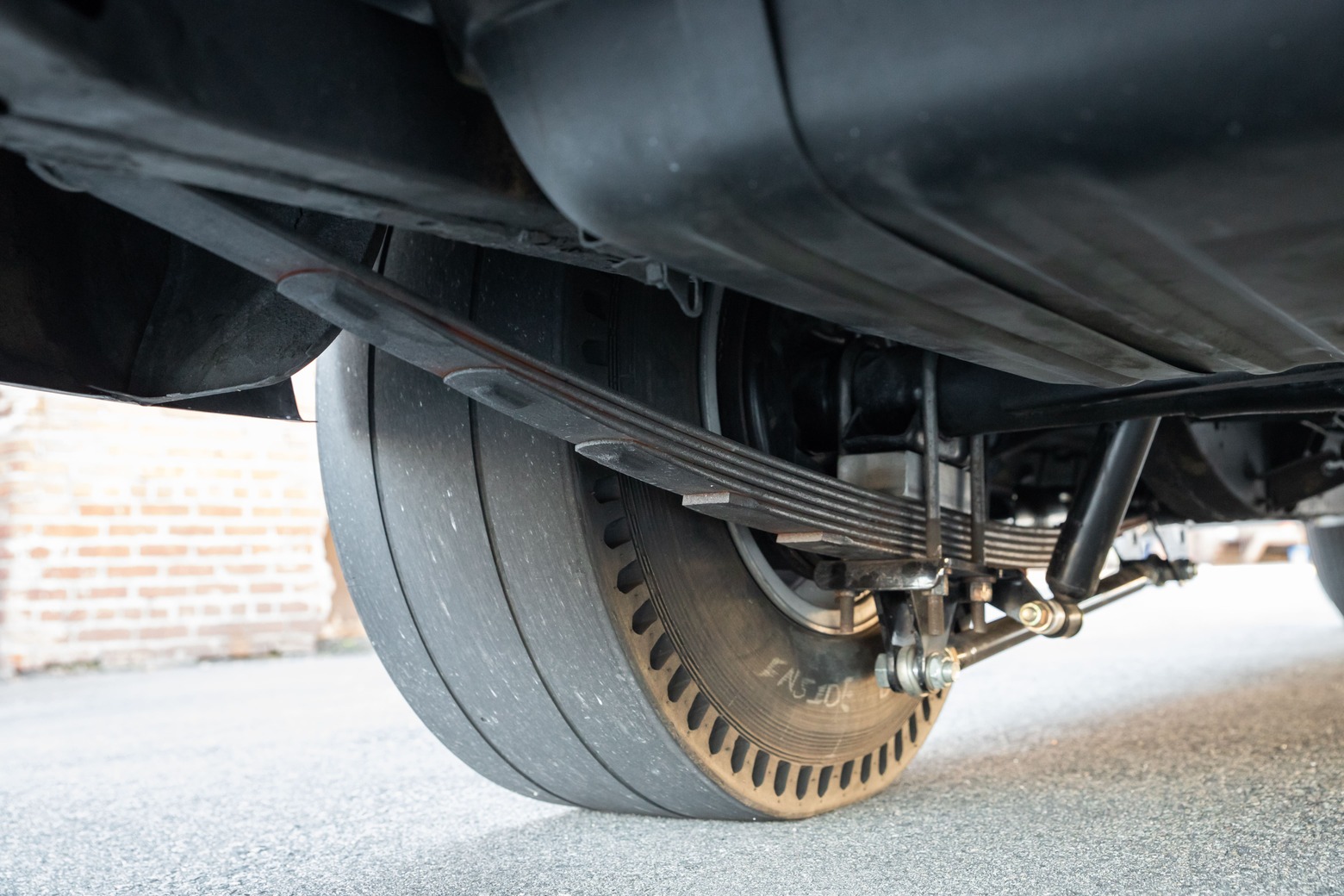 Power gets to the ground via a Muncie M21 four-speed transmission armed with a Speedway Motors 9-inch rearend, which accommodates 4.11 cogs and a locker setup with Dutchman axles. It's a straight-line arrangement that is totally up to code in the "cool car" handbook.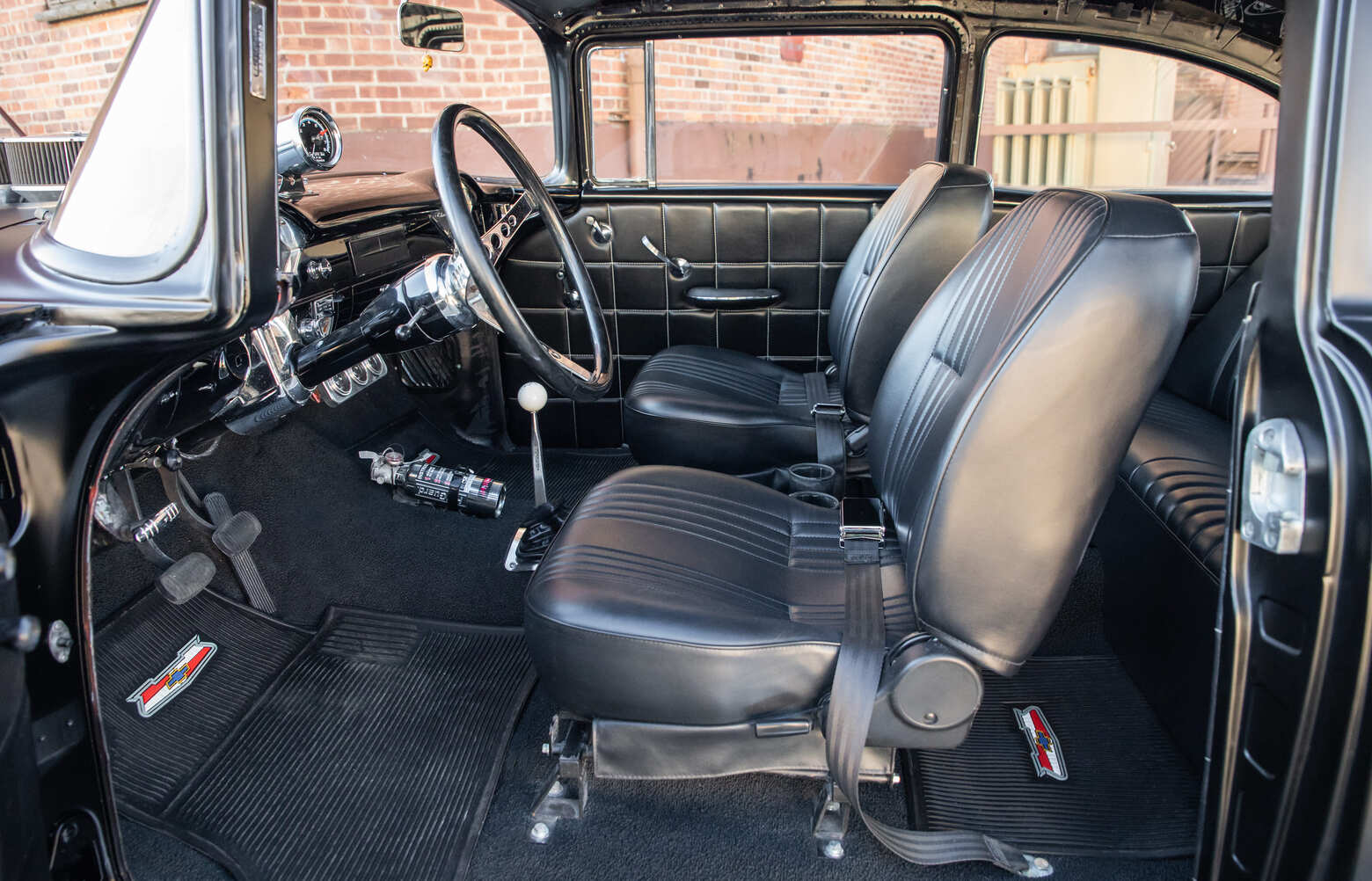 The interior reveals a minimalist approach designed more for business and less for comfort. The stock gauges and dash bring on the '50s aura while the underdash gauge pod and a Sun Super Tach propped on the dash reassures us of the '60s build style. The simplicity continues in the cockpit with a Moon steering wheel on the factory column and Procar by Scat buckets sheathed in black vinyl. The Del Ray pattern on the door panels reminds us that this '55 escaped a catastrophic '80s redo, which could have sent this time capsule in a completely different era. Yes, the interior features cupholders but are a sound investment due to the rising cost of Starbucks beverages, besides John would rather not stain the fresh black Classic Industries black loop carpet.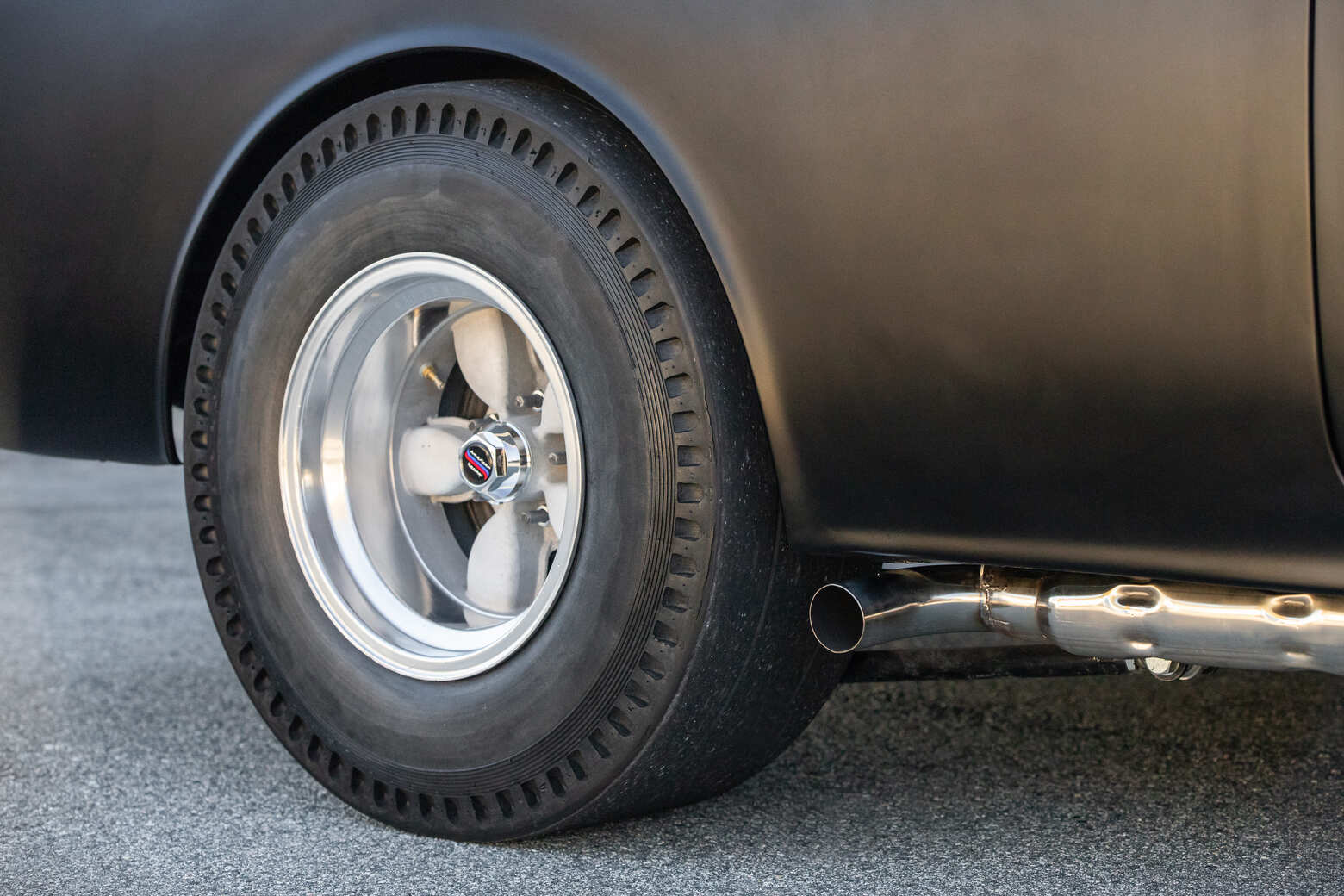 The exterior affirms radiused rear wheelwells done by the previous owner. John ditched the front bumper for proper aesthetics prior to tackling the bodywork portion of the build by himself and his good buddy Kevin Bannon. He peaked the hood and cut a hole in it to make way for the protruding dual velocity stacks. He also discarded the factory molding to give the 210 a 150 look then spent countless hours filling holes and block-sanding the sheetmetal prior to having Cris from Clemente's Auto Body in Denville, New Jersey, lay down an ominous coating of SEM Products' Hot Rod Matte Black pigment.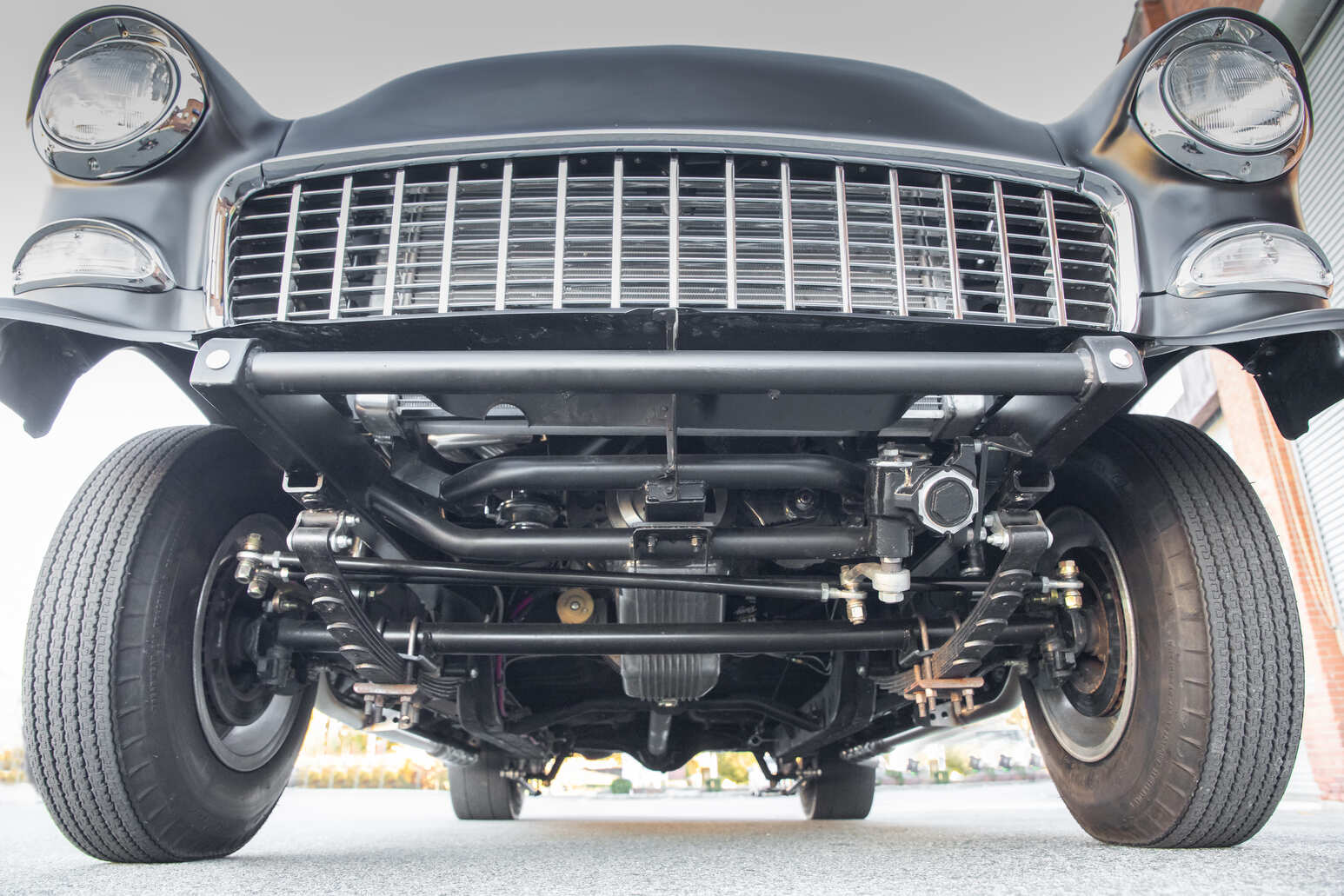 John admits the car gets quite bit of attention at car shows and cruises, and a lot of "thumps up" while driving down the road. He enjoys seeing people's reaction to his wild-looking Chevy but listening when veteran hot rodders share stories from the "old days" really makes the build worth it. "This car does a great job of triggering memories from the older crowd," John says. "Those guys have great stories going back to the original gasser days–stories I could listen to for hours, and I actually have."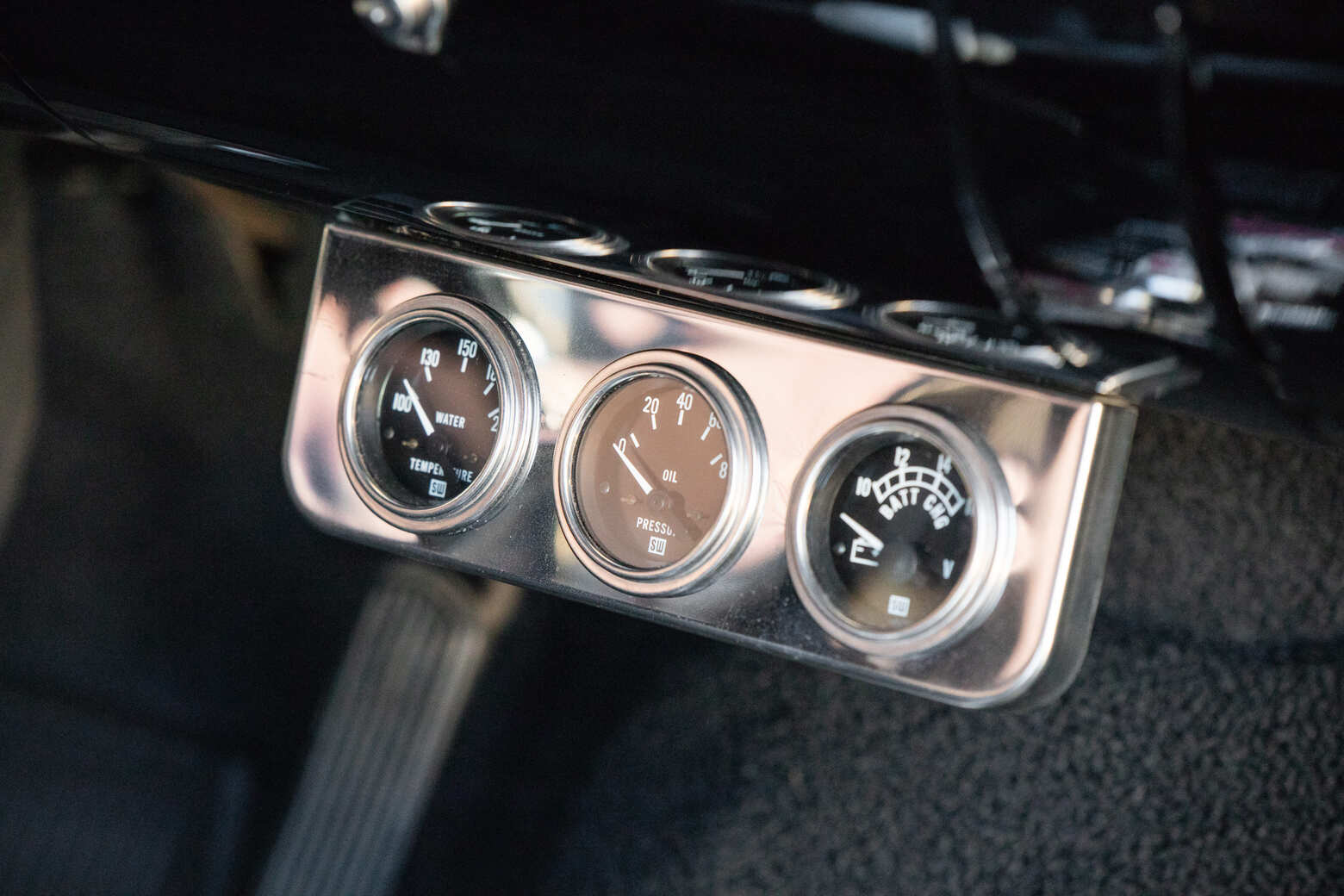 It's been said that true hot rodders' cars are never really done, but even in its current state, John's '55 is an absolute badass and does a great job of causing a ruckus on the streets of Butler, New Jersey–about as far as you can get from a field car in Modesto, California.
Take that, Milner!
TECH CHECK
Owner: John Blane, Butler, New Jersey
Vehicle: '55 Chevy 210
Engine
Type: Chevrolet small-block
Displacement: 400 ci
Cylinder Heads: Camel-Hump 202
Rotating Assembly: GM steel crank, I-beam rods, flat-top pistons
Camshaft: Comp Cams solid lifter
Induction: Tunnel Ram, two 600-cfm Holley Brawler carburetors, K&N velocity stack air cleaners
Exhaust: Patriot fenderwell headers, Pypes 2½-inch stainless exhaust, Stainless Works chambered exhaust
Ignition: Mallory
Ancillaries: Howe Racing crossflow aluminum radiator, Mooneyes finned valve covers, chrome 100-amp one-wire alternator
Output: 450 hp and 480 lb-ft
Drivetrain
Transmission: Muncie M21
Clutch: Centerforce
Rear Axle: Total Performance 9-inch rearend, Eaton Posi limited-slip locker differential 4.11 gears, Dutchman 33-spline axles
Chassis & Suspension
Chassis: Factory
Front Suspension: Speedway Motors Straight Axle Gasser Kit, leaf springs, Afco shocks, Vega steering box
Rear Suspension: Stock leaf springs, 2-inch lowering blocks, Afco shocks, CalTracs traction bars
Brakes: Front 11-inch disc, two-piston calipers, rear factory drum
Master Cylinder: CPP dual
Wheels & Tires
Wheels: American Racing 200 S (Daisy), 15×7 front, 15×10 rear
Tires: Coker American Classic, 6.70-R15 front, Towel City Pie Crust Cheater Slicks, 29×10-R15 rear
Interior
Upholstery: Black loop carpet, Del Ray–style vinyl door panels
Installation: Owner
Seats: Procar by Scat buckets front, stock bench rear
Steering: Stock column, Moon 15-inch steering wheel
Shifter: Hurst
Dash: Stock
Instrumentation: Dash-mounted Sun Super Tack, Stewart-Warner temp, oil pressure, and volts underdash
HVAC: Windwing open/closed
Sound System: Nope
Exterior
Bodywork: By owner and Kevin Bannon
Painter: Cris at Clemente's Auto Body (Denville, NJ)
Paint: SEM Products Hot Rod Matte Black
Front Bumper: Delete
Headlights: Stock
Rear Bumper: Stock
Taillights: Stock