Darrin Gartrell's 1955 Chevy 210 Has a Unique Powerplant
By Shawn Brereton   –   Photography by the Author
The car show portion of the Tri-Five Nationals in Bowling Green, Kentucky, never ceases to amaze. How in the world can a car event — featuring what is essentially three models — still show us something completely new? The August 2022 version sure had its fair share of standout rides with gleaming paintjobs, sparkling chrome, and buttery smooth interiors, but this '55 Chevy 210 stood out for a very different reason.
It wasn't outlandish. The PPG red and black paint seemed flawless, the fit and finish were close to perfection, and the interior was a light gray custom leather Ron Mangus masterpiece. However, it was in the engine bay where things went beyond understanding. Ladies and gentlemen, this '55 was packing an LS but it had two extra cylinders. Yes, a GM LS V-10!
We had to find out more. The owner is Darrin Gartrell of LS Brackets from Woodward, Oklahoma. Darrin confirmed it is a legitimate GM LS with 10 slugs in the block. In the long history of GM skunkworks and back-office science projects, it appears this was one of those projects that somehow made it out the back door. No one outside of GM really knows how many were made or how many actually made it into the wild. However, this is believed to be the first one running in a vehicle, and it has a pretty cool story to boot.
Check this out: 1966 Chevelle Wagon, as a Gasser!!!
It turns out sometime around 2008, amid GM's financial woes, they scuttered a large number of projects. Everything was sold off as scrap and slated for destruction. Some enterprising individuals recognized this gem sitting among the junk as something unique and worth saving. The whole pile was purchased and loaded on the spot before it could escape. After not being seen again for several years, the engine finally surfaced and Darrin bought it.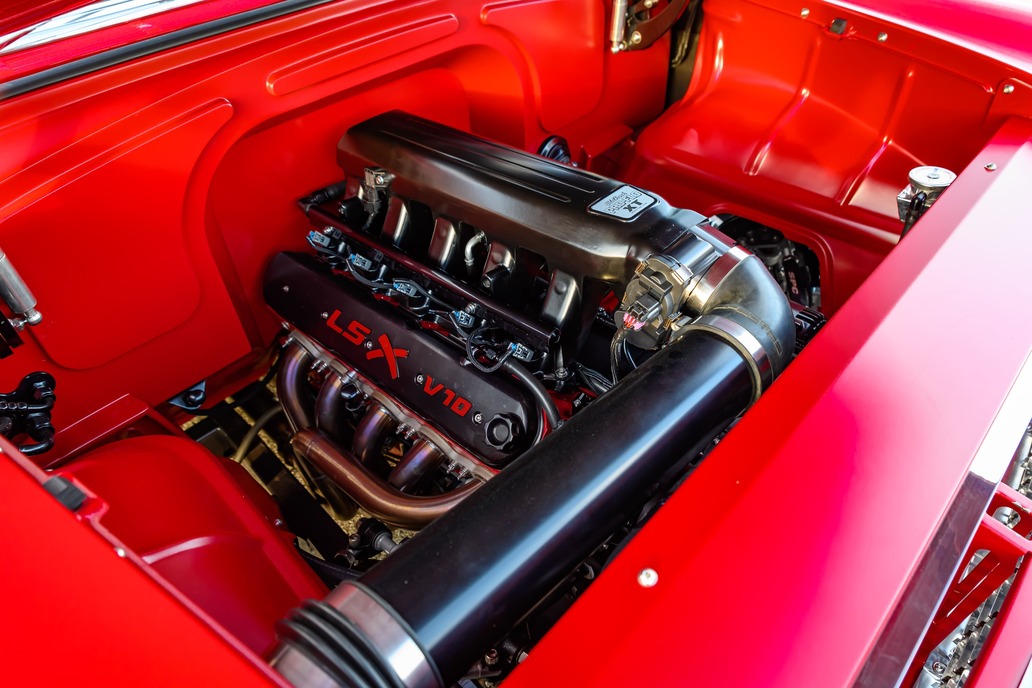 The prototype LS V-10 engine finally met up with someone who could give it life. Upon first seeing the engine, he noticed it needed some TLC and was missing several parts before it could run. After the initial teardown, Darrin got in touch with several knowledgeable people in the automotive performance industry and let them know what he had and wanted to do with it.
While several articles were written about these elusive V-10 engines, no one really knew much about them or their design. Darrin had plans to add power, so he sent the cam off to Billy Godbold at Comp Cams to study and make blanks for the inevitable upgrades. Once he was done, John Bewley at Full Proof Performance worked his magic, spec'ing out the cam upgrade. Meanwhile, the factory crank was sent off to be studied and reverse engineered. Darrin shipped the cylinder heads (which resemble a factory L92 head in port design) off to Gavin Simcoe for some much-needed inspection and cleanup.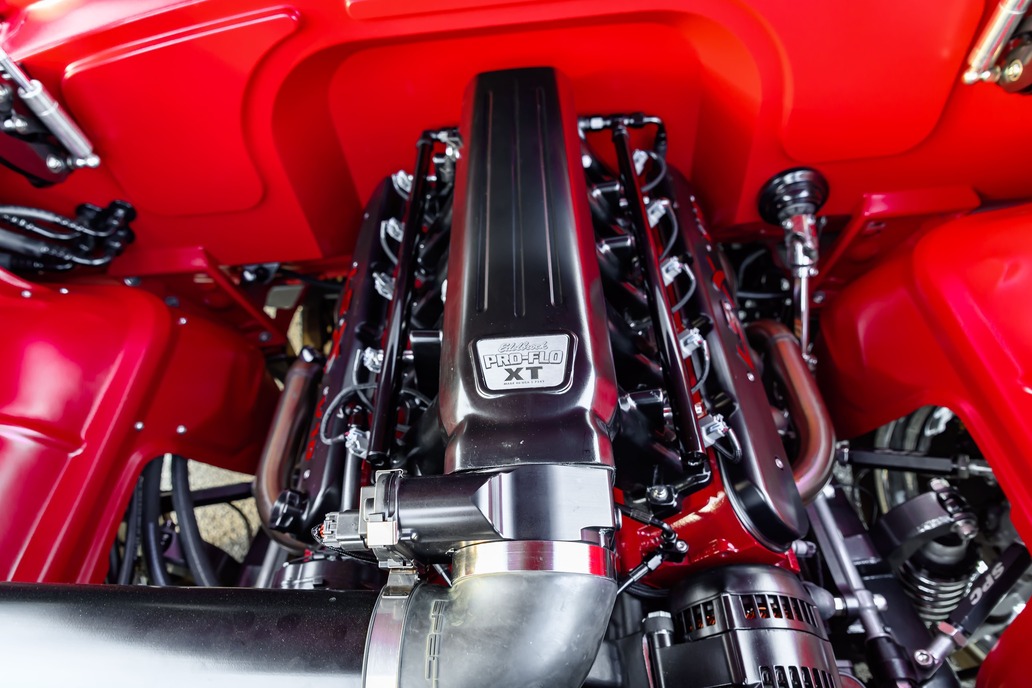 Amid all this, what started as a one-off engine build morphed into Darrin forming the LS XR10 group with the ultimate goal of producing a brand-new V-10 based on the original GM design, so the prototype became a testbed for future models. COVID-19 slowed the process of assembling all the parts back at LS Brackets/LS XR10 headquarters.
Darrin entrusted Michael Rudd at Rudd Racing Engines in Lone Grove, Oklahoma, to perform final assembly and dyno tuning. The prototype is a cast-iron Gen IV-style block with a 4-inch bore and 3.622 stroke crankshaft. After a slight cleanup, the final bore comes to 4.005 inches for a total of 456 ci. The factory crankshaft and Gen IV rods reside inside with upgraded CP-Carrillo pistons to end up with an 11.2:1 compression ratio.
Gasser it up: Old- School 1955 Chevy Gasser Packs a Punch
While the engine came with the factory prototype dual throttle-body intake, it lacked in the upper-rpm range. It was also less than aesthetically pleasing, so Darrin cut down two Edelbrock Pro-Flo XT intakes to make one with 10 runners running a MaxxECU PRO system. Swiftek Engineering in Australia got the nod to design the custom valve covers and valley cover. Meanwhile, Chris Stewart of Stewy's Speed Shop in Oklahoma welded those beautiful custom headers. Rick Gorski with FireCore Performance provided the excellent FireCore50 wires for this build. A Holley mid-mount accessory drive runs all the ancillaries.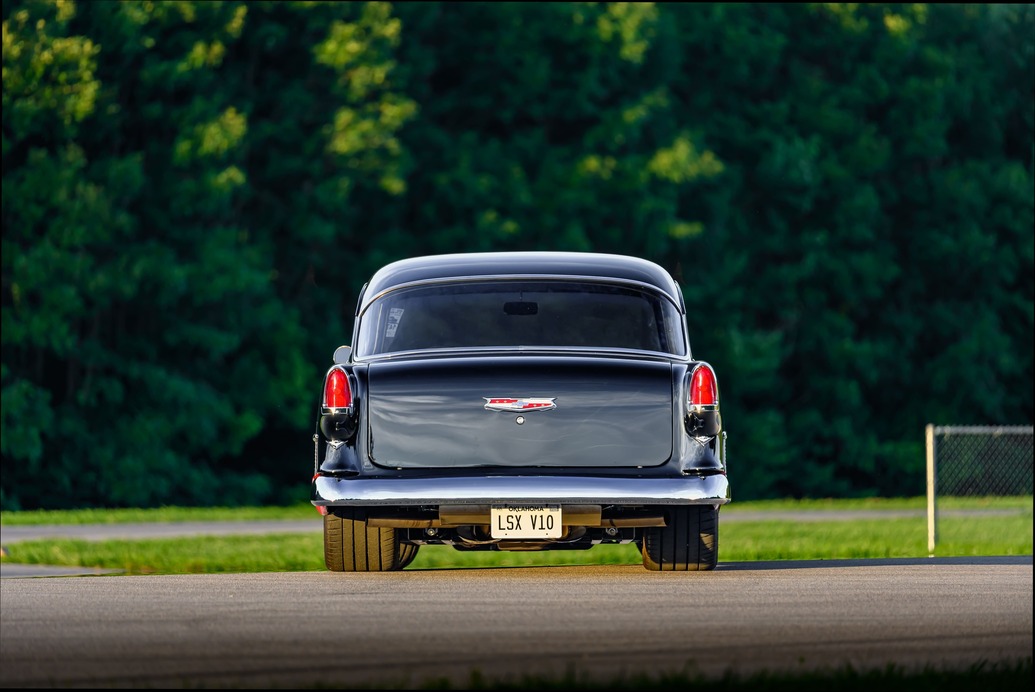 Once Rudd assembled the engine, Scott Clark with Real Tuners was on hand for the first true start of the engine outside of a GM facility. After some initial break-in, diagnostics, and Clark nailing down the tune, it was ready for its first full-power run. Silent for 10 years, the V-10 finally ran again (and stronger than ever at full song), rocking the dyno with 700 hp at 7,000 rpm and 615 lb-ft of torque at 4,800 rpm. If you wonder what an LS-based V-10 engine would sound like at 7,000 rpm, Darrin says it is a beautiful sound all its own.
That engine now sits between the framerails of this '55 Chevy, which started out with a good-running and driving 454ci four-speed combo. It now sports a Nerd Rods Chassis 2×4-inch boxed frame with a full-custom crossmember and control arms with QA1 coilovers and 14-inch Wilwood brakes on C4 Corvette spindles all the way around. The power is transferred through a 3,500-stall Circle D Billet torque converter to a GM 4L85E transmission. A Currie TrueTrac 9-inch with a 3.70:1 gear ratio is triangulated at the rear.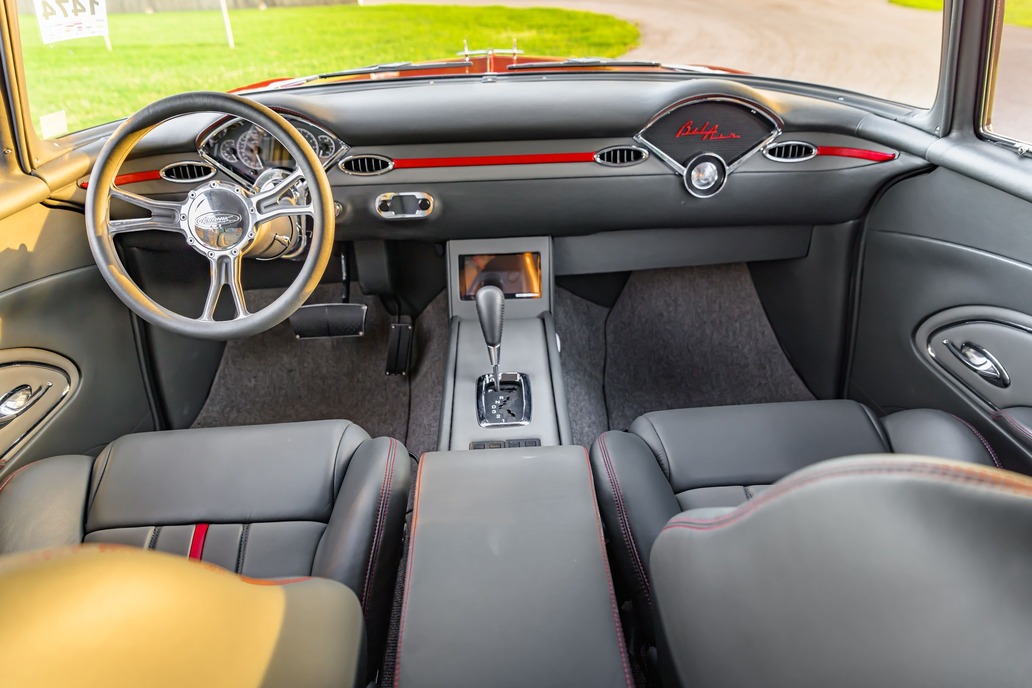 Darrin did all the sheetmetal work before sending it to Covington's Customs in Woodward, Oklahoma, for bodywork and a slathering of PPG red and black paint. Schott Throttle wheels and Michelin Pilot Sport 4 S tires (325/30R19 rear, 245/40R18 front) look right at home on the '55. The car debuted at the Tri-Five Nationals, where it rightfully earned a Top 25 award.
Now that it's finished, Darrin plans to drive the car as much as possible. He builds them to drive them and there is no doubt it is one heck of a calling card for his V-10 production plans. He is now busy putting together all the puzzle pieces and is hoping to have it in production by mid 2023 so that you, too, can have a super-rare, unique engine with a sound all its own!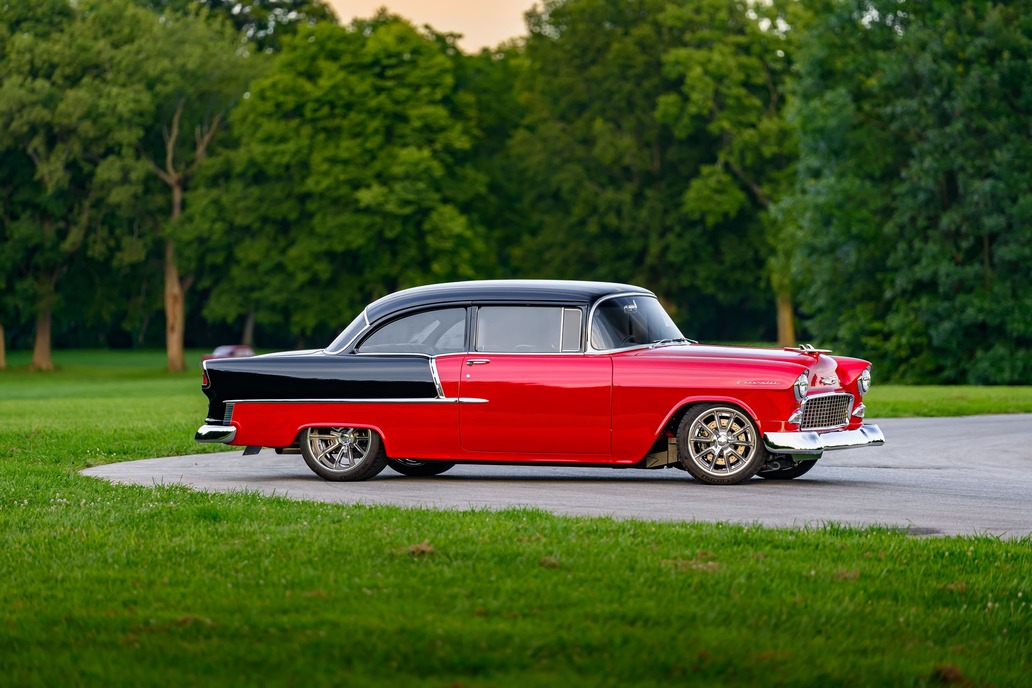 TECH CHECK
Owner: Darrin Gartrell, Woodward, Oklahoma
Vehicle: '55 Chevrolet 210 Two-Door Sedan
Engine
Type: GM LSX V-10 (year unknown)
Displacement: 455 ci
Compression Ratio: 11.2:1
Bore: 4.005 inches
Stroke: 3.622 inches
Cylinder Heads: GM
Rotating Assembly: Custom crankshaft, CP-Carrillo pistons, standard bearings, and rings
Valvetrain: Stock LS valves and springs
Camshaft: Custom Comp Cam spec'd by John Bewley at Full Proof Performance
Intake/Throttle Body: Custom Edelbrock Pro-Flo XT
Induction: Naturally aspirated
Fuel Injection: MaxxECU PRO
Assembly: Michael Rudd of Rudd Racing Engines (Lone Grove, OK)
Exhaust: Stewy's Speed Shop 1-⅞-inch stainless headers, 3-inch stainless pipe, Borla Pro XS mufflers
Ancillaries: Hot Rods by Dean radiator, Holley Mid-Mount Serpentine Accessory Drive, MaxxECU PRO ignition, FireCore50 wires, Swiftek Engineering custom billet parts including valve covers, Rick's Tanks 22-gallon stainless tank
Output: 700 hp at 7,000 rpm, 615 lb-ft at 4,800 rpm
Drivetrain
Transmission: '20 GM 4L85E
Torque Converter: Circle D Billet, 3,500 stall
Rear Axle: Ford 9-inch, Currie Truetrac, Currie axles, 3.70:1 gear ratio
Chassis
Frame: Nerd Rods 2×4 boxed frame, custom engine mounts, full-custom crossmember
Front Suspension: C4 Corvette spindles, custom control arms, QA1 single-adjustable coilovers, rack-and-pinion steering
Rear Suspension: Triangulated four-link, QA1 single-adjustable coilovers
Brakes: Wilwood four-wheel disc, 14-inch front rotors with six-piston calipers, 14-inch rear rotors with four-piston calipers
Master Cylinder: Wilwood ⅞-inch Tandem
Wheels and Tires
Wheels: Schott wheels (Throttle); 18×8 front, 19×12 rear
Tires: 245/40ZR18 front, 325/30R19 rear; Michelin Pilot Sport 4 S
Interior
Upholstery: Gray leather, Ron Mangus (Yucaipa, CA)
Carpet: Light gray
Seats: '06 Pontiac GTO, custom leather
Door Panels: Custom leather
Pedals: Kugel Komponents/Lokar Performance
Steering: Ididit column, Budnik steering wheel
Console: Custom fabbed by Mangus
Shifter: Cadillac
Stereo: Pioneer DMH-341EX head unit, with Pioneer 6-inch front speakers and 6×9-inch rear speakers
Dash: Full leather-wrapped, Lokar air vents, Switch Pros power panel
Instrumentation: Dakota Digital HDX
HVAC: Vintage Air with Dakota Digital controller
Wiring: Speedway Motors
Exterior
Bodywork: Darrin Gartrell and Gene Smith, Covington Customs
Paint: PPG black/red
Trim: Danchuk, Lokar Performance door handles
Bumpers: Danchuk
Hood Hinges: Billet Specialties
Lights: United Pacific