Mike Stowe's Supercharged LSA Tri-Five Tribute Build
By Brian Brennan   –  Photography By Josh Mishler
Getting ready to go off to college is a big deal but having your father help you find and work on a black 1955 Chevy Delray coupe as your daily ride is even more memorable. Such was the case for Mike Stowe of Northern Michigan. Turns out the Tri-Five Chevy in question was powered by a 265-inch small block Chevy backed by a Powerglide. Given that Mike's dad was a car guy, the first order of business was to remove the emblems, lead-in the holes, and then lower the stance. Sounds like a great college course in "What Matters in Life."
Life continues and Mike, who is no stranger to hot rods and our industry, having been involved in the ownership of Classic Instruments in the early days, decided back in 2015 it was time to build a tribute to his college-day ride–a modernized version of his memorable 1955 Chevy Delray. Mike did find a Tri-Five that was an ongoing project that the owner wanted to sell. Upon closer inspection Mike realized the Chevy had an Art Morrison Enterprises chassis that was positioned and ready to accept a modern powertrain. A deal was struck and Mike now found himself in the midst of his own project. Next up he ordered a supercharged LSA Chevrolet Performance crate engine and a TREMEC T56 magnum 6 speed transmission to push the project ahead. He then joined efforts with Jim Lewis of the Lewis Brothers and the effort was begun in earnest.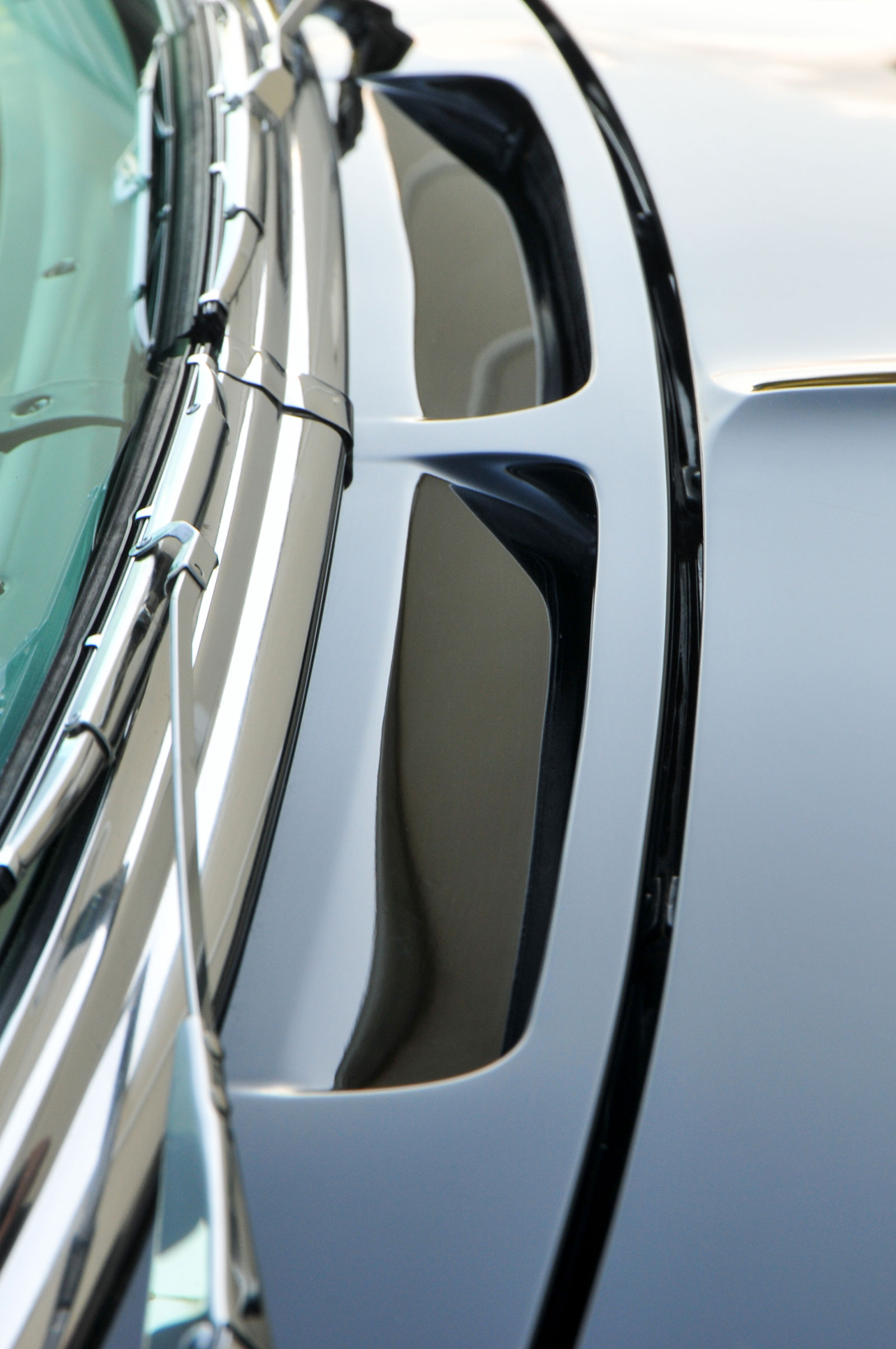 Read More: A Closer Look At Jack Chisenhall's Champ Deuce
A little background on the Tri Five Chevy. It's one of the most memorable times for Detroit. It was the mid '50s and the 1955 Chevy was about to begin its three-year reign as a "highly desirable" hot rodder dream car. This reign would continue for a lifetime. It was in 1955 that Chevy introduced a new chassis that would also serve as "home" for the recently introduced small block Chevy V8. Other improvements introduced that year included the center door frame for added safety, drum brakes were beefed up to 11-inch drums, and the 210 would-be owner could choose any of the available powertrain options. There were two inline six-cylinder engines, followed by three versions of the new 265. There was a 162hp base V8, then the Power Pack V8 at 180 hp, and finally a late-model year introduction, the Super Power Pack at 195 hp. A drawback occurred in 1955, at least in the eyes of any hot rodder, the ammeter and oil pressure gauges went away and in their place warning (idiot) lights showed up.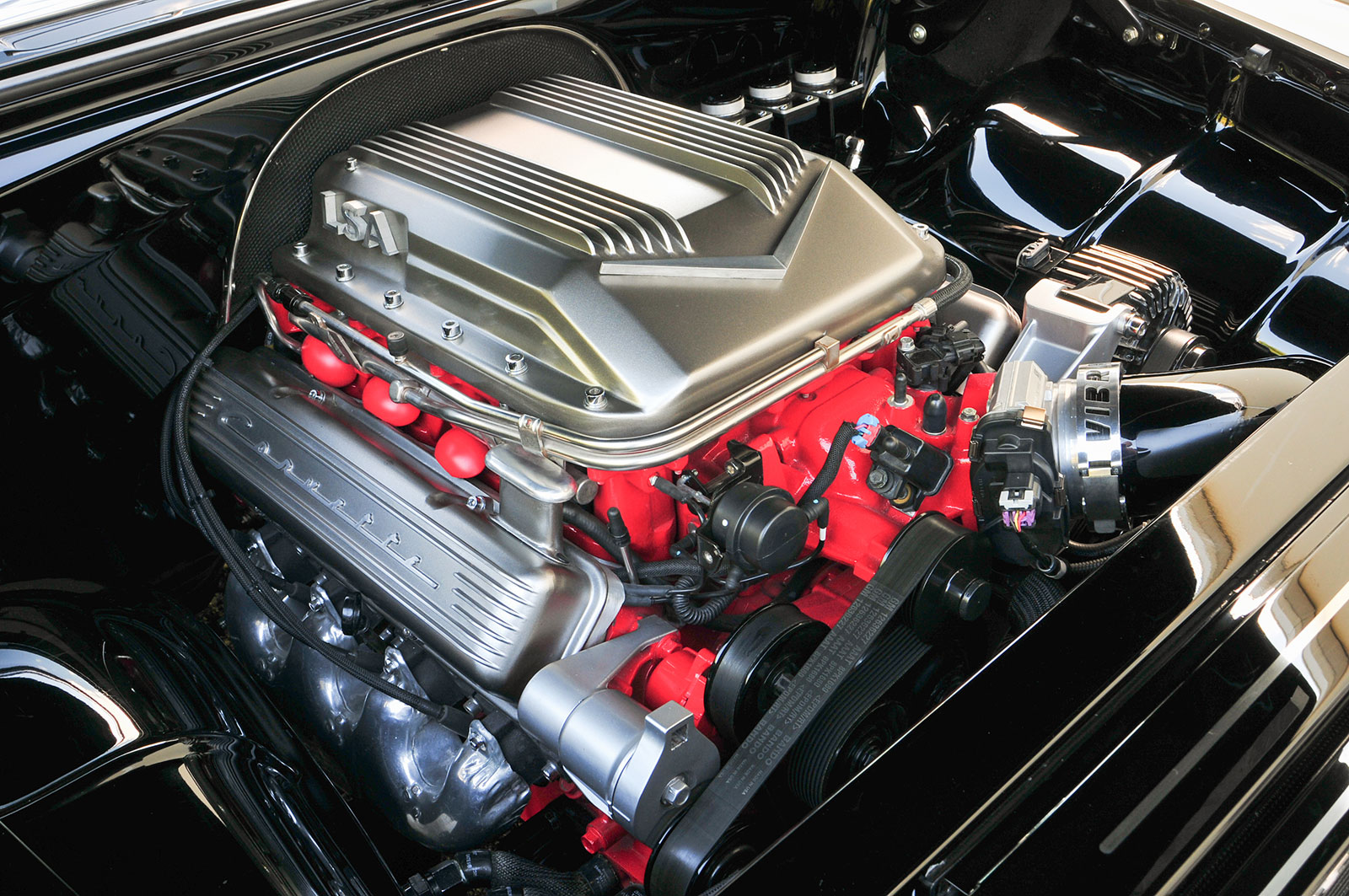 Back to Mike's 1955 Chevy Delray and the underpinnings. The Art Morrison chassis is home for a Heidts Independent Front Suspension, spindles, sway bar, rack-and-pinion, and coilovers. In the back a Ford 9 inch rear end is used along with an Art Morrison four-bar, coilovers, and sway bar. Rounding out the four corners is a set of Wilwood disc brakes along with a Wilwood brake and clutch master cylinders along with Moal Coachbuilders custom pedal assembly. More corner appointments include a full set of four EVOD wheels that are made to resemble the wheels on his first '55-56 Dodge hubcaps. EVOD built a set of 17-inch wheels for the front and 20-inch wheels for the back all wrapped with Pirelli Run Flat tires measuring 225/55R17 and 29/45R20.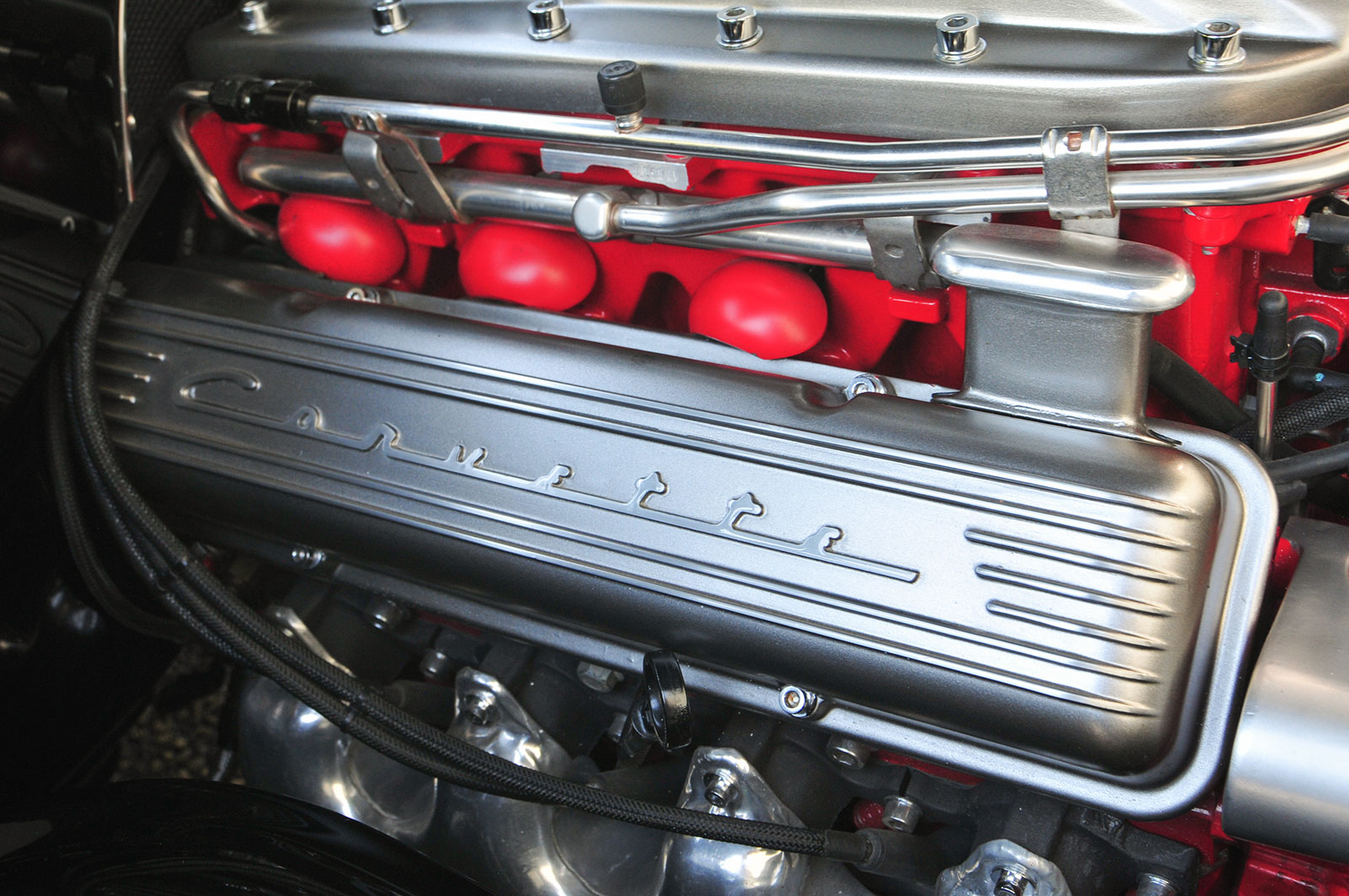 Read More: 1932 MyWay: Kugel's Tailor Made Ford Roadster
The powertrain is based on a Chevrolet Performance supercharged LSA V8 crate engine configuration that was dyno'd at Lingenfelter and produced 600 hp. To it a very nifty addition of an original set of seven-fin Corvette valve covers through which the wiring is run yielding a pleasant aesthetic look. The fabricated air intake system is mounted in such a fashion as to pick up the cool air from beneath the front bumper. The air pickup utilizes Porsche flat filters, and the opening has its own miniature grille. When it comes to fluids the fuel is supplied through a 20-gallon Tanks Inc fuel tank while the cooling chores fall to a complement of Be Cool products, including the radiator/core support, condenser, intercoolers, and oil cooler. The factory exhaust manifolds are used along with polished stainless steel 3-inch tubing paired to a set of Flowmaster mufflers. Linked to the supercharged LSA is a TREMEC T56 magnum manual transmission outfitted with a Hurst shifter, a McLeod clutch kit that includes the disc and pressure plate, the flywheel is Chevrolet.
The body is a 1955 Chevy Delray "post" car that has received minor sheet metal changes such as the use of mini-tubs in the back, removal of some badging from around the car, while the rear bumper is modified so that the exhaust tips "ride" up within the bumper. Much of the fresh trim and restoration trim parts came from Eckler's. You should also notice the reworked cowl vent area now much more robust and smoother looking than the original appearance. The Lewis Brothers handled all the bodywork and then the application of the PPG black in a basecoat/clearcoat paint.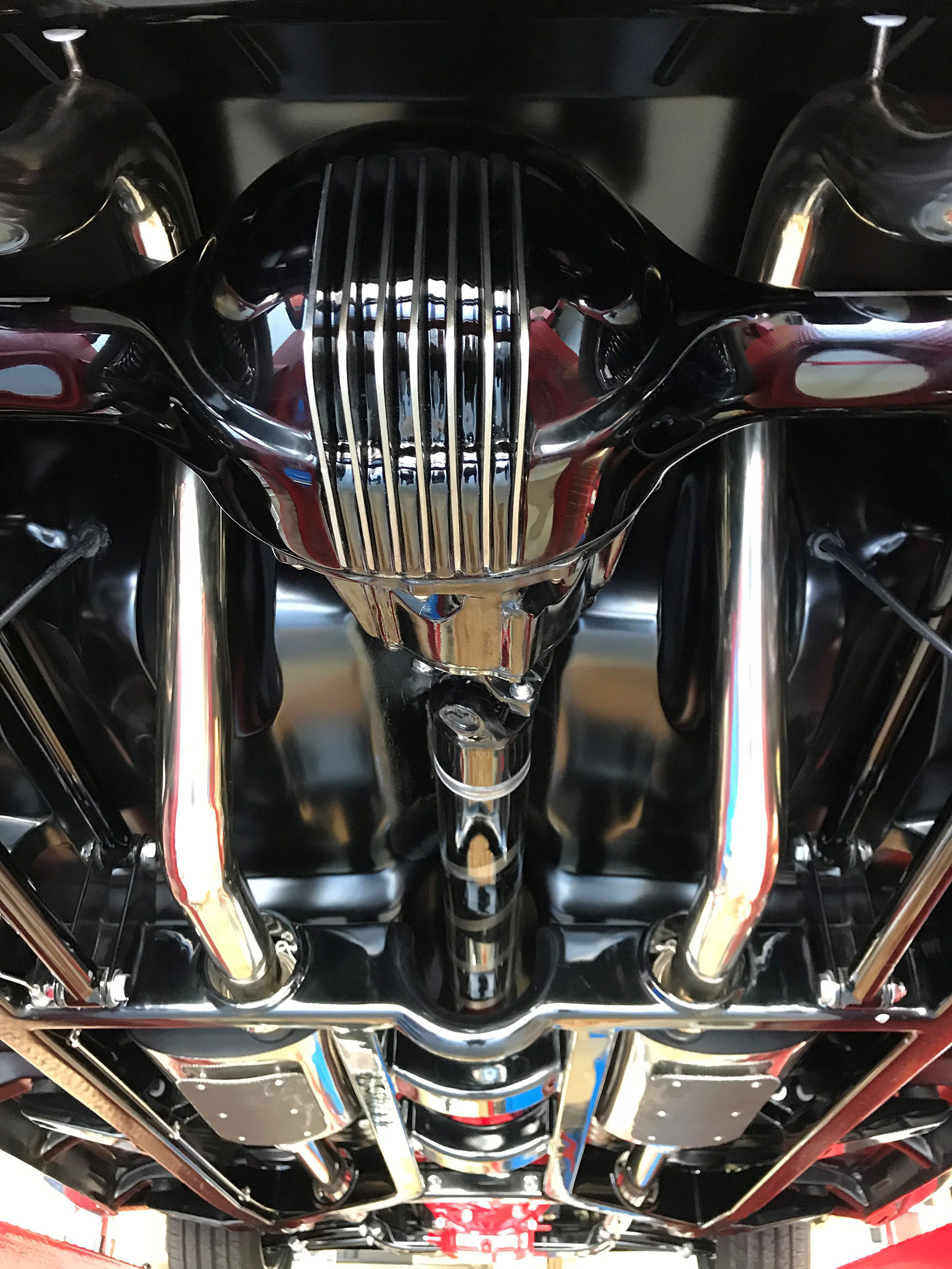 Inside the striking use of black and white really sets off the interior performed by Shelby Trim as they recreated the original Delray look but this time in leather. The stock dash is padded and outfitted with one-off Classic Instrument gauges from their Custom Shop that now includes a blower pressure gauge and a tachometer. Other interior appointments include the Vintage Air AC system (air registers are built into the lower corners of the dash) and the Moal Coachworks–fabricated pedal assembly (brake, clutch, and throttle). Next up is the tilt ididit steering column complete with a cruise control wick, and a 14-inch (downsized) leather-wrapped factory-style wheel. Making sure everything fires, lights up, or just plain works an American Autowire system was installed.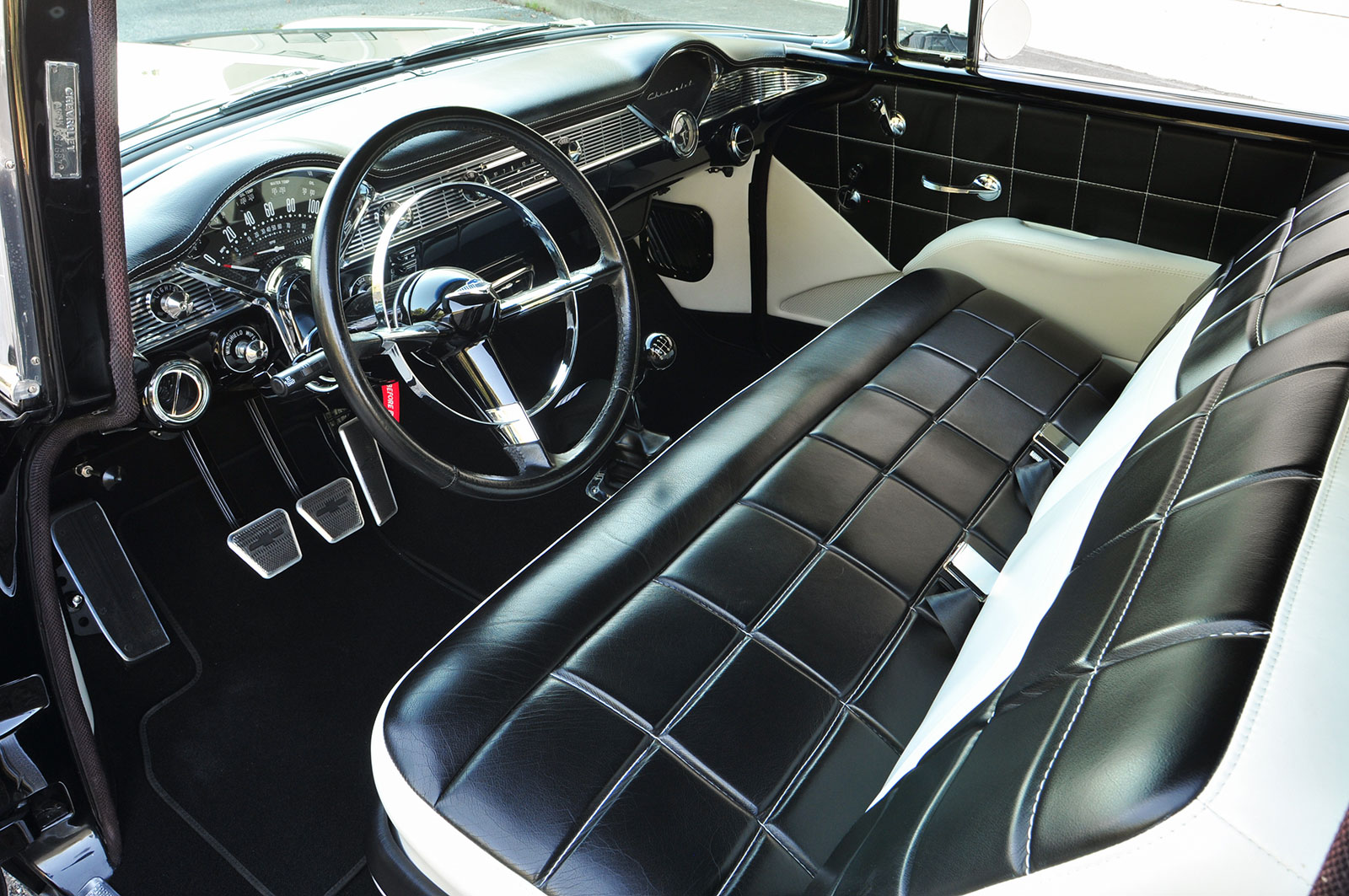 Read More: Bodenhamer's Deep Blue Bel Air
Mike's intention was to have a 1955 Chevy Delray that not only looked good and would "stand tall" at any car show (such as a Top 25 at the Tri Five Nationals) but a driver. He wanted something that he and his wife could enjoy on those comfortable weekend drives. It looks like he's accomplished his goals and has revisited his past all in one.