David & Patti Bodenhamer's Tri Five Nationals Award winning LS3 Swapped 1957 Chevy Bel Air
By Shawn Brereton   –   Photography By the Author
Every car has a story. David Bodenhamer, of Gulf Shore, Alabama, has a good one for his two-door '57 Chevrolet Bel Air Hardtop: He didn't even buy it!
David got the '57 Bel Air in the summer of 1969 when he was home from college at Troy State University. Earlier in the year he had traded for a '56 Chevy and spent the whole summer "running the hell out of that car," drag racing in a remote area of town. As the new semester approached, the car started to pump oil and David had no time or money to fix it. Instead, he traded the '56 and a hopped-up Corvette engine to the same guy for the '57 Chevrolet Bel Air, which he had just bought used from Hill-Kelly Dodge in Pensacola, Florida. David still has the bill of sale for $615!
Read More: 1932 MyWay: Kugel's Tailor Made Ford Roadster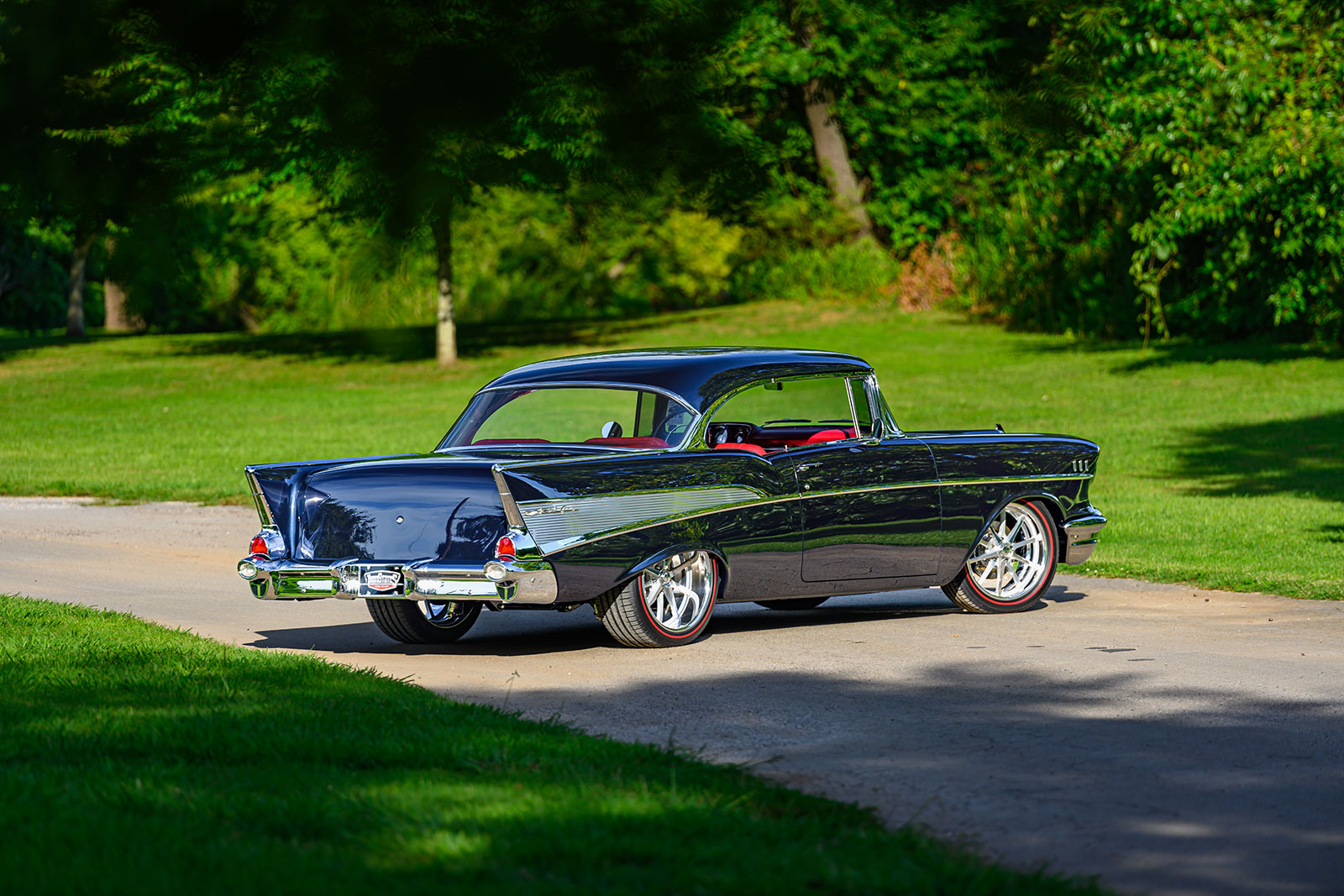 David drove the Bel Air through college daily, dated his wife Patti in it, and used it to get to his job as a high school coach. All was right in the world until one fateful rainy afternoon in 1975 when he was rear ended at a stoplight, driving him into the car in front of him. Disillusioned, he moved the car into a barn on his dad's property with plans to fix it one day. The '57 sat for over a decade before he had time to take it apart. Unfortunately, it proved to be a daunting task and took a back seat to several other muscle car projects.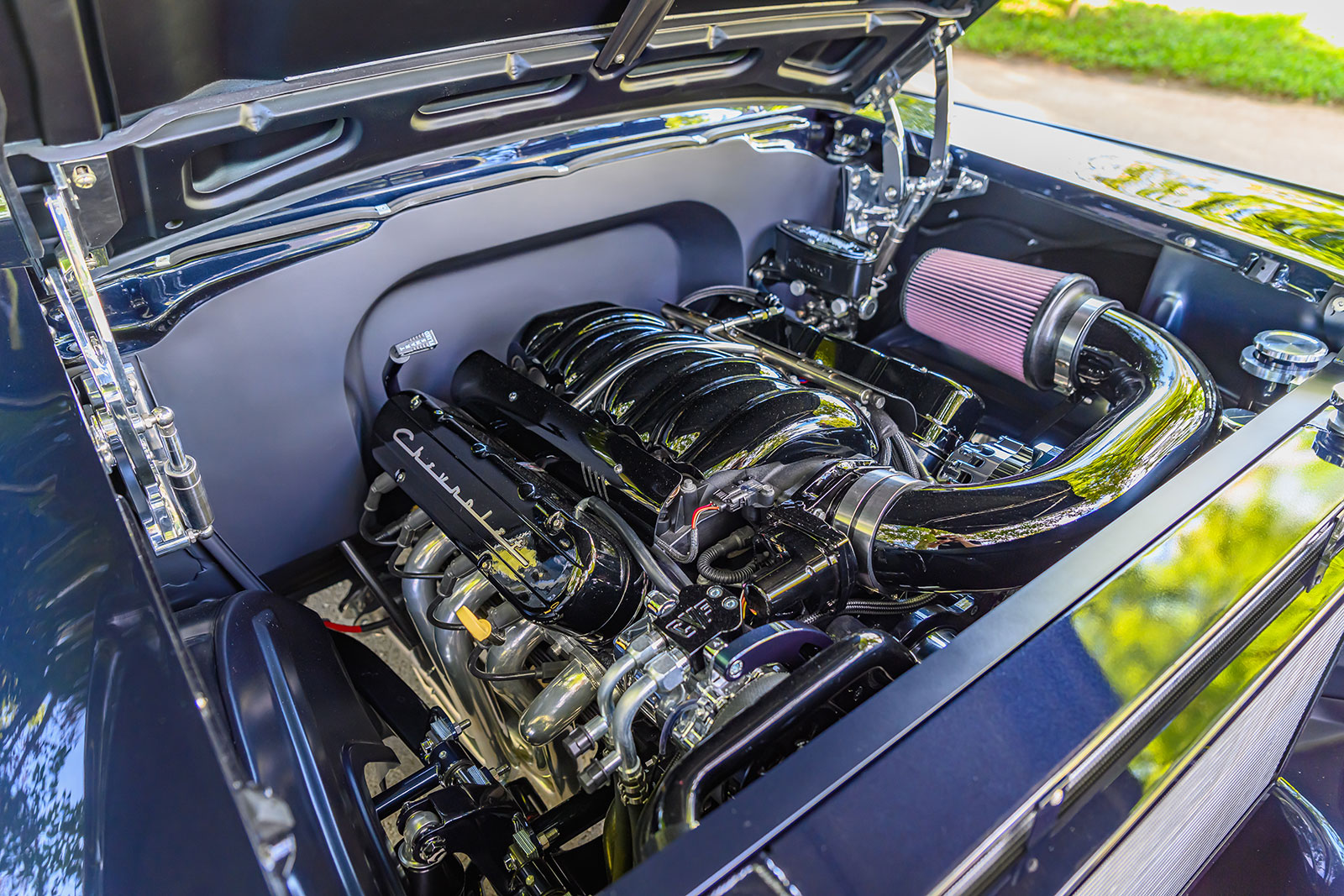 On a chance meeting at a hotel during Cruisin' The Coast, he met Justin and Eli Griffin of Twin States Rod Shop in Meridian, Mississippi. Despite their age differences, they became fast friends. From that day forward they would always stay at the same hotel for future Cruisin' The Coast events. During this time, Twin States made a name for themselves by creating some high-profile builds and David followed their exploits. Figuring he would never get to restoring the '57, David decided to entrust the Griffins with his '57 Chevy.
Read More: 1949 Cadillac Sedanette With State-Of-The-Art Performance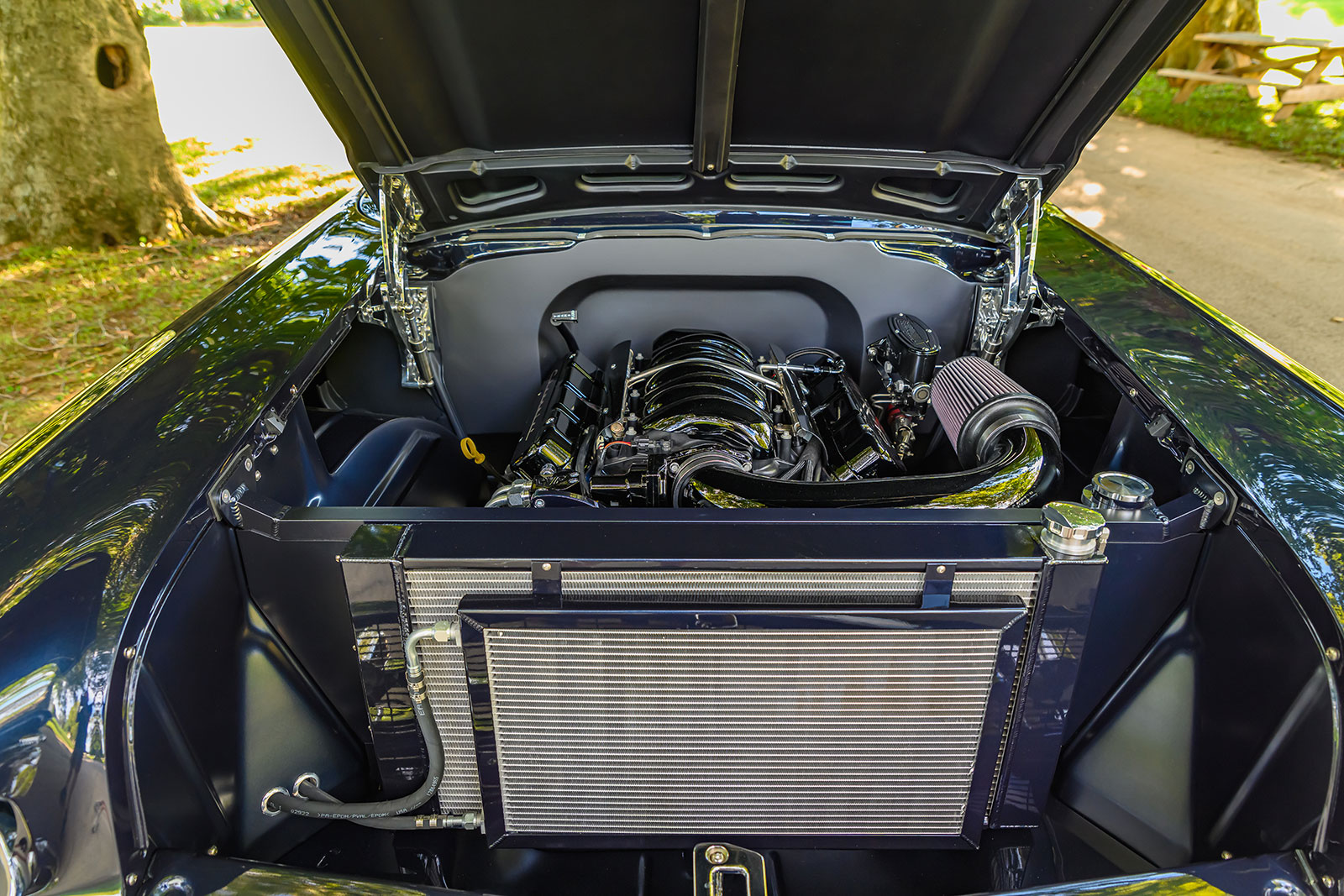 Justin and Eli took it back to Twin States and started the teardown. A few weeks later, David stopped by to discuss the future of the car. As stated, he had several other muscle cars, but they were traditional/original models. David wanted something that looked stock on the outside, that he could hop in and drive comfortably at a moment's notice, and something that would still turn heads at any show; not over the top, just a tidy build with attention to detail.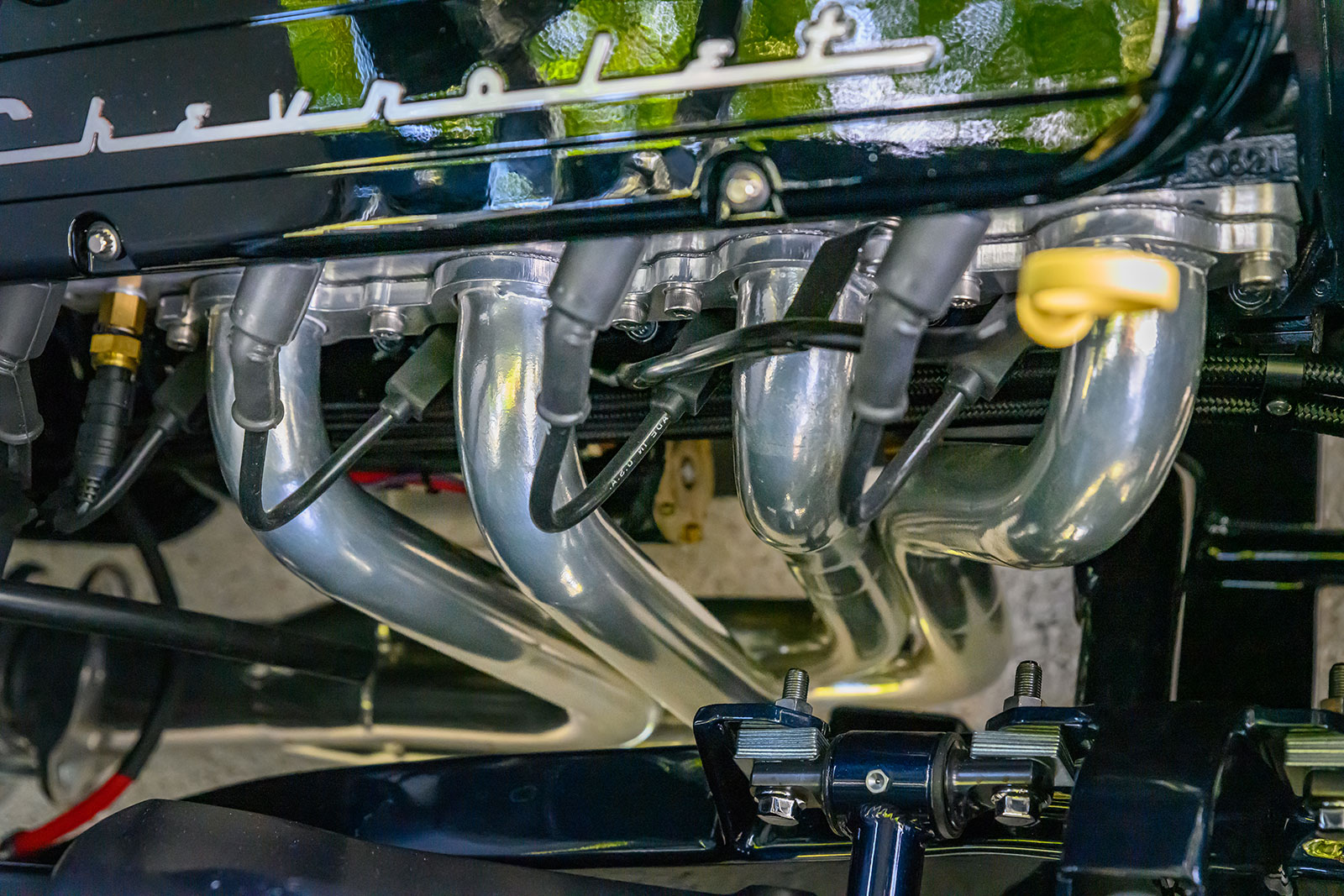 Twin States ordered a new Art Morrison chassis to create both the comfortable and performance ride. A 430 hp crate LS3 engine backed by a 4L60E transmission and a 9-inch Currie rear end addressed the motivation for the drivetrain. A BP Automotive harness and ECM tells the engine what to do, while a CVF accessory drive keeps all the accessories in order. Eli expertly mandrel bent the custom exhaust using Flowmaster mufflers.
David chose a set of Turbine Billet Specialties wheels, 19×8 and 20×10, wrapped with DB Tire Redlines. As with most Art Morrison chassis cars, coilovers hang at all four corners and Wilwood brakes supply plenty of stopping power when needed.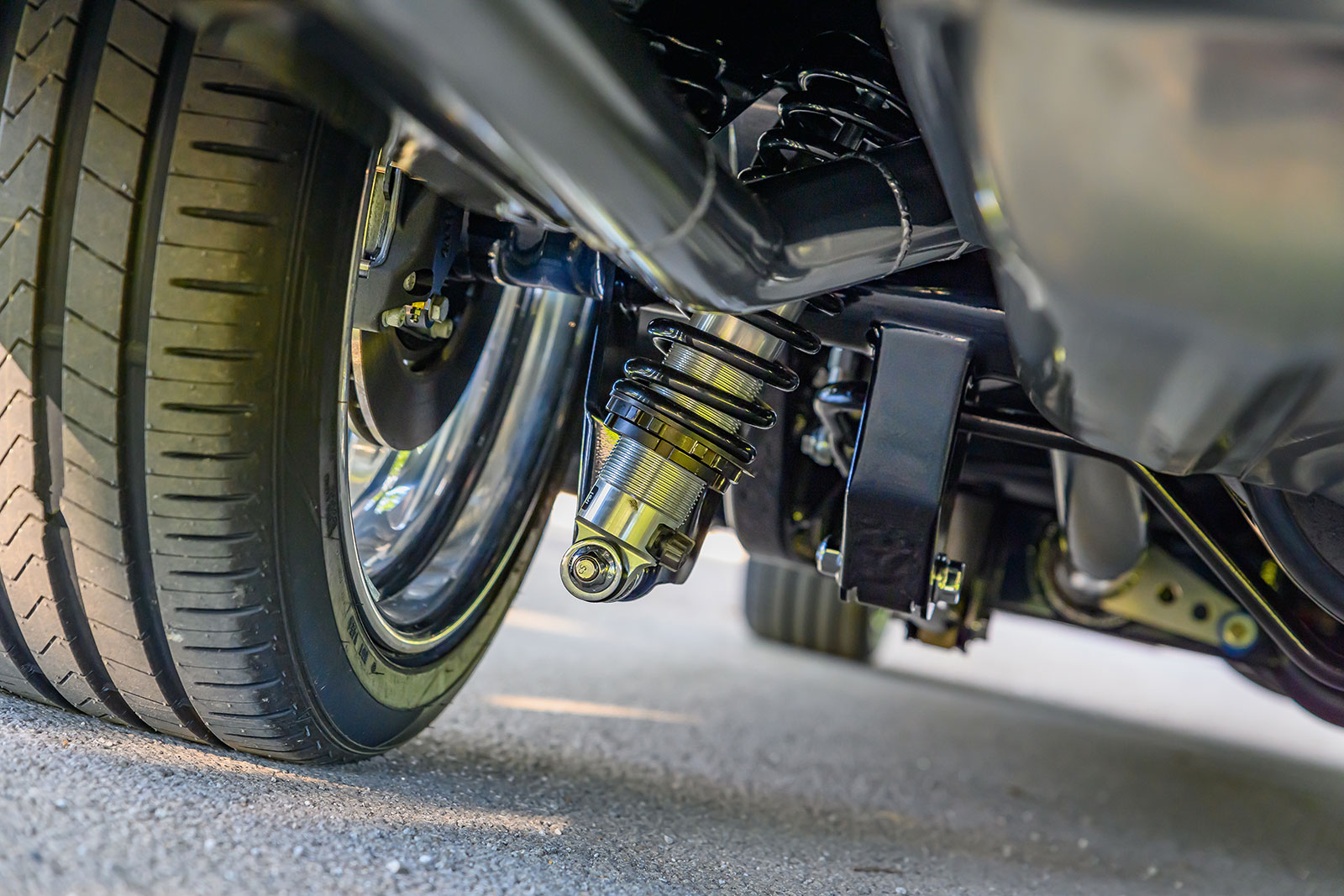 The body was where the Griffins (specifically Eli) really applied their expertise. For obvious reasons, a ton of metalwork needed to be done. Luckily, David was good at finding New Old Stock. parts long before it ever went to Twin States, so they had some new pieces with which to work.
Read More: Finishing The Tribute 1959 Thunderbird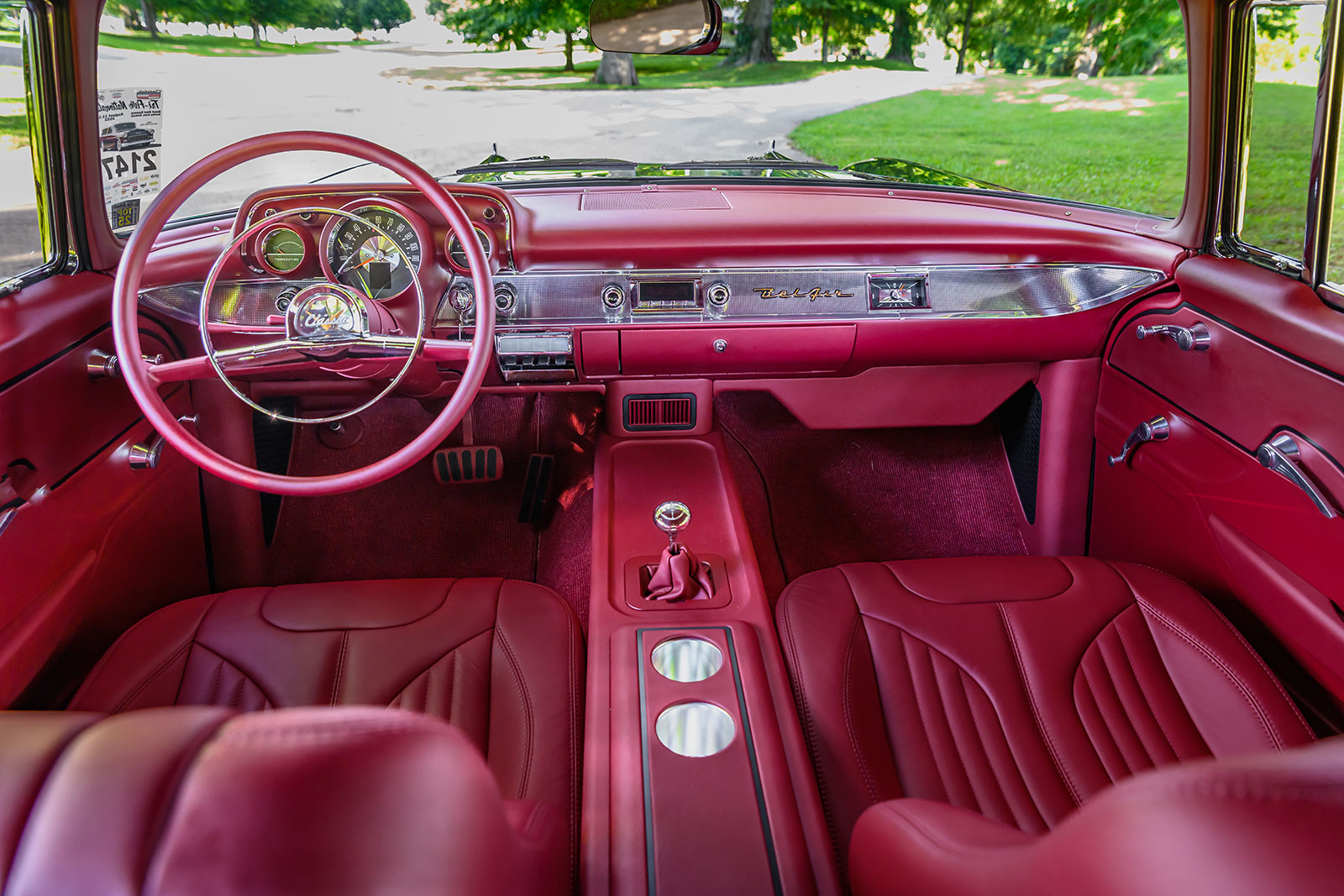 Eli hung new quarters and fenders while the floor pans needed a little work. They determined the decklid David bought was better than the one on it, so they swapped it. When the metal was in place, Eli started massaging the panels and perfecting the gaps before applying his custom mix of a deep metallic blue BASF base and clear that he calls "Ole Blue Eyes."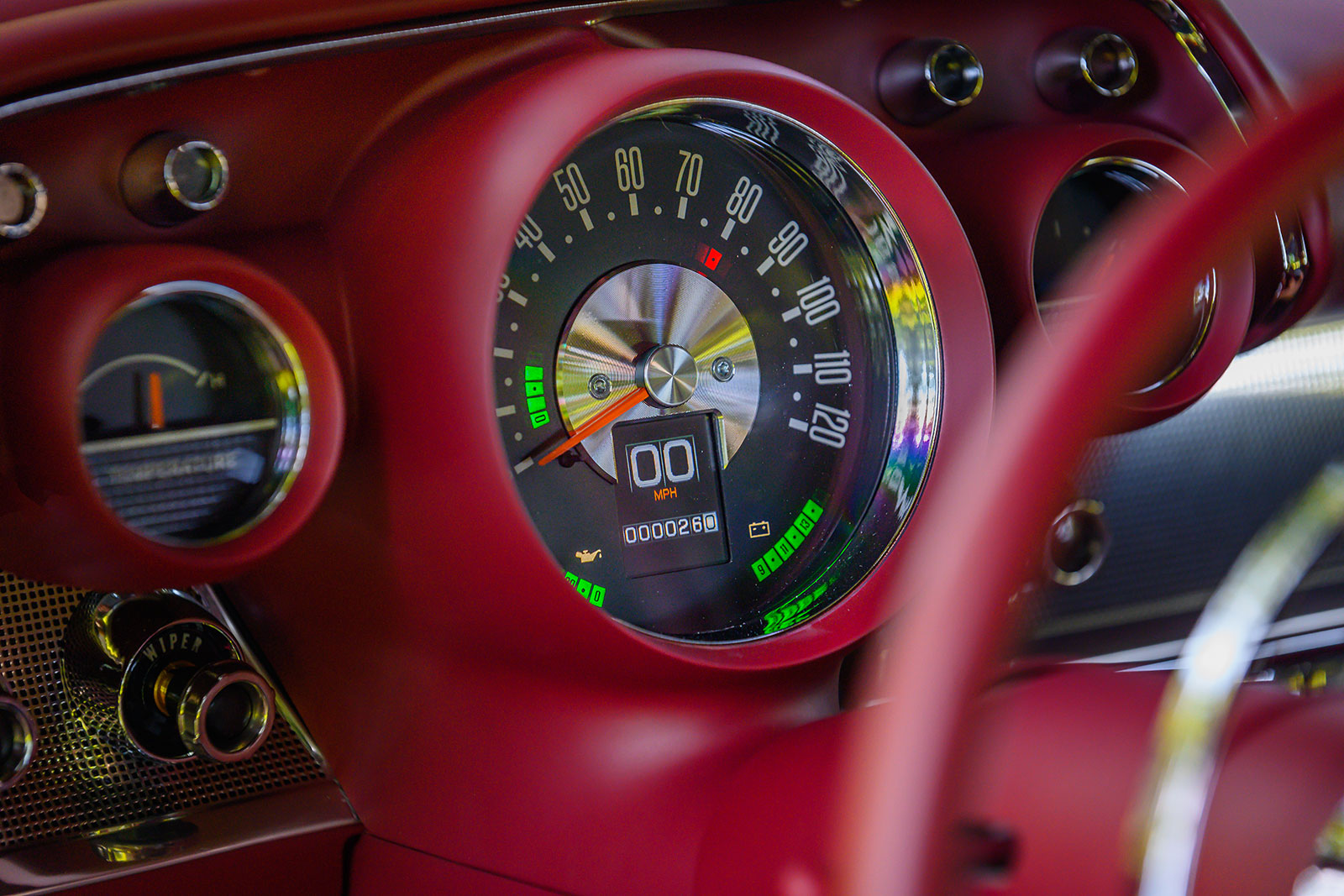 Twin States is known for its attention to detail. They address the little things to make the car stand apart from the crowd without going over the top. A case in point is the understated modernization of the interior and the color that provides a strikingly rich contrast to the exterior. The Griffins chose a red square-weave wool carpet that nicely complements the wine color of the Relicate leather. Chris Pate of MTI Acoustics designed and upholstered the interior, complete with bucket seats from Snowden and a custom-built back seat.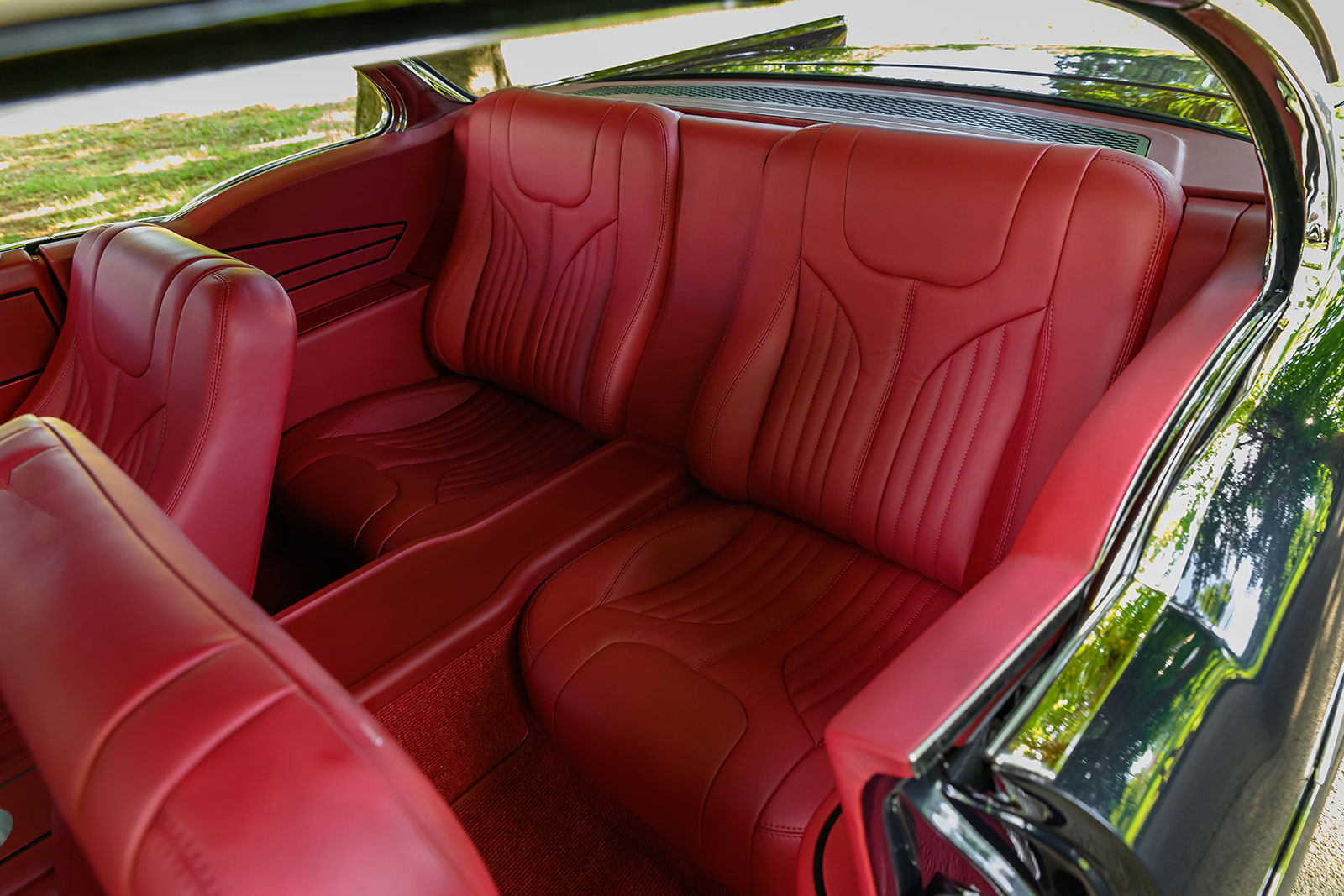 The original dash is filled with Dakota Digital RTX gauges and is painted in a matching suede finish to keep the glare down. An American Autowire harness and Vintage Air unit hide behind the dash. The American Retro steering wheel, tilt Flaming River steering column, and Lokar pedals are painted to match. The door handles and window cranks are from Billet Specialties.
Read More: Daily Driven 1955 Chevy Delray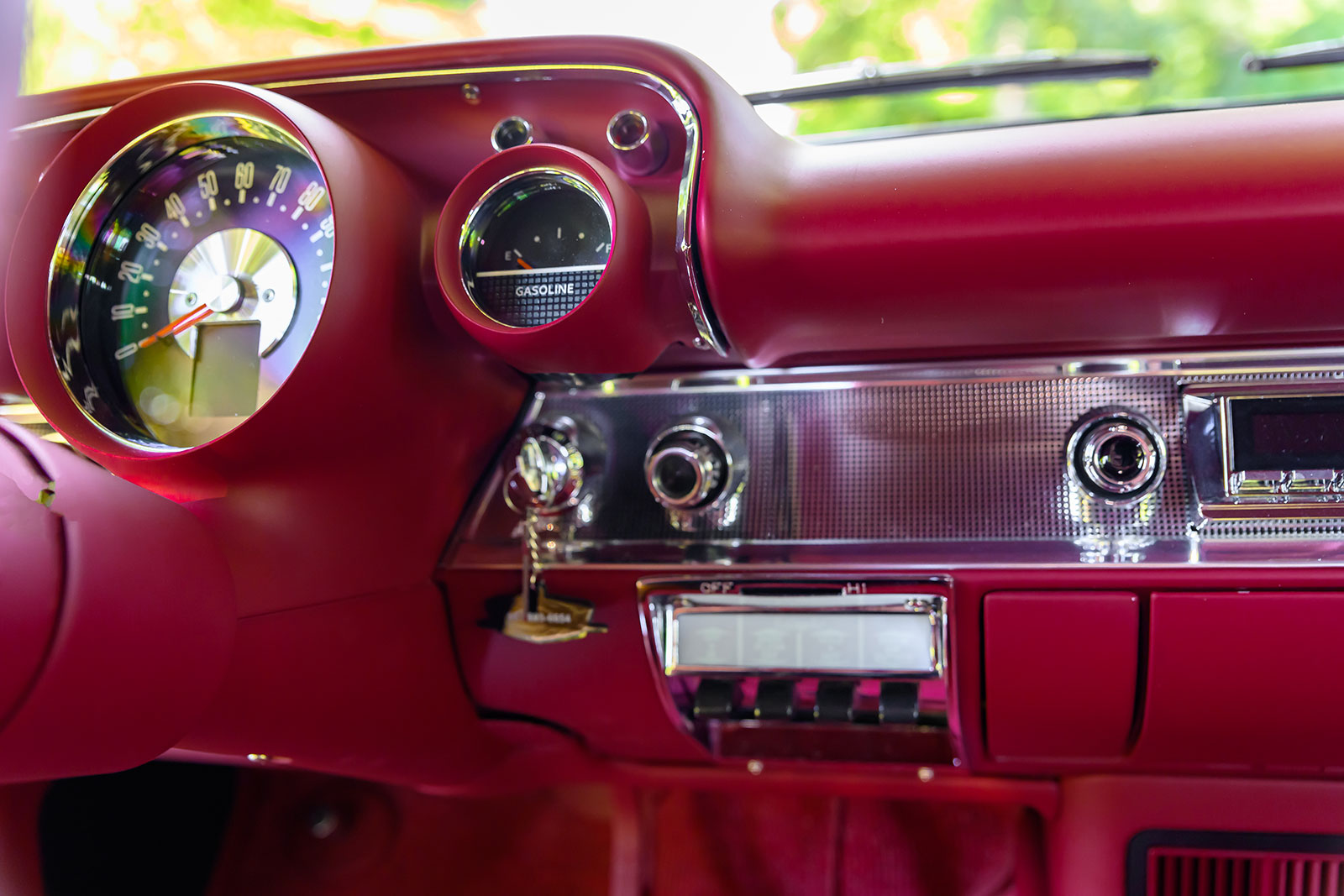 David's Bel Air was finished just in time for its unveiling at the Tri-Five Nationals in Bowling Green, Kentucky, where it was quickly recognized as one of the Top 25 Chevys at the show. Since then, it has won several awards, including two Best of Shows. Now that it has done the show circuit with Twin States, David is ready to get his baby back and start driving the wheels off it. Next up it's family time with Patti by his side and daughter (Jordan) and grandson (Easton) along for the ride. It's been 48 years since Bodenhamer's last rode in the '57. They can't wait to make up for a lot of lost time. MR