This 1932 Ford Roadster is a Hot Rod Masterpiece Built By Joe Kugel of Kugel Komponents for the AMBR Contest
By Brian Brennan   –   Photography By Wes Allison    –    Videography By Ryan Foss
Southern California's own Joe Kugel has literally grown up in a "car" family and is well versed in what it takes to build or race a hot rod. He has fabricated and ultimately been involved in a number of hot rods of all makes, models, and years for customers of the family business. His personal tastes lean toward the Deuce Coupe, such as the '32 Ford roadster pictured here.
He has raced at the Bonneville Salt Flats in the family's highly successful and well-known Model A roadster on Deuce 'rails (#265) followed by the '92 Pontiac Firebird that Joe surpassed the 300-mph mark, setting a record in the process. (Joe reached 307 mph but his record run was 300.787 mph set in 1999 in the Pontiac. As for the roadster he has a top speed of 242 mph, but his record is 236.036 mph set in 1996. He gained entrance to the 200 MPH Club in 1990 with a 219.205-mph run in the roadster and the 300 MPH Club in 1999.)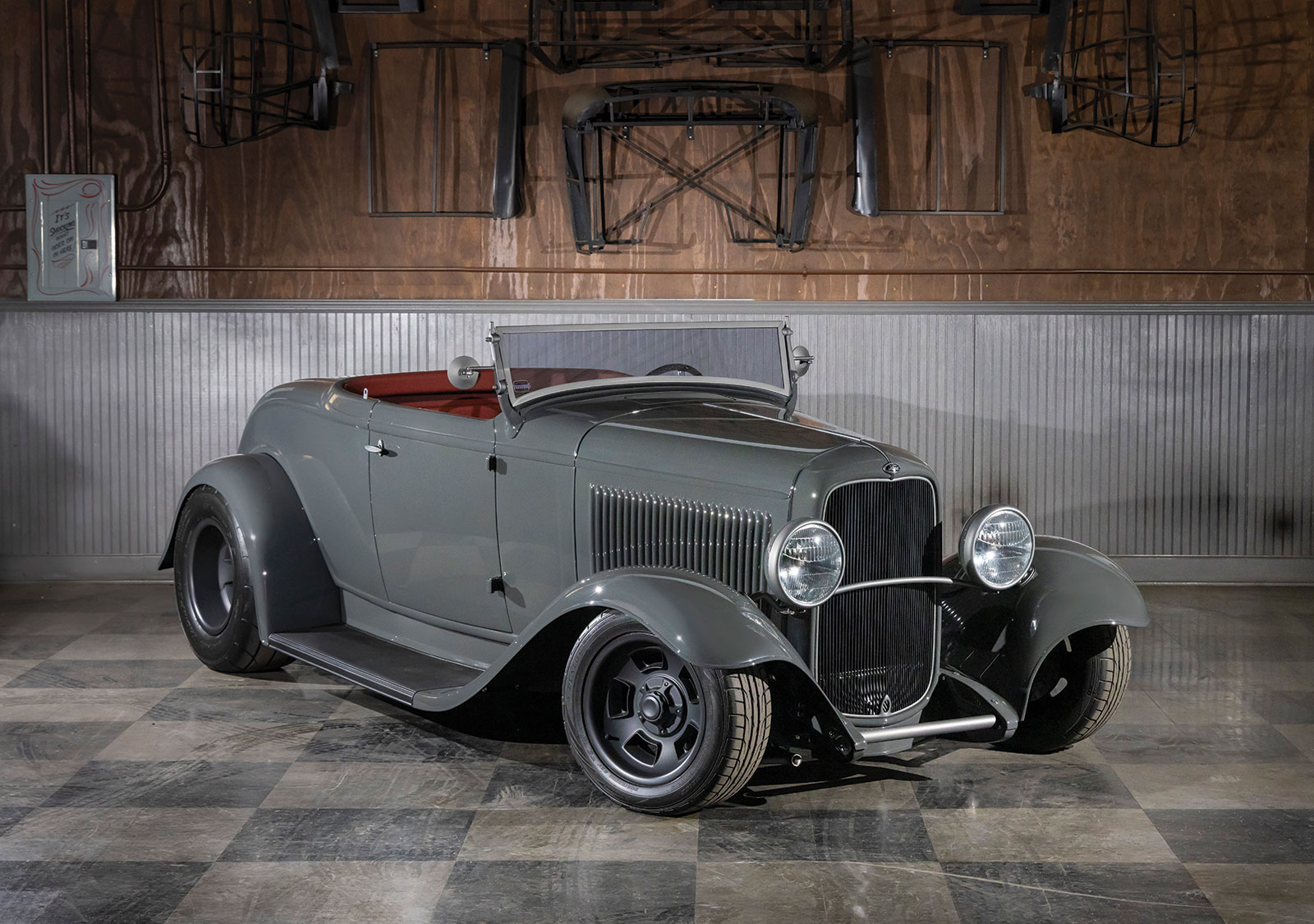 But we are talking about the street now and this is where the Kugels, spearheaded by Father Jerry, brother Jeff, and sister Jerilyn, all combine their talents with brother Joe. (We would be remiss if we didn't mention Mom Judy as we suspect she's the "strength" behind the scenes.) If you have spent any time over the past however many decades in this hobby their family name and business should be easily recognized–Kugel Komponents. Yep, Joe is part of that family. Now, back to the topic at hand and his America's Most Beautiful Roadster contender, this '32 Ford roadster.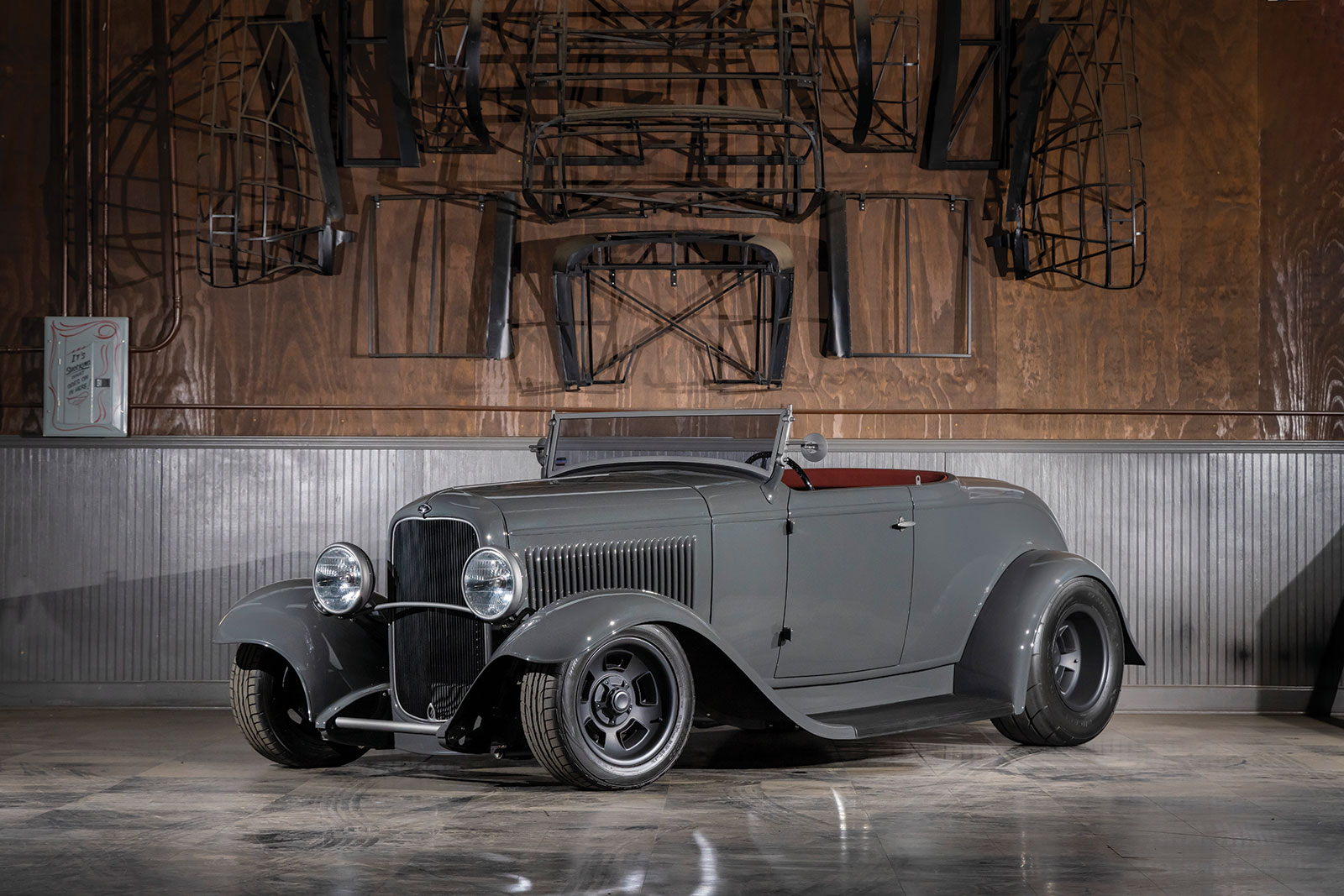 Read More: 73rd Annual Grand National Roadster Show
This story is about how Joe wanted to build a "'32 MyWay" (look at the vanity plate). He wanted a certain look that encompassed stance, color, power, and just plain attitude to represent his likes … not anyone else's. As often happens he "inflicted" a deadline upon himself to be ready for the Grand National Roadster Show 2023 with the idea of competing for America's Most Beautiful Roadster. Well, he made it, but he will tell a story of long days, sleepless nights, and just a lot of hard work. This is a tale many a rodder has personally endured and told on many occasions.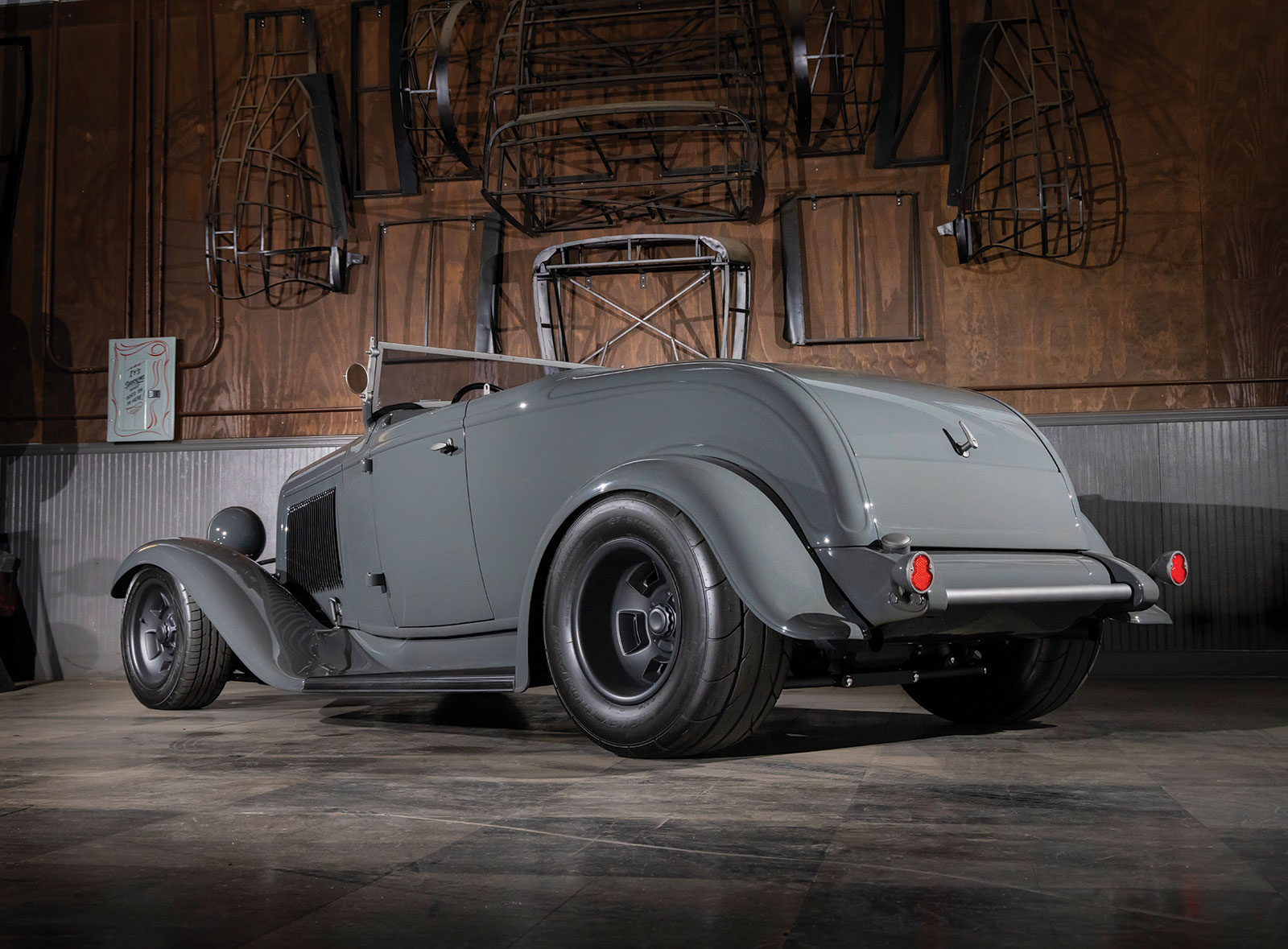 Joe started out with a Brookville Roadster body and, as is often the case, the build took six years to complete. To this, a staggering number of manhours garnered through late nights, weekends, and anywhere else Joe could find the hours to complete the project. Fundamentally the body is stock (tough to improve on Henry's great styling) with several exceptions performed by Brian Stone of Stone's Metal Shop. The rear fenders are bobbed 2 inches while there are custom wheel 3-inch widened tubs to cover the oversized rubber. From here the rear frame horn covers are custom made and a 25-louver Rootlieb hood. Afterward, Mark Mahood of Mahoods Collision and Hot Rods handled the bodywork followed by a liberal application of a custom-mix PPG basecoat/clearcoat in Kugel Gray. The color was something that Joe had seen on a new car and after playing with varying shades came up with the final color.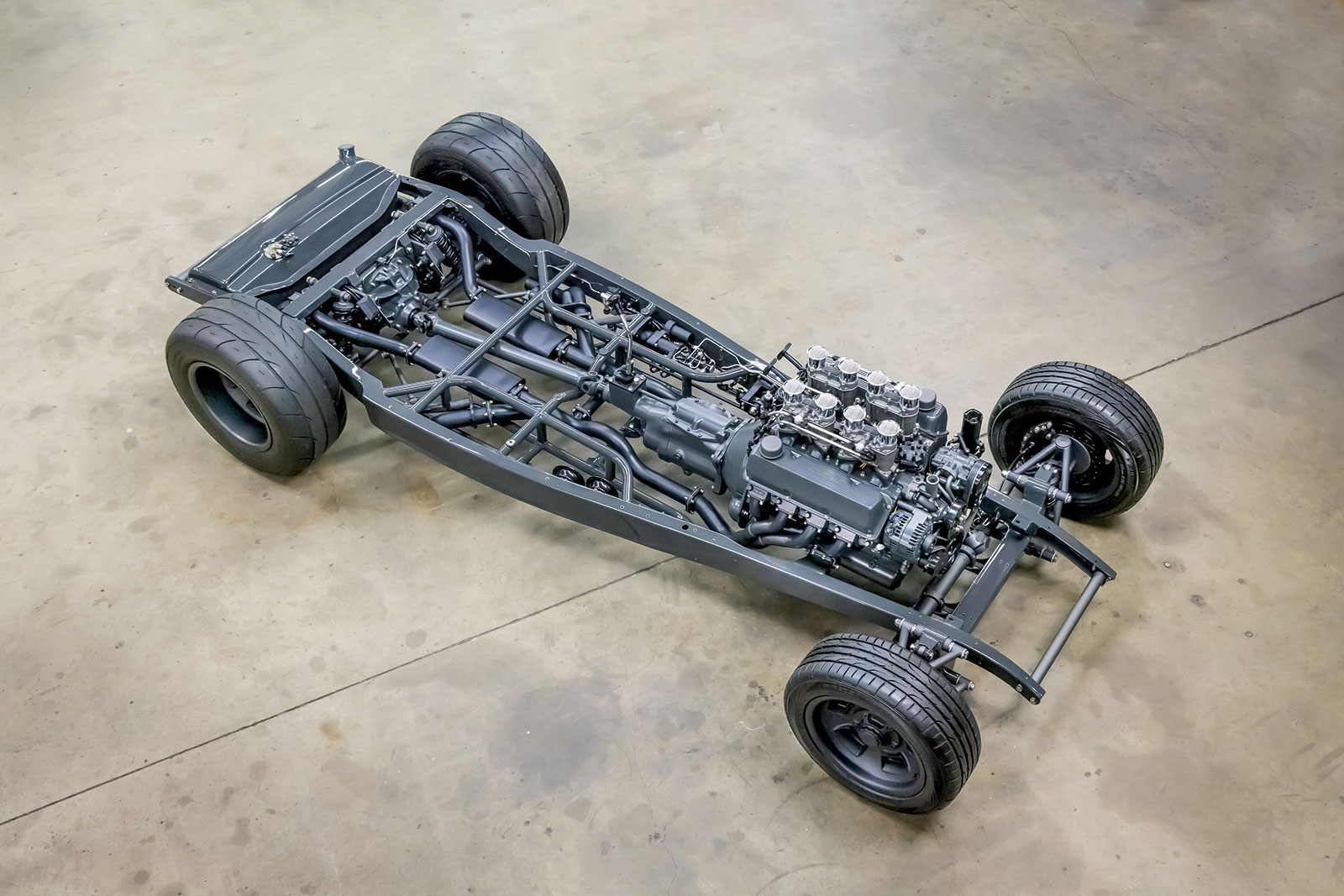 Read More: 1932 Ford Highboy Coupe With 50s Vibe
The body was then positioned on a Kugel Komponents chassis that Joe massaged to accept his thoughts on how he wanted things. The stock frame rails are narrowed in the back, including a 2-inch "kick." (Since stock 'rails are becoming hard to come by, remember that companies such as ASC offer reproduction 'rails.) From here Joe then fabricated a custom center section, trans crossmember with dropout flanges, and inner 'rail modifications to allow for exhaust clearance. From here Joe adapted a Kugel Komponents full independent suspension in the front and rear and fabricated it in his "spare" time. Upon closer inspection you will see a complete Kugel Komponents Independent Front Suspension and Independent Rear Suspension utilizing Kugel front spindles, QA1 coilovers with Eibach springs, a Flaming River rack-and-pinion, and the full complement of Wilwood brakes. The front uses Wilwood six-piston calipers with 11-inch vented-and-slotted rotors all pressed into service via a Wilwood 1-1/8-inch bore master cylinder and then a Hydratech Hydro-Boost brake assist system. The Independent Rear Suspension utilizes 3.89 limited-slip gears along with Kugel 31-spline axles.
The '32 Ford roadster then rolls around on a full set of custom Curtis Speed billet wheels that measure 15×7 in front and 15×10 in back. To the Cerakote-covered wheels you will find Dunlop 205/55R15s in front and Mickey Thompson 295/55R15s in the back. Note the wheels received the Cerakote treatment. (Cerakote is a ceramic polymer that is virtually "bullet" proof to everyday baddies. Originally designed for the firearm industry.)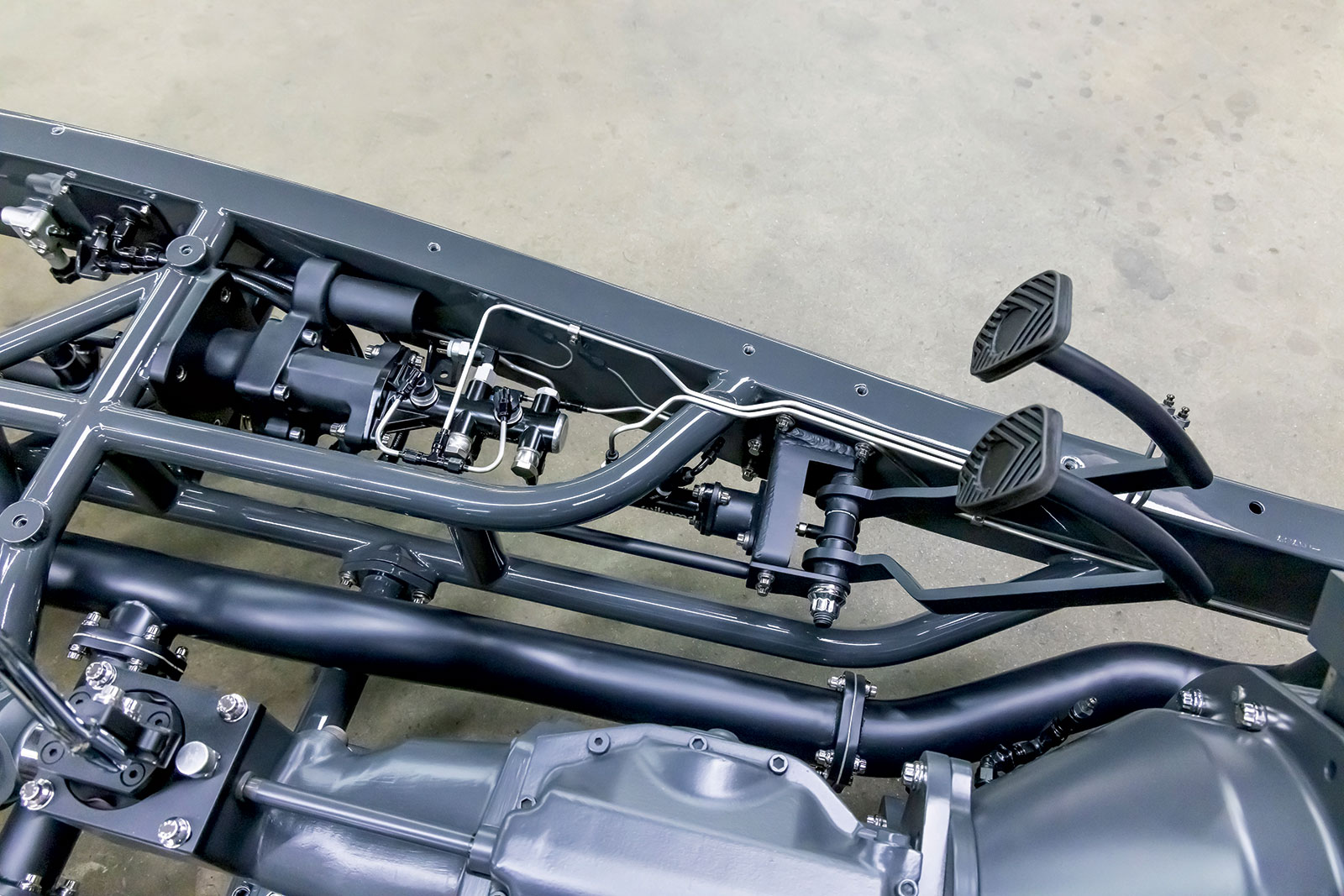 Dropped between the 'rails of this '32 Ford roadster is an interesting power choice. Joe started with a new Iron Ford Windsor Dart block (9.2-inch deck height) that supports 427 ci. From here custom forged pistons, a Comp Cams hydraulic roller, and then aluminum Edelbrock heads were fitted. Here's where it gets interesting. Joe calls the V8 a "Clevor" that represents part "Cleveland" and part "Windsor" makeup. He made a special intake adaptor and valley pan to allow the Edelbrock aluminum Cleveland-style heads to be bolted to a Windsor-style block through the liberal use of ARP bolts. At this point a Borla Induction eight-stack throttle body system (EFI) is used along with an in-tank electric Walbro fuel pump and Borla individual stack air cleaners. The engine management comes by way of Holley ECU along with an MSD distributor (dual sync electric), coil, and Moroso spark plug wires with the "fuse" lit by an XS battery. Getting all the spent gasses out of the Clevor is Joe's handiwork. He fabricated 1-7/8-inch stainless steel custom  headers with a 2-1/2-inch exhaust pipe running through a pair of Stainless Specialties mufflers. Other engine accessories include a Vintage Air Front Runner (water pump and alternator), Cooling Components electric fan with shroud, and a gear reduction IMI Hi torque starter. The 600hp V8 is bolted up to a McLeod 5 speed manual transmission with a single-disc clutch and works in unison with a DriveshaftPro unit to transfer the power rearward. The roadster has a striking appearance with its oh-so-correct rakish stance, aggressive-looking wheel and tire combination, and we have it on excellent sources that it runs "hard."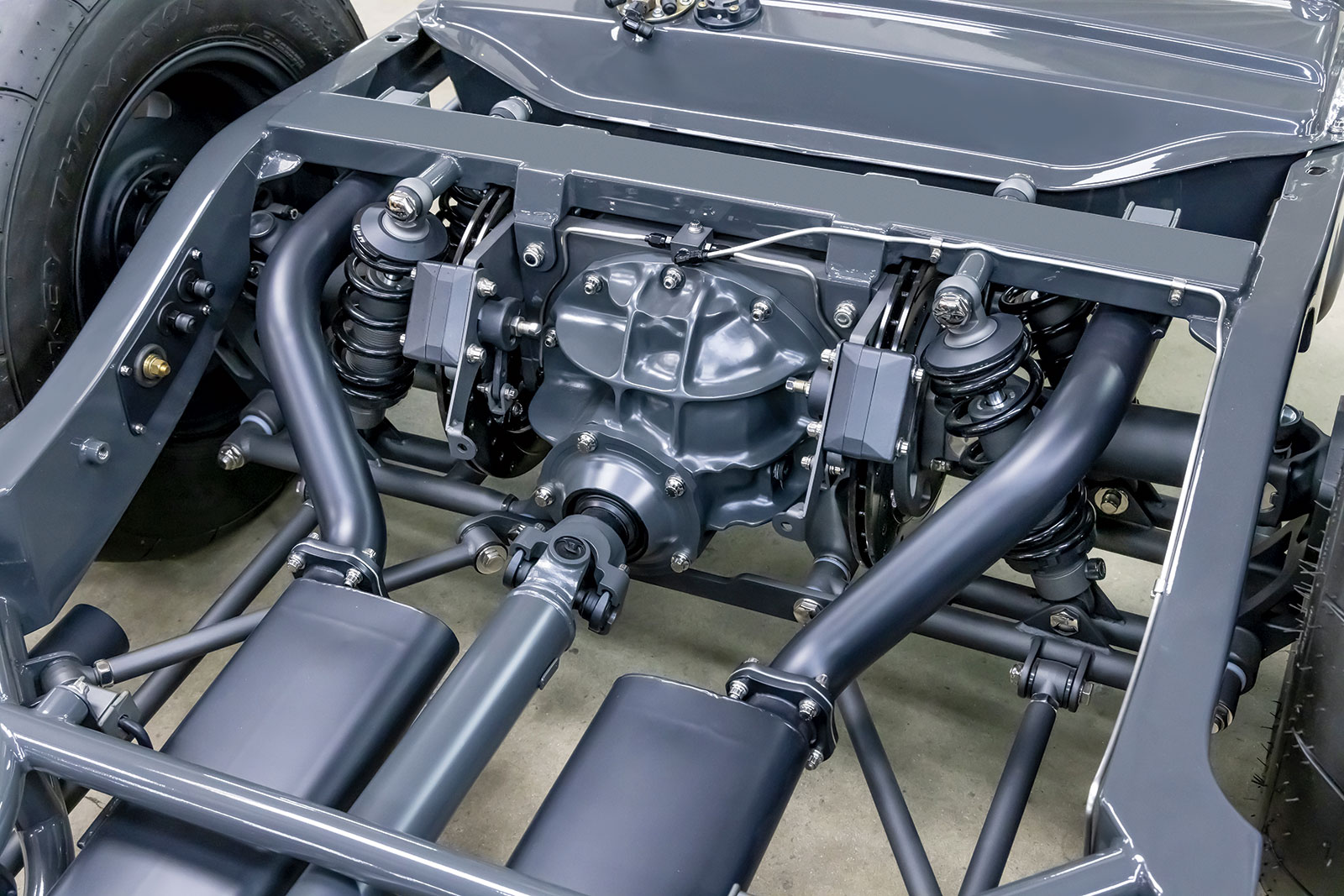 Read More: Flattop's 1932 Ford Roadster
Now for the creature's comfort. The '32 Ford roadster interior has undergone a metamorphosis, giving up its utilitarian '30s appearance for a modern-style, functional, and eye-catching appearance. Joe began with the dash and designed "his look" and then had EVOD Industries cut him a series of pieces that represented the gauge trim, AC vents, knobs, nameplates, and even the door pulls, all sporting a 356 Porsche look. Next up was Curtis Speed with their custom steering wheel (riding on top of the tilt Flaming River steering column) with a 356 Porsche-style appearance. The six-pack instrumentation is another high point as it too has a distinct Porsche expression all handled by the custom shop at Classic Instruments. The Fibersteel Porsche 356 bucket seats are upholstered in a BMW Vermillion Red leather by Bill's Auto Upholstery along with a gray German square-weave carpeting. We would be remiss if we didn't mention Clampdown Competition's very own Ryan Manson who handled the wiring chores. (Editor's note: He also put together the build book used by Joe at the AMBR competition. If his names sounds familiar it's the same Manson who is a longtime magazine guy and current freelancer to Modern Rodding. –BB) We should also mention that while he didn't take home the AMBR trophy, his '32 Ford Roadster was awarded AMBR Best Engineered … seems befitting.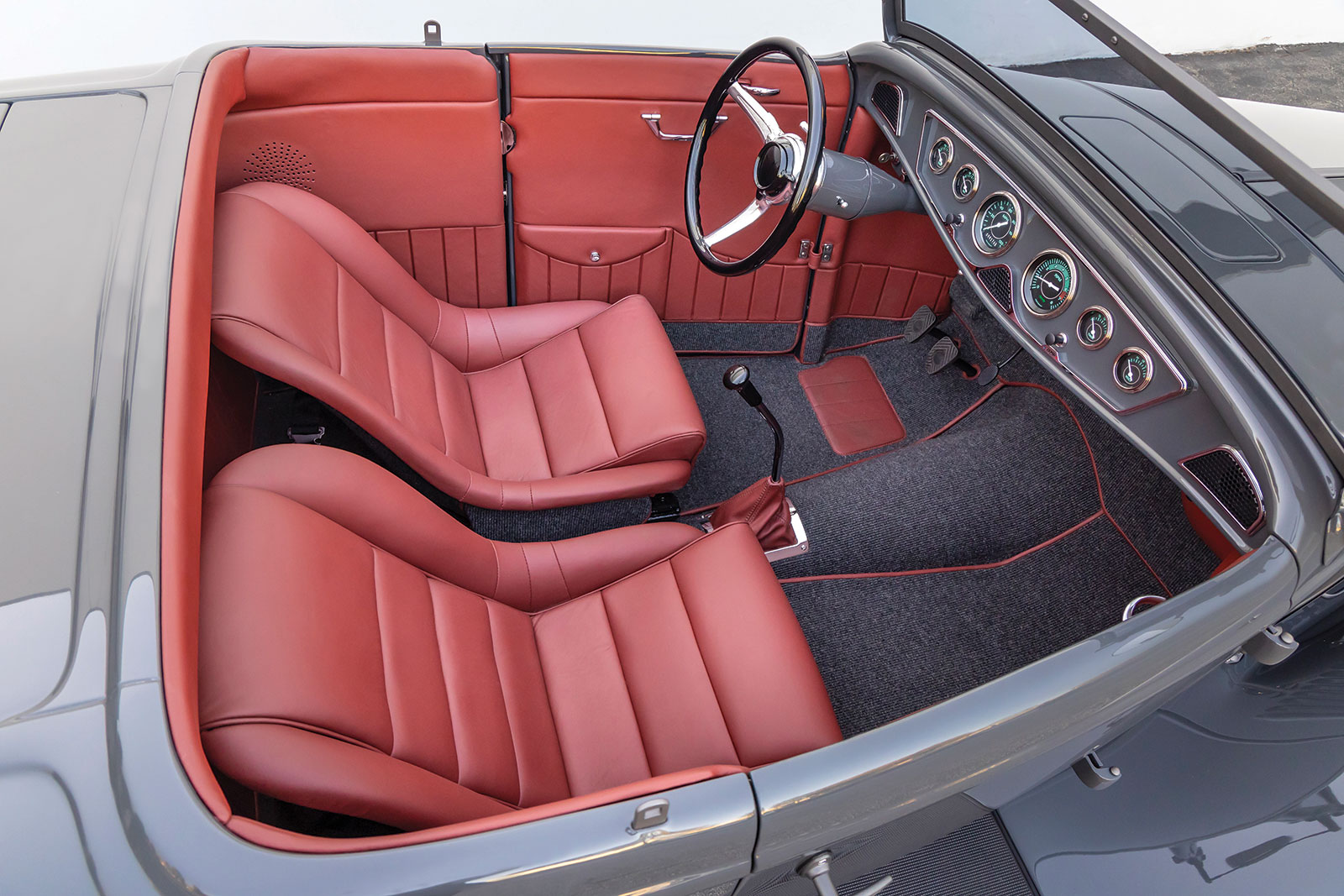 There you have it, or should we say according to Joe, "he built it his way." He wanted to build a hot rod that reflected his thoughts and ideas with no one standing in his way. We would have to agree with his … "'32 MyWay". MR