Ford's Answer To Chevy's Tri-Five Packing an Ed Pink Built 427 Engine
By Brian Brennan   –   Photography by Wes Allison
It's been called the Golden Era of automotive design, and this is especially true in the eyes of hot rodders everywhere. The Tri-Five era, 55-57, has achieved "favorable status" among hot rodders with the major Detroit OEMs. There can be no doubt about the Bowtie contribution, and what about the Buick and Olds of that era? But let's not forget about Ford and their influence on the period, especially the '56 Ford Crown Victoria.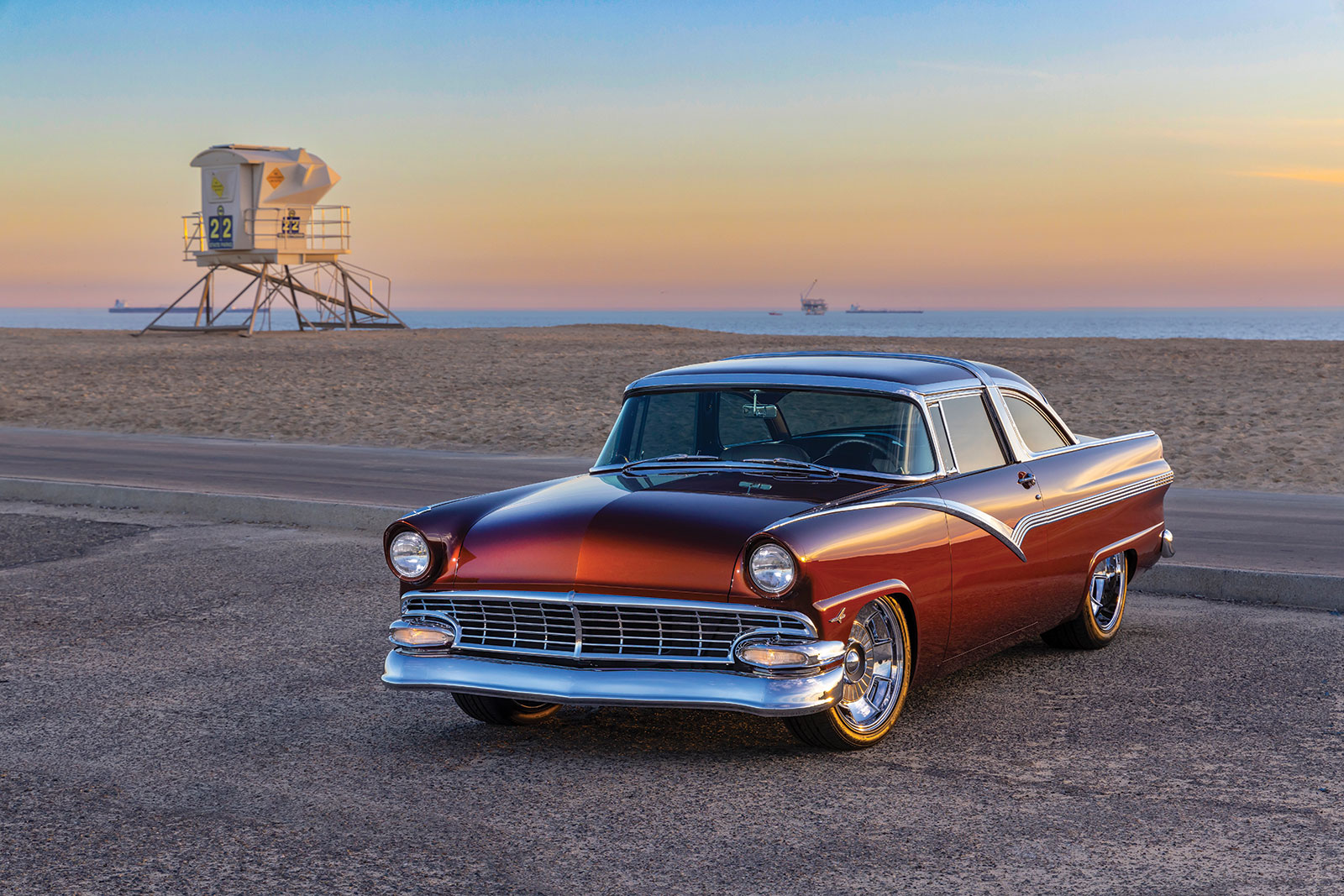 Read More: '33 Ford Vicky Packing a 454 Big Block
We are going to look at one amazing effort on behalf of SoCal hot rodder Joe Gregorio. His '56 Ford Crown Victoria built at Wheeler's Speed Shop (Huntington Beach, California), under the care of owner Bryan Wheeler, is an amazing representation of what can be done with a Blue Oval from this period. Surprisingly the approach to this build was: We have a Ford 427 engine and it needs a home. Maybe not the conventional method to begin a project but a line we've heard plenty of times: "Have engine, need project."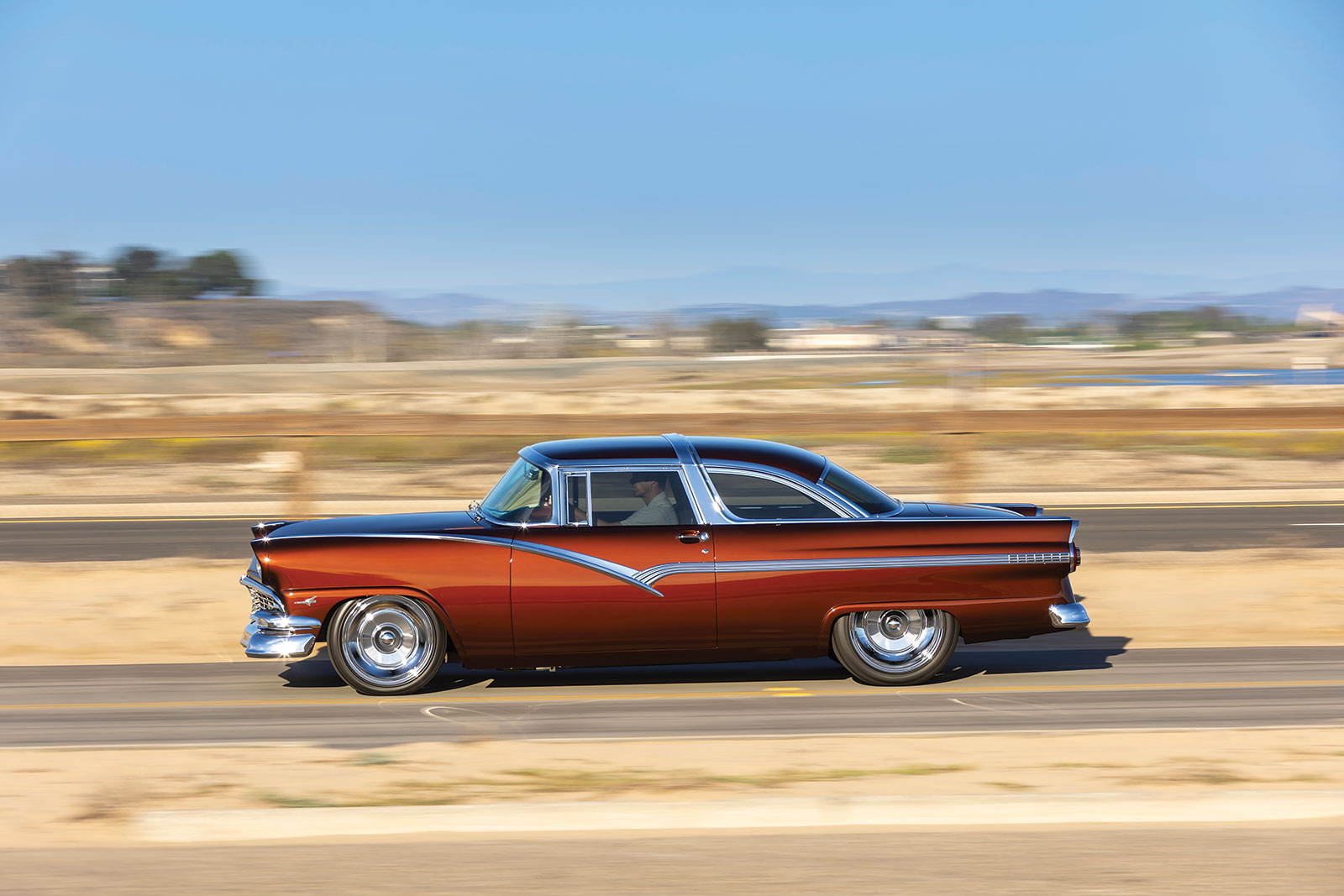 So, Joe finds himself with one of the Holy Grails of V8s and Wheeler is itching to build. The idea was something other than a Galaxy and smaller, but still a full frame car, and what pops up but this '56 Ford Crown Victoria. We mentioned the SOHC Ford 427 V8 engine, referred to as a "cammer" as the starting point. But a little more on the cammer. Originally intended to be used in NASCAR racing it was outlawed because it was "too good." But it did go on to have a great history in drag racing. You are looking at a two-valve, single-overhead cam conversion on the Ford FE V8 engine originally displacing 427 inches. Initially designed with cast-iron heads, aluminum versions would become available from the factory. What makes the SOHC (pronounced "sock") V8 engine so cool, especially for Ford hot rods, is the unique head design and accompanying valve covers. Beneath all this distinction resides a roller chain cam drive–all 6-feet of timing chain! While there are inherent timing issues, the fact remains, it is one impressive motor and ideally suited for our world of "badass" hot rods.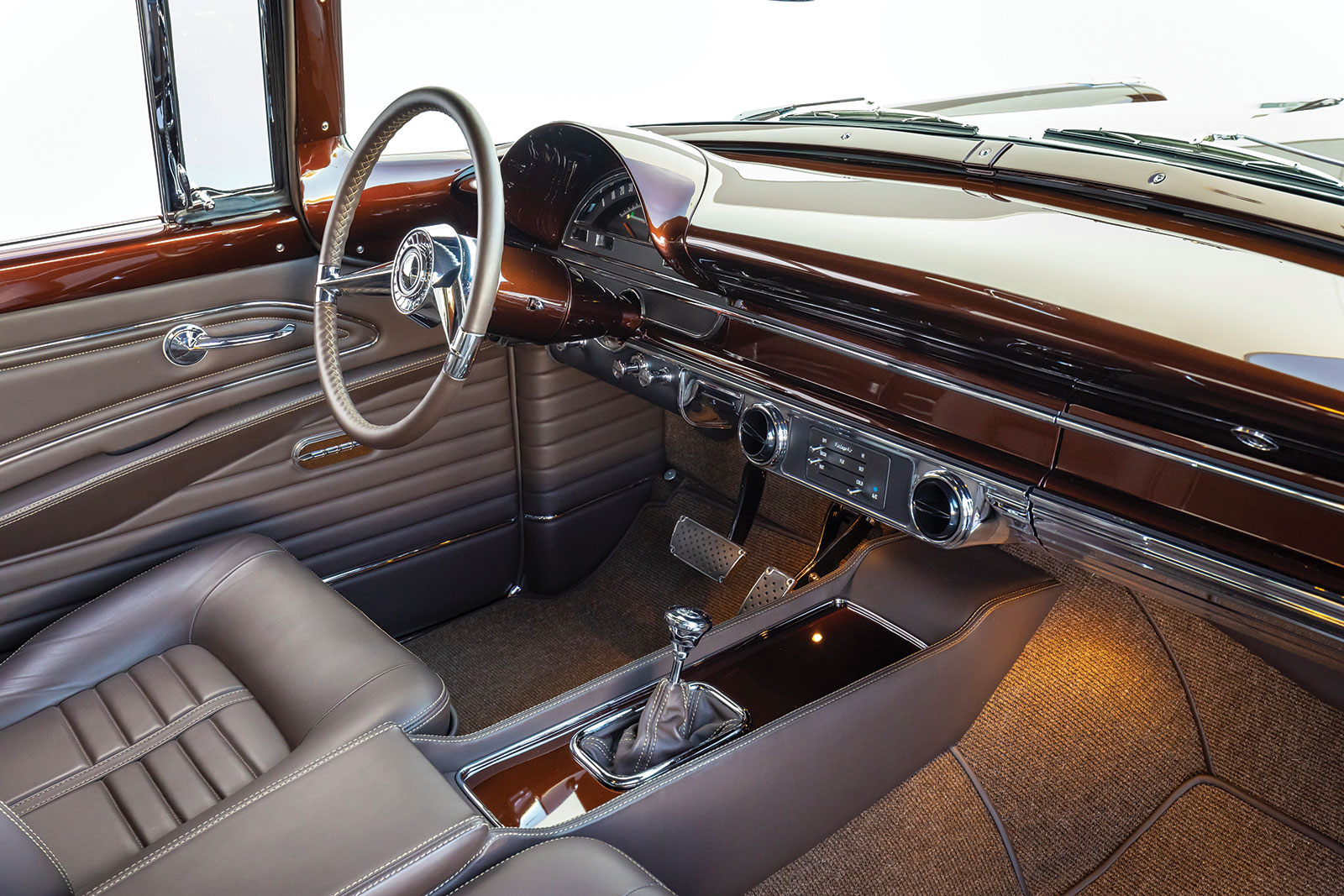 The cammer that you see before is based on a fresh Robert Pond Motorsports aluminum block and complementing heads. The famous Ed Pink Racing Engines shop built the 700-plus horsepower motor. If this isn't impressive enough, how about those unique valve covers followed by a throttle body from Borla Induction System. The fuel system is based on ITBs (individual throttle bodies), which create the one runner per cylinder induction all sitting on a Borla intake. It uses 58mm throttles and can be tuned for cold starts to maintain street driveable characteristics. The good-looking custom air cleaners and stacks were dialed up by EVOD Industries. Feeding the "beast" is a '15 GM ZL1 fuel pump with a VaporWorx controller. The electronics are handled by the proven Holley Dominator ECU functioning through a custom distributor-less ignition system that features "stock" plug wires working through LS coil packs. The standard fare these days is a serpentine belt system and this one is a custom-made component through the efforts of Wheeler's Speed Shop and EVOD Industries. Getting the spent gasses out of this cammer is a Wheeler's custom exhaust system. The stainless steel exhaust system features 2-inch headers that dump into the 2-3/4-inch exhaust tubing, which eventually runs through a pair of Borla exhausts.
Read More: Donn Lowe's 1929 Ford Model A Roadster
The body, while stock in appearance, does feature a freshly hammered firewall, inner fenders, core support and radiator, fan shroud, and a complete floorboard. There is a riser built into the floorboard that works with the '64 Ford Thunderbird bucket seats. Continuing there are more examples of Wheeler's Speed Shop fabrication skills in the custom rear wheel tubs and trunk panels. Exterior-wise, something subtle, such as the replacement of the stock door handles that are replaced with '56 Thunderbird door handles and finger pockets, is a nice touch. There are GM latches that work in unison with the door handles to open the doors. The bodywork was all conducted by Alan Palmer who also applied the Axalta Wheeler's Hot Rod Red, a custom mix. From here all the Crown Victoria's appropriately prepared brightwork handled by Sherm's Custom Plating was utilized.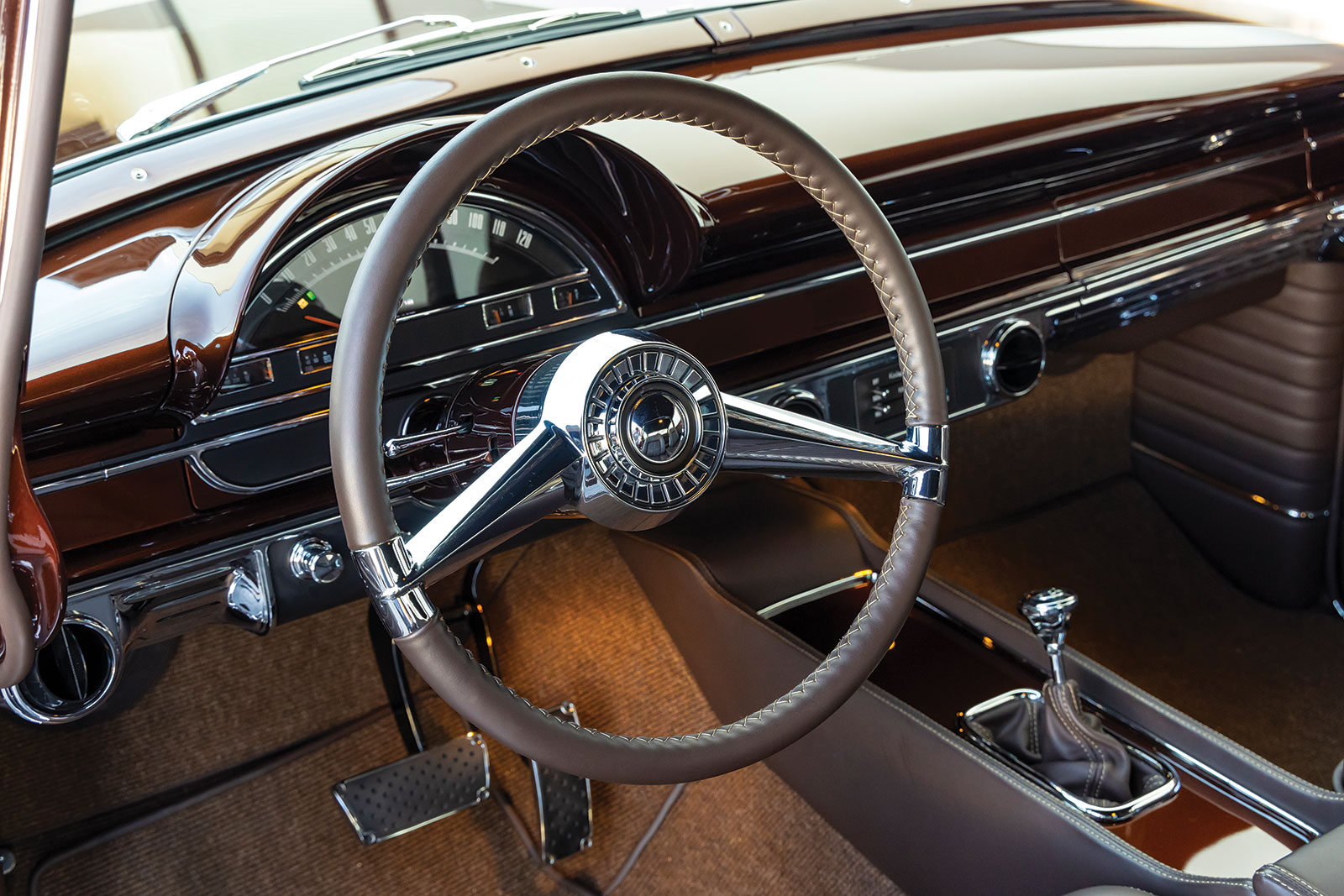 Residing indoors is the freshly produced lower dash and instrument cluster machined by Leading Edge Machine and Design (LEMD) that now houses Dakota Digital Ford F100 RTX instruments and a Vintage Air AC system. Also linked to the lower dash is a tilt Flaming River steering column topped with a custom steering wheel machined by EVOD and then leather wrapped. The wiring is based on an American Autowire harness positioned by Wheeler's linking all the hot rod's electrics.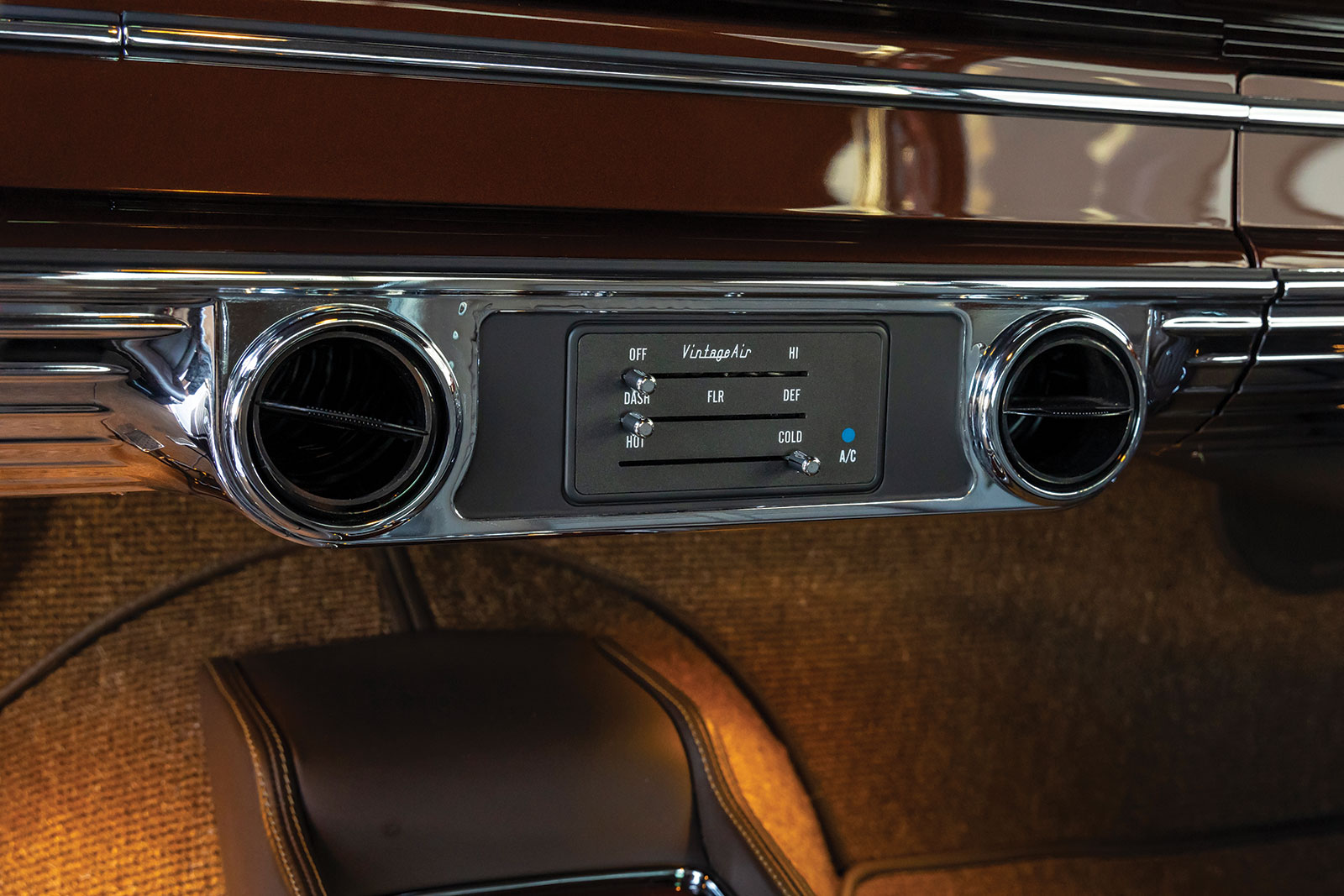 Earlier we mentioned '64 Thunderbird bucket seats. The stitchwork for these buckets and the stock '56 Crown Victoria rear bench seat fell to Gabe's Street Rods Custom Interiors in a coffee-colored leather and brown square-weave carpeting. All the door panels and headliner are also in the coffee-colored leather and part of Gabe's handiwork.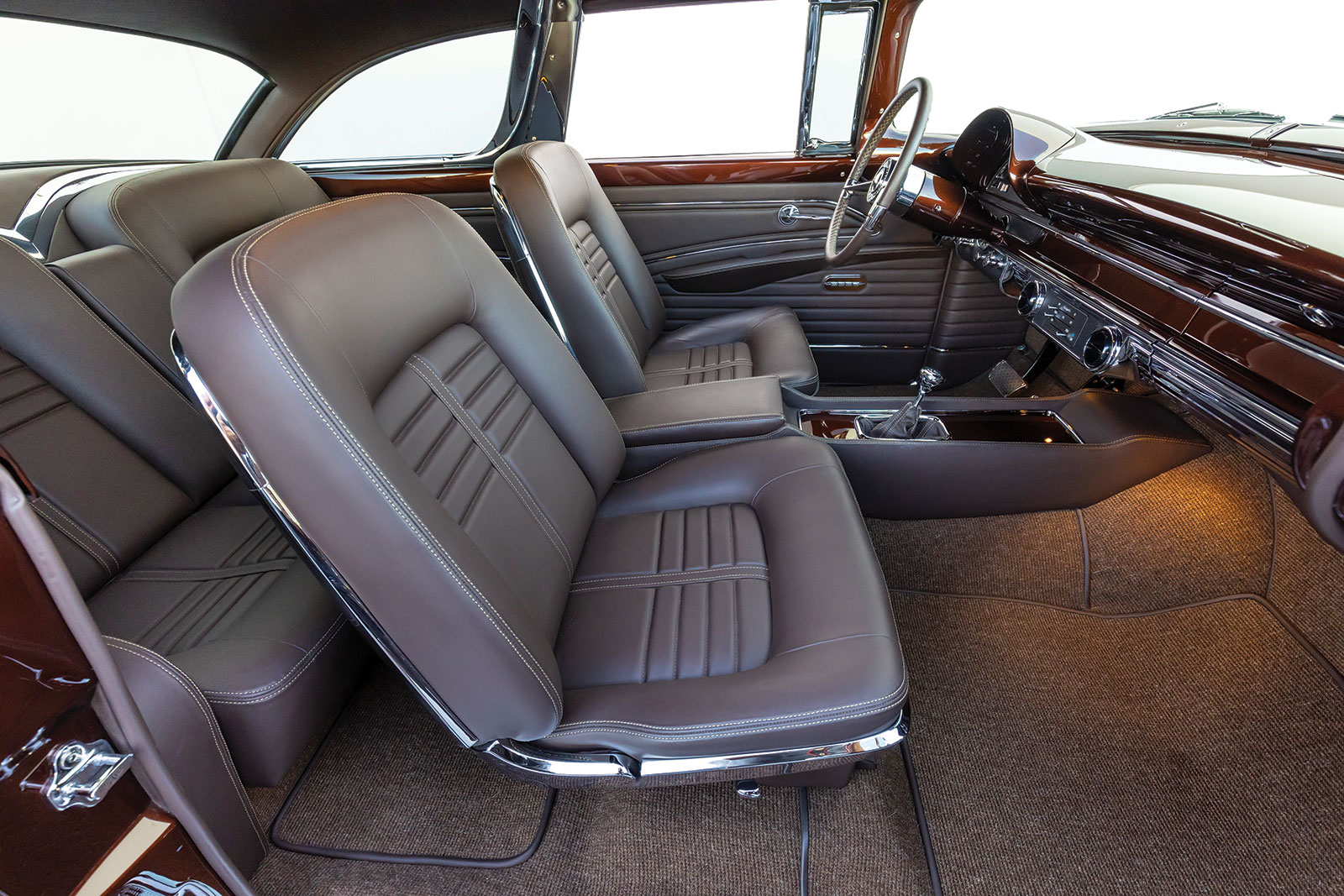 All this amazing craftsmanship rests on an Art Morrison chassis featuring AME independent front suspension, rack-and-pinion steering, and Wilwood drop spindles. In back an AME 9 inch rear end with a Currie center section running 3.70 limited-slip gearing, Strange 31-spline axles, AME triangulated four-bar rolls into service.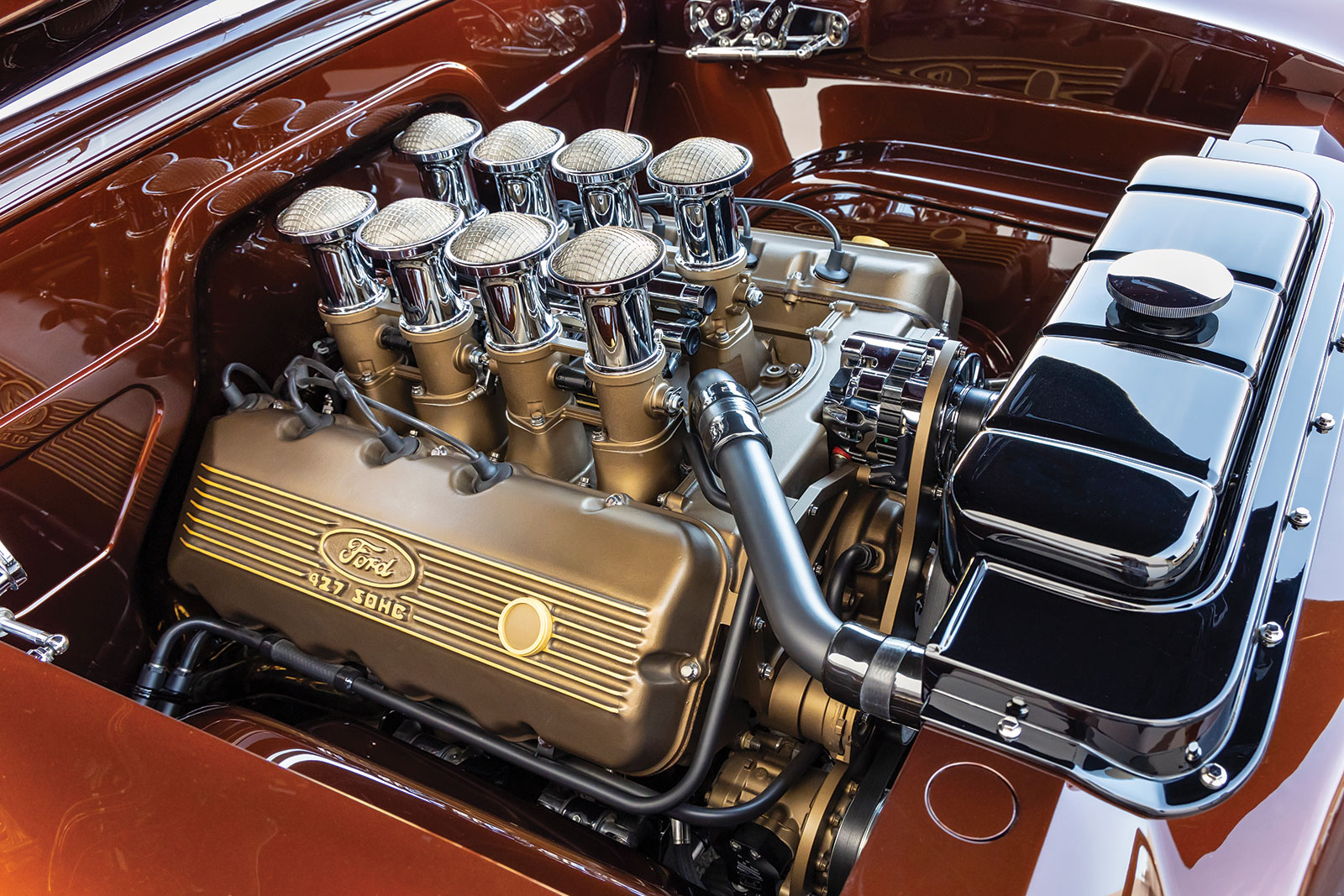 At the corners there are a full complement of double-adjustable QA1 coilover shocks, Wilwood brakes with 14-inch rotors, and six-piston calipers in front and four-piston calipers in the rear. Operating the brake system is a dual reservoir master cylinder and electric power brake compilation. Wheeler fabricated the under dash mounting and pedal assembly. The rolling stock is made up of EVOD Industries one-off custom wheels (8×19 and 10×20) wrapped in Pirelli P Zero tires, measuring 235/45R19 and 275/45R20.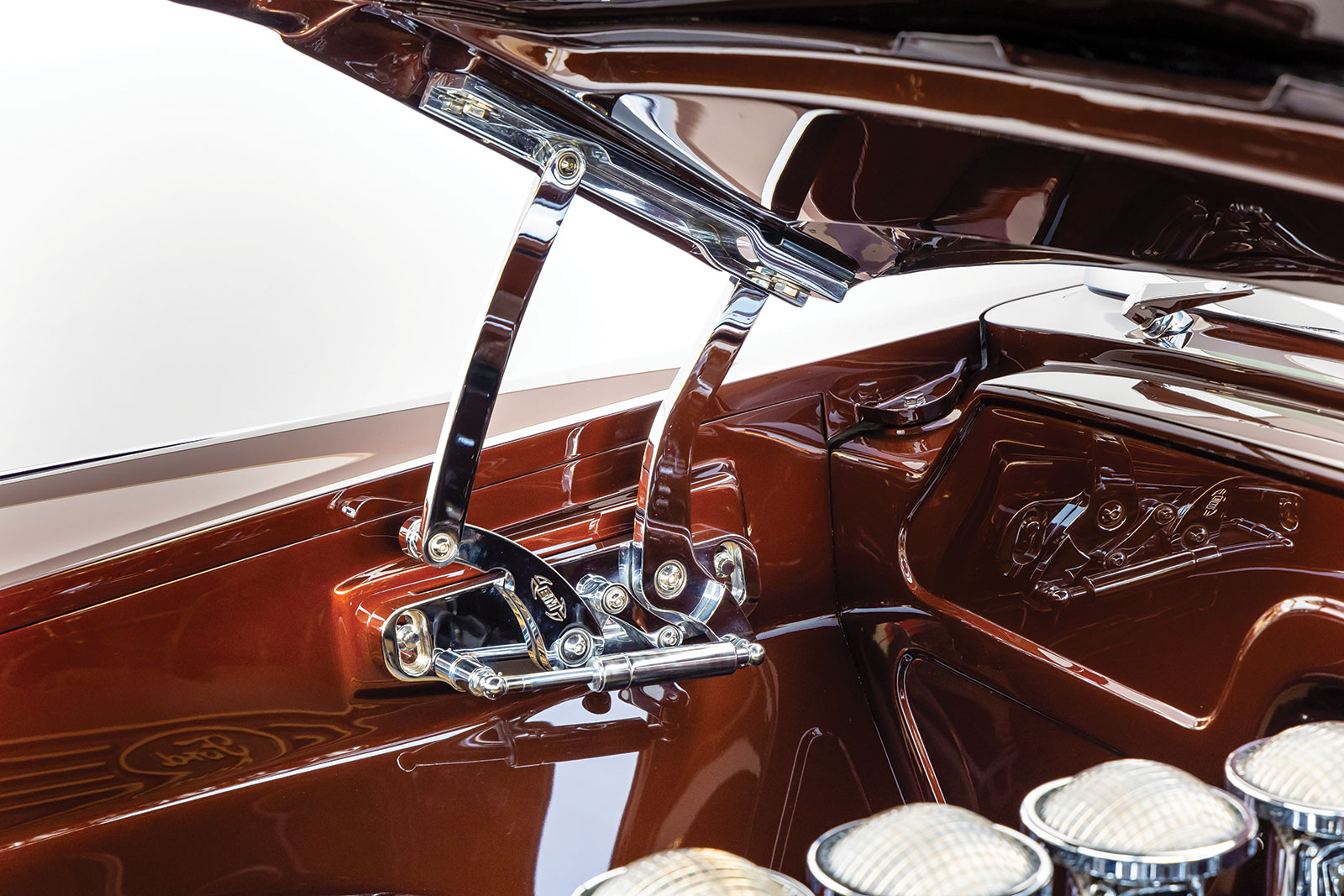 Read More: 1932 Ford Highboy Coupe With 50s Vibe
The Golden Era of design for Detroit is often acknowledged to be the Tri-Five era, 1955-57. We agree, especially those of us in the world of hot rodding, this was truly a great era to find our next project. MR