Home-Built Hot Rod With 331 Hemi Power
By Brian Brennan   –   Photography By Wes Allison
One look at a "hot rod" and it will tell you what the owner's intentions were. Steve Harvey of Costa Mesa, California, all along wanted a mid-'50s-themed hot rod that he would build in his own garage. His goal was to use iconic parts, such as the power source, wheel and tire combo, and the correct stance that give his '32 Ford highboy coupe its final expression.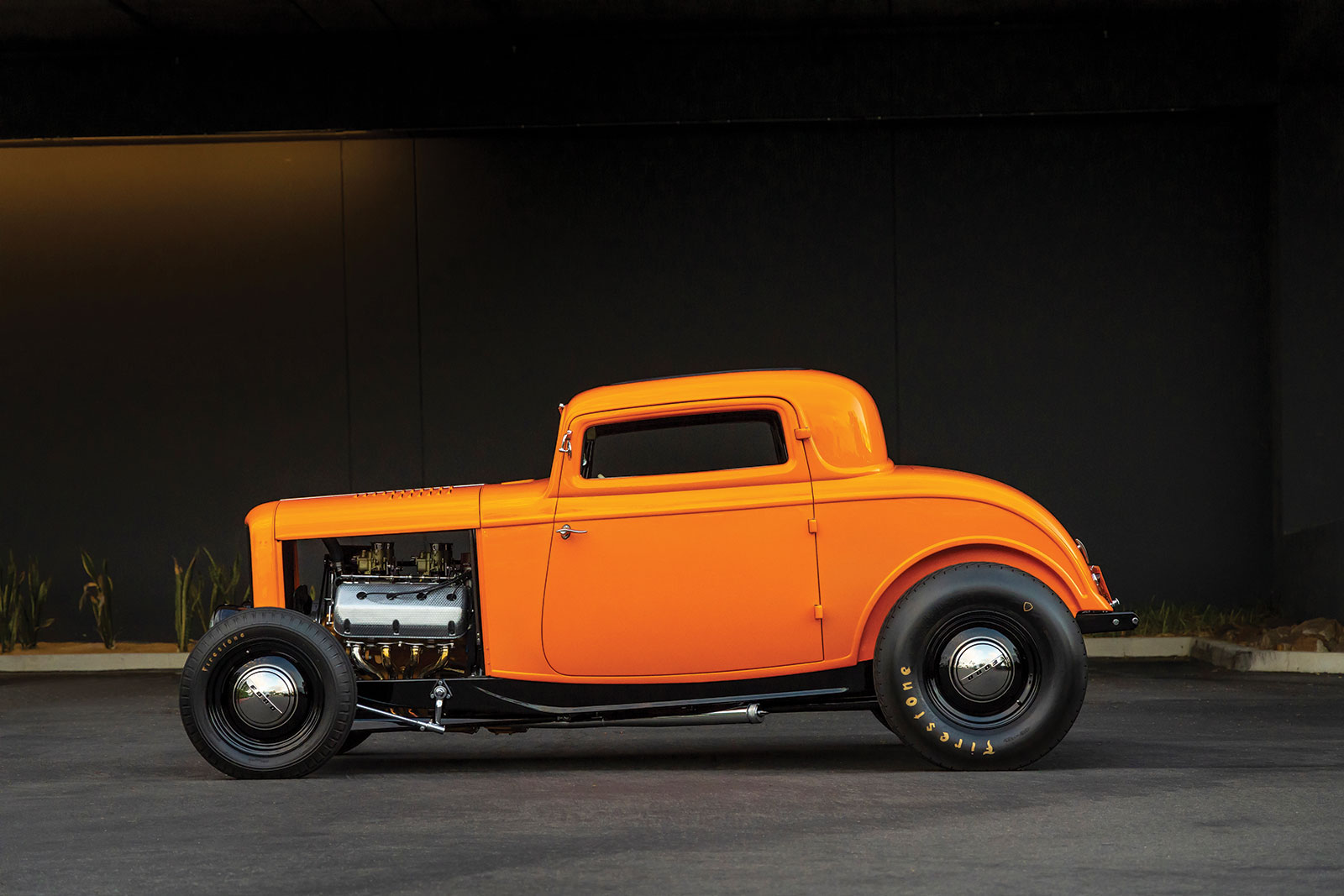 To listen to Steve, he will tell you that he relied on his lifelong experiences with all manner of hot rods from drag to lakes racing. And like many of us we all relied on our collection of car magazines and books that brought to us the "food" required to stoke our passion. In going over his research material he gravitated toward the trends from the '30s through the '60s. In the end he favored the styles he found in late-'50s hot rods. A small block Chevy or possibly an early Hemi engine. How about tuck 'n' roll interior in the iconic colors of black or white, external exhaust, proper wheels and tires, and metallic paints? (And, of course, the obligatory chopped top, toss the fenders, and the oh-so-correct rake. Any hot rod can be made or lost depending on its stance and appearance driven by the chassis rake and the wheel-and-tire combo.)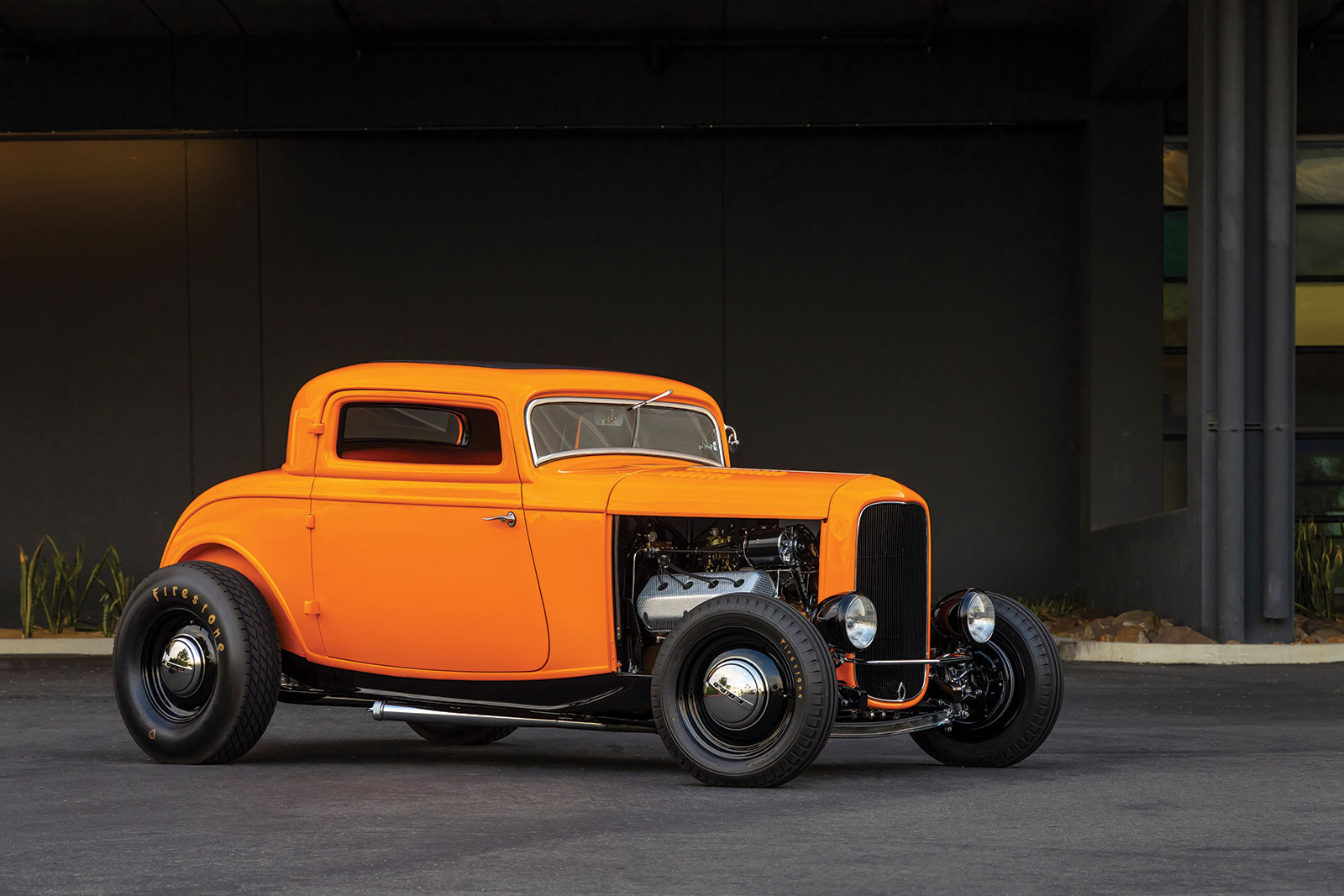 To listen to Steve, he will tell you exactly where the various ideas for his hot rod had their beginnings:
Read More: Donn Lowe's 1929 Ford Model A Roadster
"It's the added details that make the finished hot rod. An example are the valve covers that are machine turned like that of a '30s Mercedes 540K, Talbot-Lago, or Delage engine. Even the plug wire stands are modeled after these classic engines. The seat style is patterned from a '53 Nash-Healey and diamond pattern stitching on the interior firewall and trunk locations. Real English Wilton wool carpet with piping typified by a  Rolls-Royce. Even the brake backing plate vents' pattern is taken from a '30s Auto Union Grand Prix car.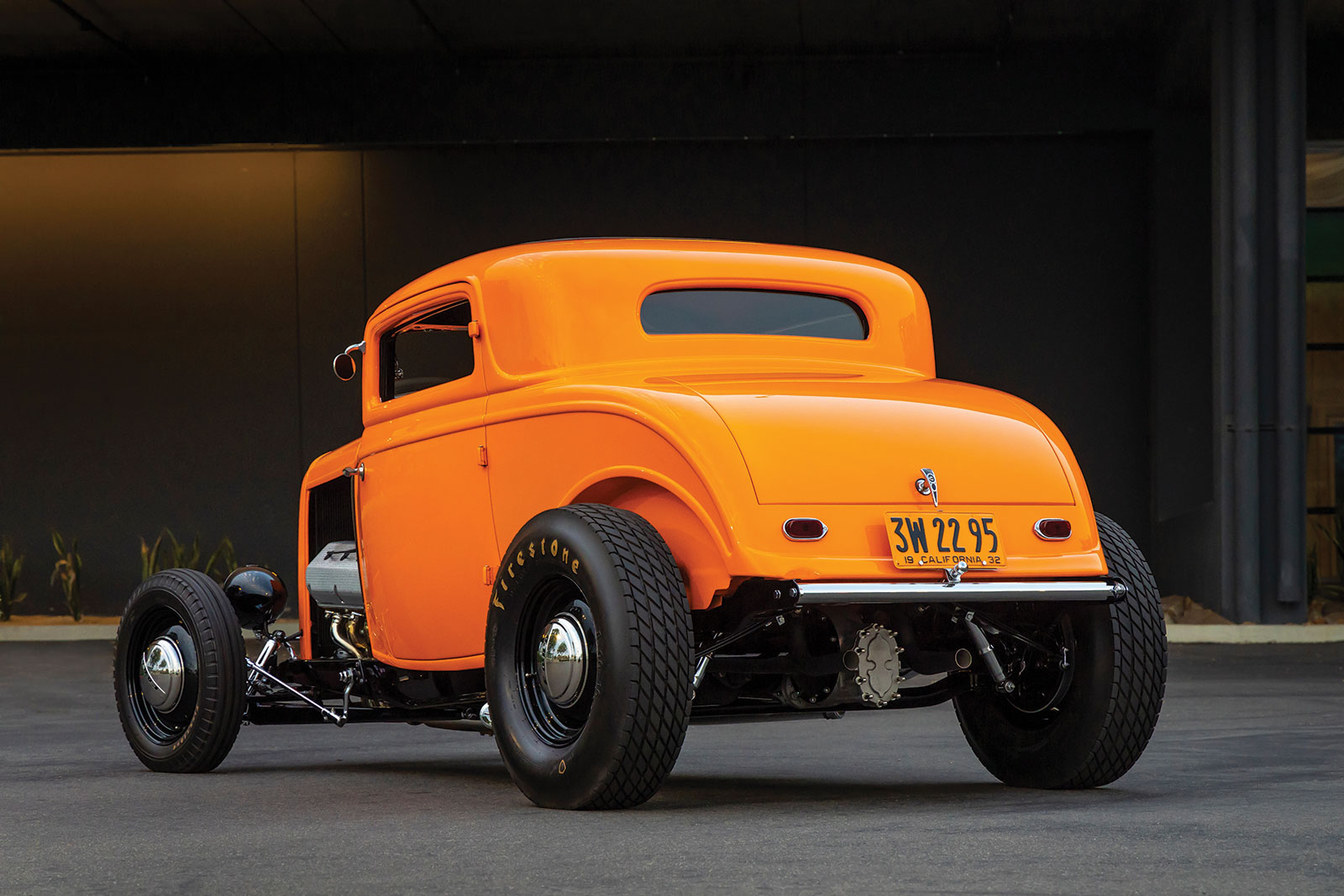 "Most of the influence came from early hot rods. Louvers for the hood top as positioned on the Lloyd Bakan coupe, rear '41 Chevy taillights from the Ray Brown roadster, the drag link cap bolt from the Jim Khougaz '32 roadster, and lake pipe caps pattered from the Doane Spencer '32 roadster.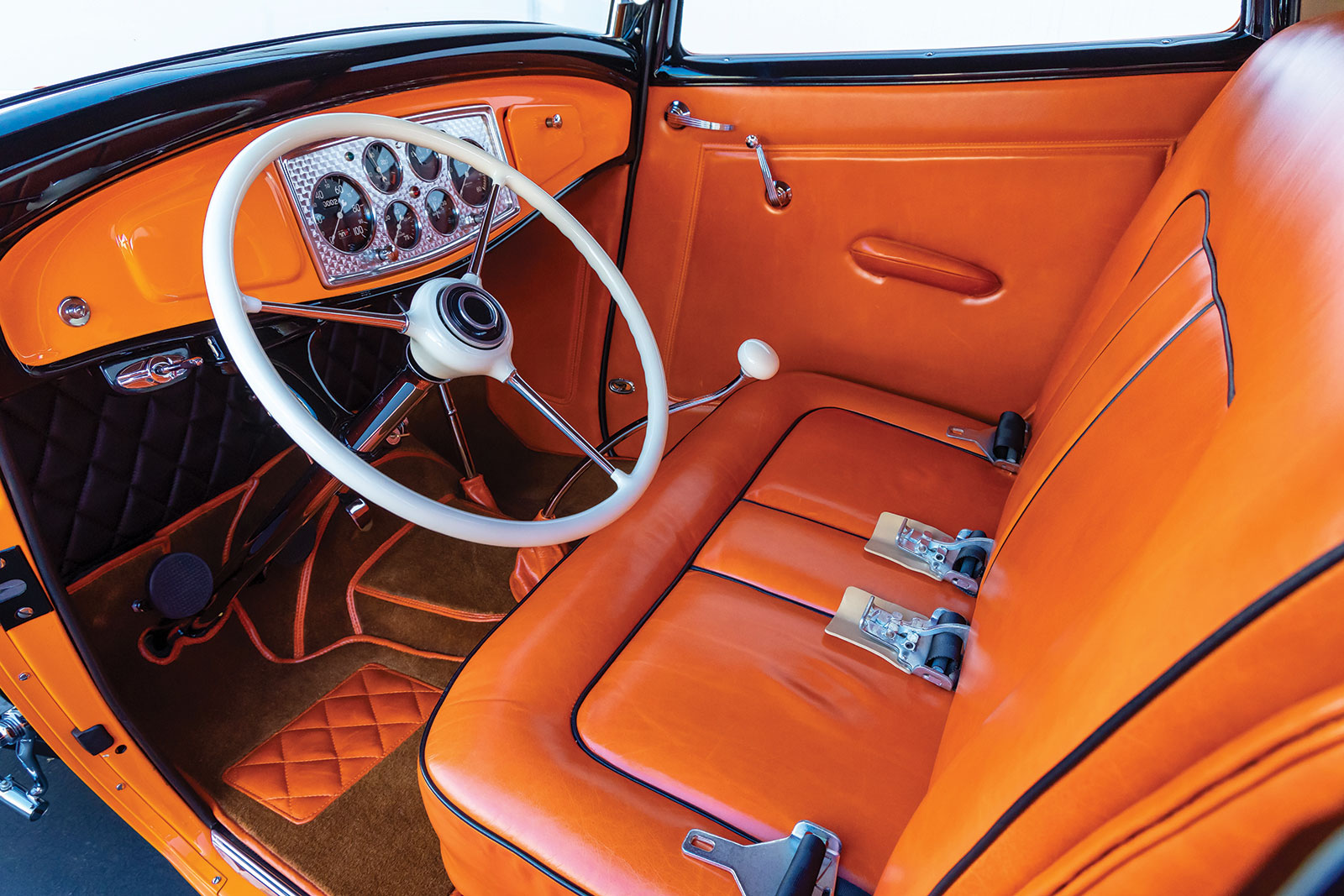 "The iconic hot rod builds for me are either the '32 Ford roadster or the three-window coupe with a chopped top, highboy (sans fenders/running boards), steel wheels with bigs 'n' littles, solid dropped axle, quick-change, capped side pipes, louvered hood, and one of three classic hot rod motors. The Big Three of vintage power are the Ford Flathead, Chevy 265/283/327 series, or Chrysler 331-392 Hemi."
Of all the frames that exist in the hot rod world there is no other that has the natural beauty of the '32 Ford. Straight from Henry, the Deuce frame is arguably one of the most striking and it stems from the "beauty line" that runs along its midsection. When fenders and running boards are in place you can't see this natural attraction but once deleted, as in a highboy coupe, the beauty mark is revealed.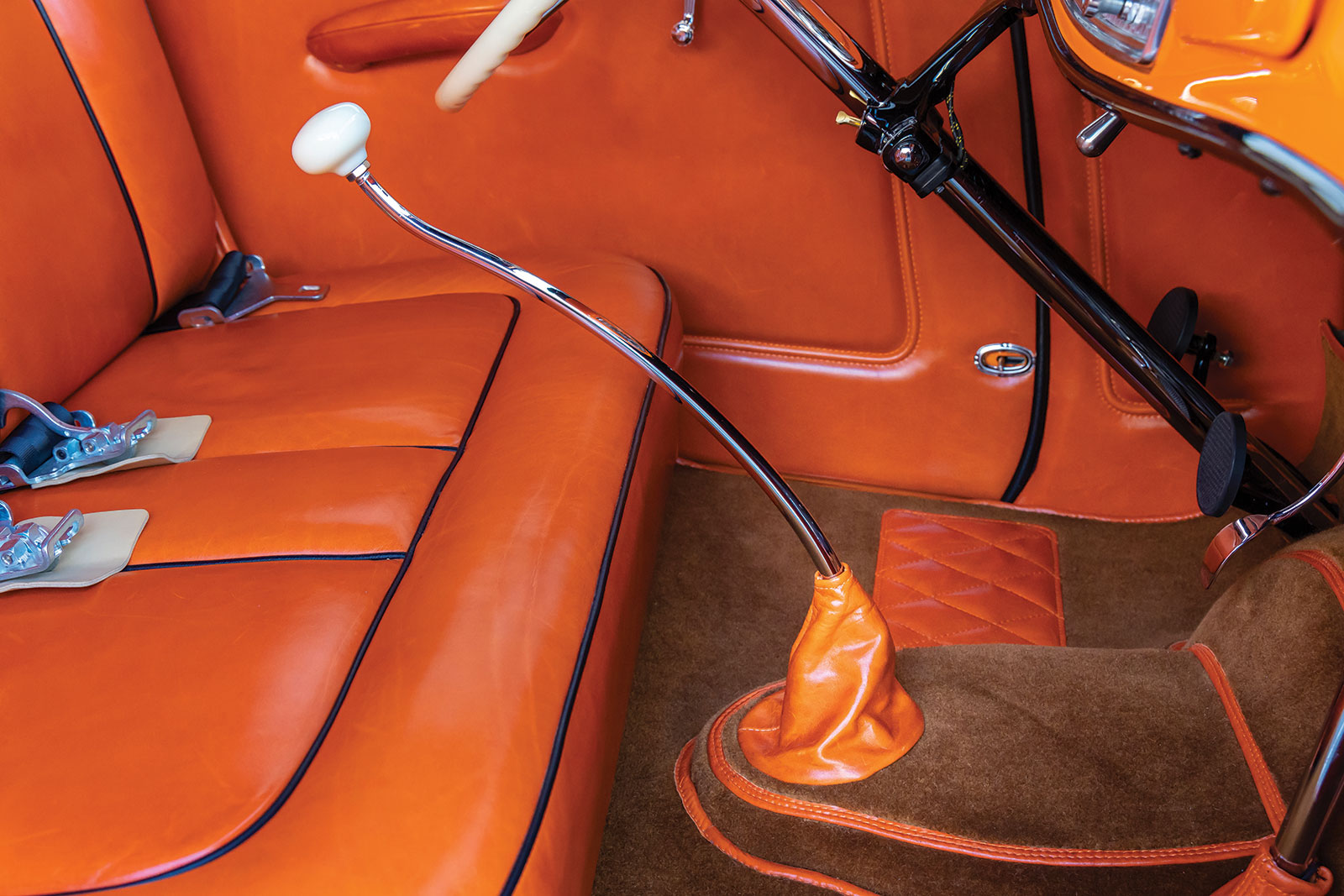 Steve turned to Blackboard Hot Rods for their modified Deuce frame based on reproduction 'rails from American Stamping Corporation (ASC) with the use of Model A front and rear crossmembers. Historically the Model A crossmembers are used to allow the transverse leaf springs to sit "higher" within the frame thereby yielding a lower overall stance. Low is good! The 'rails themselves are boxed, a '36 Ford center X-member is used, the front frame horns are bobbed, and the rear of the 'rails are raised to match the rear of the body. Note the rear horns are abbreviated as the stock gas tank is eliminated. The Tanks Inc. 14-gallon fuel tank is now trunk mounted.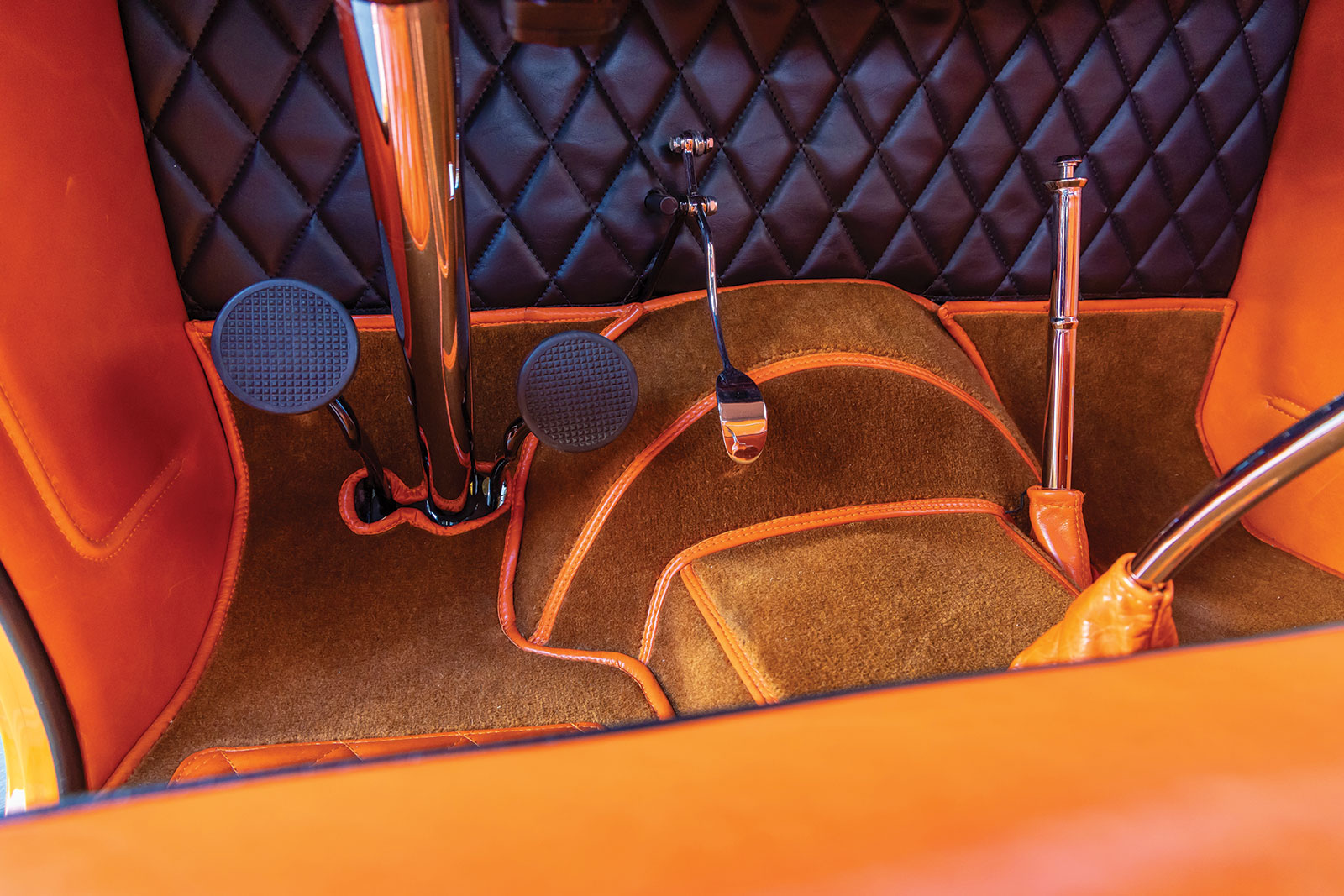 Read More: Parting Shot – A Piece of History … Forever
The suspension is based on an original '32 Ford 4-inch drop axle by Anson Axles that is ground smooth and peaked by Steve. From here the "round back" '37-41 spindles are used along with 12-inch Ford truck brakes and Lincoln-style brake drums with machined vent holes in the backing plates. Steering is supplied by a Ford F1 truck steering box.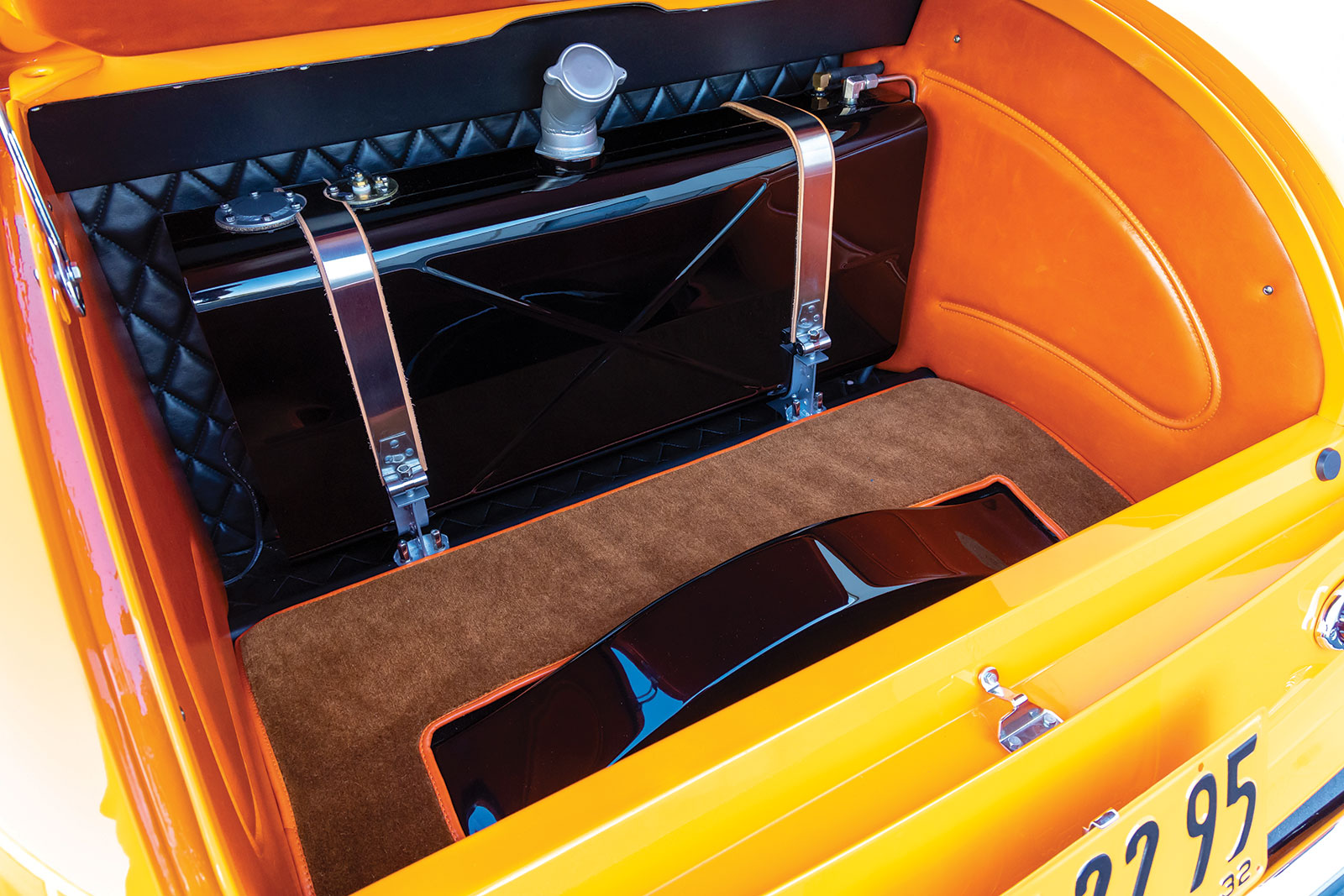 Shocks are the traditional chrome tubes with dust covers straight from SO-CAL Speed Shop. The rear suspension is based on a Winters Quick Change rear end with '36 Ford axle bells and hardened axles and an overall 3.78 gear. Also used in back is a transverse Model A leaf spring, more SO-CAL Speed Shop chrome tube shocks, a custom set of '36 Ford trailing arms, a Deuce Factory 1-inch sway bar, and a custom Panhard bar. The rear brakes are based on stock '40 Ford coupled with the accompanying e-brake. The brakes are operated through a Mustang dual reservoir master cylinder with an inline prop valve designed for the drum brake usage. A '36 Ford pedal assembly is adopted to the Deuce frame. Steve Biermann, one of Steve's friends, assisted in hanging the rear end, frontend alignment, and miscellaneous welding jobs.
In keeping with the mid-'50s hot rod theme the use of traditional steelies and dirt track tires is a must. In front, Ford 16×4.5 steelies with "Ford" blocked lettered hubcaps are used plus in the rear 6-inch-wide rear wheels with caps. The rubber comes by way of Coker in the Firestone ribbed 5.00 Dirt Track Specials in front and 8.90 grooved Dirt Track Specials in back.
The "hot" in hot rod comes from the power selection. In Steve's case he opted for an '53 ('51-53) "extended bell" Squeak's Metalworks handled specialty welding on the gas tank filler inlet-inch. (The extended bell comes from the elongated bellhousing portion coming off the rear of the block. Unfortunately for hot rodders, the extension protrudes into the passenger compartment and "eats" up footwell room.)
Read More: 1932 Ford Highboy With Old School Style & Modern Tech
Steve's iron Hemi engine is filled with Ross 10.5:1 pistons, a cam from Isky racing cams, reworked stock heads, ARP Bolts, Rocker Arms Unlimited valvetrain assembly, and Hot Heads smooth valve covers that feature custom engine turning. The intake is unique as it is one of the '52 Cunningham split-log four-carb intakes manufactured by Briggs Cunningham out of Florida. There are four 128 series downdraft Zenith carburetors and homemade 1-3/4-inch stainless steel air cleaner tubes with flared tops and doomed screens, with original Cunningham linkage and mounting all contributes to the 370 hp. The fuel system uses a rotary Holley fuel pump and homemade 1-3/4-inch stainless steel air cleaner tubes with flared tops and doomed screens. Firing off the fuel load is an original and rebuilt Scintilla magneto along with Mason Racing ignition and an Extreme Odyssey battery. Exiting the used fuel discharge are two-into-one, 2-1/4-inch steel tube  custom headers (like Hedman Hedders). Next, a split '36 Ford inner driveshaft tube to make lakes piped with caps. Underneath the exhaust pipes run through a pair of MagnaFlow 4-inch round Glasspack mufflers. Other engine accessories include an aluminum small block Chevy water pump via a Hot Heads front cover adapter and a Powermaster PowerGEN alternator (appearing as a generator). Moving the horsepower to the rear is a World Class BorgWarner T5 transmission, attached to a Wilcap aluminum early Hemi transmission adapter. A 13-pound reduced Dodge truck flywheel is used in conjunction with an 11-inch Chevrolet disc and pressure plate with a Tilton hydraulic throwout bearing. A custom Inland Empire Driveline driveshaft is used as part of the rearward power movement.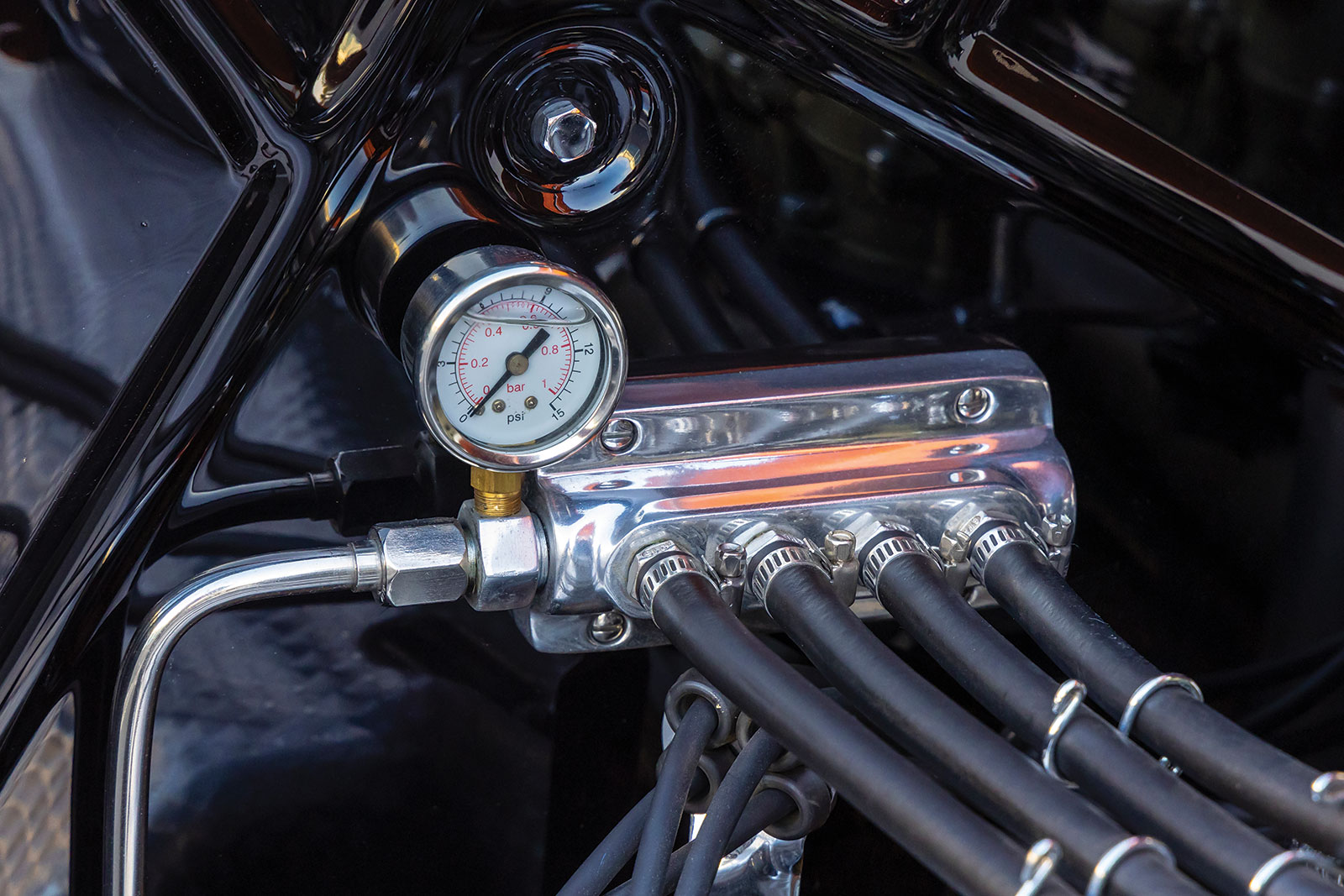 The steel Deuce three-window coupe body is by way of a Brookville Roadster that's chopped 3 inches in back and 3-1/2 inches in front. All the necessary wood was also provided by Brookville Roadster. The hood and grille (filled and peaked) are stock '32 Ford with 36 custom 3-inch louvers punched into the hood top. The body-leaded seams and door gaps were handled by Ron Lindeman while Hollywood Hot Rods handled addressing the firewall, so it looked like an original Deuce. Hollywood Hot Rods also added an inch of metal to the bottom of the dash and frenched the instrument panel. Regarding the dash, it is a Ford three-window coupe dash with an engine-turned insert featuring a six-pack of late-'40s Stewart-Warner gauges (2-5/8-inch) that were rebuilt by Bruce Abbott of Abbott Instrument Restoration. The required wiring was handled by Mike Swan utilizing a custom-made full-waxed cloth harness. Resting beneath the dash is a custom steering column attached via '37 Ford "big truck" column drop. The steering wheel itself is a recast original '37 Lincoln Zephyr produced by Quality Restorations Inc. featuring a custom-made horn button by Steve himself.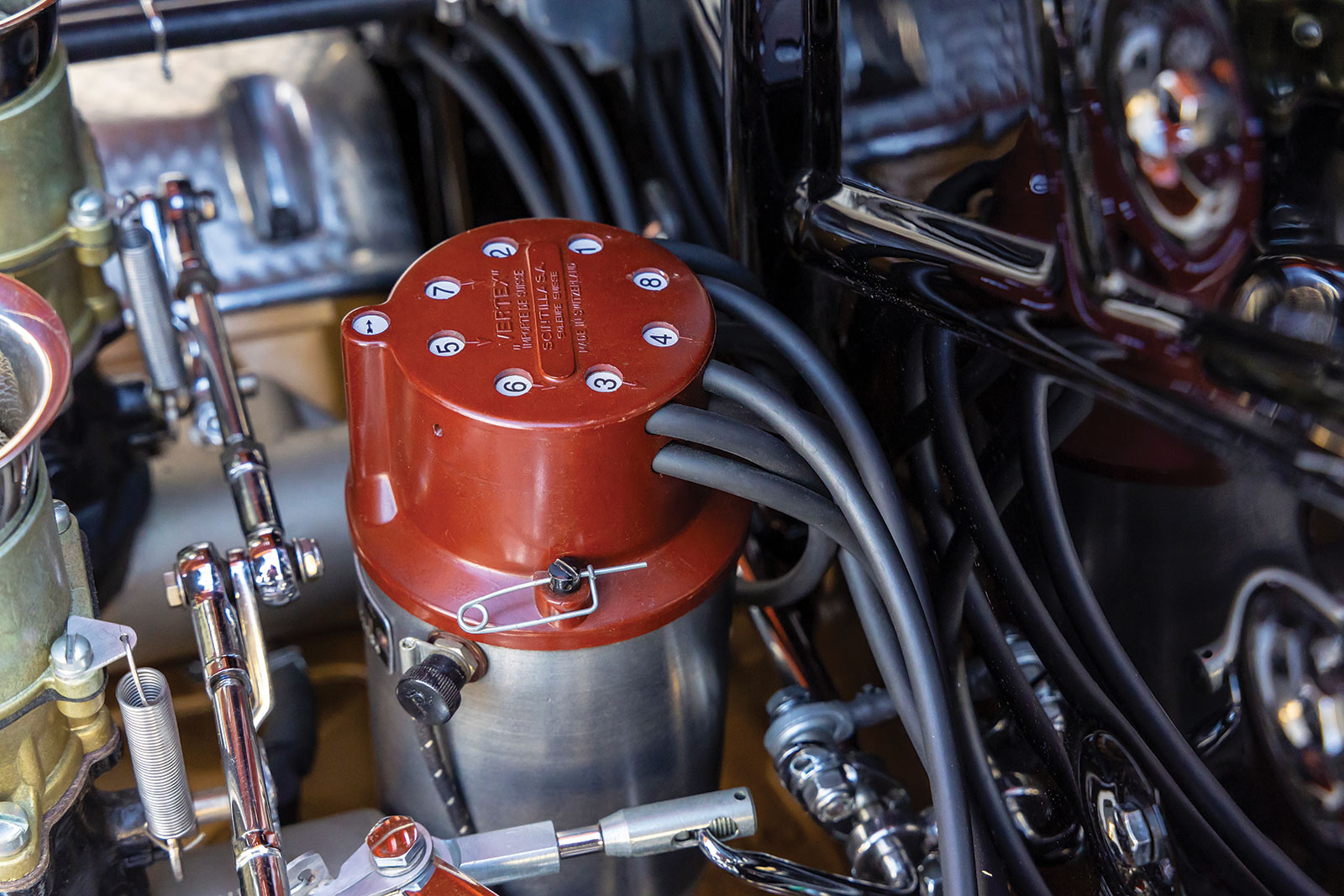 Milton's Auto Upholstery took the stock bench seat frame, redid the foam, and then covered it in a Persimmon-colored leather while Wilton wool with leather piping was used for the carpeting. The headliner is made from a tan-colored wool. Added to the seating are a pair of 3-inch competition lap belts. More interior appointments include '37 Ford window and door handles and knobs with '51 Ford door armrests along with a custom-made turn signal lever made using a '39 Ford glove box bezel. An interesting touch is the spoon throttle.
Steve tells us, "It's an original throttle that I modified following a '50s Hot Rod article showing how to move the throttle from the left-side pull to the right-side pull."
Read More: Meguiar's 70th Detroit Autorama
Others who helped were Gary Hudson in the overall assembly and Squeak White of Squeak's Metalworks handled specialty welding on the gas tank filler inlet, hood, and lower grille extensions. Next up Tom Rodriquez Sr. of Cypress Auto Body handled the body- and paintwork. The custom mix Valspar orange paint was intended to match a '31 Bugatti in the Peter Mullin Automotive Collection in Oxnard, California.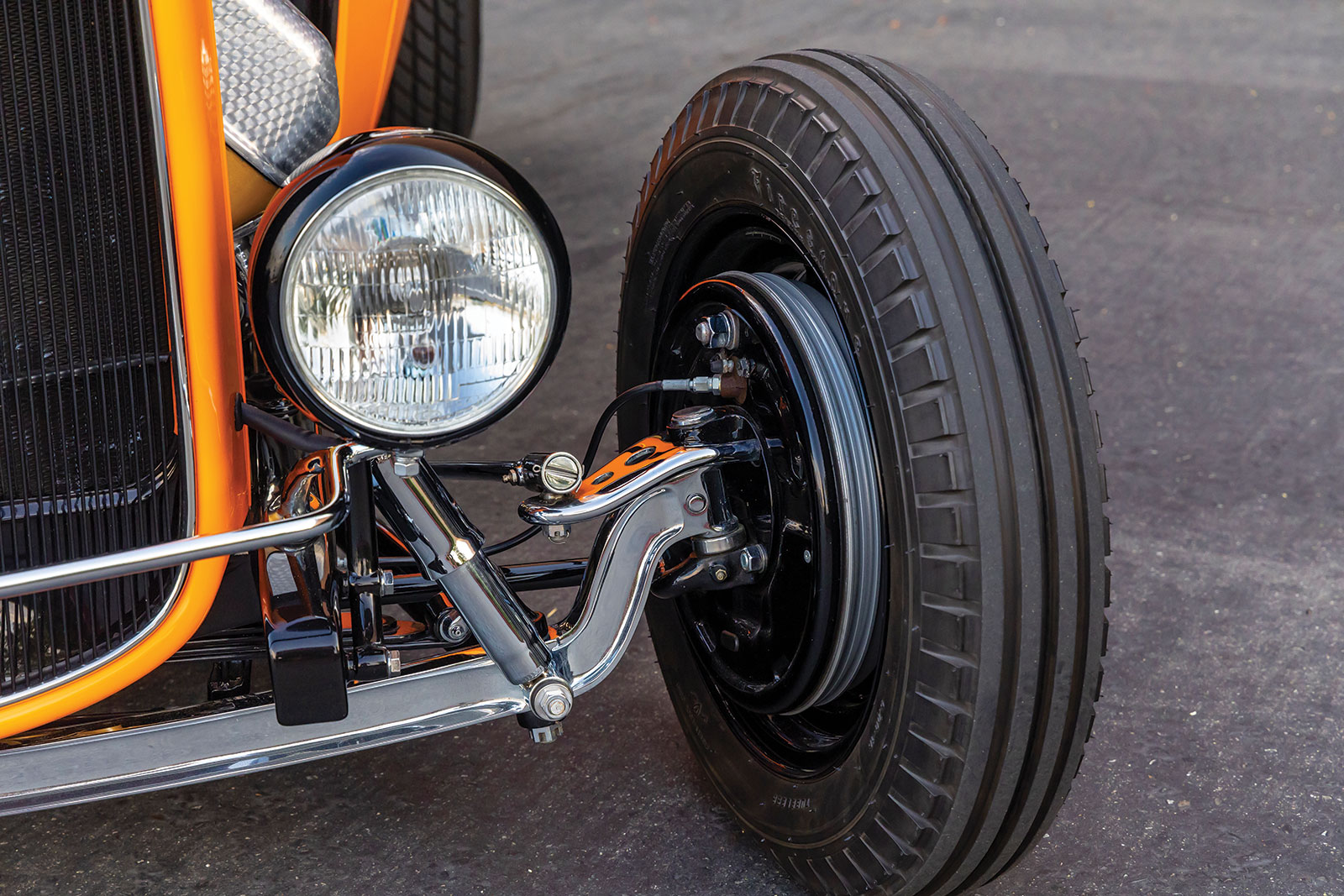 Built at home and honoring lifelong dreams, Steve has a hot rod in his '32 Ford Highboy coupe that checks all the boxes. MR