Project "FIRED" is a 1959 Task Force Fleetside with Hard-Earned Patina
By Tommy Lee Byrd   –   Photography by Grinder TV
Nature's elements can be quite corrosive, especially when there are more than 60 years in the rearview mirror. Wooden bed floors, steel body panels, and rubber seals are susceptible to nature's corrosive tendencies, although California's atmosphere is typically kind to sheet metal. The downside to the dry California climate is the likelihood of wildfires, which are widespread disasters that have claimed many lives, homes, and hot rods through the years. Depending on the intensity of the fire, it can turn a vehicle into an unrecognizable heap of molten metal, but in the case of this '59 Chevy Apache, it provided a wild, charred patina that would be impossible to replicate.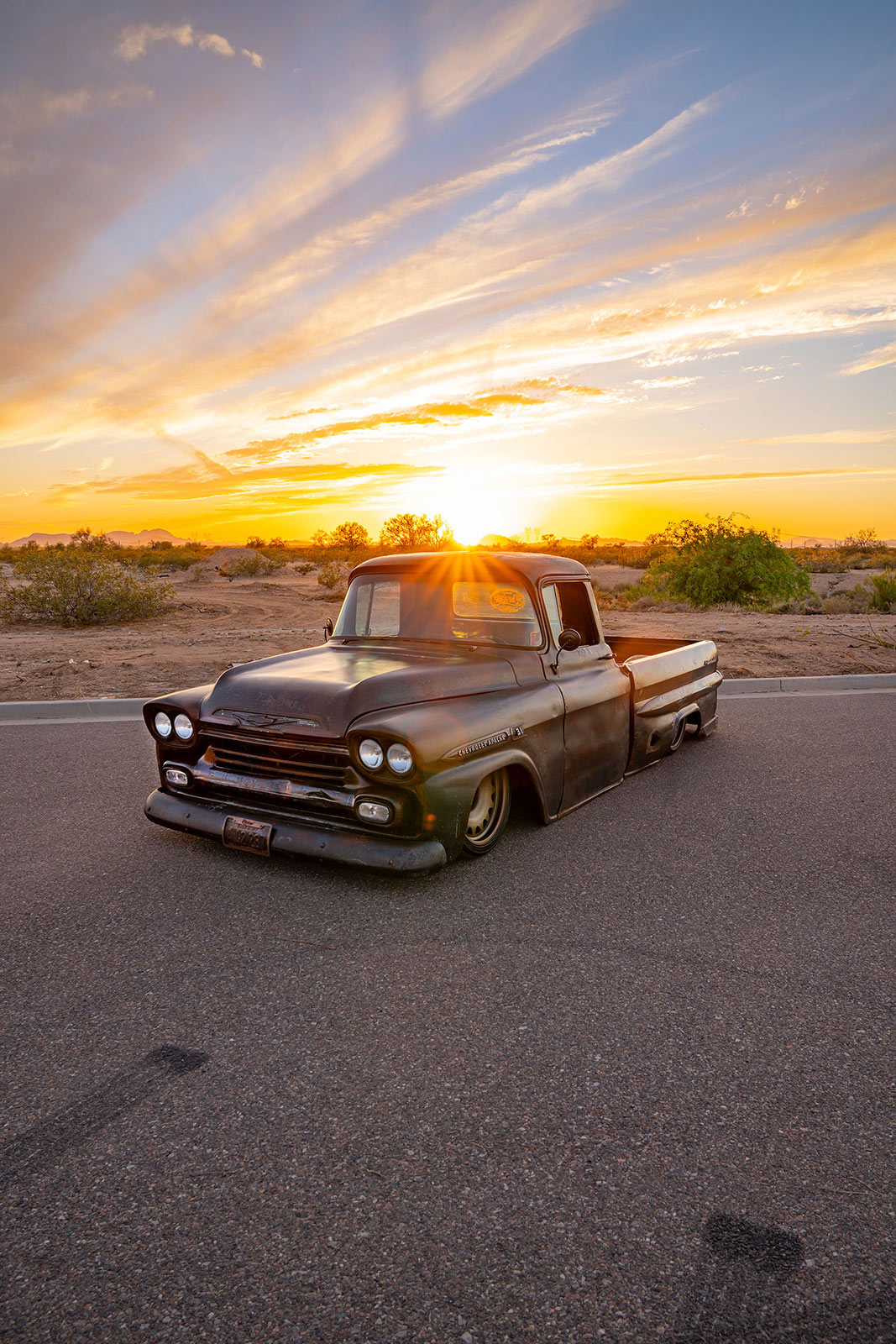 Read More: 70th Meguiar's Detroit Autorama
This truck endured the NorCal Camp Fire back in 2018, also known as the Paradise Fire. It was a devastating fire, taking thousands of acres, and it wreaked havoc on the city of Paradise, California. The area included a private collection of cars, trucks, and vintage items. This Apache was part of that collection and the owner placed it for sale on Craigslist shortly after evaluating his property. The old truck sold quickly, despite its fire and water damage, and made its way to San Fernando Valley. That's when Jason Fonte stepped into the picture. He saw the truck at a friend's house and his first impression was a solid "no," but after hearing the old truck's story, it gave him some motivation to jump on the project. The warped, charred, rusted metal was intimidating, but the wheels started turning in Jason's head, even though his wife, Dina, was a bit more apprehensive.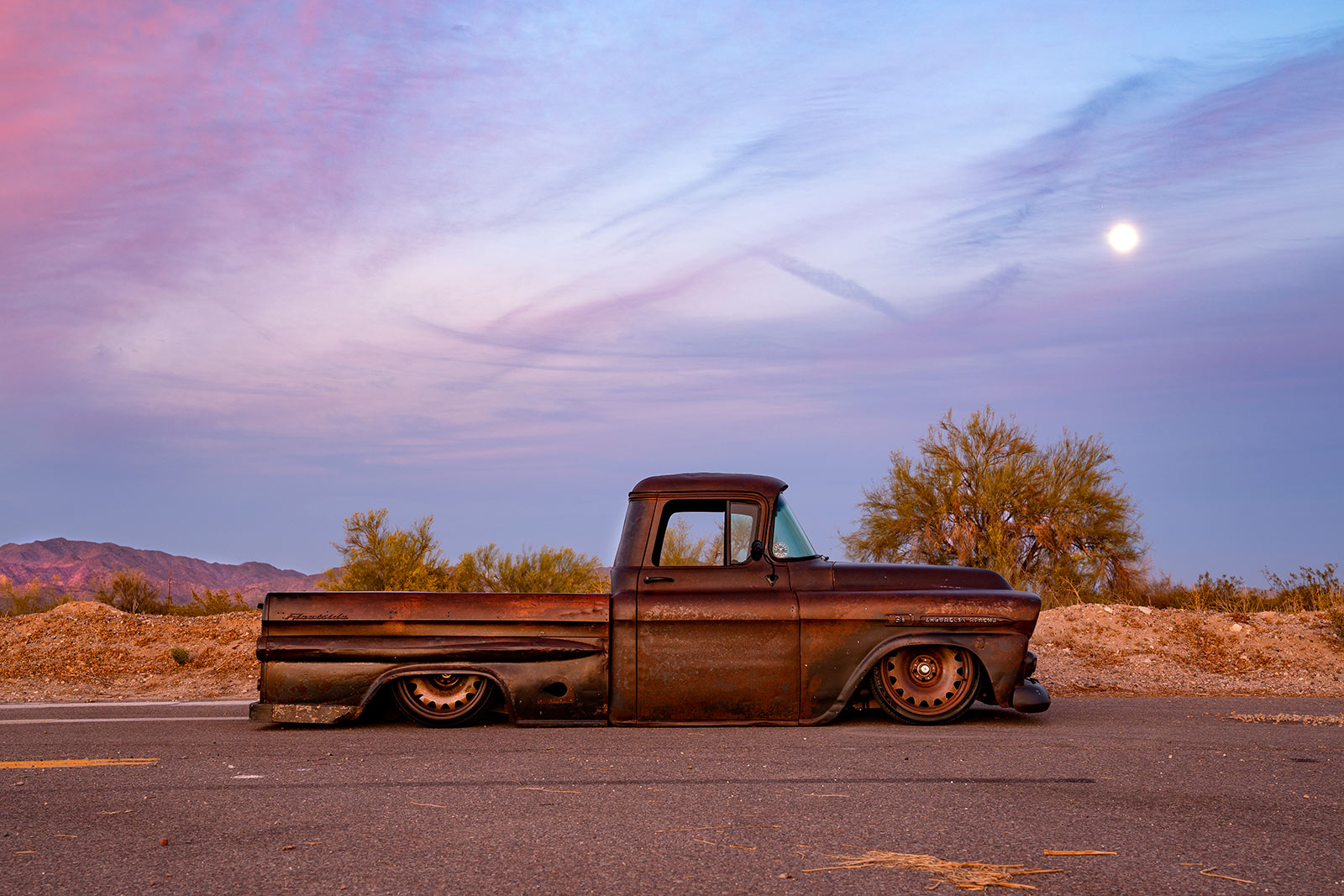 After taking delivery of the truck, Jason spent the next few months gathering original and New Old Stock. components and putting his ideas down on paper. He also spent some time figuring out a game plan on preserving the burned sheet metal, while also adding new and weathered details to make it all fit with the build theme. Jason used a diluted CLR cleaner and scrubbed the metal with red Scotch Brite pads to remove the heavy oxidation. Then, he sprayed three coats of matte clear to protect it from further rust. From there, it was a matter of matching patina and textures on the emblems, trim pieces, mirrors, and lights.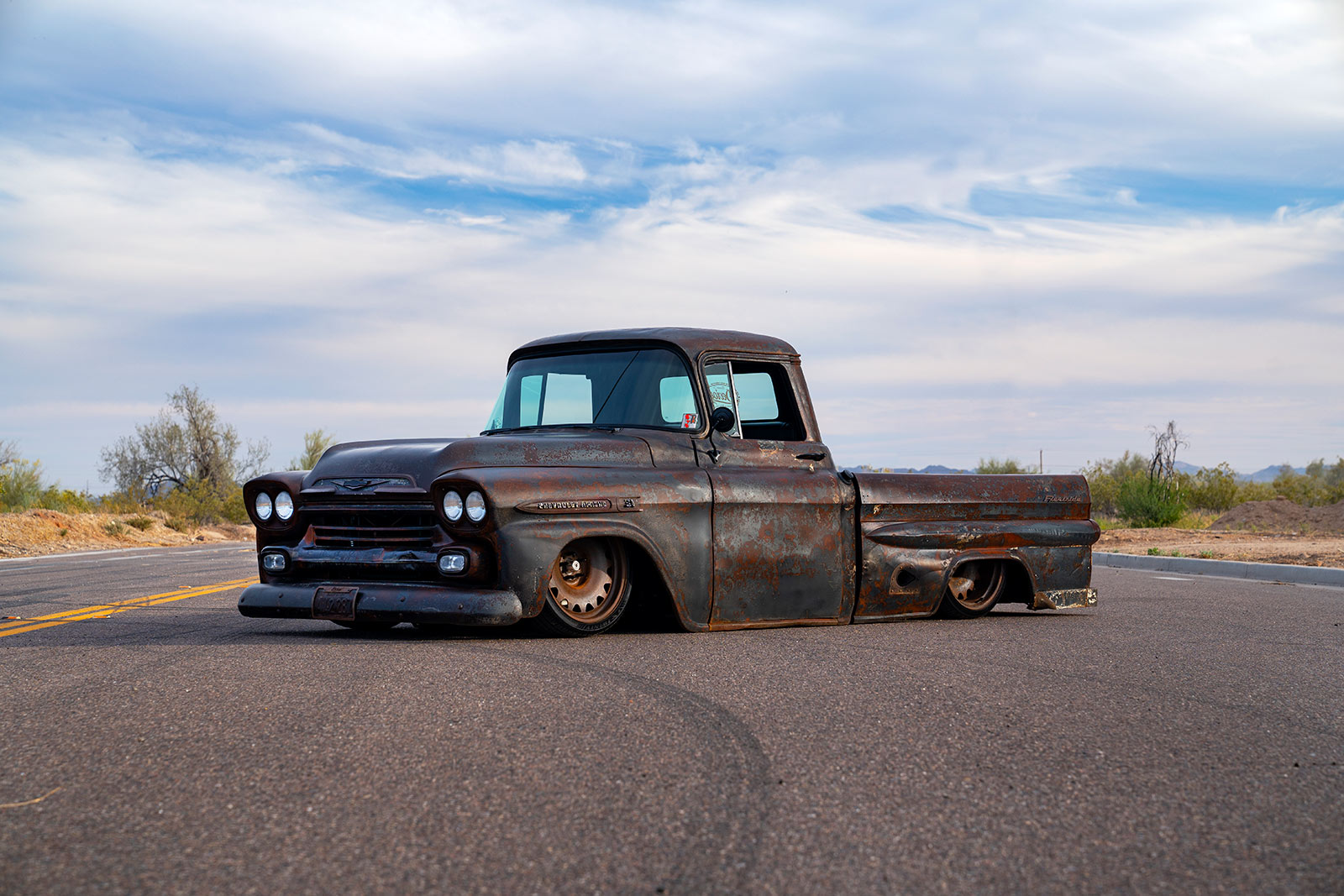 When Jason established the build style, he called upon help from his friend, Jeff Davey, owner of Devious Customs in Riverside, California. Davey and crew took on the project and turned Jason's vision into reality. The foundation for the truck is the SPEC Roadster Shop chassis "Slammed" series. Roadster Shop manufactured the toeboard panel, billet swivel steering column mount, engine and transmission mounts, 20-gallon stainless steel fuel tank, and dual battery boxes, which are now fit with Odyssey batteries.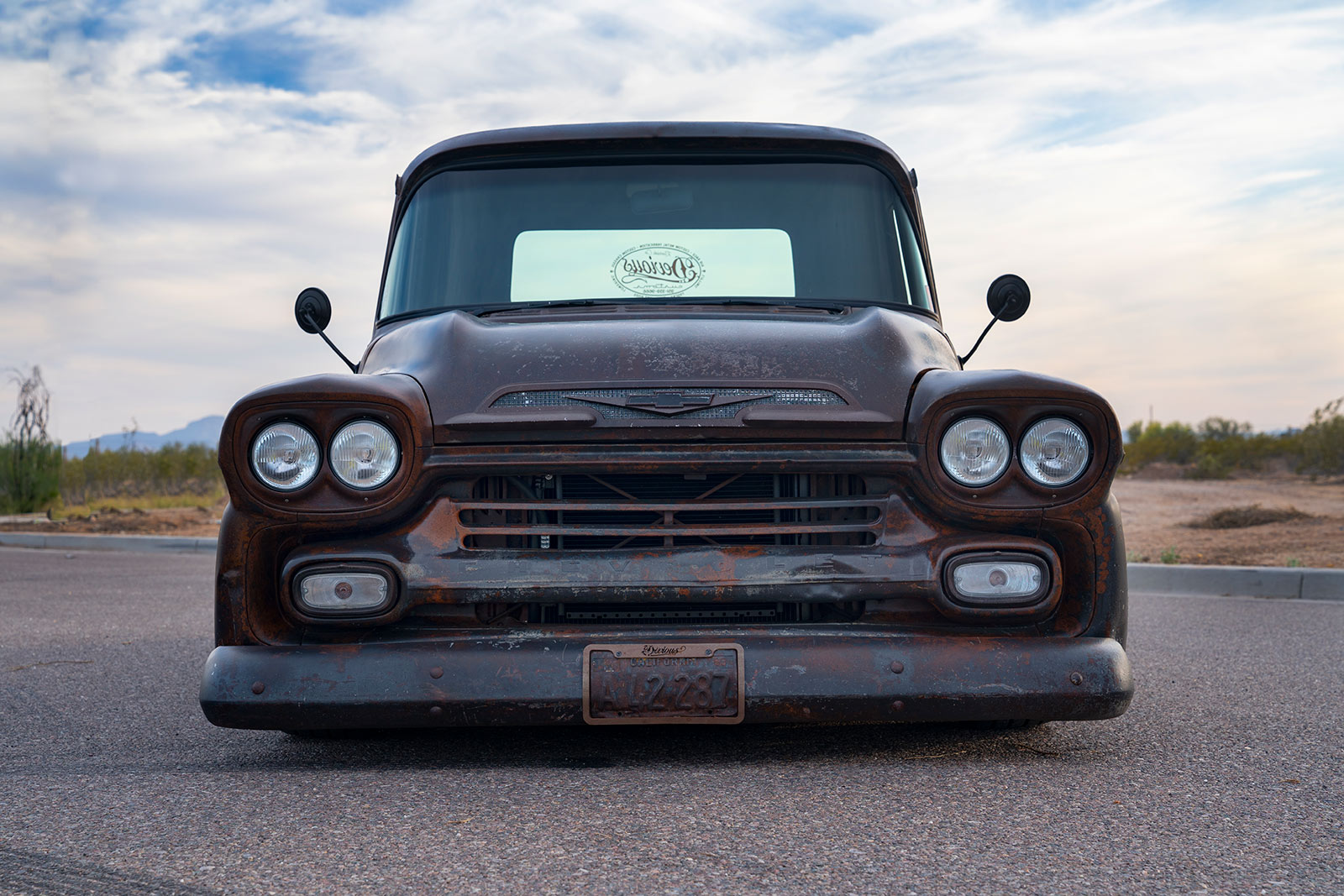 Read More: Goldilocks, Mid-'60s Custom C10
The front suspension features tubular control arms, airbags, adjustable QA1 shocks, and pro Wilwood spindles. Out back, the chassis features a parallel four-bar setup with billet Watts link, while another pair of airbags are complemented by QA1 shocks. The Ford 9 inch rear end is narrowed to 57 inches and features a Pro Iron case with Truetrac differential and 4.11:1 gears. The air suspension is controlled by an AirLift Performance system, while ViAir 485c Black Widow compressors and Flo Air 5-gallon tanks manage airflow. All suspension lines are coated in a muted copper color, matching the natural patina of the body. The wooden bed floor is raised to accommodate the new components and then distressed to match the patina.
The braking system features Wilwood components throughout, starting with an aluminum tandem master cylinder and 8-inch booster. The AERO6 Wilwood brake kit features 14-inch rotors and six-piston calipers on all four corners. Rolling stock consists of Ambassador Detroit Steel wheels, coming in at 20×9 and 20×12, wrapped in Lexani tires sized at 245/35ZR20 and 345/25ZR20, respectively. More experimentation was done to give the steel wheels the perfect patina look. The rear wheel tubs have been widened 5 inches to provide adequate clearance for the massive rear tires and wheels.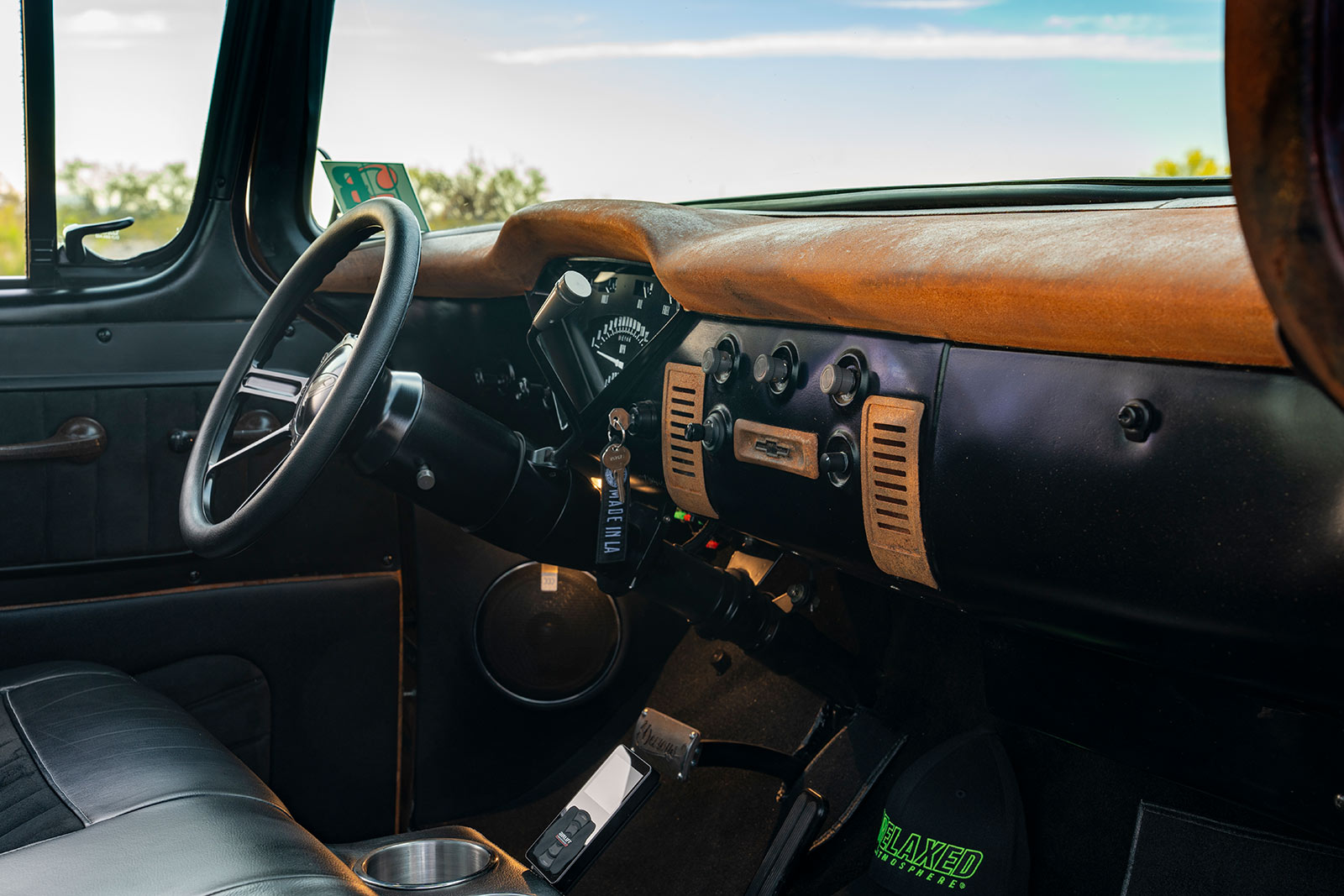 Underhood is a tried-and-true LS engine, built by SoCo Auto Salon in Costa Mesa, California. The LQ9 engine comes in at 6.0 liters and features a BTR Stage 3 Cam inside the otherwise-stock bottom end. The engine features a Holley intake manifold, throttle body, and fuel injectors, all controlled by a Holley Terminator X system. The exhaust system starts with a set of Roadster Shop stainless headers with 1-7/8-inch primaries that lead into 3-inch stainless piping with Sportsman racing Borla mufflers. Devious Customs fabricated the custom steel rings with copper rivets around the side-exit exhaust tips. Behind the LS engine is an automatic 4L80E transmission and custom driveshaft. All wiring and plumbing was hidden or painted in a color to blend in with the surroundings. Devious Customs also built a custom bead-rolled firewall and did some great patina work to match the rest of the truck.
Custom touches continue inside the cab with a beautifully detailed interior by Devious Customs. A Custom low-profile Bench from Snowden seats is wrapped in black leather with suede inserts. The custom door panels and headliner are also wrapped in black suede. Inside the dash is a Classic Industries Task Force gauge cluster and you'll find custom AC vent grilles that take the place of original ashtrays. The RestoMod Air'sTruMOD AC system keeps Jason cool on hot summer days, and he heavily layered Dynamat to keep the temperatures and sound quality consistent. The audio system consists of a custom-built fiberglass box that houses two Pro Series JL flat 10s powered by a JL H900/5 amplifier. A Stealth Bluetooth head unit controls the system, which was designed and installed by Audio Concepts in Simi Valley, California. A tilt Ididit steering column positions the tungsten Budnik steering wheel within reach, while a Lokar column shifter offers a simple solution for the overdrive transmission.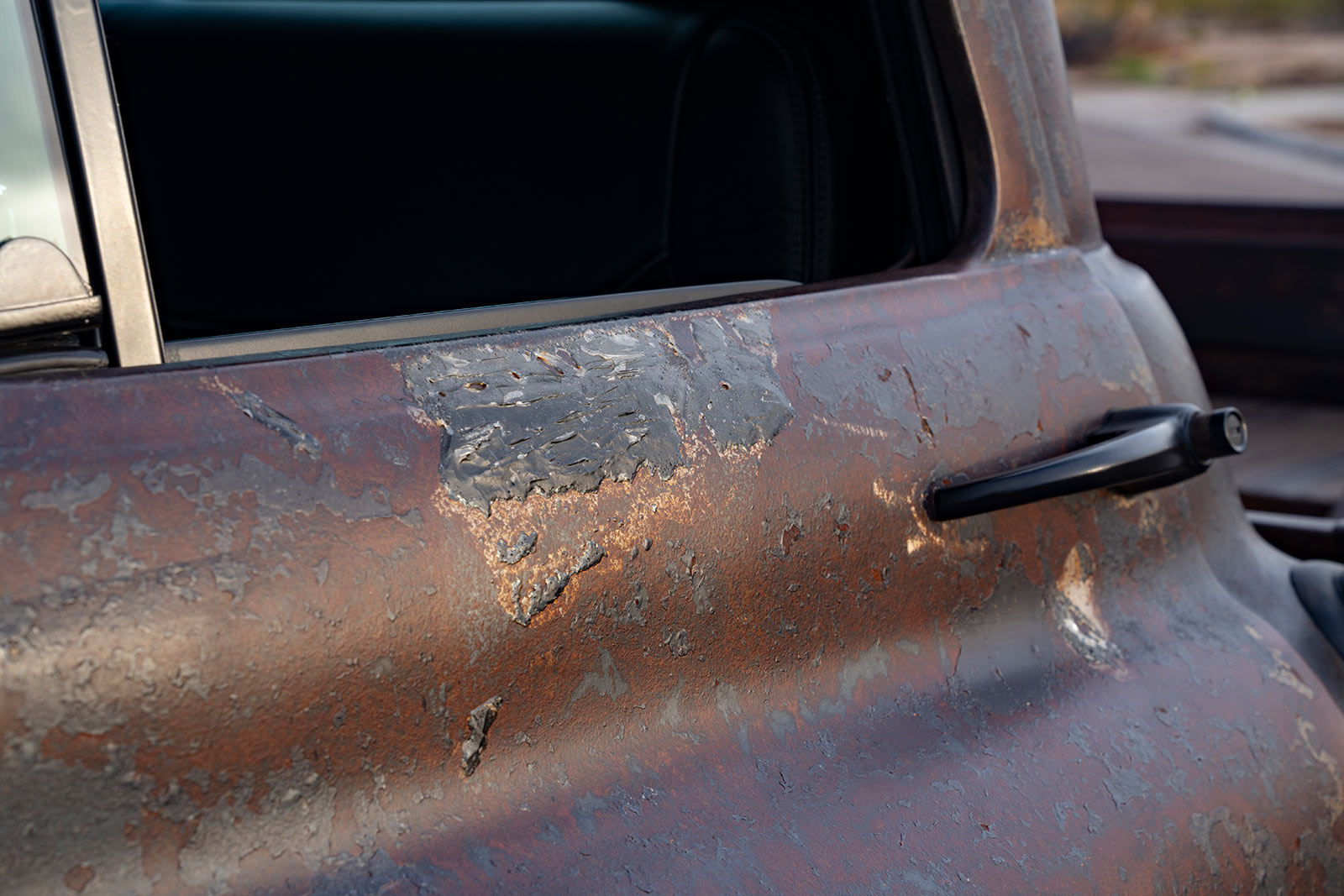 Read More: How To Upgrade A Base Model Interior With Aftermarket Parts
After months of hard work by Devious Customs and a dedicated vision from Jason, the final product is a head-turning truck with a one-of-a-kind patina. The truck made its debut at the SEMA Show in 2021, and Jason, his wife Dina, and son Rocco have enjoyed driving the truck and taking it to shows this past year. Jason is proud to have been a part of this truck's legacy, bringing it out of the ashes and into the modern age with a perfect blend of hard-earned patina and contemporary technology.