Lo-Fi–Styled 1968 Chevy C10 With LQ4 Power
By Scotty Lachenauer   –   Photography by the Author
Sometimes, when thrashing out a build, it's more important to be mindful of what's left out of the mix than to be concerned with what's been added in. So, When Phill Cann of North Smithfield, Rhode Island, was putting together his 1968 Chevy C10 Shortbed, code-named "Goldilocks," he knew that the old adage "less is more" was the mind-set he wanted to stick to when laying out his current build. "I didn't need a lot of add-ons, tricks, or over-the-top alterations. I just wanted a truck that checked all my boxes with just the bare-bones necessities, all the while being a head turner to boot. I think I accomplished my goal with Goldilocks."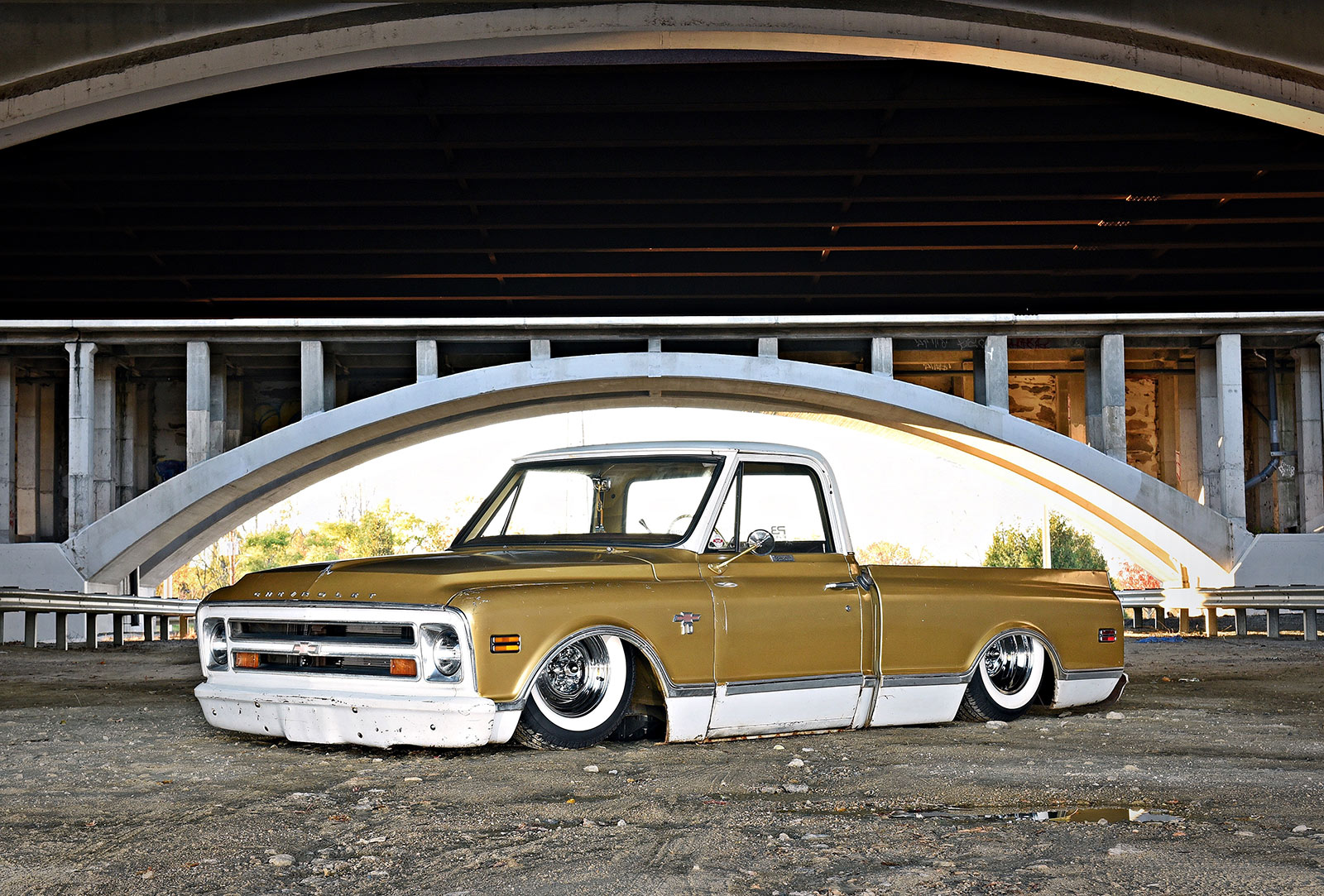 Phill based the build of his newly acquired stock Chevy C10 on three important factors. First off, he needed a ride that was unabashedly "used" but not abused, with plenty of battle scars and weathered patina, complemented by some modern trimmings. Secondly, Phill wanted a modern suspension underneath his C10's low-slung body to help the truck handle the twisty, sometimes gnarly, roads of the New England coast. Last, but not least, the owner required a good dose of modern power underhood and wanted to keep it Bowtie approved.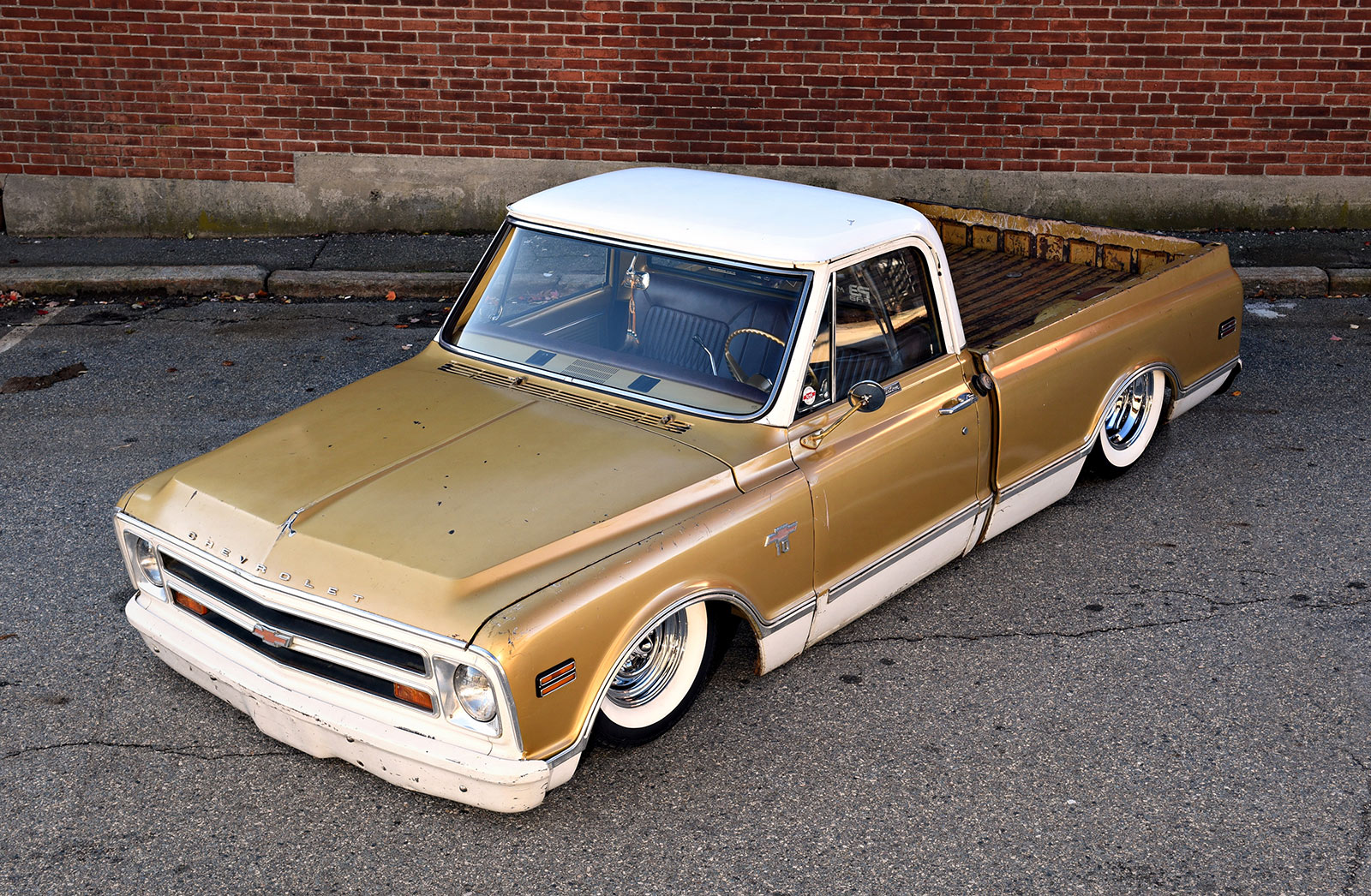 Read More: The REUNION Truck Show 2023
Once he had his three power points, he searched for a shop to help him out. Not having the needed mechanical skills, the tools, or the space to do what was needed, it was a smart move to give it to professionals to handle. Or was it? "After deciding that I wanted to hand it off to a local, respected shop, I realized they were overwhelmed with their current projects already. So then and there I decided I needed to learn some skills, so I grabbed my truck and the bull by the horns. I was going to do this myself."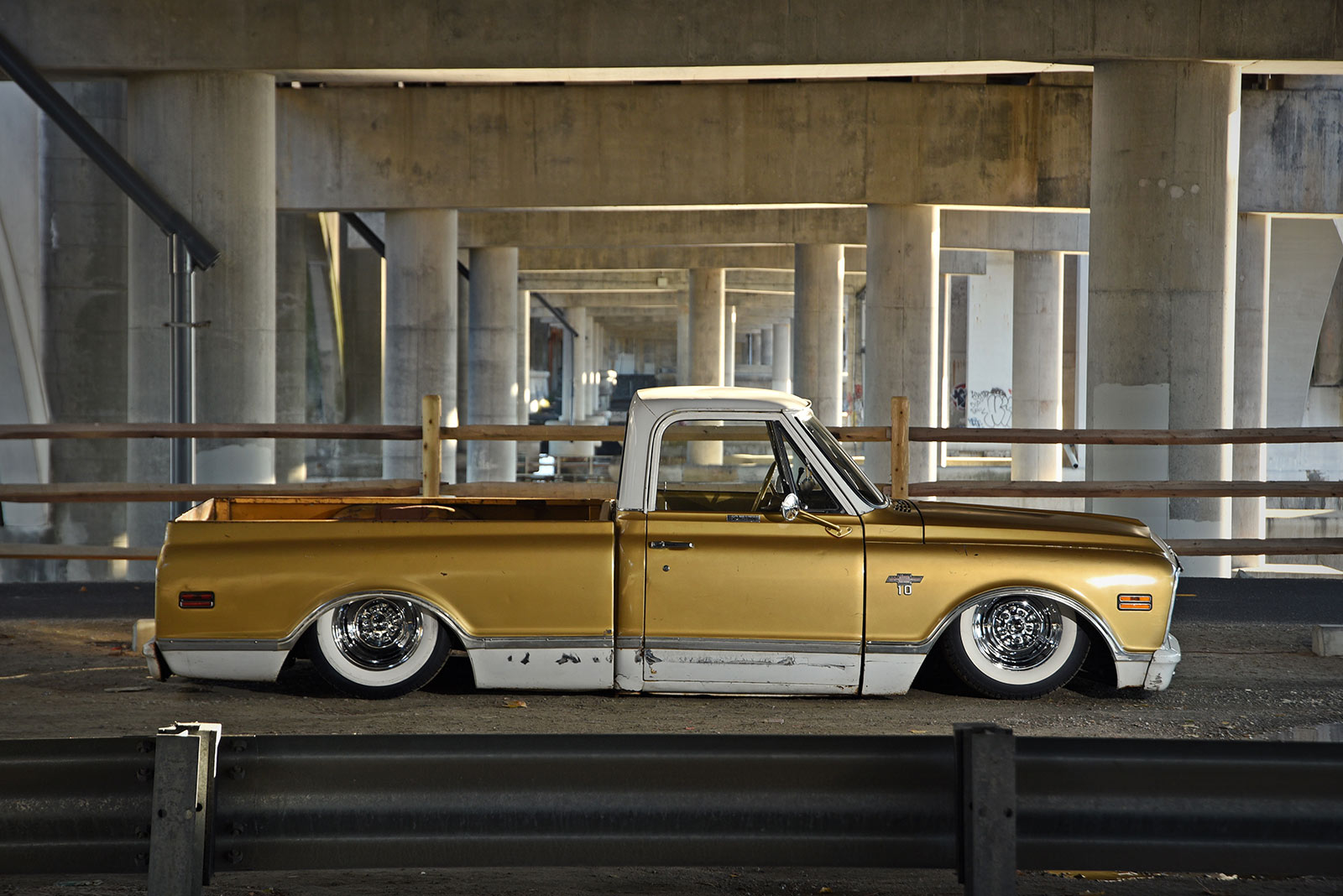 Gold Mine
Phill had bought his truck off eBay in 2016. "It came out of Mississippi and was completely stock, with an inline-six and a three-speed column shift. It was pretty rough." He drove it for the first year basically the way it came, except for a 4/6 drop and disc brake setup a local shop did for him. However, deep down he knew that this truck was going to get bagged, and he was just the man to do it.
In 2017 Phill rented some warehouse space from his boss and got to work. "I went to Sears and bought a 250-piece 'mechanics tool set' and five-drawer chest and on the nights and weekends got to tearing into it with the help of my good friend Ian. I had barely done more than changing my oil and brake pads before this truck."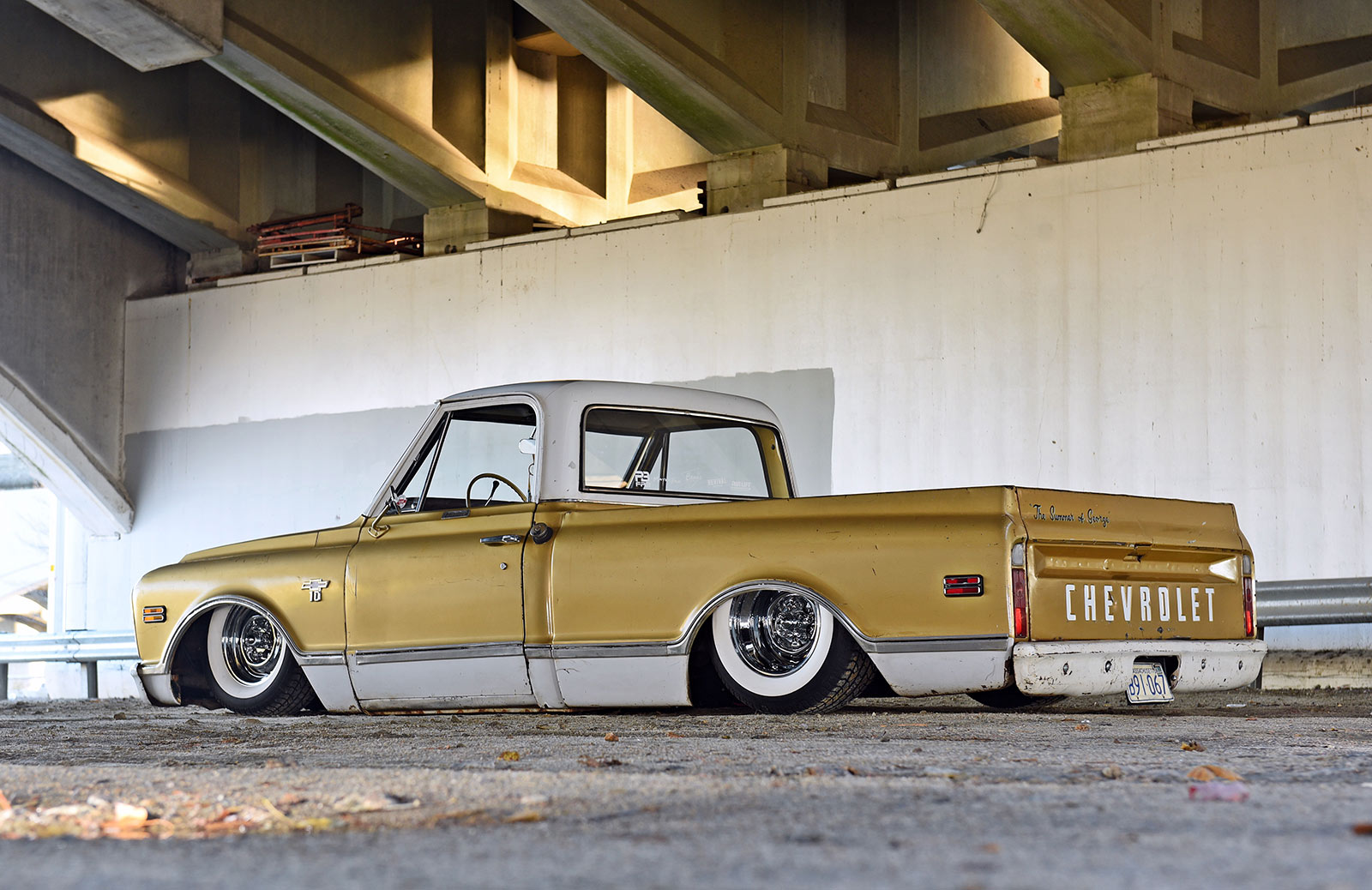 The thought of not being able to both purchase all the parts he wanted and still pay a shop to do the work really shifted Phill into high gear. The truck was quickly dismantled, all the way down to the bare frame rails, and was now ready to be built back up the way he wanted it. The pertinent parts were sandblasted and the frame received a fresh reskin in durable black powder coating. After that, Phill bought himself a new 110V welder and took a weekend course to hone his skills. From there he learned as he went, repairing sheet metal on the body and getting the chassis up to snuff.
Read More: An Award Winning 1958 Ford F100 Built By Revision Rods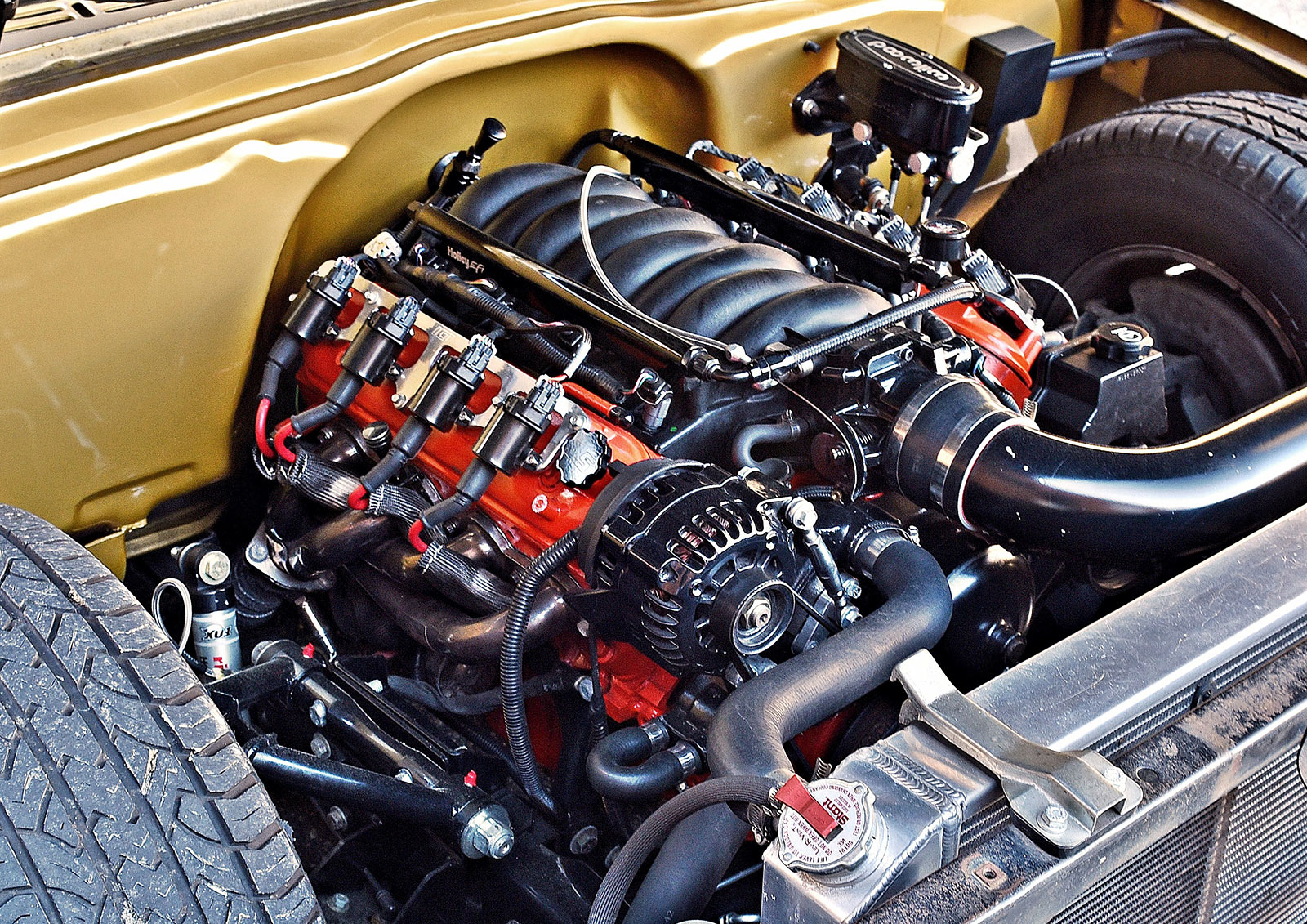 The suspension was built up exactly the way he planned it out. "I used a bunch of Porterbuilt parts in the build, including their front and rear dropmember, narrowed and shortened control arms, and their front sway bar." As far as the air setup, Phill ordered a selection of top parts to make it all work. The list includes Dominator 2500 Airlift airbags up front and a set of Firestone 9000 air bags out back. HQ Ridetech shocks were installed at the corners and an Airlift 3H Management system ties it all together.
Gold Diggin'
When it came to the motorvation of this here shorty, Phill wanted to keep it dependable and GM branded. A stock LQ4 engine was swiftly snatched up for the project. From there he installed an LS6 intake, Holley fuel rails, and a PSI conversion wiring harness. F-body goodies were added as well, including an oil pan conversion, alternator, water pump, and power steering pump and reservoir. A set of XS Power headers feed an H pipe and a pair of Black Widow 250 mufflers leading out to a 3-inch exhaust. Power is shifted through a 4L80E transmission and sent down a two-piece driveshaft to the Chevy 12-bolt rear, stuffed with 3.73 gears out back.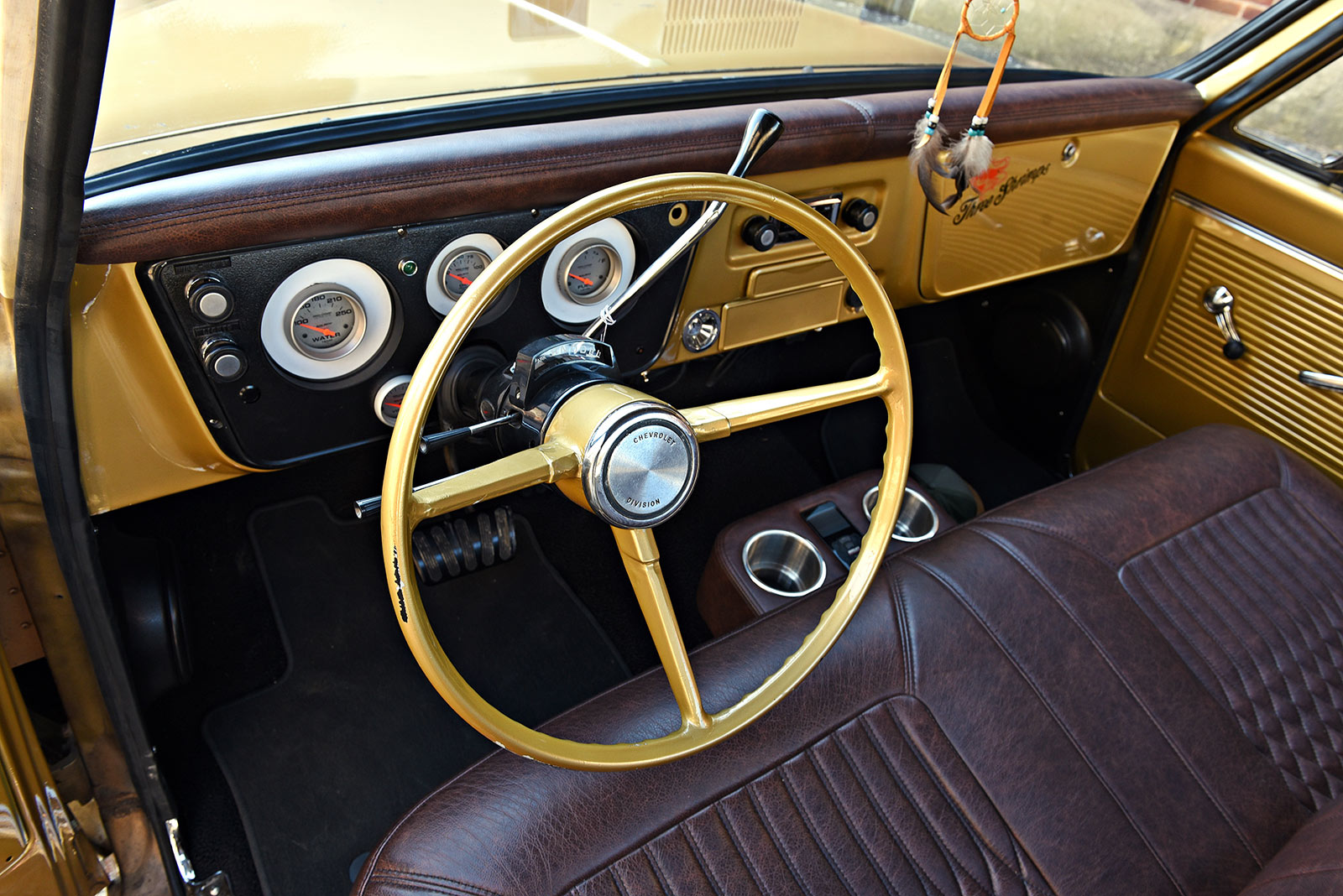 For stopping power, Phill installed a Wilwood master cylinder and a set of discs up front to help out the rebuilt stock GM drums in the rear. A Classic Performance Products (CPP) rack-and-pinion was installed up front to help keep this C10 pointed in the right direction. Reverse chrome steelies and whitewalls give this mid-'60s custom the look he was after.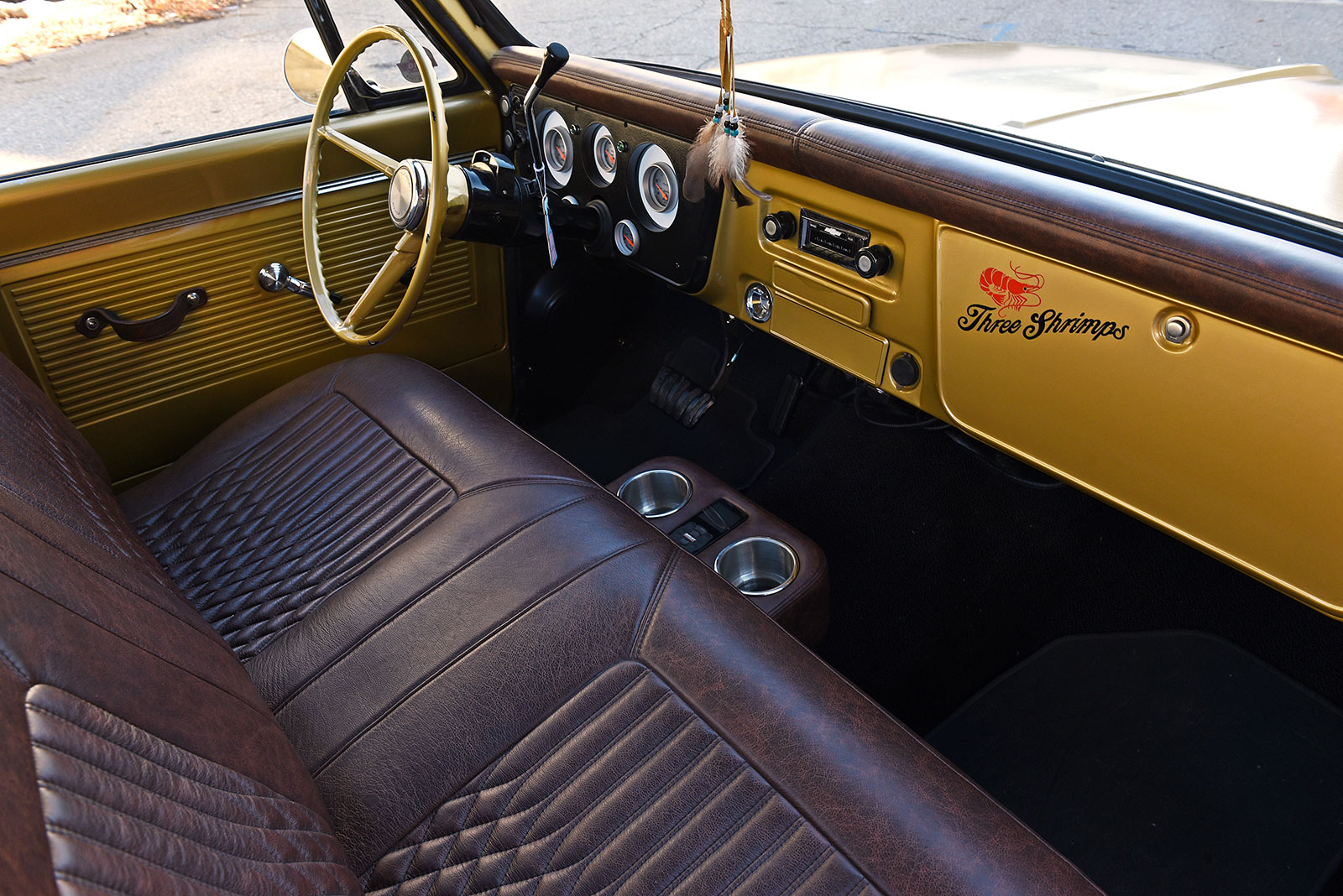 As far as the body goes, well good ol' Phill wanted to leave good enough alone. "I kept all the patina that this truck amassed over the years, and I'm happy I did. It's a 50th anniversary model, which came from the factory with this gold/ivory color scheme. The paint is still in decent shape but shows some of its life's battle scars." He did some mild body mods to Goldilocks, including pancaking the rear wheel tubs and shaving the firewall. Lastly, the rear bed was raised to make room for all the suspension goodies stuffed under this Chevy shortbed machine.
Once the truck was running and near ready for the road, Phill channeled all-new-found mechanical skills into building a comfortable and appealing cockpit for this cruiser, taking it, as he says, "chunk by chunk." It first received a fresh coat of paint on its interior flanks and then a slew of new Auto Meter gauges and a restored stock steering wheel—to add both something old and something new to the build. Phill then deleted the heater controls for a cleaner overall look to the dash. Next, Counter Balance Cycles in nearby Providence, Rhode Island, built him a nice leather bench seat with custom matching leather dash pad, leather door pulls, and leather-wrapped console. The latter houses a cup holder (very important) and an integrated airlift control system to adjust ride height. RetroSound supplies the tunes that punch 6.5-inch kick panel speakers and a 10-inch subwoofer under the seat.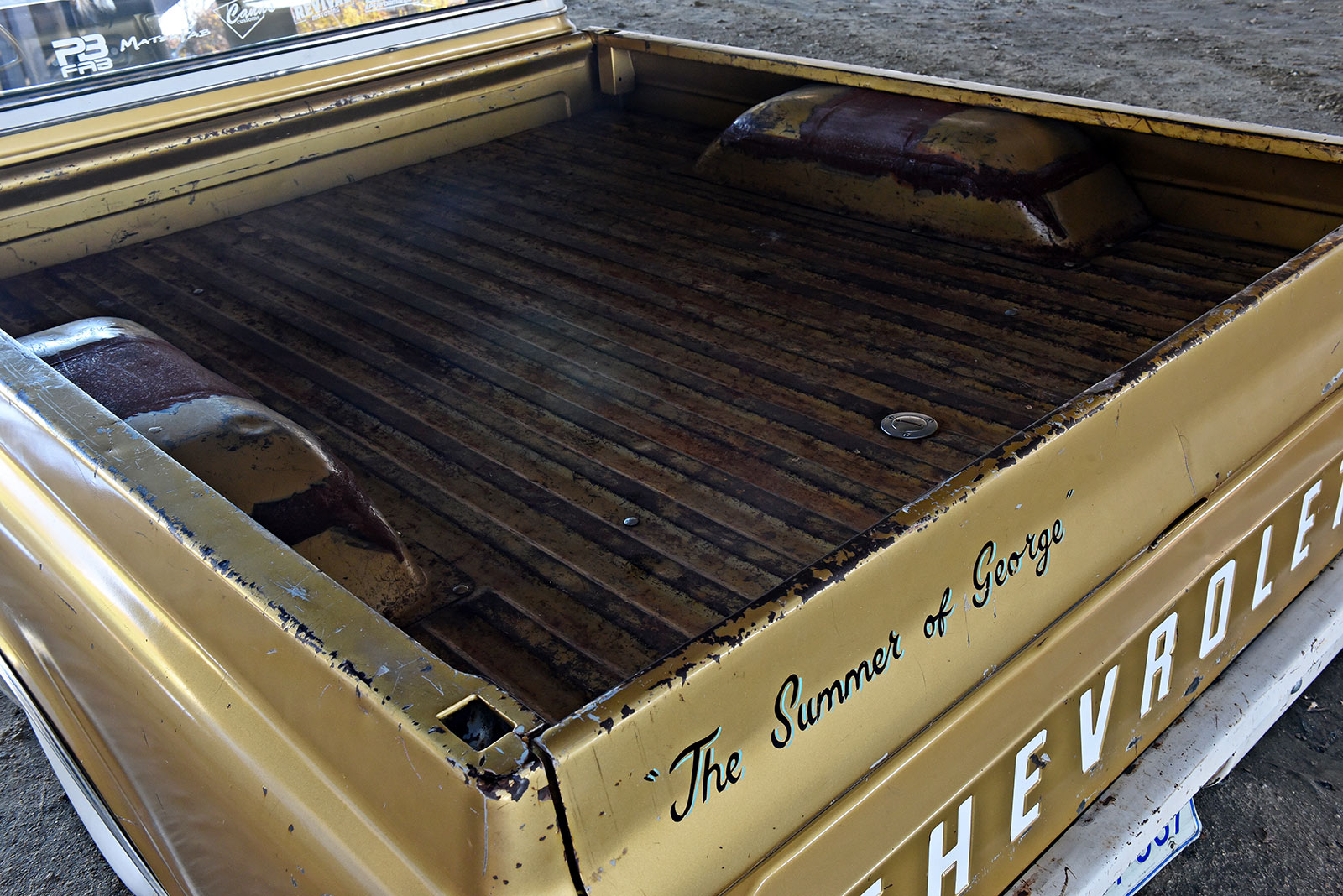 Read More: How To Install 1967-72 C10 Big Brake Kit
Gold Standard!
Once completed, Phill wasted no time getting it on the road permanently. The truck has amassed a large following, locally and on social media. "Not a lot of trucks up here in New England look like Goldilocks. She kind of stands out." No question that this truck is an appreciated ride up along the Rhode Island coast.
Of course, Phill knows he couldn't do it alone. "I want to thank all the amazing people in my life who have supported me in this journey. My beautiful wife, Rebecca, for always being the voice of reason and always lifting me up when I lacked the motivation to finish projects. All my friends who worked with me late at night (granted there was free beer) wrenching on it, helping me, teaching me, or just giving me a hand lifting around the cab. Specifically, Ian, Tubby, Corey, Hugo, Donny, Mater, and everyone who has been a supporter of me. I couldn't have put together Goldilocks without the help of my friends."