Rolling on a Roadster Shop Chassis and LS7 engine, This '57 Chevy Wagon is One Heck of a Ride
By Brian Brennan – Photography by Wes Allison
We all know that history can't truly repeat itself but it can surely come close. Tom Eckholdt of Arizona has brought his current '57 Chevy 210 wagon into today's world of refined hot rods, but not after plenty of practice.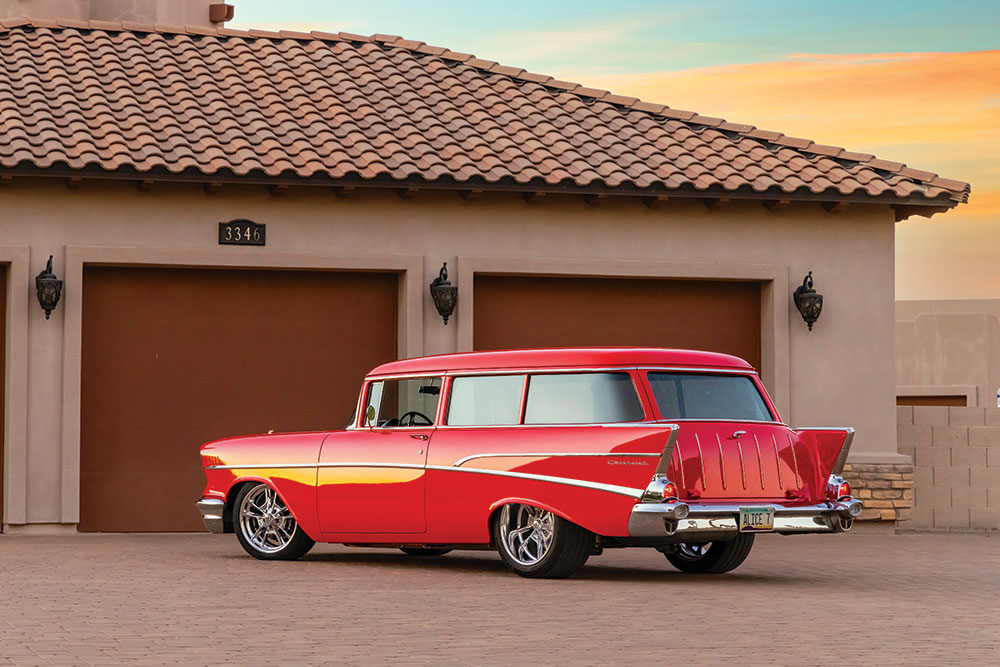 It was a long time ago when Tom the teenager brought home his first '57 Chevy 210 wagon. Over the next three years he quickly received an education on what it takes to keep a hot rod on the road and that education would bring his current '57 Chevy 210 wagon to its present brink of perfection. You see, back in the day he went through five engine swaps, two transmissions, and 14, yes 14, rearends, "spitting" one right after another. We are guessing, and we are also sure Tom would agree, this resulted from enjoying the benefits of hard driving. The last engine swap was based on a '66 Chevy 425hp V8. Think about that for a moment. This was the introductory year for the RPO L72 (precursor to the L88) with its 427 ci, staggering 425 hp, 460 lb-ft, and an impressive 11.0:1 compression ratio. This motor was the "MacDaddy" of them all for its time. The way we see it, that's the perfect motor then, and now, for any hot rod—especially a '57 Chevy wagon. Tom tells us, "The original car was fast but with stock brakes, manual steering, and so on, it was anything but safe – but it was fun!"
Read More: The Forgotten Tri-Five Chevy
In Tom's own words, "I wanted a loose recreation of that car. It was still to have a 427  engine, still a stick shift, but much more refined." We're thinking he has achieved his goal with an LS7-powered (that's 427 inches), backed up to a six-speed T56 transmission from a Viper, all fitted within the confines of a Roadster Shop chassis, making his present '57 Chevy wagon the "recreation" of his earlier ride.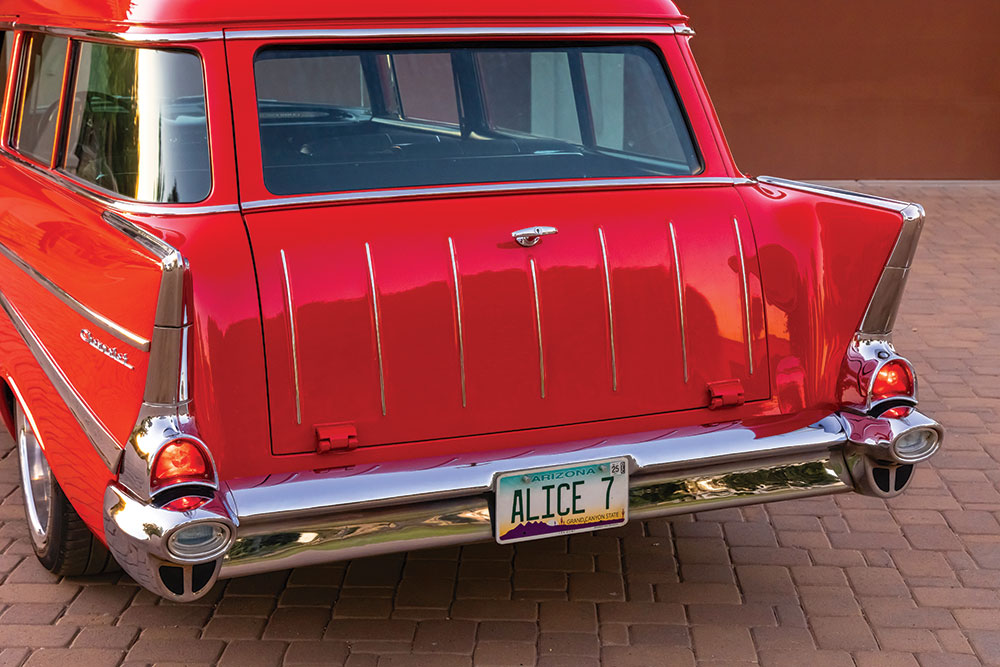 We first spotted the station wagon at this past summer's Danchuk Tri-Five Nationals 2021 when it was awarded the All Chevy Performance Top Performer award. In order to win the car had to perform at the dragstrip, the Corvette Test Track, and a 50-mile drive around Bowling Green. It did so admirably, thus taking home the honors.
Tom was fortunate to have a number of his friends help him achieve his current goal for the '57 Chevy wagon; Shaun Price, Jack Wingfield, Sterling Allen, and his friends at Driven Speed Shop.
The frame came from Roadster Shop featuring their drop spindles, coilovers, and power rack-and-pinion steering. The big brake kit is based on Wilwood 13-1/2-inch drilled-and-slotted front rotors with 13-inch rear rotors plus calipers. In the back is a 9 inch rear end that houses a limited-slip 3.50 gearset and Strange axles. Rolling stock comes by way of Billet Specialties Grinders model wheels measuring 19×11 in back and 18×8 in front, all wrapped with Michelin 295/40R19 rubber in back and 225/45R18 rubber in front.
The 427-inch LS7 engine started out as a dry sump but was converted to a wet sump pushing out 560 hp. It utilizes a stock LS7 ignition coils but a Texas Speed cam and valve springs spice things up a bit. From here Tom built the air cleaner and dropped it into service along with a custom exhaust system based on a pair of Tom's fabricated headers and cutouts. A Viper T56 6-speed transmission with a Mcleod twin disc clutch kit and a QuickTime bellhousing. Note that the shifter is topped with a '64 Chevy handle.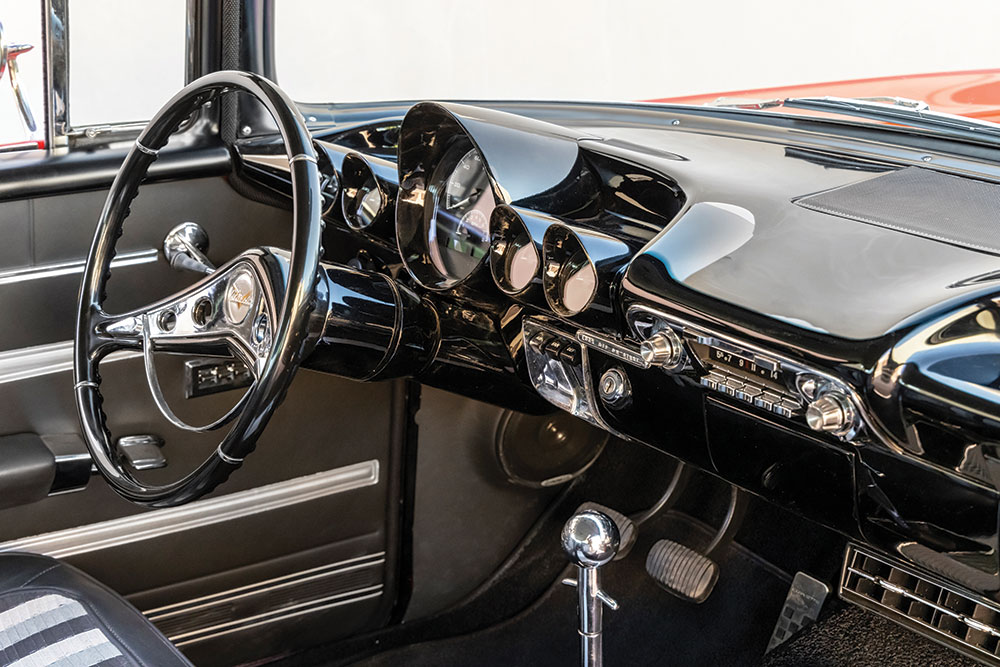 Read More: The Danchuk Tri Five Nationals 2021
While there aren't numerous sheetmetal changes there are a few clever variations to the factory metal and trim. Remember we spoke about the healthy rubber that rides beneath the '57 station wagon body and to make that happen Tom fabricated the 2-1/2-inch wheel tubs. A quick look shows that the hood was shaved as were the parking lights from the grille bar; turn signals were then introduced into the bumper ends. The front bumper also shows, or lack thereof, as the bumper bolt holes were filled. The rear fin trim area was extended while on the tailgate there are shortened stainless steel trim strips that come by way of a '35 Ford hood. One of the more subtle changes you will see up front occurs on the side of the fenders. All of us are aware of the three reverse-punched louver designs that we see on stock '57 Chevys, however in this case look more closely and you will see that there are four reverse-punched louvers. Nice, subtle touch. All of the sheetmetal is sprayed in a PPG custom mix that Tom describes as "not red, not orange" in a basecoat/clearcoat application. Whatever it is there's no doubting that this is a hot rod color through and through.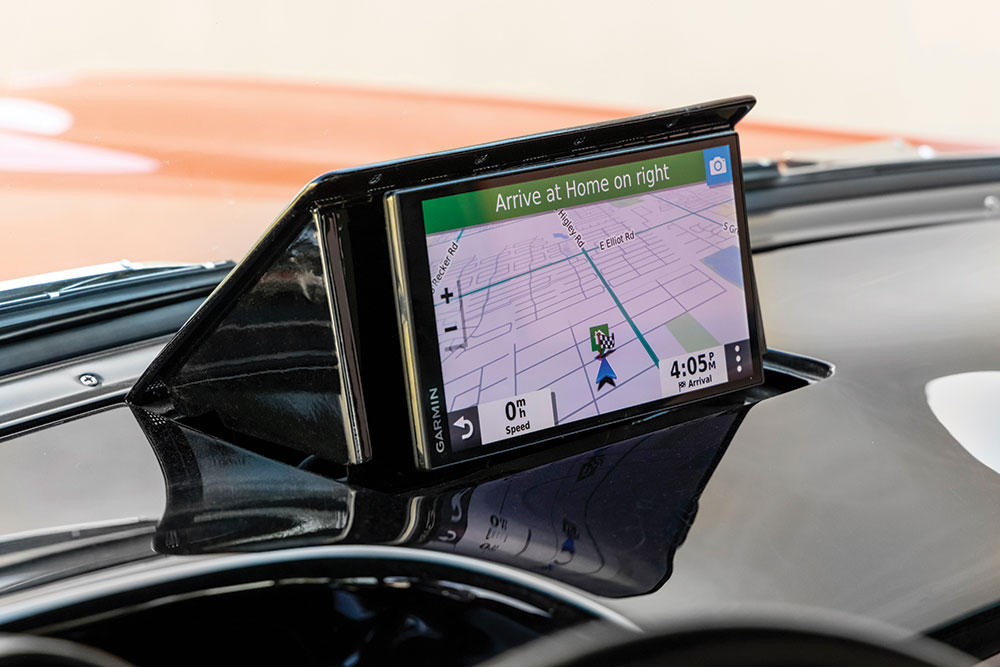 The interior has also undergone a handful of tastefully achieved modifications. The rear cargo floor is modified to accept the enlarged wheel tubs. The tubs also lead to the rear seat being modified but retaining its capability of folding flat while also being outfitted with a stainless steel one-piece radio speaker grille. The stainless trim around the rear seat is one-piece owner fabricated. Beneath the rear flooring you will spot a passenger car gas tank rather than the traditional wagon tank. We are saving the best on the interior. Look at the dash and you will recognize it as Chevy but this time it's a '59 Chevy that's shortened 2-1/2 inches and filled with Dakota Digital VHX gauges. It too was modified to accept a pop-up navigation screen where the '57 radio speaker grille would normally appear. To bring all of the electrics to life is an American Autowire harness while fitted beneath the dash is a modified GM tilt steering column with a cutdown '59 Chevy wheel. The front bucket seats, the center console, and the shifter are all from a '64 Chevy. The shoulder harness arrangement was built into the car with the straps exiting through the window moldings. The upholstery comes by way of Ciadella Interiors in black with multi-color panels while the brightwork was handled by Highline Plating.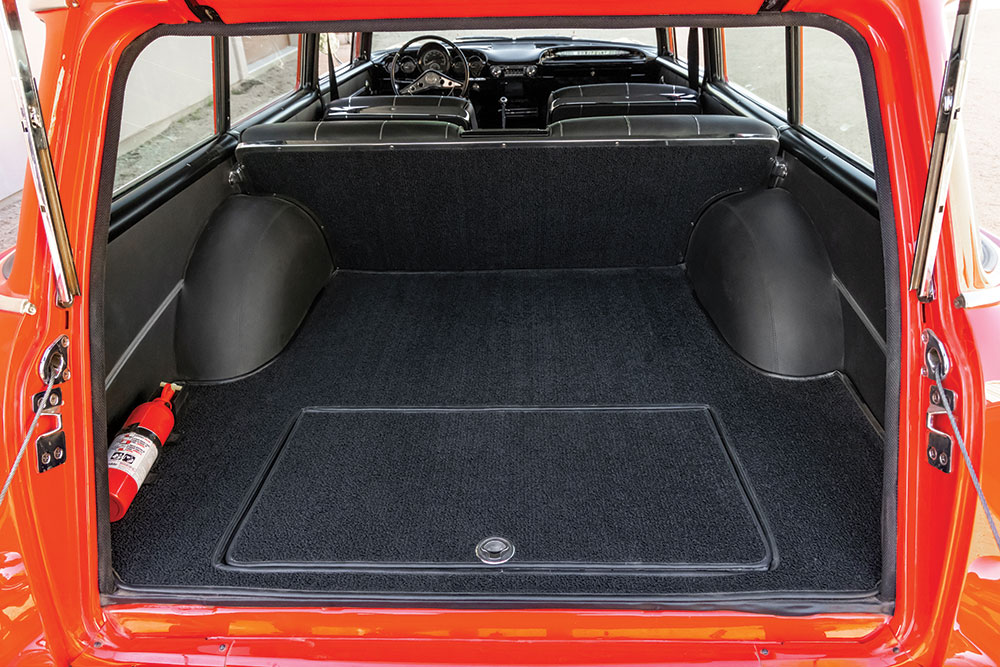 Read More: Sport Wagon: A Rare Big-Block-Powered Two-Door Chevelle Wagon
Well, there you have it – an amazing '57 Chevy wagon that has the features you would want in a modern ride but with traditional hot rod looks. MR