Brett Parker's Fast Ford Futura "Warbird"
By Chuck Vranas – Photography & Videography by the Author
The stunning 1963 Ford Falcon Futura laid out across these pages is owned by Brett Parker of East Longmeadow, Massachusetts, and blends a perfect combination of performance and vintage road race style, making it a standout in any crowd. When launched to the public, the Ford Falcon was basic cheap transportation for up to six adults, showcasing eight models available in various trim packages to suit your individual needs. Top-of-the-line luxury was the fashionable Futura package while the performance Sprint option packed a 260ci V8 engine power from the Ford Fairlane as the first generation evolved. Its lightweight made it a perfect base to hop up for competition on both road racing and drag racing.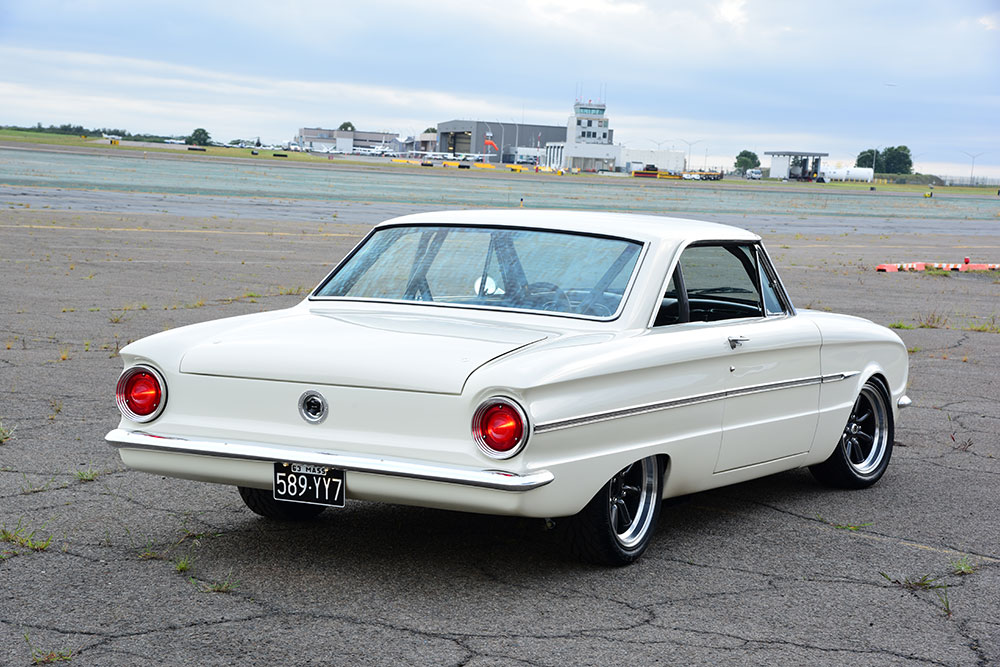 For Brett, his indoctrination into discovering a world of cool started on his dad's shoulders while visiting local swap meets at the crack of dawn. It was there that he learned the importance of history and design while combing through endless aisles packed with everything from vintage cars and snowmobiles to outboard motors and even chainsaws. There's always one fateful day that sets a path for the future and for Brett it was at a swap meet where he was startled by the sounds of a vintage V8 firing up. Turning to face the powerful V8, he saw a small white car with a fender script that read Falcon. From that point on he became consumed with the model, focusing on saving as much as he could, mowing local lawns till he had enough to find one of his own.
Read More: Triple Crown of Rodding: 1971 Ford Maverick wins Best Street Machine
By the time he earned his license it wasn't long till he located a 1961 Ford Falcon Futura project car. It gave him the opportunity of rebuilding his first engine, lowering the suspension, and even laying down his very first paint job. Per Brett, "There's nothing better than going out driving, exploring backroads where you've never been, and seeking out classic architecture to appreciate." As the years passed, he continued with his passion for Falcons with a slammed 1963 Country Squire wagon with enough room to haul swap meet finds and kayaks for recreation. Finally, it was time to start the search for another Futura hardtop envisioning the build of a street car with enough zest to take on local track days, hill climbs, and autocross events. After months of searching, he located what appeared to be a clean 1963 model with a six cylinder engine and a bagged stance, so he made the deal. Once the car was home, however, it proved to have plenty of issues once he started to look deeper into its layers, discovering its needs for plenty of fabrication to repair rust issues.
Unfortunately, the old car sat for a few years until Brett met with good friend Mike Champagne of Stafford, Connecticut, to spearhead the project and bring it back to life. The pair shared the same vision of what it would take to infuse the perfect combination of road race performance while also adding subtle changes to accent its classic lines. To get started, adding strength to the factory Unibody structure began with removing the rusted floor pans, replacing them with fresh bead-rolled steel panels, transmission tunnel, inner rockers, and custom roll cage. The rear sub rails were then boxed with custom subframe connectors tied into the floors. Out back, a Ford 8-inch rear end and Eaton Detroit Truetrac spinning 3.00 gears linked to 28-spline Moser engineering axles. It's suspended in place by a TCI Engineering triangulated 4-link and sway bar deftly matched to single-adjustable JRi coilovers with PAC Racing springs. For razor-sharp handling, a Classic Performance Products mini subframe kit featuring their exclusive upper and lower tubular control arms and stock spindles combines with single-adjustable JRi coilovers wearing PAC Racing springs, Maier Racing billet shock mounts and MOD shock tower brace. When it's time to stop, a Wilwood dual master cylinder moves fluid through stainless brake lines to matching 11-inch drilled-and-slotted discs with four-piston calipers anchored at each corner. For the ultimate road race look, a set of 16×7 Konig Rewind wheels wear BFGoodrich g-Force T/A KDW rubber, sized P205/50ZR16.
Read More: Out Of This World 1963 Ford Galaxie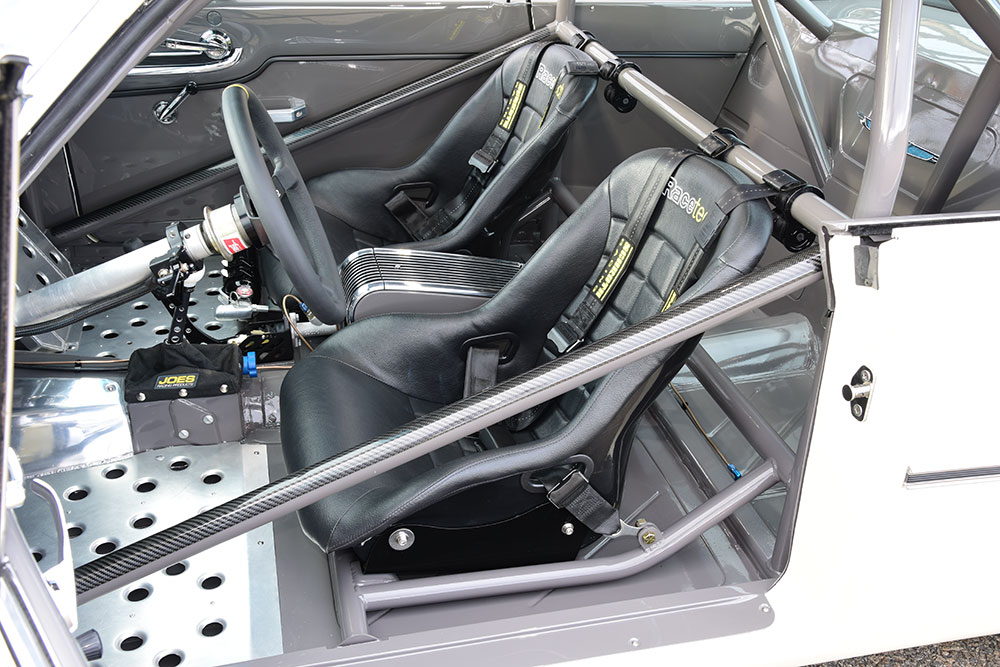 Bringing plenty of power to the party meant jettisoning the original straight six engine in favor of a V8 mill. Brett had CREB Engineering punch an 1989 Mustang 302 block to 347, filling it with a forged steel Scat crankshaft linked to matching Scat rods capped by forged aluminum Wiseco pistons while a Trick Flow cam sets the beat. A set of massaged Ford E7TE iron heads make plenty of seamless power especially when matched to a Redline Performance intake with a squadron of 44 IDF Weber carburetors rebuilt and tuned by Jim Inglese to deliver the punch. It sparks to life through an MSD ignition with exhaust moving through a set of Sanderson headers to a custom 2 ½-inch ceramic-coated exhaust with Black Widow mufflers. Other cool bits include a Powermaster alternator and starter, FlowKooler water pump, Optima battery, aluminum Griffin radiator and K&N air filters. Power moves through a 1967 Ford Top Loader 4 speed transmission, modified by Champagne, with dual-friction clutch and lightened flywheel linked to a driveshaft by Denny's driveshaft.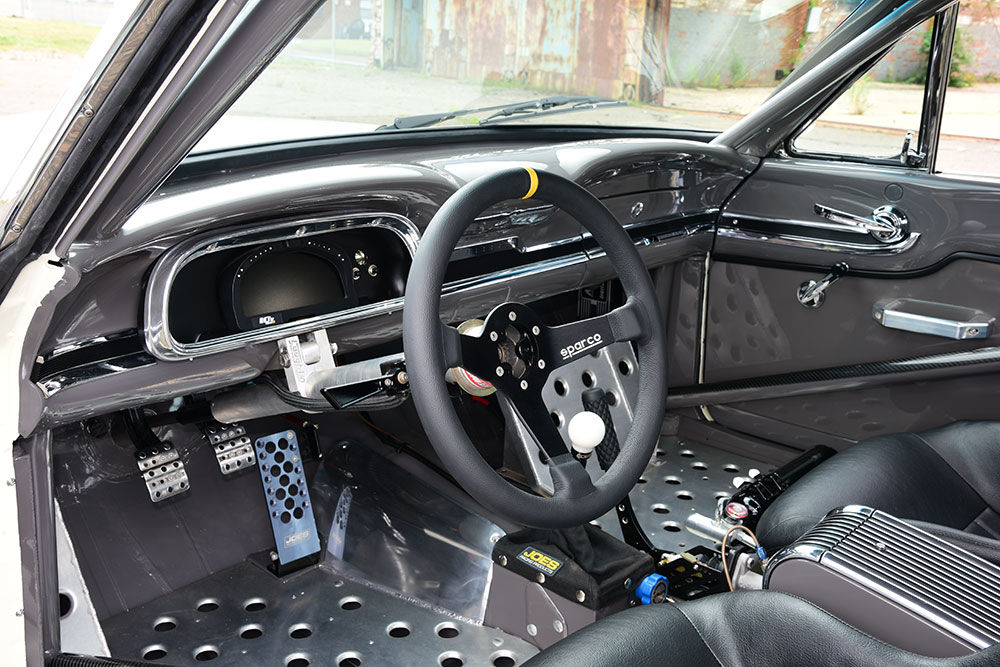 When it came to addressing the body, there was plenty of metalwork for the pair to handle before any custom work could commence. Digging into the panels revealed plenty of body filler masking the evils of the past (earning it the name Warbird) requiring the replacement of the quarter-panels and trunk extension panels with fresh steel from Schott as well as sourcing a pair of rust-free doors. Up front, heavy-duty fiberglass fenders from US Body Source were added along with a matching replacement hood to act as a base for several subtle updates. To add allure, a Harwood fiberglass '67 Camaro front lower valance was sectioned and widened along with adding a chin spoiler while matching fiberglass bumpers were widened and pinched along with fabricating a steel roll pan out back. Even more cool includes a functional 1963 Thunderbird hood scoop molded from an original hood, shaved cowl vent with mono-wiper, custom radiator cover, and 1964 Australian Falcon XM-Series DeLuxe fender spears. With all the fabrication complete, Champagne followed in making the body sharp while also setting all the gaps. He then laid down the vibe with a coating of Ford Wimbledon White from Tamco. Added details include glass by Tony Misiura at Vintage Glass stainless polishing by Ben Candal at Qualworks and bumper wrap by Sam Scrivner at Peak Graphics.
Read More: A Single Steering Wheel Began This Ford Ranch Wagon Build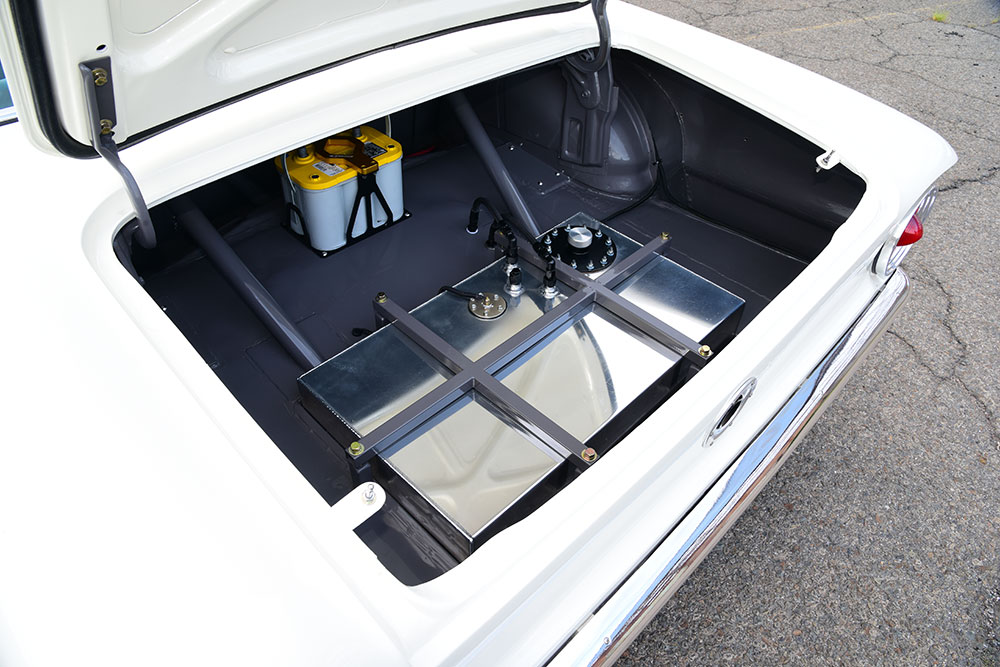 To bring an equal amount of performance styling inside, the factory dash was shaved and filled with the addition of a rare radio delete plate, all accented by Futura dash trim. The original gauge area was then modified to house a Racepak IQ3 display dash to monitor the vitals while a R345 Sparco steering wheel with Sweet Manufacturing quick-release hub to a Laughlin aluminum steering column. A Hurst Competition-Plus shifter pulls the gears through a JOES Racing 3-inch setback stick while a GRP4 Fabrications vertical handbrake is ready for action and a Vintage Air Gen II mini heater kills the chill. Custom-fabricated interior panels continue the race theme while a Kwik Wire 14-circuit harness ties it all together. Finally, low back Racetech racing seats (RT4000WLB) were custom-covered in black vinyl by Mitch's Kustoms in Monson, Massachusetts, who also fitted the Schroth Racing four-point harness to the seats. The result of two guys working hard in a small garage with the same objective of building a wicked car the way it was done decades ago is still cool and we dig it. MR