Jason Graham Builds a Pro Touring '63 1/2 Ford Galaxie
By Brian Brennan – Photography Josh Mishler
When speaking with any hot rodder you have to like their take on the rodding life when they end the conversation with, "When the current show season is over then it's game on and hammer down!" Such is how the conversation went with Jason Graham of Jason Graham Hot Rods and Cool Customs (JGHR&CC) out of Portland, Tennessee when speaking to him about his personal ride, a '63 1/2 Ford Galaxie two-door Fastback. It rides on a Roadster Shop chassis and is powered by a supercharged Coyote engine. He, and his wife, Tasha, are no strangers to building rides for their customers. We are pretty sure we couldn't name all the hot rods and customs that have come from their shop but it's a bunch. They drive what they build, as most of you should remember "Babycakes Merc" (Tasha's personal ride) or maybe Jason's chopped-and-channeled '31 Ford Tudor Sedan?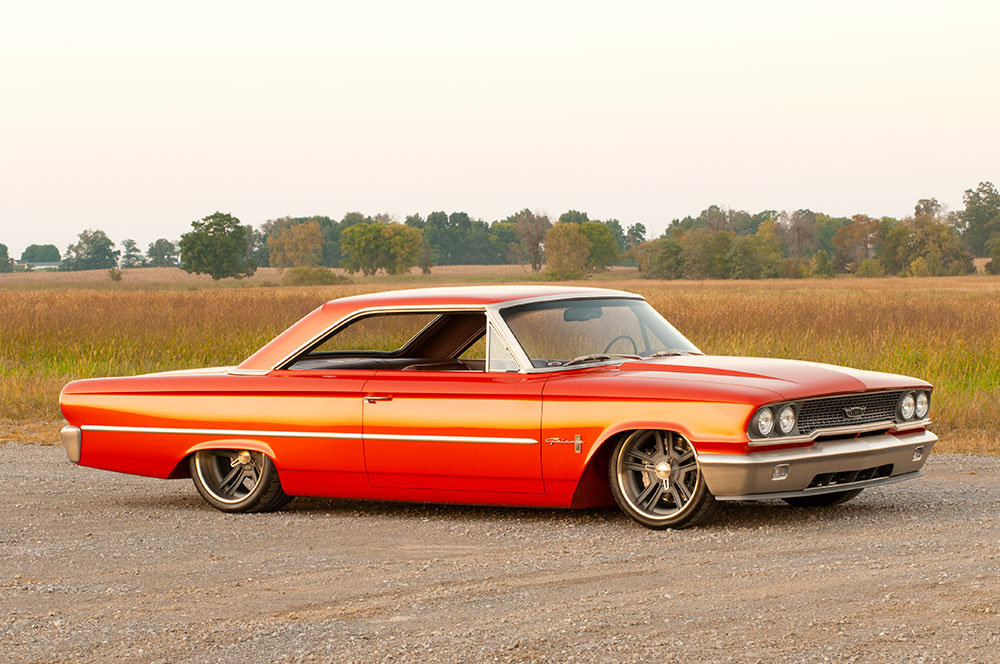 Read More: The Triple Crown of Rodding, 3 Penny Roadster
While well known for their lowdown hot rods and customs, Jason thought it might be a good idea to build something different, something that would promote what they could do in the "pro touring" direction of our industry. Not just a muscle car or street machine but something that had the looks, build quality, engine performance, and the ride to set it apart and really get people to look. We think he has it down with his '63 1/2 Ford Galaxie shown before you. (For trivia buffs: The '63 1/2 Ford was the industry's first official mid-year introduction.) The selection of the '63 1/2 Ford Galaxie came about as it is one of his all-time favorite rides. Aside from his shop cranking out many hours on this build Jason would also like to thank a handful of friends as he enlisted their efforts: John Campbell, Micah Thornton, Justin Gannon, Deon Westry, and Chris Ryan.
The Galaxie was nothing more than a discarded shell as Jason began its resurrection based on an idea brought to life through the artwork of Eric Brockmeyer of Eric Brockmeyer Designs. His rendering was used for inspiration.  Look at the rendering and then the photos–it's amazing how faithful to the artwork the final build is. Now it was time to let the sparks fly and the fabrication begin.
The REVO custom chassis is from the Roadster Shop and features a 3-inch-wider front track width, thereby allowing the 5.0 Coyote Engine to sit lower in the frame. Strapped to the frame is a 26-gallon custom aluminum fuel tank made at JGHR&CC. The REVO custom chassis is outfitted with an Independent Front Suspension featuring large-diameter upper and lower control arms (1-1/4- and 1-5/8-inch) that are fully TIG welded.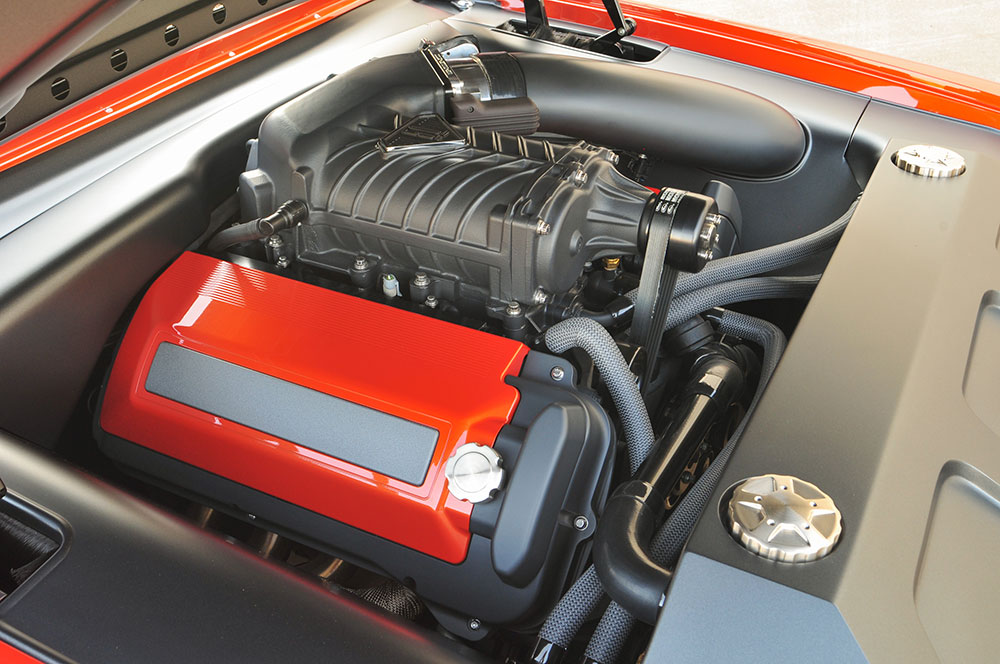 Other Independent Front Suspension accessories include AFCO coilovers, Baer Pro+ 14-inch drilled-and-slotted rotors with brushed nickel six-piston brake caliper, and a Flaming River manual rack-and-pinion with a Flaming River Microsteer Electrical Power Assisted Steering (EPAS) system—ideal for hot rods that do not have a speed signal present. In the back is a Strange Engineering Ford 9 inch rear end, 31-spline axles, 3.70 limited-slip differential, splined-sway bar, and receiving the Galaxie's horsepower through an aluminum driveshaft from the Driveshaft Shop. There is more in back in the form of Penske coilovers, Pro+ Baer brakes, this time 12-inch drilled-and-slotted rotors with brushed and nickel-plated four-piston calipers and topped off with a four-link setup. All the brakes benefit from the EBS electric power assist.
The custom chassis rides along on a full set of custom one-off wheels that were designed by Eric Brockmeyer, turned out on a Norberg CAD program, and One Ten Machining handled the making. From here Mr. Speed powdercoated the wheels with brushed nickel hoops, accenting the nickel calipers. The fronts are 19×9.5 with 20×12.5 rears each wrapped with Federal high-performance radial rubber that measures 265/35R19 and 345/30R20.
Read More: Wheeler's '69 Camaro, the Perfect Pony Car Build?
Proving all the muscle this Galaxie will need comes through a '17 Ford Coyote engine (aluminum block and heads) that sports custom valve covers turned out by One Ten Machining. Resting between these one-of-a-kind valve covers is a VMP Performance supercharger that features a custom-built air intake system Jason turned out himself. The ECU that controls the Ford 5.0 Engine is linked by a Ron Francis Wiring harness that receives it "juice" from an XS Power AGM battery. The exhaust system is based on 1-7/8-inch stainless steel headers that run back through Borla 3-inch stainless tubing then through a pair of Borla Pro XS mufflers. Maintaining the engine's cool is a custom aluminum radiator from Brice Thomas Radiator that is itself cooled down by a pair of GS Cooling electric fans. From here the 5.0 Coyote is backed up to a Ford 6R80 transmission that's run through the gears via a Lokar shifter, and it too is cooled through a remote tranny cooler with its own electric fan.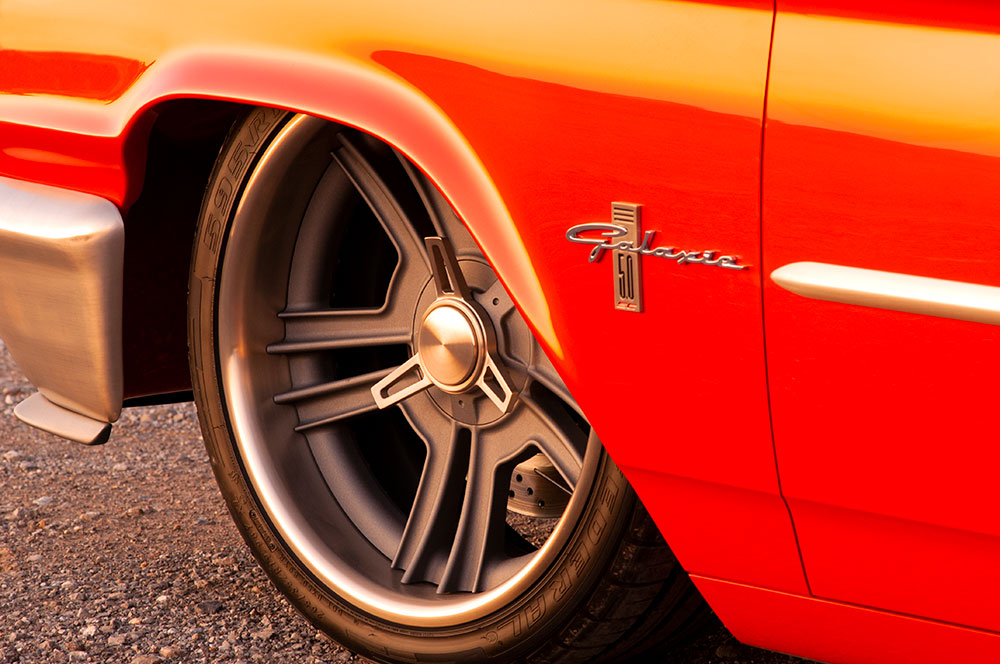 The '63 1/2 Ford Galaxie is a two-door Fastback that while it has some body mods was redone, paying particular attention to fit and finish. The rockers were extended 1 inch lower, meeting up with the frame rails and then boxed. There is also a rear belly pan with heat screens acting as heat vents for the mufflers. More CNC work is found in the custom grille while there are several subtle custom metalwork changes. There are also a pair of 3-inch-wider custom wheel tubs also from JGHR&CC. While it would be difficult to tell the hood while stock it has been slightly "bubbled" to provide clearance for the supercharger mounted on the Coyote V8. From here all the bodywork was handled at JGHR&CC while the custom-mix Glasurit Inferno Pearl was applied ever so smoothly by Madison Alexander.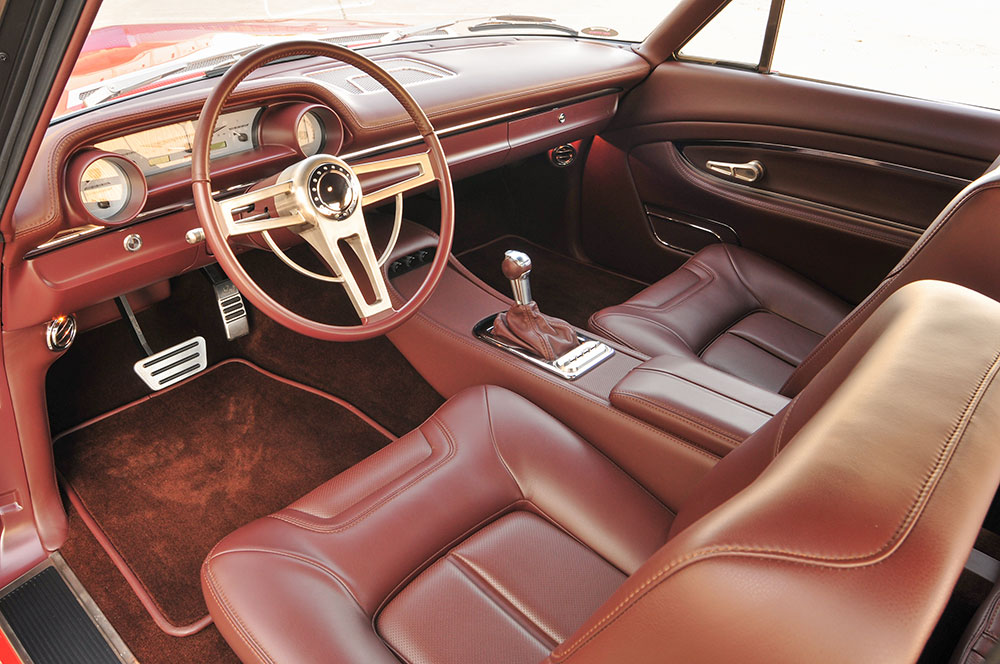 Inside the dash is fundamentally stock, although it was smoothed over and features a leather topside. From here the Dakota Digital gauges started life out as a VHX-63F-GAL direct-fit kit with a few color alterations and JGHR&CC logo added. Vintage Air supplied the AC and heating while a Flaming River steering column is positioned with a half-wrapped, leather, one-off custom steering wheel from One Ten Machining. The front buckets are based on Snowden bucket seats while the rear bench/bucket combo is custom made. JGHR&CC is responsible for all the fabrication of the interior panels, rear seat, center console, and trunk panels. Miller used Moore & Giles Carlyle leather on the dash, seating, and all panels. Carlyle leather was used as it is a South German material and is a semi-aniline leather that offers uniform color and a soft touch to the hand. (Semi-aniline is a leather that's colored by immersing the hides in a dye bath with transparent, aniline dyes that fully penetrate the hide. Generally, only the most pristine hides are used for this process. Why? All surface imperfections and flaws will be visible in aniline dyed leathers.) It should be noted that Miller tweaked the seating, center console, and panels to his liking before applying the foam and stitching. Hiding under the carpeting and elsewhere is a liberal dose of DEI Boom Mat to keep things quiet and comfortable.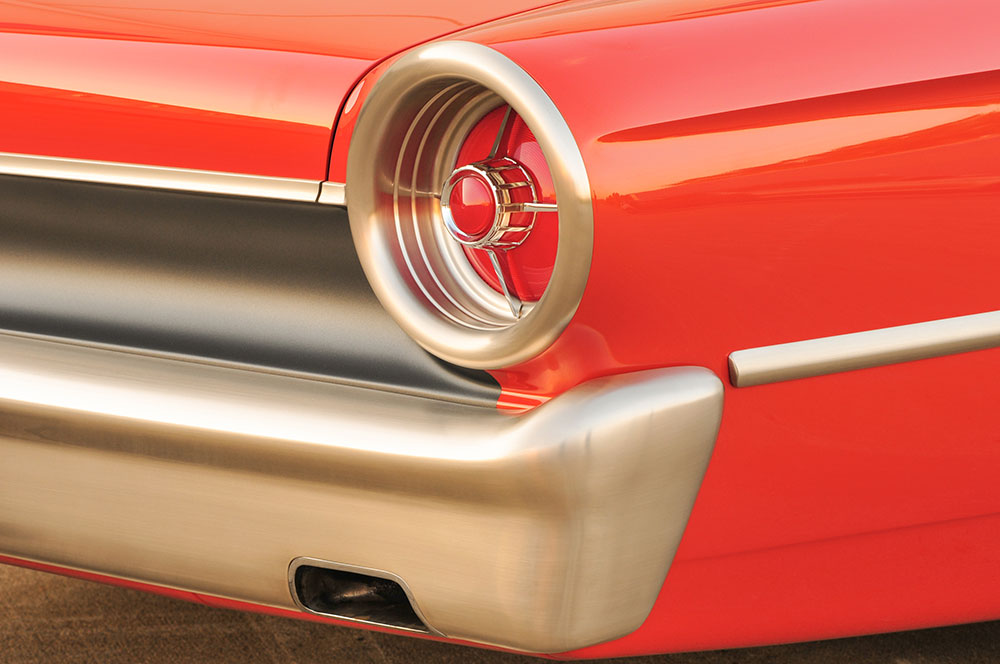 Read More: The Magic of Magneto Ignition for Modern EFI
The Ford has made the run to a handful of events and the reaction has been overwhelming. The Galaxie runs a pair of nameplates that depict 5.0 SC (for 5-liter, supercharged) as it is a bit of a play on the original name. In 2021 Jason took home a Magnificent 7 award from Shades of the Past 2021 Roundup (where the Triple Crown of Rodding winners are selected) as well as a Goodguys Custom Rod of the Year, a Builder's Choice, and a Best of Show. At the time of this writing the Galaxie was being readied for the Barrett-Jackson Cup award in Scottsdale Arizona, where we believe it will "stand tall" amidst the competition. Surely this build has clearly moved Jason Graham Hot Rods and Cool Customs into an ever-widening category of builds. MR