Jimmy Shaw's 1971 Maverick is a 200 MPH+ Monster
By Brian Brennan – Photography By John Jackson
There was a time when I would hear the word "Maverick" and immediately think of James Garner. Maverick was an old west hero who was good with a gun, a deck of cards, and very popular with the ladies. In later years he played the part of an oddball detective with a propensity to find people who didn't want to be found (while somewhat staying out of trouble himself). He moved about in a gold Pontiac Firebird and then came a collection of GMC pickup trucks. Nowadays when I hear "Maverick" I think of a twin-turbo–equipped 1971 Ford Maverick owned by Jimmy Shaw of Mississippi and built by Jesse Greening and his staff at Greening Auto Company (GAC) in Cullman, Alabama. This most recent Maverick memory is one that's triple-digit blindingly fast and is the 2021 Triple Crown of Rodding winner for Best Street Machine and has earned many other deserving awards.
If you are wondering just how fast "blindingly fast" is … how about Jimmy's 1971 Ford Maverick covering the standing mile at 202.74 mph at the East Coast Timing Association event run at Blytheville, Arkansas. There's a memorable line from the movie Maverick where Jodie Foster speaks: "You thought that was fast? I thought it was fast!" We couldn't agree more but, in our case, we are referring to Jimmy's 1971 Maverick running 200-plus mph, which is fast for any race car, especially a street car.
If your build requires that you assemble such a capable hot rod, then you must start with an equally capable Roadster Shop chassis. They provided a custom one-off Fast Track chassis (note the CNC drawing) where the Roadster Shop's efforts were based off the dimensions provided by Greening Auto Company. It features the Roadster Shop narrowed track width with Fast Track Independent Front Suspension and Independent Rear Suspension, splined sway bars, JRi double-adjustable coilovers, a Currie Enterprises third member outfitted with Driveshaft Shop axles, and a Truetrac differential that ran 3.28 gears for the mile and currently in use for the street. (On paper, the "dream wheel" says in Fourth gear at 6,800 rpm the car should run 239—but that's on paper.) Other chassis appointments include Baer Extreme Plus brakes with 15-inch rotors in front and 14-inch in the back along with XTR rotors and monoblock calipers all around coupled with a Wilwood pedal assembly. To run extreme speeds, one must run the "right" tire. In this case Greening Auto Company went with Pirelli P Zero Z-rated 220 treadwear rubber measuring P295/30ZR18 and P355/30ZR19 wrapped around the 18×10 and the 19×13 one-off GAC wheels.
Now, we all know it takes massive amounts of horsepower to move a hot rod through the air at speeds exceeding 200 mph. The power plant is based on small-block Ford specifications by Dart as a 427-inch iron block with aluminum heads meticulously put together at Bennett Racing Engines. The Bennett motor outputs nearly 1,000 hp and nearly 900 lb-ft of torque to the rear wheels. Of note are the valve covers that carry the "Maverick" logo custom machined by GAC. More GAC machinework comes in the form of the intake manifold that serves as a base for the FAST EFI with ECU and coil, an Aeroquip fuel pump, and a K&N air filter. Taylor plug wires are also part of the "spark advancement" program that also enlists help from an XS battery. It also takes a great deal of boost to make the 1971 Ford Maverick top 200 mph, so a pair of Precision Turbo and Engine units are used. A Vintage Air Front Runner is also employed as well as a C&R engine cooler. Backed up to the twin-turbo small-block Ford V8 is a Bowler Transmission–prepped 4L80E that utilizes a Lokar shifter. Moving all this power rearward it goes through an Inland Empire Driveline carbon-fiber driveshaft.
Read More: Ford Never Had This in Mind When Designing the 1971 Ford Ranchero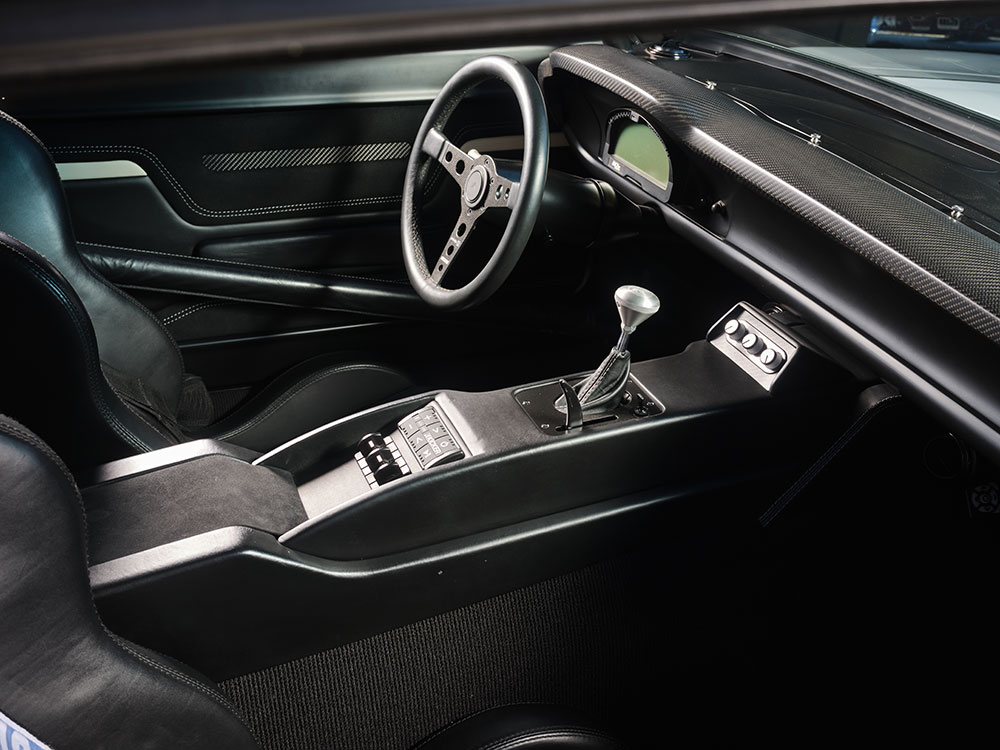 To say this 1971 Ford Maverick is "stock bodied" wouldn't be true but fundamentally it is. There are numerous amounts of massaging to enhance fit and finish, but a few modifications do jump out. The original hood is retained but now forward tilting with handmade aluminum vents fitted into their new home by GAC who was also responsible for all the bodywork throughout. Going off the Eric Brockmeyer Design artwork you will see the reworked fender flares and aerodynamic considerations such as a reworked grille and headlight area as well as the front spoiler. One more examination and you'll also note the highly stylized door-mounted side mirrors. Along the lower bodyside you will also see downforce side aero panels, in back a rear adjustable spoiler, and a rear diffuser; an air splitter (beneath the bumper). From here the 27,000-mile stocker received lots of attention in applying the Glasurit 90 Line of paint in Go Gast Greening Gray by, who else, the staff at Greening Auto Company.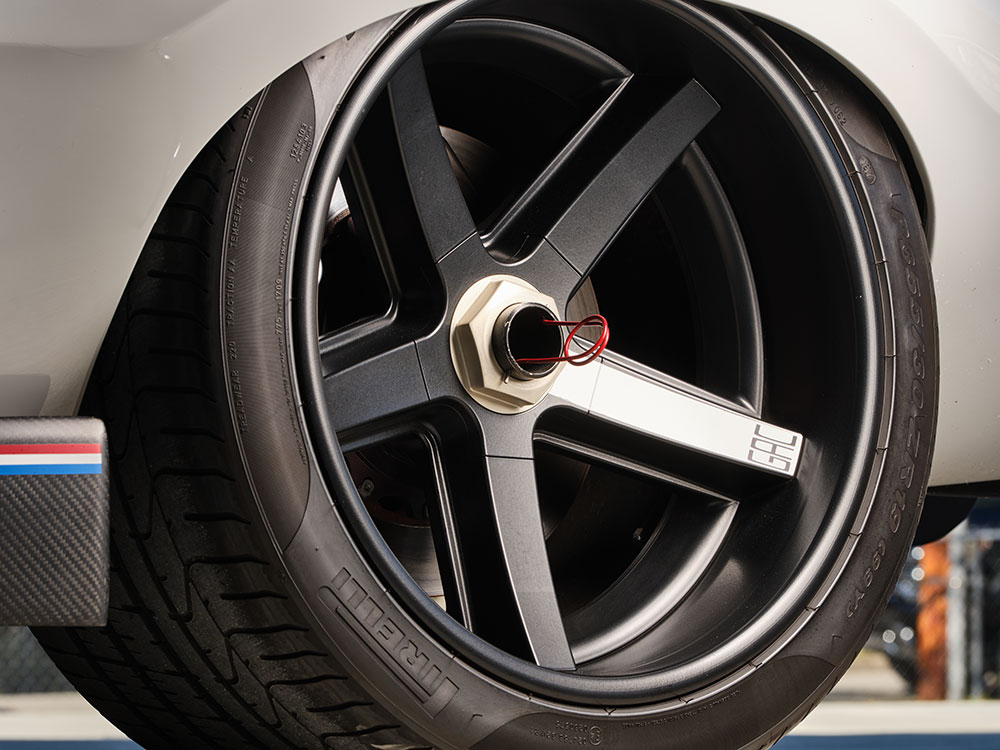 Inside the stock dash was modified by GAC with a carbon-fiber dash pad and then the Racepak IQ3 display is mounted for easy driver viewing behind the MOMO steering wheel, which is attached to the ididit steering column. Behind the dash is a copious amount of wiring by GAC utilizing an American Autowire kit. You will see a Lokar shifter in the GAC-fabricated center console, which is also home for the Kicker stereo controls, power window switches, and the Vintage Air controls. The interior is filled with custom front buckets (with Stroud race harness) stitched in leather and carpeted rear floor space all by M&M Hot Rod Interiors. The rollbar and trunk-mounted 32-gallon gas tank are more GAC items.
Read More: Falcon Futura with a 347
This 1971 Maverick, as we have mentioned, is no stranger to others appreciating it and passing along deserving awards, such as the Glasurit Best Paint, Ford Design Award, and the Gran Turismo Award all while on display at SEMA several years ago. Another especially prestigious award was the Goodguys Street Machine of the Year. Now that's fast company. MR