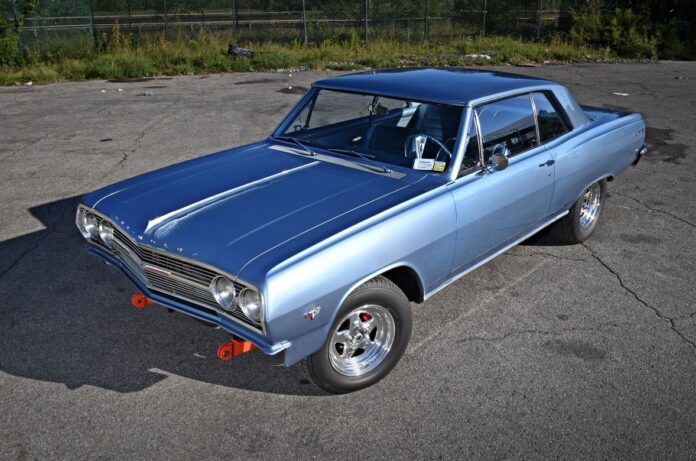 This Day Two Resto 1965 Chevelle Has Lived its Life on the Streets of New York City
By Scotty Lachenauer   –   Photography by the Author
Back in 1977 John Koch was 17 and working his way to purchasing his first car: a '69 GTO with a 400ci powerplant, 400 trans, and a pair of Hush Thrush mufflers that ended behind the driver seat. It sat high and level with the look and sound John wanted.
Scenes from American Graffiti were playing out daily on the streets of John's hometown of Whitestone Queens, where kids cruised Francis Lewis Boulevard and raced stoplight to stoplight just for the thrill of it. The serious racers would head off to the connecting highway, a stretch of roadway that connected the Brooklyn-Queens Expressway to the Grand Central Parkway for quarter-mile showdowns. It was there that races for cash played out on a regular basis and spectators flocked to overpasses to check out the muscle car battles.
In 1978 John became friends with a guy named Bobby while he was working at a hardware store assembling bicycles. "Bobby had a '64 Chevelle that he built from stray parts. He used interior bits from one car and a trans from another. He was the one who introduced me to the idea of building a car from the ground up," John fondly says.
Check it out: LS7 Powered Custom 1965 Chevy Chevelle Malibu SS
John sold off his GTO that year and grabbed up a car that was easier and cheaper to commute in. What he found was a '65 Malibu SS with a straight-six. "It was what we would consider today as a 'barn find.' It was filthy and had a water leak in the back window, which gave it enough moisture to grow some errant pot plants between the console and seat," John laughs. "For $150 I thought it had potential, so I bought it."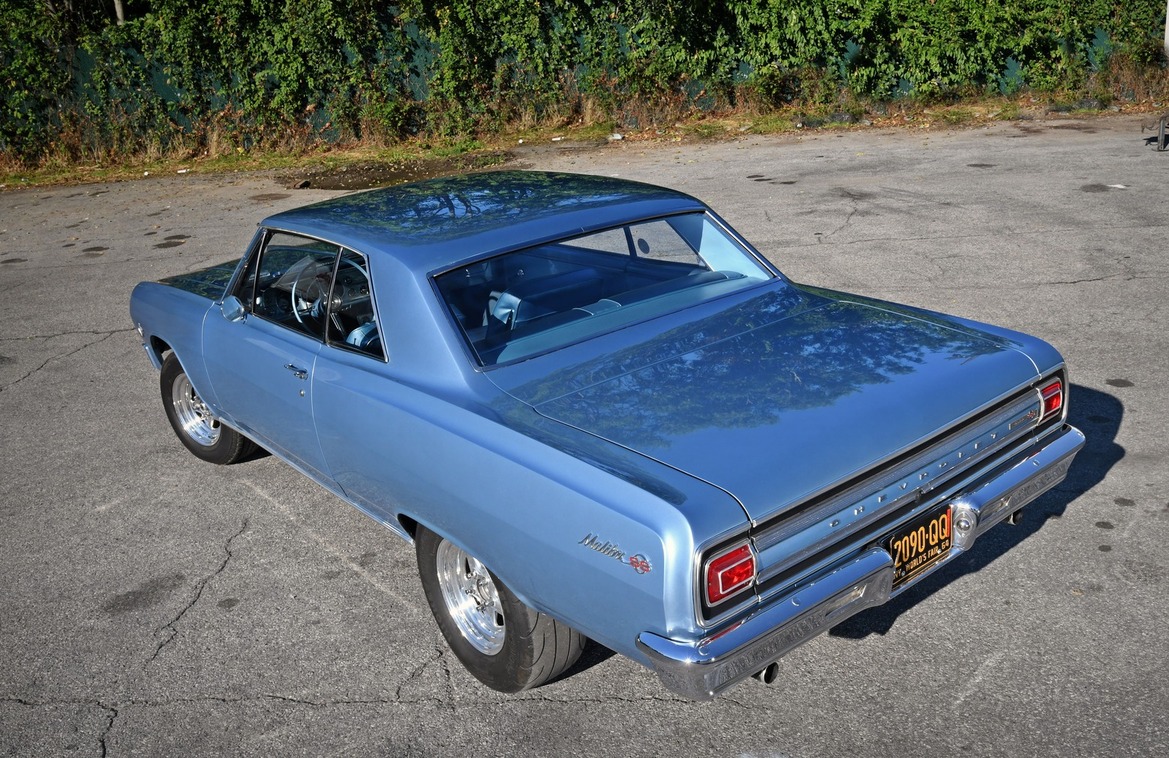 Once cleaned up, John knew the car was a steal at that price. After a tune-up, it was dependable transportation for his new occupation as a NYC firefighter. "I was based in Brooklyn and the Chevelle got me to and from work for years," John says. "The transmission finally gave out, and when I went to replace it I noticed it had an air-cooled trans with no cooling lines to the radiator. I thought that was pretty neat."
Not much later, the rearend also went out. That's when John realized the car needed to be upgraded. "Now was the time for a stronger powertrain, and I was ready for a V-8," John says. By coincidence, he ran into his old pal Bobby who still had his Chevelle. John ended up buying Bobby's Chevelle and pulling the fresh engine out of it for his Malibu.
Always wanting a four-speed, John bought an M21 for the Chevelle and installed it behind the potent small-block. By this time, he had retired the car from daily use, so a host of high-performance parts made their way to the Malibu. One upgrade was a 12-bolt posi-rear with 4.56 gears. It wasn't the friendliest daily driver option, but he also added front disc brakes, which was a wise choice for a car driven on busy city streets.
In 2009, John retired from the fire department and found himself with plenty of free time to tackle a full restoration of the Chevelle. "I had acquired parts over the years and I wanted to build a Day Two car with that cool '70s look," John recalls. "A car you would drive during the week and tow to the track on weekends."
The Chevelle was still in its original skin, so a fresh repaint in factory Mist Blue Metallic was needed, along with replacing some panels. Once finished, going with a big-block was the plan while keeping the 327 badges to give it a deceitful sleeper look.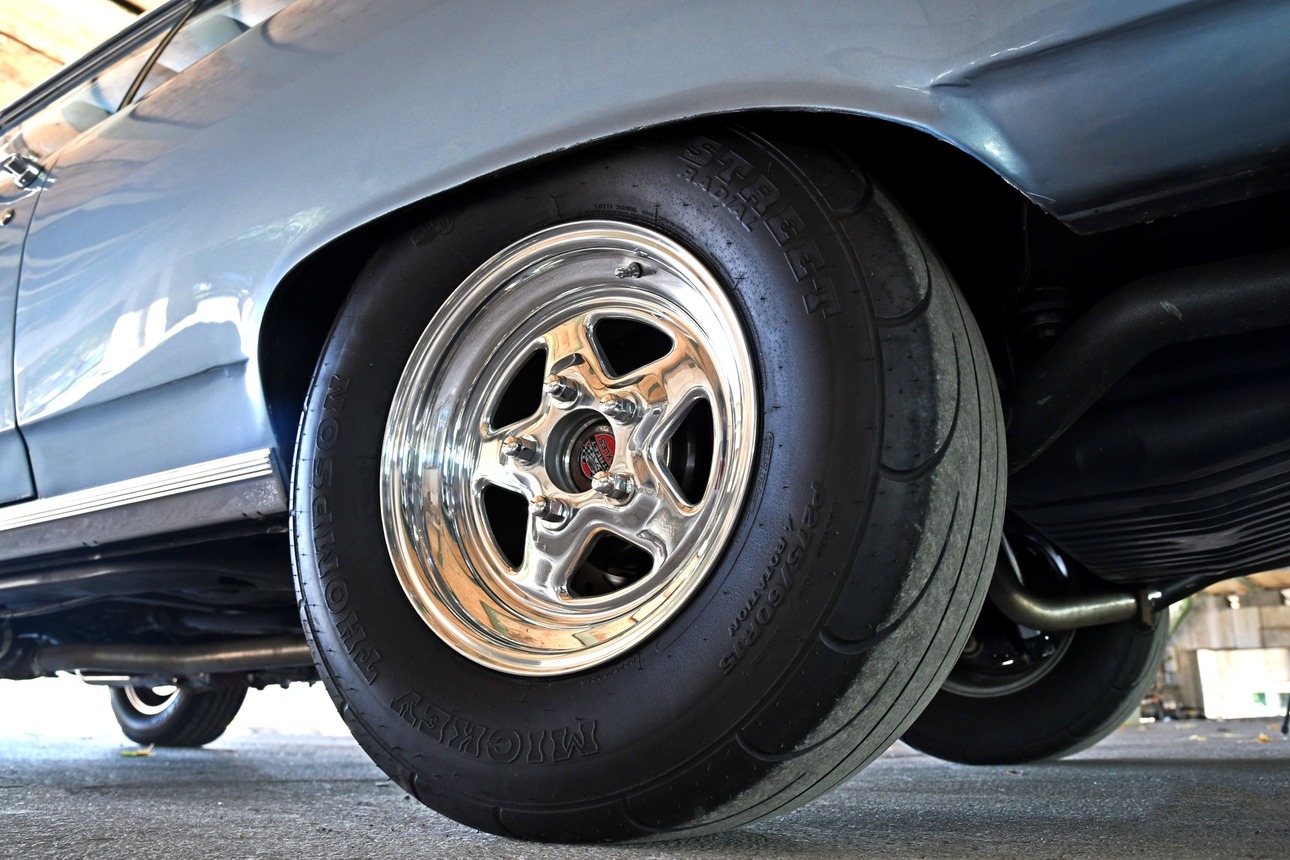 More Chevelle Goodness: This Jet Black '66 Chevelle is as Nice as They Come
This Chevelle, like his old GTO, sits high and level—just how John prefers. To get that height, Eaton 2-inch over big-block springs were installed. The front bumper was tossed in favor of tow tabs and a little weight reduction. After initially running a set of steelies out back with American Torq Thrusts up front, Weld Prostar wheels now reside on all four corners. The rears are shod in Mickey Thompson 275/60R15 Drag Radials while shaved BFGoodrich T/A radials, sized 225/70R15, ride up front.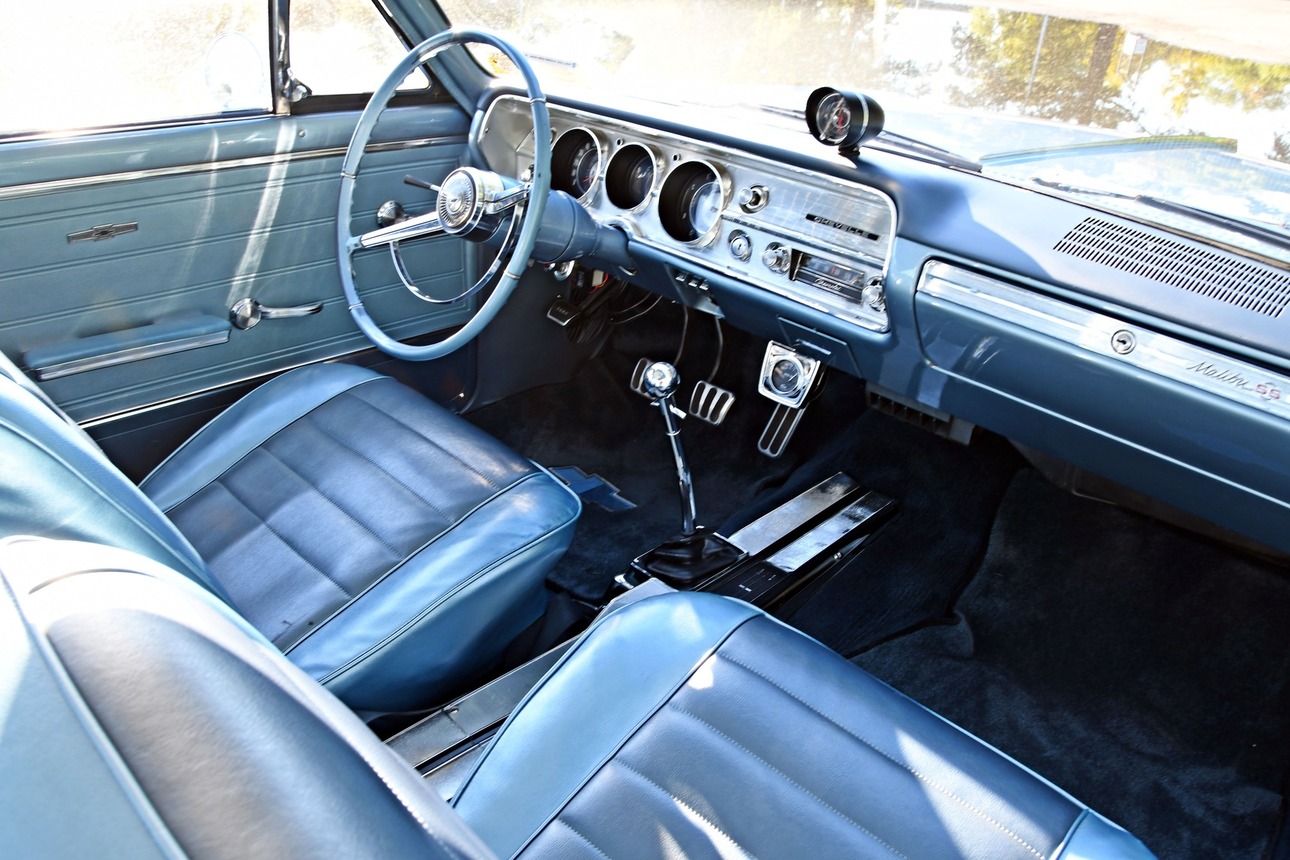 John's Chevelle has retained much of its OEM look, as it now boasts its original SS gauge package. "In 1965, if you ordered a clock and a tach the clock was mounted on top of the dash. I was able to procure both and installed them back in their factory locations," John says proudly. The Chevelle also has an original tilt column that was remanufactured by Ground Up Restorations and mounted with the car's original steering wheel. The console was found at a swap meet and was re-chromed, while a Hurst shifter (with a '65 Chevy handle) now shifts this ride through the gears. The upholstery is all new and features the original two-tone style found on this particular Chevy.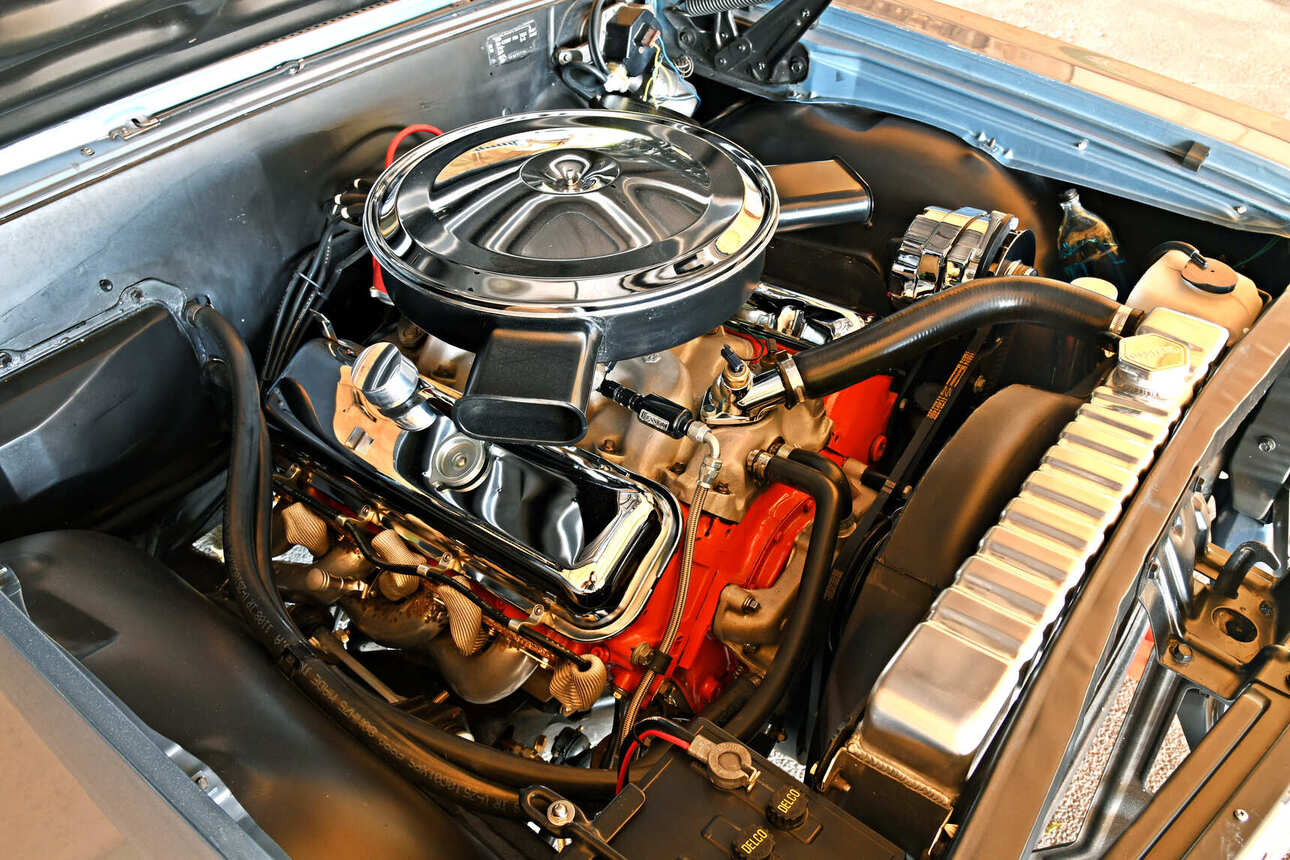 For motivation, John dialed in a '70s 454, four-bolt main, steel crank, and TRW pistons. The heads and "snowflake" intake are from a '66 427ci engine. A Comp Cams roller camshaft with roller rockers and solid lifters give this engine plenty of thump where it counts. A Holley 850-cfm Double Pumper and repop Z-16 air cleaner feed this ride the fuel and air combo necessary to pound the local New York City streets.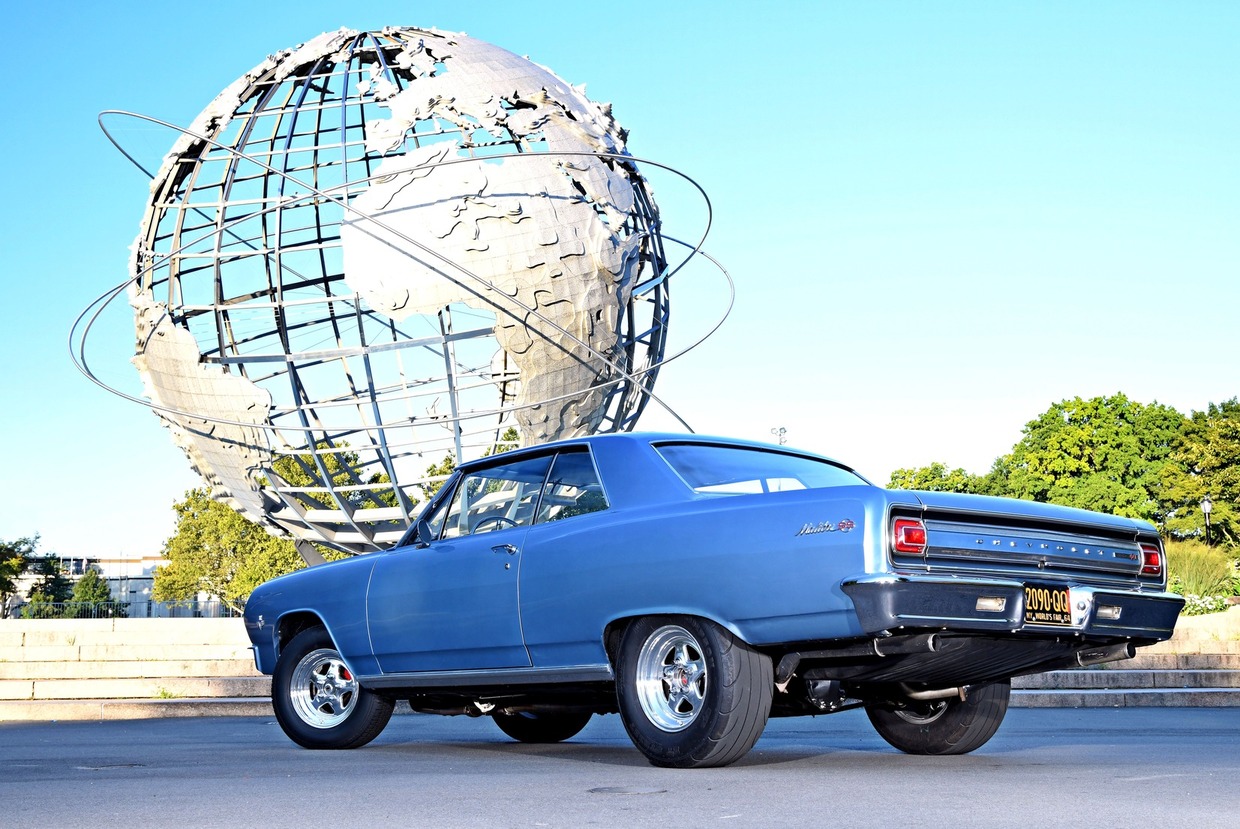 For improved driveability, he replaced the M21 with a Super T10 transmission, and the 4.56 gears were swapped with a set of 3.73s. The ladder bars were removed and the control arms are now boxed for better handling. He also removed the wiring harness from the firewall and hid as much wiring as possible for a cleaner look.
The 1964 World Fair connection is a strong one with John as he lived less than 10 minutes from the fairground and has fond memories going to it as a kid. The '65 Chevrolet models would have been on display at the time. In New York State you are allowed to register historic cars with plates original to that year, so John sought out a rear 1964 World's Fair license plate, going as far as finding a "Q" plate, which meant you lived in Queens, which he did. He also found a souvenir "Unisphere" plate that he used on the front prior to removing the front bumper.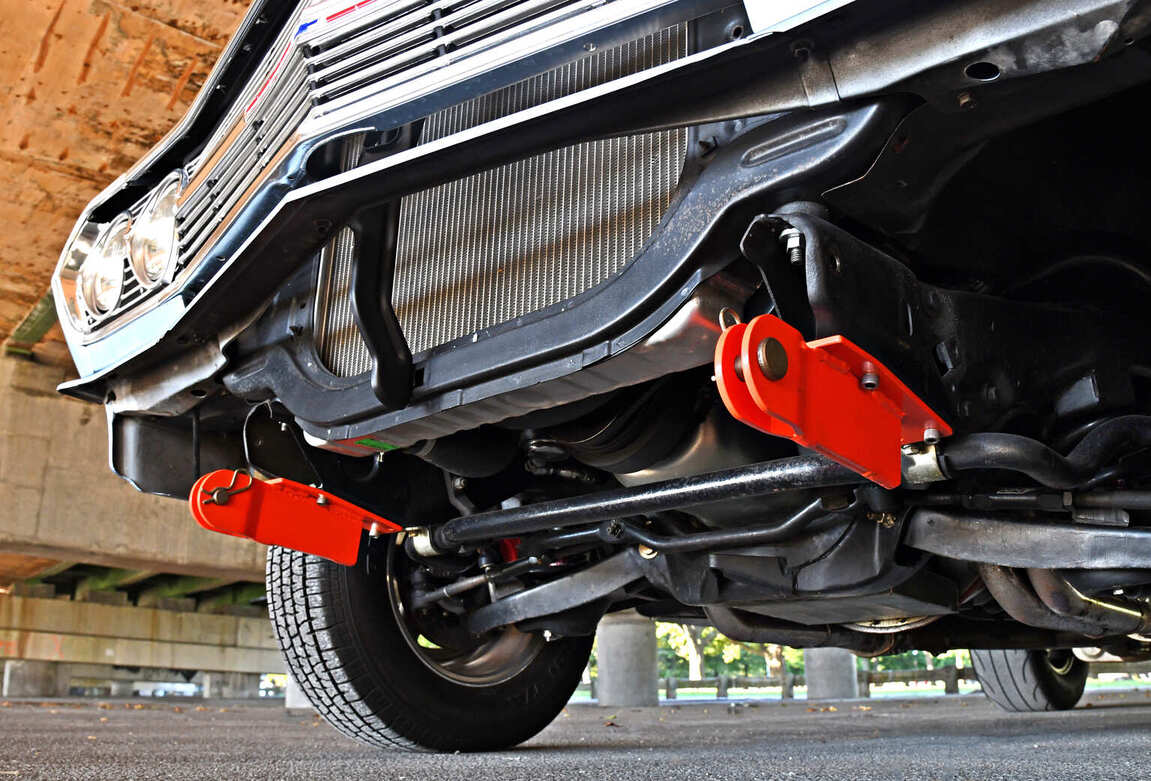 Today, John is constantly putting this raucous big-block Chevy through the paces. "My favorite part about driving to shows is meeting people who have different ideas on how to set up their cars," John notes. "It's all about getting together with new and old friends who have a common interest.
Over 40 years later I am still driving my Chevelle. Although I now live in Long Island, I still travel back to Queens on Saturday nights when the weather is nice to meet with my muscle car friends. Many are the same people I cruised the boulevard with in the late '70s."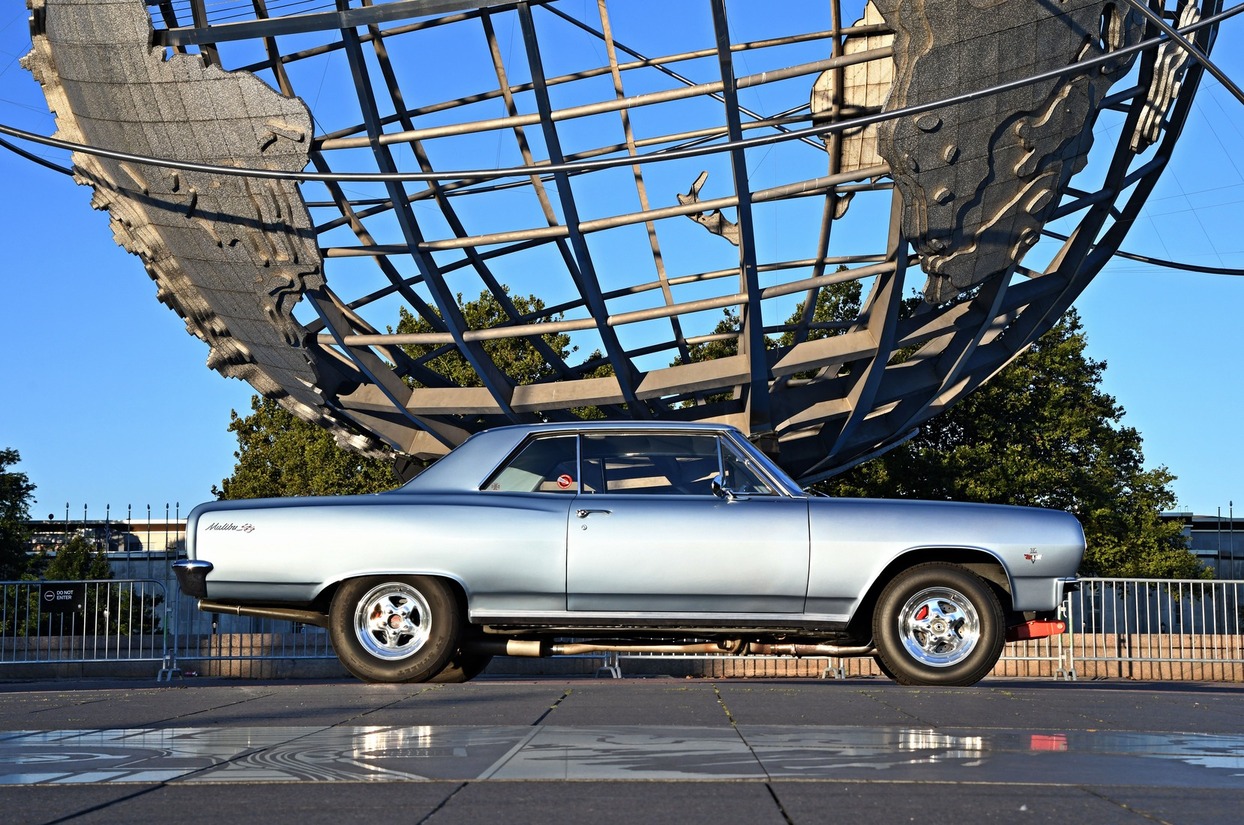 Tech Check
Owner: John Koch, Long Island, New York
Vehicle: '65 Chevrolet Chevelle Malibu SS
Engine
Type: Chevrolet big-block
Block: '70s Chevrolet Hi-Perf Passenger
Displacement: 454 ci
Compression Ratio: 10:1
Bore: 4.280
Stroke: 4.370
Cylinder Heads: Chevrolet '66 427
Rotating Assembly: Forged steel crankshaft, Forged TRW pistons, four-bolt mains
Valvetrain: Solid lifters with roller rockers, Manley 219/188 valves
Camshaft: Comp Cams 575/580 lift, 240/244 duration
Induction: Holley 850 Double Pumper carburetor
Ignition:  MSD 6AL
Exhaust: Hooker headers, Flowmaster exhaust with cutouts
Intake: '66 427 snowflake intake manifold
Output (at crank): 550 hp
Drivetrain
Transmission: Super T10
Rear Axle: Chevy 12-bolt, 3.73 gears
Chassis
Front Suspension: Eaton Springs 2 inches over stock, oversized sway bar
Rear Suspension: Eaton springs 1 inch over stock, boxed control arms, sway bar
Brakes: Wilwood four-piston calipers front and rear
Wheels & Tires
Wheels: Weld ProStar
Tires: Mickey Thompson Drag radials 275/60R15 rear, 225/70R15 BFGoodrich Radial TA, shaved sidewalls
Interior
Upholstery: Stock
Material: Two-tone blue vinyl
Seats: Stock
Steering: Stock tilt column, stock steering wheel
Shifter: Hurst with stock '65 Chevy handle
Dash: Factory tach, speedo, oil press, amp, and water temp gauges, dash-mounted stock clock, Sun water temp gauge underdash
Audio: Factory radio
HVAC: None
Exterior
Paint: PPG Mist Blue Metallic
Hood: Stock
Grille: Stock
Bumpers: Front delete, rear stock