This Jet Black '66 Chevelle is as Nice as They Come
By Scotty Lachenauer   –   Photography by the Author
Dave Richardson loved his '62 Impala SS. It was a turquoise beauty with a hefty 409 underhood and a four-speed shifter ready at his command. "One day a guy chased me down. He had seen the car out and about and wanted to know if it was for sale," Dave tells. "Now, I was semi-attached to the car but for the right number I was willing to let it go."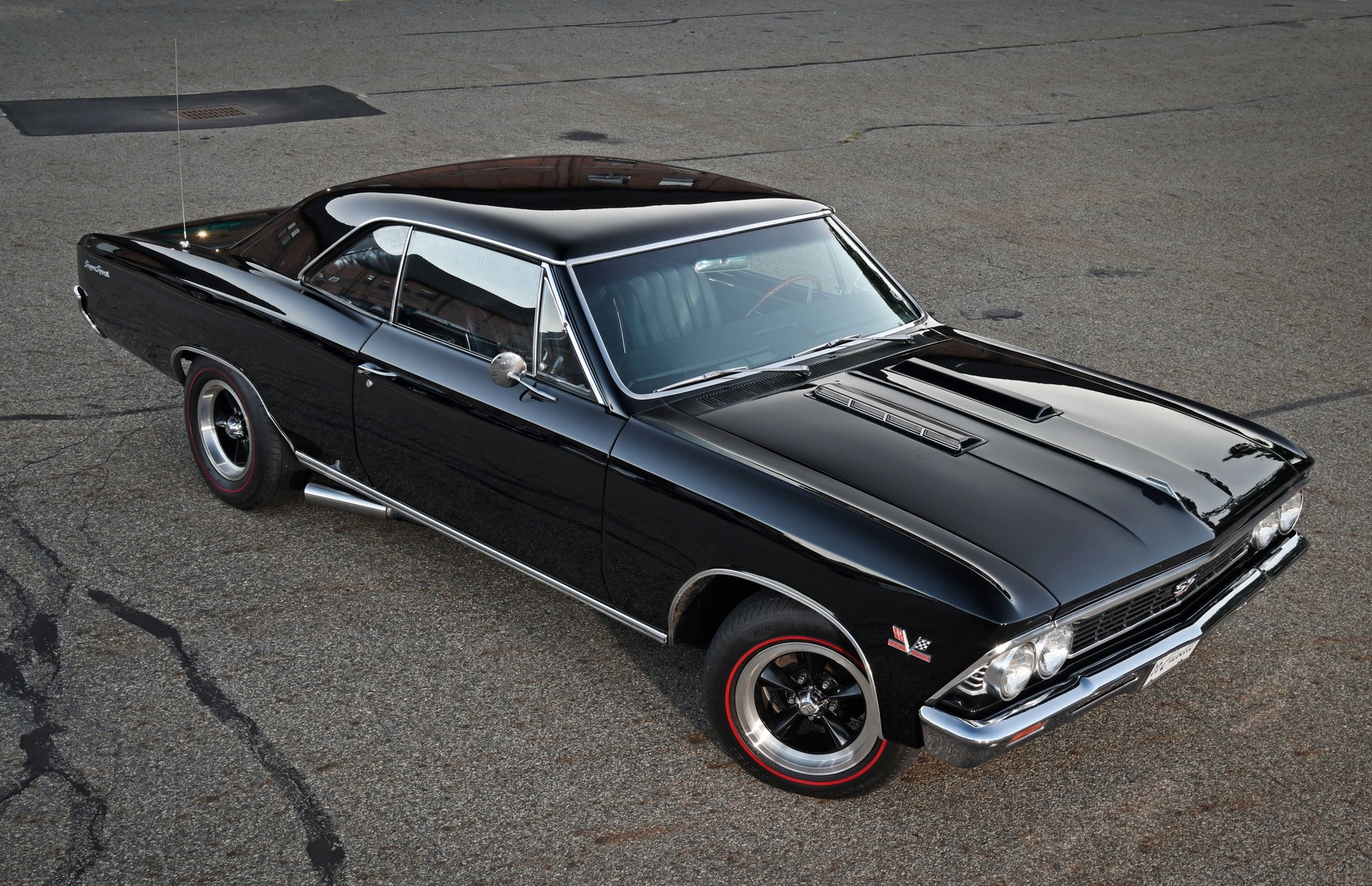 The guys met up at Dave's place in Oakland, New Jersey, so the eager potential buyer could have an up-close look-see of the Chevy. "After a brief walk-around he asked to drive it. He got behind the wheel and let loose. By the time the car was in Second gear he blurted out 'I gotta have it!' and made me an offer. It was an offer I couldn't refuse!"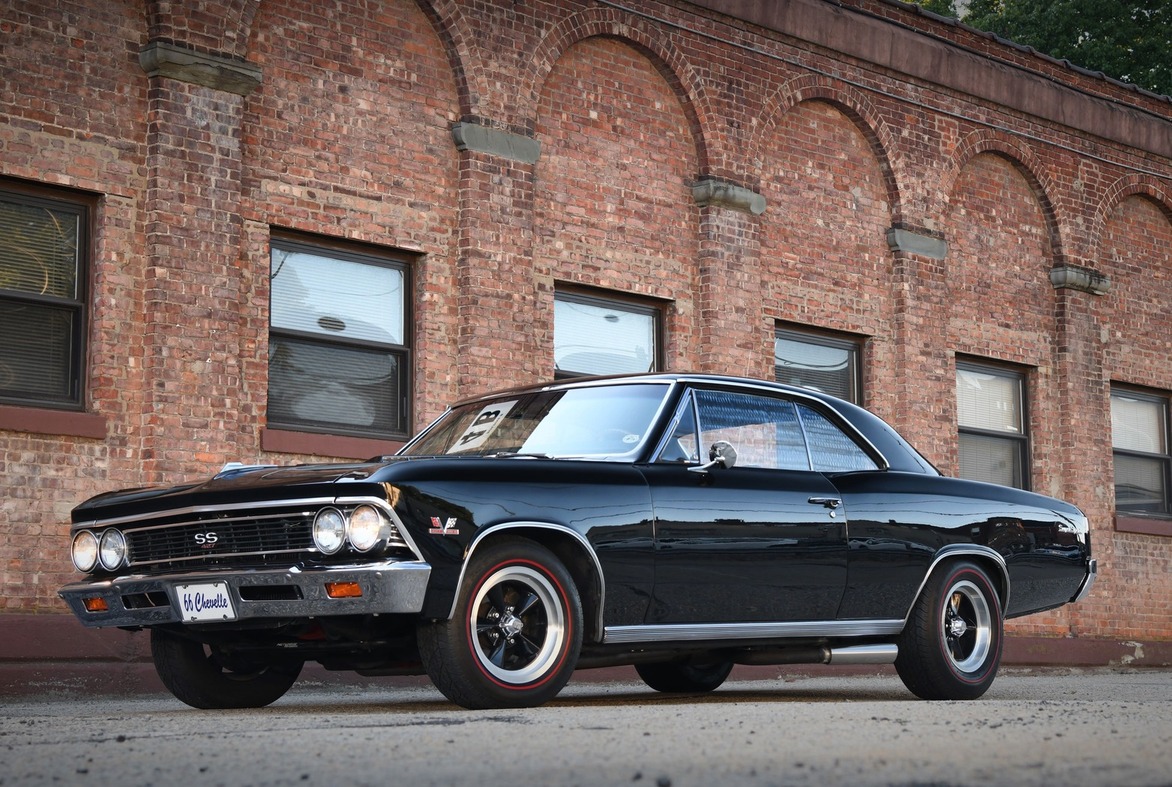 Down a car, Dave still had his Model A street rod in the garage as a weekend cruiser. "With a stroker 383ci small-block, it's a pretty wicked ride. But I knew there would be another car down the line," Dave says. "I've owned many high-performance Chevys, and I figured in a matter of time something would make me want to jump back in."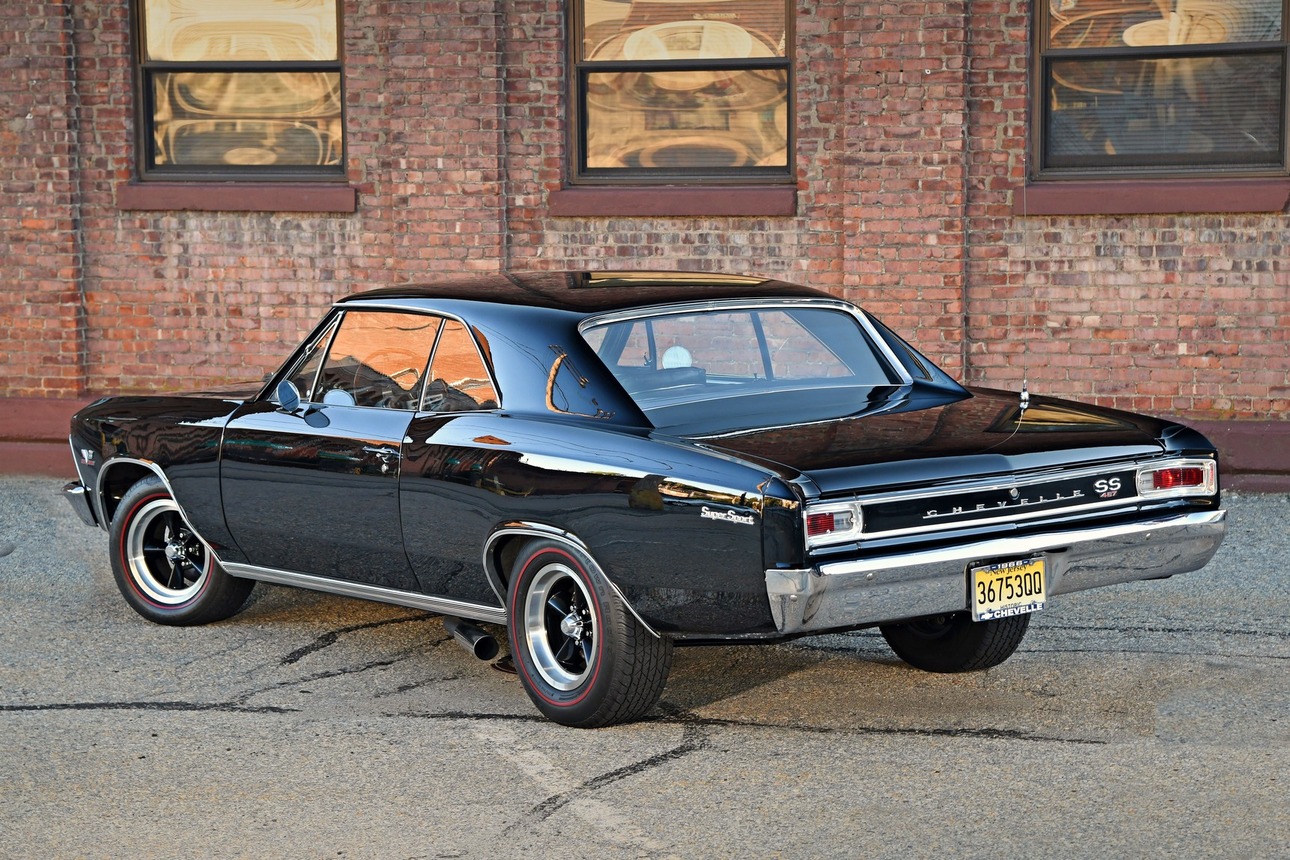 Back in Jersey, Dave met up with Roberts and gave the Chevelle a thorough inspection. Luckily Roberts had a lift at his shop so Dave could get a comprehensive view of his possible purchase. The car was clean with no rust anywhere, but what really blew Dave away was the paint. We know about black cars and how they show all the imperfections, but this car was laser straight and was as good as it gets.
Check it out: 1967 Chevy Chevelle Goes From Drag Car To Street Beast
The two worked out a deal and made the '66 officially Dave's. What he bought was an SS tribute car stuffed with a 402ci big-block built with 454 heads and a single-plane intake. It came with a stout Muncie M21 four-speed, a 12-bolt rear, and boasted a clean interior and U.S. Mags at the corners. Though it was a nice-looking ride Dave had some plans to upgrade it in a few areas.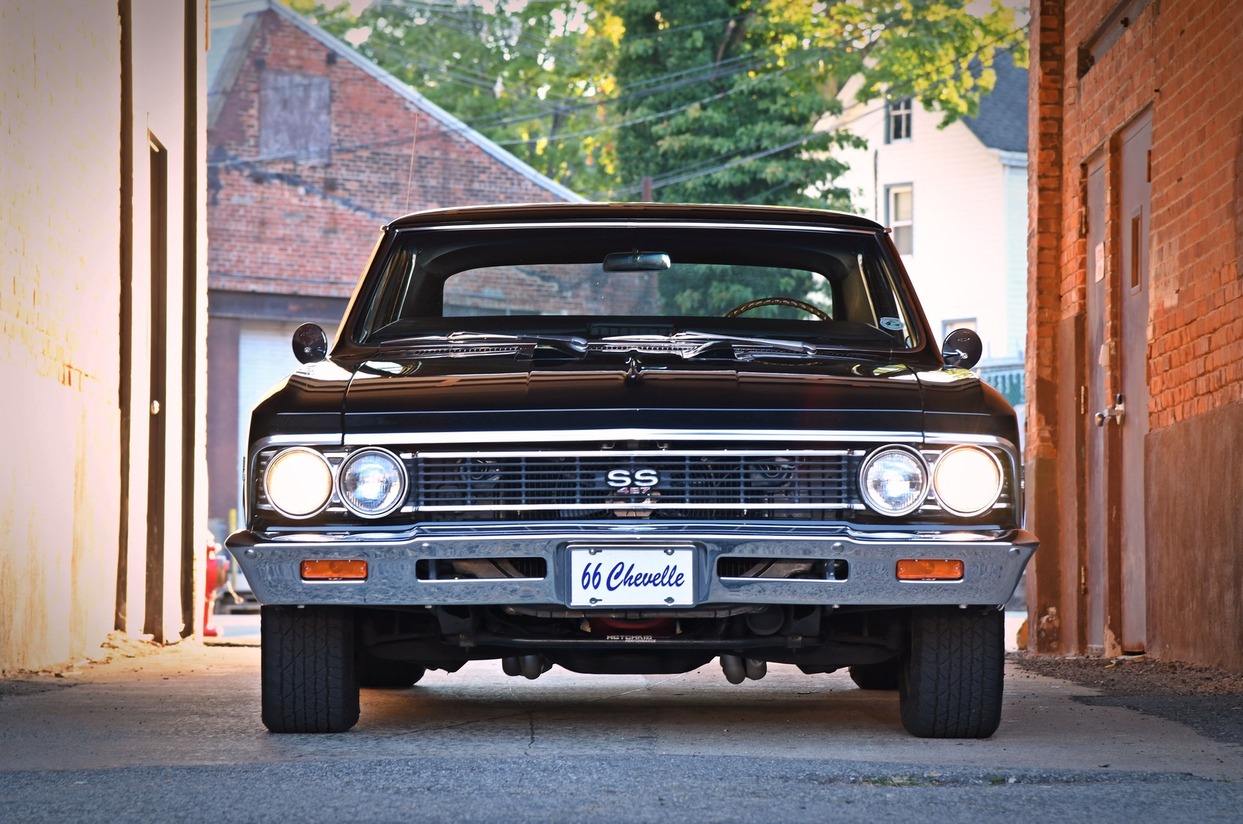 What was apparent to Dave was that his ride probably started life as a six-cylinder Malibu. "The previous owner did a great job of turning it into an SS clone," Dave claims. "But there were things I needed to do, as I like to put my mark on all the cars I own." He wanted to give the setup a little color, so he put a quartet of redlines on the U.S. Mags wheels then cleaned up and replaced some of the trim, which helped set off the car's great-looking paint.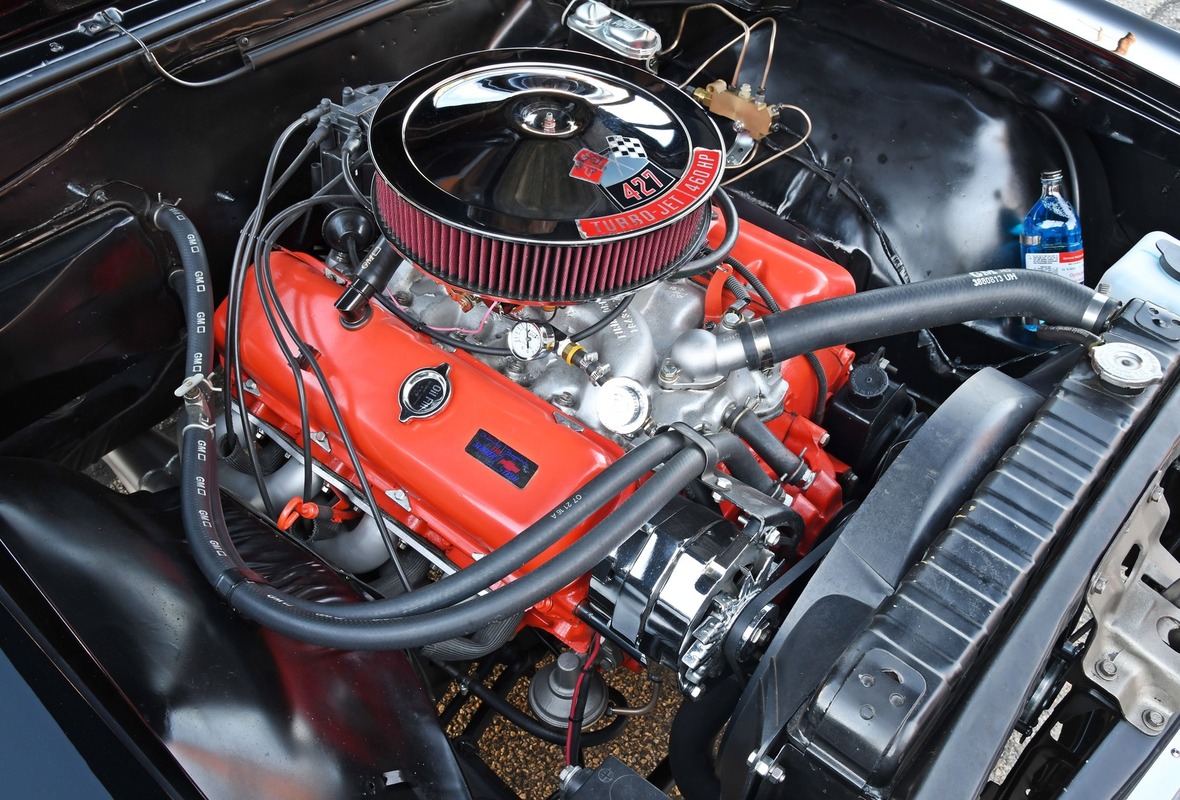 Inside, the upholstery was in great shape, so luckily that was not an issue, but the carpet was a different story. He pulled the seats and took out the carpet and couldn't believe that the floors still had the original red oxide on them and were in perfect shape. Knowing how hard Jersey can be on vintage cars, Dave covered the floors with POR-15 prior to replacing the carpet with an Essex high-grade version.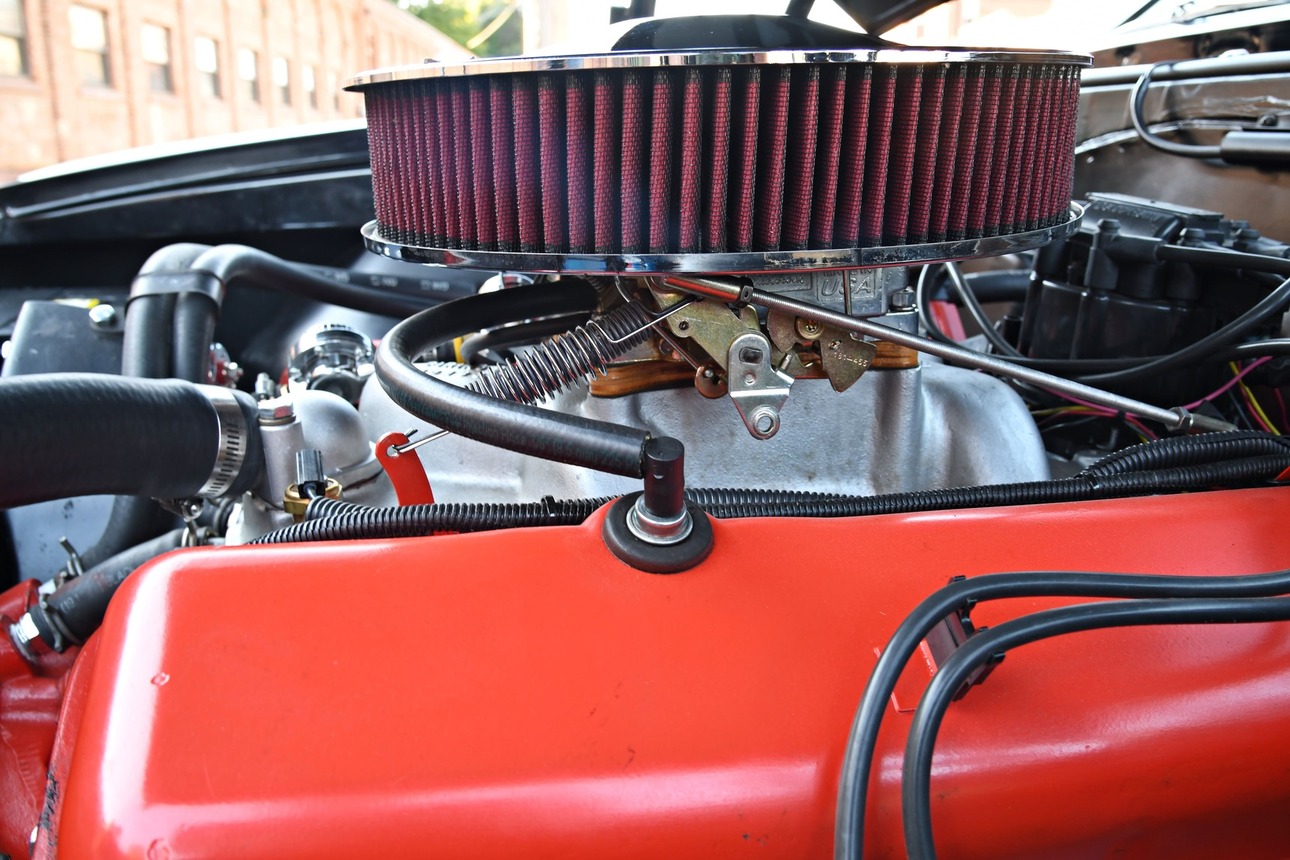 The next step was something Dave knew he was going to do from the start: Pull out the 402ci truck engine as it wasn't really built for performance. Fortunately, his friend Bob DeFalco, who is a Corvette racer, had a sleeved 427 that couldn't be certified by NCRS, so Dave bought the block and sent it to LRB Machine in Franklin, New Jersey, where Lou Benginvnni removed the sleeves and bored the block 0.070. From there the 427 was built up with the original heads and an L88 Winters snowflake intake was added to finish off the build.
More Chevelle Action: Pro Touring 1966 Chevelle with LSA Power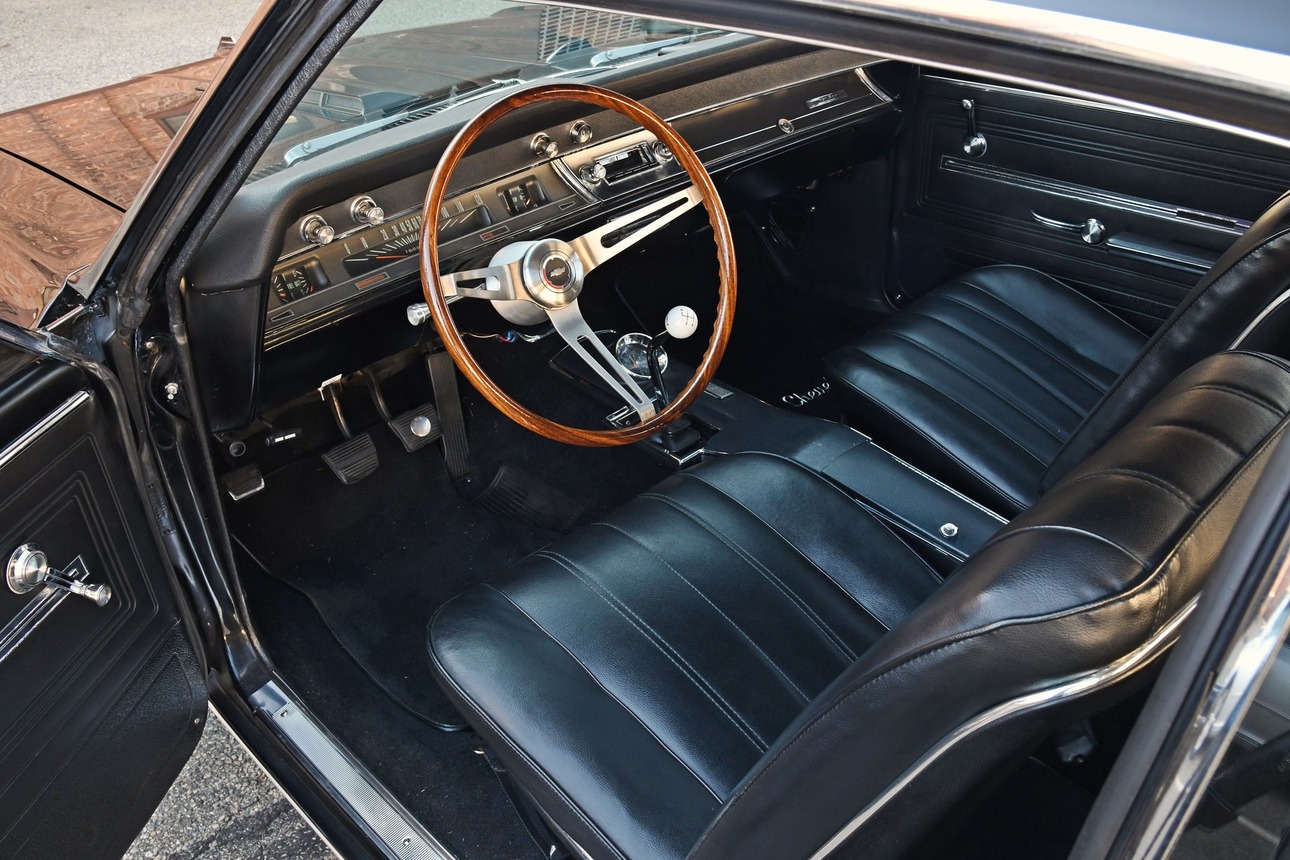 One of the final additions was the unique exhaust. Dave got the idea from his good friend Wayne Hartye who had just recently died. "[Hartye] was a great guy and great friend," Dave affirms. "He had some amazing Mopars over the years, including the first-built '70 Hemi 'Cuda convertible, which has made its way through high-end auctions over the years. He had a Limelight AAR 'Cuda with the side-exiting trumpet exhaust. I loved the design and figured it would be cool to put those on the Chevelle."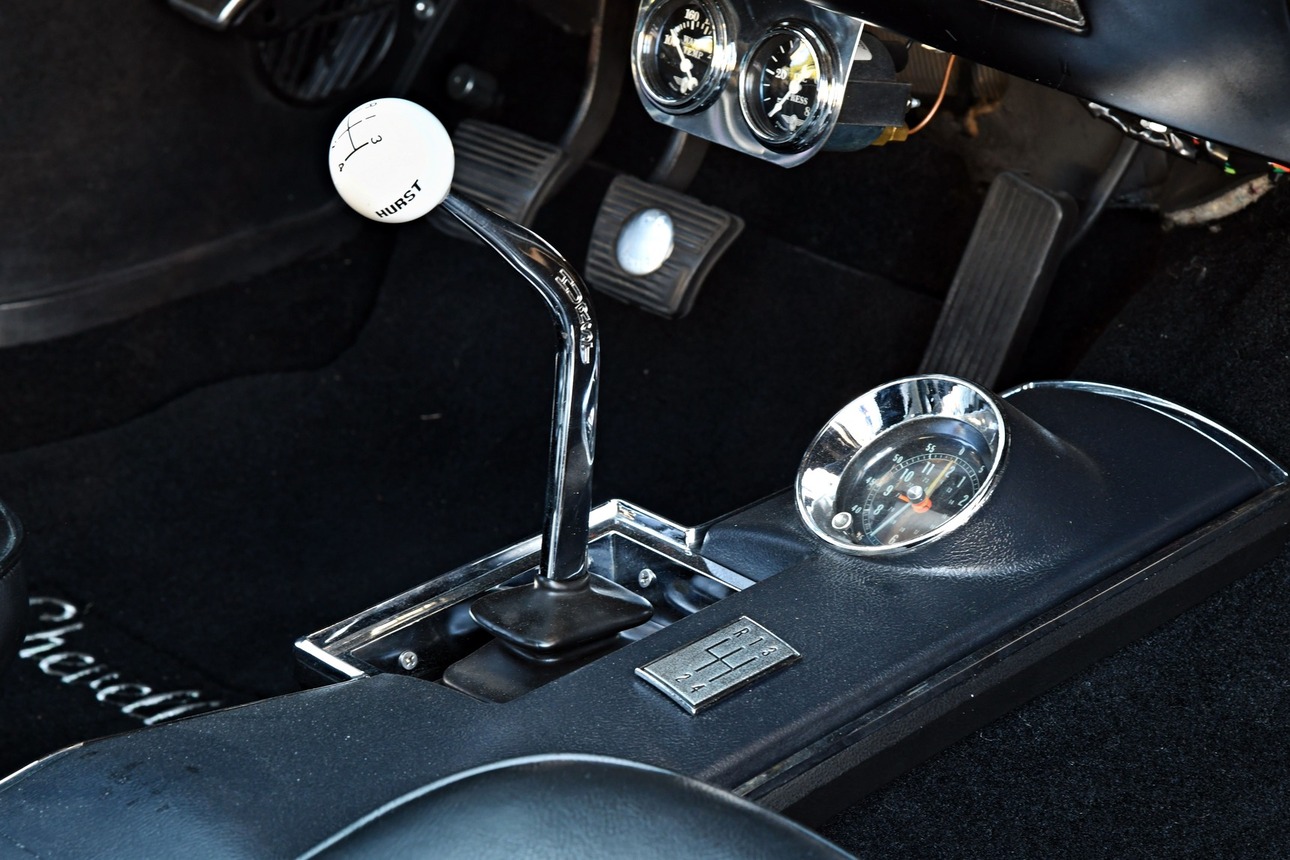 Other add-ons include a complete rewire, adding backup lights, console lights, and a modern radio that mimics an original unit. He also replaced the clutch, driveshaft, and rebalanced the tires. The car came with a Hotchkis four-link suspension out back, so it already had a nice performance driving feel.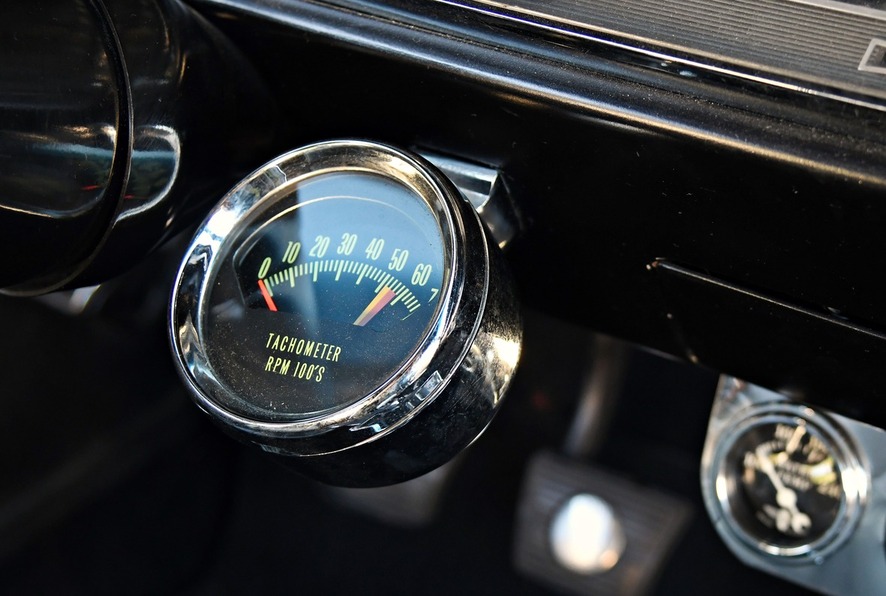 What's it like on the road? "The car really handles great with the four-link and heavy-duty sway bars," Dave claims. "With the 427ci mill, it's a blast to drive and has plenty of power to spare. I always get 'thumbs up' wherever I go, and the exhaust note from the side exhaust really gets people going.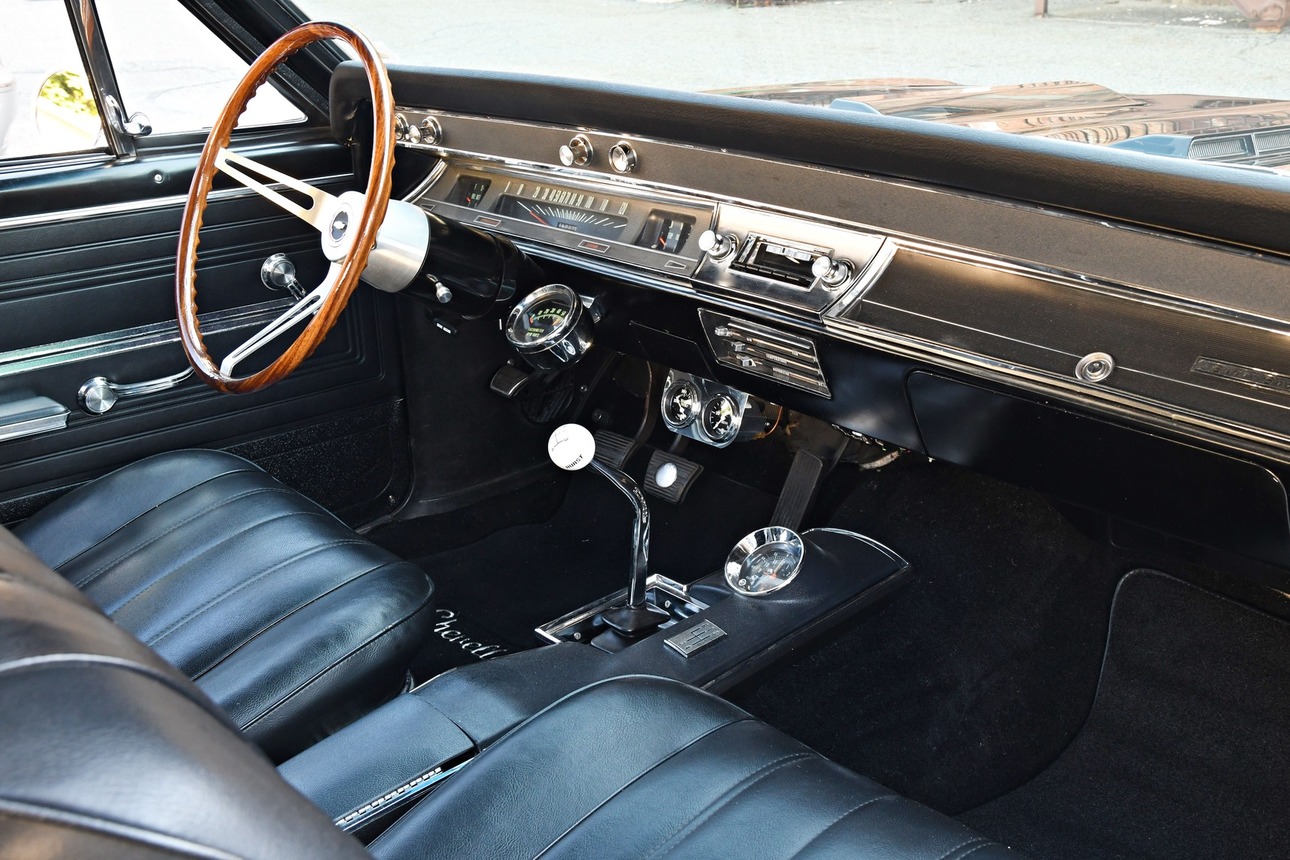 "From the purchase to the overhaul, I'd like to thank all the people who helped me out over the years," Dave mentions. "A shout-out goes to my friend Bob Carpenter as well. He's a real Chevy nut who was a huge help on both my Chevelle and my '62 Impala, so a big thanks go out to him for all he's done."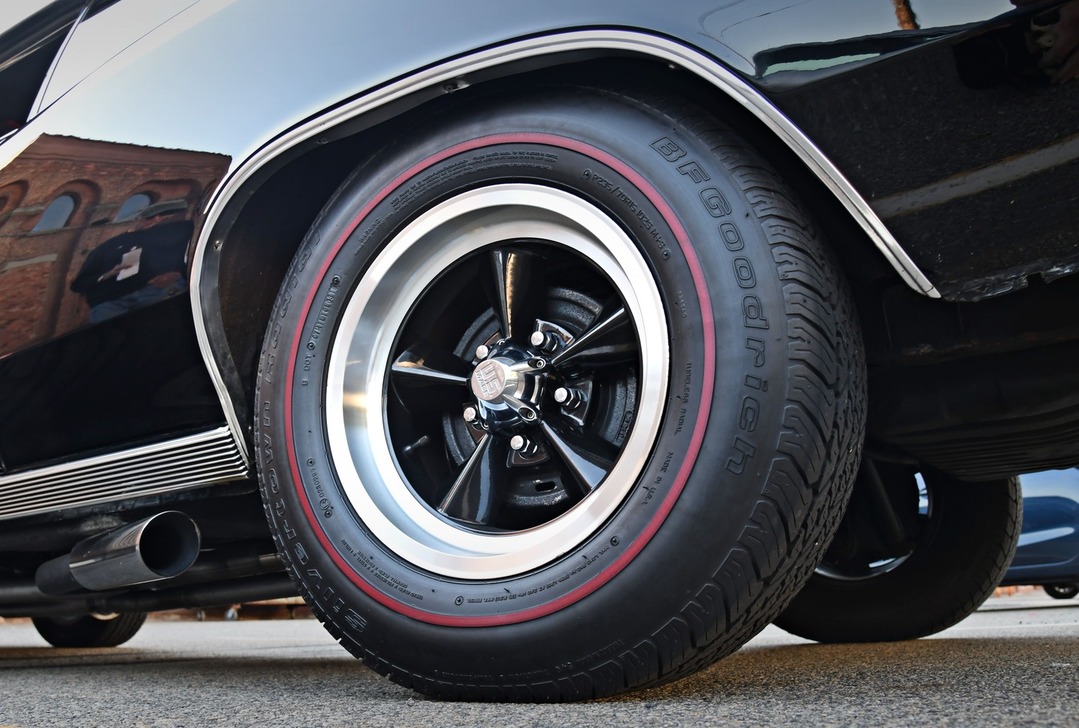 TECH 
Owner: Dave Richardson, Oakland, New Jersey
Vehicle: '66 Chevelle
Engine
Type: '67 big-block L71
Block: Cast
Displacement: 439 ci
Compression Ratio: 11.0:1
Bore: 4.320
Stroke: 3.750
Cylinder Heads: Stock cast iron
Rotating Assembly: Stock forged crank, Diamond 0.070 over forged racing pistons
Valvetrain: Stock
Induction: L88 Winters snowflake intake, Edelbrock 650-cfm carburetor
Exhaust: Coated Hooker headers, coated exhaust, custom side-exit with Flowmaster mufflers
Ignition: HEI
Drivetrain
Transmission: M21
Rear Axle: 12-bolt with 3.73 gears
Chassis
Front Suspension: Stock rebuilt with Hotchkis sway bar
Rear Suspension: Hotchkis four-link
Brakes: Chevy disc front, stock drum rear
Wheels & Tires
Wheels: U.S. Mags (15×7 front, 15×8 rear)
Tires: BFGoodrich Radial Redlines (215/65R15 front, 235/70R15 rear)
Interior
Upholstery: Stock
Material: Vinyl
Seats: Stock
Steering: Stock column, Chevy woodgrain steering wheel
Shifter: Hurst Competition
Dash: Stock
Body
Bodywork: Previous owner
Paint By: Previous owner
Paint: Unknown
Hood: Stock
Bumpers: Stock