Jailbait – A Girl, a 1966 Chevelle, and too Much Fun
By Nick Licata   –   Photography by John Jackson
"Hey, there goes Jailbait Tina!" Those were the words photographer John Jackson humorously blurted out while at GoodFellows Classic Cars in Phoenix to shoot this gorgeous yet brawny '66 Chevelle. It wasn't because there was an underage girl behind the wheel, but due to the front license plate that reads JAIL B8. The story of the plate goes back to when Tina's husband, AJ Schwichtenberg, owner of GoodFellows, had a '62 bubbletop with that California plate. As AJ tells it, "I wanted to get that same plate for the Chevelle I was building for my wife, Tina, but the Arizona DMV wasn't having it." AJ kept the original and put it on the front of the Chevelle, which got Jackson's attention as Tina was moving the car in position for the photo shoot.
AJ has built and owned dozens of vintage Chevelles and found this one a few years back that a buddy of his was less than fond of, so he was selling it for a mere $1,500. Before it got in AJ's hands, the prior shop deemed it unfixable—the rear quarters were welded in with a 1 ¾-inch difference in height on each side of the car and the driprails were cut off the wrong way. Being the owner of a h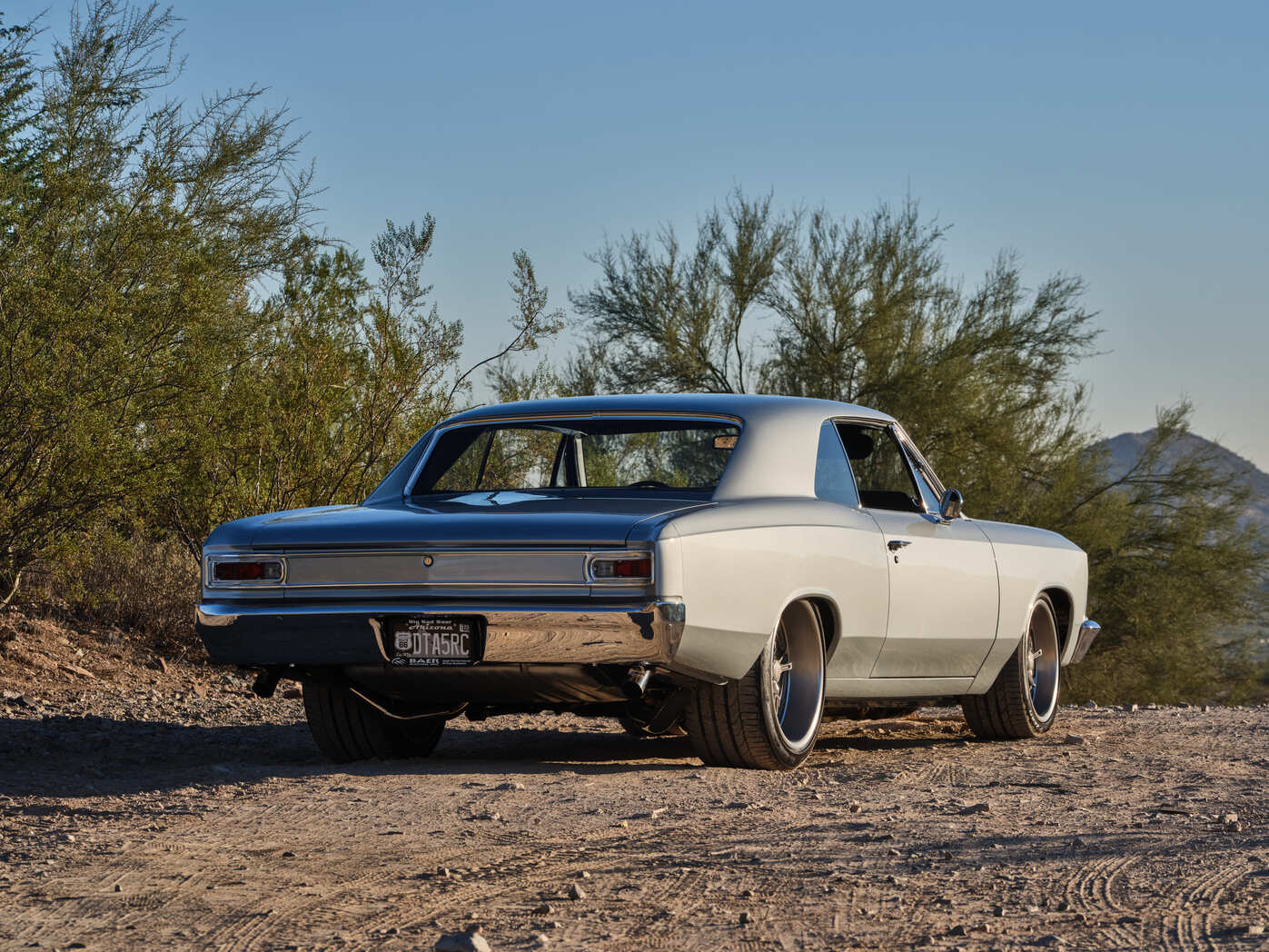 ot rod shop had its perks–one being having the talented crew who can pretty much fix anything related to vintage cars; having so much experience with Chevelles made it even easier.
GoodFellows' shop foreman Victor Hebert ditched the old quarters and stitched in a fresh set of sheetmetal from Original Parts Group. From gap to gap, Hebert prepped the body, massaged the wheel openings, and tubbed the rear inner fenders in preparation for massive rubber. He got the body back on track prior to dousing the classic in PPG Cortez Silver. Royal Plating in Tucson freshened up the stock bumpers, which now look better than new, and in GoodFellows fashion, Hebert tucked 'em to the body because they just look better that way.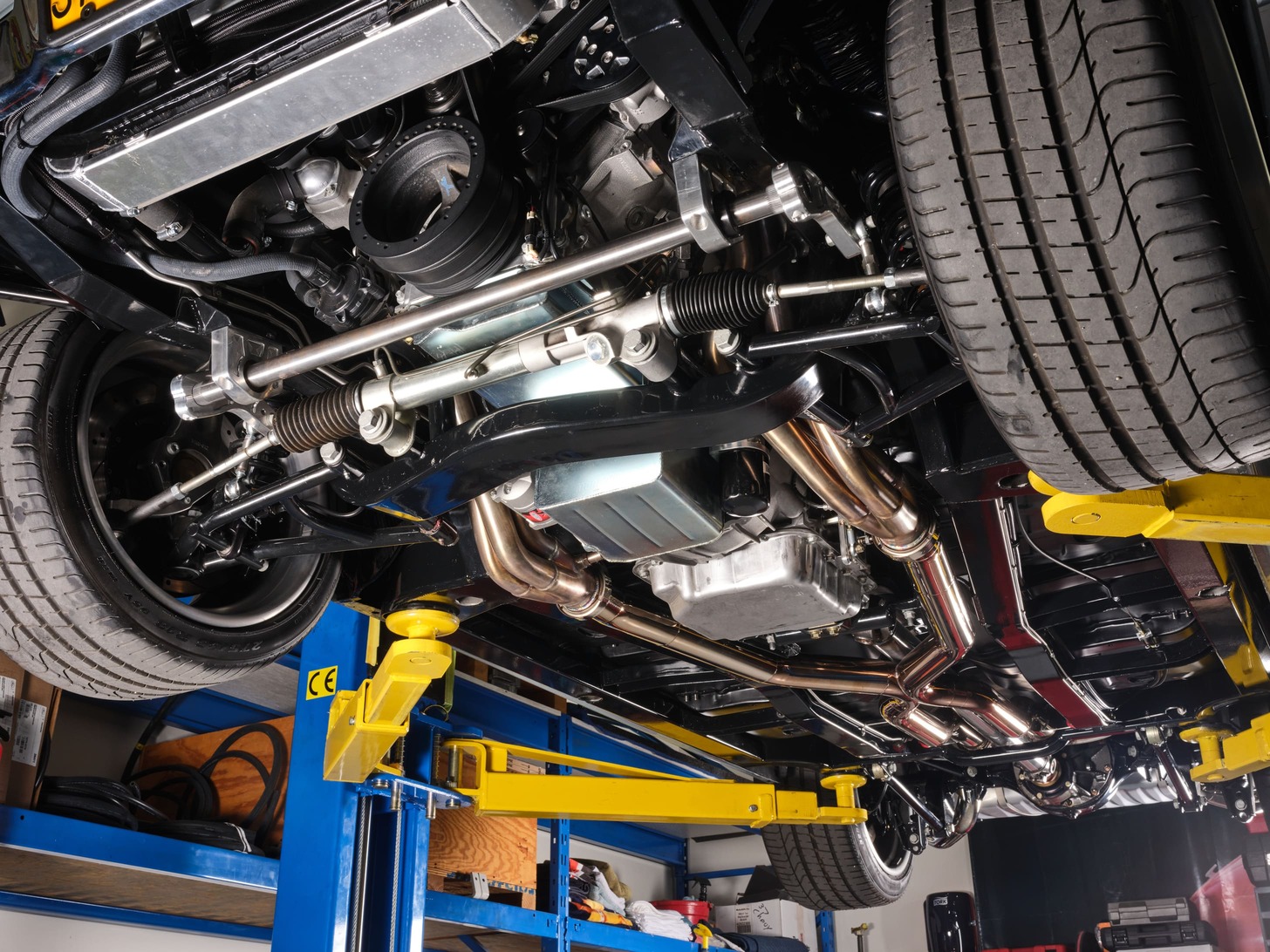 Hebert dropped the whole enchilada on an Art Morrison GT Sport chassis complete with their triangulated four-bar rear suspension arrangement. Strange coilover shocks and 250-pound springs take up residence out back, while Art Morrison Sport IFS control arms, modified C6 steering knuckles, Strange coilover shocks, 450-pound springs, and power rack-and-pinion steering reside up front.
More Chevelle Love: This 604-inch Big Block Chevelle Packs A Punch!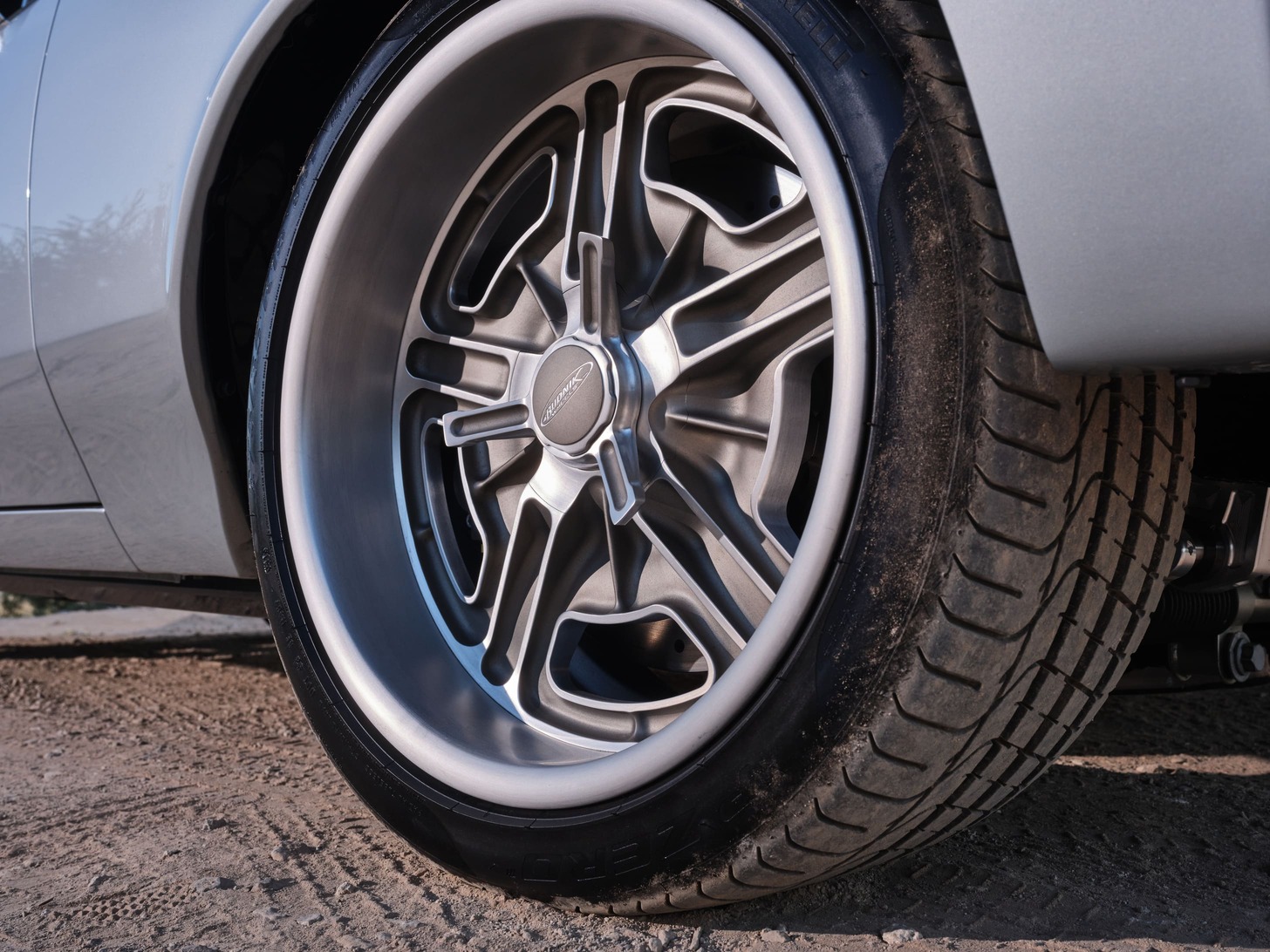 AJ staggard the Budnik SKO wheels old school like and went with 18s up front and big ol' 20s out back, then wrapped the quartet in Pirelli rubber. Although the wheels are modern in size, they possess enough vintage styling to preserve the Chevelle's '60s aura. Not vintage are the massive Wilwood disc brakes on all four corners, giving the Chevelle the ultimate in modern stopping power. A hydro-assisted Wilwood master ensures minimal effort for a smooth and predictable pedal.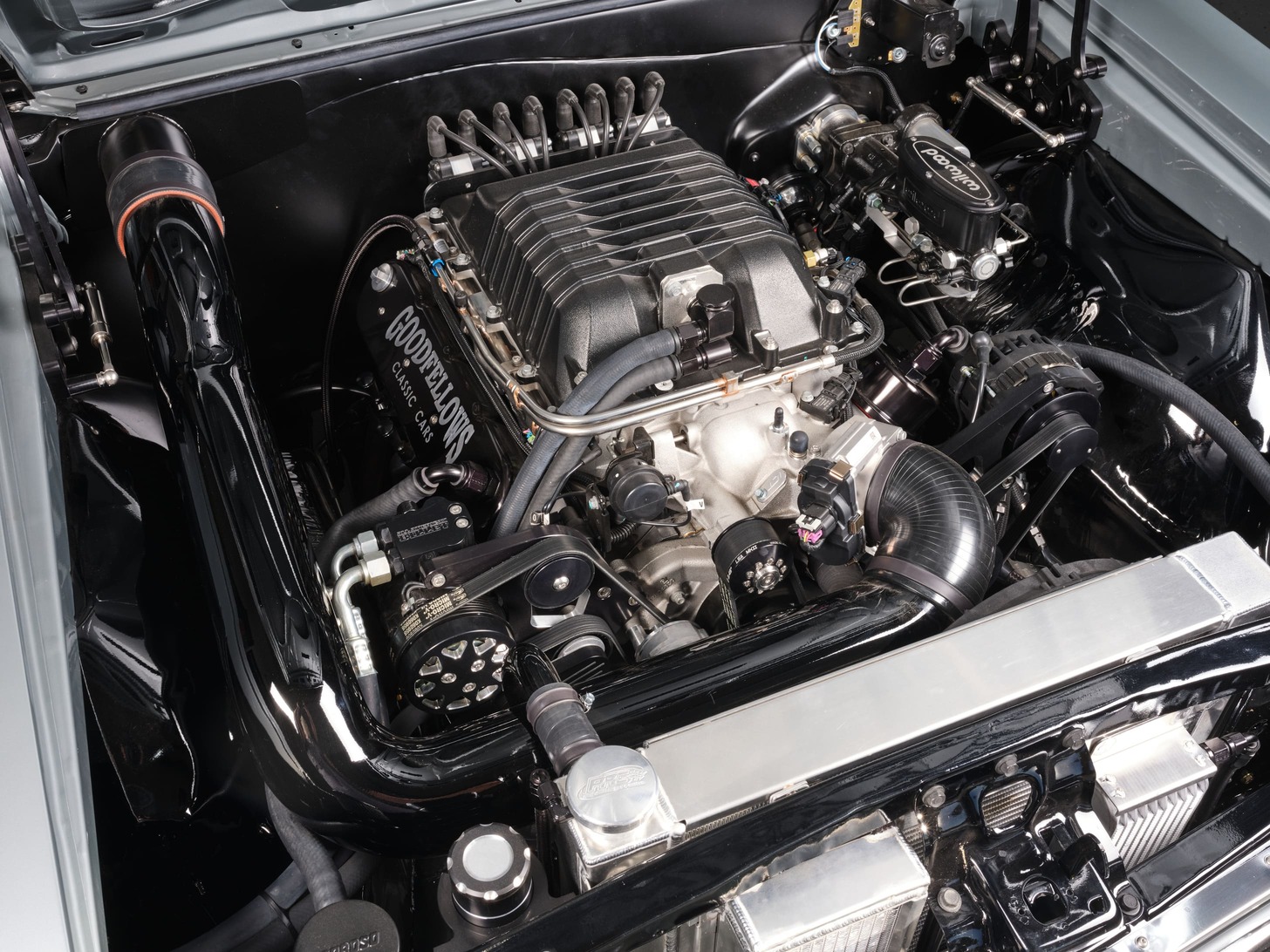 AJ has been a big fan of the LSA 376ci engine for years and informed us inventory on these mills is just about depleted, but he was able to rathole one away for his wife's special build. The mostly stock bullet carries all the standard GM goodness with a stock bore and stroke, yet AJ upped the performance with a Texas Speed Stage 2 LS3-B cam. The American Billet LSA Two Tone Diamond Cut accessory drive kit features a black finish with silver accents, which comply with the custom GoodFellows valve covers and Eddie Motorsports hood hinges. GoodFellows' Conor Jackson, who runs the fab shop, built and plumbed the custom cold air intake up to the cowl for a healthy dose of fresh atmosphere, which AJ claims is "worth 20 hp right there." The spent greenhouse makes quick exit via the custom GoodFellows headers, 3-inch stainless custom exhaust, and Spintech mufflers. AJ's efforts reward the Chevelle with 725 hp and 700 lb-ft of torque.
A GM 4L75E-HT automatic four-speed trans accepts the LSA's fury and is backed by a 2,800-stall converter. A TAD 3-inch aluminum driveshaft dispenses power to a Strange 9-inch reared loaded with a limited-slip posi, 4.56:1 gears and 35-spline axles.
Check this Out: Less is More: LS Swapped 1967 Chevelle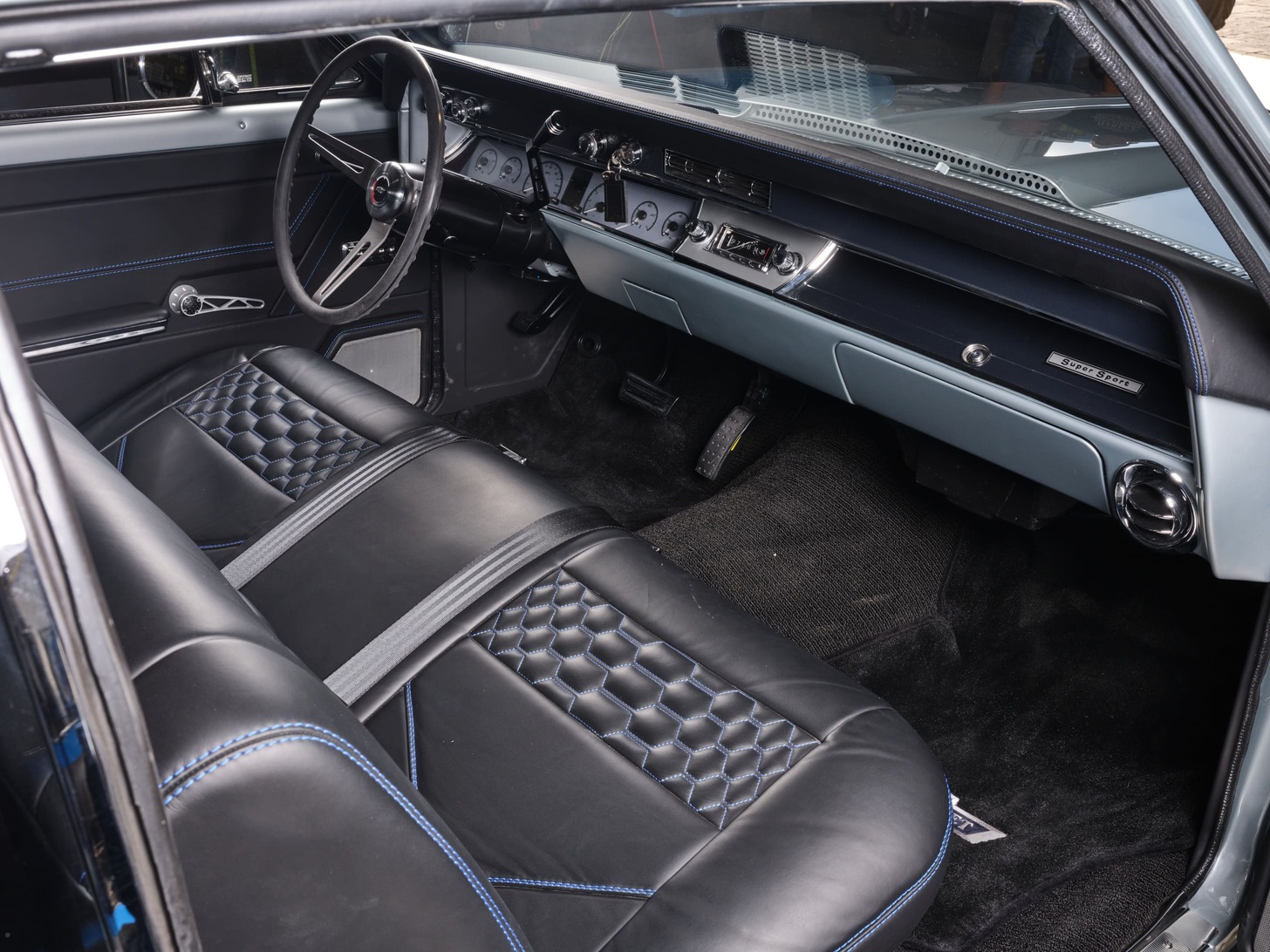 AJ formed a fairly modern-styled cabin that confidently navigates the vintage '60s vibe. The black leather door panels provide a sporty impression while upholding the Chevelle's classic roots. That's a stock dash populated with Dakota Digital gauges. Although the Bluetooth head unit looks factory, the twin set of 300-watt amps wired to a quad arrangement of 6×9 speakers ensure it's not. The black double-loop carpet is repro, and the Vintage Air HVAC unit blows through the factory vents. The stock seat was covered in leather with blue accent and custom stitching. AJ preferred the stock bench seat so "Tina can snug up next to me when I take the wheel," AJ playfully confirms. The American Billet column shifter, Clayton Machine Works interior door handles, window cranks, and pedals certainly add some performance panache.
AJ and Tina are excited to point out that the car recently won the Builder's Choice award at the 2022 Goodguys Spring Nationals in nearby Scottsdale and are currently looking forward to taking the Chevelle on several cruises this summer. A trip to Nashville and Reno's Hot August Nights are circled in the dog-eared Thomas Guide so far. "We just like cruising with some good friends," AJ says. "To us, that's what this hobby is all about."
Without giving away Tina's age, we confess that she's a few years beyond jailbait in every state in the union, but with her heavy right foot and tenancy to flex the LSA's muscle, she's on the fast track to hot water with local law enforcement.
So, if you see a Cortez Silver '66 Chevelle cruising the streets of Phoenix there's a good chance that's "Jailbait Tina," behind the wheel–a gal known to leave a lasting impression and a haze of tire smoke.
ACP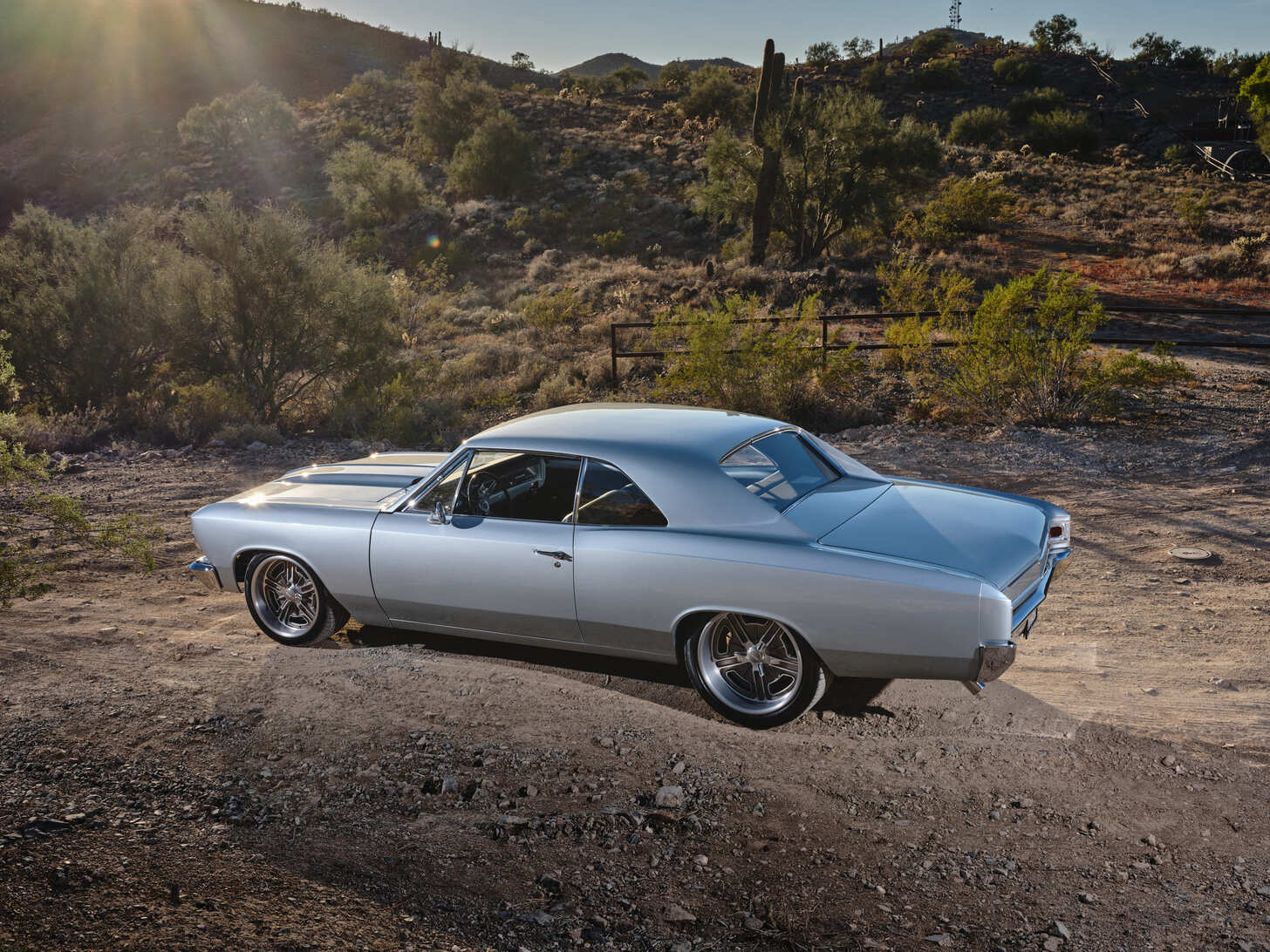 TECH CHECK
Owner: AJ & Tina Schwichtenberg, Phoenix, Arizona
Vehicle: '66 Chevy Chevelle
Engine
Type: GM LSA
Displacement: 376 ci
Compression Ratio: 9.1:1
Bore: 4.065 inches
Stroke: 3.622 inches
Cylinder Heads: Aluminum L92-style port
Rotating Assembly: Forged crankshaft, powdered metal rods, hypereutectic aluminum pistons
Camshaft: Texas Speed Stage 2 LS3-B 0.641/0.649 lift and 235/235 duration at 0.050
Induction: 1.9L Eaton TVS supercharger
Exhaust: GoodFellows custom headers, 3-inch stainless exhaust, 18-inch Spintech mufflers
Ancillaries: American Billet accessory drive system, PRC radiator, custom GoodFellows valve covers, GoodFellows custom air intake, Eddie Motorsports hood hinges, Odyssey batteries
Output: 725 hp and 700 lb-ft
Drivetrain
Transmission: GM 4L75E
Torque Converter: GM 2,800 stall
Rear Axle: Strange 9-inch rearend, limited-slip posi, 4.56 gears, strange 35-spline axles
Chassis & Brakes
Chassis: Art Morrison GT Sport chassis
Front Suspension: Art Morrison Sport IFS control arms, C-6 spindles, Strange coilover shocks, 450-pound springs, adjustable spline sway bar, rack-and-pinion steering
Rear Suspension: Art Morrison triangulated four-bar, strange coilover shocks, 250-pound springs
Brakes: Wilwood 14-inch rotors, six-piston calipers front and rear, Wilwood master cylinder, Wilwood proportion valve
Wheels & Tires
Wheels: Budnik SKO (18×10 front, 20×12 rear)
Tires: Pirelli 275/35R18 front, 325/35R20 rear
Interior
Upholstery: Double loop black carpet, custom leather upholstery
Seats: Stock bench, custom black leather and blue stitched cover
Steering: ididit steering column, stock SS steering wheel
Shifter: American Billet Modified C10 column shifter
Dash: Stock, leather dashpad
Door Handles: Clayton Machine Works
Pedals: Clayton Machine Works
Instrumentation: Dakota Digital
HVAC: Vintage Air
Exterior
Bodywork and Paint: Victor Hebert of GoodFellows
Paint: PPG Cortez Silver
Hood: AMD cowl
Mirrors: Billet Rides (St. Petersburg, FL)
Grille: Stock
Trim Pieces: OPGI
Bumpers: Stock, trimmed and tucked
Plating: Royal Plating (Tucson, AZ)
Taillights: LED
Pro Touring 1966 Chevelle with LSA Power