Ben Carenza's 900hp Chevy II
By Richard Prince – Photography by the Author
New Yorker Ben Carenza is no stranger to vintage tin and has owned a wide berth of different cars over the decades. While several Fords, including a '69 Ranchero and '73 Mustang, were in the mix, Ben has demonstrated a clear preference for Bowtie-branded machinery. "I've had several '66 and '67 Novas," he recalls with a broad smile, "a '57 Chevy, a '40 Chevy pickup, a '63 Chevy pickup, a '62 Biscayne, and an '81 Malibu."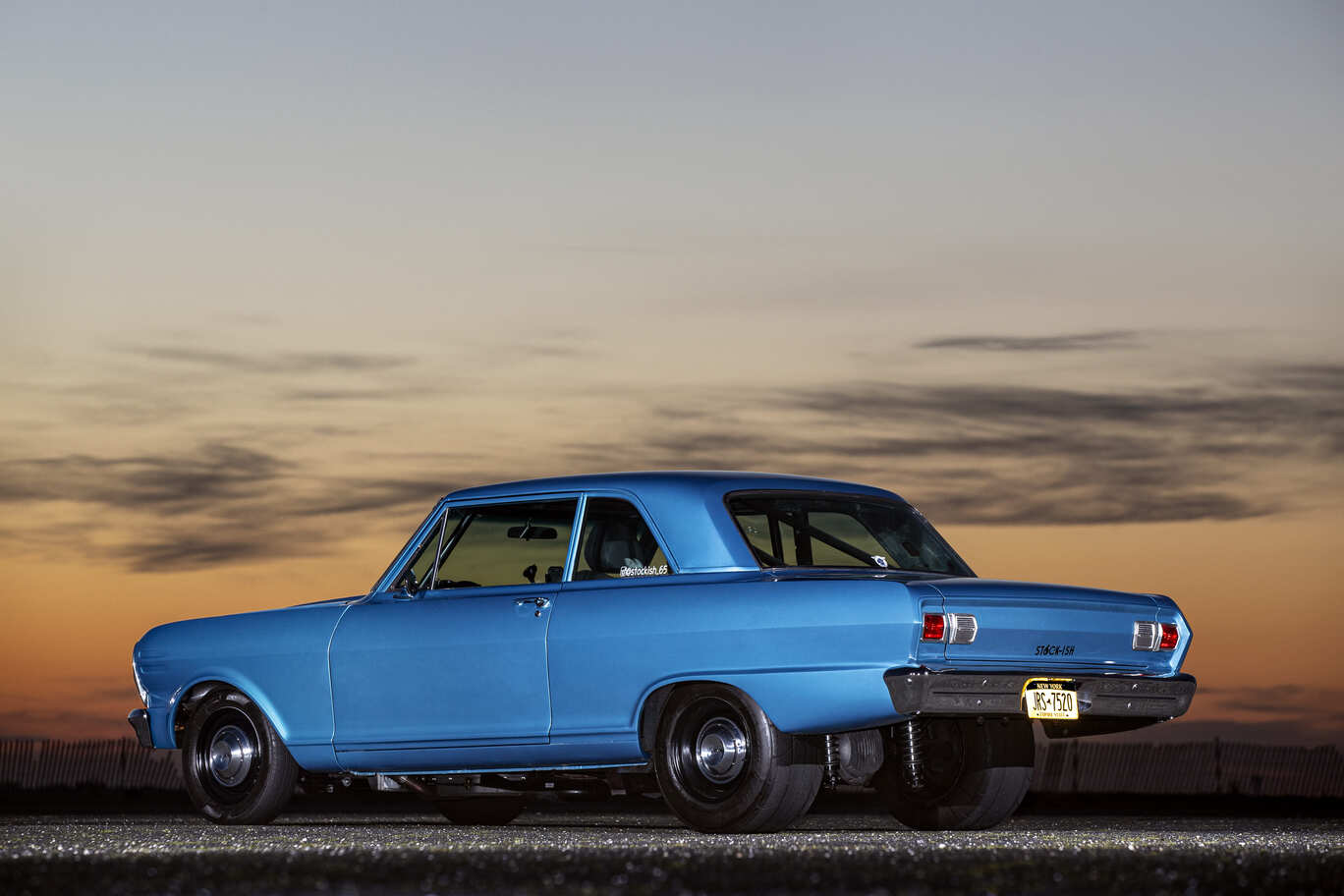 Several years ago Ben was in the mood for a new project and started looking around for a good, clean Chevy II. "I love the early box Novas to begin with," he explains, "and wanted to build one that looks like a plain-Jane, nothing-special kind of a car but with loads of performance underneath the innocent-looking, stock exterior."
Check This Out: We Test to See How Much Power You Can Make Simply by Creating a Vacuum in an Engine's Crankcase
Two-door Chevy II coupes have been favorite "sleepers" with enthusiasts for years because they were basic, economical transportation for the masses when they were new, and they look the part, with simple styling and minimum exterior trim. Ed Cole, who was general manager of Chevrolet when the Chevy II came to market in 1962, said the new compact car offered "maximum functionalism with thrift."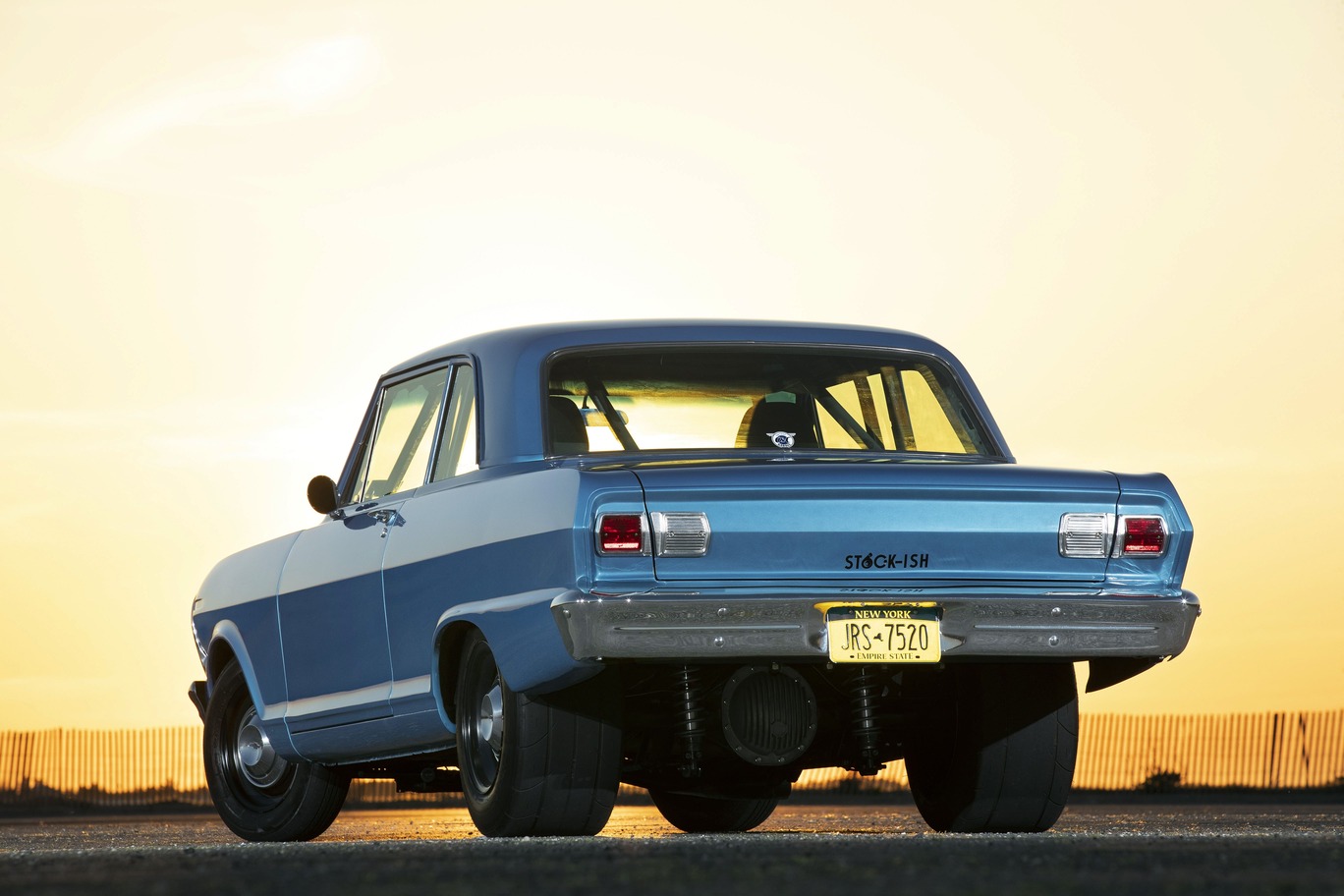 Over the six decades since their debut, speed junkies have cast aside the "thrift" and focused on the "maximum functionalism" by upgrading every aspect of these cars. Virtually any performance parts from Chevrolet, ranging from mega-inch big-blocks to brand-new LT2 small-blocks, backed up by any transmission and rearend, easily install. And there's simply no end to aftermarket support, allowing for a wide array of builds, including thoroughly modern Pro Tourers and outrageous Pro Street machines.
After finding the right car and working out a detailed plan for the build, Ben got going on what turned out to be a three-year project. For many years he worked as a mechanic and thoroughly enjoys doing much of the work himself, but now that it's a hobby, he takes his time and appreciates every step of the process.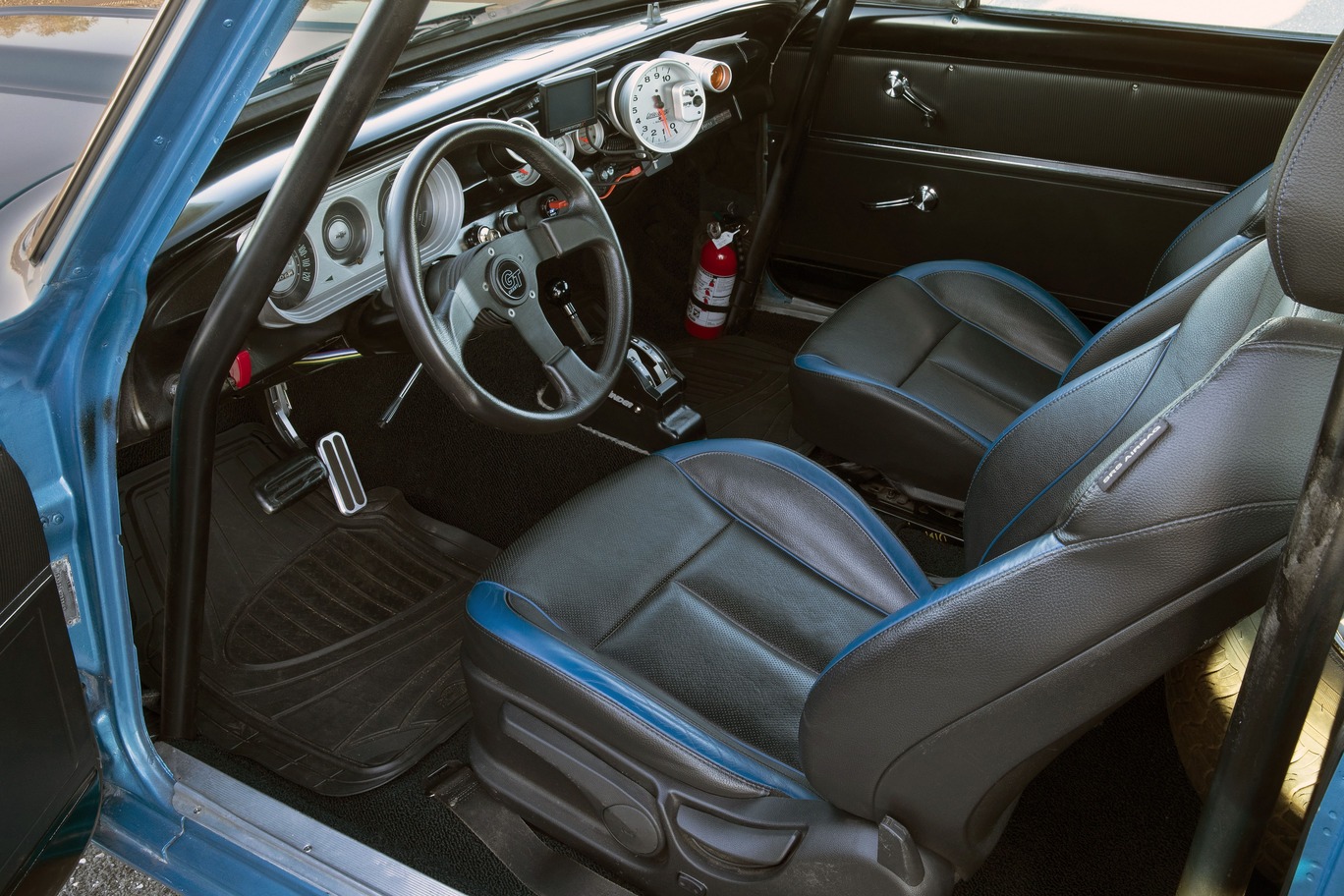 To bring the car's chassis into the 21st century, Ben installed a Classic Performance Products (CPP) Mustang II front clip with 90/10 Chassis Engineering shocks. At the rear he went with a 12-bolt Chevy axle anchored by QA1 coilovers and ladder bars. An OEM-style dual master cylinder and booster from CPP coupled to 12-inch front disc and 11-inch rear drum brakes take care of stopping the beast.
Propulsion comes from a 6.0L iron block LS engine built by S&K Speed. Forged 9.0:1 compression Wiseco pistons, K1 Technologies connecting rods, and a stock Chevy crank comprise the bottom end. Up top, a Holley intake and Chevrolet aluminum 317 heads, filled with stainless Manley valves actuated by a Cam Motion hydraulic roller camshaft help the engine breathe freely. A Work 80mm T6 turbocharger squeezes the air and a MagnaFuel 750 pump working with Injector Dynamics 1,300cc injectors deliver the fuel. Cerakoted Hooker manifolds and stainless pipes exhaust the waste gases and a Holley Terminator X keeps the engine under control.
Read More: Cleaning up the Rear End of a '65 Nova With a Custom Pan and Tucked '69 Camaro Bumper
The engine's torque goes through a Neal Racing turbo 400 equipped with a trans brake and ProTorque turbo converter. From there, the twist goes through a Tom Coppola–built differential, fitted with a Yukon Gear and Axle limited slip and 3.42:1 ring-and-pinion. The power reaches the ground via P295/55R15 Mickey Thompson SS Street Drag Radials on 15×12 steel OEM-type wheels from Wheelsmith. Up front, 15×5 Wheelsmith rims carry 165/80R15 Nankang rubber.
Consistent with his plan to build a mostly stock-appearing car, the unmodified exterior, which was massaged to perfection by Joe Calderale and painted by the Nick Calderale, the father-and-son team at C&C Collision and Glass in Lindenhurst, New York, looks very low-key, right down to the OEM bumpers and small dog dish hubcaps. The massive E-Motor USA Racing intercooler mounted up front and central hood bulge, however, are clues that there's more going on here, and a brief glimpse underneath the car gives it all away.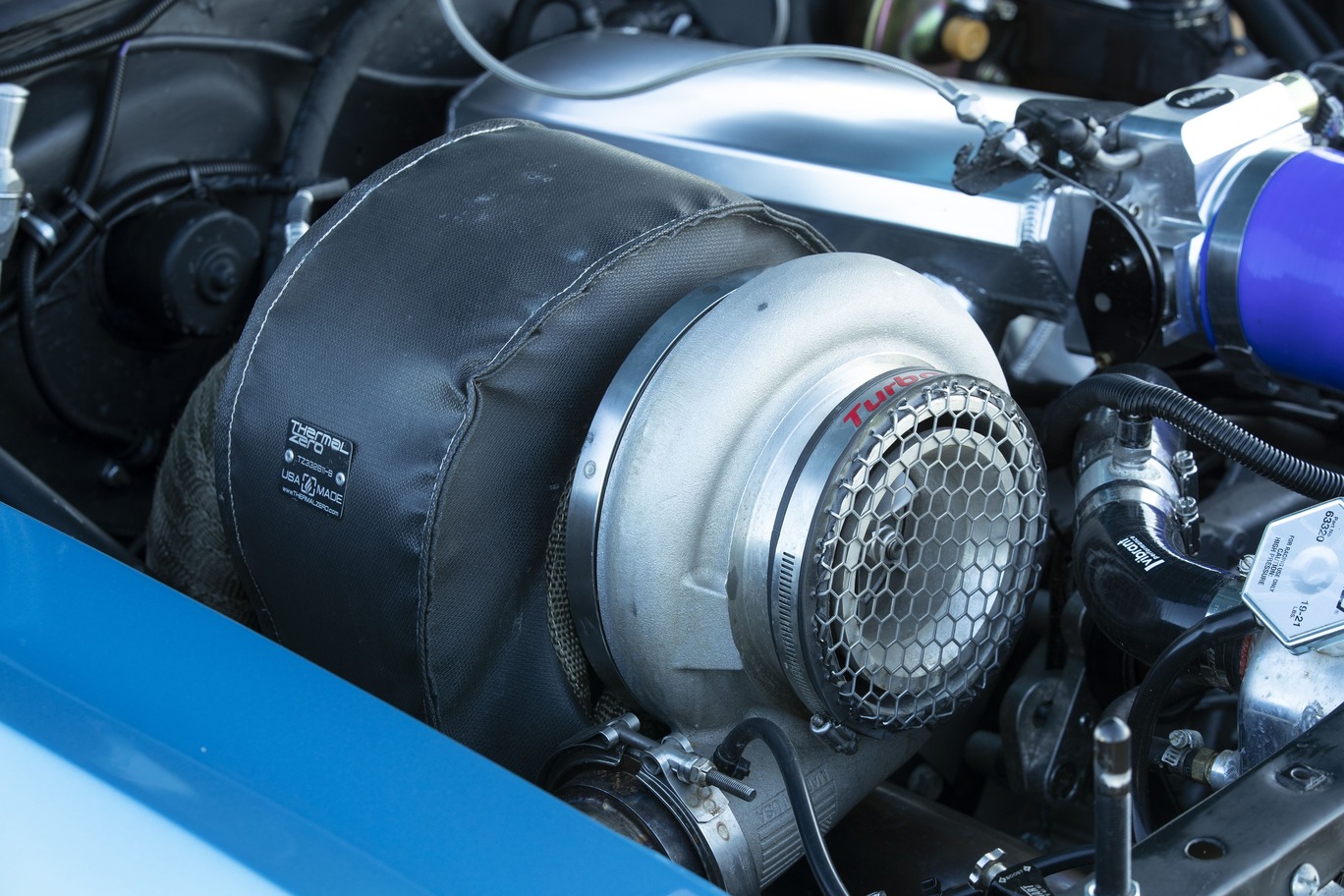 The true nature of this car is also betrayed by its interior. Though largely stock, including OEM carpeting, door panels, seatbelts, steering column, and dash, the 10-point rollcage, Winters Performance Sidewinder shifter, Terminator X screen, and Auto Meter gauges are strong clues that this docile-looking puppy has a powerful bite.
Interested In Seeing More: Scoring a Rare L78 Nova from a Good Neighbor
"It was a fun build," Ben reflects, "and the car turned out exactly the way I planned. It felt great bringing the car from nothing to a running and driving hot rod that's the quickest car I've ever owned. I enjoyed doing most of the work myself but am grateful to Ed LaGuardia from Electra Auto Body for his engine advice and tips, and John Bernhardt, from Wingnut Performance in Bohemia, New York, for all of his engine and turbo advice."
TECH CHECK
Owner: Ben Carenza
Vehicle: '65 Nova
Engine
Work Done By: SK Speed
Type: Chevrolet iron block LS
Displacement: 6.05L (369.61 ci)
Compression Ratio: 9.0:1
Bore: 4.030 inches
Stroke: 3.622 inches
Cylinder Heads: GM 317 aluminum
Rotating Assembly: Chevrolet forged steel crankshaft, K1 rods, forged Wiseco aluminum pistons
Valvetrain: Cam Motion hydraulic roller lifters, Manley stainless valves
Camshaft: Cam Motion hydraulic roller camshaft, 0.621/0.604-inch lift, 228/232 duration at 0.050
Induction: Holley aluminum, 102mm throttle body, Work 80mm T6 turbocharger
Ignition: Holley Terminator X, NGK spark plugs, Chevrolet wires
Fuel: MagnaFuel 750 in-tank pump, Injector Dynamics 1,300cc injectors
Exhaust: Hooker cast manifolds, Cerakote ceramic coating, stainless steel pipes
Ancillaries: Stock GM alternator, starter, water pump
Output (at crank): 900 hp at 17 pounds of boost
Drivetrain
Transmission: Neal Racing Turbo-400 automatic transmission with trans brake and ProTorque turbo converter
Rear Axle: Tom Coppola GM 12-bolt, Yukon Gear, and Axle forged axles and limited slip, 3.42:1 ratio
Chassis
Work Done By: Ben Carenza
Front Suspension: CPP subframe, 90/10 Chassis Engineering shocks
Rear Suspension: QA1 coilovers
Brakes: OEM-type dual master cylinder and booster from CPP, 12-inch front discs and 11-inch rear drums
Wheels & Tires
Wheels: Wheelsmith OEM-style steel wheels, 15×12 rear and 15×5 front
Tires: P295/55R15 Mickey Thompson SS Street Drag Radials rear, Nankang 165/80R15 front
Interior
Work Done By: Ben Carenza
Seats: '14 Hyundai Veloster
Steering: Stock GM column with Grand GT steering wheel
Shifter: Winters Performance Sidewinder
Dash: Stock GM
Instrumentation: Stock Chevrolet and Auto Meter
Exterior
Bodywork: Joe Calderale at C&C Collision & Glass (Lindenhurst, NY)
Paint By: Nick Calderale at C&C Collision & Glass
Paint: Marina Blue
Hood: Cowl induction
Bumpers: Stock GM