Brent Davidson's 1971 Monte Carlo is the Ultimate Family Project
By Tommy Lee Byrd    –   Photography by the Author
When it comes to rebuilding a classic Chevrolet, there are certain models that pose more of a challenge than others; parts availability can play a huge role in the difficulty of a restoration. If you're working on a first-generation Camaro, nearly every component is reproduced at large scale. Things get a little tricky for early Chevelles and Novas, but the king of difficult restorations is the Monte Carlo, at least in the muscle car era. Brent Davidson and his two sons, Andrew and Austin, can attest to that, as they recently finished the restoration of this '71 Monte Carlo.
The Monte Carlo was Chevrolet's take on the Pontiac Grand Prix, which came out a year earlier and featured GM's A-body frame design with 4 inches added between the firewall and front wheels. This long nose positioned the engine further back in the car's chassis, which made a noticeable difference in ride quality, even though the rest of the chassis and suspension was shared with the Chevelle. The weight balance and distinct styling with the long nose and short roof gave these cars a unique look, compared to other established models in Chevrolet's lineup. Engine options were plentiful in the first-generation Monte Carlo, ranging from the tried-and-true 350 to the Turbo Jet 454 in various horsepower ratings. Ultimately, the sales pitch surrounding the Monte Carlo model was personal luxury, so high-performance options were somewhat limited.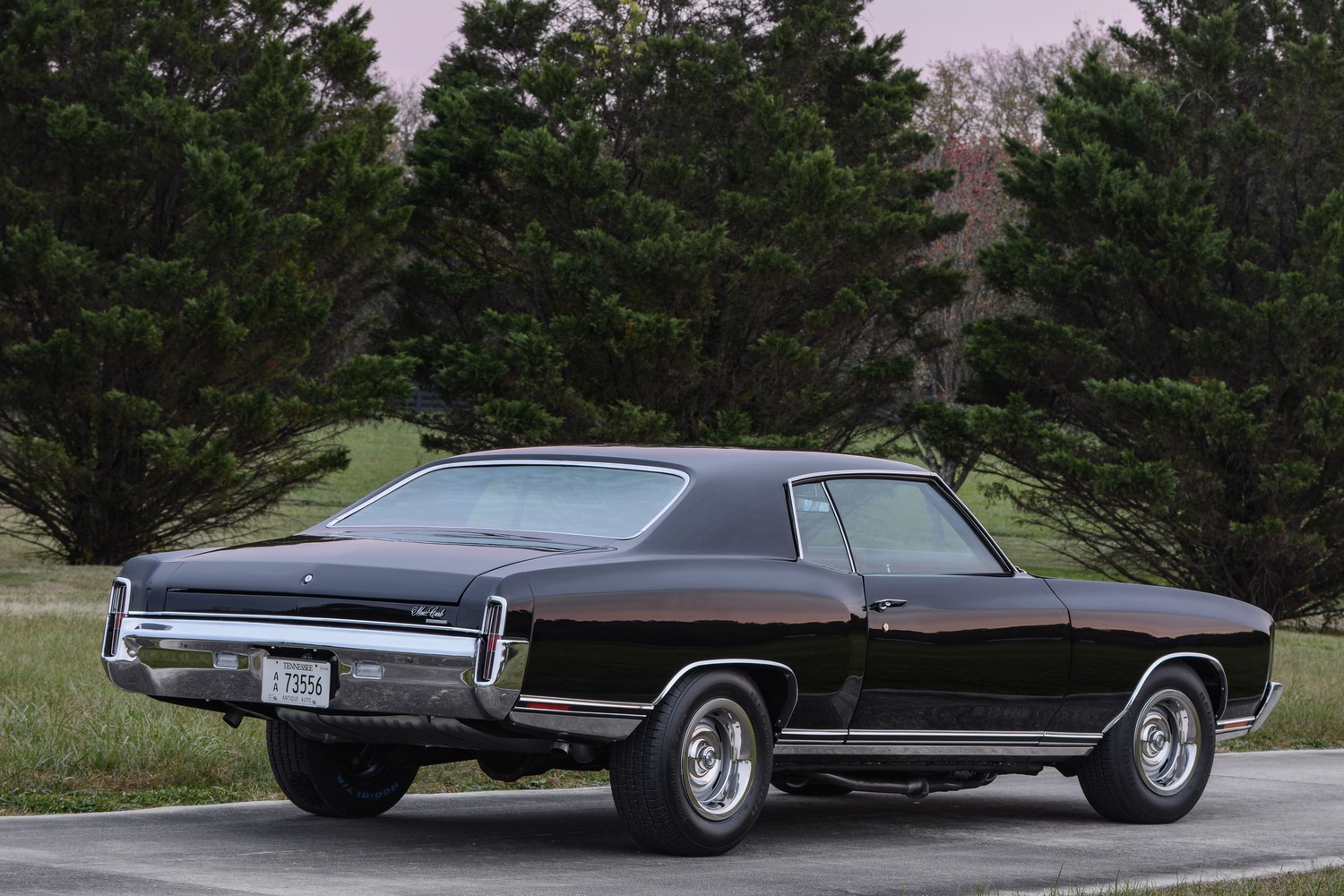 Brent always liked the styling of the first-generation Monte Carlo; these cars are known for their comfortable ride, so he took on the project back in 2005. It was a 350 car from the factory, but Brent had his heart set on a big-block from the moment the project started. The car was driveable when he bought it, but it needed a lot of work, cosmetically and mechanically. He paid $3,000 for the car and celebrated with a one-wheel-peel burnout before tearing it down for restoration.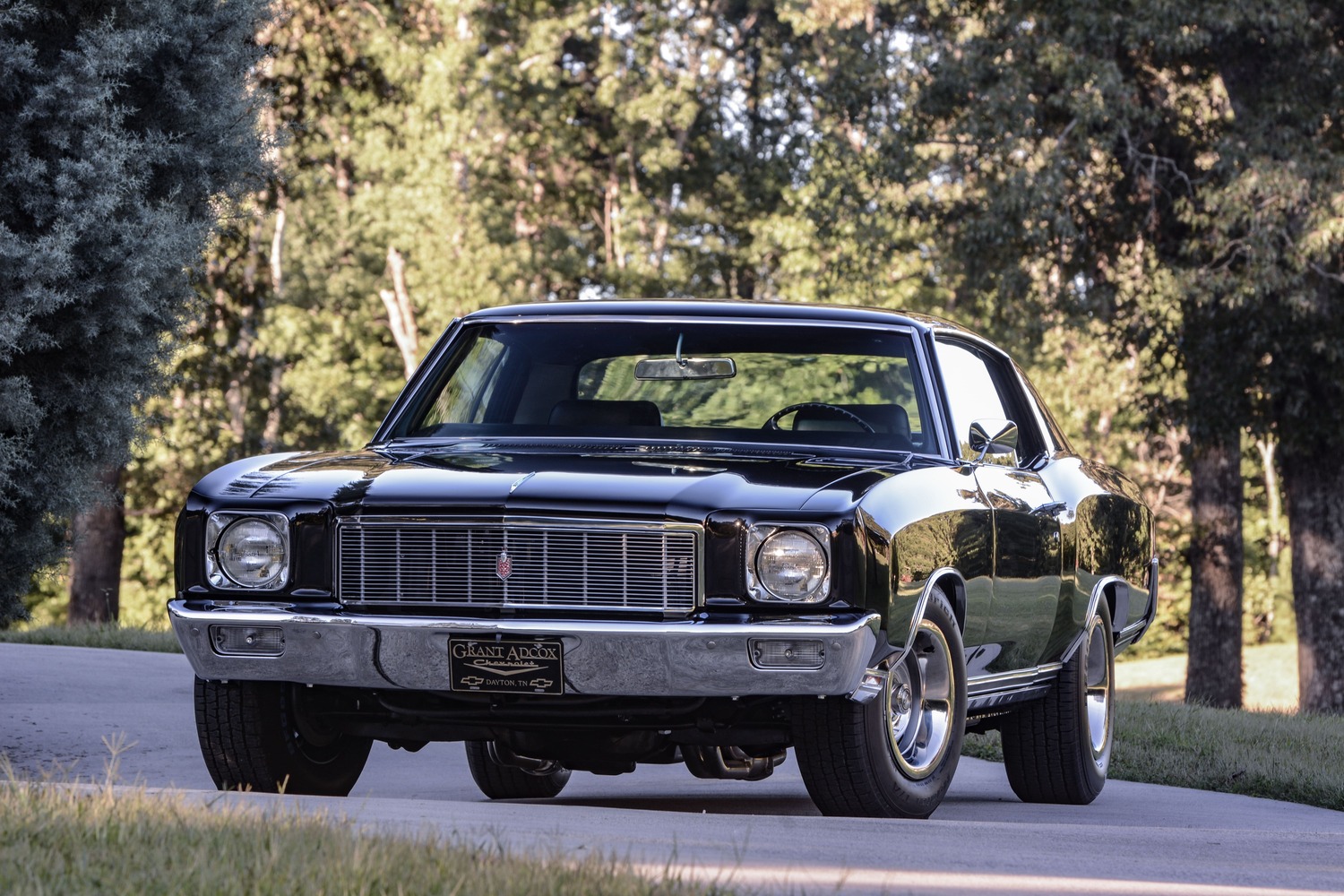 Check this out: How to Restore Beat-Up and Oxidized Aluminum Trim at Home
There was never an intention to make this car an extravagant Pro Touring machine or a drag car. Instead, Brent wanted a cool weekend cruiser that didn't blend in with the crowd. The Davidson boys accomplished that by restoring the chassis and suspension with original components and then upgrading the steering to a Classic Performance Products (CPP) power steering box. CPP also got the call when it was time to upgrade the brakes, as a new power booster and master cylinder accompanies the standard disc/drum brake setup. Hubcaps and whitewall tires were standard, which goes along with Chevrolet's marketing push as a luxury coupe, but you could select rally wheels as an option. Brent upgraded to a set of 15×8 rally wheels, decked out in polished trim rings and disc brake center caps, and he wrapped them in 225/70R15 and 235/70R15 radials to fill the wheelwells nicely.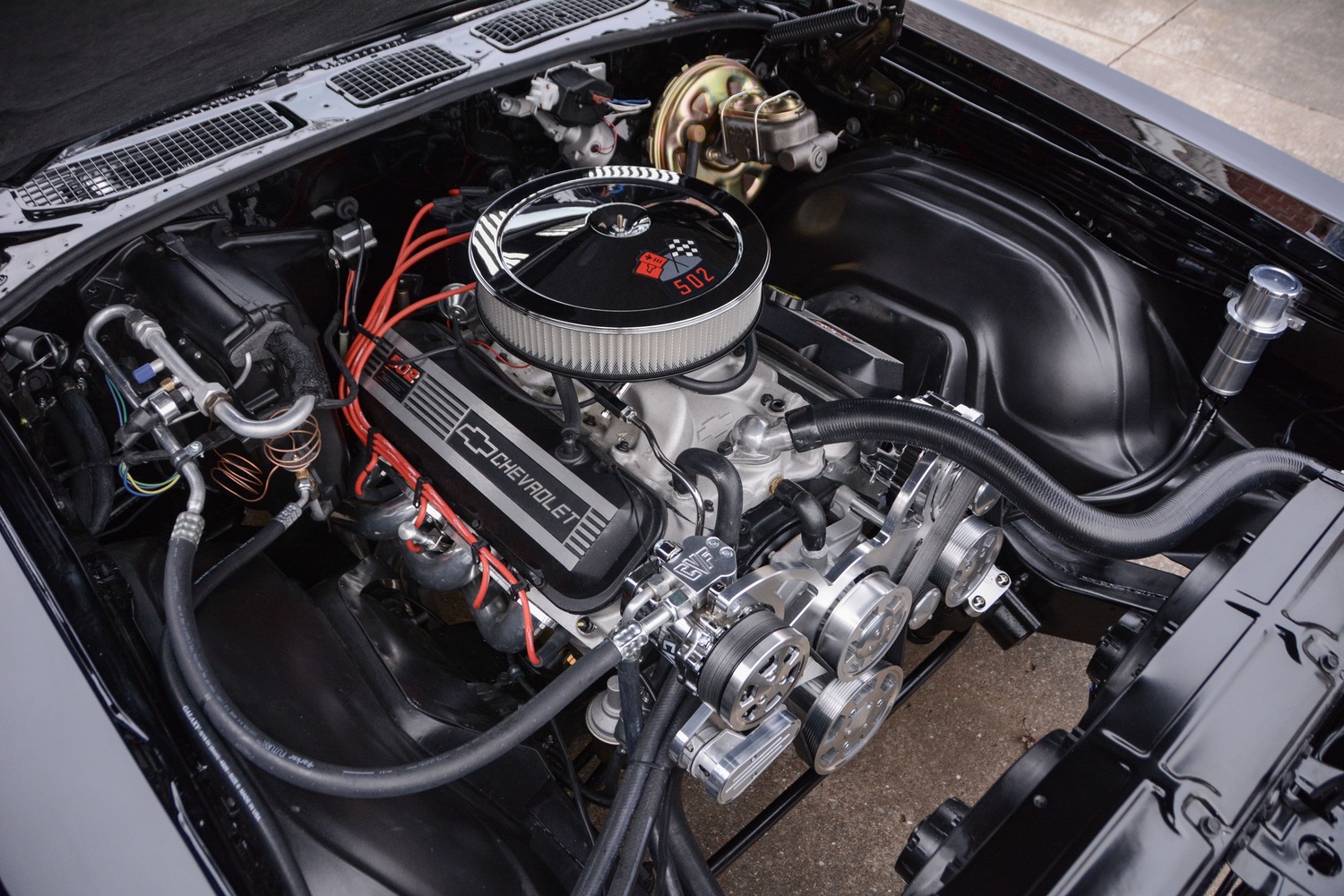 Under the long hood is a Chevrolet Performance 502ci big-block crate engine. It was part of a Connect and Cruise package, making for an easy install. The big-block features a forged rotating assembly with a street-friendly 9.6:1 compression ratio. GM aluminum heads are paired up with a hydraulic roller camshaft to offer plenty of low-end torque. Instead of scrounging at swap meets for pulleys and brackets for the engine accessories Brent simplified the accessory drive with a CVF Racing Wraptor serpentine system, complete with compact A/C compressor, one-wire alternator, and updated power steering pump. The big-block is cooled by a Summit Racing aluminum radiator, which features dual electric fans. Brent outfitted the big-block with Hooker ceramic-coated long-tube headers, while Jimmy's Pro Muffler & Brakes (Dayton, Tennessee) fabricated the 2 1/2-inch exhaust system with Flowmaster mufflers.
Behind the 502 is a 4L80E automatic overdrive transmission that was part of the Connect and Cruise package. It features a 2,200-rpm stall converter to work with the camshaft and keep things calm on the street. A custom driveshaft from Chattanooga Driveline sends power back to the rearend. The car originally came with a 10-bolt, but the Davidson boys swapped it for a 12-bolt housing packed with 3.73:1 gears.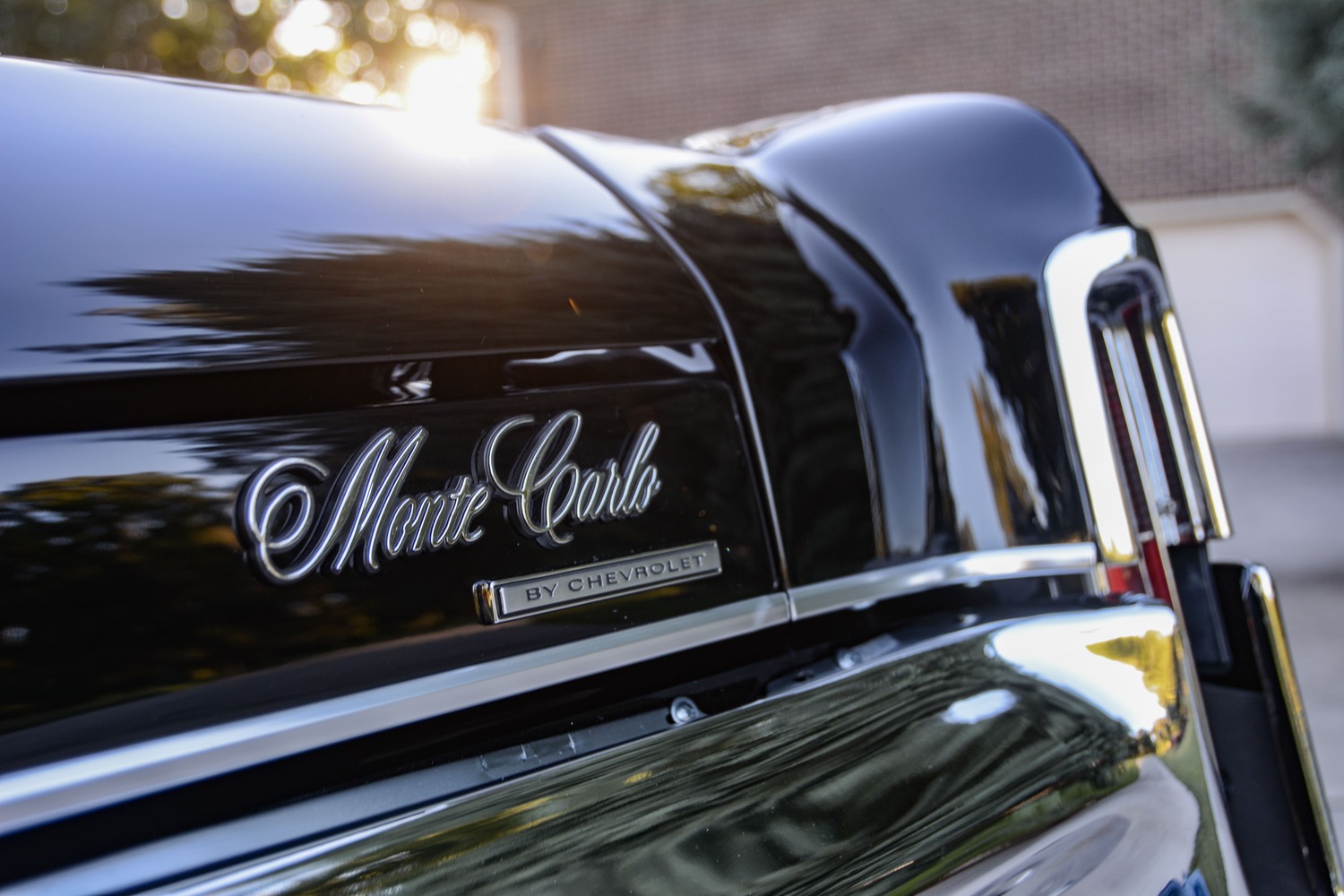 Cosmetically, the car was in rough shape when Brent brought it home, and it wore gold paint with a black vinyl top, a sure sign of underlying rust issues. It only got worse as they continued to dig into the body. The car got a new full roof panel, quarter-panels, and front floorpans to eliminate the rust, which is extremely common on these cars. Casey Runyon handled the bodywork, while local Chevy restorer, NuNu Lowry laid down the Sikkens paint, which has been sanded, buffed, and polished to a beautiful finish. New glass and trim were next on the to-do list, yet another challenging aspect of this rebuild.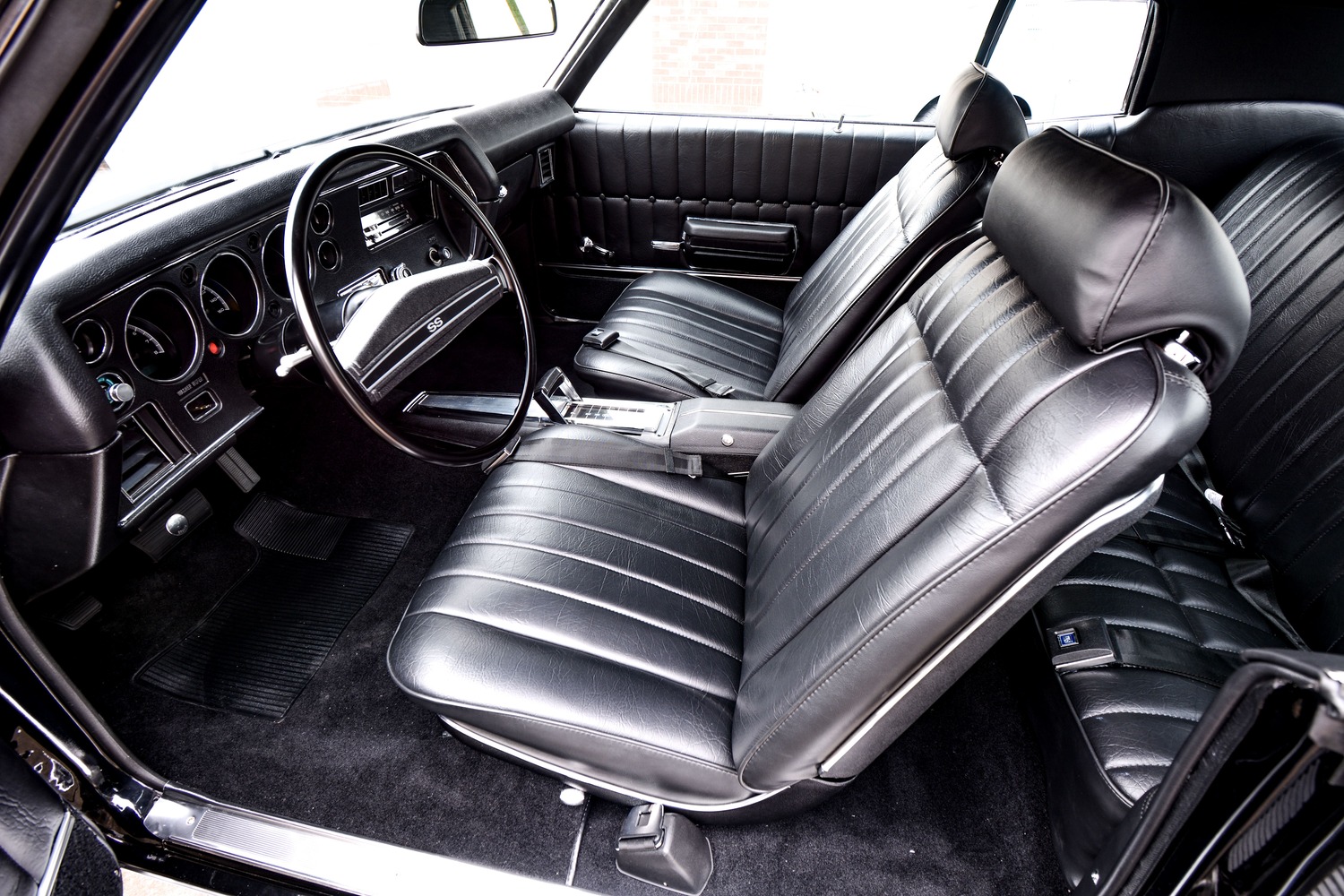 Read more: Darrin Gartrell's 1955 Chevy 210 Has a Unique Powerplant
Opening those long doors reveals all-black upholstery by Fully Loaded Interiors. The original bucket seats and console are restored to perfection and you'll see the iconic Horseshoe shifter features an updated shift indicator to reflect the new overdrive transmission. The original dash was restored and loaded with Dakota Digital gauges and a factory-look radio from Custom Autosound. The original air conditioning system was restored and mated to the modern compressor, which is convenient for Tennessee summers in this triple black combination. Brent grips a Super Sport steering wheel, which is attached to a Flaming River tilt steering column.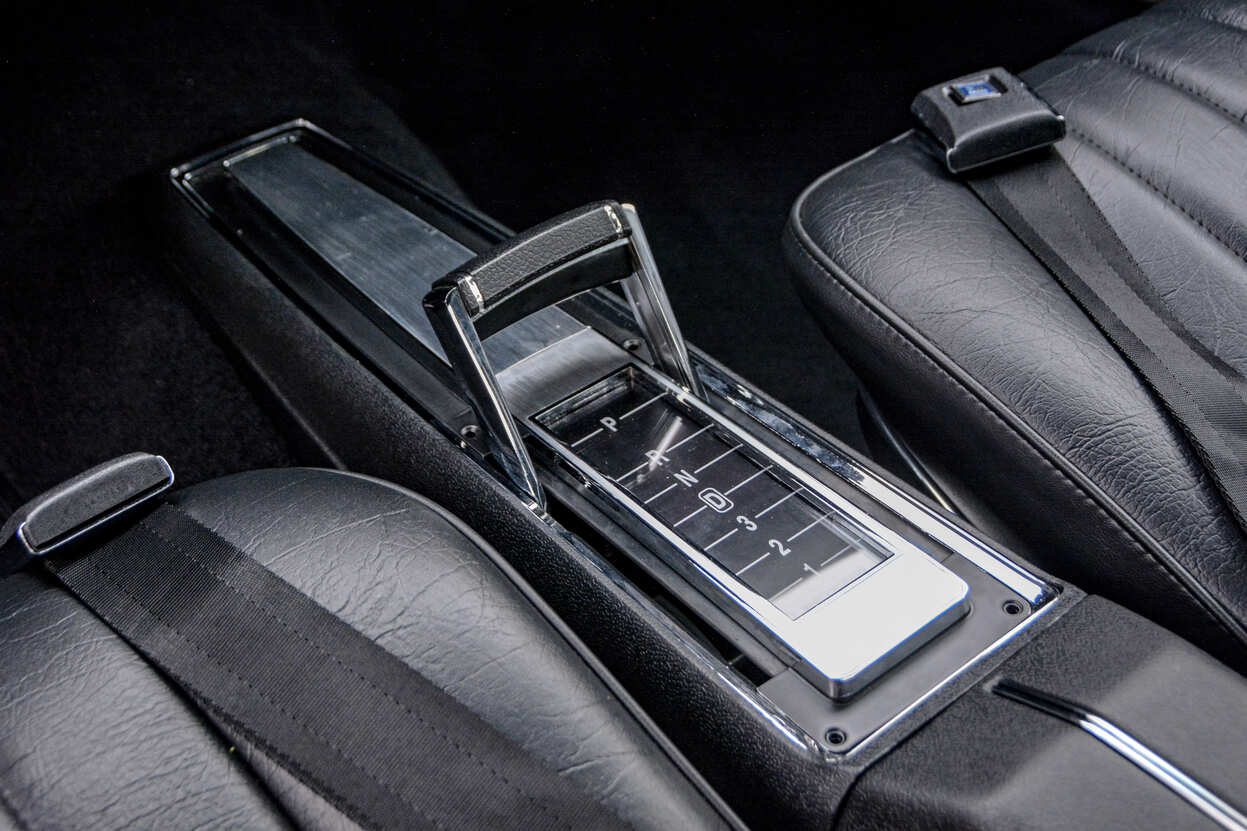 Although Brent's progress was slow in the early years, the involvement of his sons brought the project to life and eventually put it on the road in 2021. With such a huge investment of time and money, Brent's Monte Carlo displays the talents of his sons, as well as local car guys in the area who contributed to the challenging restoration. Now that it's on the road, it's time to work out the bugs and enjoy the tire-roasting big-block, A/C, and overdrive, a modern take on classic Chevrolet luxury.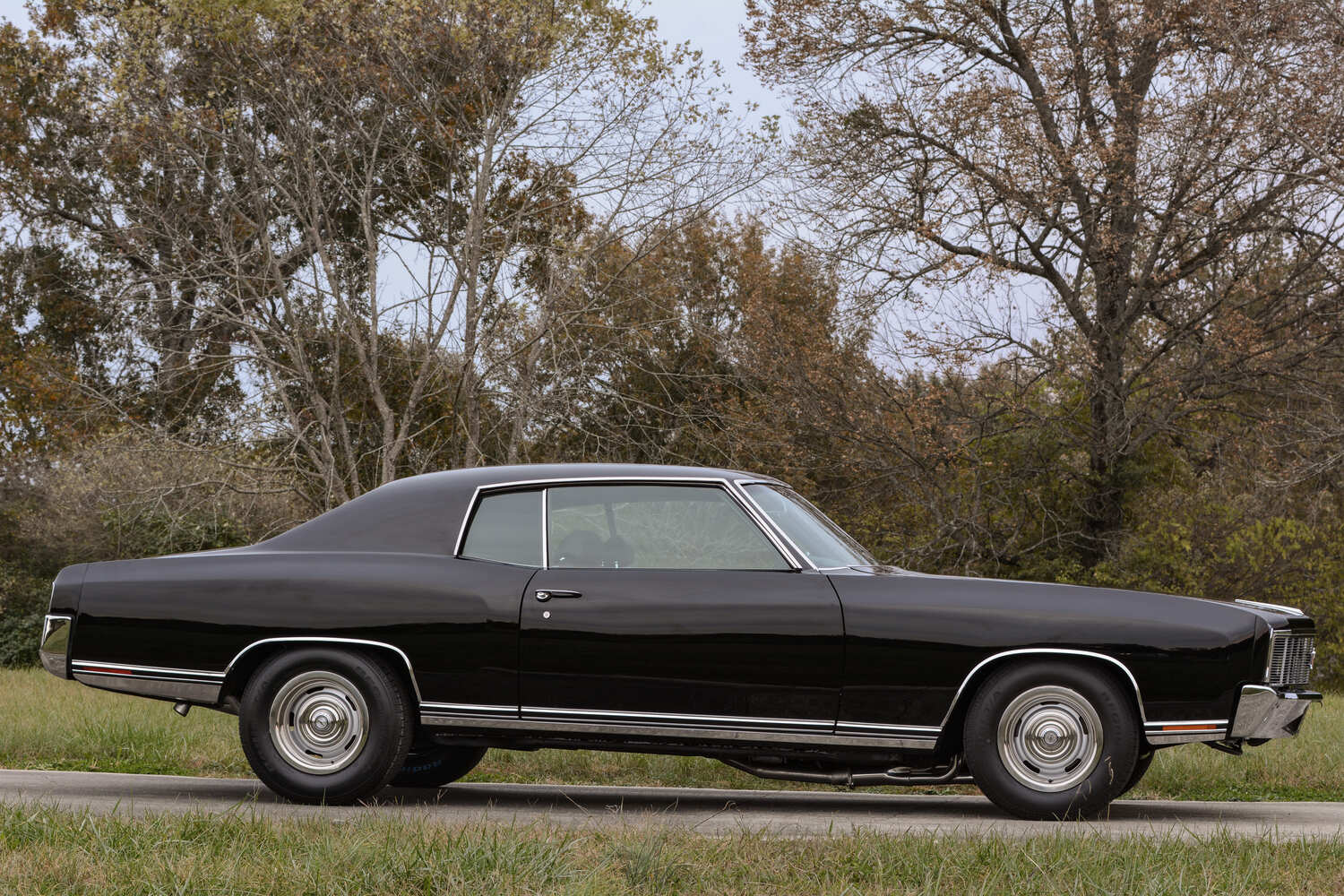 TECH CHECK
Owner: Brent Davidson, Georgetown, Tennessee
Vehicle: 1971 Chevrolet Monte Carlo
Engine
Type: Big-block
Displacement: 502 ci
Compression Ratio: 9.6:1
Bore: 4.470 inches
Stroke: 4.000 inches
Rotating Assembly: Forged steel crank and rods, forged pistons
Cylinder Heads: GM aluminum, oval port, 290cc intake runners, 110cc chambers
Valvetrain: 2.250/1.880-inch stainless steel valves, 1.7:1 stamped rockers
Camshaft: GM hydraulic roller, 224/234 at 0.050-inch lift, 0.527/0.544-inch lift
Intake: GM aluminum dual plane
Carburetor: Holley 800-cfm four-barrel
Assembly: Chevrolet Performance
Exhaust: Hooker headers, 2.5-inch pipes, Flowmaster mufflers
Ancillaries: CVF serpentine pulley system
Output: 508 hp, 580 lb-ft of torque
Drivetrain
Transmission: 4L80E automatic
Torque Converter: 2,200 stall
Rear Axle: 12-bolt, 3.73:1 gears
Chassis
Front Suspension: Stock
Rear Suspension: Stock
Brakes: Stock Disc/Drum
Master Cylinder: CPP with Power Booster
Pedals: Stock
Wheels & Tires
Wheels: Corvette Rallye, 15×8
Tires: BFGoodrich Radial T/A 225/70R15 and 235/70R15
Interior
Seats: Stock buckets
Steering: Flaming River tilt column and stock steering wheel
Console: Stock, restored
Shifter: Stock
Dash: Stock
Instrumentation: Dakota Digital
HVAC: Restored original
Audio: Custom Autosound
Wiring: American Autowire
Exterior
Bodywork: Casey Runyon
Paint: Sikkens base/clear, Black, by NuNu Lowry
Trim: All new or restored
Hood: Stock
Grille: Stock
Bumpers: Stock